Trams are a convenient way to explore Strasbourg.
Strasbourg's sights are compactly clustered and can be seen on foot, but trams are a more efficient way to get around.
The view of the city from the tram is also very different from the view on foot.
However, as is the case in all regional cities in France, it is a little more difficult to understand how to purchase tickets.
It can be confusing at first, but once you get used to it, you will have no problems.
Please use our website as a guide and try using trams and buses when visiting Strasbourg.
Now let me introduce you to some of them.
CTS
CTS is an abbreviation for Compagnie des Transports Strasbourgeois.
Founded in 1877, it currently operates six trams and a network of buses.
Ticket types
In fact, choosing the type of ticket may be more difficult than using a ticket machine.
The main types of tickets used by travellers are listed below.
SINGLE RIDE
Ticket sold
on the bus
On
contactless
ticket
(1st purchase)
Ticket loaded
on Badgéo,
CTS App and
topped up
on contactless
ticket
Unit
2,00 €
1,80 €
1,70 €
Per 2 (for one person)
3.50 €
3.40 €
Per 10 (for one person)
 14,10 €
 13,20 €
Transfers are not possible with the same ticket.
SINGLE RIDE reduced fare
On
contactless
ticket
(1st purchase)
Ticket loaded
on Badgéo,
CTS App and
topped up
on contactless
ticket
Per 10 (for one person)
Only for children under age 12,
large family card holders
and seniors over age 65.
10,30 €
9,60 €
unlimited rides
| | Unit |
| --- | --- |
| 24H SOLO | 4,60 € |
| 24H TRIO | 6,90 € |
Valid for 24 hours from the time of first use, no extensions possible.
If you plan to travel to the suburbs of Strasbourg during your stay, tickets other than those listed above are available, see here for more information.
How to purchase tickets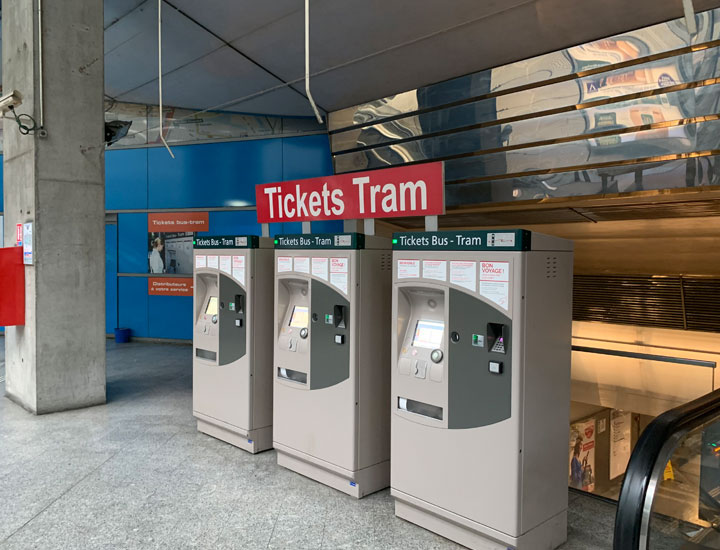 First, go to the ticket machine.
The photo shows the underground tram station from Strasbourg station, on the way to Gare Centrale.
There is not much of a queue.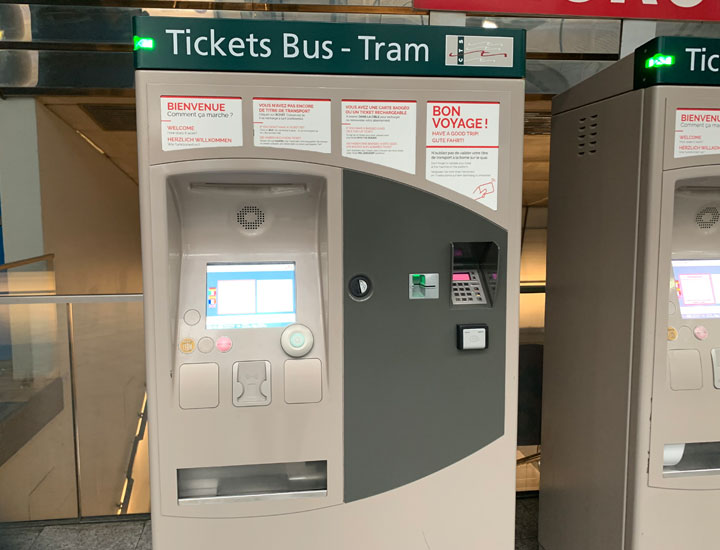 The LCD area in the centre is the operation screen, while the calculator-like area on the right is the payment section for credit cards and other payments.
The round central dial controls the screen.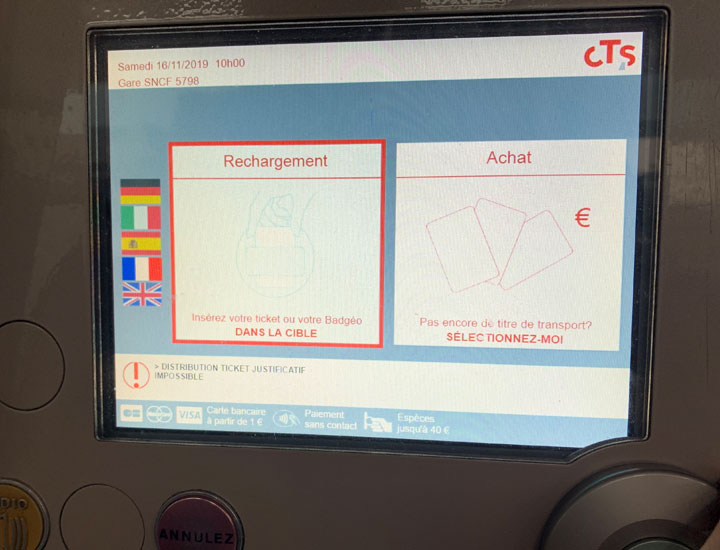 If the CTS logo is displayed in full screen, turn or press the bottom right dial to switch to this screen.
You can select English, so there should be no problems with the operation.
First, choose left or right – if you are buying for the first time, choose right.
CTS tickets are designed to be reusable.
So, for example, when you buy a ticket for the second time, you have to select Rechargement on the left-hand side and recharge the ticket you already have.
In this case, you will get a slightly reduced rate, so keep the ticket with you until the end.
When recharging, place the ticket in the box below the dial.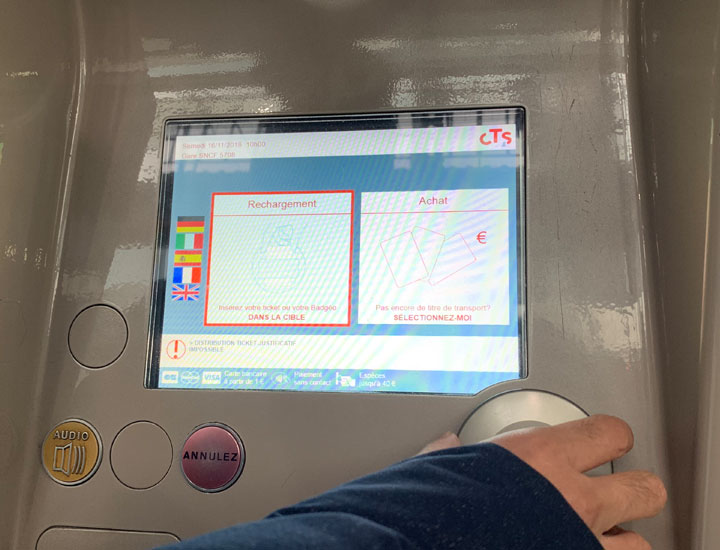 Turn the dial to proceed to the purchase screen.
Select URBAN TICKET.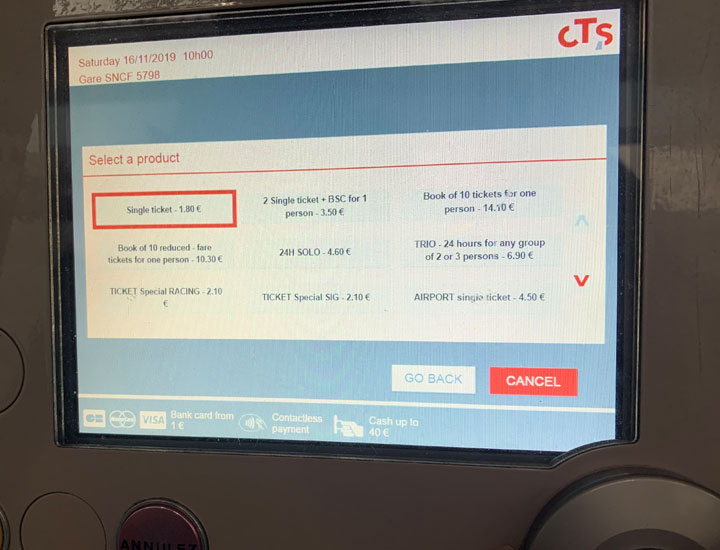 The ticket selection screen is then displayed.
There are so many different types of tickets anyway that it is hard to know which one to buy.
Please refer to the types of tickets we have just introduced to help you choose the right one.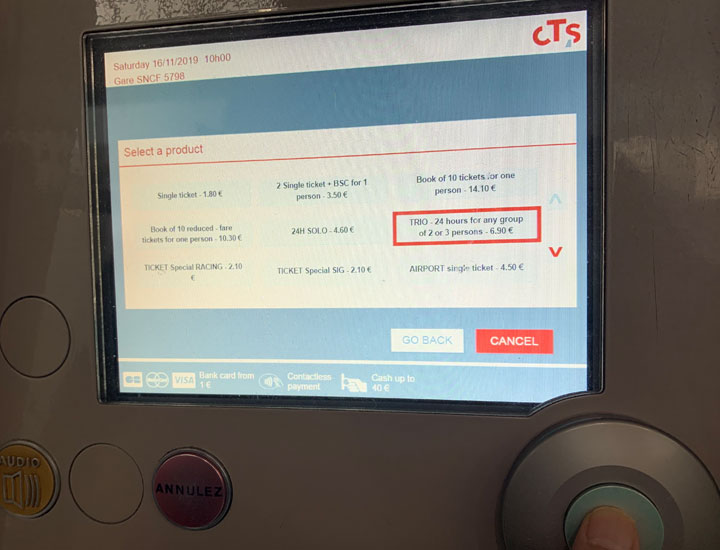 This time there are two of us, but we choose TRIO.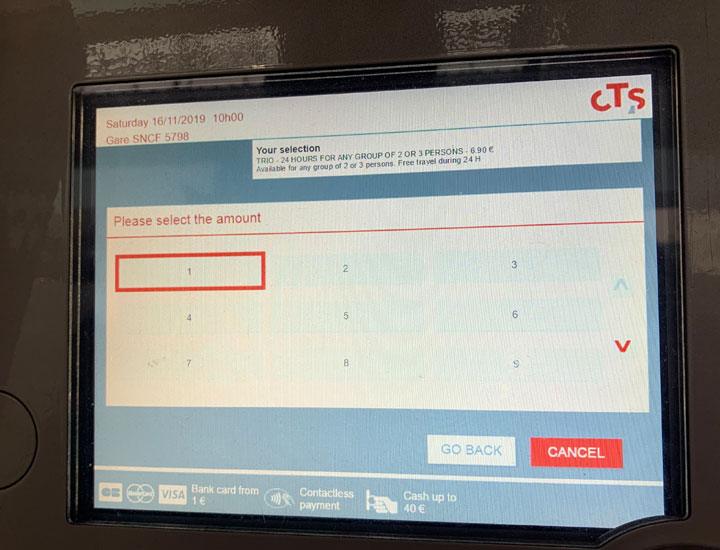 Next, select the number of tickets.
Here we select 1.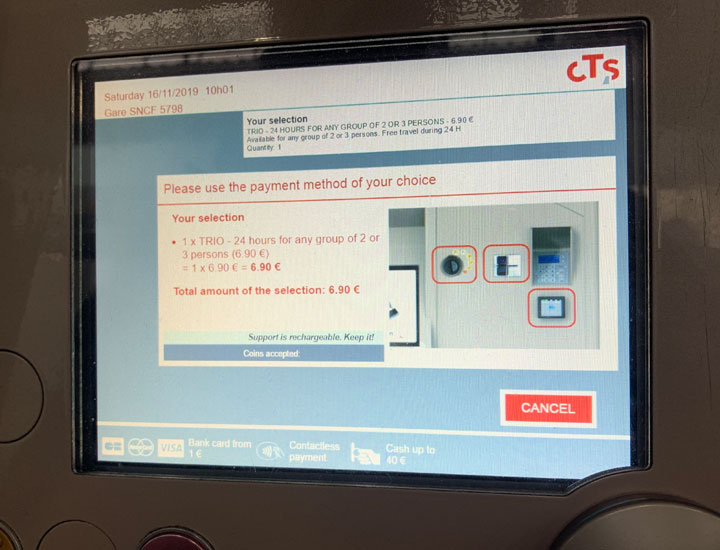 Confirmation of payment details.
If there are no errors, proceed to payment.
Please note that payment can only be made in coins or by credit card.
Please note that bills are not accepted.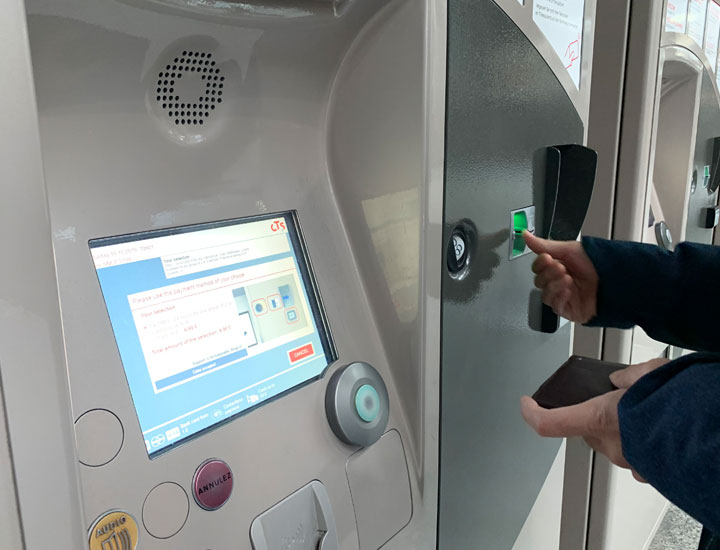 Insert your credit card in the green section and make a payment.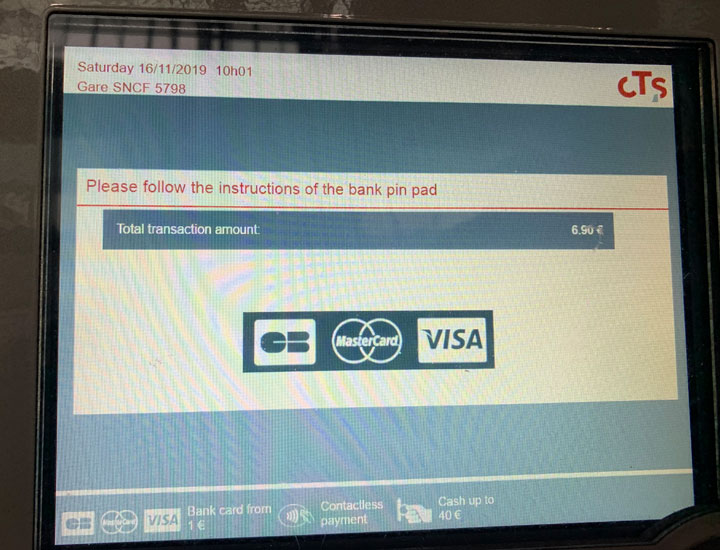 After inserting the credit card, enter the PIN number using the pin pad on the right-hand side.
No receipt is given.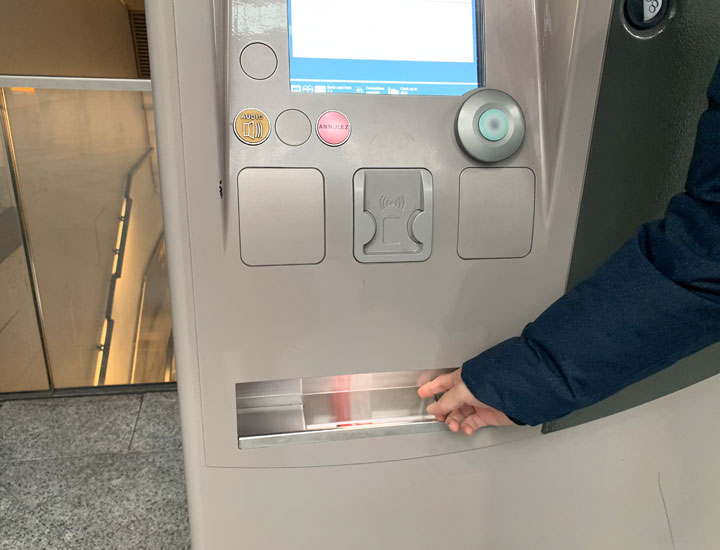 Tickets come out from under the ticket machine.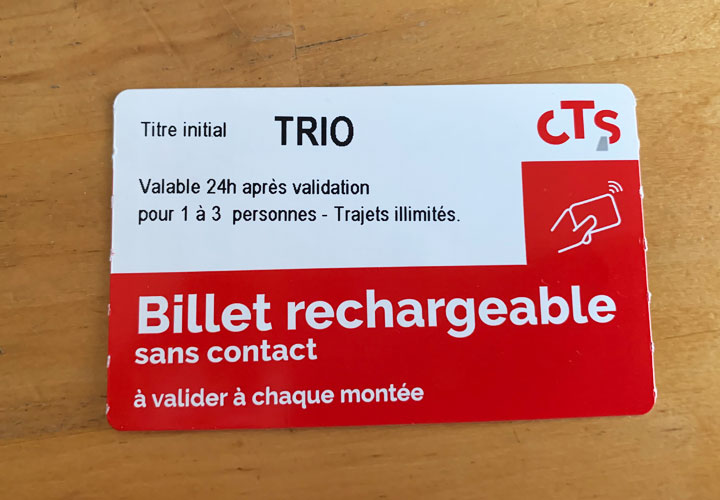 Here are the tickets purchased this time.
The area shown will vary depending on the ticket purchased.
The ticket also states that it can be recharged.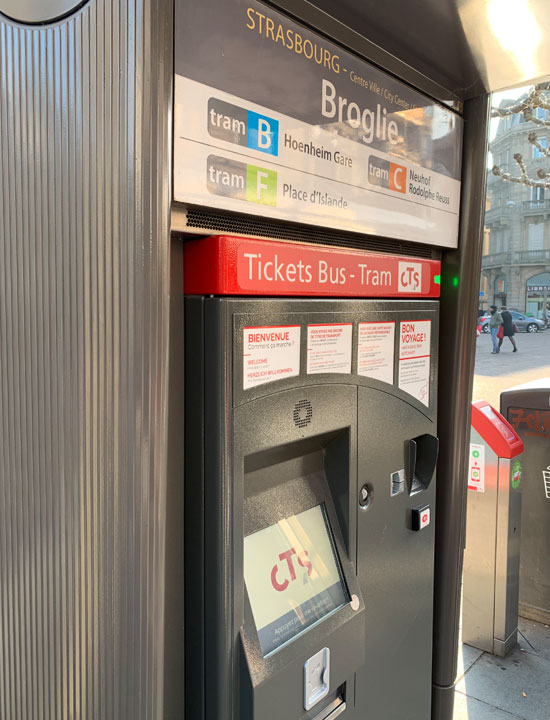 Tickets can be purchased at basically any tram station.
Although the machine looks slightly different, the operating instructions are exactly the same, so please operate the machine as we have shown you.
How to use tickets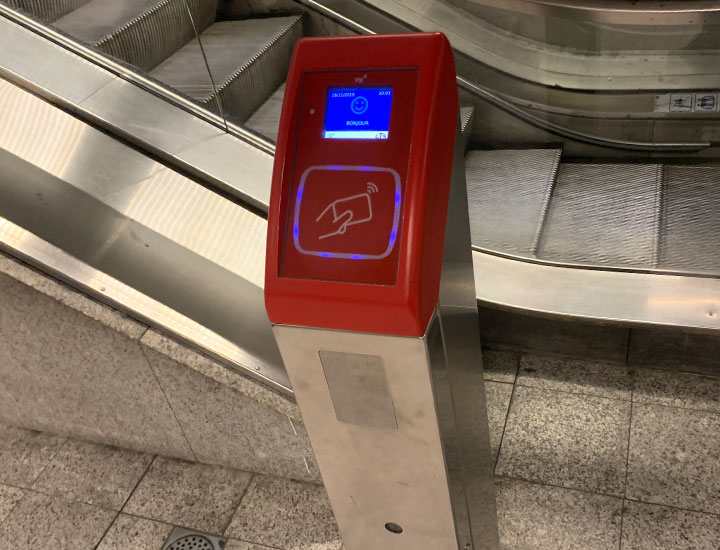 Using the ticket is very simple.
There are automatic ticket gates like this one on the tram platform, so simply hold your ticket over it.
Be sure to check that it makes a sound.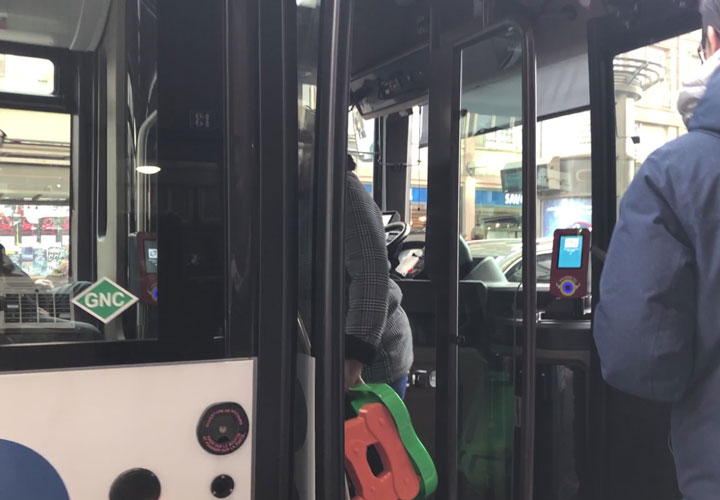 For buses, there is a red box inside the vehicle like this, which you can touch to use.
You can also buy tickets on board the bus, but please note that they are more expensive at €2 each.
Remember to have your ticket read by the automatic ticket gate machine.
If your ticket is not read properly and you get on the train and are caught by the ticket checker, you will be fined a hefty amount.
You will never be exempted because you are a tourist, so always remember to check that you have heard a tone.
Summary
We were two people travelling this time and we bought tickets TRIO.
We chose this ticket for its overall value as we planned to use the tram and bus three times in total during our visit to Strasbourg.
For more information.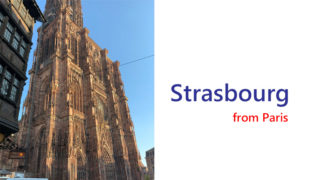 Day trip from Paris to Strasbourg Enjoy the World Heritage Site Grande Île de Strasbourg
Strasbourgisapopulartouristcityinnorth-easternFrance,twohoursfromParisbyTGV.Itisafascinatingcitywithalonghistoryandamixo...
Thank you again for reading to the end of this issue.