There are so many trompe l'oeil paintings in Lyon.
Most of them are described in French as Fresque, which actually means mural or fresco.
It is estimated that there are more than 100 trompe l'oeil paintings in Lyon, both in the city and in the suburbs.
Of course, it is impossible to visit them all, so I will introduce three trompe l'oeil paintings that you must see when you come to Lyon.
For more information on how to get there and recommended routes around the trompe l'oeil, please click here.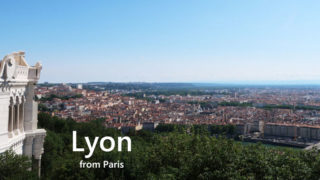 Day trip from Paris to Lyon 2 hours by TGV to France's second largest city
Series of cities that can be reached by day trip from Paris. This time, we are heading to Lyon, the second largest city ...
Fresque des Lyonnais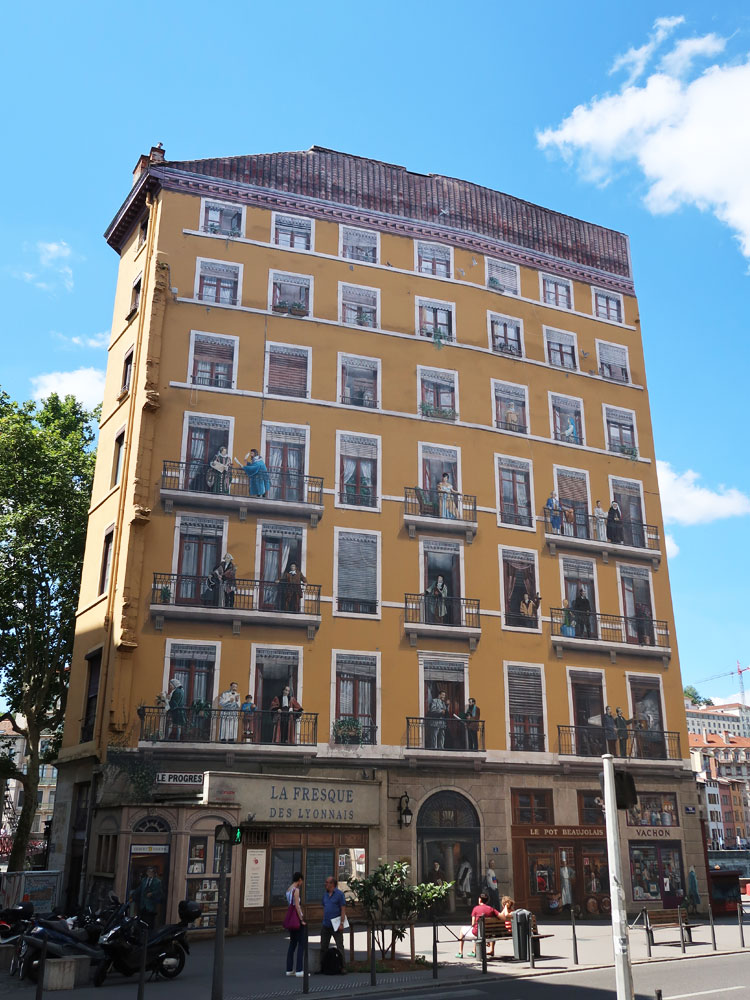 Address:2 Rue de la Martinière, 69001 Lyon, France
Standing on the banks of the Saône River, this trompe l'oeil painting is one of Lyon's most famous.
Even if you have limited time for sightseeing, manage to stop here at least once.
The location, on the Saône River, makes it easy to integrate into the tourist route.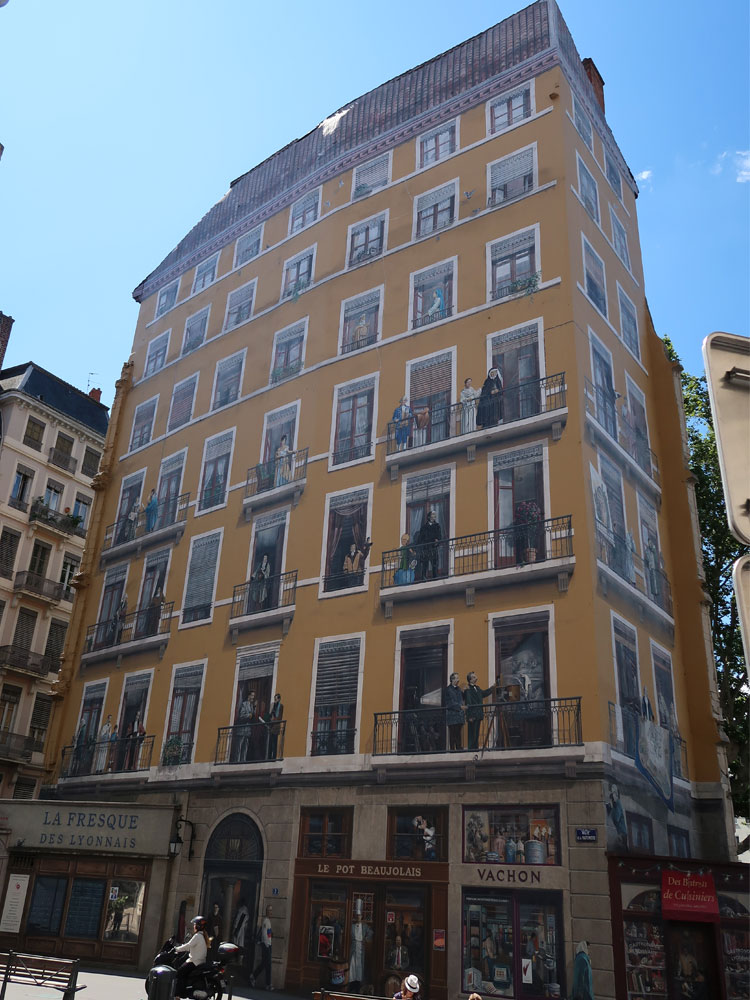 The walls are painted with 30 of Lyon's most famous people.
This work was inspired by the "Fresque des balcons de Barcelone" painted in Barcelona, Spain, in 1992, when the then Mayor of Lyon asked an artists' co-operative to create a similar work for the city of Lyon.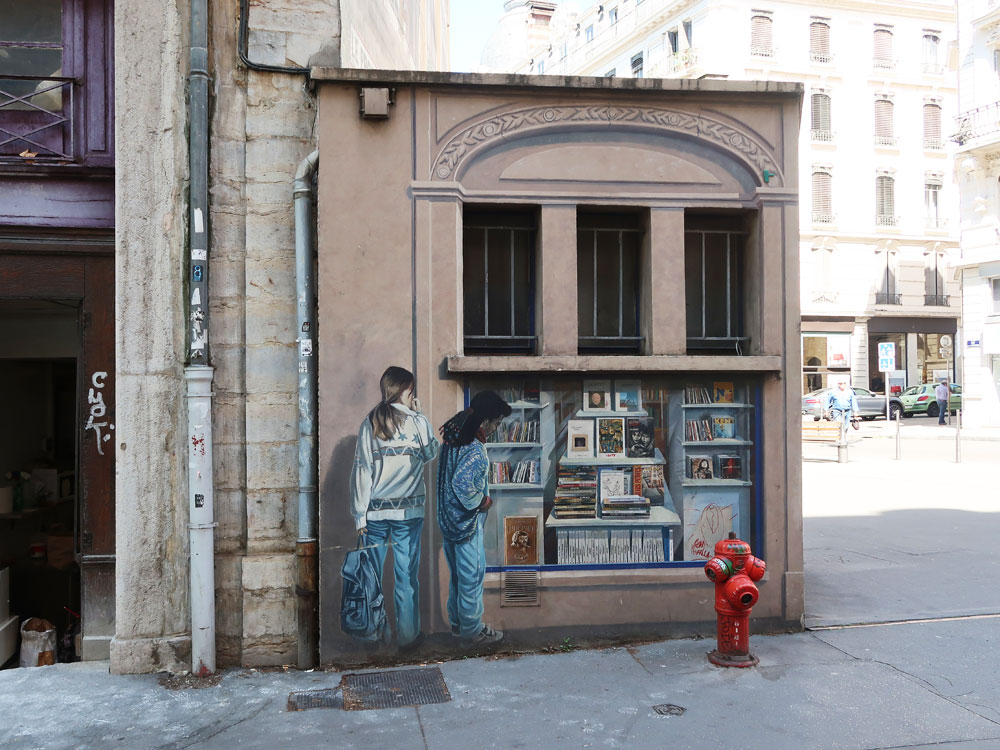 Of course, non-celebrities are also depicted, and at a quick glance, they look quite close to the real thing.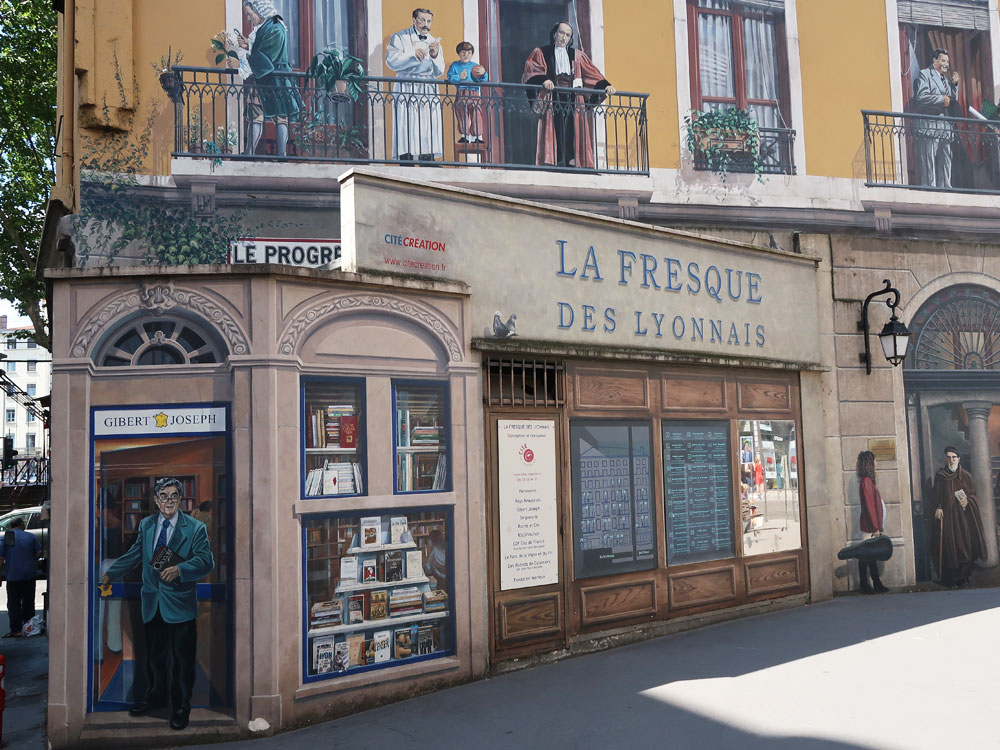 The ground floor is also very well drawn and feels quite realistic.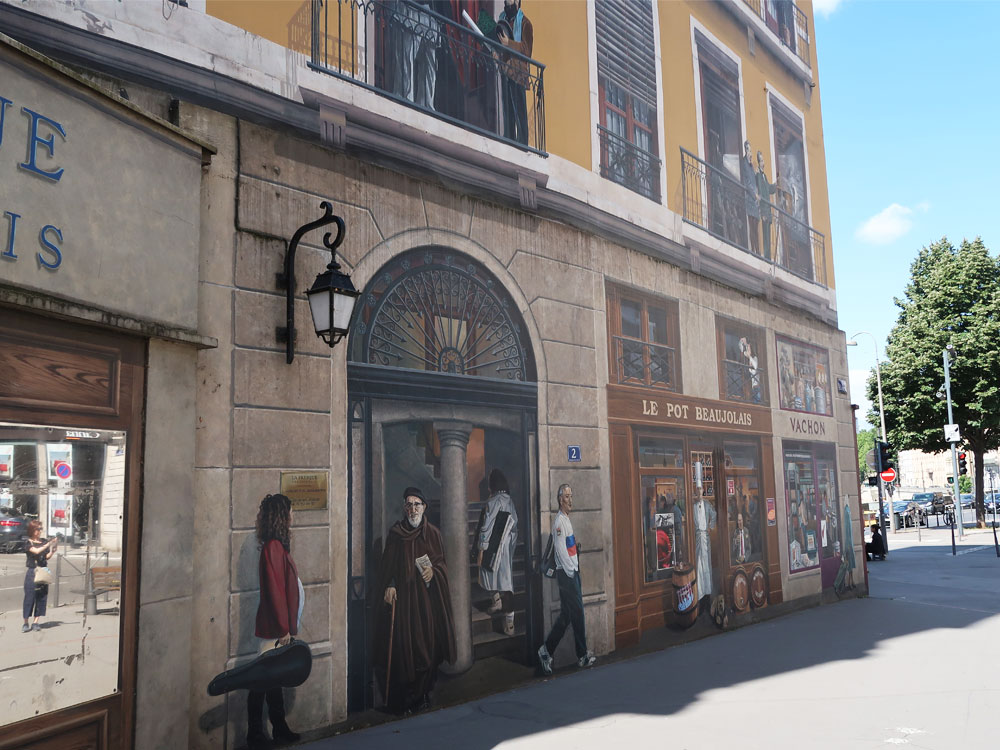 From a distance it looks like people are walking.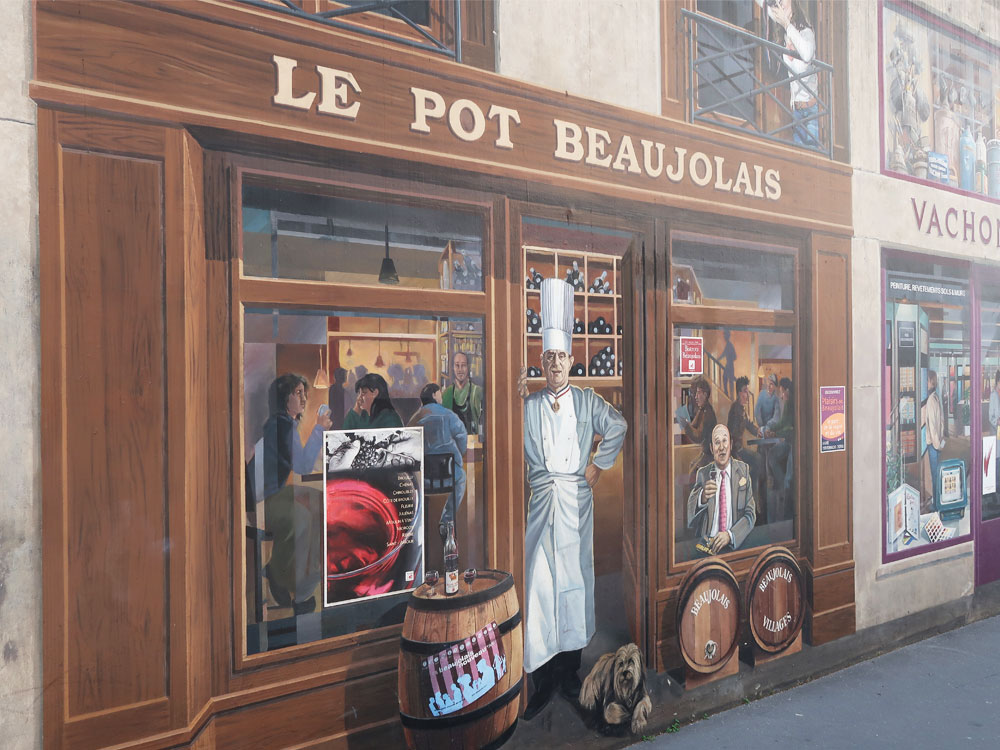 It depicts Mr Paul Bocuse, a Lyon celebrity.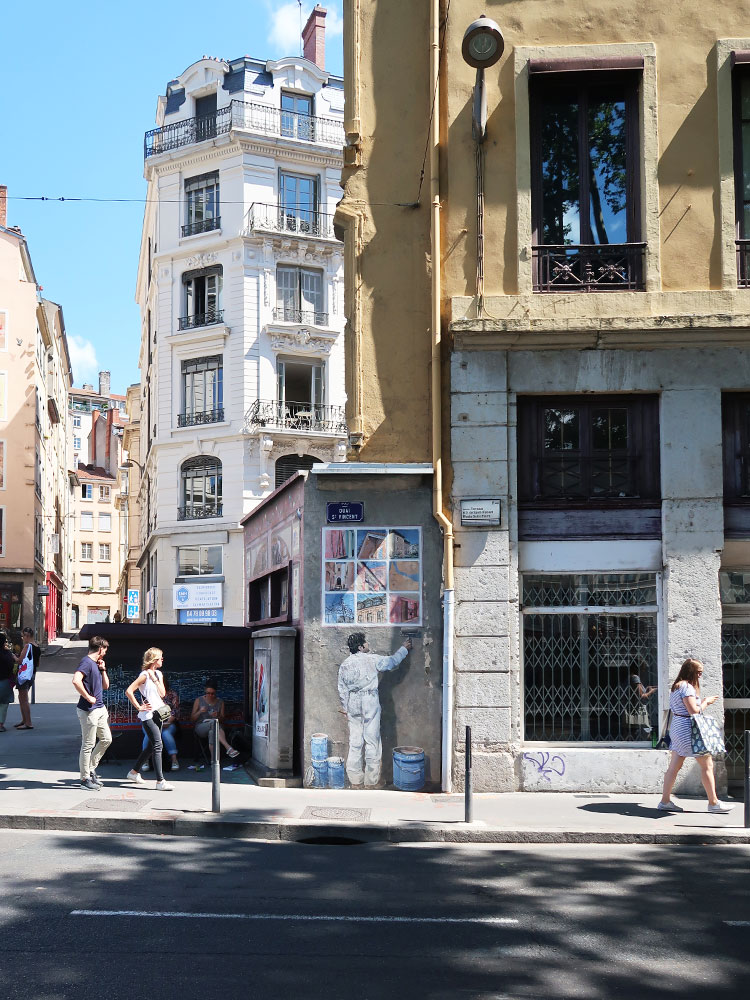 It is also subtly depicted on the back of the building.
It makes it more realistic.
30 people painted on the wall
Famous people depicted in the Fresque des Lyonnais, a list of 30 people.
Most of them were born in Lyon.
Viewing them in person and comparing them with each other on site doubles the enjoyment.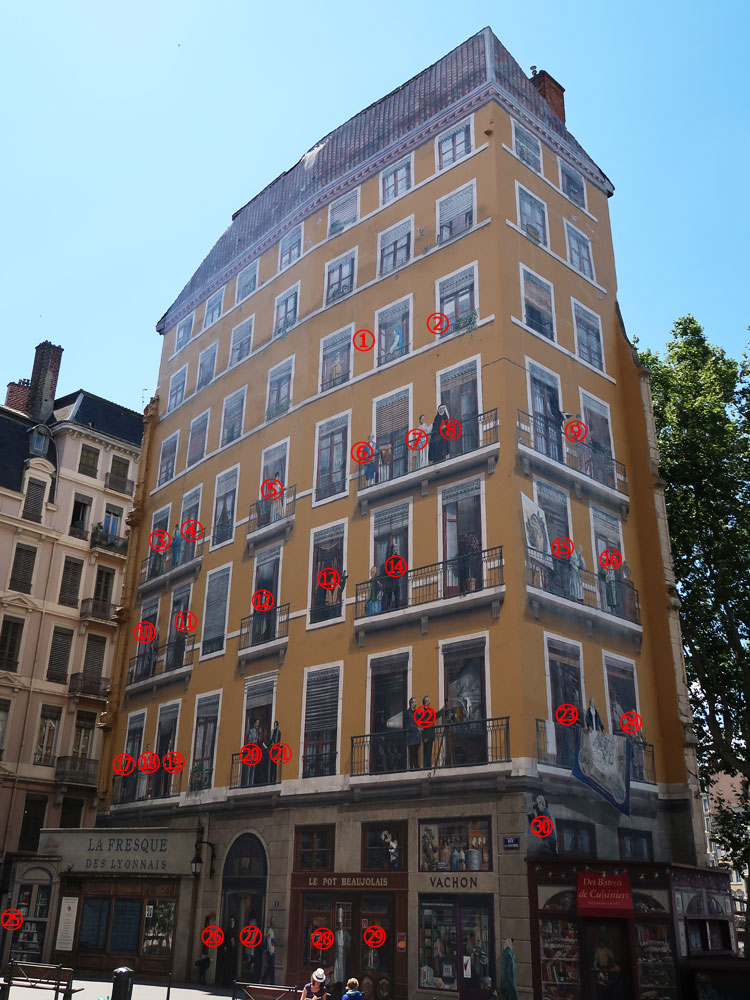 Check with the number on the photograph and the number on the table.
Fresco
Number & Person

1 Saint Irénée

Bishop of Lyon, circa II. Early French Christian saint.

2 Sainte Blandine

He is the patron saint of Lyon.

3 Louise Labé (1525-1566)

Poet active in Lyon during the Renaissance.
He appears to have been quite wealthy.

4 Maurice Scève (1500-1564)

Poet active in Lyon during the Renaissance.
Published in 1544, Délie is his best-known work.

5 Juliette Récamier (1777-1849)

A woman who was at the centre of the French literary, artistic and political salon in the 19th century.
One of the most beautiful women in the history of the world.

6 Claude Bourgelat (1712-1779)

He is considered the founder of veterinary medicine.

7 Pauline Jaricot(1799-1862)8 Claudine Thévenet(1774-1837)

Two people who have made significant contributions to Christianity.

9 Claude (empereur romain) (BC10-AD54)

Fourth emperor of the Roman Empire. Born in Lyon.

10 Claude Martin (1735-1800)

He was an adventurer and an officer in the East India Company.
He was the founder of three schools in Calcutta, Lucknow and Lyon.

11 Jean-Baptiste Say (1767-1832)

French economist and businessman. Famous for creating 'Say's Law'.

12 André-Marie Ampère (1775-1836)

French physicist. Discovered Ampere's law.

13 Laurent Mourguet (1769-1844)

Puppeteer. Creator of the Guignol.

14 Antoine de Saint-Exupéry(1900-1944)

Author and pilot. 'The Prince of the Stars' is so well-known that they are drawn together.

15 Pierre Puvis de Chavannes (1824-1898)

Painter. Influenced many painters, including Picasso.

16 Giovanni da Verrazzano(1485-1528)

Adventurer. Said to be the first European to explore the Atlantic coast of the USA and Canada.

17 Antoine de Jussieu(1748-1836)

Botanist. His book on plant classification, 'Genera of Plants', has had a profound influence on current plant classification.

18 Famille Mérieux

French entrepreneurial family.

19 Claude Bernard(1813-1878)

French physiologist.

20 Édouard Herriot(1872-1957)

politician

21 Tony Garnier(1869-1948)

Urban planner and architect.

22 Auguste et Louis Lumière

Lumière brothers. Considered the fathers of cinema, inventors of cinema.

23 Joseph Marie Jacquard (1752-1834)

Inventor. Developed the Jacquard loom.


24 Philippe de la Salle (1723-1804)

Designer. Famous for producing silk textiles.

25 Bernard Pivot (1935- )

Journalist and TV show host.

26 Abbé Pierre (1912-2007)

Catholic priest. Helped many less fortunate people.


27 Bernard Lacombe (1952- )

Footballer. Scored 255 goals in Ligue 1.

28 Paul Bocuse (1926-2018)

Owner-chef of a three-star restaurant.

29 Frédéric Dard (1921-2000)

Crime writer.

30 Bertrand Tavernier (1941- )

Film director.
Fresque La bibliothèque de la cité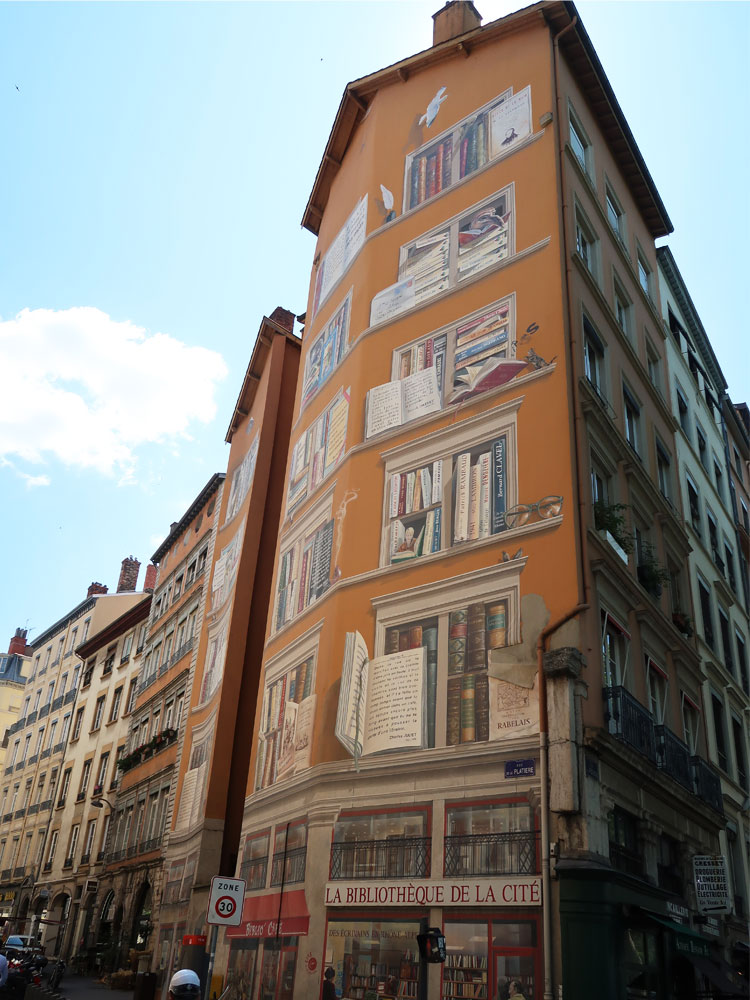 Address :6 Rue de la Platière, 69001 Lyon,France
Produced in 1998.
It is quoted and extracted from nearly 500 books.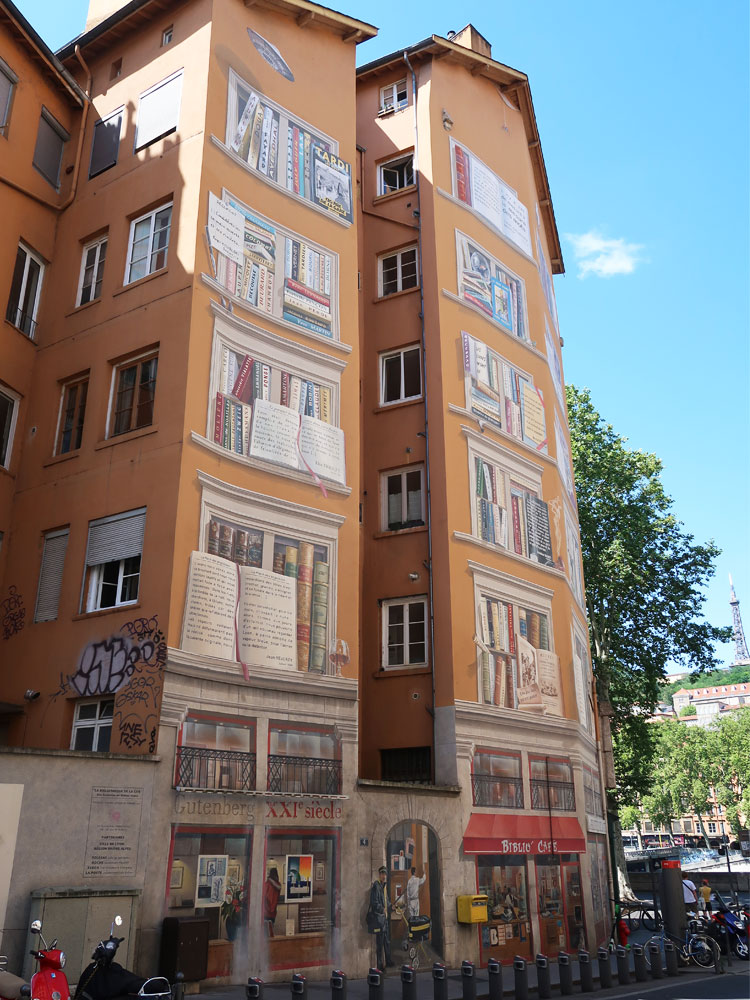 Trompe l'oeil paintings are painted all the way to the top floor of the building.
It is located on the corner of rue Pêcheri and rue Platiere, so it was surprisingly difficult to find the best vantage point when trying to take a picture of the whole area.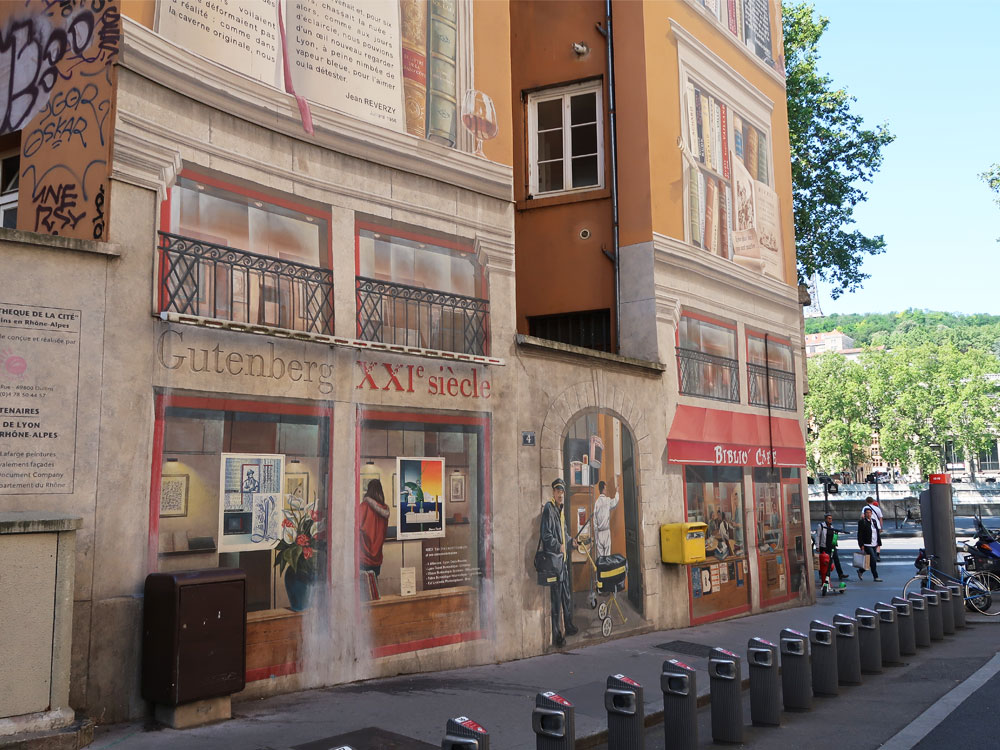 The ground floor is very realistically painted.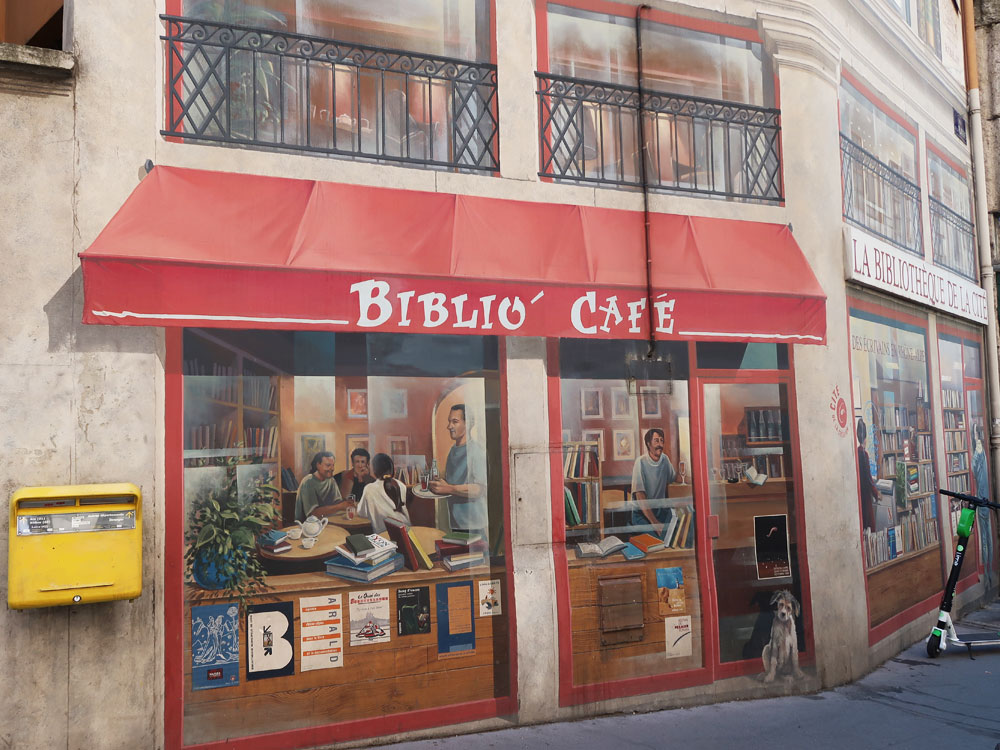 It is a trompe l'oeil picture that is fun to look at.
 Le mur des canuts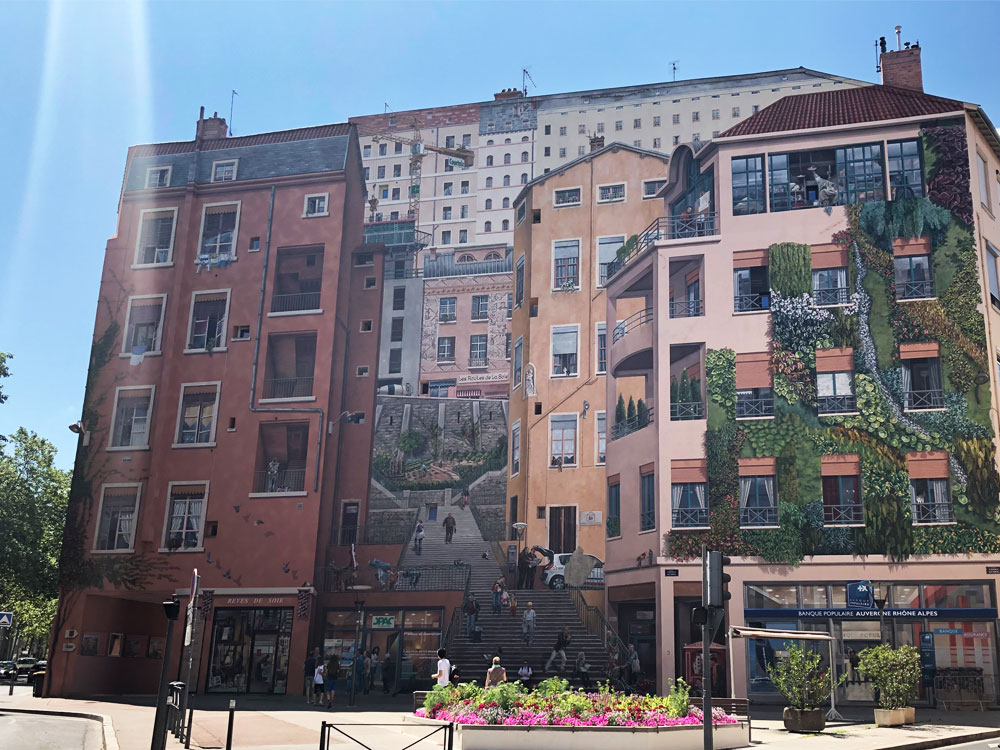 Address:36 Boulevard des Canuts, 69004 Lyon, France
Produced in 1987.
The trompe l'oeil has been frequently rewritten.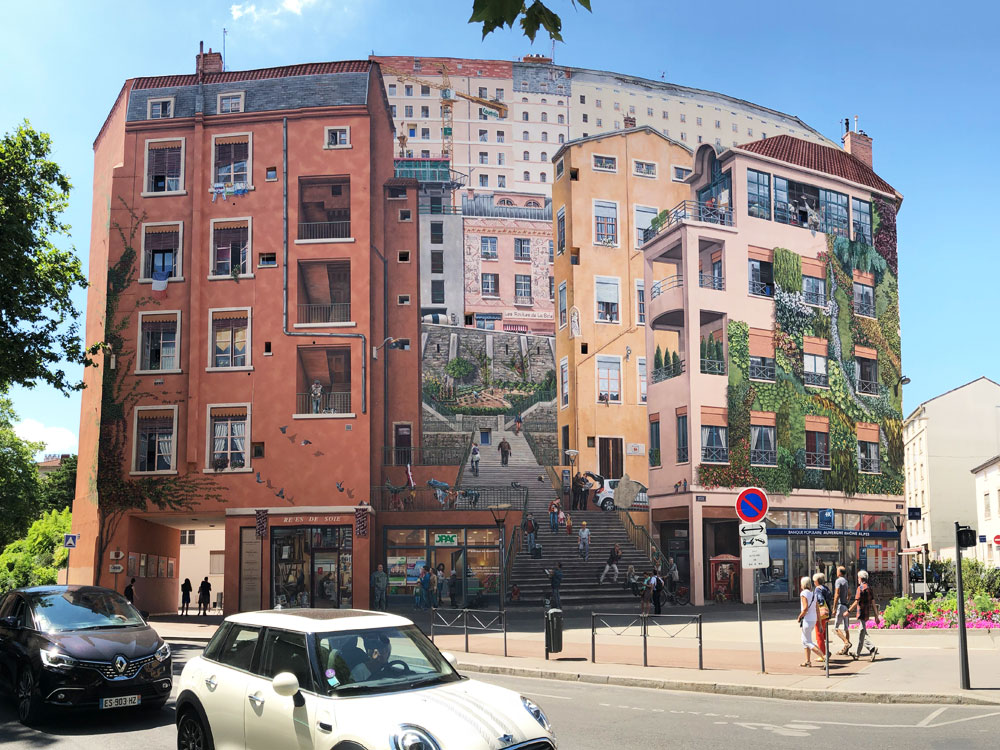 The painting depicts the Canuts area, where many workers worked in the 19th century, as is typical of Lyon, which developed as a silk weaving town.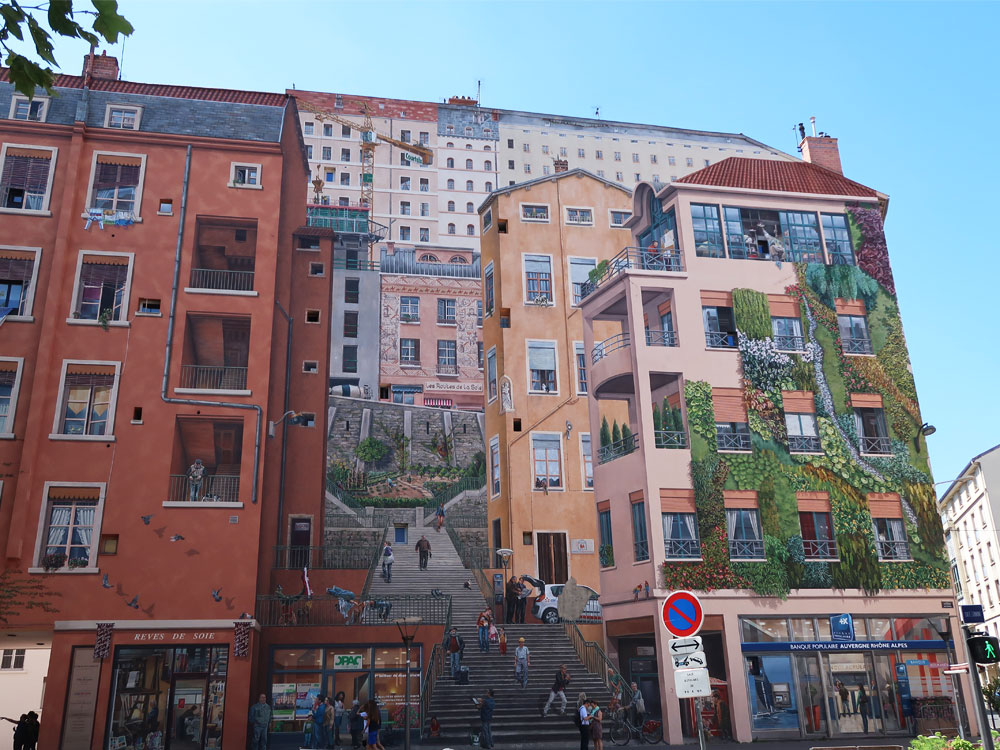 There is a lot to see, especially the central staircase, which seems to have a real depth to it.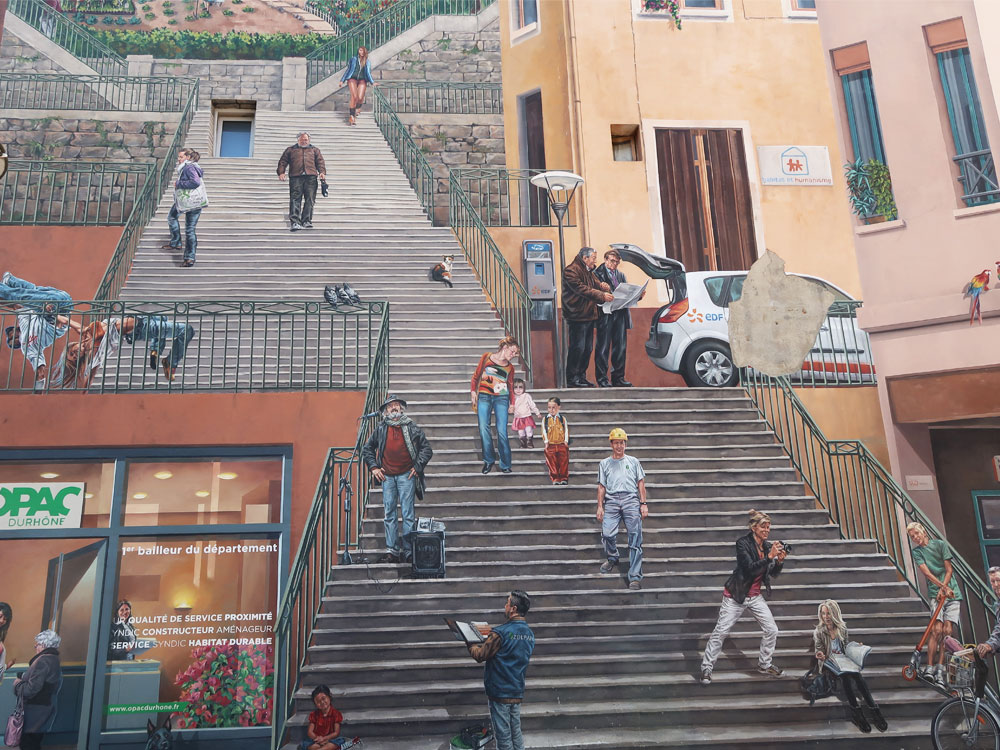 The people depicted are very lively.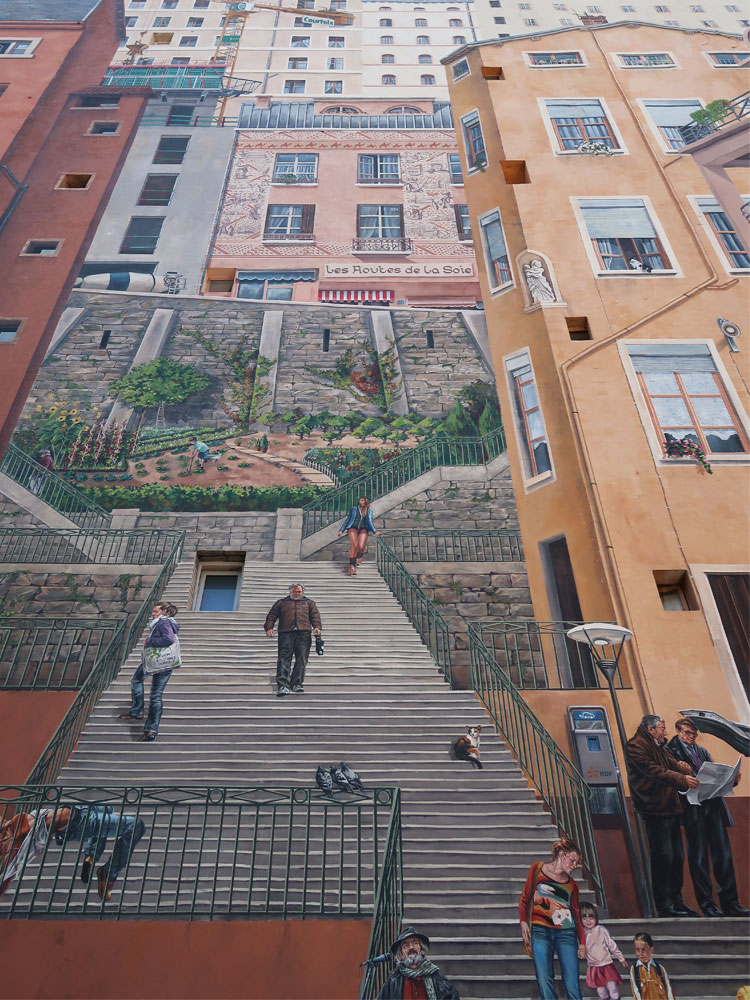 Even the back of the staircase is realistically depicted.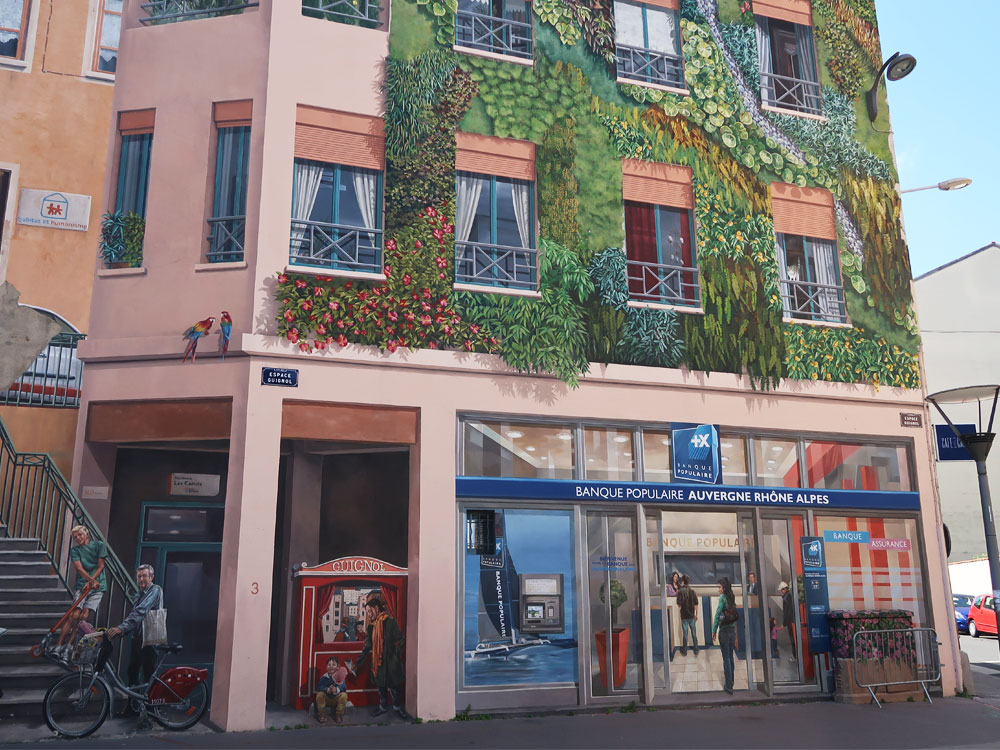 It looks like there really is a bank on the corner of the building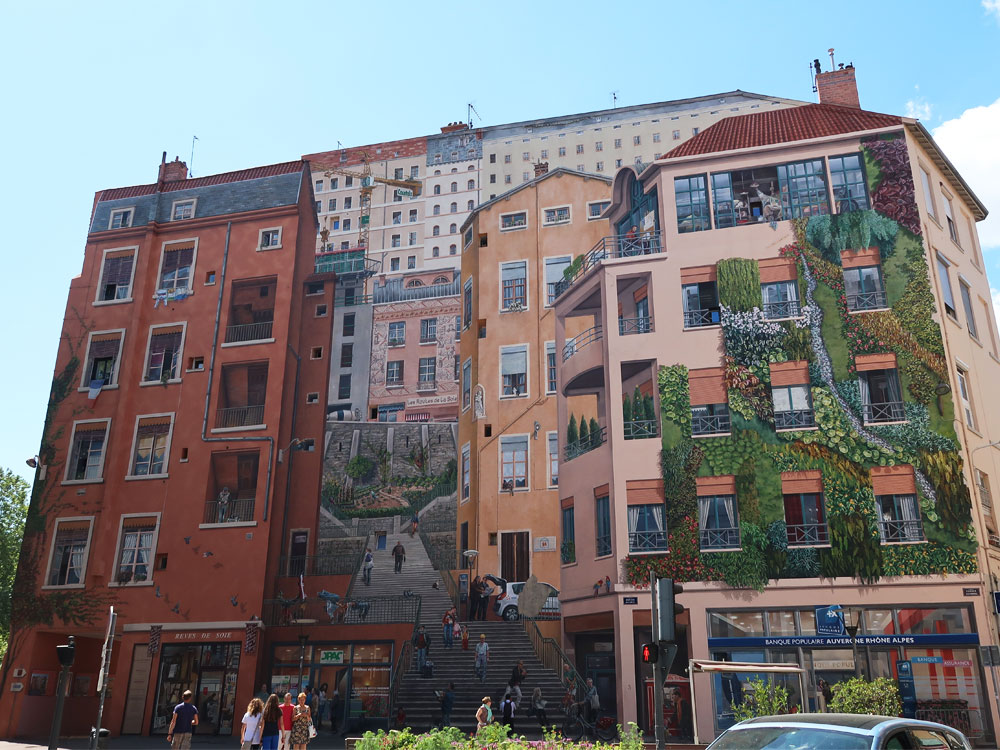 Le mur des canuts is very impressive, but there is one problem.
It is the place.
Unfortunately, in order to see the sights, you have to take the C line at Hôtel de Ville, the metro in the centre, to the station called Henon.
It is a short walk from the station, but may take between 30 minutes and an hour depending on the C line connection.
Plan your sightseeing route well in advance.
Summary
We have introduced three of the most representative trompe l'oeil paintings in Lyon.
All three of these have their own characteristics and different atmospheres and can be very enjoyable.
Fresque des Lyonnais and Fresque La bibliothèque de la cité are also within walking distance.

It is recommended to see the two together, as they are easily reached by walking along the Saône River.
Only Le mur des canuts is a little further away, so see how well you can combine it with your own tourist route.
Thank you again for reading to the end of this issue.