When travelling abroad, I always worry about the number of underwear to take with me.
This is fine when the stay is short, but when the stay is long, bringing a change of clothes as per the number of days is a lot of luggage and gets in the way.
However, the problem has always been that if I bring fewer changes of clothes, I would run out halfway through the trip.
Have you ever had such problems?
Laundries are the solution to such problems.
I had never had the opportunity to use a laundromat before, so I was a little apprehensive, but when I actually tried it, it was so convenient that I regretted why I hadn't used it before.
We would like to introduce you to these convenient laundries.
Laverie Libre Service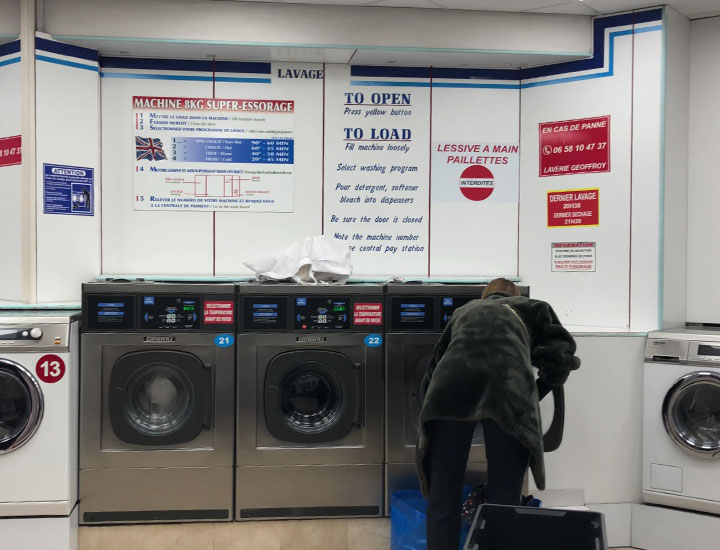 There are many laundries in Paris anyway.
In case you are wondering, the French word for laundromat is "Laverie Libre Service", and although there are slight differences in the words written in each shop, if it says "Laverie", it is definitely a laundromat.
(Even if you don't understand French, most laundries have glass windows so you can see them from the outside…)
Safe/Unsafe
Security is a concern when using laundries.
The laundromat itself is safe.
With regard to security, it is better to consider the security of the place used itself.
Laundries near hotels and other places where most people stay can be used without any problems.
Of course, do not use laundries with broken windows or that are not clean.
How to find the location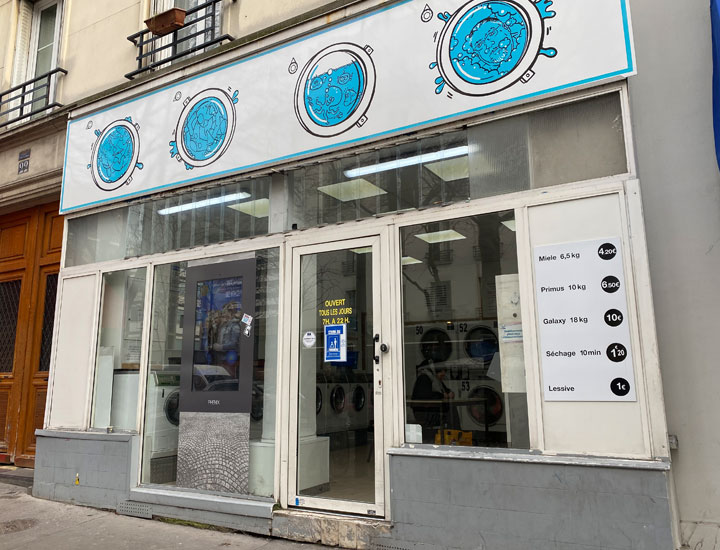 Finding a laundromat is not difficult.
You can easily find them by walking around the neighbourhood of the hotel or other places where you are staying.
They can also be found using Google Maps.
Open your place of stay and enter "Laverie Libre Service" or "Laverie" in the search, which will give you a lot of suggestions.
Note that prices may vary slightly from shop to shop, but should not be too much of a concern as there should be no major differences.
How to use the washing machine
Let's take a quick look at how to use laundries.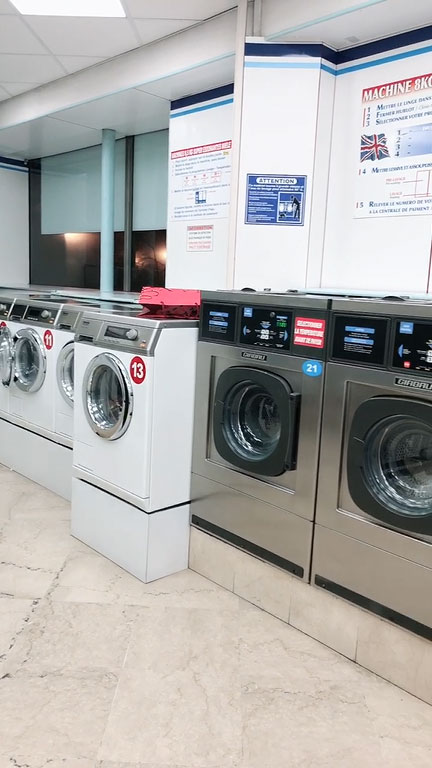 Choosing a washing machine
When you first enter the shop, you will see many washing machines.
Washing machines are colour-coded according to capacity.
Basically, the main types are 6 kg and 8 kg, with one or two other larger types of 12 kg and 23 kg installed.
(composition varies from shop to shop).
Each washing machine is also numbered, so remember the number of the machine you use.
First, choose a washing machine according to your laundry capacity.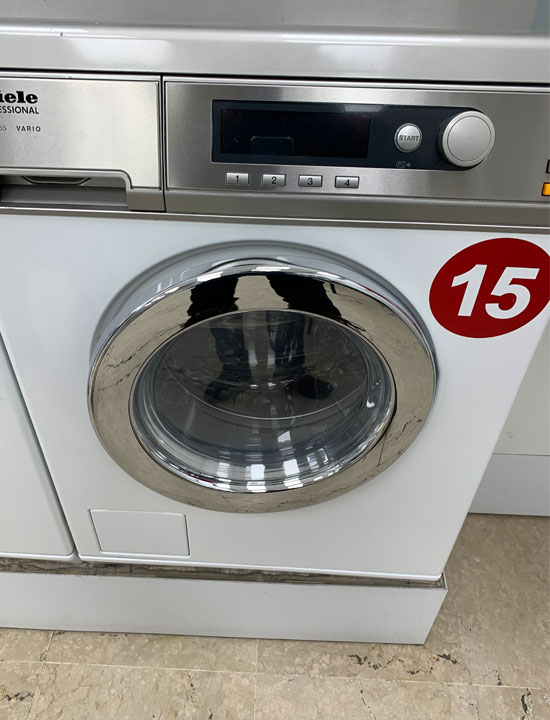 Colours vary from shop to shop, but this is the 6 kg type in this case.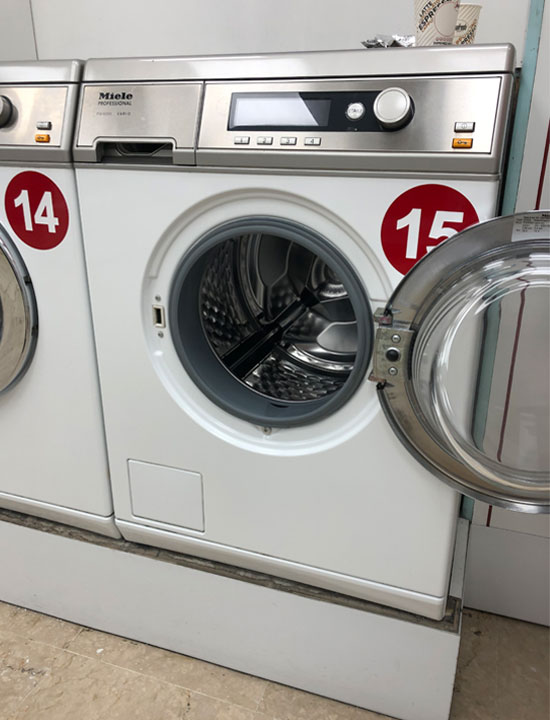 Open the door and place the laundry inside.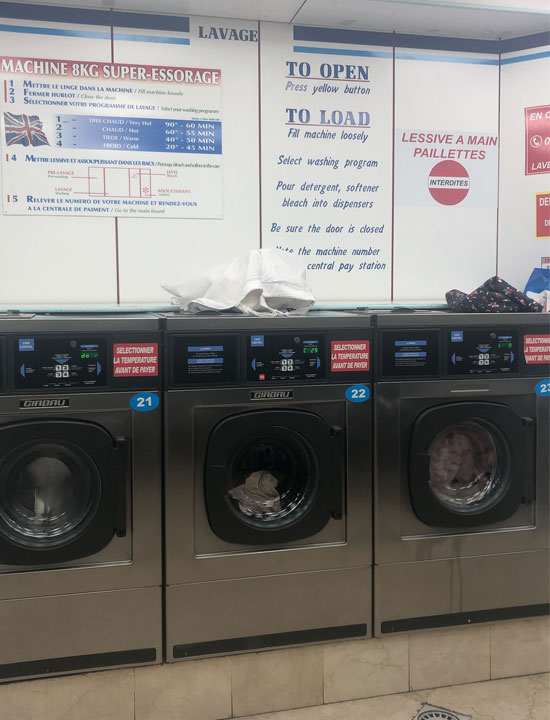 The other is this silver tone type.
The capacity is 8 kg, which was used in this case.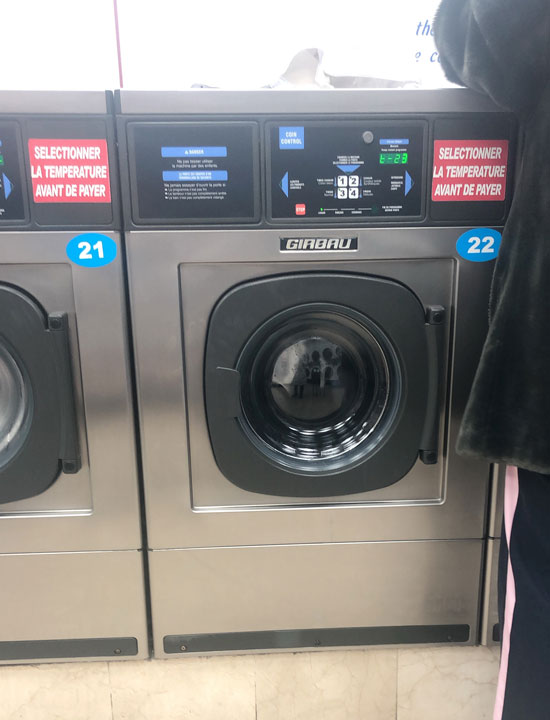 Ensure that the door is securely closed once the laundry has been put in.
Some doors do not close properly if broken or otherwise.
Always check before moving on to the next step.
Selecting a laundry course
Select the washing course.
The content is almost the same in all laundries.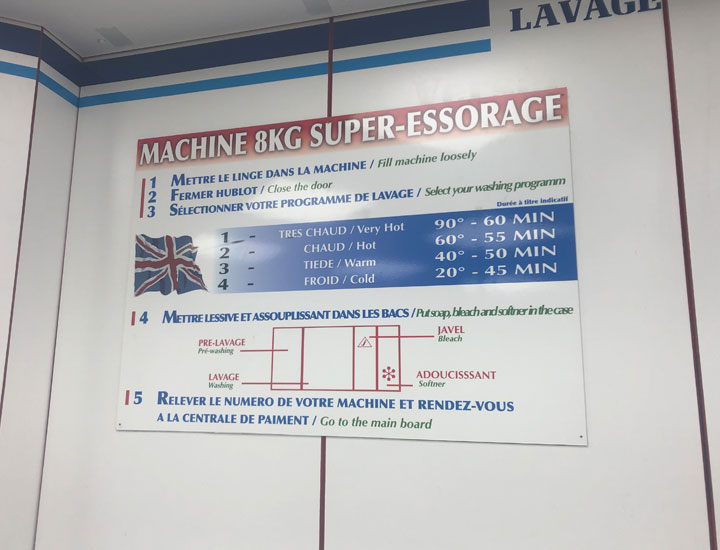 High temperature: 90 degrees: 60 minutes
Medium temperature: 60 degrees: 55 minutes
Low temperature: 40 degrees: 50 minutes
Cold temperature: 20 degrees: 45 minutes
Normally, choose number 2 or 3.
Number 1 may cause the laundry to shrink.
Choose with care.
If you are washing items such as knitwear, select number 3 or lower.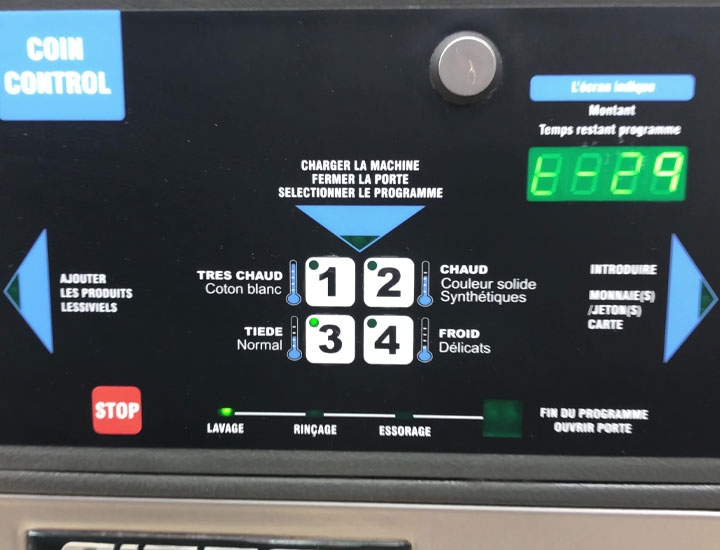 The washing machine in this case has a digital display.
Some shops have button-operated washing machines.
Add detergent.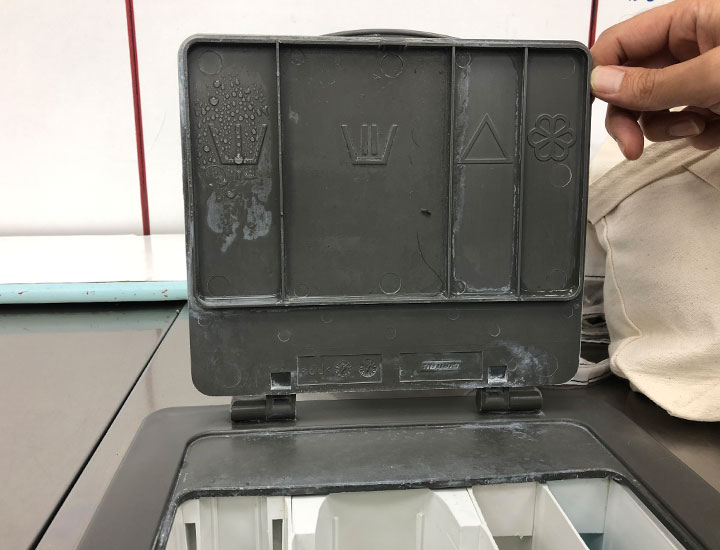 The detergent compartment is divided into four boxes.
PRE-LAVAGE: pre-wash
LAVAGE: full wash
JAVEL: Bleach.
ADOUCISSANT: fabric softener
There is also a washing machine with three boxes.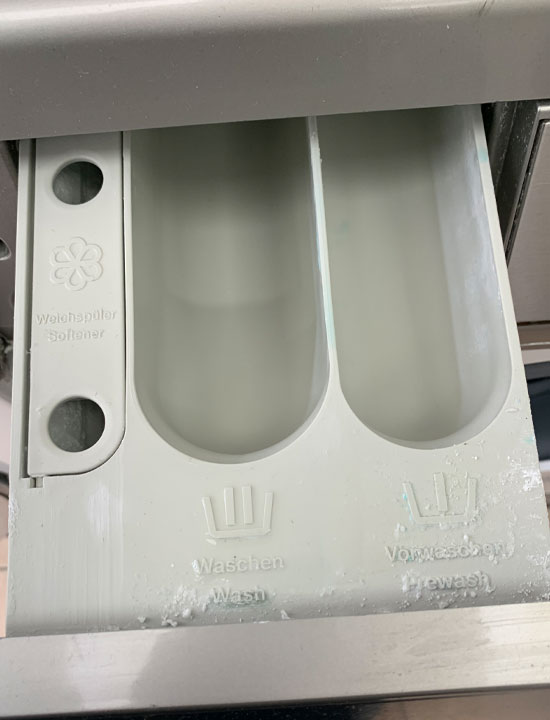 This type does not have a box for bleach.
Some also have rubberised lids.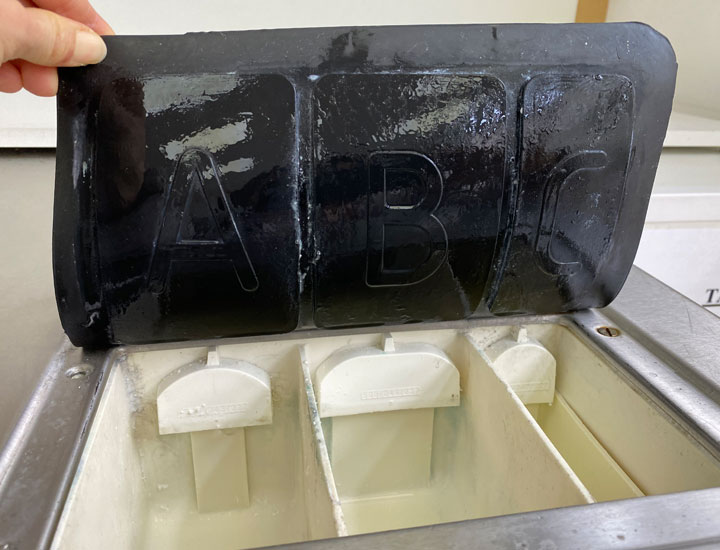 It is usually possible to buy detergent and fabric softener at any laundromat.
(In some shops, only detergents are available).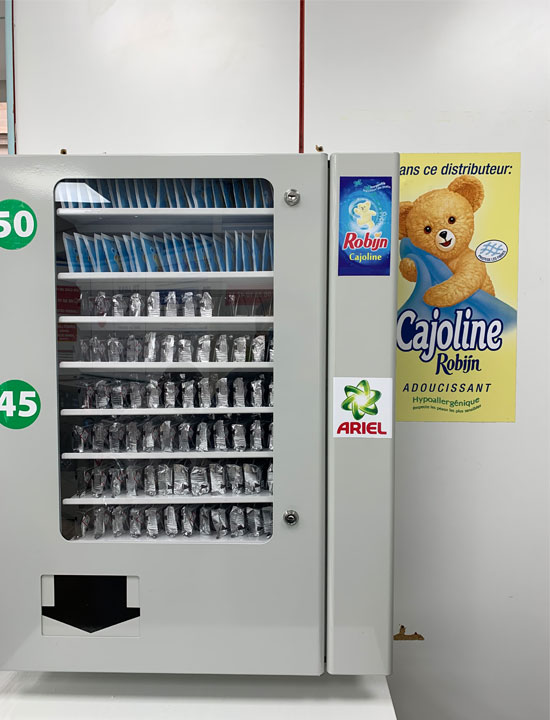 Several types of detergents and fabric softeners are available in some shops.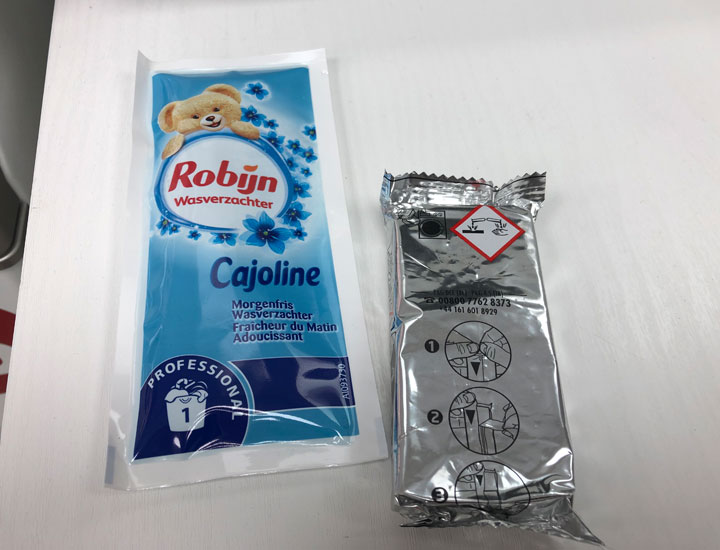 On the left is the fabric softener and on the right is the detergent.
Some shops may only sell detergent.
In this case, buy fabric softener from a local supermarket.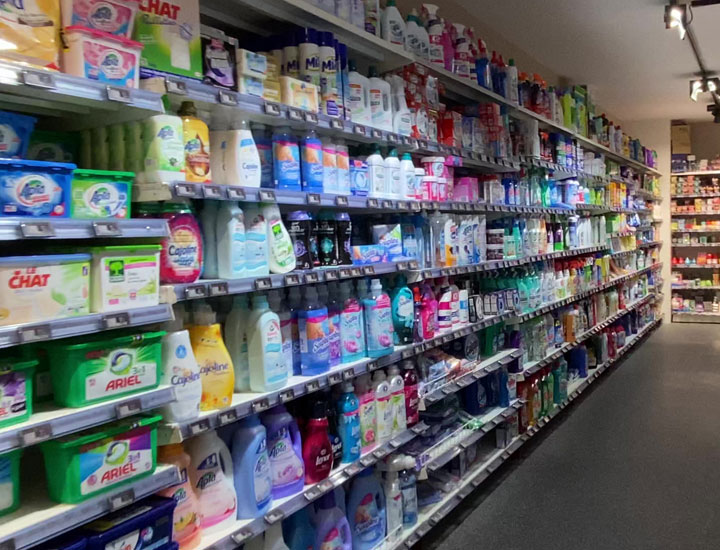 There are many different types, but if you look carefully in the shelves, you will find smaller sized fabric softeners.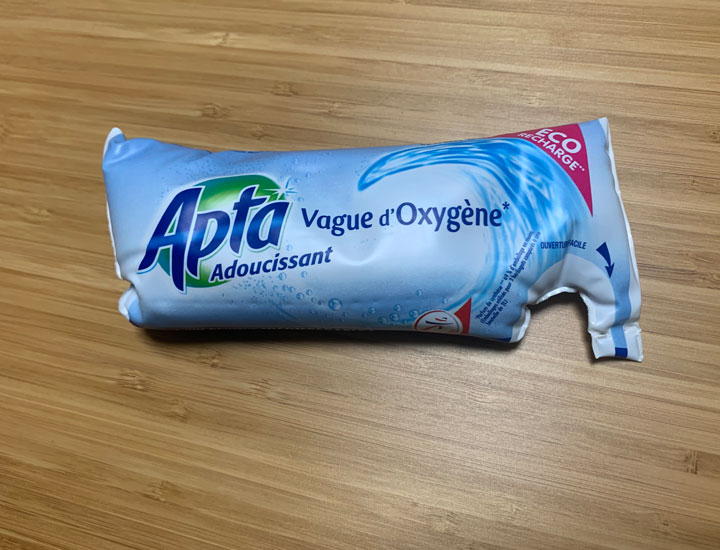 The softener is sold in sets of three.
It is difficult to cut by hand, so it is better to have scissors.
If you want to keep costs down, you may want to bring your own detergent from home.
However, we recommend that you buy it locally if possible, as the water quality may differ from French water.
If you plan to use a laundrette more than once during your stay, it is cheaper to buy it at a local supermarket.
Payment
Let's look at payment methods.
Laundromats in France have a single billing machine, which manages all the washing machines.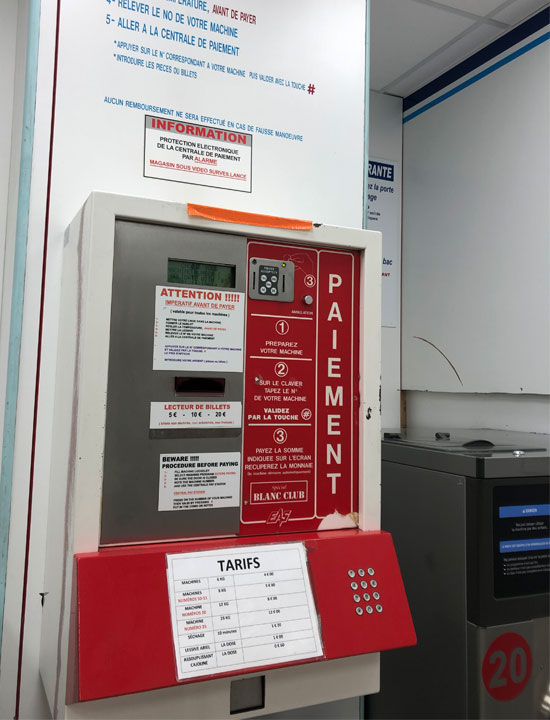 It looks somewhat difficult when written in French, but it is very easy to operate.
First, enter the number of your washing machine and press # (sharp) at the end.
The fare is displayed and you can insert coins or notes.
Once the money has been put in and cleared, the washing machine will start working immediately.
Before paying, always make sure to check three things: that the door is closed, that you have not forgotten to put in the laundry and that the temperature is set.
Of course, be careful not to forget to add detergent.
The shop we used this time only accepted cash as payment.
Credit cards may be accepted in some shops, but it is safer to bring cash just in case.
Wait until the laundry is finished.
Depending on the course you choose, it will take about 40~50 minutes to finish the laundry.
You can wait until the laundry is done, but as you would indeed be bored, you can go shopping if there is a supermarket or similar in the vicinity.
It is unlikely that clothes will be stolen during laundering.
However, it is important to note that if the laundry is left in place for an extended period of time, it may be taken out of the washing machine.
How to use the dryer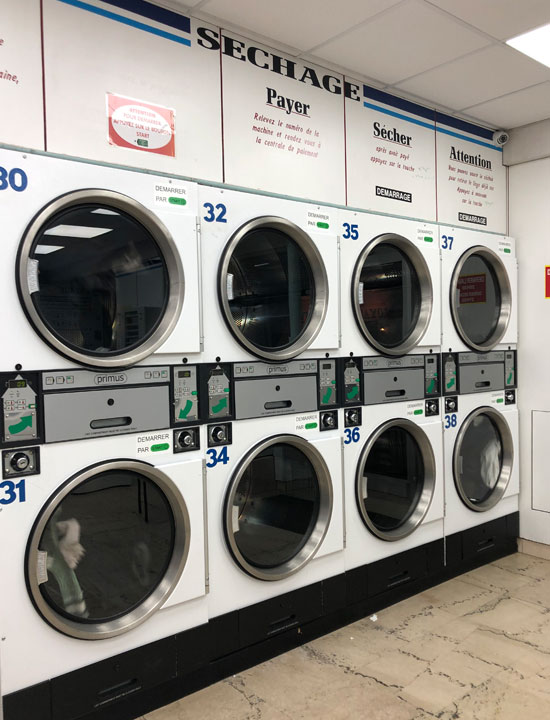 Once the laundry has been washed successfully, the next step is to use the dryer.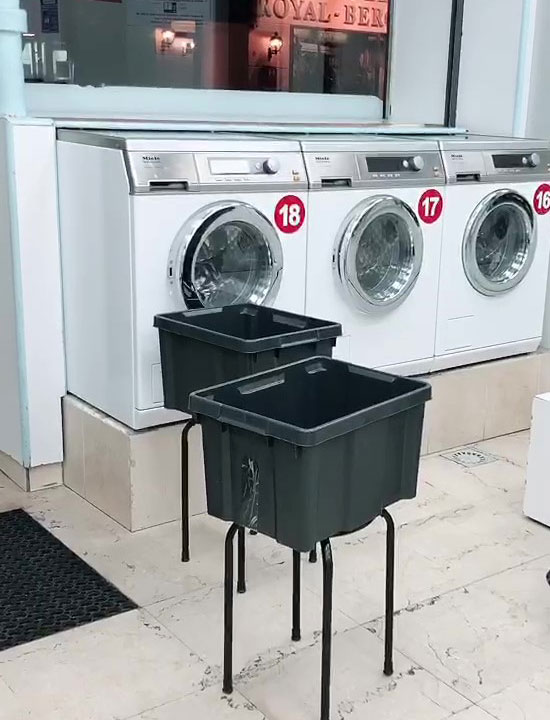 You will find these boxes, so put the clothes you have finished washing in these and move the laundry to the dryer.
If you are concerned about hygiene, you can transfer them into your own bag or other container.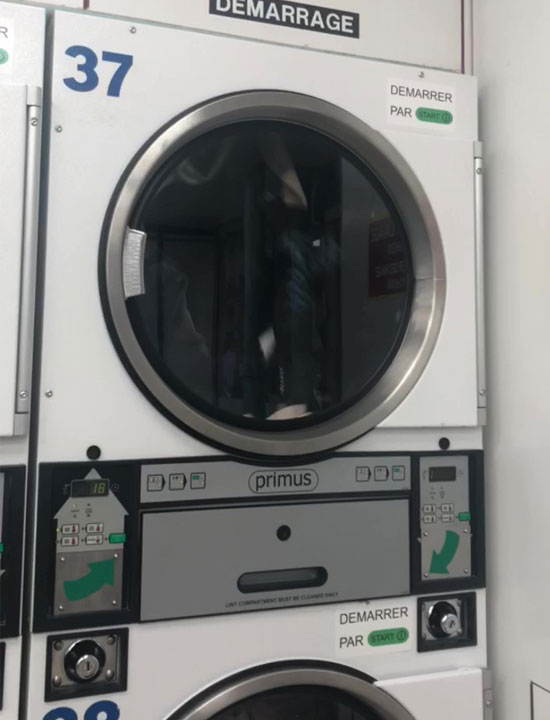 動いていない乾燥機の扉を開けます。
At this point, always check that nothing is left inside.
Payment
The payment method is the same as for washing machines.
Press Sharp after the number of the dryer and the charges will be displayed.
Setting the temperature
When ready, select the temperature.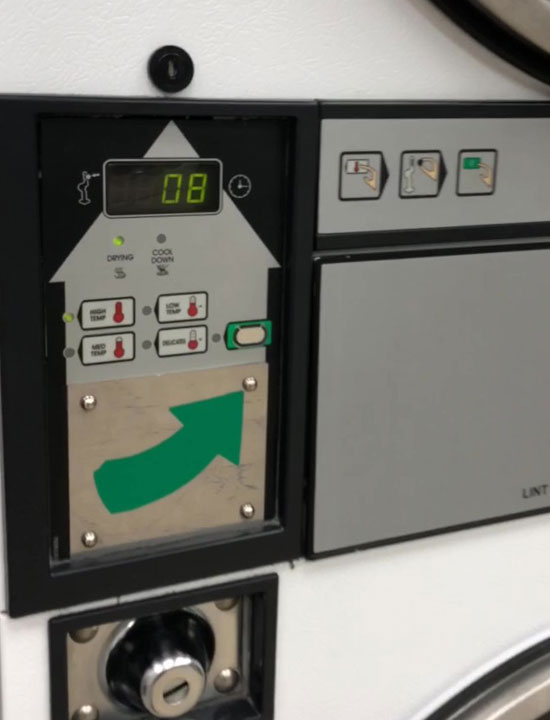 As you can see from the images, there are four temperature levels.
Select the temperature according to the items washed.
Press the Start button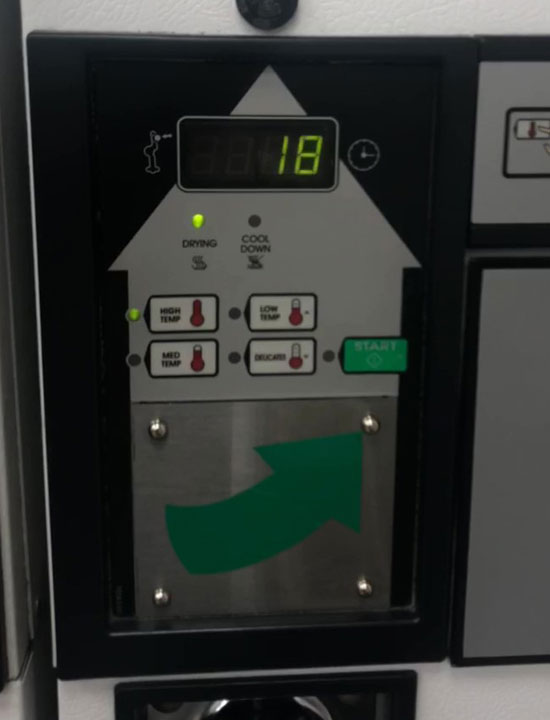 After setting the temperature, press the green button.
This will start the drying process.
The dryer takes 10 minutes per load, but it is unlikely to dry the clothes in one session first.
If you have a small amount of laundry, you will need to do it twice, or three times if you have a lot of laundry.
However, it is a hassle to pay each time, so when the dryer starts working, press your number again to pay and you will be charged for two times.
You can charge as many times as you like by repeating the process.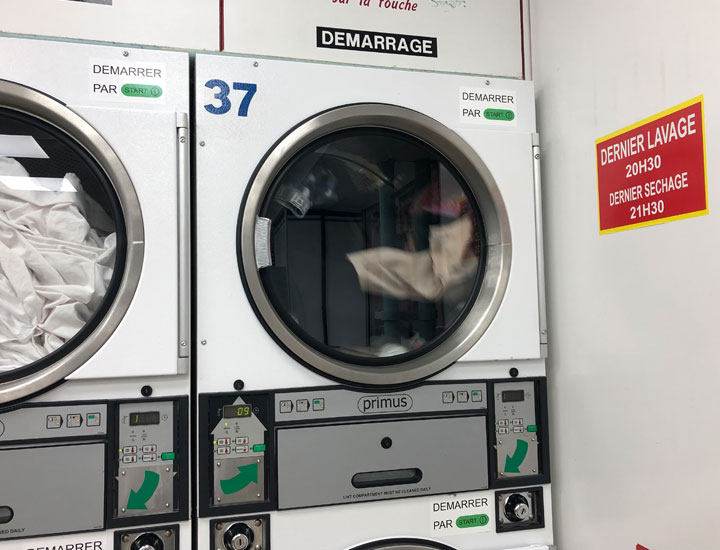 Few people are waiting for the washing to finish, but rather many are waiting for the drying to finish.
It is better to be at the laundromat shortly before the dryers stop, as dry clothes can be stolen.
Summary
Once you learn the procedure, it is very easy to use.
You will also be able to significantly reduce the amount of clothing you bring with you during your stay, so please try using it on your next trip to Paris.
Thank you again for reading to the end of this issue.