Free Mobile is said to be the most powerful SIM card in France.
The unlimited capacity is very attractive compared to other SIM cards.
But is it the best SIM card?
In this article, we'll be covering everything you need to know about contracts, fees, settings, cancellation, and how to use the SIM card vending machines.
I hope you will find this information useful when choosing a SIM card for your trip to France.
We also have an in-depth comparison with Orange Holiday, another popular SIM card in France.
Free Mobile
Free Center Paris Free Center Paris
Address:8 Rue de la Ville-l'Évêque, 75008 Paris, France
Opening hours: Monday to Saturday 09:00 am to 19:30 pm 
Closed: Sundays
Nearest stations: Madeleine Lines 8, 12 and 14
What is Free mobile?
Free mobileis the fourth largest mobile operator in France, which started its service in 2012.
Until then, there were only three companies in France, ORANGE, SFR, and Bouygues, but Free mobile entered the market with the promise of flat-rate, high-capacity communications.
When it first opened, there seemed to be some instability in the communication speed, but now it has improved a lot, and I think it is more than enough for normal use.
Before using Free mobile, I used to buy prepaid cell phones at Orange or SFR near the Opera, which was convenient.
Practical information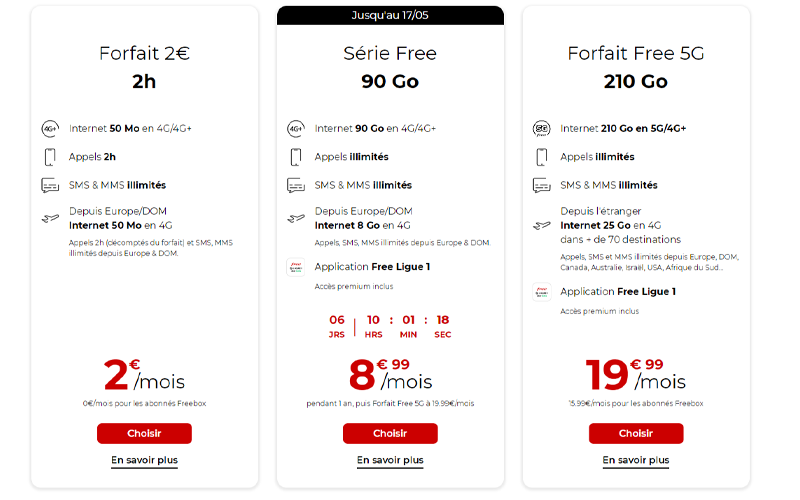 | | €2 | €8.99 | €19.99 |
| --- | --- | --- | --- |
| Price | (Sim card fee 10 euros ) | (Sim card fee 10 euros ) | (Sim card fee 10 euros ) |
| Call | 2 hours | Unlimited | Unlimited |
| Data | 50MB | 90GB | 210GB |
| Internet Speed | 4G | 4G | 4G/5G |
| Expiration date | From 1 month | From 1 month | From 1 month |
There are three plans that you can sign up for at Free Mobile: €2, €8.99, and €19.99 per month.
If your usage period is less than a year, the 8.99 euro special plan is the most recommended.
2 euros is an attractive price, but I think 50MB is not enough space for even a short stay.
The 8.99 Euro plan is the most recommended option, and if you are going to be watching videos or uploading a lot of data during your stay, you can go for the virtually unlimited 210G, 19.99 Euro.
In addition to the above fees, you will be charged 10 Euros for the sim card, so the actual plans are 12 Euros, 18.99 Euros, and 29.99 Euros.
The €8.99plan is often available for a limited time.
Please note that it may not be available at certain times of the year.
How to activate
The details of the procedure are described below, but it is very simple, just insert the sim card and you are ready to go.
To be honest, it was so easy that I was worried about the advance.
In addition, if a passcode is required to activate,
1234
It is OK if you enter.
How to buy
Now, let's take a lookat the steps for getting Free mobile sim card.
Before you head to the Free mobile center, there are things you need to prepare in advance.
Address and zip code of your stay in Paris (hotel address ok)
Credit Card
e-mail
Your smartphone's SIM size
These four points are necessary, so please prepare them in advance.
Please note that your sim card will not be issued if you are missing even one item.
(Number 4 can be checked at the site, but knowing it in advance will make the procedure smoother.)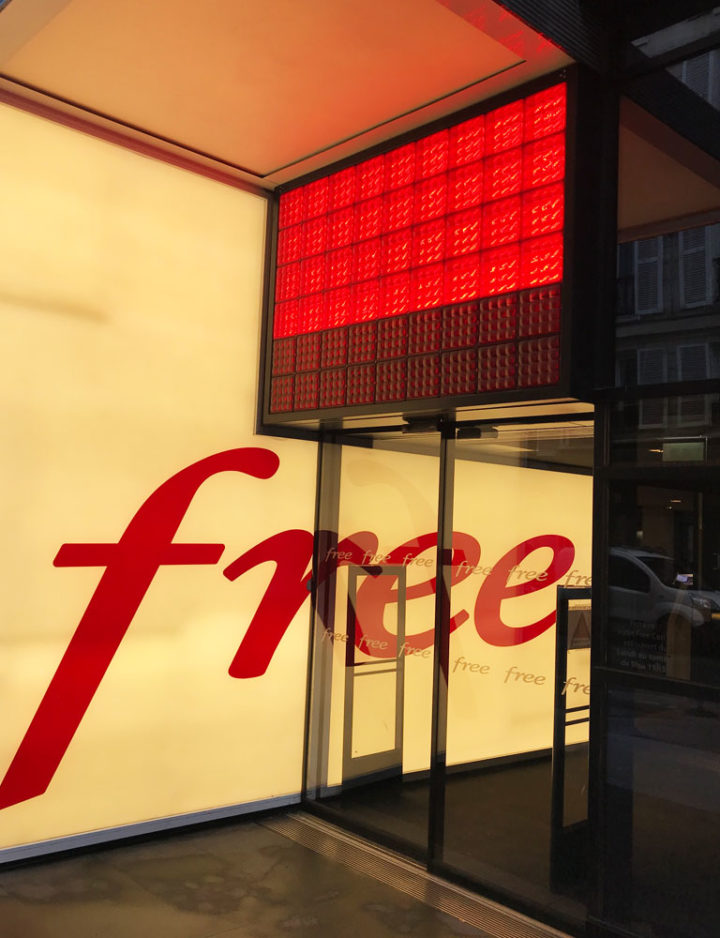 This is the entrance to the free mobile center that I mentioned earlier.
It is simple, but it looks very stylish.
When you enter, you will see a clerk, so tell him you are here to make a sim.
Of course, you can use English or French.
The machine for issuing sims is on the left as you enter.
If you have a bag with you, they will check the contents, so if you think they are asking you something, show them the contents of your bag.
(For security reasons, if you are carrying a bag in any store in Paris, you will be asked to show the contents, so be prepared to open it when you enter the store.)
There are many red machines like this lined up.
You may have to wait when it's crowded, but there are many machines to choose from, so you won't have to wait long to operate them.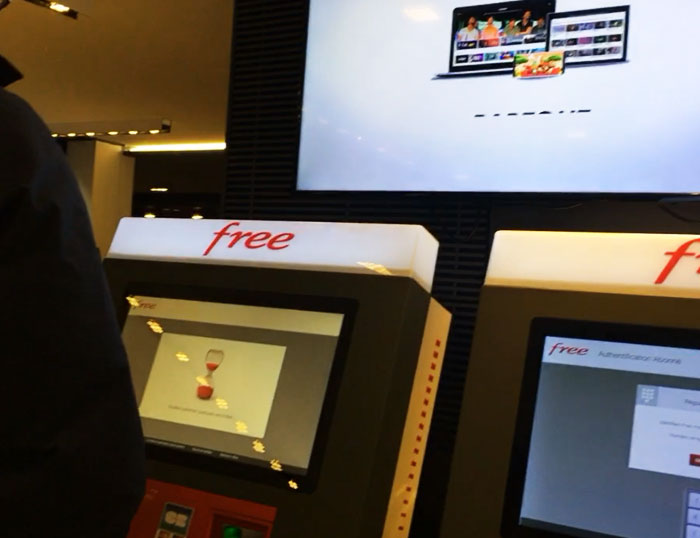 This time it is a screen when there is a plan of 8.99 euros, so please use it according to your situation.
When I purchased the product in 2019, the order of what I had to enter was different than before.
However, the information to be entered is the same, so don't panic if the screen doesn't appear as shown here, just fill in the necessary information and create a SIM card.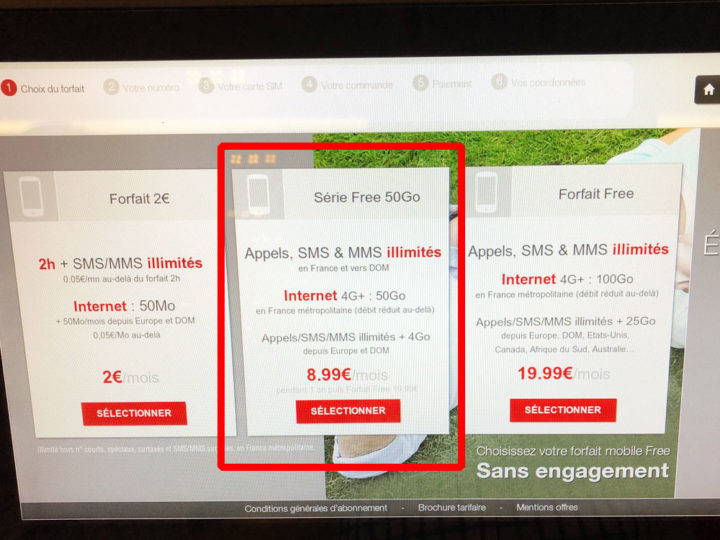 On the first screen, you will be asked if you want to pay €2, €8.99, or €19.99.
Click on the red box under €8.99.
It will say "SÉLECTIONNER" so you will know it is the same as the English word "selection".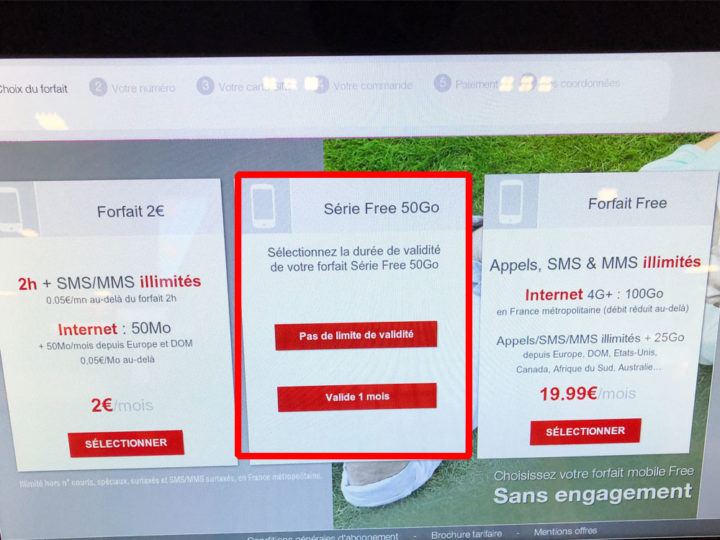 On the next screen, you will have two choices.
The top is displayed as Pas de limite de validité (no expiration date) and the bottom is Valide 1 mois (valid for one month), so this time I select Valide 1 mois below.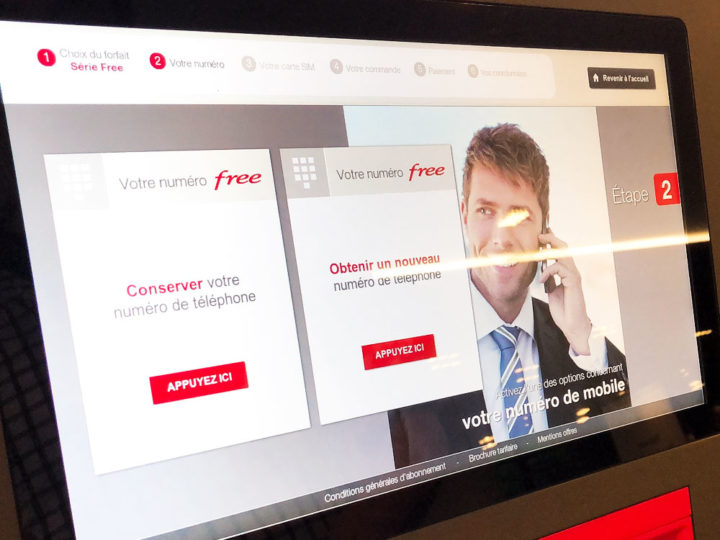 On the next screen is the selection for the phone number.
The left side is for those who already have their phone number, and the right side is for those who get a new phone number.
If you are visiting this site, I think that it is only the first time, so please press APPUYEZ ICI on the right side.
(APPUYEZ means Press in English.)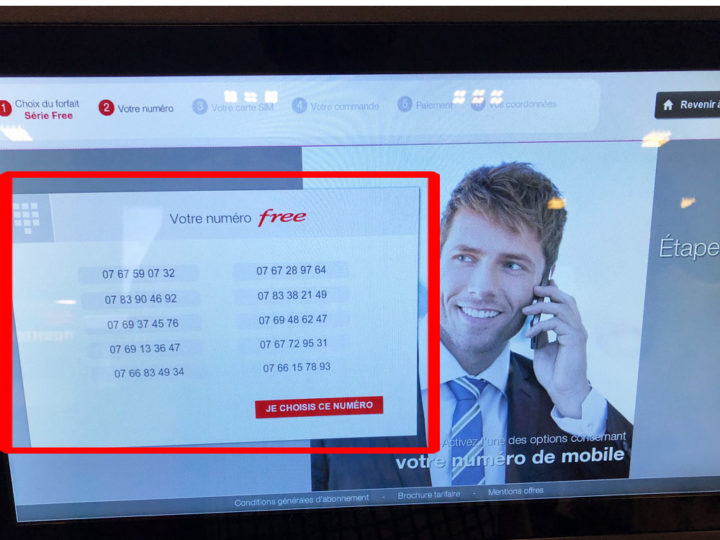 Next is the phone number selection screen.
You're seeing 10 phone numbers, so choose the one you like and press Je choisis ce numéro.
(Je choisis ce numéro means "I choice this number" .)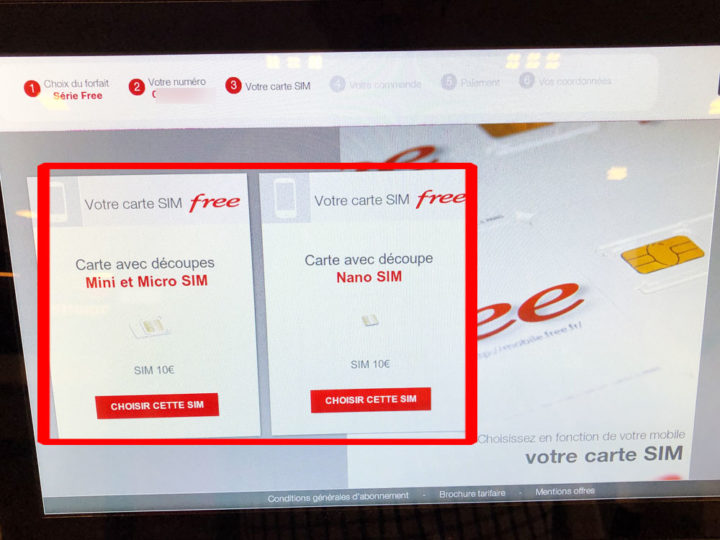 Next is the selection of SIM card size.
Be sure to choose your SIM card size.
Please note that once selected sim card, it cannot be replaced after purchase.
(If you pay, you can reissue it for 10 euros)
Double-check and press CHOISIR CETTE SIM.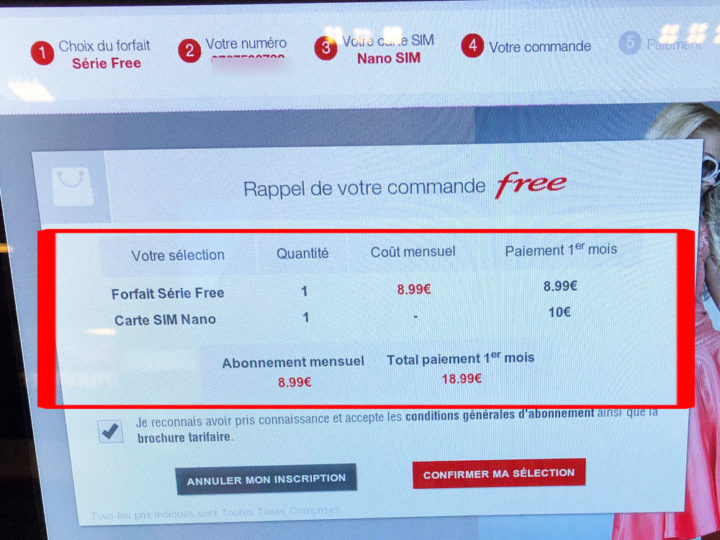 Here, it will be a confirmation screen of the contents.
The €8.99 planoffers a one-month contract and a sim card of €10 with nano SIM.
It is displayed that the total amount will be 18.99 euros.
If there is no mistake in what you see, check the box and select CONFIRMER MA SÉELECTION.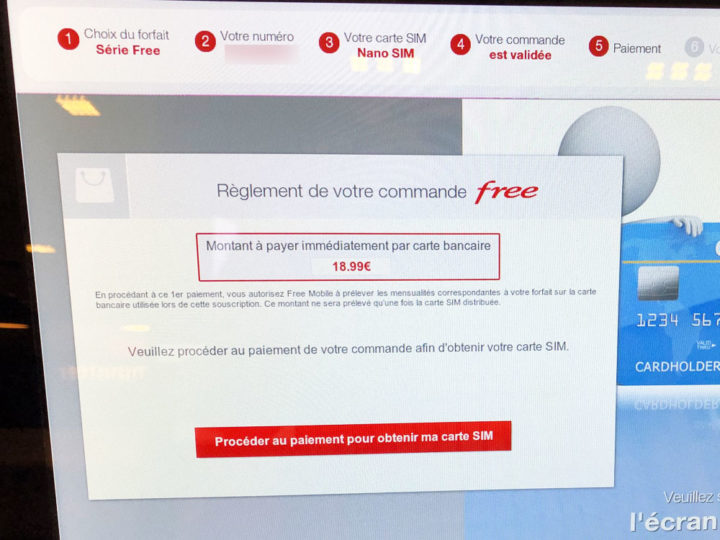 The red frame says you'll pay immediately with your card.
If you are satisfied, press the red button below, Procéder au paiement pour obtenir ma carte SIM(Proceed to pay to get a SIM card).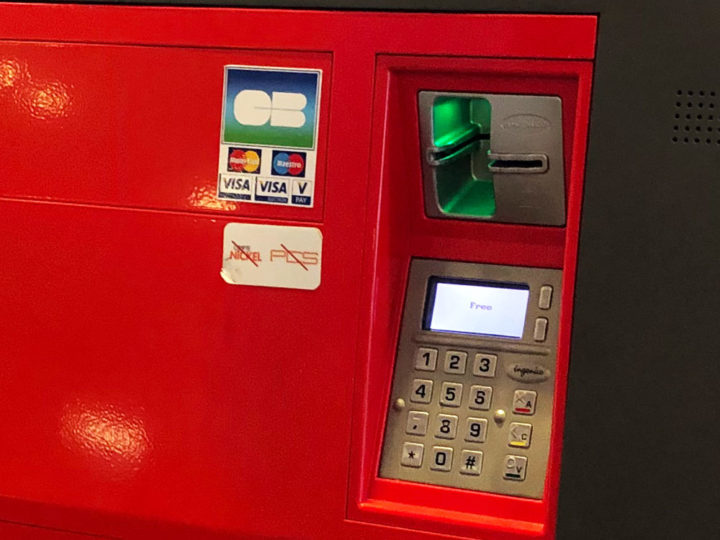 There is a place to insert a credit card in the lower right corner of the main unit, so complete the payment here.
You can insert your credit card into the green part and enter your PIN.
(Please note that credit cards without IC chips cannot be used.)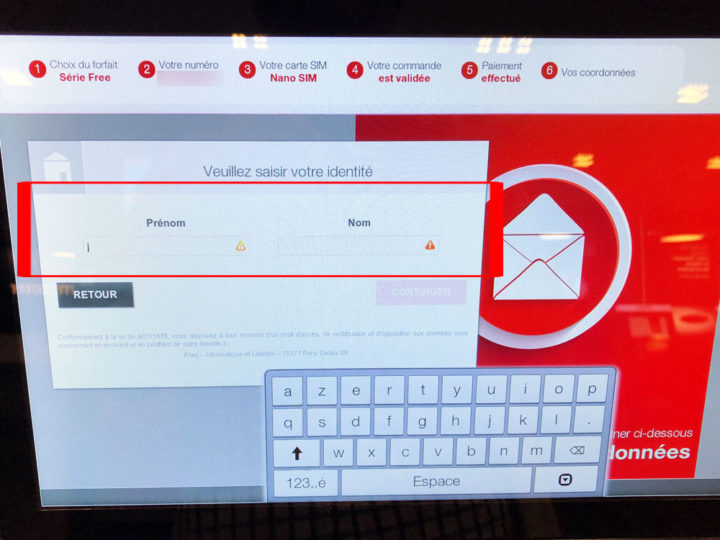 Once you've paid with your credit card, it's time to enter your personal information.
The first isthe name.
Enter your first name and last name.
When you're done typing, press CONTINUER at the bottom right.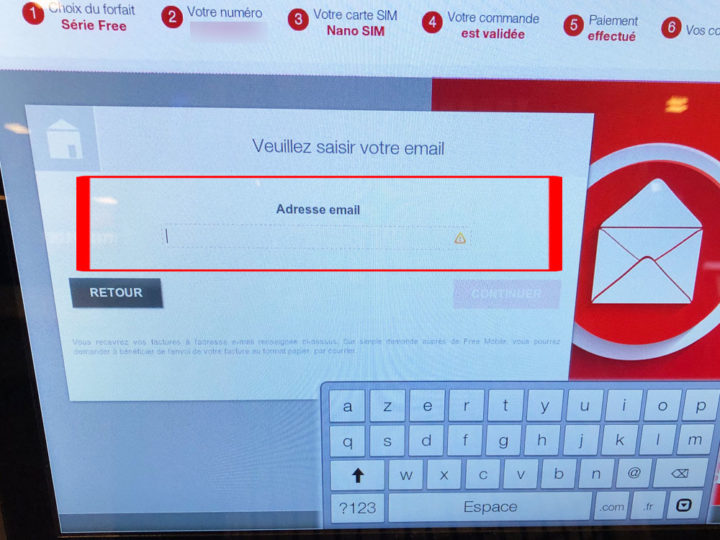 Next, enter your email.
After the contract is completed, you will receive an email about the contract contents immediately, so it is recommended that you use an email address that can be received immediately on your smartphone.
When you're done typing,press CONTINUER at the bottom right.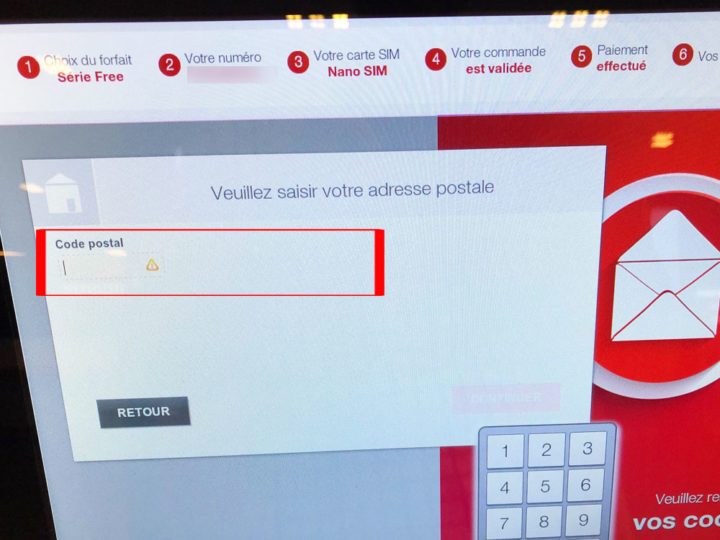 Next is the input on where to stay in France.
Please enter the postal code of the hotel you are staying at.
When you're done typing,press CONTINUER.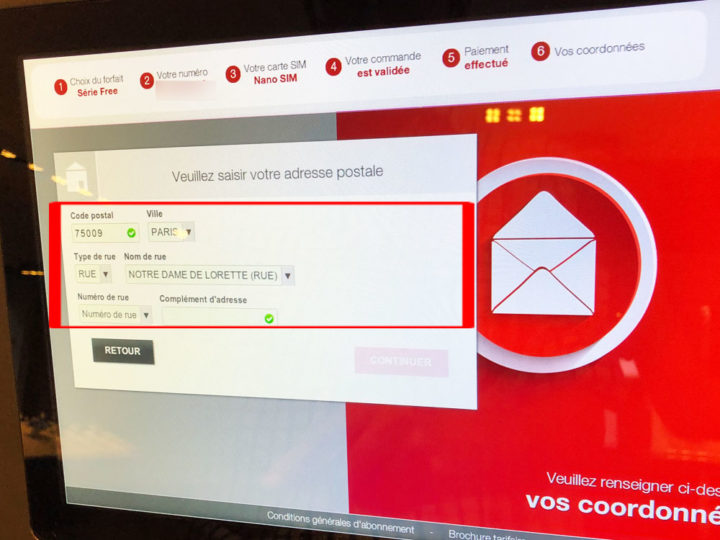 When you enter a zip code, it automatically displays up to a certain address.
After entering the missing part, press CONTINUER.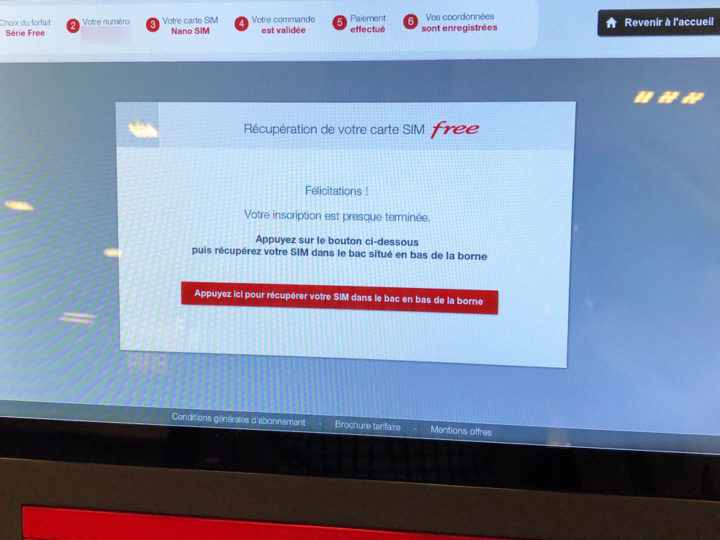 When this screen appears, the procedure is completed.
When you press the red button below, the SIM card appears in the exit under the main unit.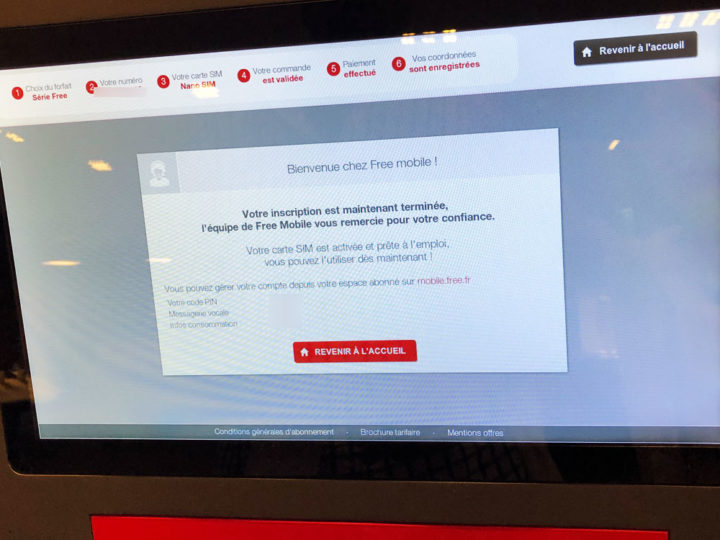 After all the process, you'll see PIN CODE and more on the screen, so it might be better to take a photo.
Here is another important thing. A receipt with the contents of the contract will appear, so be sure to keep it.
It includes passwords necessary for checking your contract contents and usage status on the Free mobile site, please keep it carefully for a while without considering it as just a receipt.
Finally, You just have to insert the SIM Card into your device.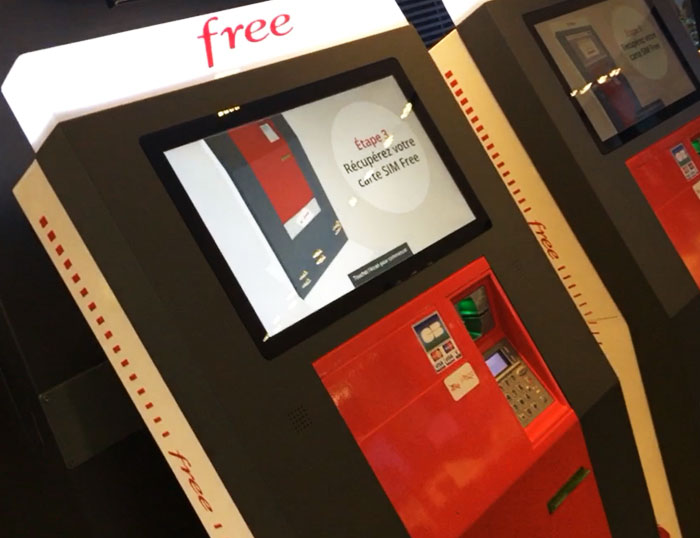 In July 2019, a passcode was required to activate it.
In that case, you can enter 1234.
If you turn off your phone, turn off your mobile communication, or reinsert your sim again while you're in use, you may be asked for a passcode, so don't forget to remember this number 1234.
If you accidentally buy a different sim card, call out to the staff.
It costs €10 for a sim card, but it will issue a new sim card.
About E-mails
If Free mobile is successfully opened, you will receive an email similar to the following to the address you registered.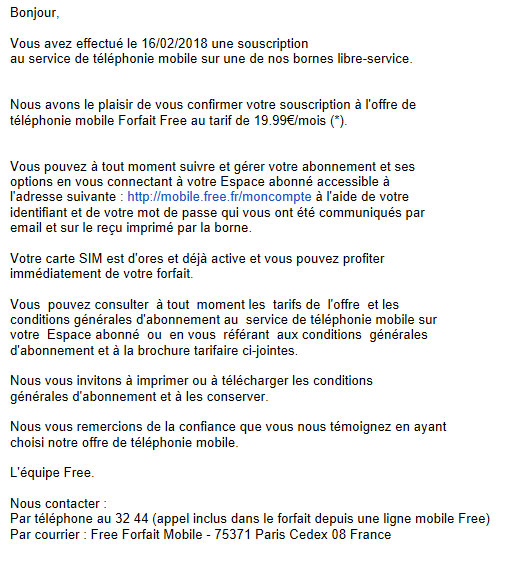 This email is like Thanksgiving.
It says :
You did the procedure and chose a plan for 19.99 euros.
You can always access it from the Free mobile site.
Your ID and password can be found on your receipt and email.
The SIM card is already active.
Then you will receive the following email:

In summary, you can see the contents ofthe contract by entering the ID and password listed in « mon compte » (my account) on the Free mobile site.
By the way, what is important is this part.
Identifiant : This is your ID
Mot de passe : This is the password

Finally, I think you will receive an email like this.
It says :
This is the notice that your phone number is 07 … .
If you don't remember, please contact me as urgently as possible.
E-mail after the end of contract
You will also receive an email when your contract ends.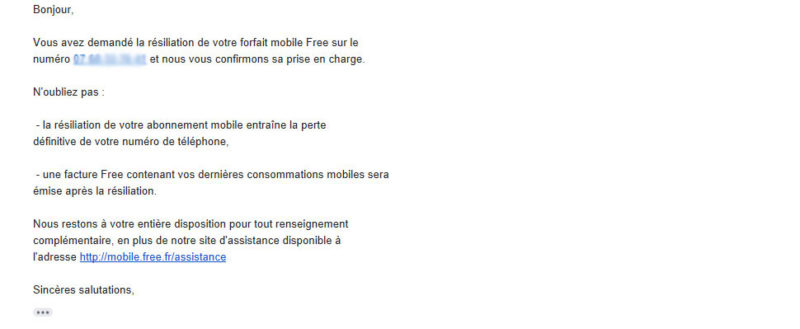 It says :
We'll issue an invoice later when your contract is over.

This is the last email.
The number you used on time is billed at €0.
An invoice is also attached.
If there is a number of euros written here, you will be charged on your credit card.
Visit Free mobile's own site to see how much you're charged.
If you receive an invoice that you don't remember, contact Free mobile.
From my experience
No problem !
It is an honest impression to say.
It was stress-free when I was researching on the internet, uploading images, and looking at Google map.
Unfortunately, it is still not possible to connect in the metro, and depending on the location, it will be completely lost.
However, this is not limited to Free mobile, so I think it will be improved gradually in the future.
Also, during my stay in Belgium, which is a 3G, but it did not require any settings and roamed automatically.
At this price, I think that can be used without worrying about capacity on other sim cards.
I used it in July 2019, I felt that the speed was a little slow.
Of course, it is not so much that it cannot be used.
How to use free mobile comfortably?
If you use Free mobile in the city, you may suddenly slow down or become difficult to connect.
One of the reasons this happens is Free mobile's free wifi.
Free mobile has free wifi all over the city.
So if you're within the free mobile wifi range, you're connected without permission.
Until then, if you were connected to 4G and could use it comfortably, but suddenly the speed slowed down and you can no longer browse websites, please check if you are connected to free mobile wifi.
If the 4G logo disappears and you see a wifi mark, you're probably connected to free mobile wifi.
Even if you have full bars on your smartphone, there is almost no speed, so be careful.
To avoid this situation, it is recommended to turn off the wifi setting on your smartphone when youleave the hotel.
Compare Orange Holiday SIM card
Practical information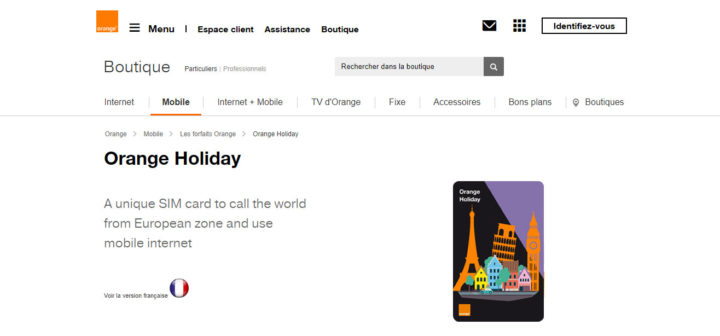 | | |
| --- | --- |
| Price | €39.99 |
| Call | 120 minutes (including international calls) |
| Data | 20GB (Europe) |
| Internet speed | 4G (3G in some places) |
| Expiration date | 14 days |
The sim card sold by Orange and available to travelers is the Orange Holiday sim.
More information about Orange Holiday is available in this article.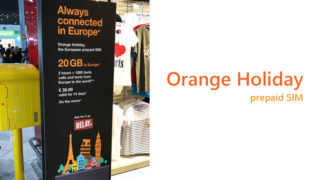 Orange Holiday Sim Card How to use and set Sim cards How to get at Charles de Gaulle Airport FAQ
OrangeHolidayisthemostpopularsimcardinFranceandEurope.YoucanbuyitatCharlesdeParisAirport,assoonasyouarriveinFrance.Setti...
The details are the contents described in the article above, and I think that is good for traveling mainly in Europe.
I think that 20G is enough for staying within 2 weeks and doing research on the Internet and using SNS.
Summary
How was it?
As much as it is said to be the best sim card in France, and it is certainly very convenient and inexpensive, so I feel like I have nothing to complain about.
However, even the best sim card has two weaknesses.
You can't buy it at the airport.
There are only a limited number of places to buy.
Unfortunately, as of 2022, there are no free mobile stores or machines at Charles de Gaulle Airport, which is the airport most people use.
(There is a store in a shopping mall a little far away, but it is unrealistic to go there)
I think that it is a big negative point for those who want to check emails and SNS immediately after a long flight.
In the city, you can purchase Free mobile at the following locations: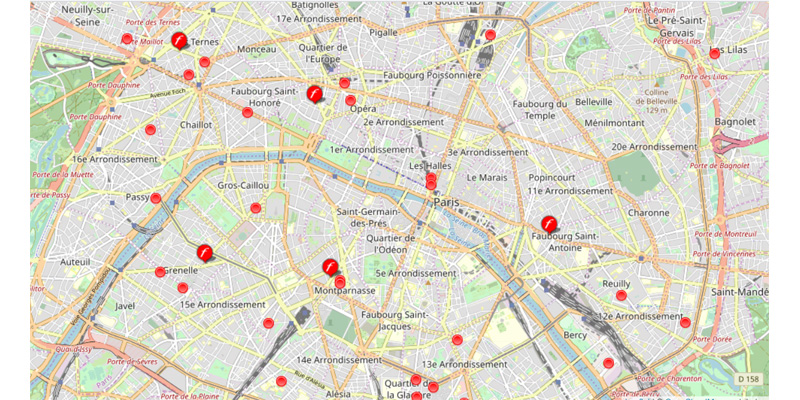 Bones interactives Free Mobile
Surprisingly, the place of purchase is limited.
Depending on the time you arrive in Paris and the location of your hotel, you may not be able to purchase it on the day of arrival.
In addition, it is better to stay at a hotel that is within walking distance, but otherwise, you will have to go to the place of purchase using metro etc.
You may want to use various research and google map, but you may need to move to the purchase location without connecting to the internet.
Depending on the schedule during your stay, if you plan to go somewhere the next day, you may not be able to make time to purchase a sim card.
If you think about it, if you can't use the best sim card right away, it could be meaningless.
In that sense, Orange Holiday, which can be purchased at airport convenience stores and kiosks, is also 10 euros more expensive, but for convenience.
Whether Free mobile or Orange Holiday is good, please think according to your schedule.
Thank you for reading to the end this time.