Sain Boulangerie opened in 2018.
The bakery, just off the Canal Saint Martin, is small, but the owner, Anthony Courteille, is a talented chef who worked for many years as a chef in a three-star restaurant.
It has a wide range of original menu items that you won't find in other bakeries, so it's a great place to go if you're looking for bread that's a little different from the rest.
It is also located close to the Canal Saint Martin, a popular tourist attraction, so it is recommended to stop by on a sunny day to take a stroll.
Now let me introduce you to some of them.
Sain Boulangerie
Practical information
Sain Boulangerie
Address:15 Rue Marie et Louise, 75010 Paris, France
Opening hours: Tuesday to Saturday 07:30~20:00 (break until 14:30~16:15) Sunday 08:00~13:00
Closed: Monday
Features
Opened in 2018 by Anthony Courteille.
He has worked as a chef in a number of restaurants.
(In particular, he worked with renowned chef Guy Martin at Le GrandVéfour.)
The bakery aims to produce bread with a focus on wheat quality and uses traditional wheat that has not been bred.
This wheat has a low gluten content and is less likely to cause allergic reactions.
Other healthy options include wholemeal bread and rye bread.
Exterior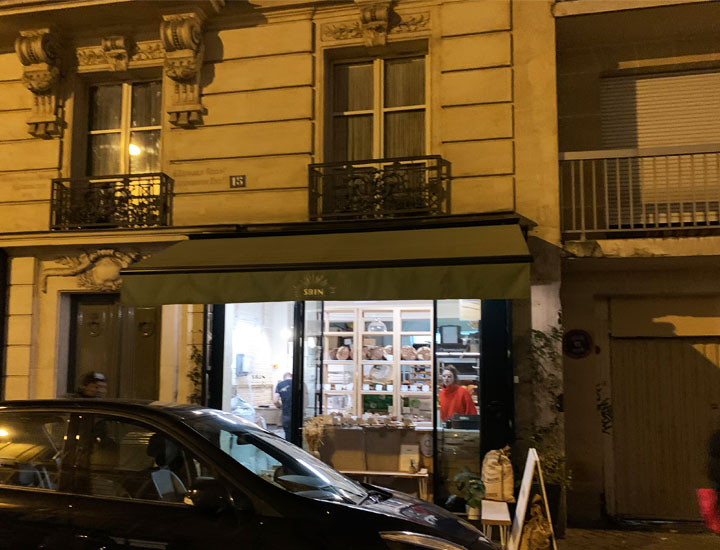 As it was the first day of our arrival in Paris when we visited, it was completely dark.
Walk along the canal, turn into Av. Richerand and immediately into Rue Marie et Louise and the shop is in front of you.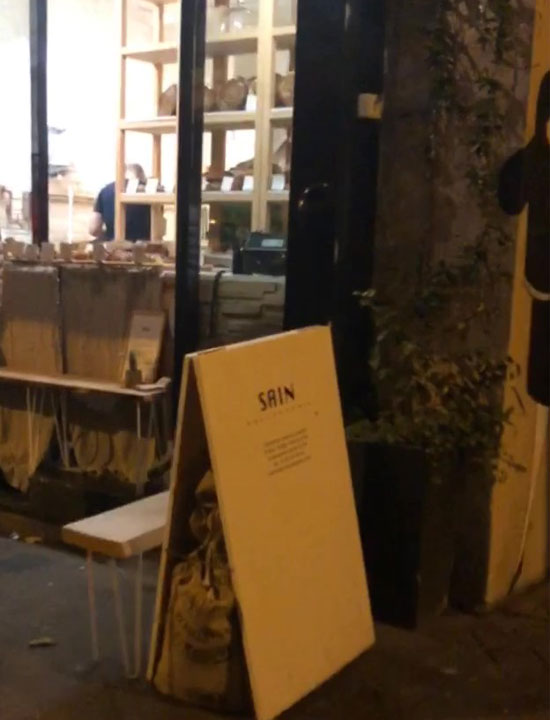 A simple sign and a handmade bench welcome you.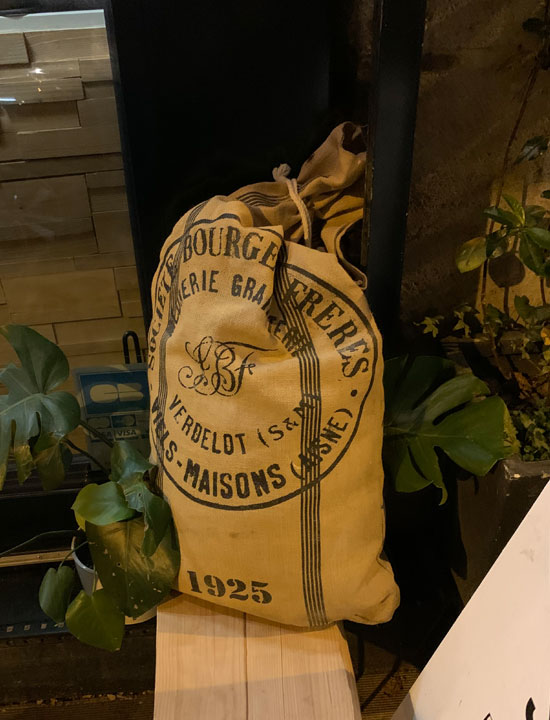 There is also a bag left behind that may have contained wheat.
Interior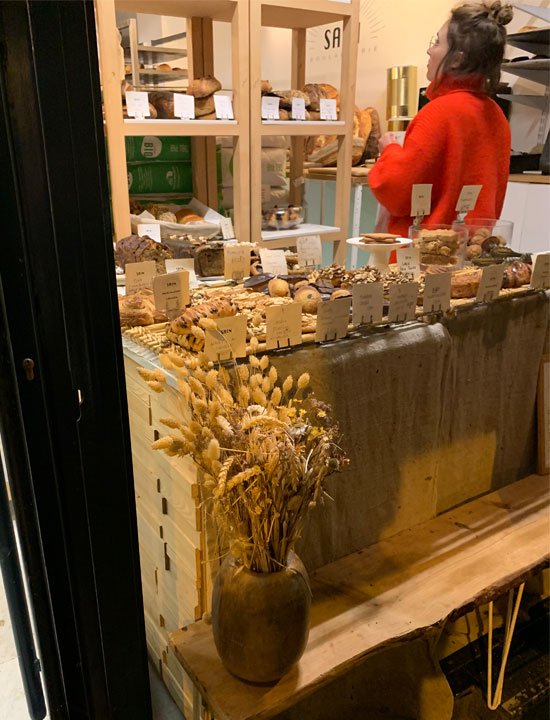 You can buy from outside the shop, although I don't know if you can call it inside the shop.
(This wasn't the case when the shop first opened…)
This style is rarely seen in Paris.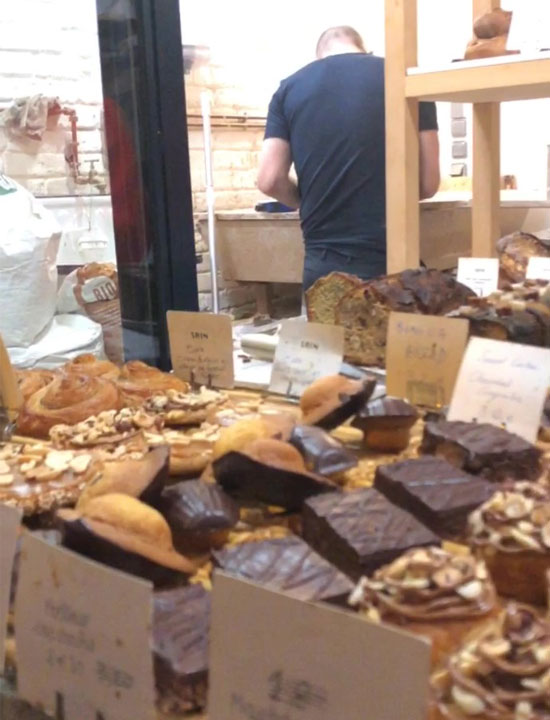 A wide variety of breads are available.
At the back, Anthony Courteille was making something.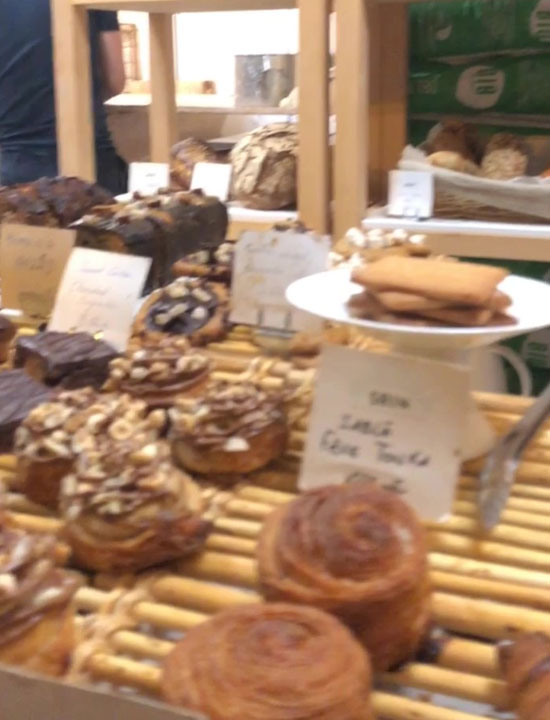 Lots of different types of bread are made.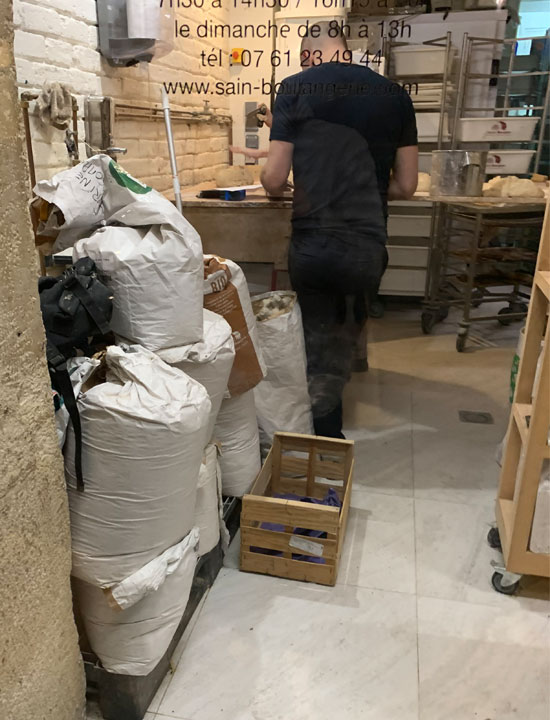 It is reassuring to be able to see the bread being made.
Review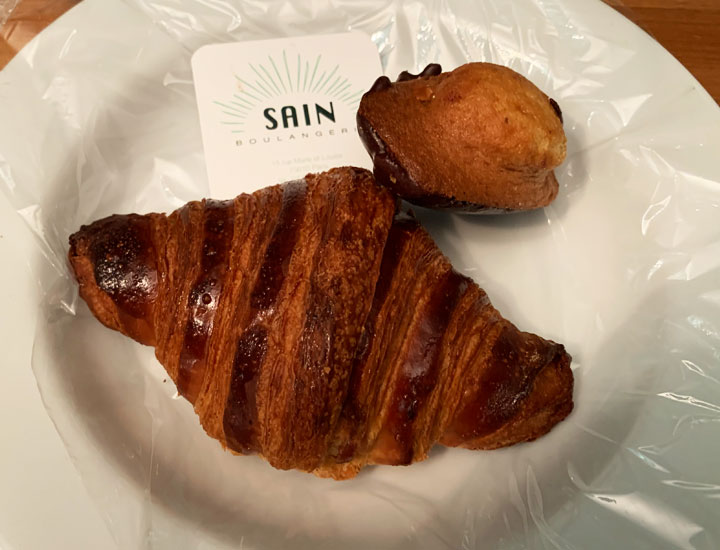 The croissants and chocolate madeleines were purchased this time.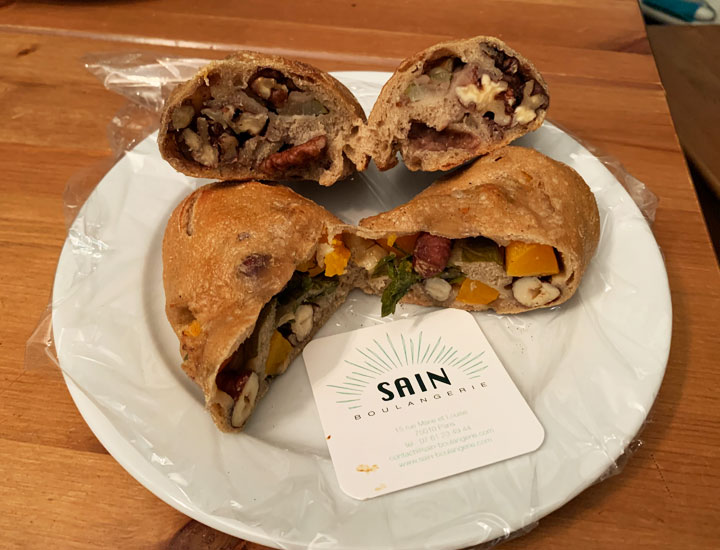 And pan champignon, which contains various vegetables, nuts and cereals recommended by the shop.
Both were breads that were rarely tasted elsewhere.
Summary
The overall rating is as follows on a 5-point list.
Sain Boulangerie
Taste:★★★☆☆
Exterior: ★☆☆☆☆
Interior: ★☆☆☆☆
Price:★★★★☆
Store clerk : ★★★★☆
Ease of purchase: ★★★☆☆
Location: ★★☆☆☆
Three stars for taste.
It's not that it's not tasty, but it's quite distinctive, so it's not to everyone's taste.
This may be highly appreciated by those who like Pan Champignon.
As regards appearance, it was not good.
It has a strong handmade feel and is not fashionable.
It is neither modern nor inorganic, and is quite halfway between the two.
There is no space inside or enough space to call it a shop, and it feels like you are buying from a food stall.
This is a low rating for me, as I don't like stalls very much.
Prices are not high.
Staff were pleasant.
The ease of purchase is difficult to assess, but the products are laid out in front of you, so you can buy them without any problems.
Overall, Sain Boulangerie received a low rating.
Reviews on Google and other online sites are highly rated, and I have my own preferences, so if you have time, please visit the site.
Thank you again for reading to the end of this issue.
The latest bakery rankings in Paris are available.
What is the rank of the bakery I introduced here?
Please check it out as well.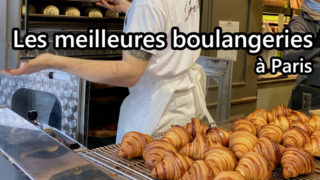 2022 Best Paris Bakery Ranking You'll definitely want to go
One of the joys of visiting Paris is visiting bakeries. Over the years, I have visited many different bakeries, but when...