In this issue, we will focus mainly on painters from the Renaissance to the Baroque among the works on display at the Musée de Nancy.
There are many painters who have had a profound influence on the next generation, from Perugino to da Vinci and Michelangelo's pupils, Rubens and Poussin.
The Renaissance period was a period of development for Western painting, from which a variety of art forms emerged.
Now let me introduce you to some of them.
Taddeo di Bartolo (1363-1422)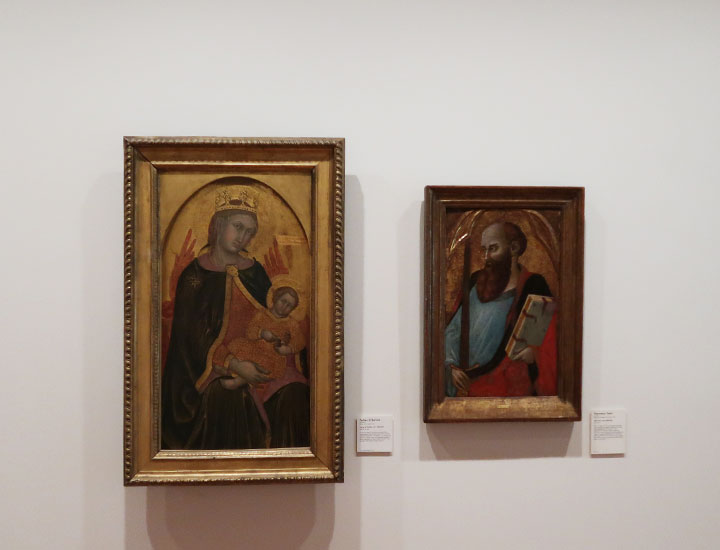 Vierge à l'enfant (1396/67)left side
Francesco Traini (1321-1365) Saint Paul (1344/45)right side
The painter was born in Siena, Italy.
Perugino (1446-1523)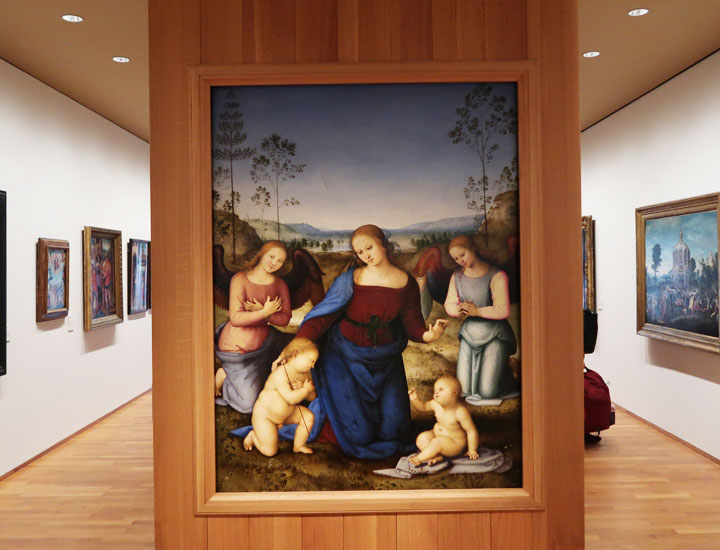 Vierge à l'Enfant avec saint Jean-Baptiste et deux anges (1505)
He spent some time as an apprentice with Leonardo da Vinci and others.
He is also famous for his murals in the Sistine Chapel and Vatican City.
He was also Raphael's teacher.
Francesco de Tatti (1470-1532)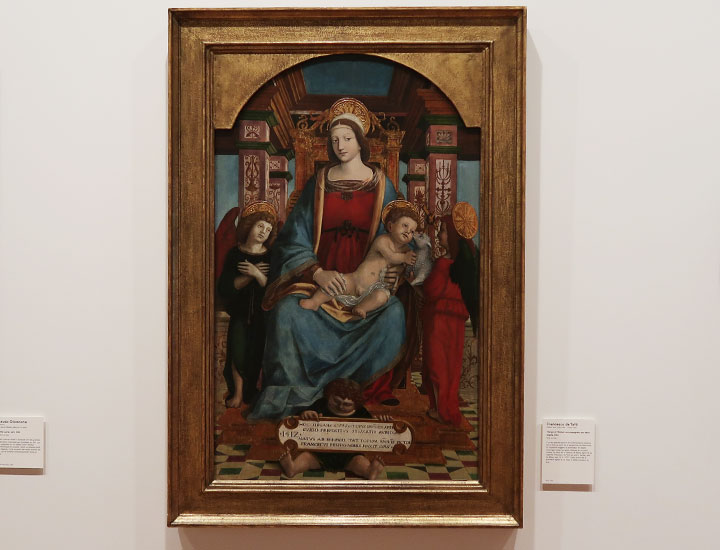 Vierge à l'Enfant accompagnée par deux anges (1512)
He was a painter active during the Renaissance.
Joos van Cleve (1485-1540)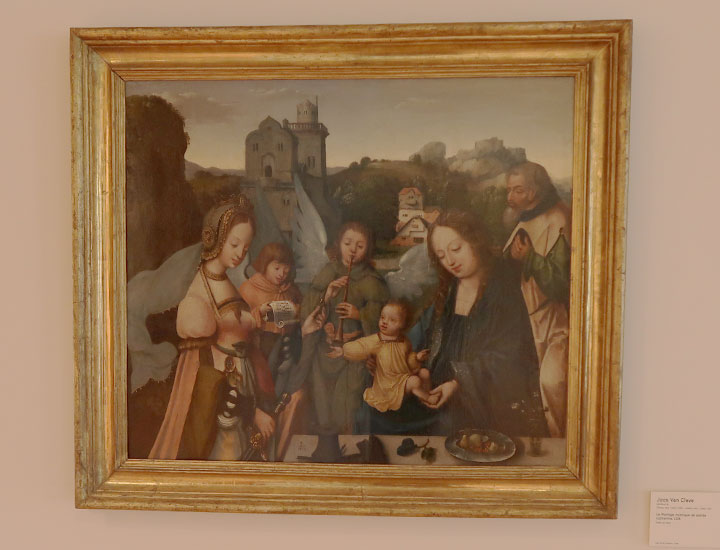 Le Mariage mystique de sainte Catherine (1514)
Flemish painter.
Wilhelm Stetter (1487-1552)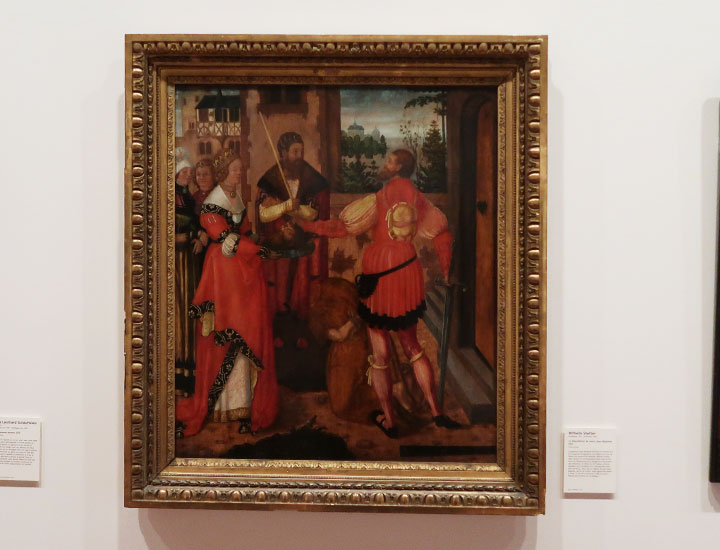 Wilhelm-stetter-la-decollation-de-saint-jean-baptiste (1515)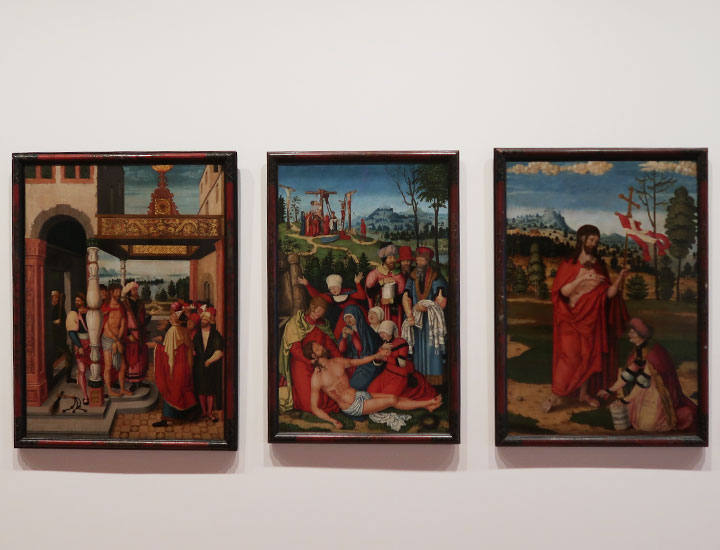 Ecce Homo (1521)left
La Mise au tombeau (1536)center
L'Apparition du Christ à Marie-Madlene (1523) right
Born in Strasbourg, he was an Alsatian Renaissance painter.
Marinus van Reymerswale (1490-1546)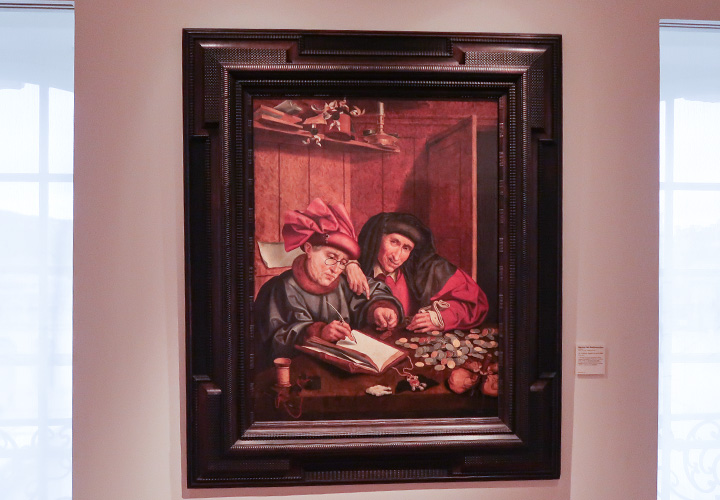 Les Compteurs d'argent
Dutch, Renaissance painter.
Giovanni Antonio Sogliani (1492-1544)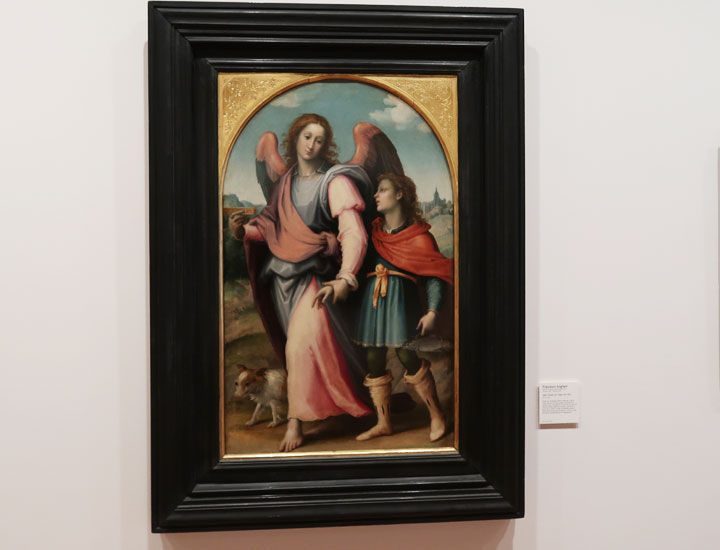 Tobie conduit par l'ange (1515)
He was an Italian painter active during the Renaissance.
Lucas van Leyden (1494-1533)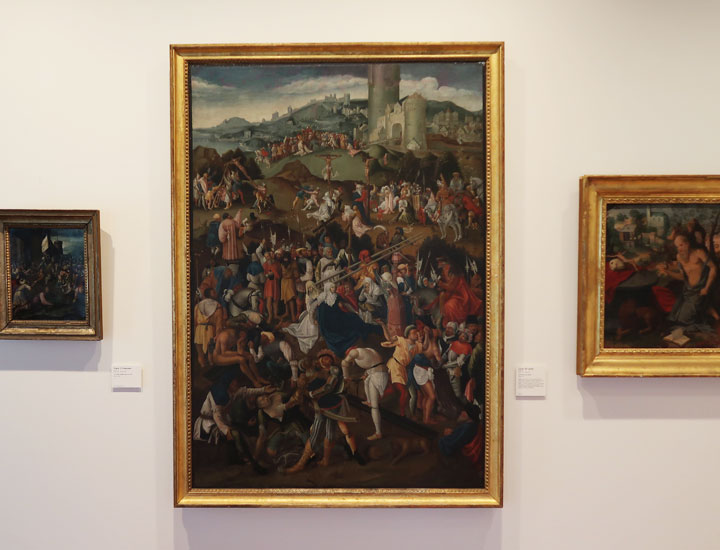 La Passion du Christ
He is a leading Renaissance painter and a very highly regarded artist.
Giampietrino (1495-1549)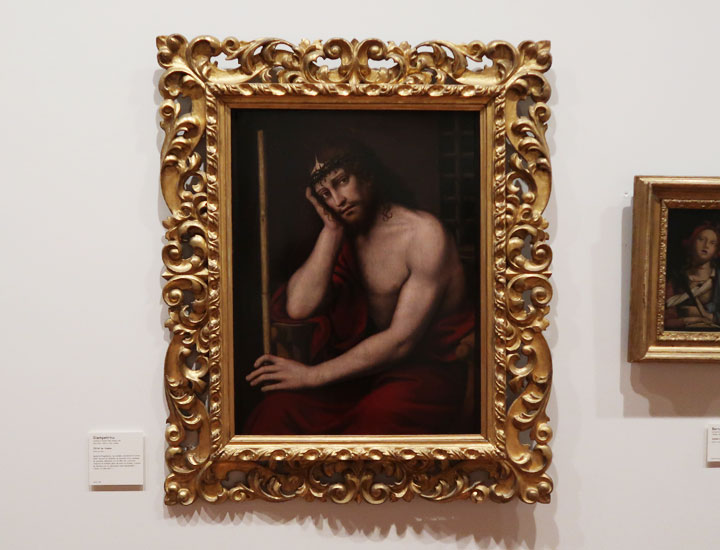 Christ au roseau
He is famous as a pupil of Leonardo da Vinci.
Maître du Saint-Sang (1500?)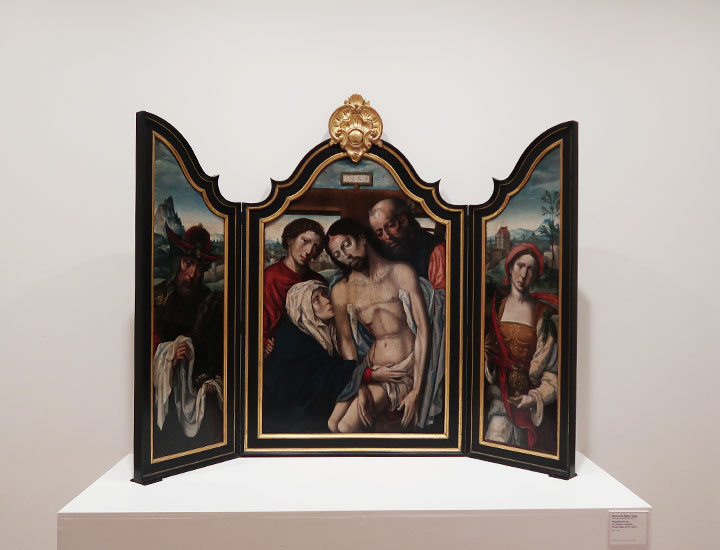 Déposition de croix avec Joseph d'Arimathie
Painter active between 1510 and 1520.
Matthias Gerung (1500-1570)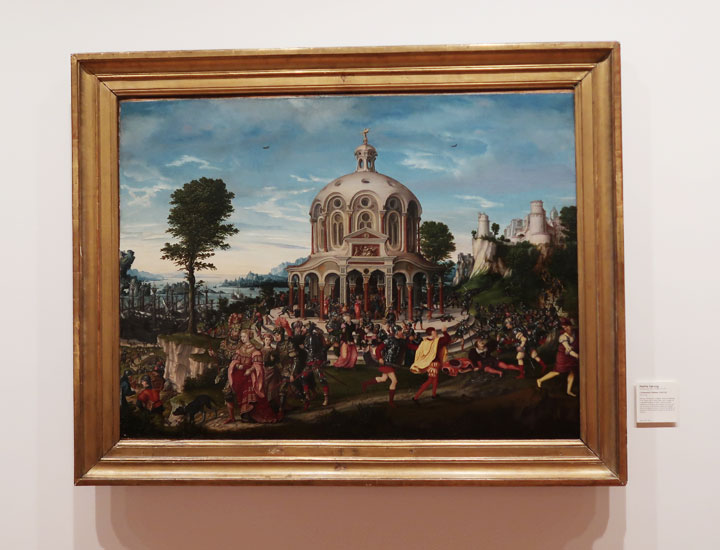 L'enlevement d'Helene (1530/31)
German painter and woodcut artist.
Jan Sanders van Hemessen (1500-1566)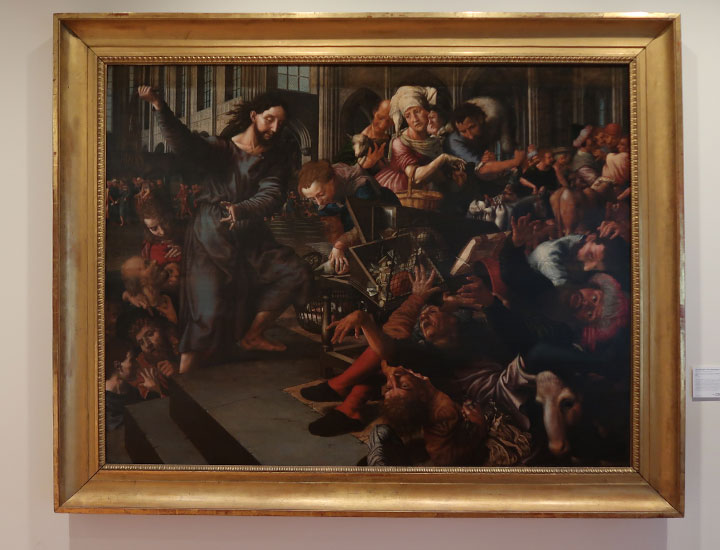 Le Christ chassant les marchands du Temple (1556)
He was a Flemish Renaissance painter.
Giorgio Vasari (1511-1574)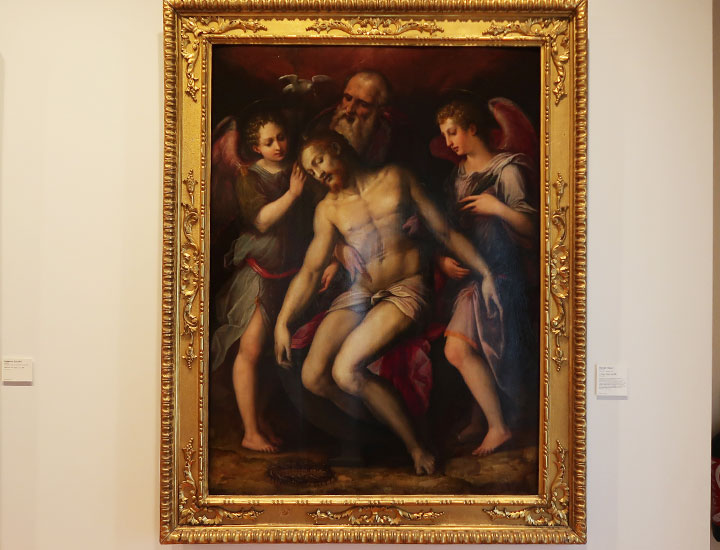 La Sainte Trinité (1558)
As well as being a painter and architect, he is also famous for compiling art history.
He was also a pupil of Michelangelo.
It is also famous for being the first to use the term 'renaissance' in print.
Tintoretto (1518-1594)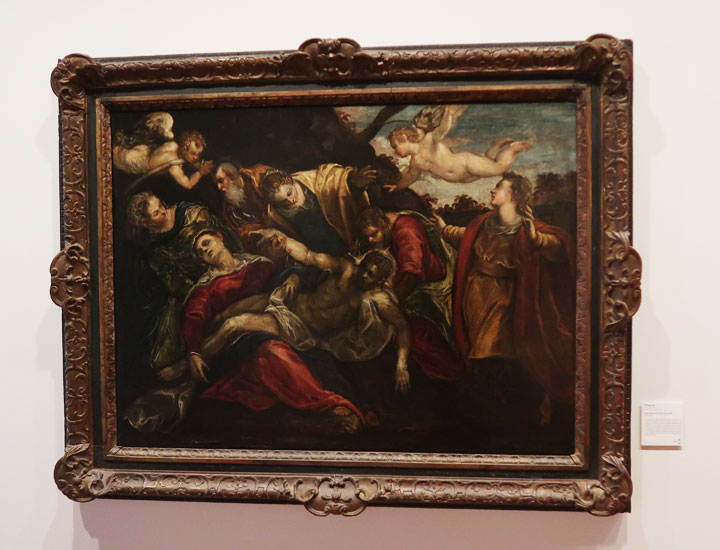 Déploration du Christ (1580)
Mannerist painter, active mainly in Venice.
He was competing with Veronese.
Joachim Beuckelaer (1533-1570)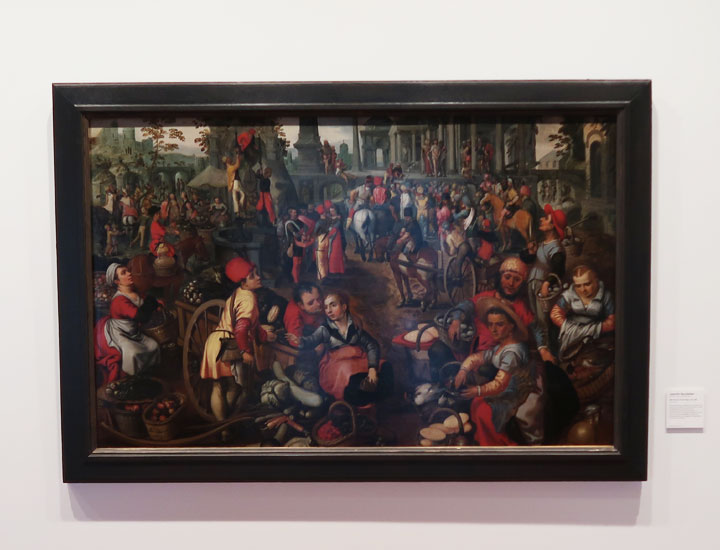 Marché avec l'Ecce Homo (1561)
He was a Flemish painter who painted markets and kitchens.
Federico Barocci (1535-1612)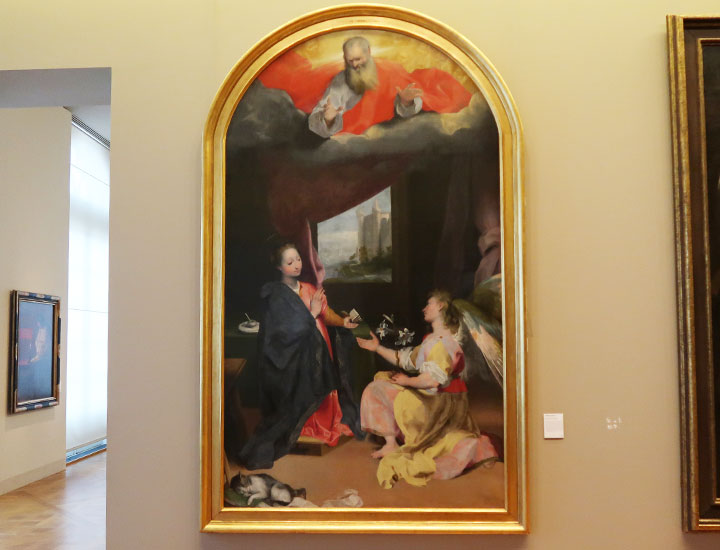 L'Annunciation (1596/1612)
Italian painter, considered one of the pioneers of Baroque.
Pieter Pietersz (1540-1603)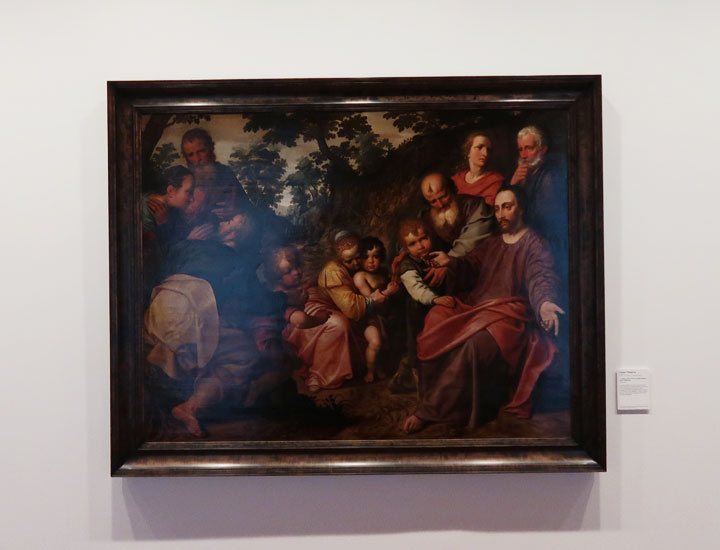 Laissez venir à moi les petits enfants (1580-1590)
Dutch, Renaissance painter.
Federico Zuccaro (1542-1609)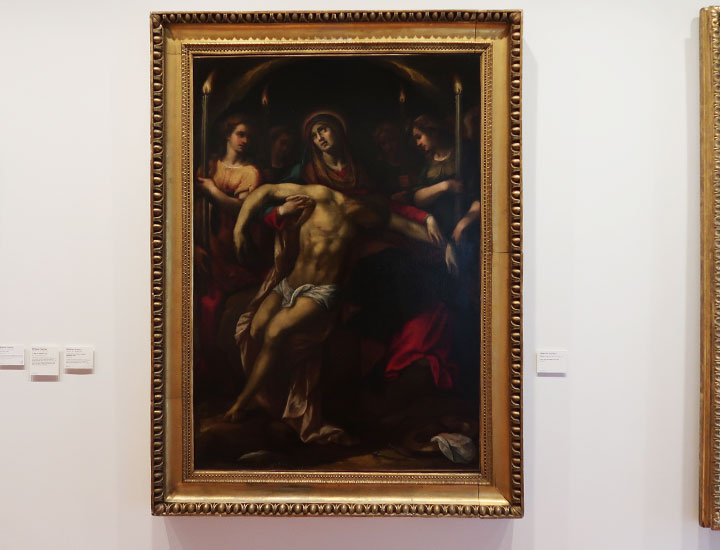 Piefà avec des anges (1570)
He was a Mannerist painter and worked in various countries as well as in Italy.
Frans Francken I (1542-1616)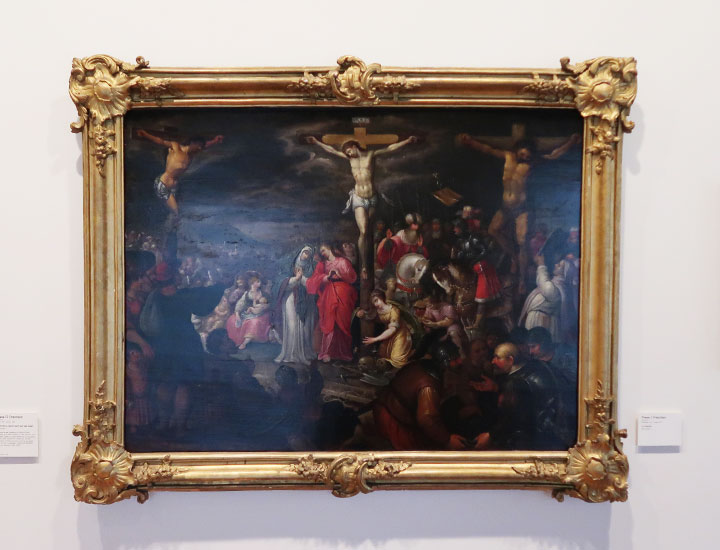 Le Calvaire 
Flemish painter, mainly painted altarpieces.
Nosadella (1549-1571)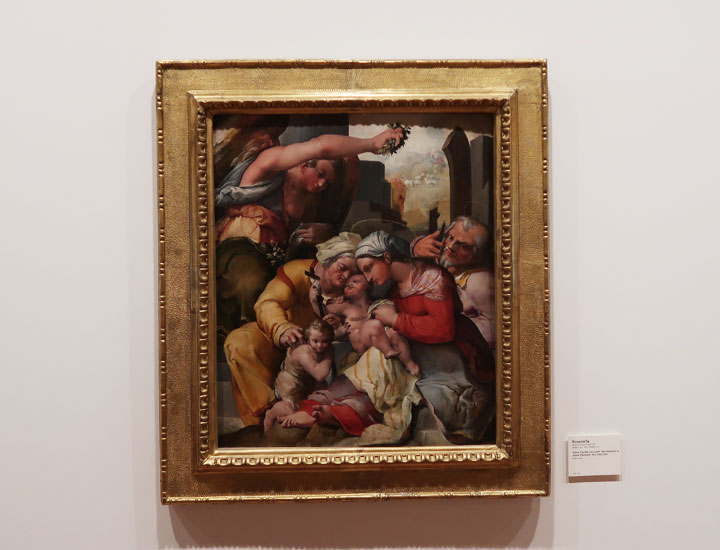 Sainte Famille avec sainte Elisabeth (1545/50)
Italian, Mannerist painter.
Domenico Passignano (1559-1638)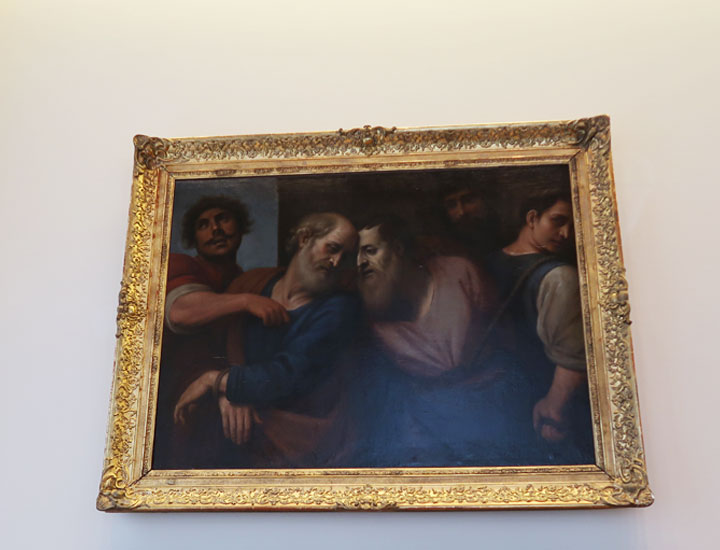 Les adieux de saint Pierre et de saint Paul 
Italian, late Renaissance painter.
Wenceslas Cobergher (1561-1634)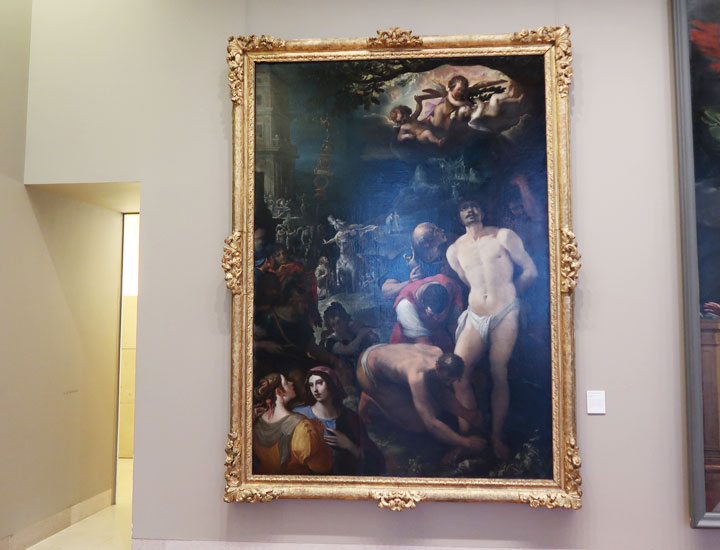 Les apprêts du martyre de saint Sébastien (1599)
He was also a painter and architect.
He was paid more by the Grand Duke of Albert, Holland, than Rubens and Bruegel.
Joos de Momper (1564-1635)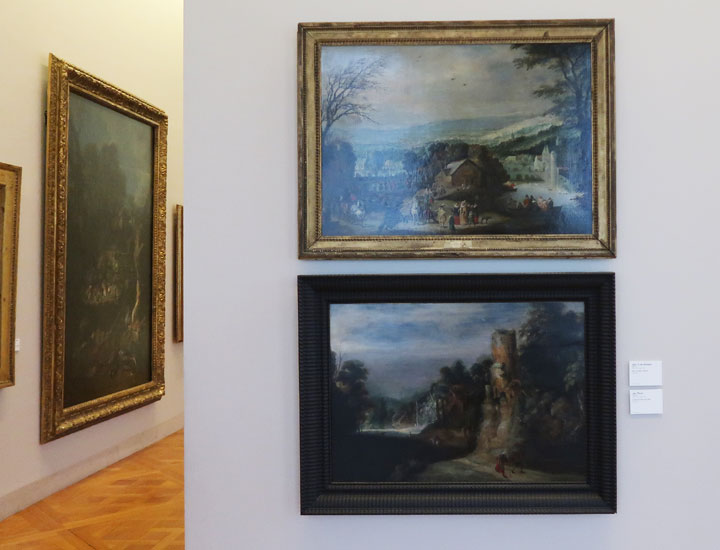 Fête de village flamand  upper
Jan Tilens (1589-1630) La Tour en ruine (1625) lower
Flemish landscape painter, said to have been strongly influenced by Bruegel.
Jan Tilens is another Flemish painter who mainly painted mythological scenes.
Abraham Bloemaert (1566-1651)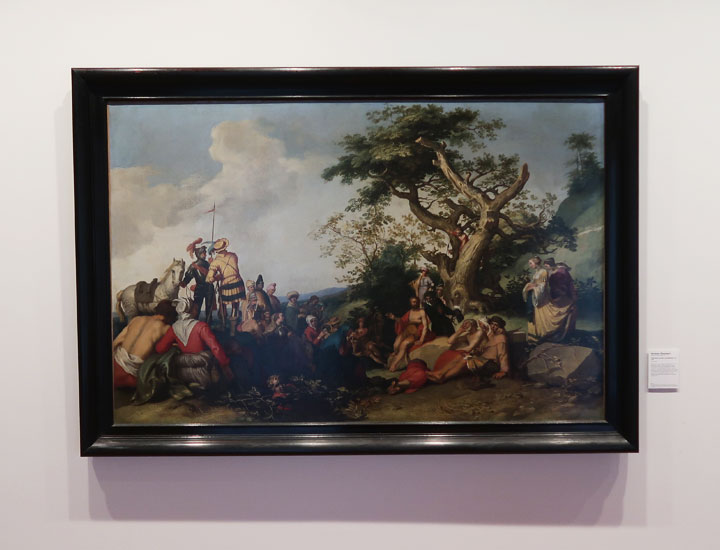 Prédication de saint Jean-Baptiste (1620)
Dutch painter and representative of Mannerism, but in his later years he turned towards Classicism.
It depicts John the Baptist preaching.
Girolamo da Ponte (1566-1621)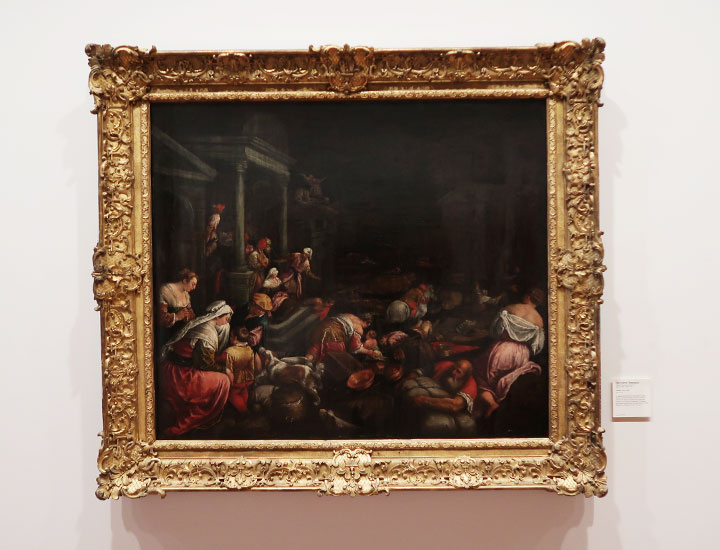 Déluge (1590)
He is a Mannerist painter.
Frans Pourbus le Jeune (1569-1622)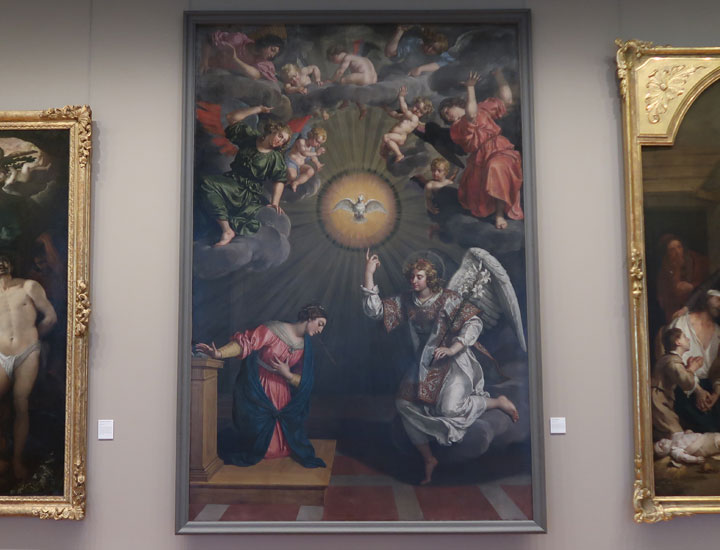 L'Annonciation (1619)
He mainly painted portraits.
Guido Reni (1575-1642)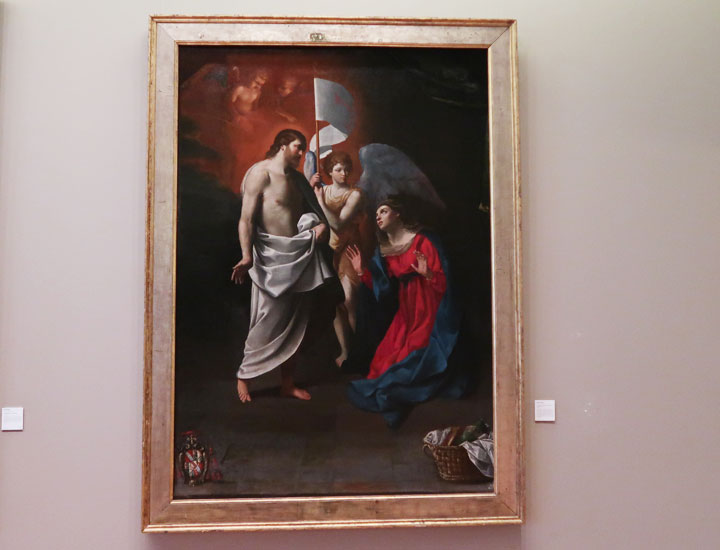 Le Christ ressuscité apparaissant à sa mère (1632)
Baroque painter, influenced by Caravaggio and Raphael.
At the time he was considered the most famous painter in Italy.
Jacques Bellange (1575-1616)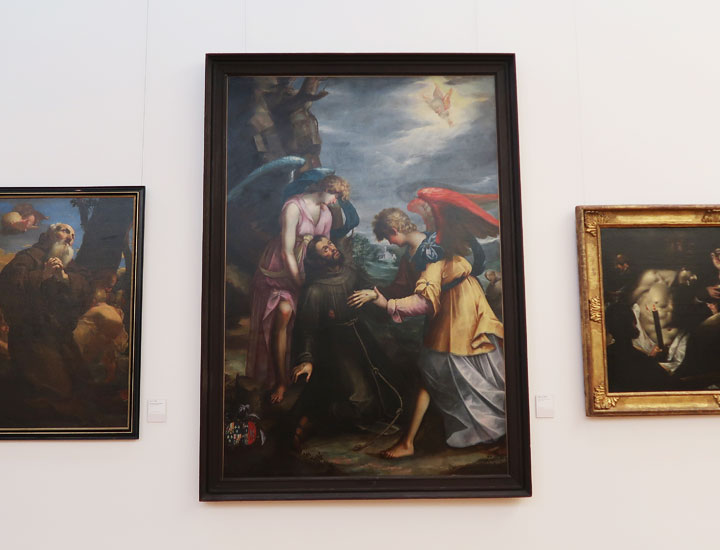 Le Ravissement de saint François (1600/1605)
He is well known as a printmaker.
Peter Paul Rubens (1577-1640)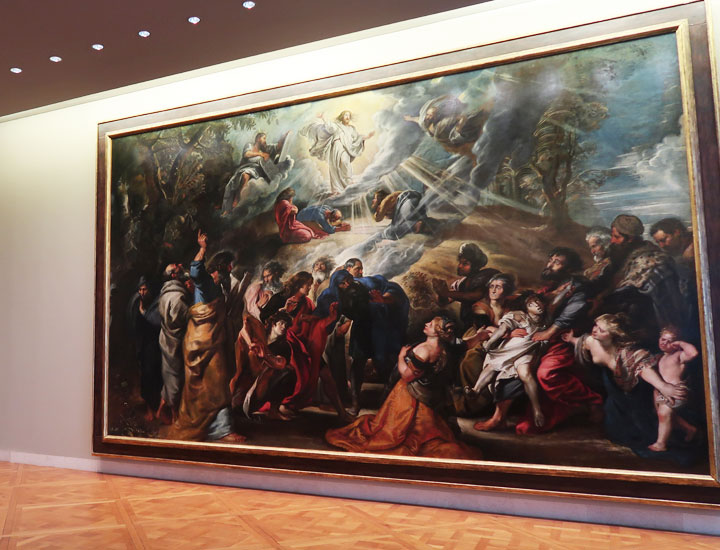 La Transfiguration (1605)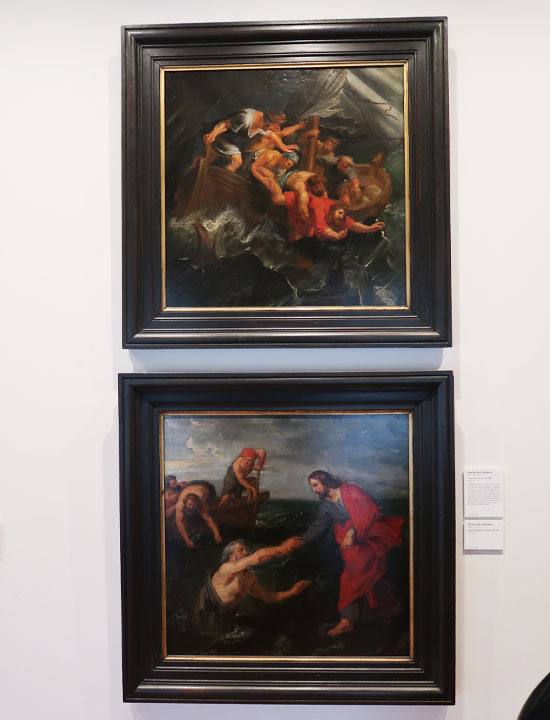 Jonas jeté à la mer (1618) 上段
Jésus marchant sur les eaux (1618) 下段
Rubens is said to have had the greatest influence on the Baroque style.
The impact on later generations of painters has been immeasurable.
Matteo Rosselli (1578-1650)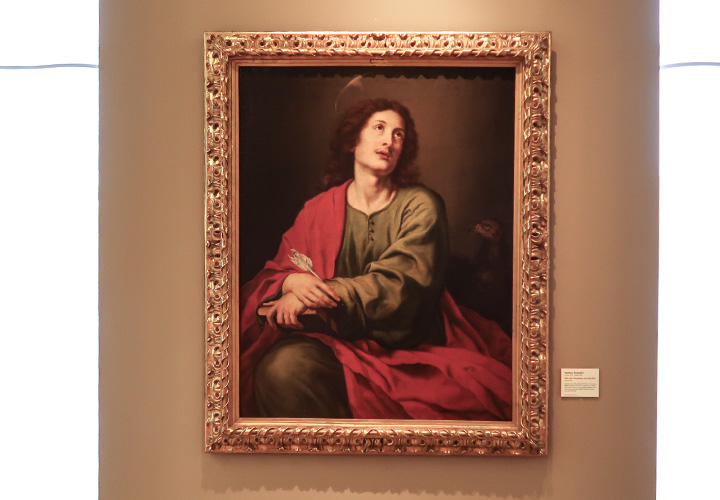 Saint Jean l'Evangéliste (1620/25)
He was an Italian painter who painted many historical paintings.
Gaspar de Crayer (1584-1669)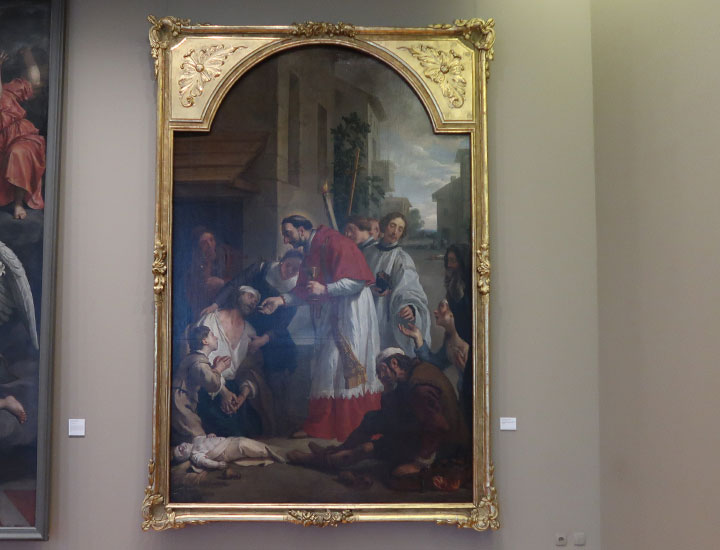 Saint Charles de Borromée donnant la Sainte Communion aux pestiférés de Milan (1668)
Painter born in Antwerp.
It is strongly influenced by Rubens.
Cornelis de Vos (1585-1651)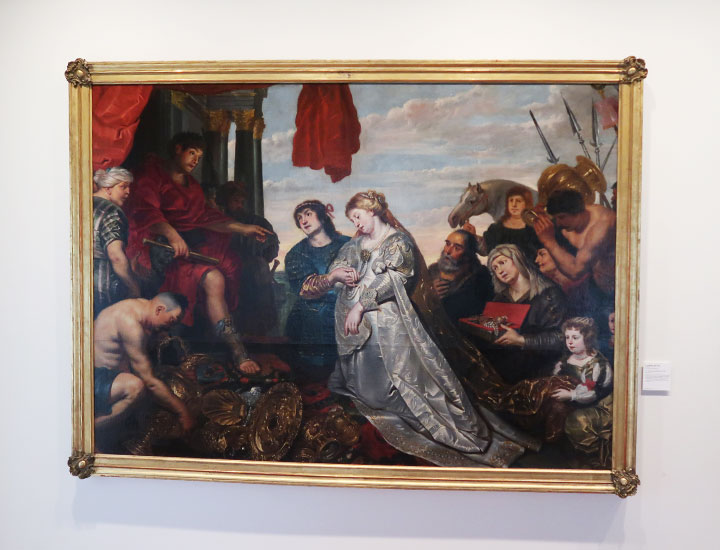 La Continence de Scipion (1630)
Vos, a Flemish painter, painted mainly portraits.
He had a close relationship with Rubens.
Giuseppe Vermiglio (1585-1635)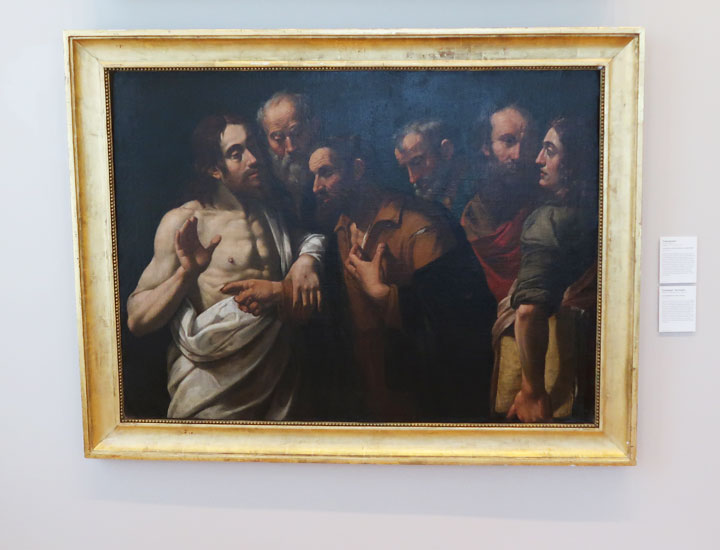 L'Incrédulité de saint Thomas 
The painter was influenced by Caravaggio.
Claude Deruet (1588-1660)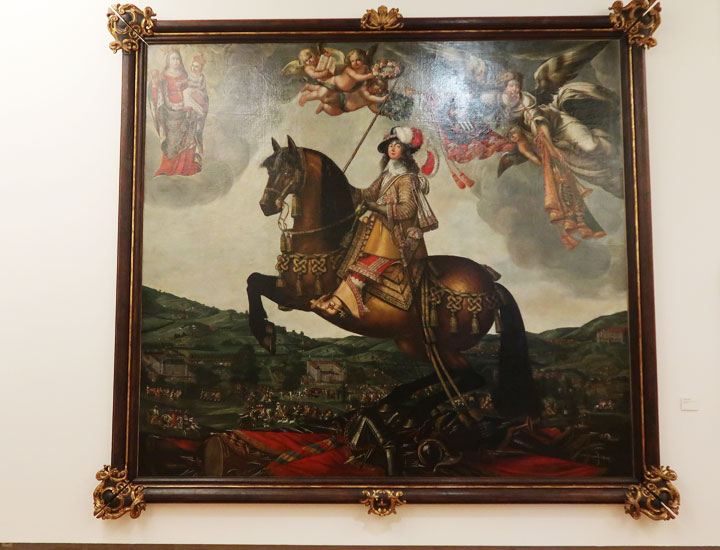 Portrait équestre de Madame de Saint-Baslemont (1646)
Painter born in Nancy.
During his stay in Italy, he is also known to have painted the Japanese Tsunenaga Hasekura.
This work depicts the wife of the lord of Saint-Baslemont.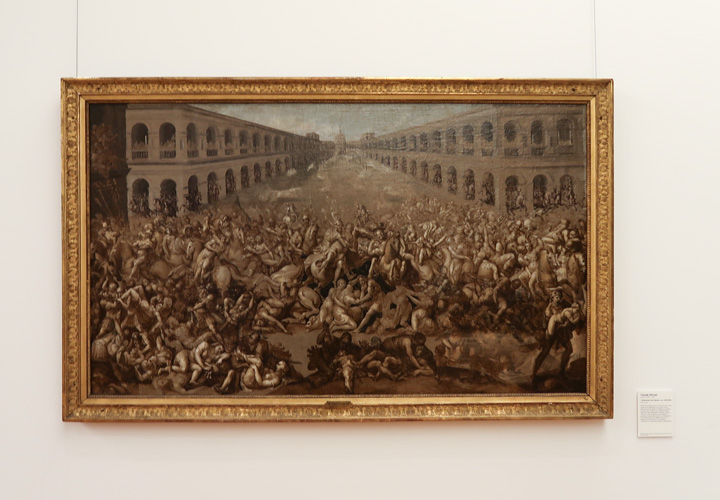 L'enlèvement des sabines (1640/1650)
Domenico Fetti (1589-1623)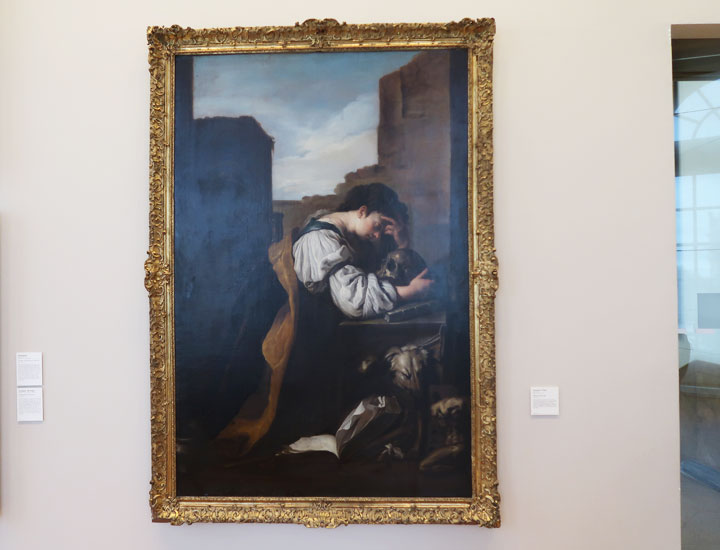 La Mélancolie (1614)
He was a painter active in Rome, Mantova and Venice.
It is said to have been influenced by Rubens.
Gerard Seghers (1591-1651)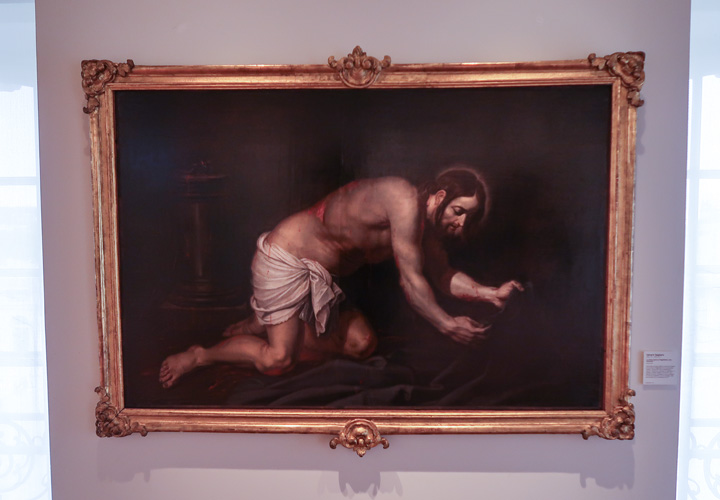 Le Christ après la flagellation (1620/25)
Flemish painter, influenced by Caravaggio in his early years and Rubens in his later years.
Georges de La Tour (1593-1652)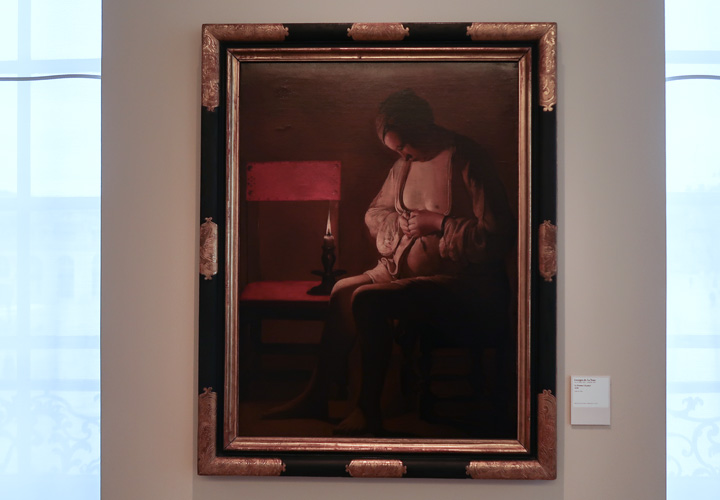 La Femme à la puce (1638)
Influenced by Caravaggio, the painter used contrasts of light and dark.
Nicolas Poussin (1594-1665)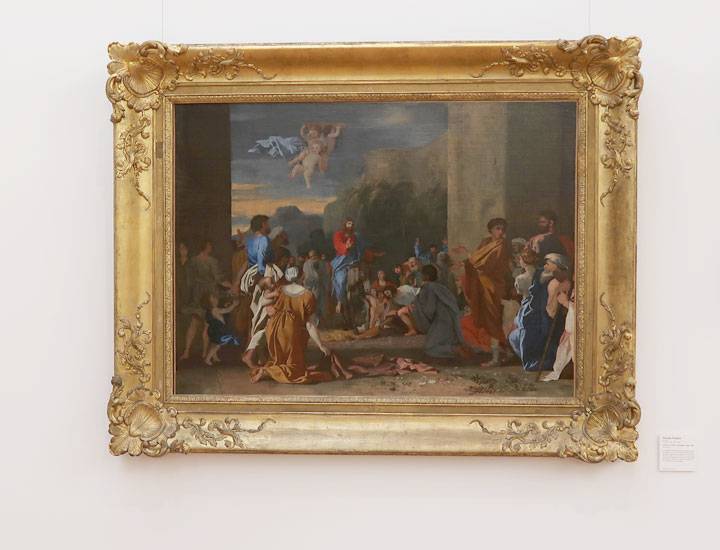 Entrée du Christ à Jérusalem (1642)
He is a leading French Baroque painter.
However, most of its works were painted in Rome.
Jan van Goyen (1596-1656)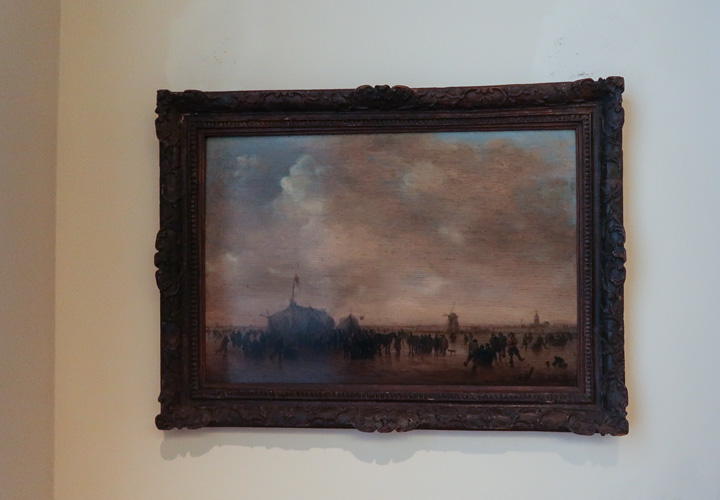 Les Patineurs (1649)
Dutch painter.
He was a painter who left behind a very large number of works, and more than 1,000 of them are still identified today.
Pierre de Cortone (1596-1669)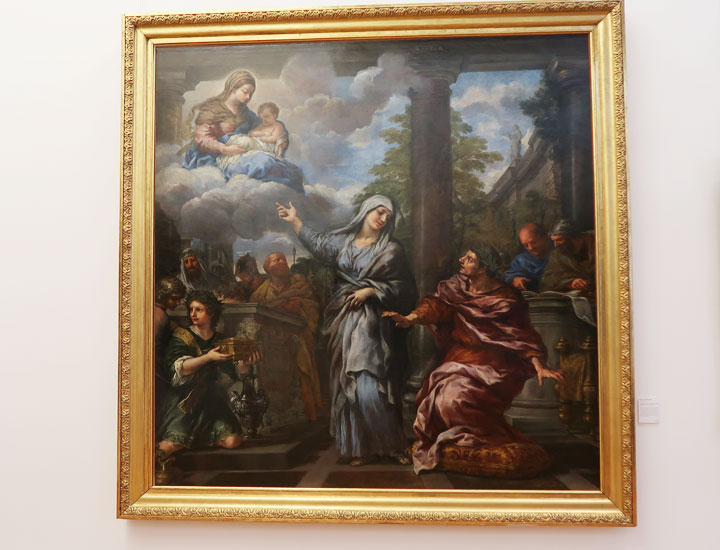 La Sibylle de Tibur annonçant à Auguste l'avènement du Christ (1660)
Italian, Baroque painter and architect.
The ceiling paintings of the Palazzo Barberini in Rome are his masterpiece.
Johann Ulrich Loth (1599-1662)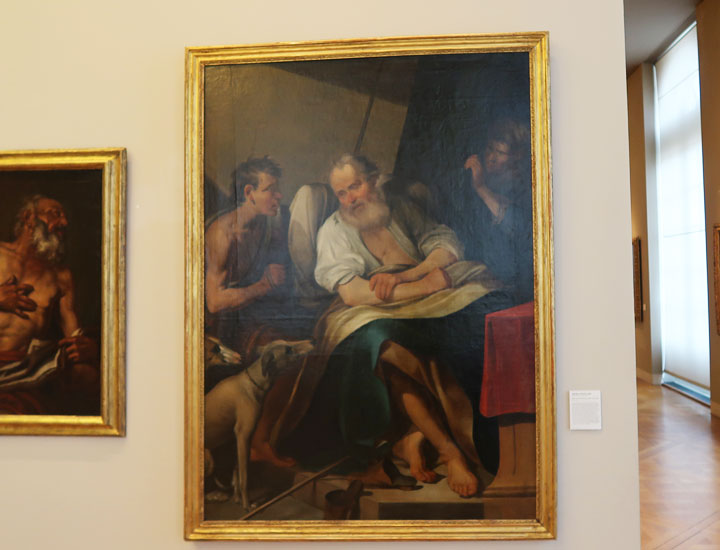 Isaac envoie Esaü à la chasse (1637)
Baroque painter.
Tommaso Luini (1601-1636)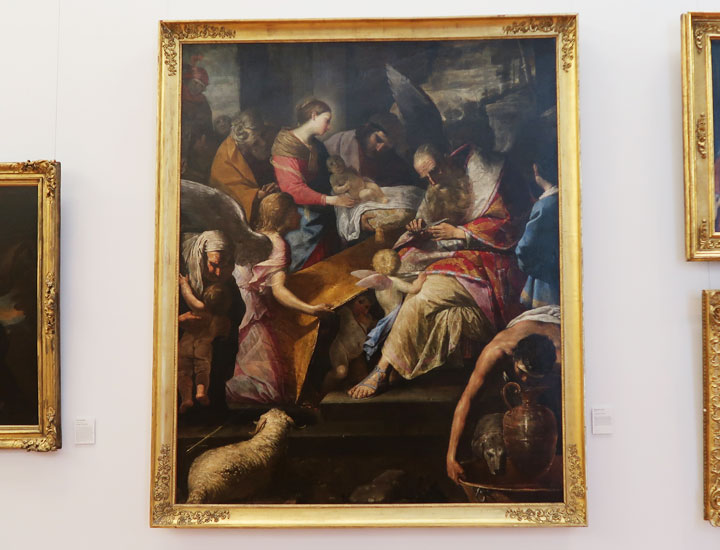 La Circoncision (1632)
Italian, Baroque painter and follower of Caravaggio.
Jan Brueghel (1601-1678)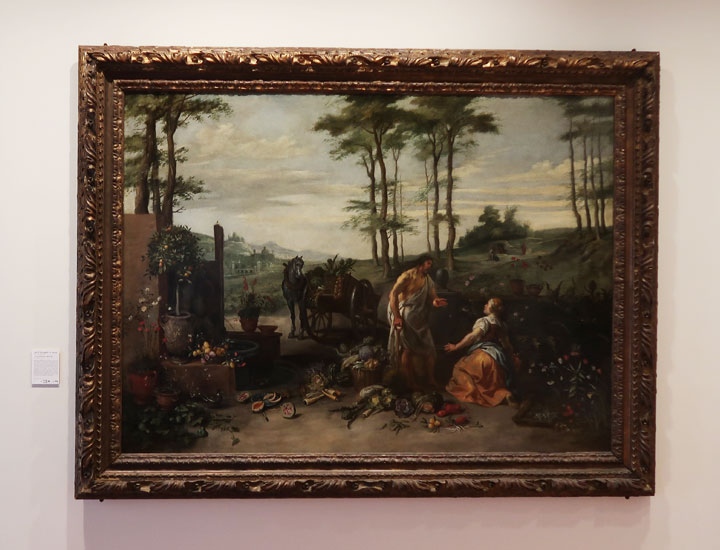 Ne me touchez pas (1625)
He was a Flemish Baroque painter and his father was also a famous painter.
Philippe de Champaigne (1602-1674)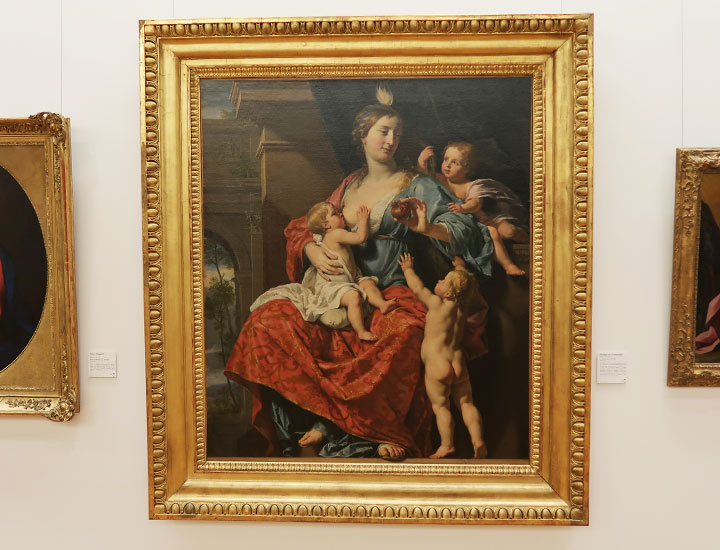 La Charité (1635/36)
Brussels-born painter, active in Paris.
Theodoor van Thulden (1606-1669)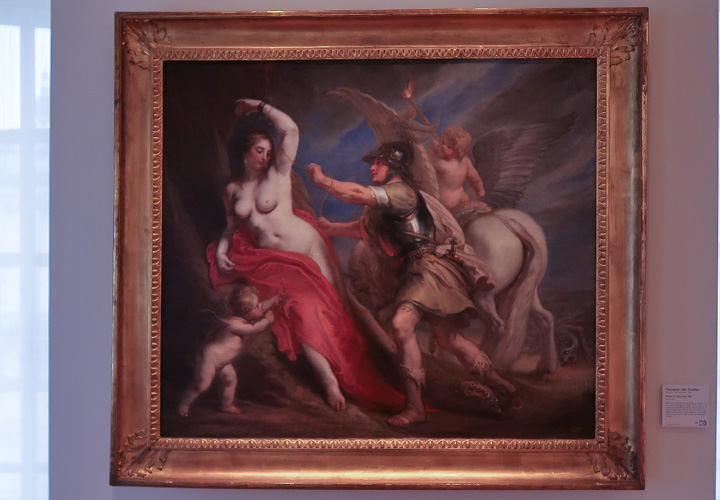 Persée et Andromède (1646)
He was a Dutch altarpiece and religious painter.
He worked frequently with Rubens.
Charles Dauphin (1615-1677)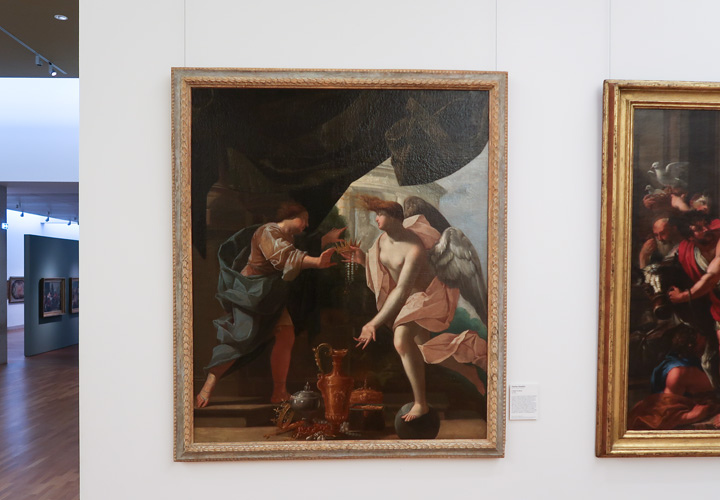 Le Mépris du Monde (1645)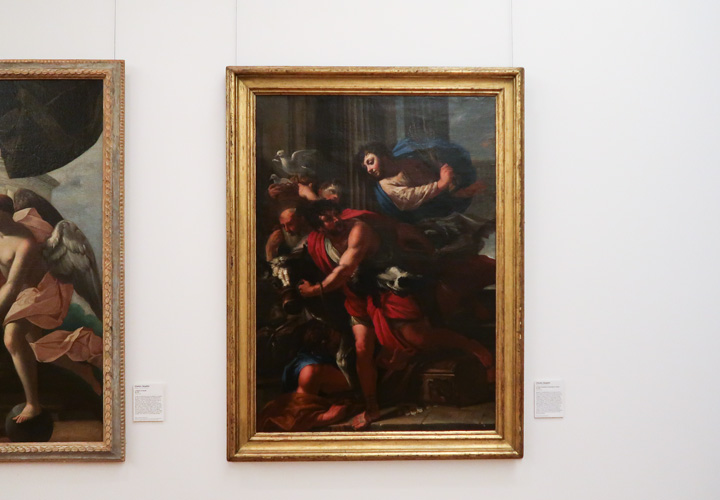 Le Christ chassant les marchands du Temple (1663)
The painter was born in Nancy.
Jan Looten (1617-1681)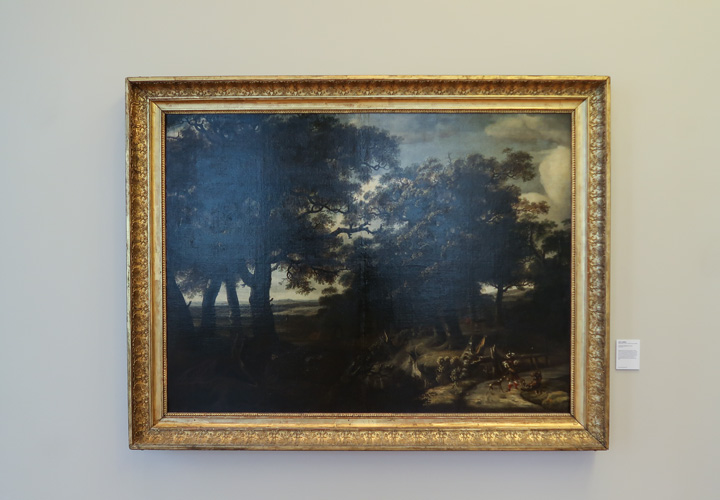 Les Grands Chênes (1644/1645)
Dutch landscape painter.
He lived in the UK in his later years.
Giovanni Maria Morandi (1622-1717)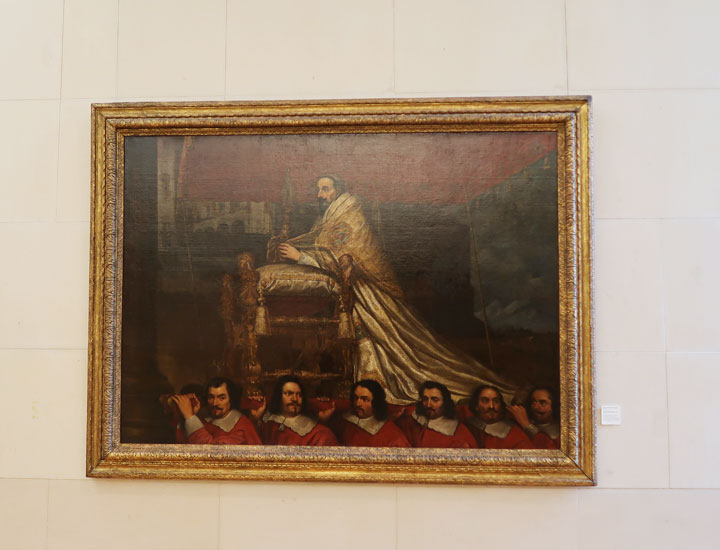 Le Pape Alexandre VII porté à la procession du Corpus Domini (1657)
Italian, Baroque painter.
Pieter Boel (1626-1674)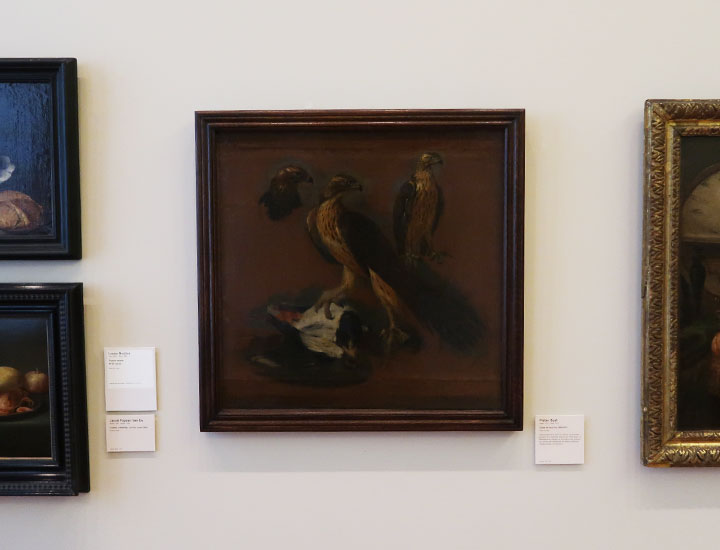 Étude de faucons (1669/71)
Flemish painter, who mainly painted still-life and animal paintings.
He was particularly innovative in his animal paintings.
Johann Karl Loth (1632-1698)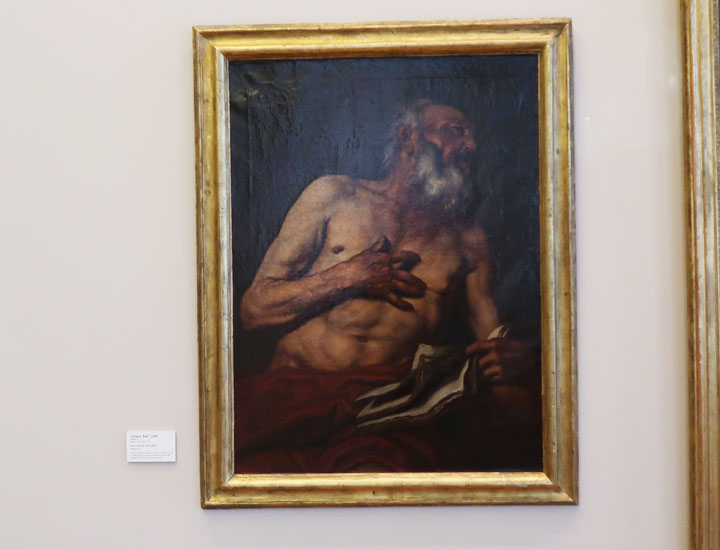 Saint Jérôme (1655)
A Baroque painter, he spent most of his life in Venice.
Giuseppe Recco (1634-1695)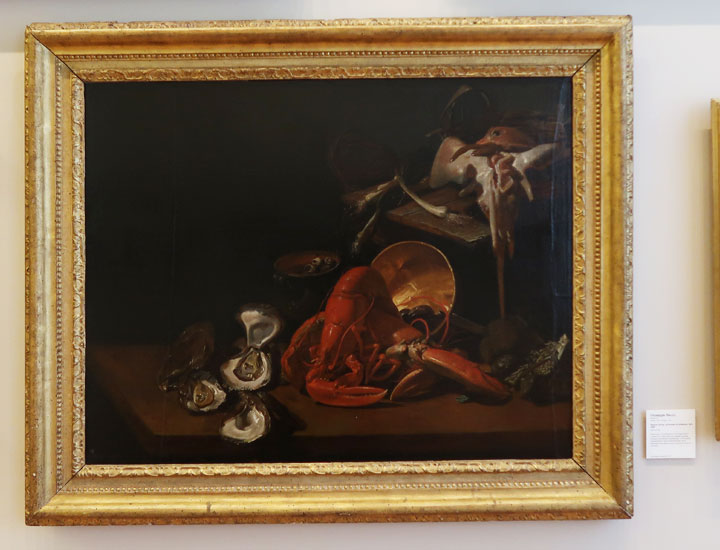 Nature morte, écrevisse et poissons (1680)
Italian Baroque painter, who mainly painted still lifes.
Summary
As it would be a huge amount of information to introduce each person in detail, only a brief description is given.
If you are interested, please find out more about it.
Thank you again for reading to the end of this issue.
Other works from the Nancy Museum of Art are presented below.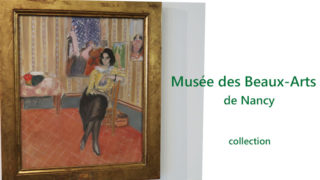 Musée des Beaux-Arts de Nancy Collections 2 From Rococo to contemporary art
Wewouldliketointroduceyouto47paintersfromthe17thcenturytothepresentday.Evenifyouarenotsointerestedinwesternpaintings,you...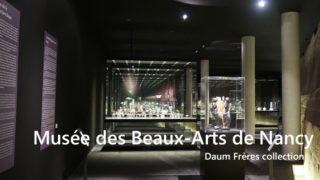 Daum Frères Collections In the basement of the Nancy Museum.
ThethirdpartoftheNancyMuseumcollectionfocusesontheglassworksoftheDaumBrothers(DaumFrères),whicharelocatedinthemuseum'sba...