One of the most difficult things about sightseeing in Paris is choosing a hotel.
There are a variety of accommodations ranging from the finest hotels to private accommodations, but hotels in Paris are generally more expensive than in other cities, and the rooms are smaller and the service is sometimes not as good.
An enjoyable trip can be ruined if the hotel is uncomfortable.
The Astotel Hotel, which I will introduce to you this time, is a hotel that will solve all of your worries.
The hotel offers a variety of services that you won't find in other hotels, so please consider it as a candidate for your next trip.
ASTOTEL HOTEL
Practical information

Astotel Hotel is a hotel group that was founded in 1961 and currently operates 17 hotels in Paris.
All of the hotels are located in the center of Paris, so they are very convenient.
As of 2021, the HOTEL Astra Opera is closed, so only 16 hotels are open for business.
4 Star Hotels
HOTEL Regents Garden
HOTEL Malte
HOTEL Bradford Elysees
HOTEL Astra Opera (Closed)
HOTEL Le 123 Sebastopol
HOTEL Le 123 Elysees
3 Star Hotels
HOTEL George
HOTEL Caumartin Opera
HOTEL Acadia
HOTEL Joke
HOTEL Augustin
HOTEL Lorette
HOTEL Palm
HOTEL Astoria
HOTEL Joyce
HOTEL Monterosa
HOTEL 34B
Features of ASTOTEL HOTEL
Features
The Astotel Hotel is also a very reputable hotel that offers a wide range of services.
All rooms are provided with free breakfast if you book through the official website.
Free wifi
All minibars in the rooms are free (soft drinks only)
Free snacks and drinks every afternoon as an open bar.
You can join the ASTO TOUR.
All of these are attractive suggestions, but the bottom three in particular are services that are not often found in other hotels.
Every room has a refrigerator.
All Astotel Group hotels have a refrigerator in every room.
Hotels in the U.S. always have refrigerators, but in Paris, most hotels do not have refrigerators.
Many hotels, even four-star ones, do not have refrigerators.
The most appealing thing about having a refrigerator is that you can keep the food you buy cold.
France is a land of gastronomy, so there are many things to buy as souvenirs.
There are so many things I want to take home with me that I can't even begin to list examples.
Of course, these ingredients need to be refrigerated.
If you don't have a refrigerator, you'll have to ask the hotel to keep these foods for you after you buy them.
There is the language barrier, but more than that, I'm not sure if it's being managed properly.
It is a great thing to have a refrigerator in the room to reduce such risks.
Also, on hot summer days, without a refrigerator, you cannot keep the drinks you buy cold.
Just having a refrigerator can make your stay in Paris so much more comfortable.
Minibar replenished daily
A further feature of the Astotel group is that they replenish the refrigerator with soft drinks daily.
It's a little hard to believe, but all the soft drinks in the fridge are free of charge.
And they replenish it every day.
And the contents in the refrigerator are also wonderful.
Mineral water (Evian)
Coke (Pepsi)
Orange juice (Tropicana)
Soda water (BADOIT)
These four bottles are included free of charge every day.
As you will find when you stay in a hotel in Paris, it is really helpful to have these drinks when you arrive or when you come back from going out.
Especially for those who arrive late in Paris, it can be a hassle to check in and then go out again.
It is really helpful to have drinks in the room at such times.
Open bar daily
The term " Open Bar" may be unfamiliar to you, but it is a service unique to the Astotel Hotel.
This service provides complimentary snacks and drinks at the hotel lobby every afternoon.
Although the content varies slightly from hotel to hotel, the service is highly satisfactory.
Coffee by espresso machine (many kinds, even decaf)
Tea (many kinds)
Cakes
Pain au chocolat and other breads
Various soft drinks
Fruits
It's not a large quantity, but the fact that this content is provided free of charge is unbelievable compared to other hotels.
When you come back to the hotel, it would be very different if you don't have this kind of small snack.
Also, you don't have to buy anything extra, so it feels like you are saving more than the cost of your stay.
The first time you stay at the Astotel Hotel, you will be a little surprised.
There are a few other hotels in Paris that offer this kind of service, but there are few hotels in the same price range that can match the quality and quantity of the Astotel Hotel.
Join the ASTO TOUR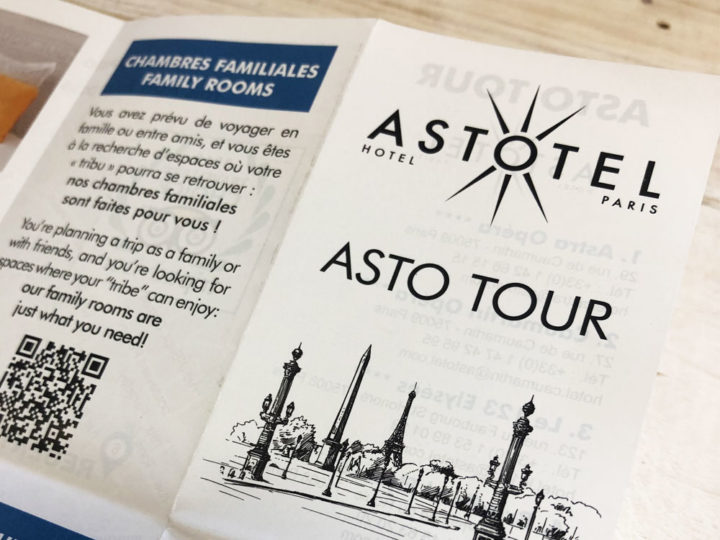 You might think that I'm going to visit some tourist spots, but of course I'm not.
As I mentioned earlier, Astotel Hotel operates 17 hotels in Paris.
And all of them have Open Bar.
During your stay, you can use the Open Bar at all 17 of these hotels.
Some of you may wonder what's so great about that, but it's really great.
Again, below is a map of the Astotel hotels in Paris.
As you can see from this, the Astotel Hotel is in a very convenient location.
If you are touring the right bank of the Seine, you can stop at any of them.
If you stop by on your way to the Louvre, the Opera, the Arc de Triomphe, or the Marais, you can have a snack and a drink for free.
It's definitely more relaxing than taking a break at some unknown cafe or restaurant.
Also, considering that the toilet situation in Paris is not so good, the fact that you can use clean toilets for free is a big attraction.
As mentioned above, I think you can save a lot of money by using Asto Tour well.
Such an attractive tour is only available at the Astotel Hotel.
You may or may not be given a postcard-sized card for the Asto Tour.
If you can't get one, you can ask the front desk, but if it's too much trouble, you don't have to have one.
The key card in your room is a special card key for the Astotel Hotel, and you can use it by showing it to the front desk of the hotel you are visiting.
In my case, I was able to use it without any particular confirmation, but I think it depends on the case, so you should be prepared to show it.
If you are told that it is not available, it may be a hassle, but try asking the hotel you are staying at to give you an ASTOTOUR card again.
Summary
It's very difficult to find a good hotel in Paris.
If you've ever searched for a hotel in Paris yourself, you know that there are quite a few options to choose from, depending on what your priorities are.
The following are some basic points to consider when choosing a hotel.
Price
Size of the room
Cleanliness
Availability of bathtub
Location
Breakfast
Elevator
Luggage storage
In addition, I think the best way to choose the best hotel would be to judge it based on the overall word-of-mouth ratings from Booking.com, Expedia, TripAdvisor, etc.
Even if you write down the criteria and describe the method in this way, you will still be very confused and unable to decide which hotel to choose unless you know the area well.
If you are wondering what to do in such a situation, please consider the Astotel Hotel.
Whether you choose a hotel based on transportation from the airport or on budget, you are sure to find a hotel that meets your needs.
If the price is slightly higher than other hotels, it may be cheaper if you take into account the cost of food and drinks during your stay.
And most importantly, the staff at the Astotel Hotel are very pleasant, so you will have a pleasant stay.
I hope this article will be of some help to you when choosing a hotel in Paris.
Thank you again for reading to the end of this article.