The Astotel Hotel is a good choice for sightseeing in Paris.
The Acadia Hotel is very close to the center of the city, making it convenient to go anywhere.
Of course, the service is also full of charms that you won't find in other hotels, so please make it a candidate for your next stay.
Hotel Acadia Astotel
Practical information
Hotel Acadia Astotel ★★★
Address:4 Rue Geoffr:y-Marie, 75009 Paris, France
Nearest station:Liège Line13, Europe-Simone Veil Line3, Rome Line7
Official Site: HOTEL ACADIA ASTOTEL
Features
Hotel Acadia is one of the Astotel Hotel Group mentioned here.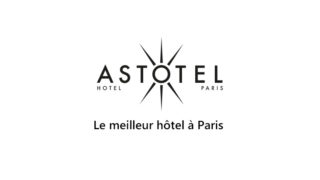 ASTOTEL HOTEL Paris The best Hotels in Paris with Free Offers You Must Stay
One of the most difficult things about sightseeing in Paris is choosing a hotel. There are a variety of accommodations r...
For more information about the Astotel Hotel Group, please read this article.
I think you will find that it is incomparably more attractive than other hotels in Paris in the same price range.
Anyway, it's full of free benefits, so please check it out.
Exterior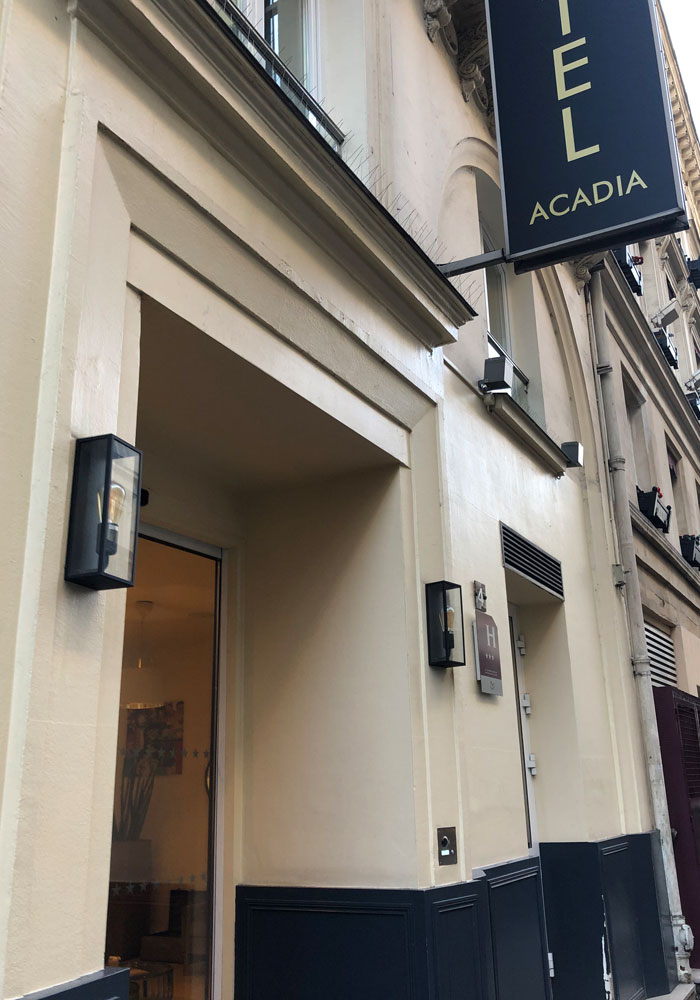 The exterior of the hotel is simple, but clean and very pleasing.
The entrance is wide and automatic, so it's easy to get in and out even if you have a lot of suitcases.
When you arrive, press the intercom in the center of the image, and a staff member will open the door from inside.
Hotel Lobby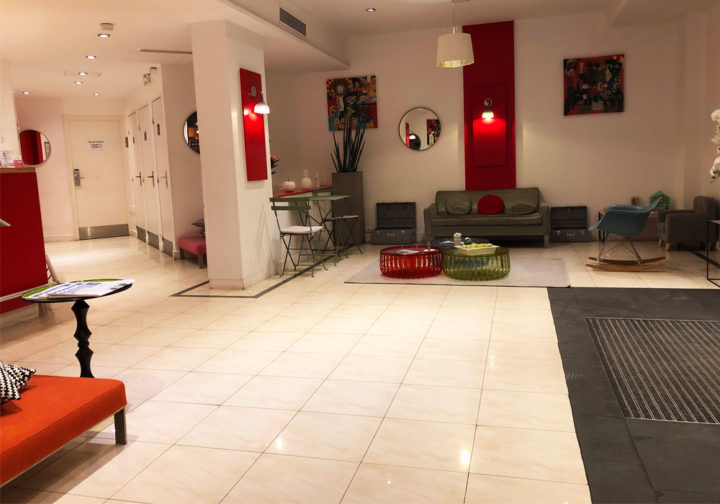 The lobby of the hotel is very spacious.
The place with the red wall on the left is the front desk.
There is an elevator at the end of the hall on the left side.
It's not very big, but it can hold two adults and four suitcases.
This elevator is large enough for Paris.
There is a sofa in the back where you can relax.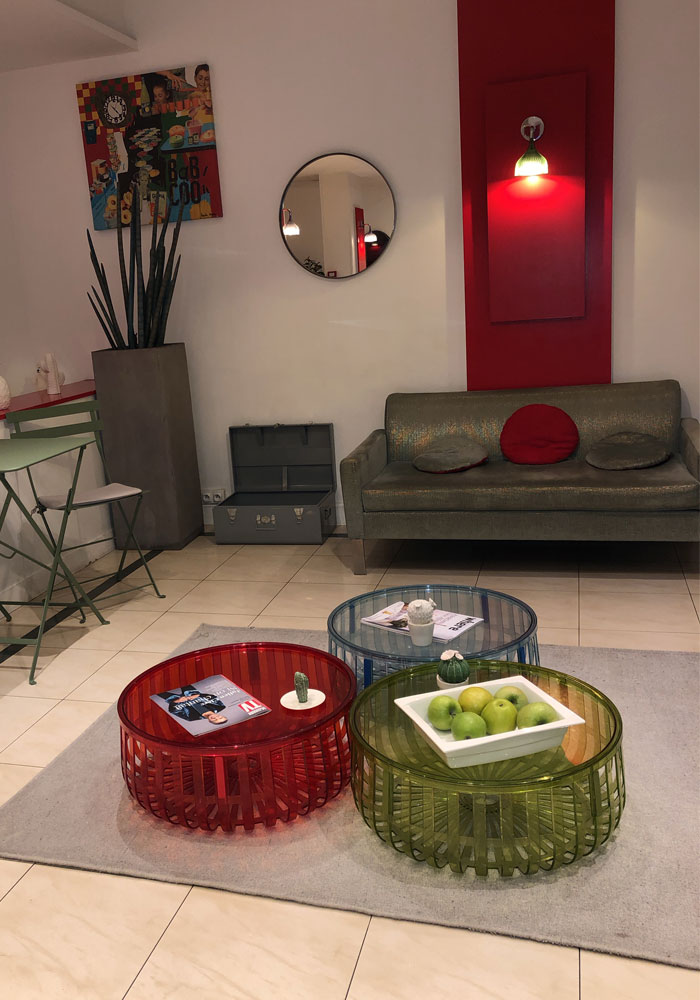 There is fruit on the sofa side.
Of course, you can eat them, so feel free to do so.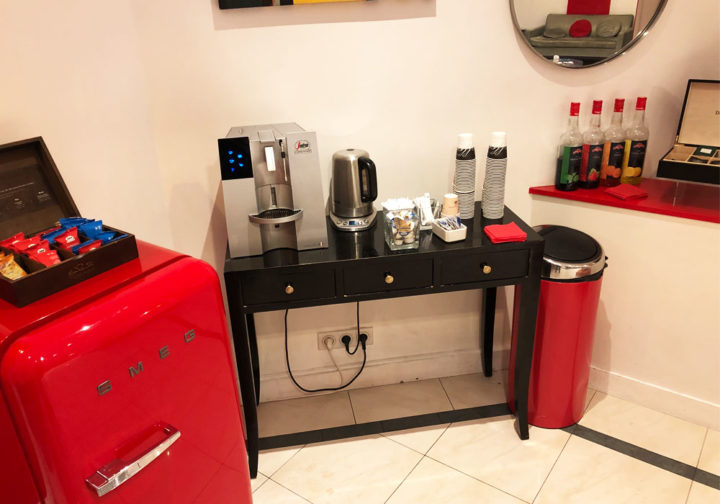 To the left as you enter the hotel is the Open Bar.
You can drink free coffee from a Segafredo Zanetti espresso machine.
On the right hand side, tea is also available in a variety of flavors.
On the left is a refrigerator where you can drink anything from mineral water to orange juice and cola for free.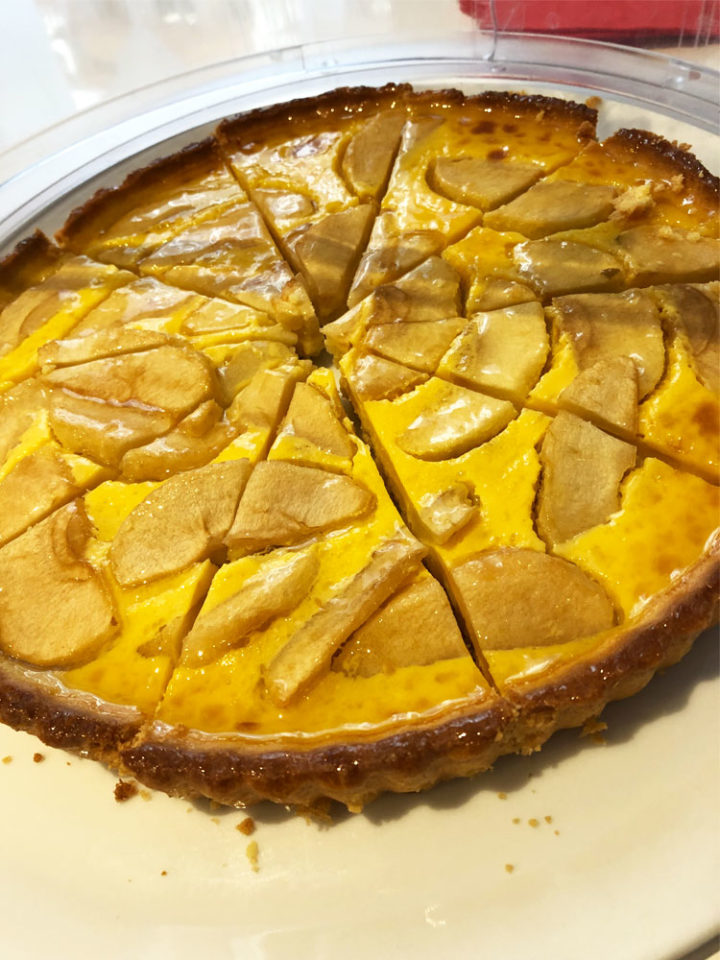 There is a dining table on the left, where cakes and breads are served free of charge as snacks.
On this day, it was an apple tart.
It was a little sweet, but it was delicious.
Room
This is a hotel in Paris, so don't expect it to be very spacious.
However, it is a standard twin room, and you can spread out your suitcase on the floor, so I would say it is spacious enough.
The bedside lamp at the back of the room has an outlet for USB connection.
Other than that, the power plugs are French style, so if you have items that need to be recharged, you will need a conversion plug.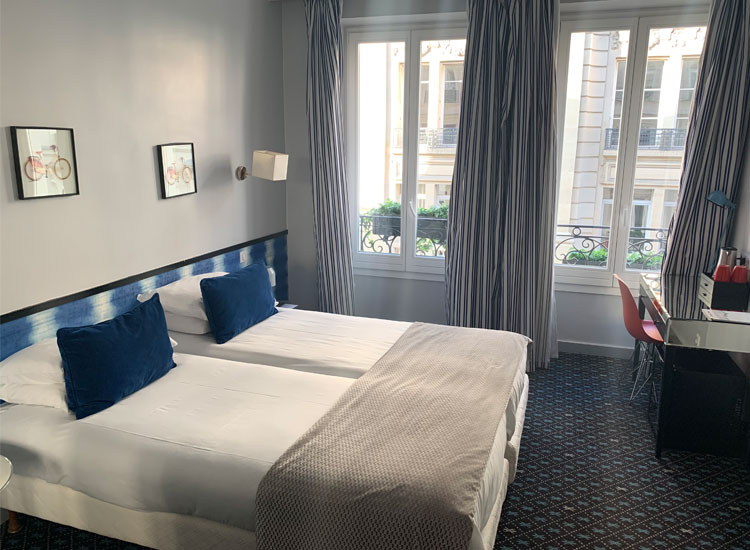 This is another room.
I have stayed here many times, and all the rooms are beautiful and clean.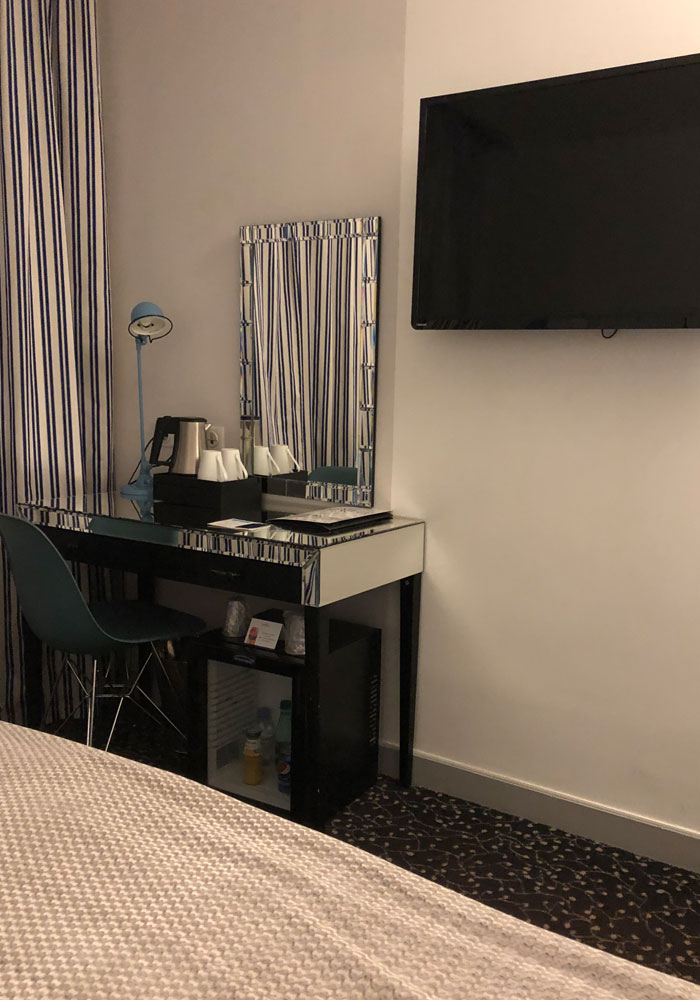 There is a wall-mounted TV and a desk.
On the desk, there is a coffee pot and two mugs, and in the drawer, instant coffee and tea.
The instant coffee is full of service as it contains both regular and decaf coffee.
This is another day's stay.
A clean room feels good.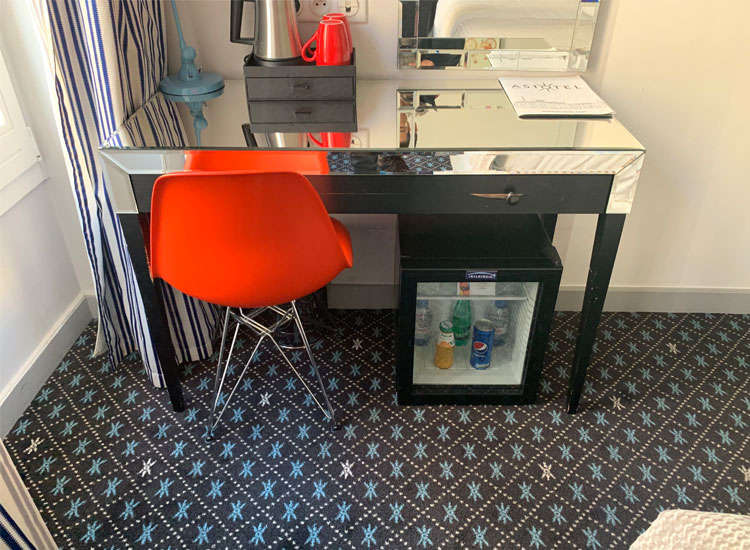 The mini-bar refrigerator can be seen below.
You can drink the four soft drinks inside for free every day.
It is a tall refrigerator, so it can hold enough butter, yogurt, salad, etc. to be purchased at the supermarket.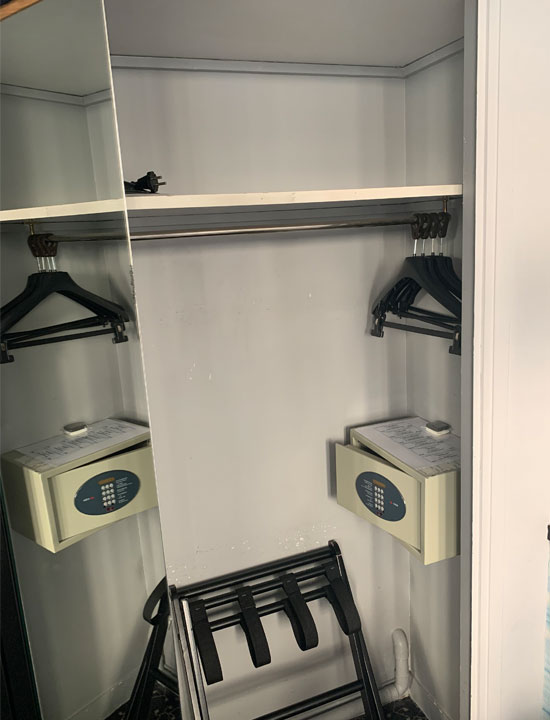 The closet is not large, but the door closes properly.
Some hotels in Paris do not have closets, so please be careful when choosing a hotel.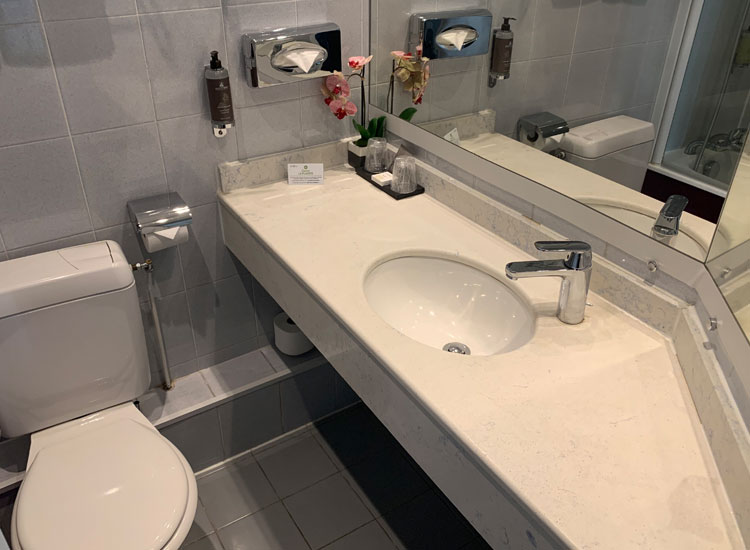 The washroom is also a good size.
It is large enough to be the center of Paris.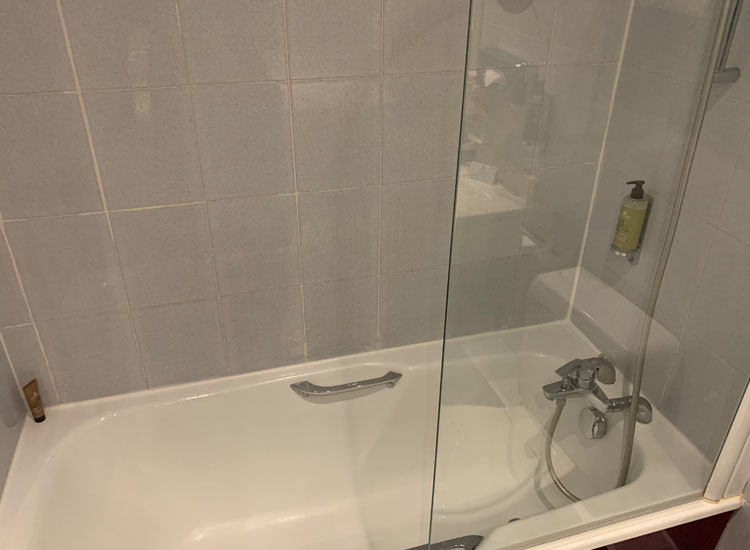 Bathtubs are available in all rooms.
Breakfast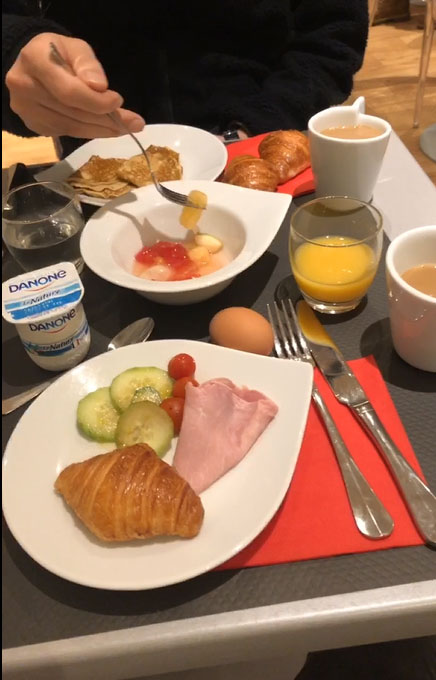 Breakfast is buffet style, with a wide variety of menu items.
There are always three or four kinds of juice available, including orange and apple.
The main breads are baguettes, croissants, and pain au chocolat.
There was a small crepe.
There are several normal types of hams.
There are sausages, scrambled eggs, boiled eggs, etc.
There are very few salads, just tomatoes and cucumbers.
The main fruit item is fruit punch.
There is a wide variety of yogurt available, including plain and strawberry.
There are not that many nuts.
For coffee, espresso machines are available, but American coffee in a pot is also available.
Milk is also available in a pot as well.
There is a wide variety of food on the menu, but since the menu is basically the same every day, you can only eat for about three days without getting bored.
I think it depends on the individual, but those who don't mind can continue eating it for even a week.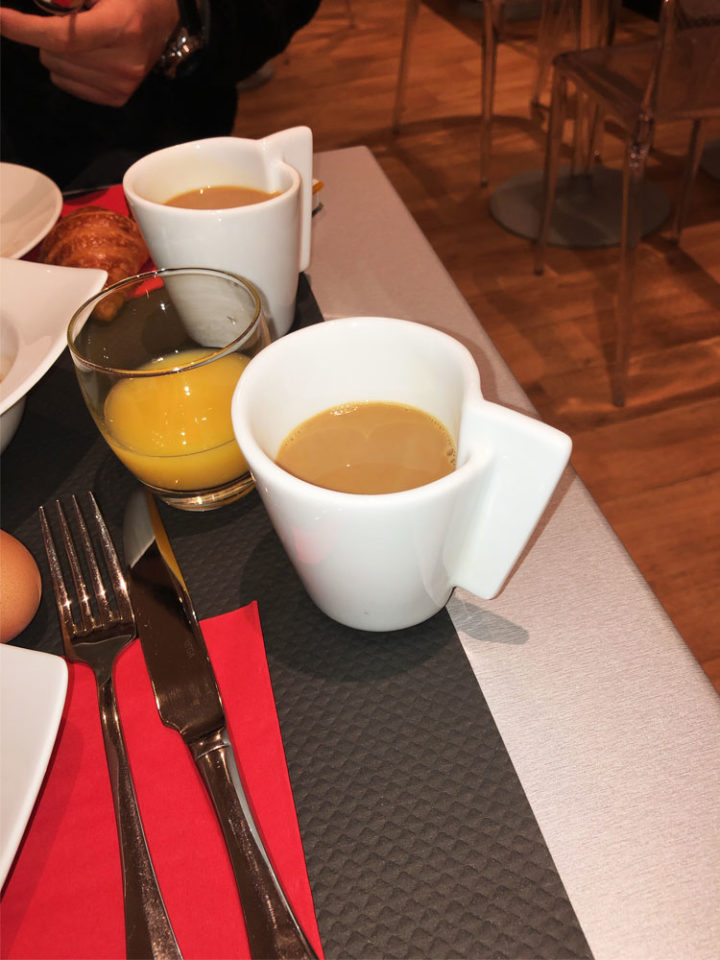 There was no particular problem with the breakfast, but there was one big problem.
That's the mug in the photo here.
It's stylish, but very hard to hold.
If you are a little careless, you might drop it.
This is the only thing I never got used to, even though I drank it every day.
Surrounding Attractions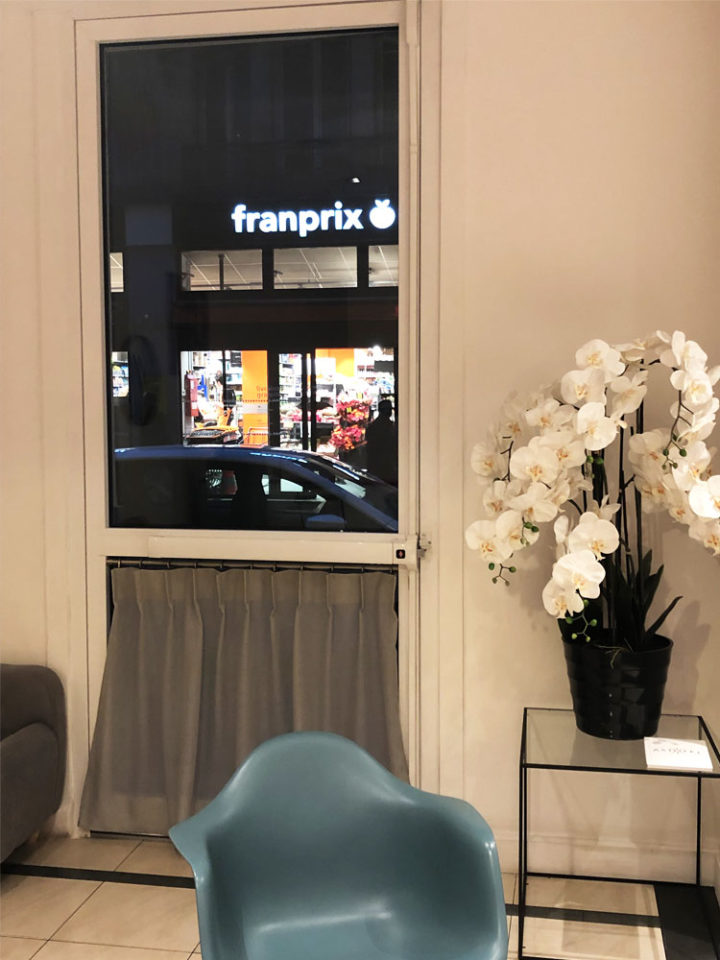 Across the street from the hotel is a rather large convenience store called franprix, where you can buy anything you need.
This franprix is closed on Sundays and open until 9:00 p.m. on weekdays, so if you want to shop late at night, on Sundays, or on holidays, monoprix is a few minutes walk away.
Franprix
Address:5 Rue Geoffroy-Marie, 75009 Paris, France
Business hours: Monday 09:00~22:00, Tuesday – Saturday 09:00~21:00
Closed: Sunday
Monop'
Address:16 Rue du Faubourg Montmartre, 75009 Paris, France
Business hours: Monday to Saturday 08:30-24:00, Sunday 09:00-13:00
How to get to Charles de Gaulle Airport
One of the biggest concerns when staying at Acadia Hotel is how to get from the airport to the hotel.
I think most people will be transferred from Charles de Gaulle airport to Paris city, but how to get to the hotel is a big problem no matter where you stay.
You can find more information on how to get from Charles de Gaulle Airport to Paris here.
It will be easier to understand if you see it beforehand.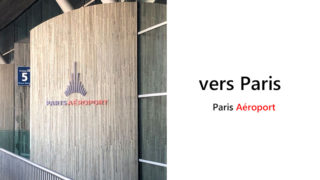 How to get from Charles de Gaulle Airport to Paris City
When visiting Paris as an independent traveler, the first thing you need to think about is how to get from Charles de Ga...
The location of the Acadia Hotel is right about halfway between the Opera House and North Station.
If you want to travel from Charles de Gaulle airport, the choice would be Roissy bus or RER B line.
The Roissy bus arrives at the Opera House.
The RER B line arrives at North Station.
The advantages and disadvantages of each of these are described in the article I mentioned earlier, but in conclusion, you can walk from either station.
I think most people have one suitcase, so I don't think it will be a problem.
(I always have two suitcases.)
However, it is never close from either side.
It's a distance that I can barely walk with my luggage.
Also, I think the weight of your suitcase will be lighter on the way there, so I think you can manage to hang on.
And if anything, the problem is how to get around on the way back.
If your suitcase becomes quite heavy or you have more other luggage, walking around will be quite difficult.
Especially if you are going to the North Station, the road from the Acadia Hotel to the North Station is a gentle uphill, so it may be twice as strenuous as going there.
Therefore, the recommended way is to take the Roissy bus from the Opera House to Charles de Gaulle Airport.
However, it is still quite a distance, if not uphill, to the Roissy bus stop.
It is very difficult to travel this distance with luggage, so we recommend taking the bus.
I think the best way to get around would be to take a regular bus once, go to the Opera, and change to the Roissy bus.
Line 45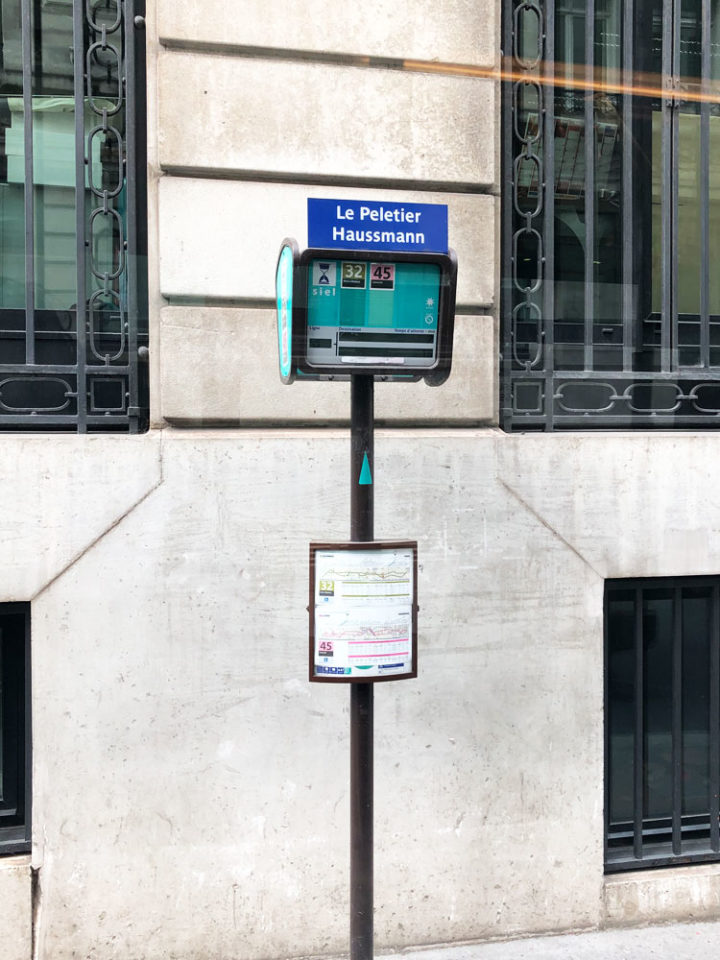 The first way is to use bus line 45.
It's a bit of a walk from the Acadia Hotel, but if you take the back roads, you can get there on a road with less traffic.
Take a bus from this Le Peletier / Haussmann and get off at Opera.
Also, the Opera stop on line 45 is right behind the Roissy bus stop, so there is very little travel after you get off.
You don't have to move through the crowds around the Opera, so you can transfer to the Roissy bus very comfortably.
For more information on how to get on the bus and a map of the 45 route, please see below.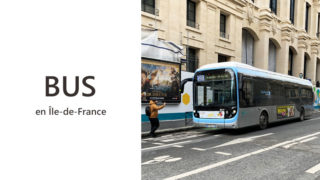 Paris Bus RATP Complete Guide Route Map How to Ride
When you come to Paris, I would like you to use the local bus(Paris Bus RATP). The metro is the most efficient method wh...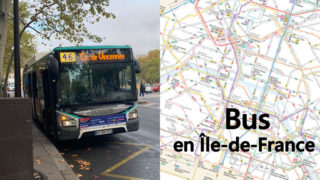 Latest version Paris Bus Complete Guide New Line 45 is recommended Line 40 to Line 48
Important NoticeThank you very much for visiting us every day.From 20 April 2019, buses in Paris have been changed on mo...
Line 20
And the closest bus stop to the hotel will be on line 20.
When you arrive at the opera, you will have to walk a bit, but if you have a lot of luggage, this is the way to go.
Bus stop: Grands Boulevards.
Line 20 has a lot of buses, so I don't think there will be much of a wait.
The drop-off stop is Auber.
It's a bit of a walk to the Roissy bus stop, but it's only a little over 100 meters.
Turn the corner and you're at the Roissy bus stop, so you won't get lost.
Although not mentioned in the above article, if you have too much luggage, try to get in through the drop-off door instead of getting in from the front.
It is recommended that you allow plenty of time to get to the bus stop.
If you are worried about getting around, don't hesitate to take a cab.
Summary
How was it?
The Acadia Hotel is convenient to everywhere you go.
Several subway stations can be reached in a few minutes.
Also, for those who don't mind walking, the area around the Opera, where Galeries Lafayette and Printemps are located, and the area around the Louvre are well within walking distance.
For those who prefer to eat out, there are many restaurants around the hotel that are open until late, so you will rarely have a problem finding a meal.
There are also many convenience stores nearby, so you won't have any trouble finding souvenirs.
The only problem with the Acadia Hotel is how to get to Charles de Gaulle Airport.
I think you can manage the way there, but the way back will be a bit more challenging, so please don't overdo it and choose a method of transportation that suits your convenience.
Thank you again for reading to the end of this article.