Among the many stores in Cologne, I would especially like to recommend Globetrotter NEUE HORIZONTE .
From the name alone, you might think it's a high-end suitcase store, but it's actually one of the largest outdoor stores in Cologne.
The selection at this store is quite good, with a wide range of items that are not available at other stores.
This alone is attractive enough, but there is one more service that other stores do not offer.
Let me quickly tell you about the charm of this store.
Globetrotter NEUE HORIZONTE
Globetrotter NEUE HORIZONTE
Address: Richmodstraße 10, 50667 Köln, Germany
Business hours: Monday – Saturday 10:00~20:00
Closed: Sunday
Features of Globetrotter NEUE HORIZONTE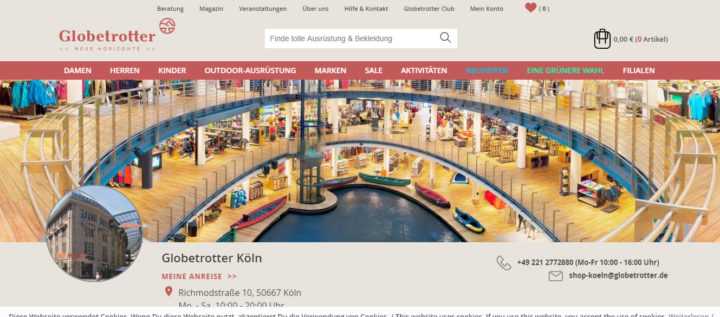 History
Established in Hamburg, Germany in September 1979.
It has expanded its stores on the theme of travel and outdoor activities, and is now one of the largest outdoor stores in Europe.
This company is also known for being an early adopter of PCs.
In 1993, the company opened its own website.
They have been the first to offer a variety of services such as daily featured recommendations, credit card payment, introduction of auction sites, entry into the second-hand market, downloadable catalogs, and webTV.
They are still introducing new systems one after another ahead of their competitors.
Features
The Cologne store opened in 2006.
The sales floor area is approximately 7,000 square meters.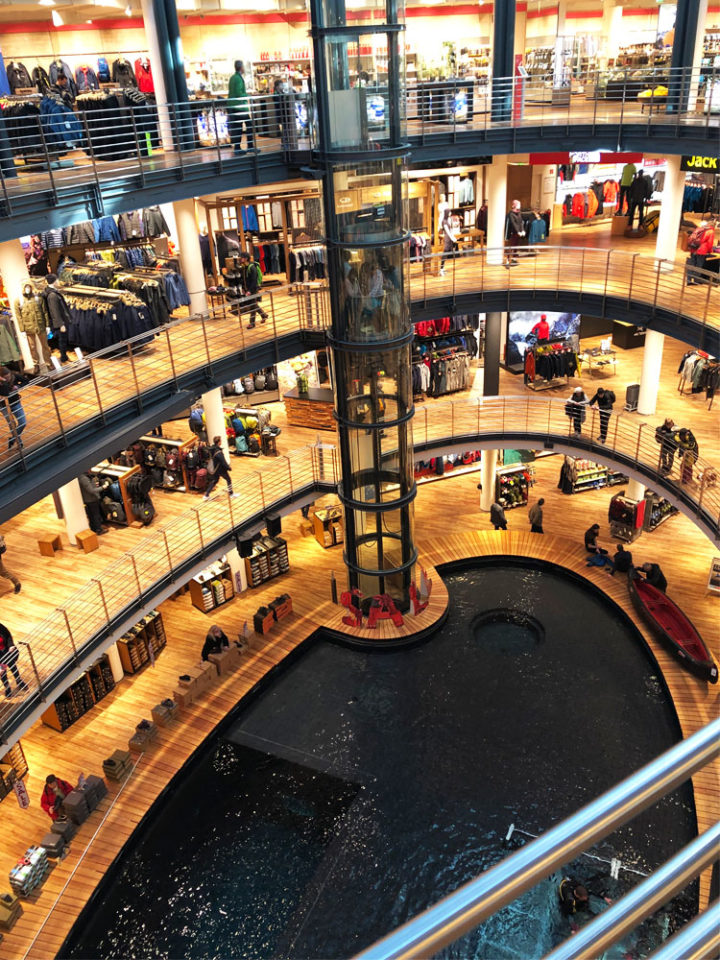 The interior of the store is made up of a central atrium.
In the pool shown in the photo, you can try out canoes, diving goods, etc.
The slightly deeper area is a diving area.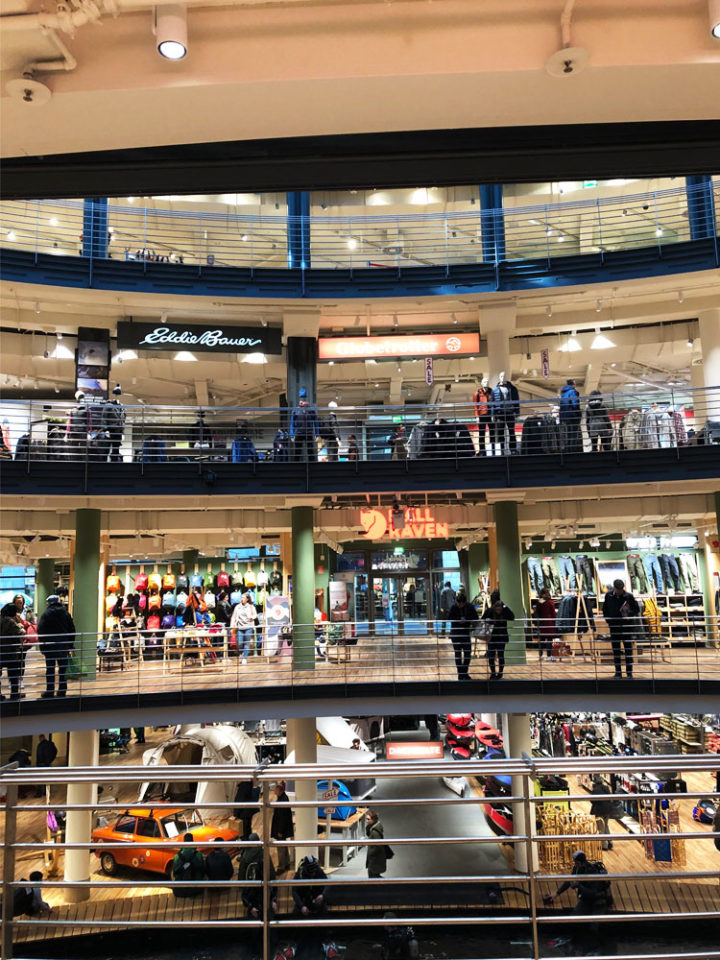 Each floor has a different theme, and there are also many in-shops for famous brands.
(Jack Wolfskin Store, The North Face Store, Eddie Bauer Store, Arc'teryx Store, Fehrraven Store, etc.)
The displays are very stylish, and there are actual tents and a climbing space.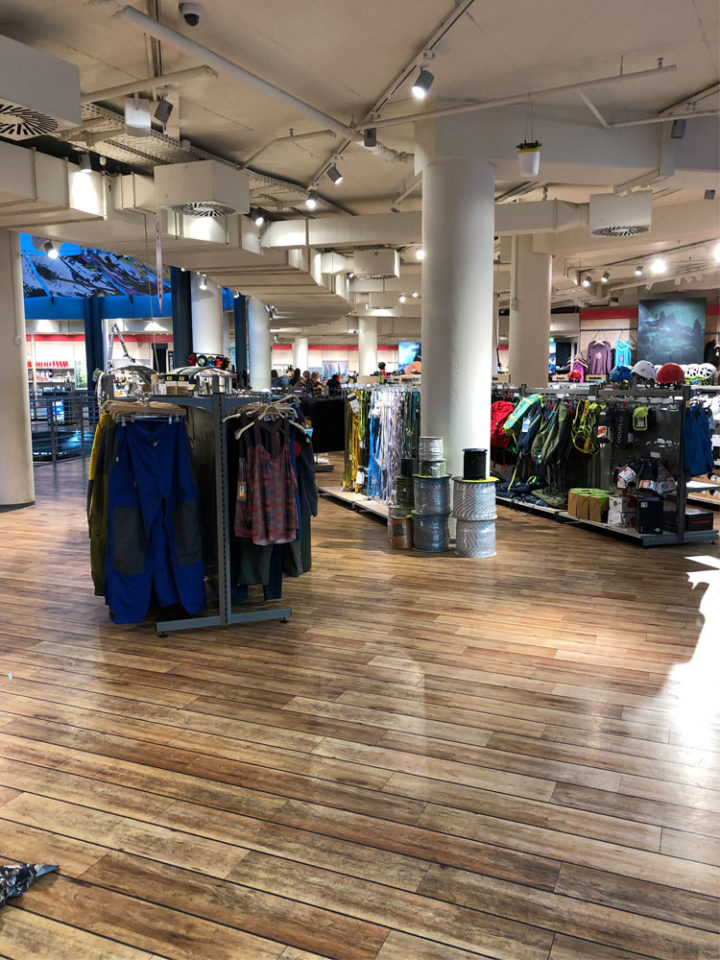 The store is spacious and the spacious display allows you to take your time to look at each item.
In addition to the photos, the store has a restaurant, a diving store, a travel clinic, and a great selection of everything related to the outdoors.
Why you should definitely stop by.
Now that I've introduced the charm of the Globetrotter Cologne store, some of you may not be interested in outdoor stores.
If you are one of those people, there is a reason why you can't miss Globetrotter when you visit Cologne.
That is, you can use the restroom for free.
I think we all know that the toilet situation in Europe is not good, but here in Cologne it is especially bad.
Of course, there are toilets in several stores, including Cologne Central Station, but almost all of them charge a fee.
It is not a bad thing to have to pay for a toilet, but when you are a tourist, you may not have coins ready.
With that in mind, free toilets are still the way to go.
And preferably a beautiful one.
However, it is quite difficult to find a clean toilet in Europe.
Even the high-end department stores in Paris are not necessarily very clean.
The Globetrotter is the perfect place to do just that.
The restroom is located on the top floor of the building.
You can take the escalator up, but it is even better to use the elevator.
On the top floor, there is a rest area with toilets beside it.
There is also free water to drink in this rest area.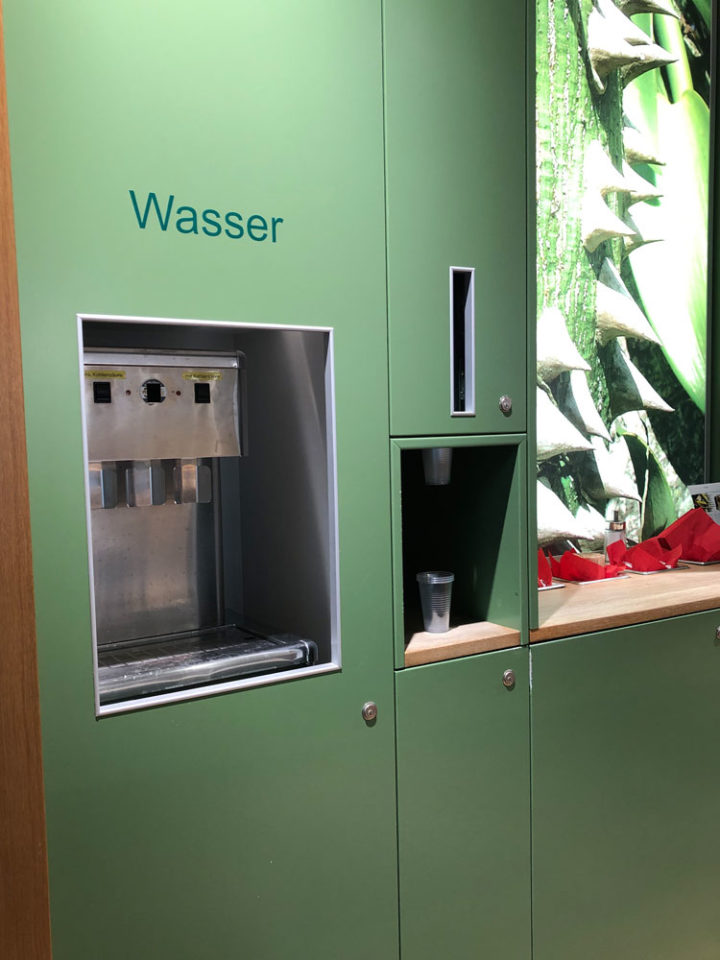 There is a plastic cup on the right side, take it to the machine.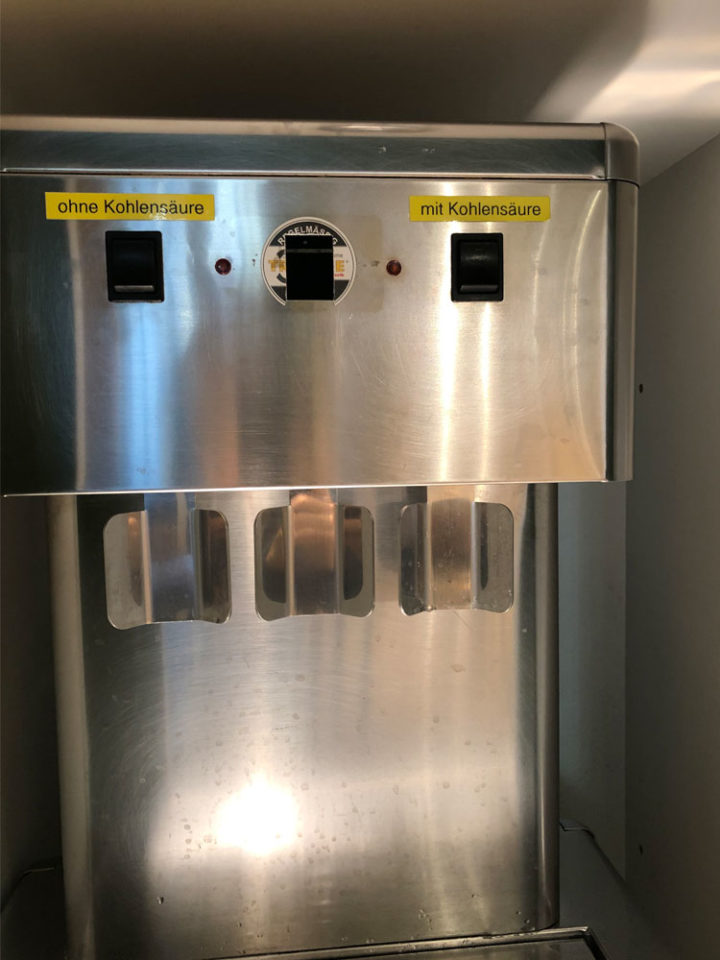 And the great thing about this free water is that you can drink carbonated water.
Of course, you can also drink regular water, so choose whichever you prefer.
However, I couldn't tell which was the carbonated water because it was only written in German.
(Of course, if you drink both, you'll understand. 、、、、)
For reference, on the left is plain water and on the right is carbonated water.
Be careful when you add water.
Generally speaking, you would think that you push the cup and the water comes out, but with this machine, you push the black button on the top to fill it with water.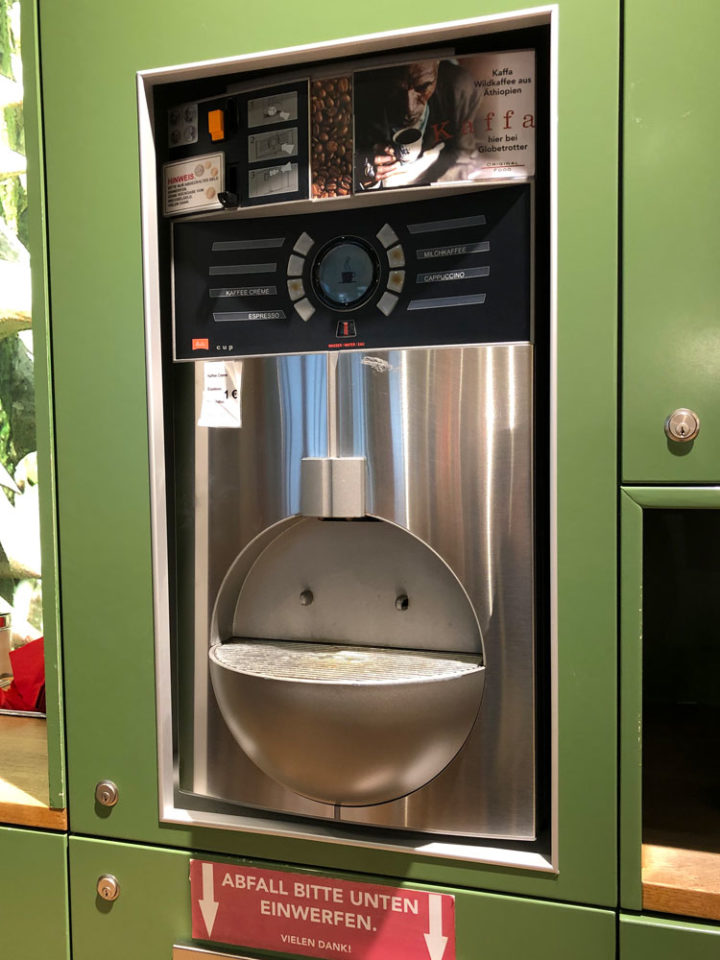 On the right side of the room, you can also have a cup of coffee for a fee.
Coffee is also recommended as it is inexpensive at 1 euro.
Summary
How was it?
Globetrotter is the largest outdoor store in Cologne.
In addition to the attractive selection of products, the store offers a variety of services.
The toilets are available free of charge, but they are only for guests.
If you use the restroom, please purchase one of the outdoor items as a memento of Cologne.
Thank you again for reading to the end of this article.
You can learn more about sightseeing in Cologne, a day trip from Paris, here.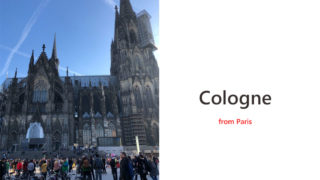 Paris Cologne one-day trip Travel by Thalys to 17 of the best sightseeing spots.
Thistime,IwouldliketosharewithyouatravelseriesaboutCologne,Germany,whichisadaytripfromParis.AsinBrussels,wetooktheThalys...