In the previous article, I gave a detailed introduction to the Rouen Museum.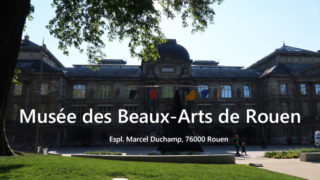 Musée des Beaux-Arts de Rouen France Complete Guide Museums with Free Admission
The Rouen Museum of Fine Arts is a must-visit during your visit to Rouen. It is also famous for its display of Monet's p...
The Rouen Museum of Fine Arts is so full of artworks that it is hard to believe it is free.
This time, I would like to introduce some works that I could not introduce in the previous article.
Le Pérugin (Pietro di Cristoforo Vannucci) (1448-1523)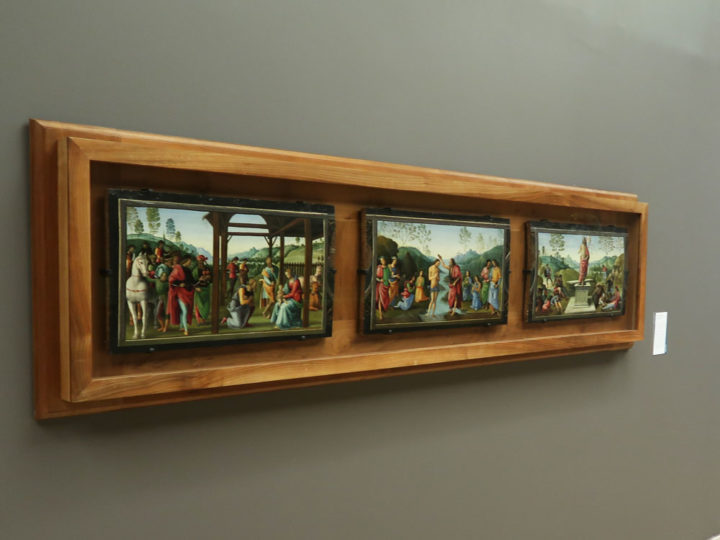 L'Adoration des mages (1495)
Le Baptême du Christ (1495)
La Résurrection du Christ (1495)
Perugino, a Renaissance painter.
The reason why he is called by a different name than his real name is because he was selected as an honorary citizen of Perugia in 1485.
His achievements are so great that he is famous for his work on the murals of the Vatican and the Sistine Chapel.
He was also the teacher of the young Raphael and had a great influence on him.
These works in the Rouen Museum were commissioned by St. Peter's Basilica in Perugia.
François Clouet (1510-1572)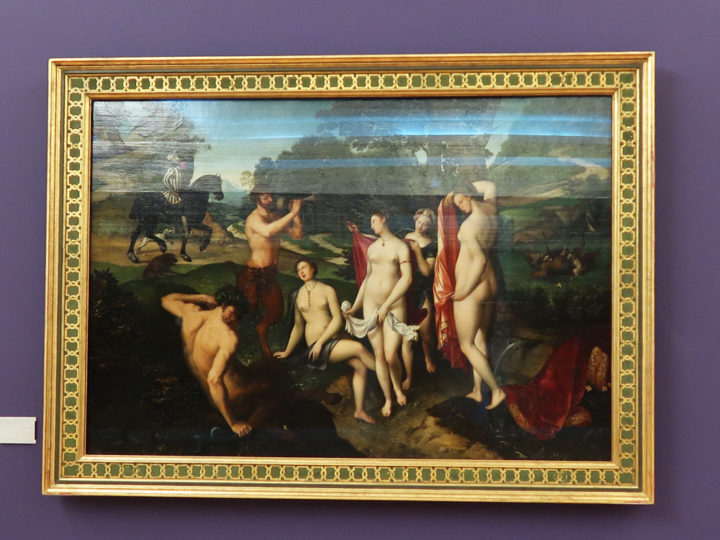 LE BAIN DE DIANE(1565)
This is a work by François Cluet, a famous portrait painter.
His work is characterized by a reputation for perfection that is more prominent than its use of color and beauty.
Paolo Veronese (1528-1588)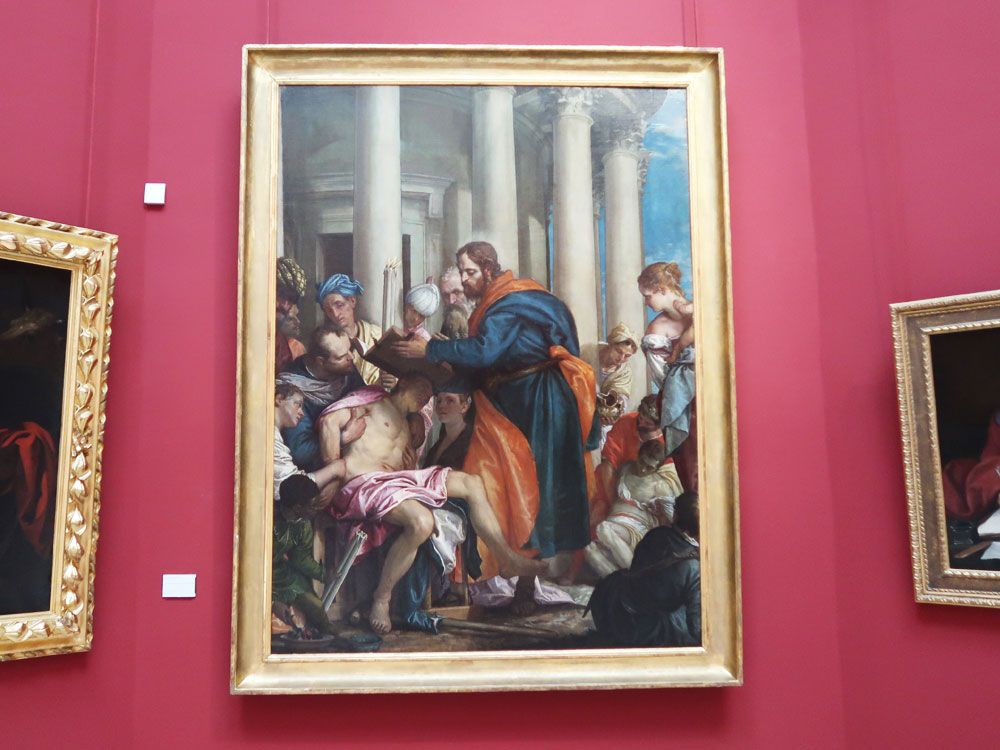 SAINT BARNABÉ GUÉRISSANT LES MALADES (1566)
Paolo Veronese is sometimes referred to as PAOLO CALIARI.
He is highly regarded as one of the most important Venetian painters of the late Renaissance.
The Wedding at Cana, on display at the Louvre, is one of his most highly regarded works.
This work was made for a small church in San Giorgio, attached to the Hospital Barnabite, Verona.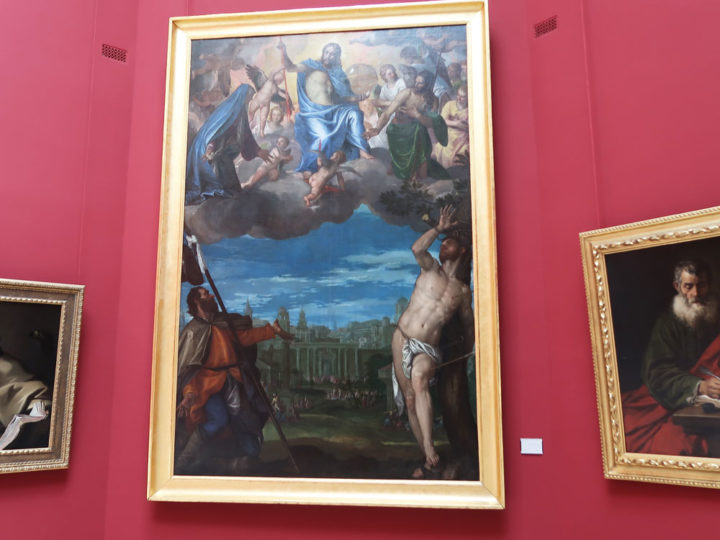 Le Christ arretant la peste
Marten de Vos (1532-1603)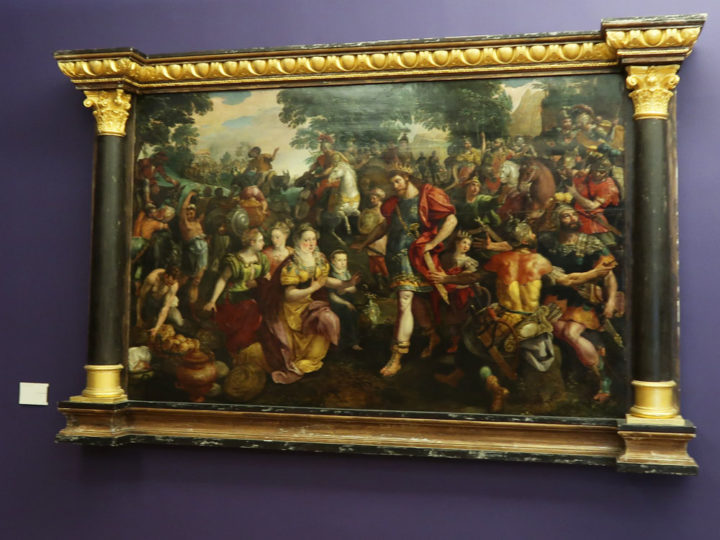 David et Abigail ou Alexandre et la famille de Darius
Maarten de Vos, a painter from Antwerp, the Netherlands, was a Flemish painter who mainly painted history and portraits.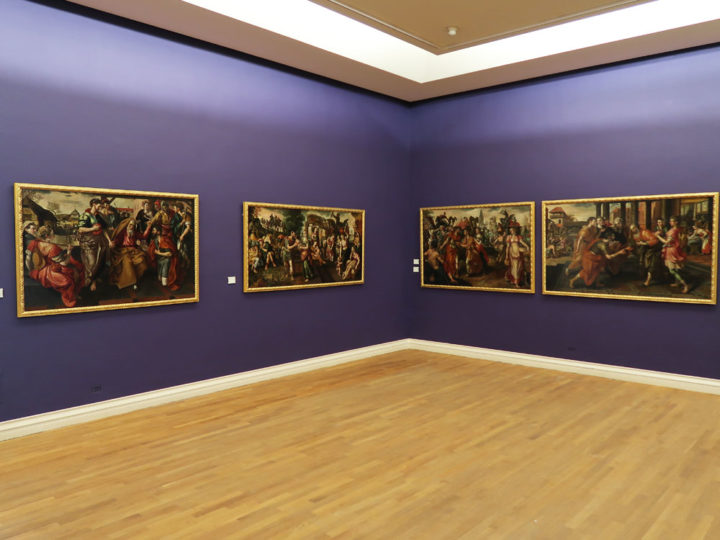 Eliézer demande Rébecca en mariage pour Isaac (1562)
Eliézer et Rébecca à la fontaine(1562)
Laban va chercher Eliézer à la fontaine
Laban présente Eliézer à son père, huile sur bois (1562)
These works were painted for l'église saint-Patrice de Rouen (St. Patrice Church).
Sebastiaen Vrancx (1573-1647)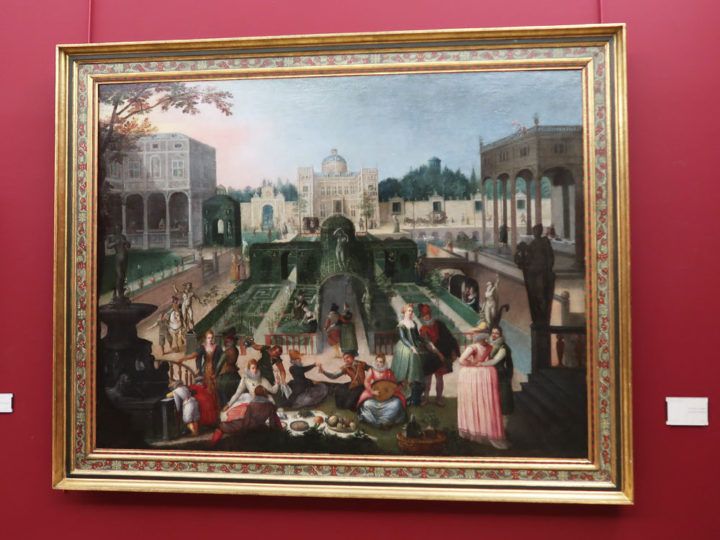 FÊTE DANS LE JARDIN DU DUC DE MANTOUE (1595)
Flemish Baroque painter Sebastiaen Vrancx was the first Dutch artist to paint battle scenes.
In addition to this, he has left behind a number of works depicting the four seasons and many works related to architecture.
This piece is an ideal representation of an Italian, Renaissance garden.
Nicolas Regnier (1588-1667)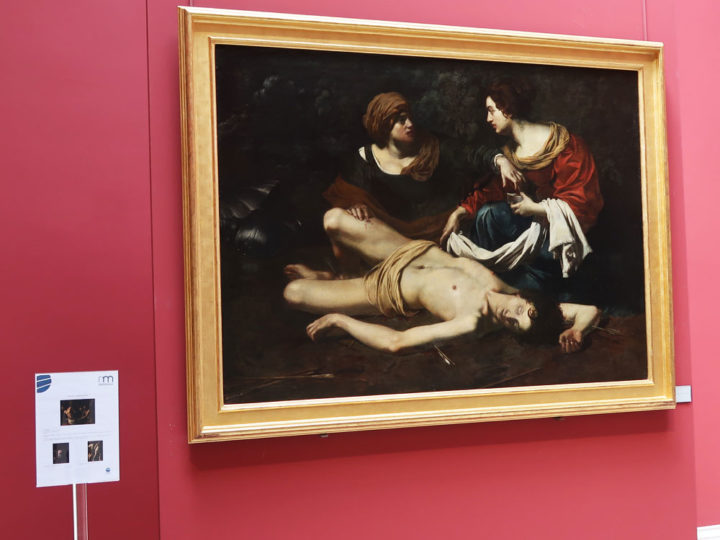 SAINT SÉBASTIEN SOIGNÉ PAR IRÈNE (1624)
Nicholas Regniermade a fortune not only as a painter, but also as a collector and art dealer.
Diego Vélasquez (1599-1660)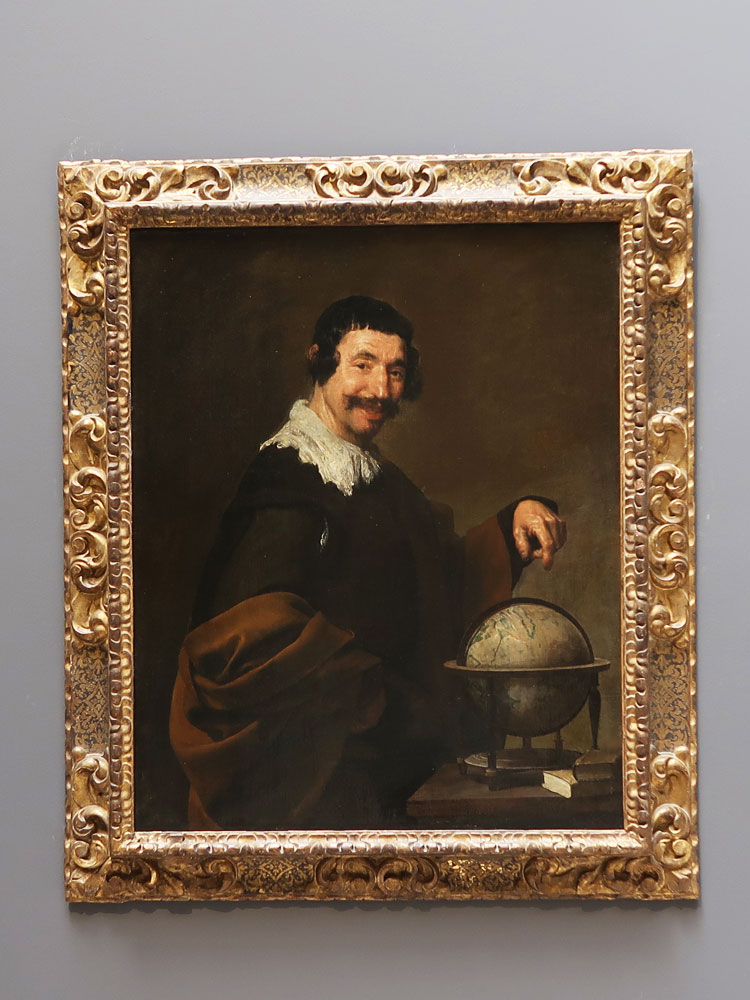 DÉMOCRITE (1630)
Diego Velázquezwas one of the most famous Baroque painters of the Spanish Golden Age.
His characteristic brush strokes had a lot of influence on later Impressionists, Picasso, and Dali.
This work is modeled after the Greek philosopher Democritus.
This is a must-see work, as there are only a few of Veracelas' works preserved in France.
Laurent de La Hyre (1606-1656)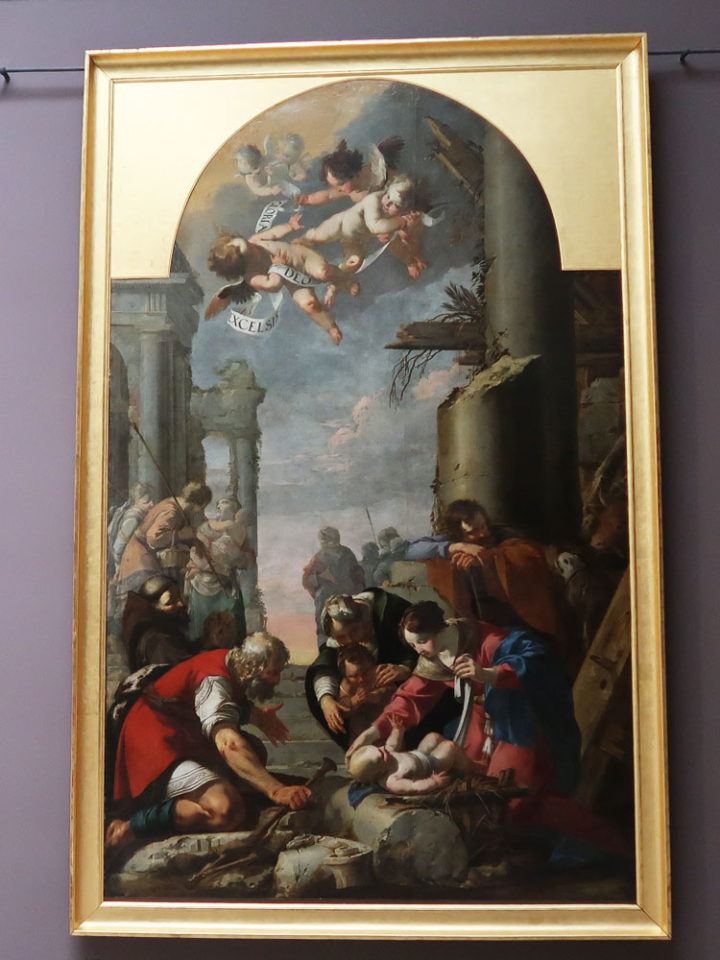 L'ADORATION DES BERGERS (1635)
Laurent de la Haile, also known as one of the founders of the Royal French Academy of Fine Arts.
This work was painted for the altar of the Capuchin Church in the Marais, Paris.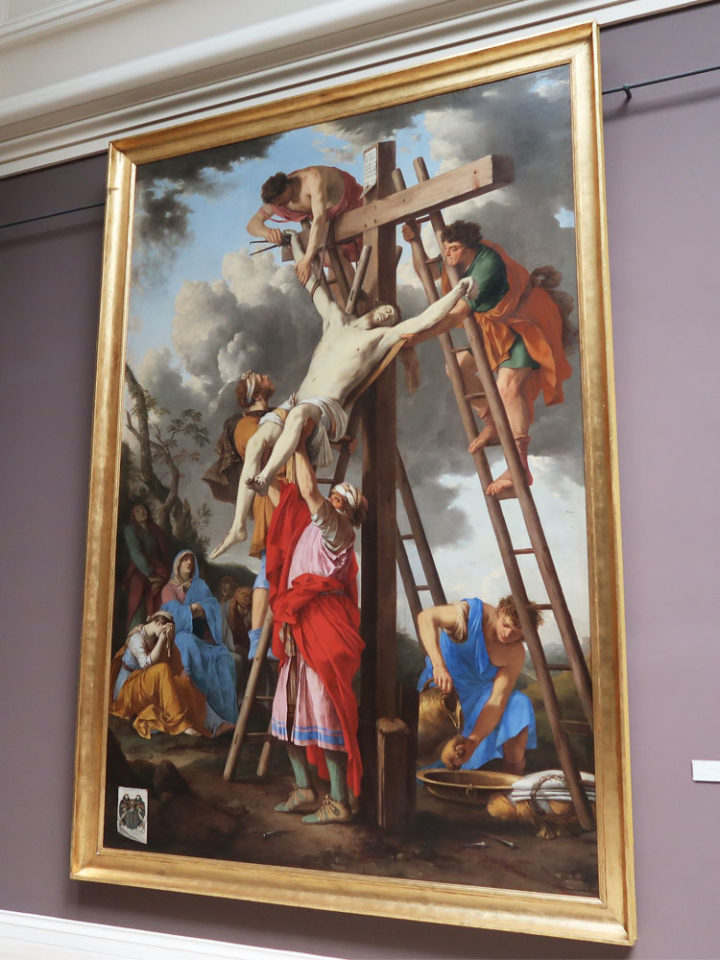 La Descente de Croix (1655)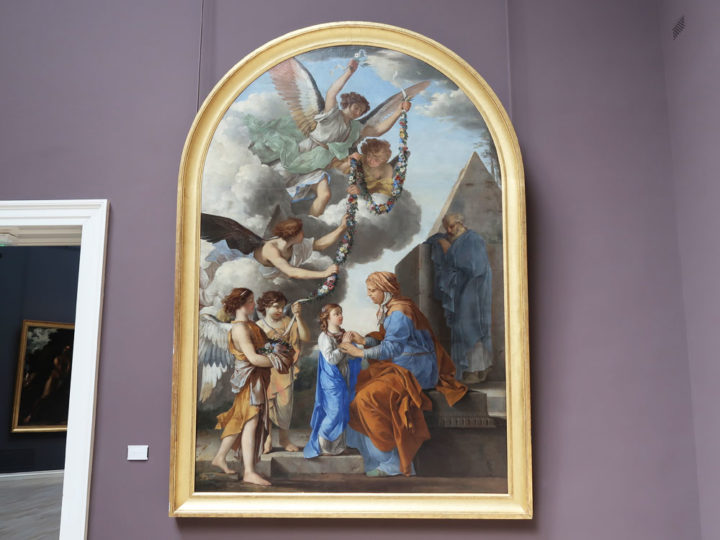 Saint Anne instruisant la Vierge
PIERRE PUGET (1620-1694)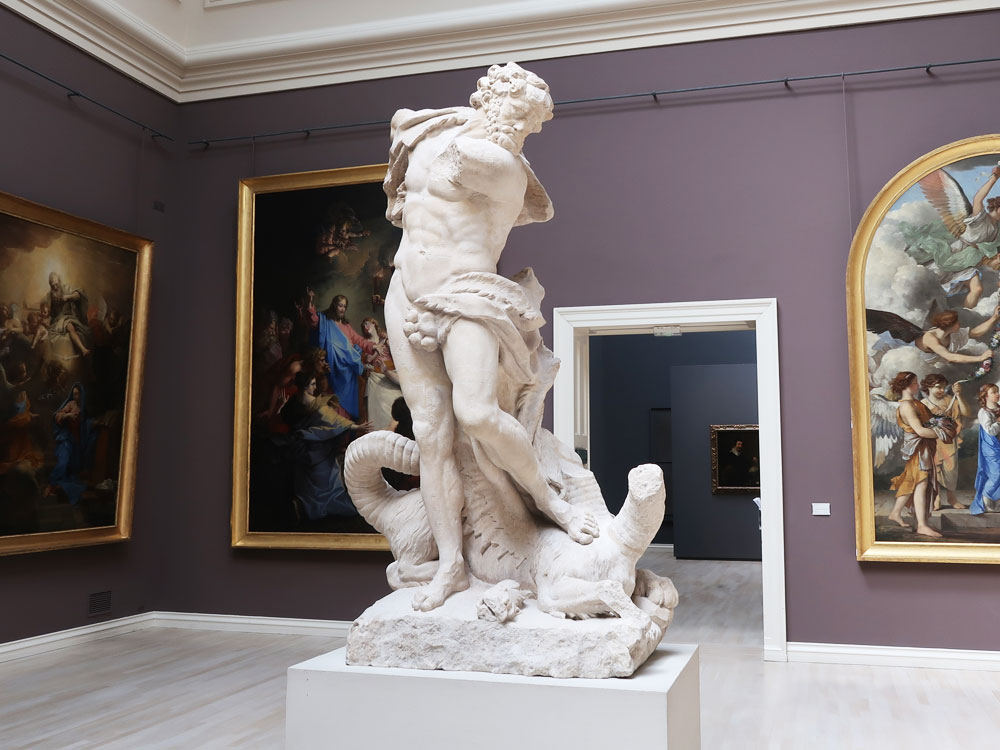 HERCULE TERRASSANT L'HYDRE DE LERNE (1659-1660)
This work is displayed in the center of the room where works by Laurent de La Hyre and Jean Baptiste Corneille are displayed.
The figure crushing the hydra is very powerfully expressed.
Gillis van Tilborgh (1625-1678)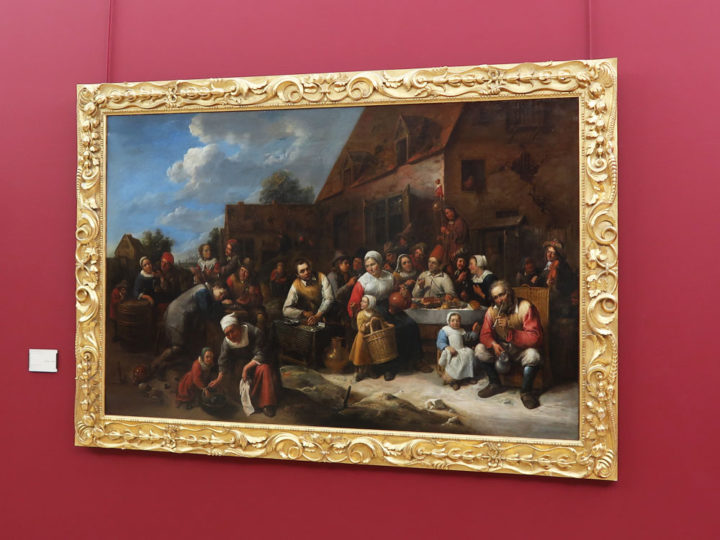 Banquet villageois (1657-59)
Born in Brussels, Gillis van Tilborgh left behind many works of art of the village at the time.
This piece also depicts the traditional depiction of that time.
He also painted many other works in the genre of gallery painting, which was very popular at the time.
He is also known to have worked for the Dutch Habsburg family as the head of their painting collection.
Hendrik van Minderhout (1632-1696)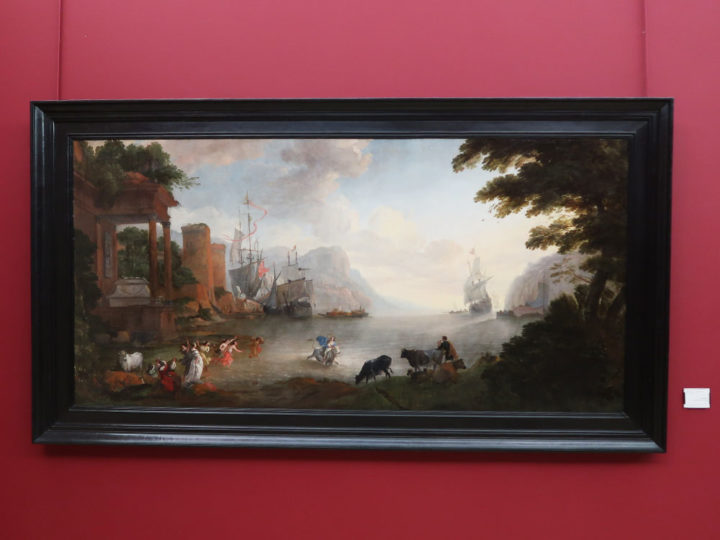 PAYSAGE AVEC L'ENLÈVEMENT D'EUROPE (1690)
Hendrik van Minderhoutwas a marine painter born in Rotterdam, the Netherlands, and practiced his art mainly in Bruges and Antwerp.
Most of his works will depict the sea and harbors, or naval battles of the time.
Jean Baptiste Corneille (1649-1695)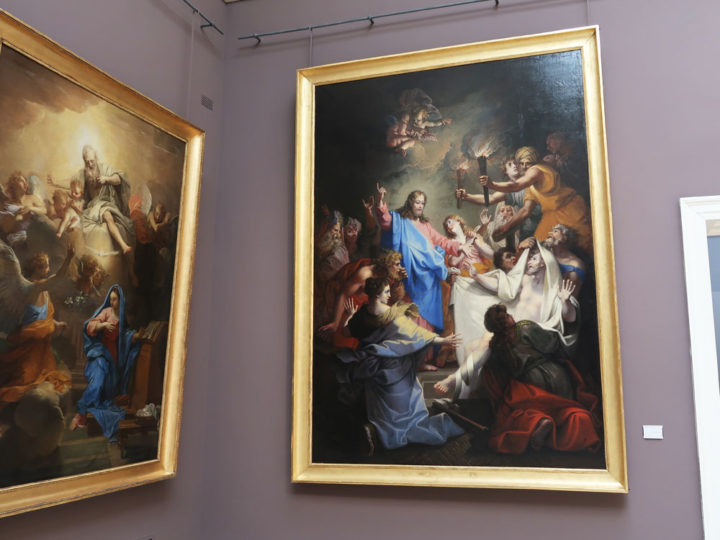 La Résurrection de Lazare (1694)
Jean-Baptiste Corneillestudied art in Rome, and after returning to France, he was a member of the Royal Academy.
Jan Frans van Dael (1764-1840)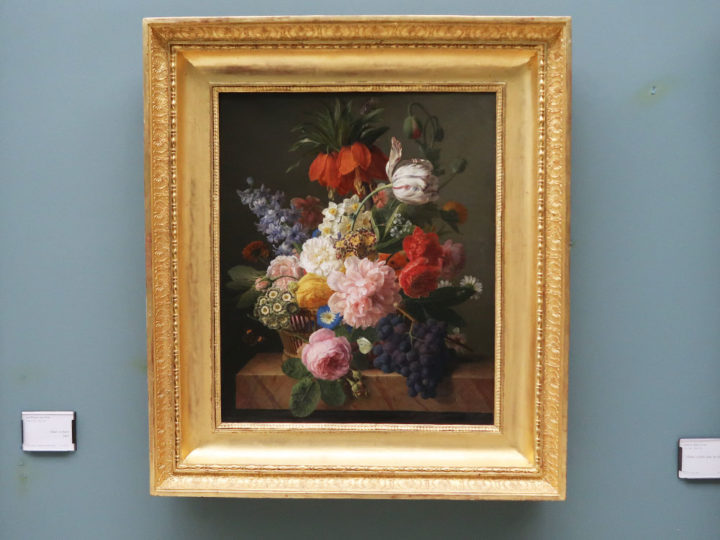 Fleurs et fruits (1827)
Jan Frans van Dael,like Saint-Jean, was also a painter who often painted flowers and fruits as his subjects.
Élise Bruyère (1776-1847)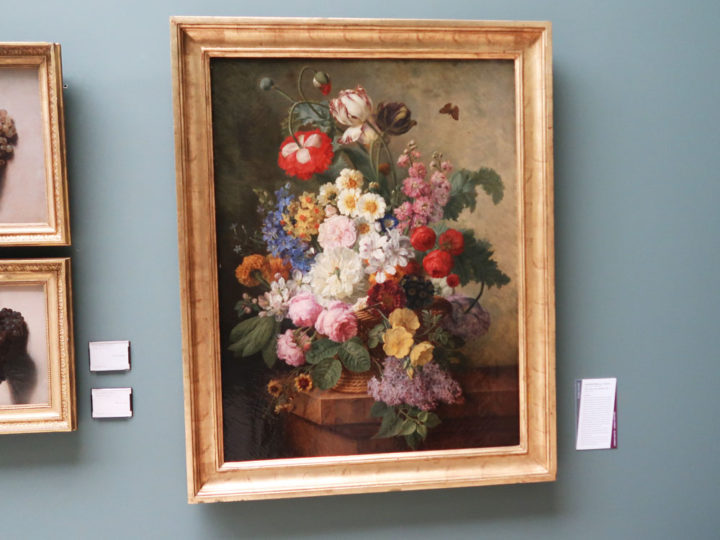 Fleurs dans une corbeille (1833)
Bruyère painted mainly portraits and floral pictures.
This piece is also very eye-catching and beautiful.
Charles Marie Bouton (1781-1853)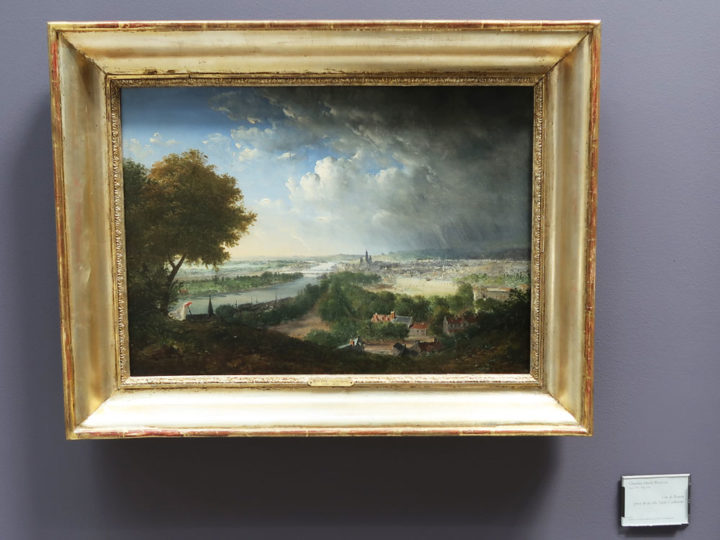 Vue de Rouen prise de la côte Saint Cathrine
教会の内部を描くことが多かった、Charles Marie Bouton。
こちらの作品は珍しい外から教会を描いた作品です。
LOUIS-JACQUES MANDÉ DAGUERRE (1787-1851)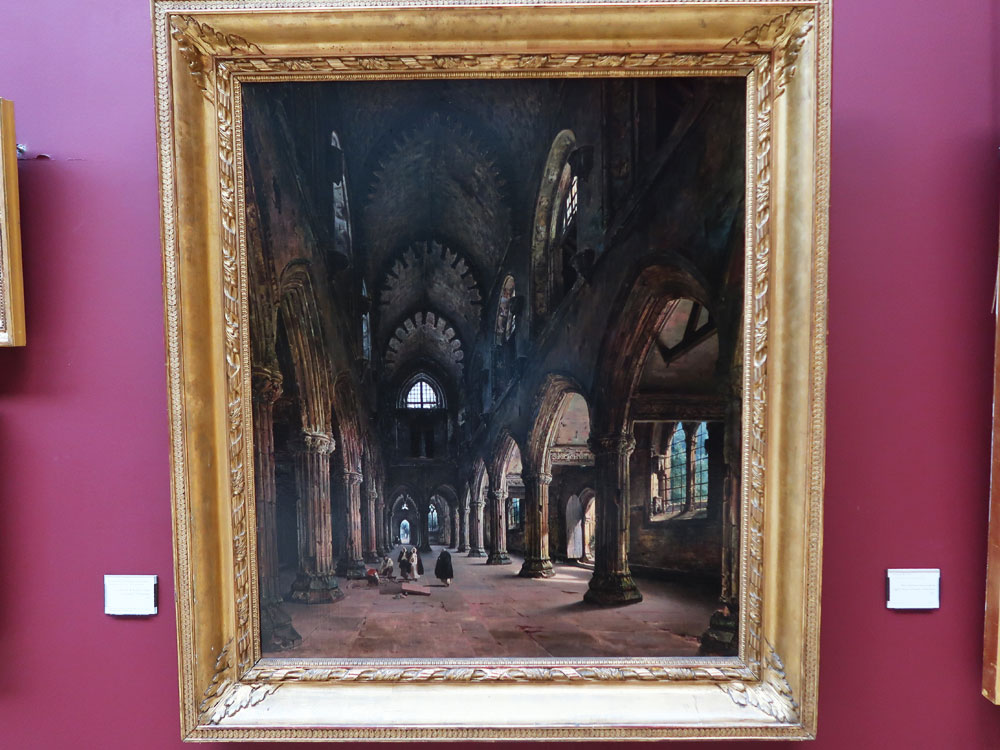 INTÉRIEUR DE ROSSLYN CHAPEL (1824)
Daguerre is widely known for establishing the photographic technique known as the daguerreotype, but his works as a painter are also wonderful.
This painting of the Rosslyn Chapel is also a very good example of the use of light.
Unfortunately, his fame for his photographic skills is so great that it seems sad that very little of his work has survived.
Jean-Baptiste Camille Corot (1796-1875)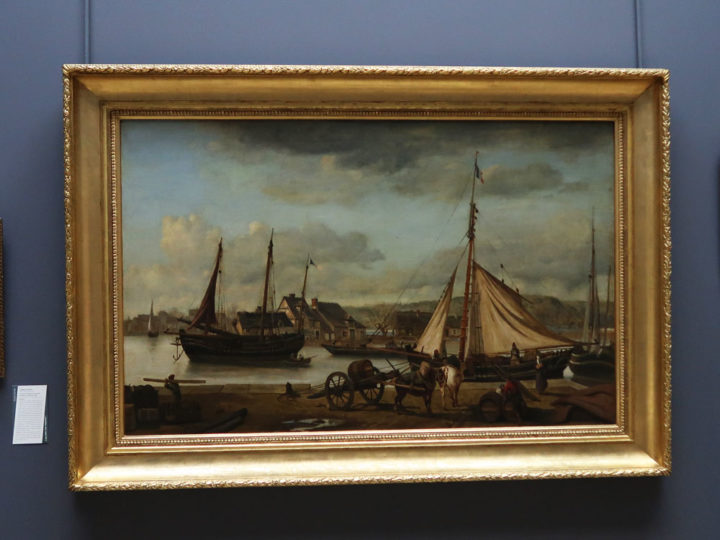 LES QUAIS MARCHANDS DE ROUEN (1834)
Corot spent some time in Rouen as a child.
Influenced by his travels to Italy, he is known for his poetic landscape paintings.
He is also known to have had a great influence on later impressionist painters.
Joseph-Désiré Court (1797-1865)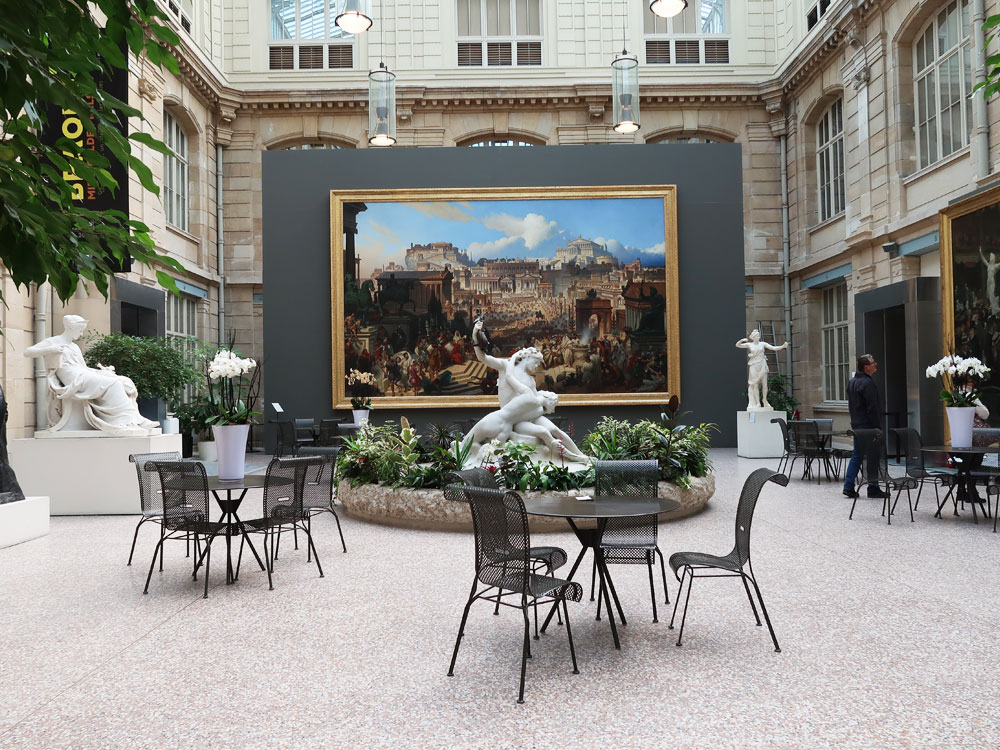 Le Martyre de sainte Agnès (1864-65)
As soon as you enter the museum, you will see a work by Joseph-Désiré Court in front of the courtyard.
It is said that this work, named Martyrdom of St. Agnes, was painted at the request of Napoleon III.
Simon Saint-Jean (1808-1860)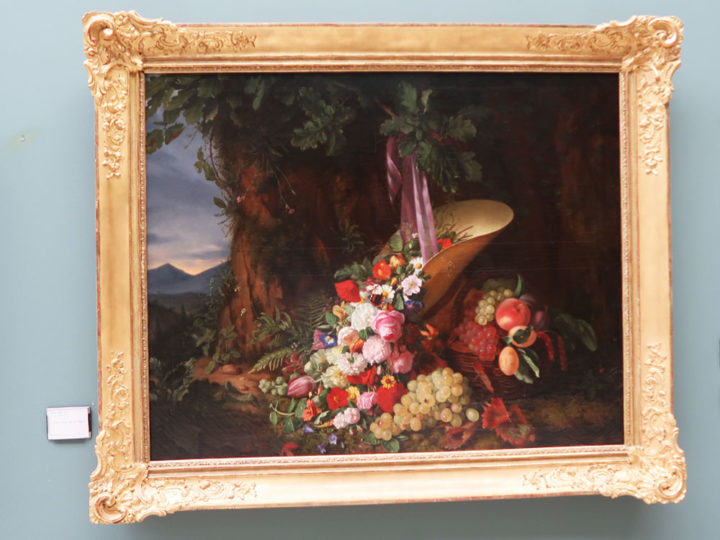 CHAPEAU FLEURI, FLEURS ET FRUITS (1833)
Born in Lyon, Saint-Jean often painted flowers and fruits as his subjects.
Inspired by the Dutch paintings of the 17th century, he also combined tulips, roses, apples, and grapes in this work to create a wonderfully harmonious composition.
Pierre Puvis de Chavannes (1824-1898)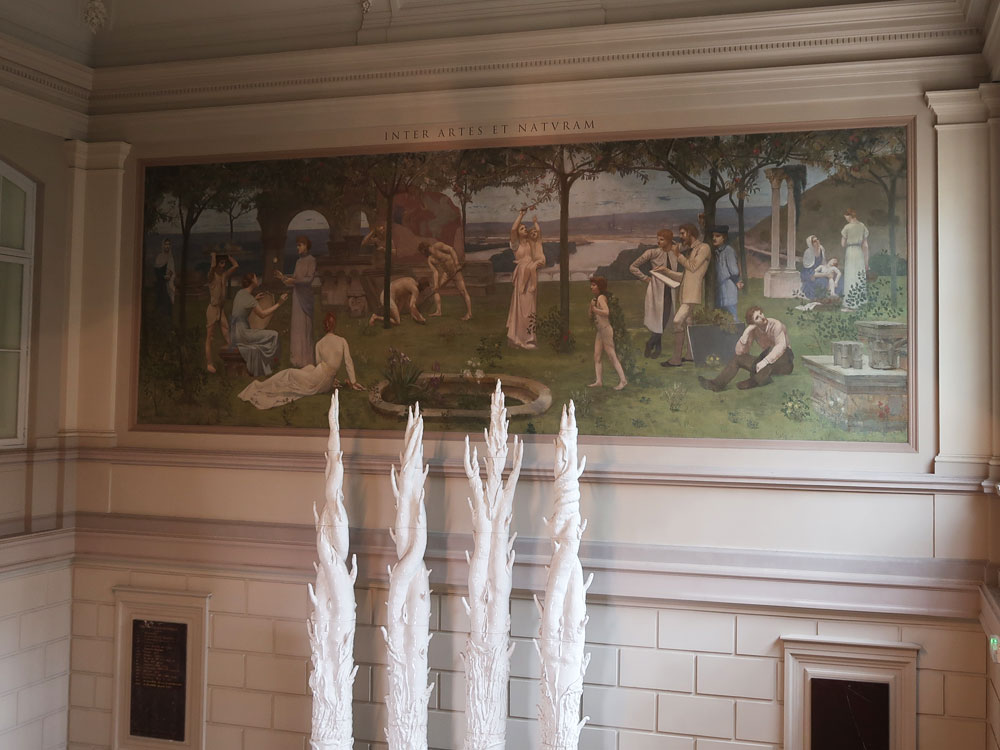 Inter artes et naturam (1890-95)
The fresco by Chavannes is displayed on the stairs in the center of the museum.
It is said to have influenced many painters, and Picasso is said to have copied Chavannes.
Camille Pissarro (1830-1903)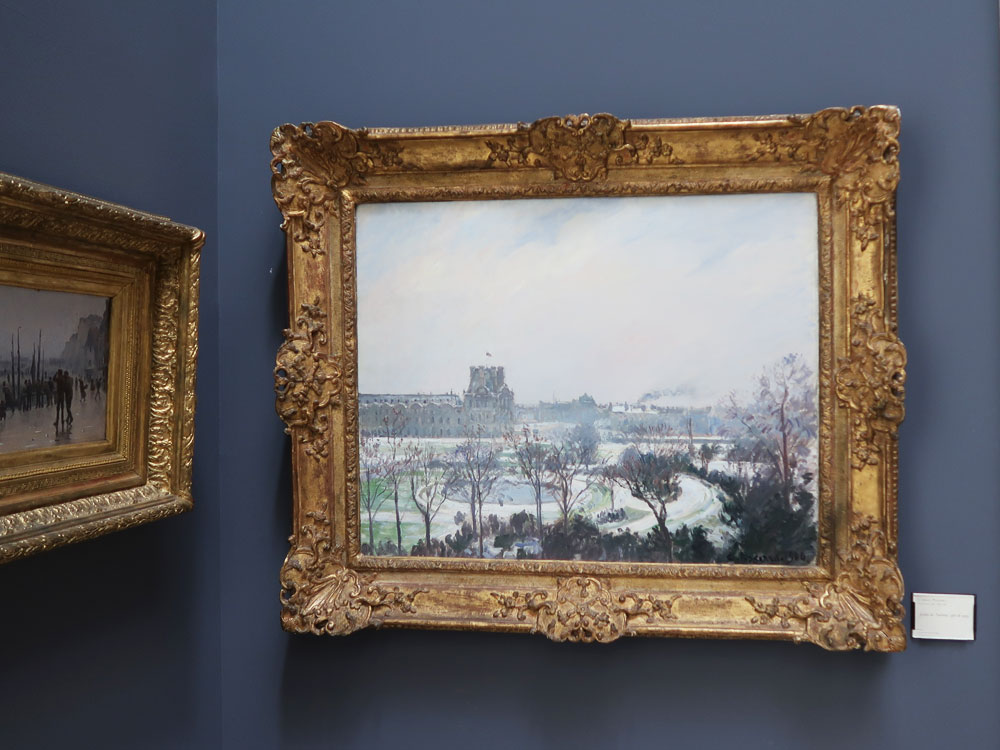 Jardin des tuileries effet de neige
Pissarro's work depicting the Tuileries Park in winter.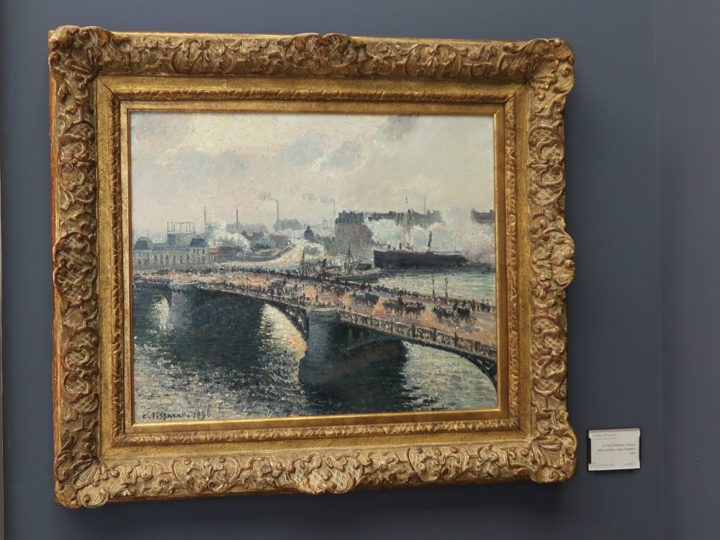 Le Pont Boieldieu à Rouen, soleil couchant, temps brumeux (1896)
This painting depicts a scene of a bridge in lively Rouen.
Edgar Degas (1834-1917)
Renard mort sous bois (1863)
Although Degas is well known as a member of the Impressionist movement, his use of many classical techniques sets him apart from other Impressionist painters.
(Degas was not an impressionist to begin with.)
It is also known for its many ballet-themed works.
Alfred Sisley (1839-1899)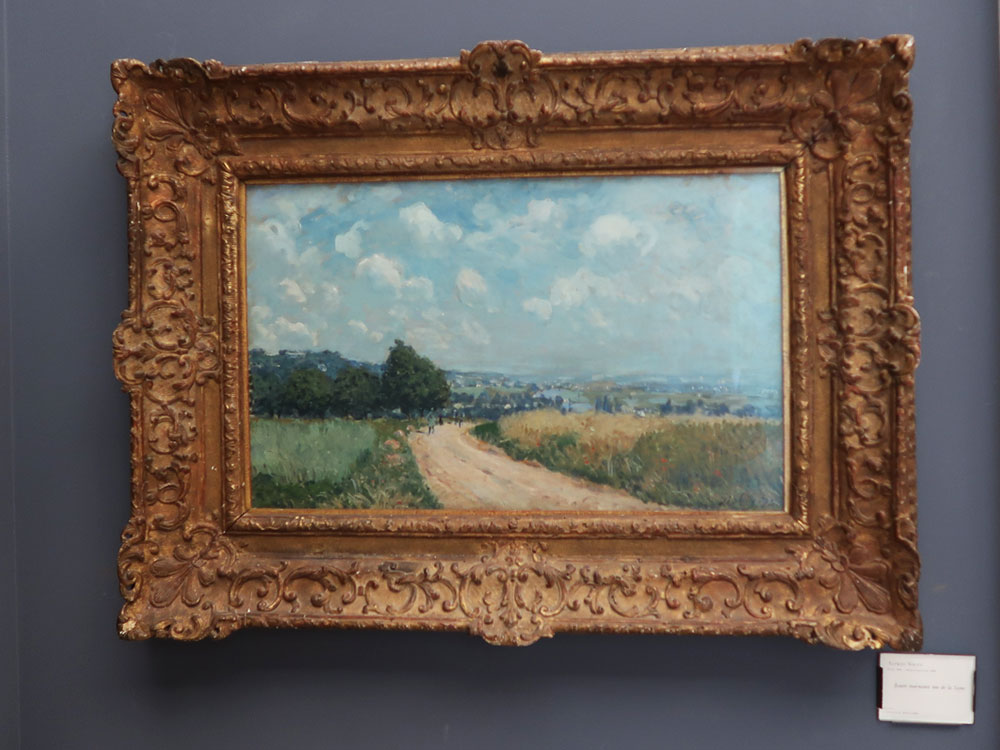 Route tournante une de la saine (1875)
Sisley's unique way of depicting the sky.
As can be seen in other works, the sky is an important element in Sisley's work.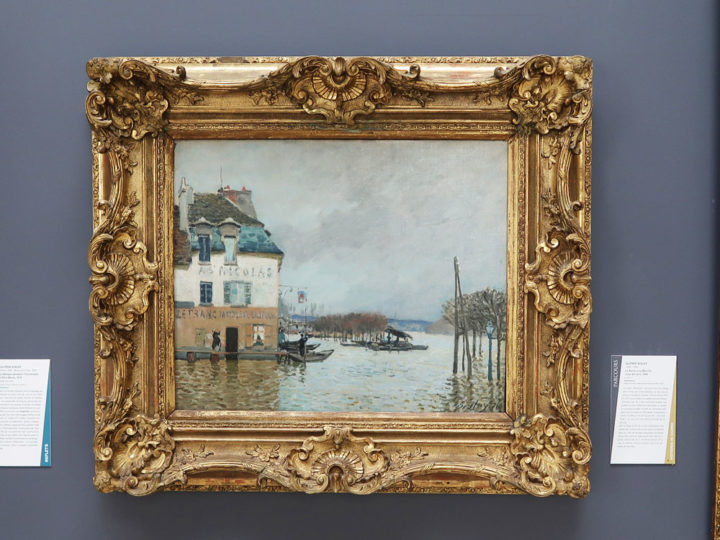 La Barque pendant l'inondation,Port Marly (1876)
There is a painting with a similar title in the Musée d'Orsay.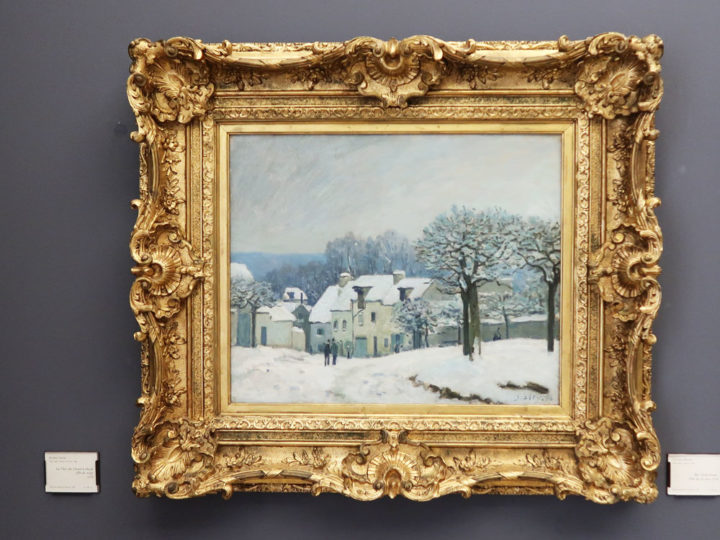 La Place du Chenil à Marly, effet de neige (1876)
This work depicts the landscape of Marly-le-Roi, where Sisley was living at the time.
This work is typical of Sisley, who loved to paint winter subjects.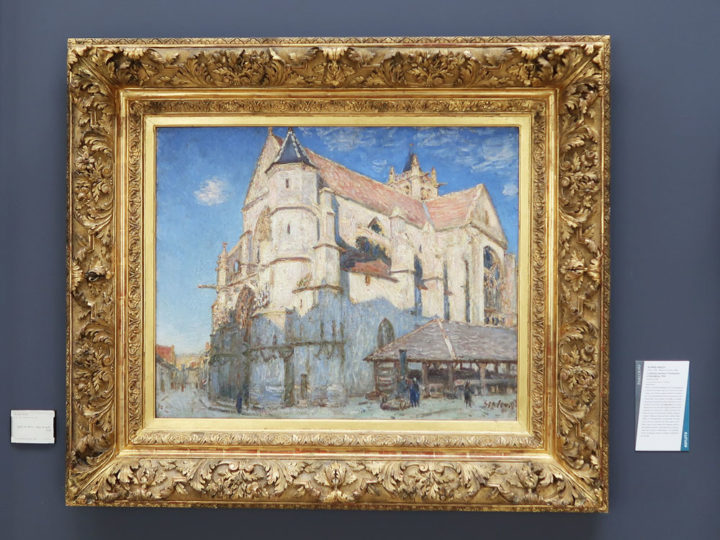 L'Eglise de Moret (plein soleil) (1893)
Between 1893 and 1994, Sisley painted 12 paintings of this church.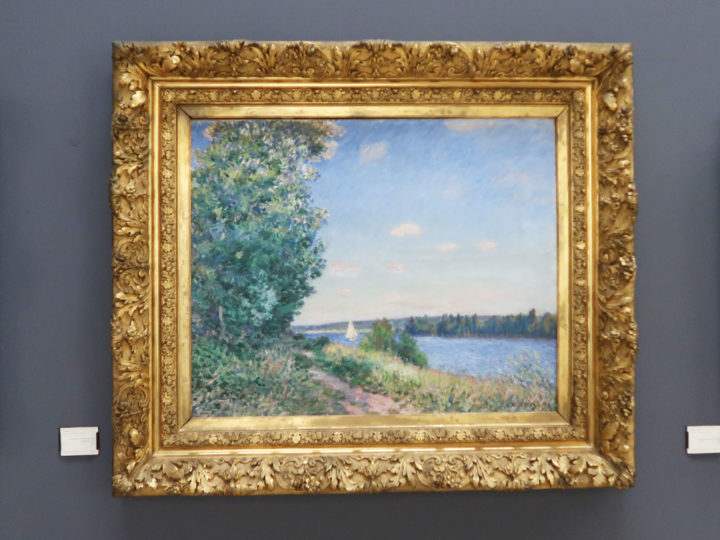 Sentier au bord de l'eau à Sahurs le soir (1894)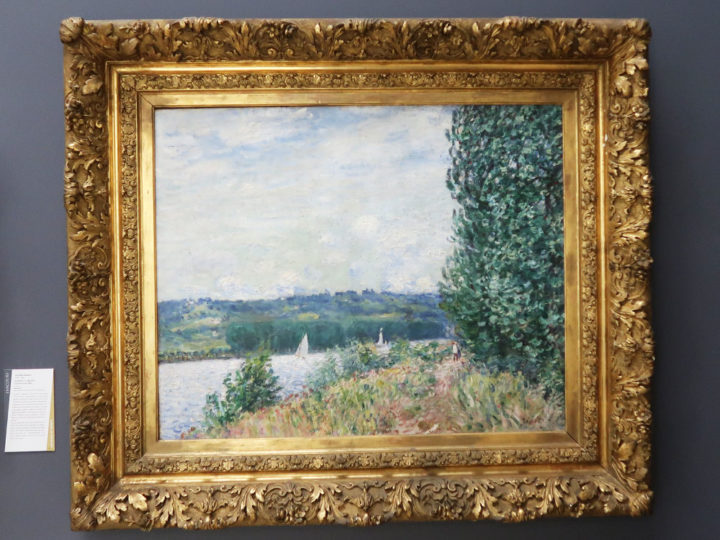 La Seine à La Bouille, coup de vent (1894)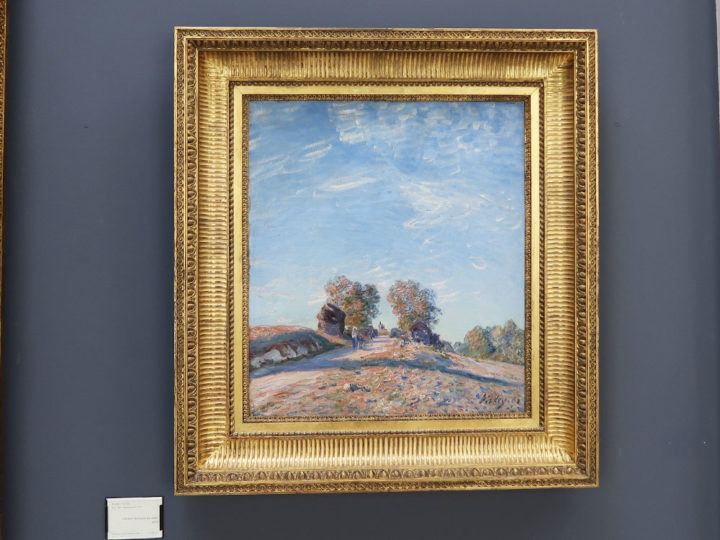 Chemin montant au soleil (1891)
The road stretching from the foreground to the background and the steep slope of the hill give the work a sense of the unseen part of the painting.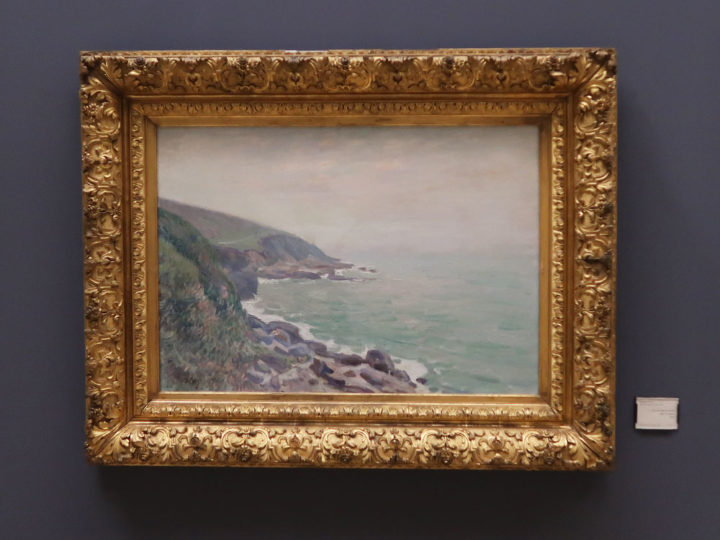 Côtes du Pays de Galles dans la brume (1897)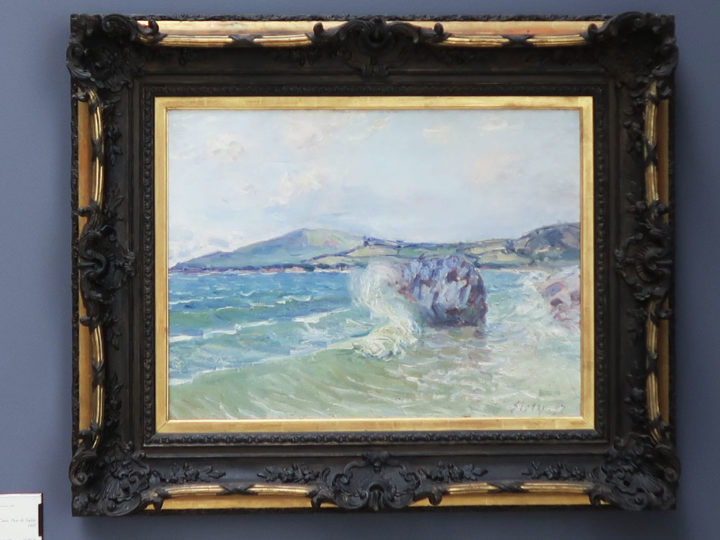 Lady's Cove, Pays de Galles (1897)
Painted two years before Sisley's death, these works were painted in Wales.
Claude Monet (1840-1926)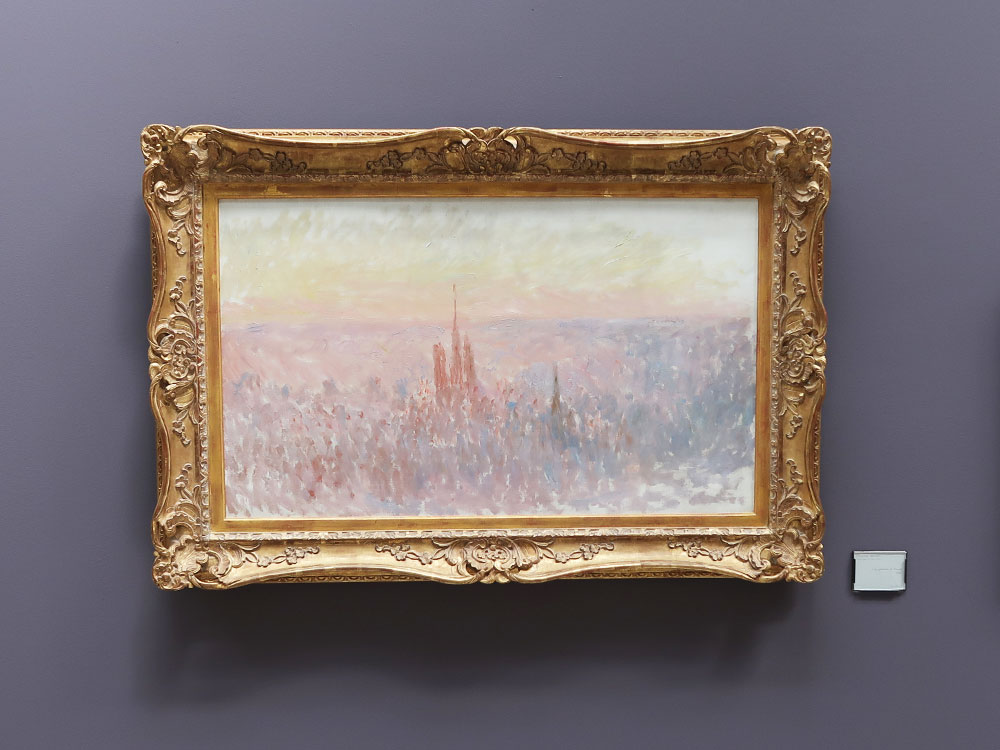 Vue générale de Rouen (1892)
The film was first released in 1994.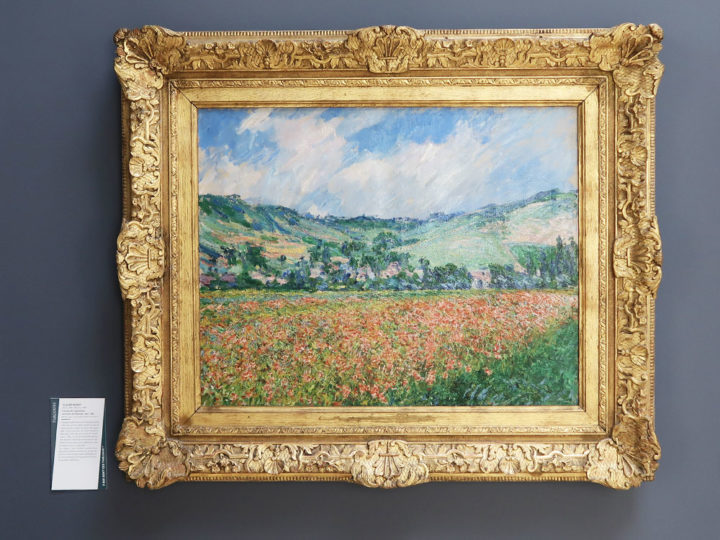 Champ de coquelicots, environs de Giverny (1885)
This work was initially questioned because it was not signed by Monet.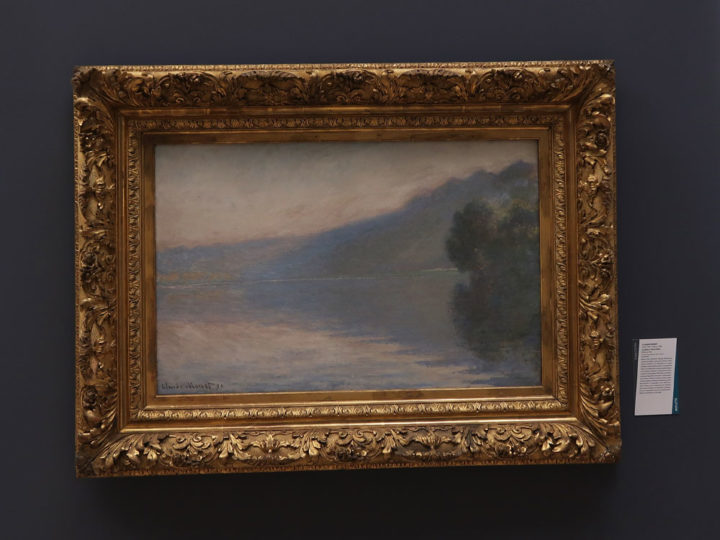 La Seine à Port-Villez (1894)
The use of light and shadow is exquisite in this work.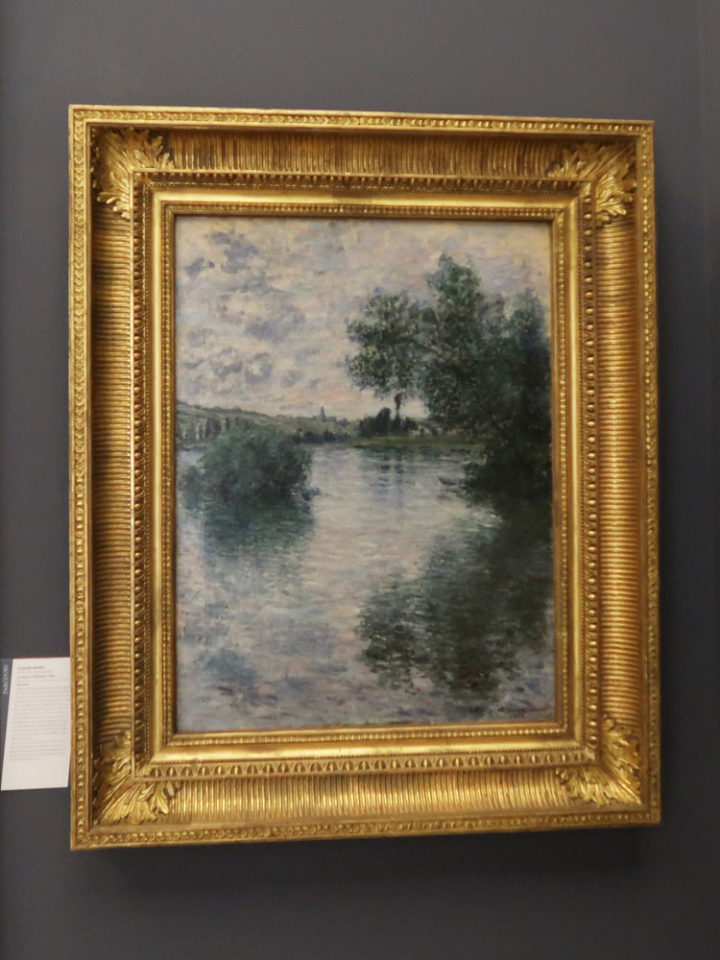 La Seine à Vétheuil (1879)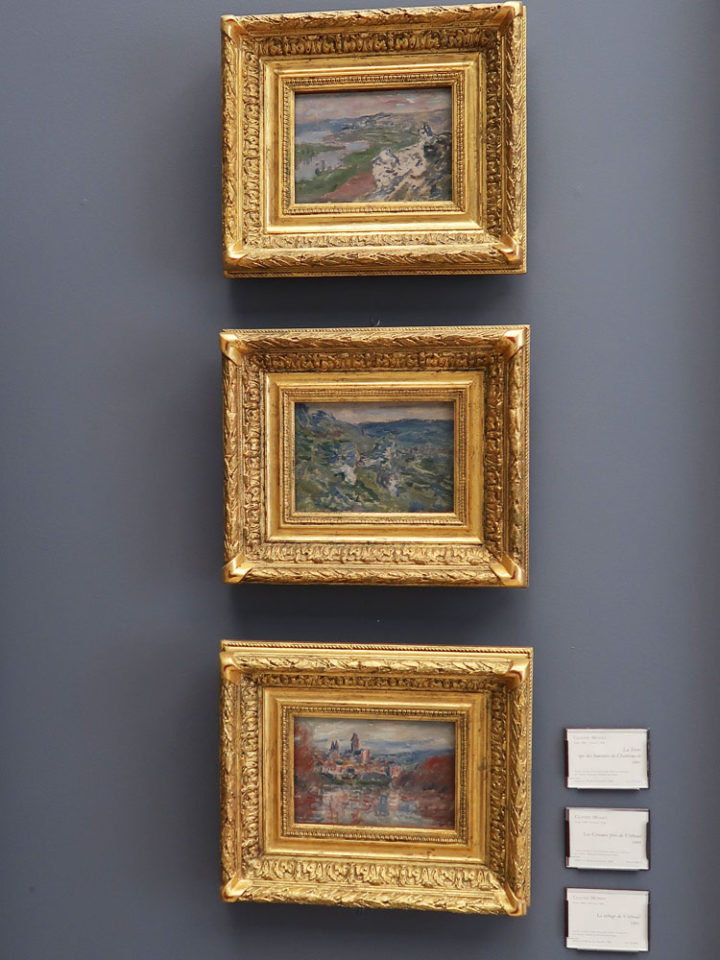 La Seine, vue des hauteurs de Chantemesle (1881)
Les coteaux près de Vétheuil  (1881)
Le village de Vétheuil (1881)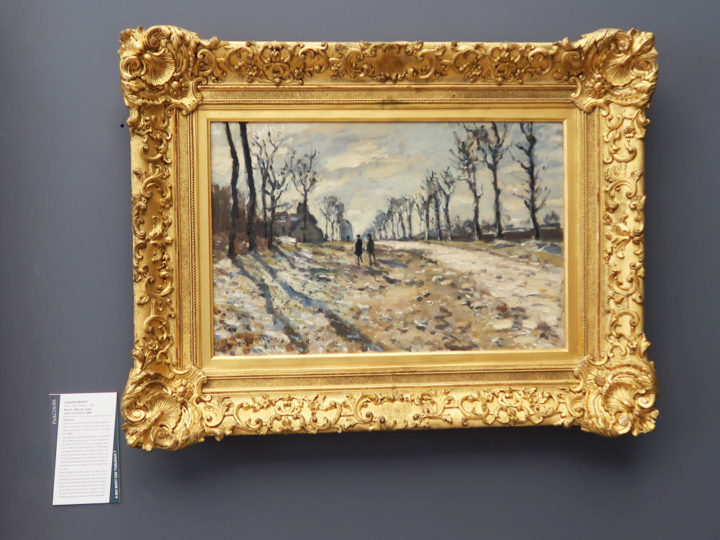 Route, effet de neige, soleil couchant (1869)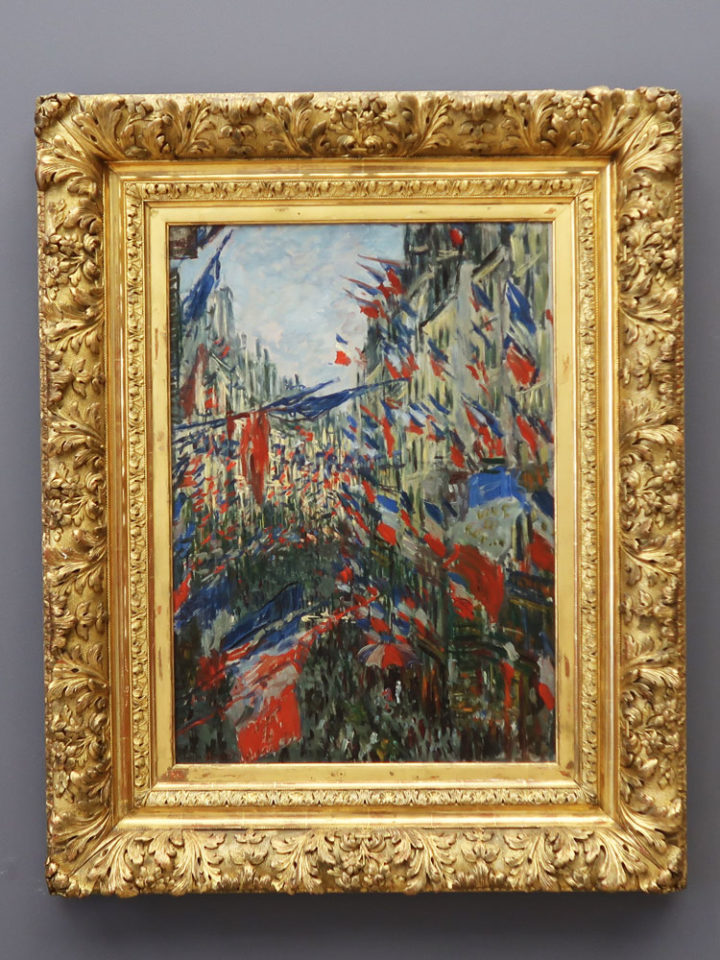 Rue Saint-Denis, fête du 30 juin 1878 (1878)
This is a view of the city at the time of the Paris World's Fair on June 30, 1878.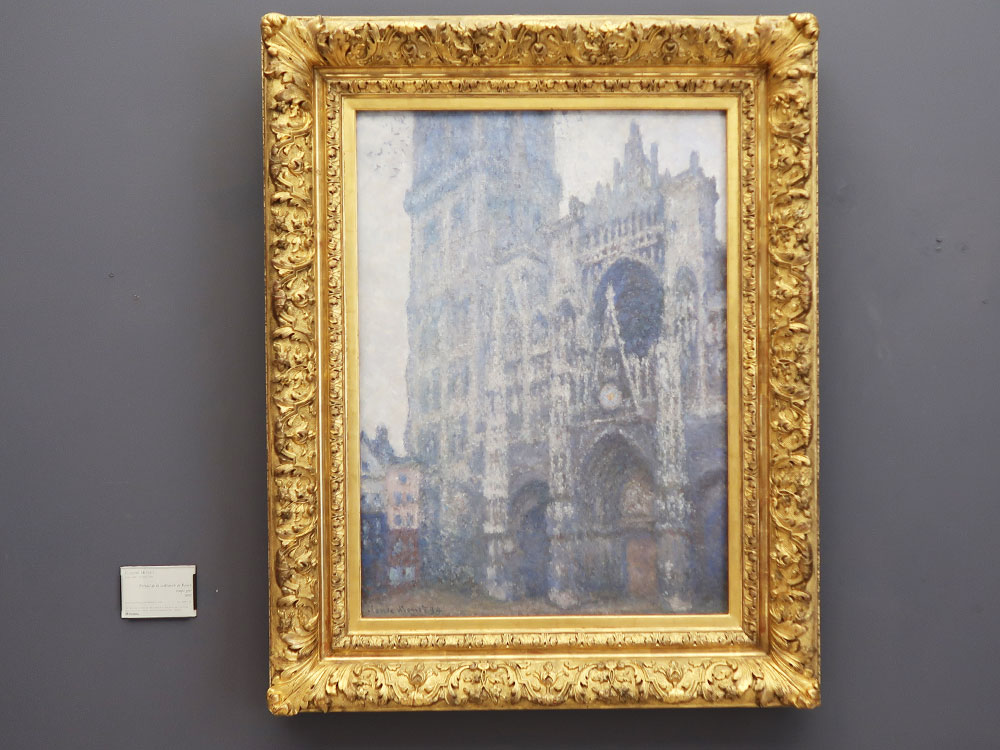 La Cathédrale de Rouen. Le Portail et la tour d'Albane. Temps gris (1894)
Monet's Rouen Cathedral, with its 30 patterns.
In France, the Musée d'Orsay owns several.
It is also on display at the Marmottan Museum.
Auguste Renoir (1841~1919)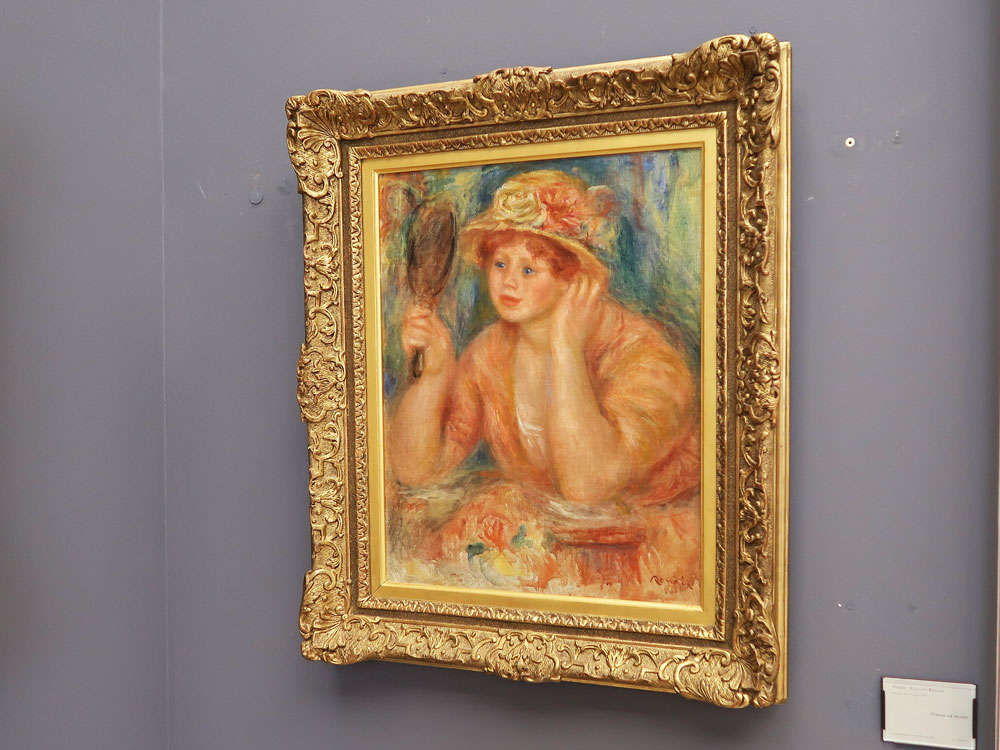 Jeune femme au miroir (1915)
Catherine Hessling, nicknamed Dédée, appears in many of Renoir's later works.
She is famous as the wife of Renoir's son.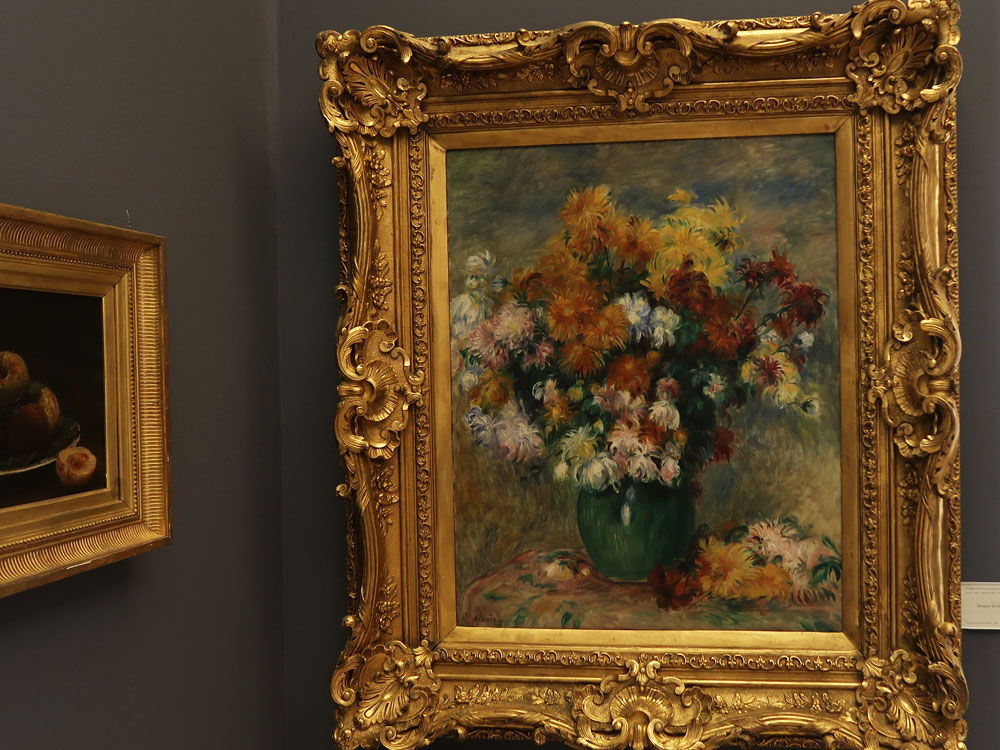 BOUQUET DE CHRYSANTHÈMES (1884)
Renoir often painted bouquets of flowers, but in this work, the chrysanthemum flowers are the main focus, and the vase, background, etc. are also painted simply.
Nevertheless, the overall sense of unity is due to Renoir's unique touch in every detail.
Armand Guillaumin (1841-1927)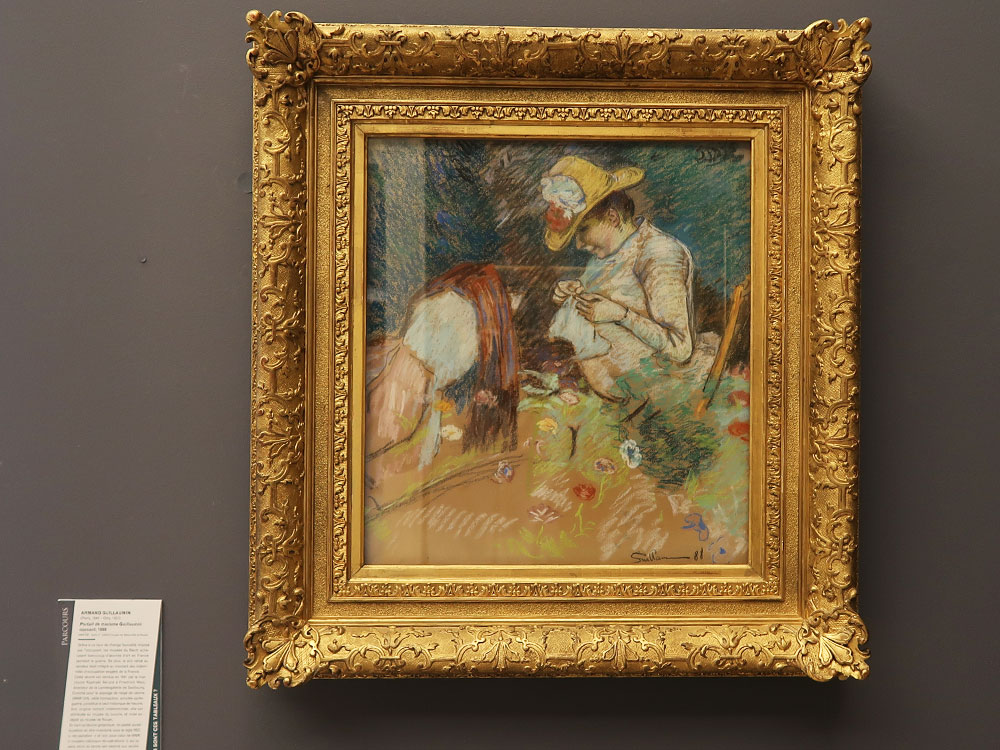 MADAME GUILLAUMIN COUSANT (1888)
Guillaumont, a French Impressionist, has attracted many fans for his colors, and is now a favorite of major museums around the world.
This painting of his wife's daily life also depicts her happy life with its colors.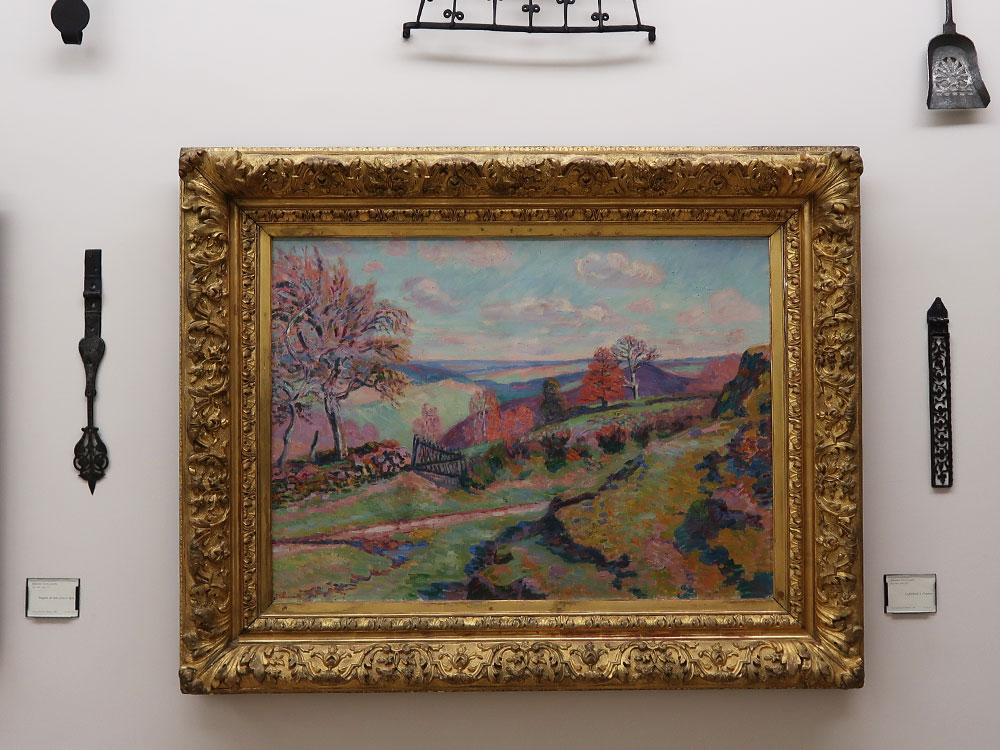 La pêcherie à Crozant
This work is also painted with a unique color scheme.
Torello Ancillotti (1843-1899)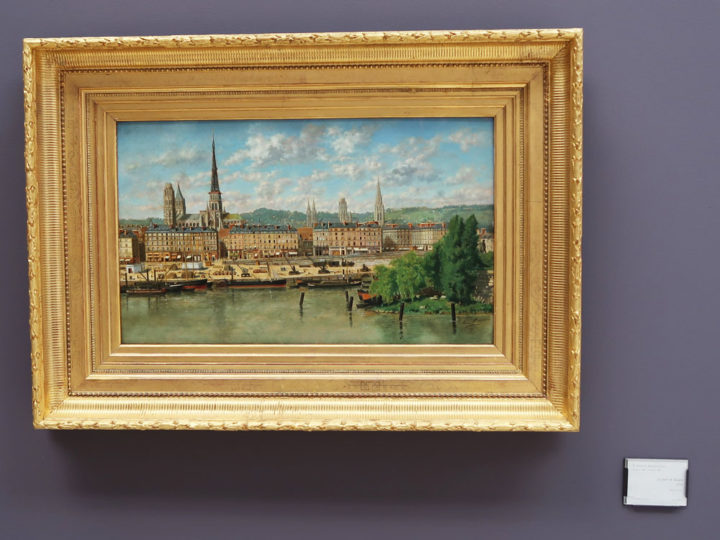 Le Port de Rouen (1878)
George William Joy (1844-1925)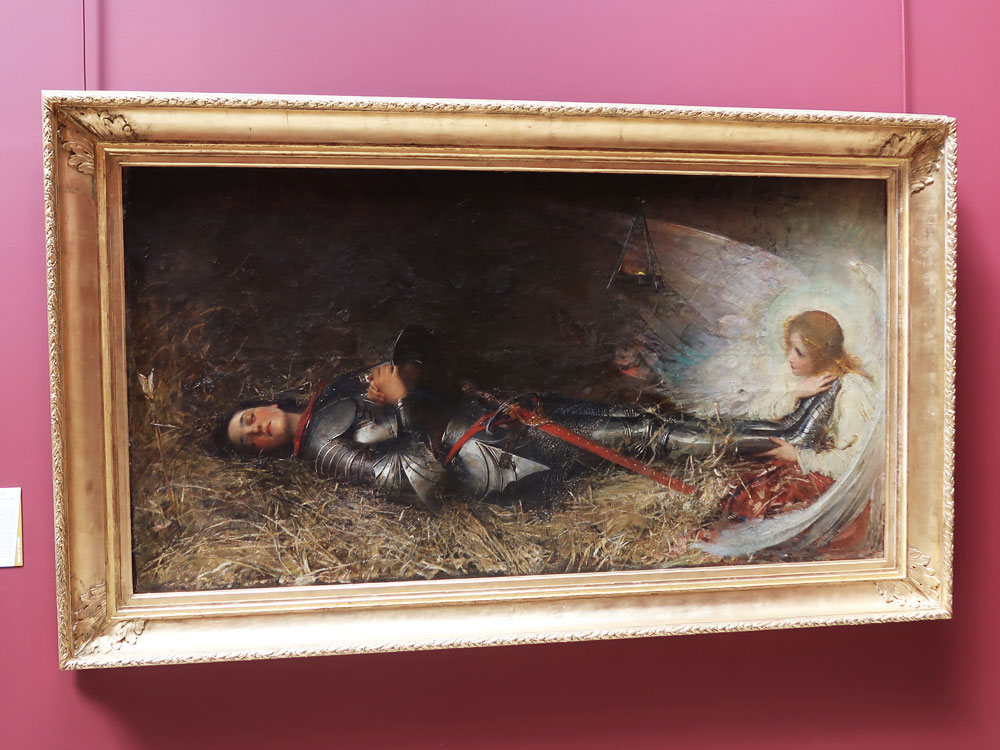 Le sommeil de Jeanne d'Arc (1895)
Born in Dublin, Ireland, Joy mainly painted historical and religious works.
This piece, in which Jeanne d'Arc sleeps while being watched over by angels, was very impressive.
GUSTAVE CAILLEBOTTE (1848-1894)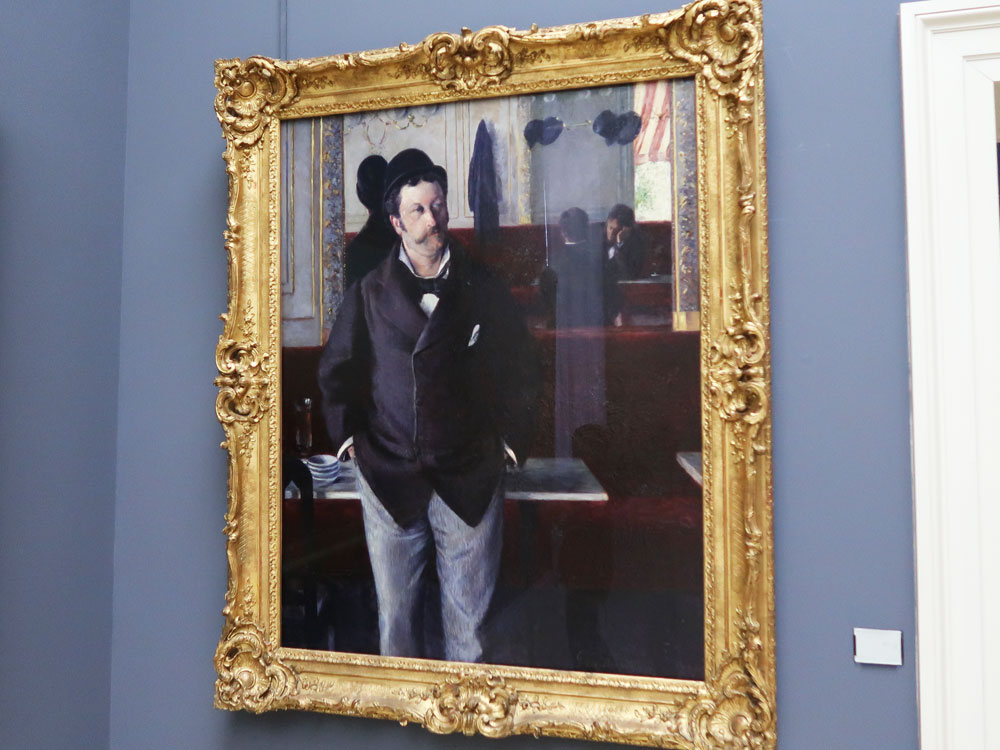 DANS UN CAFÉ (1880)
Although Caillebotte's works are often realistic, he is distinguished as an impressionist painter.
This work was exhibited at the 5th Impressionist Exhibition, and is impressive in that it depicts not only a man with his hands in his pockets, but also two men reflected in a mirror.
Albert Lebourg (1849-1928)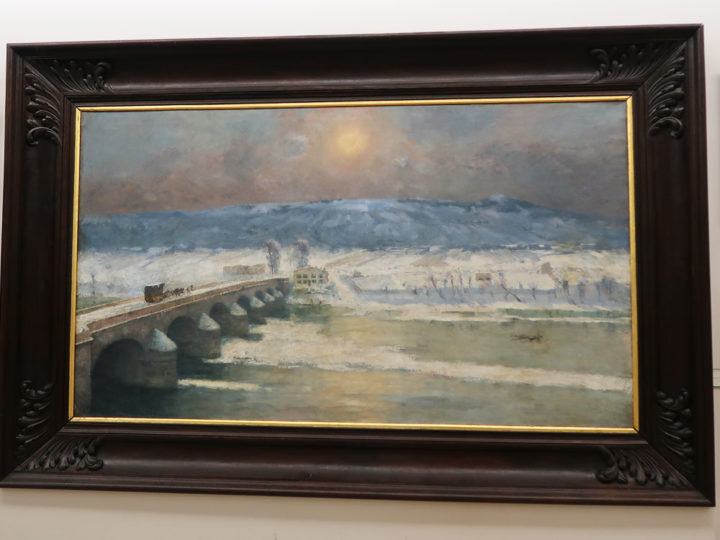 La neige à Auvergne (1886)
Lebourg left more than 2,000 landscape paintings.
He is also known for his active painting of bright landscapes.
This work depicts the Auvergne.
Léon-JulesLemaître (1850-1905)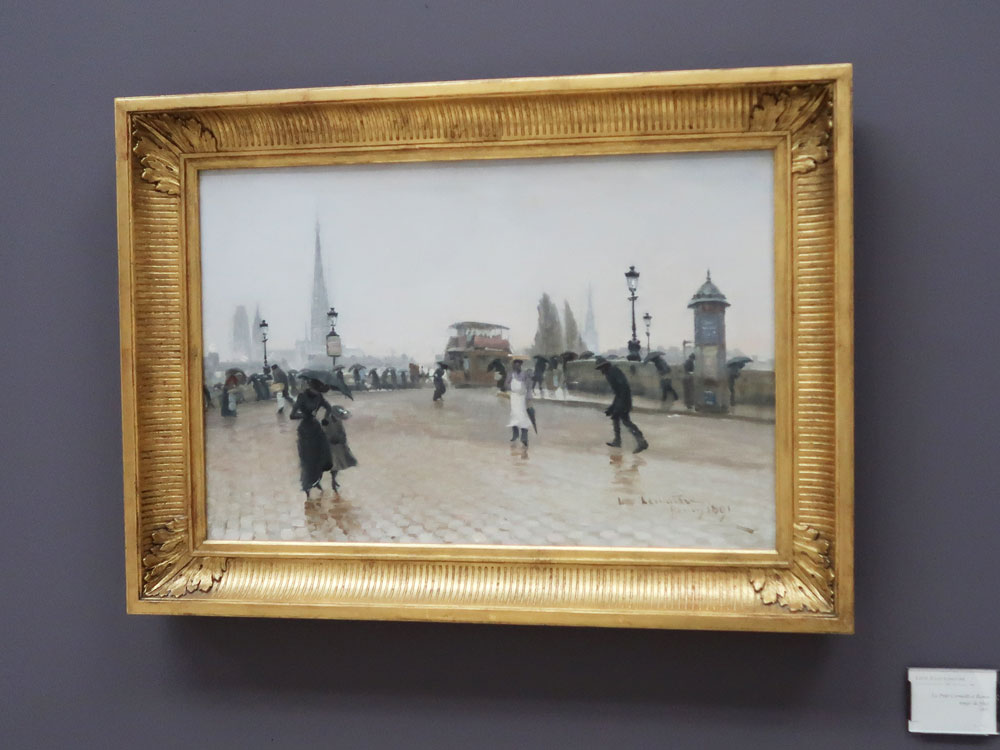 Le Pont Corneille a Rouen (1891)
He is famous as a painter who painted mainly the cities of Paris and Rouen.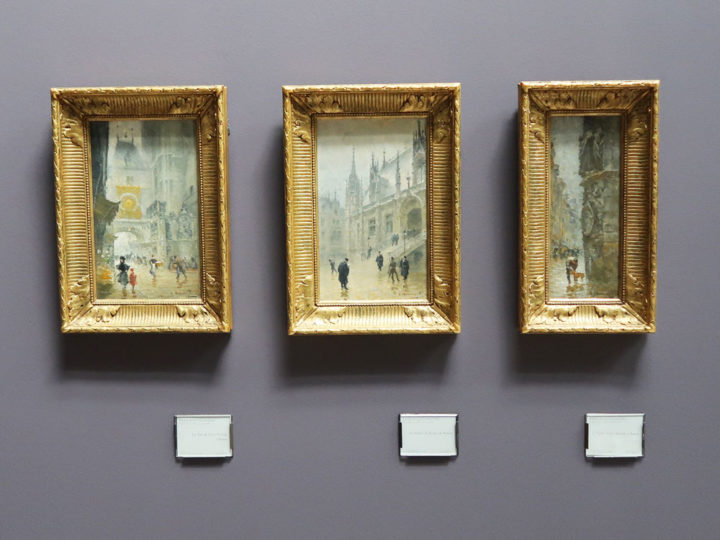 La rue du gros horloge
LE PALAIS DE JUSTICE DE ROUEN
L'eglise Saint Maclou De Rouen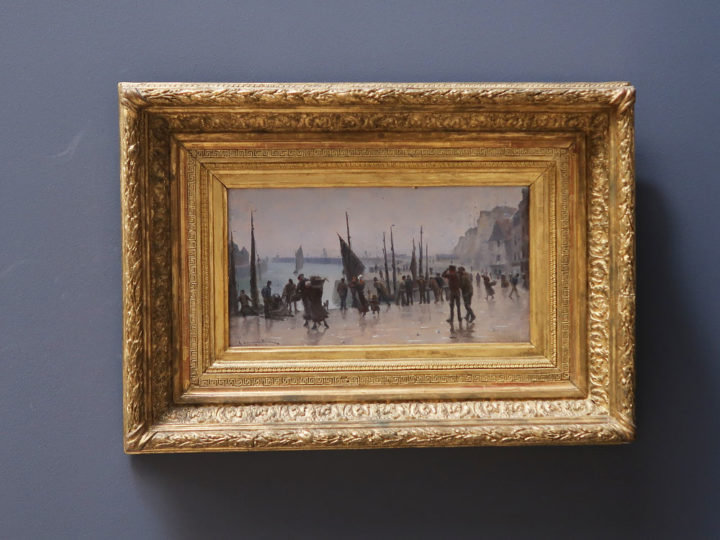 Dieppe le quai du Pollet (1890)
Charles Angrand (1854-1926)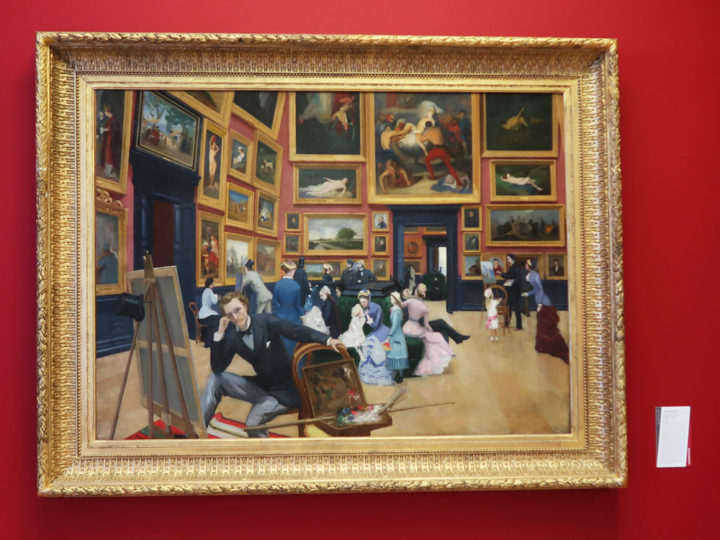 Vue intérieure du musée de Rouen (1880)
Charles Angrand is one of the leading neo-impressionist painters.
He studied at the School of Fine Arts in Rouen and spent the last years of his life in Rouen.
As the title suggests, this work depicts the Rouen Museum.
The scenery of that time and the many works of art on the walls show the atmosphere of that time well.
Charles Frechon (1856-1929)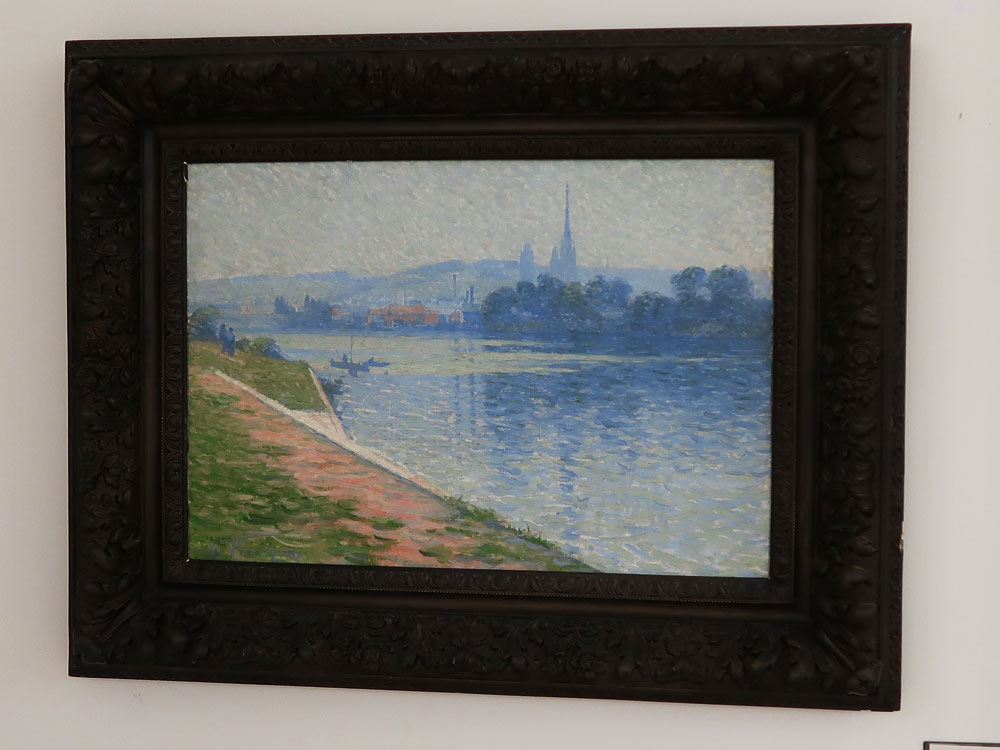 Rouen, Ile Lacroix, cours la Reine 
Fréchon was a post-impressionist painter based in Rouen.
This work depicts the island of Lacroix, which was the industrial and entertainment center of Rouen before the war.
Mary Fairchild MacMonnies Low (1858-1946)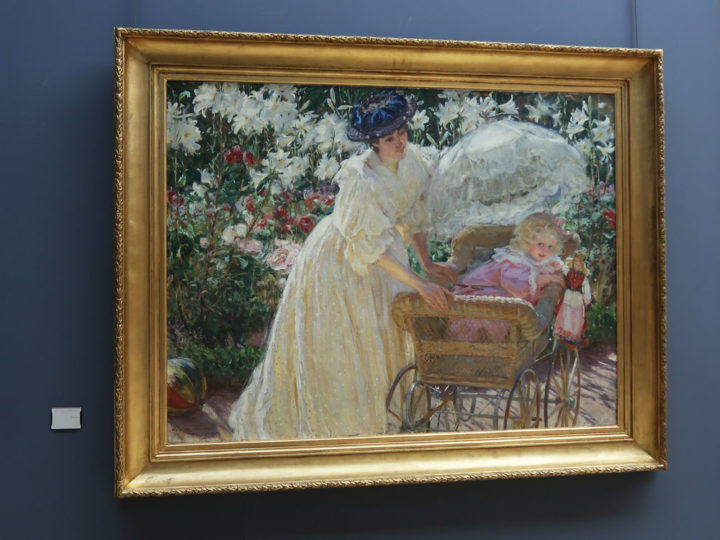 Roses et Lys (1897)
This is the work of an American painter born in New Haven, Connecticut.
Joseph Delattre (1858-1912)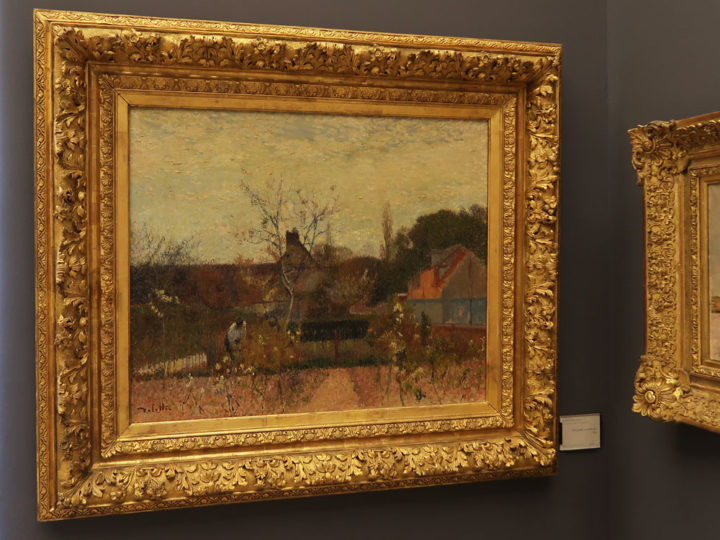 Mon jardin au printemps (1902)
Delattre was a painter based in Rouen.
In 1895, he founded and operated an academy in Rouen.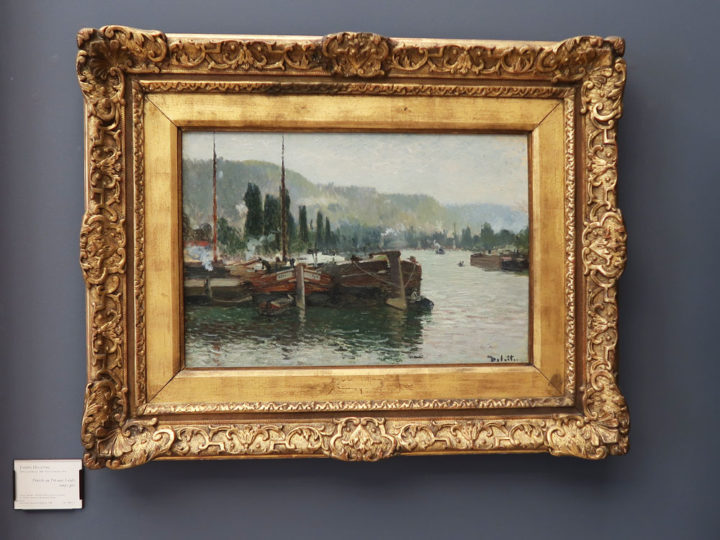 Péniche Pré aux Loups
Paul César Helleu (1859-1927)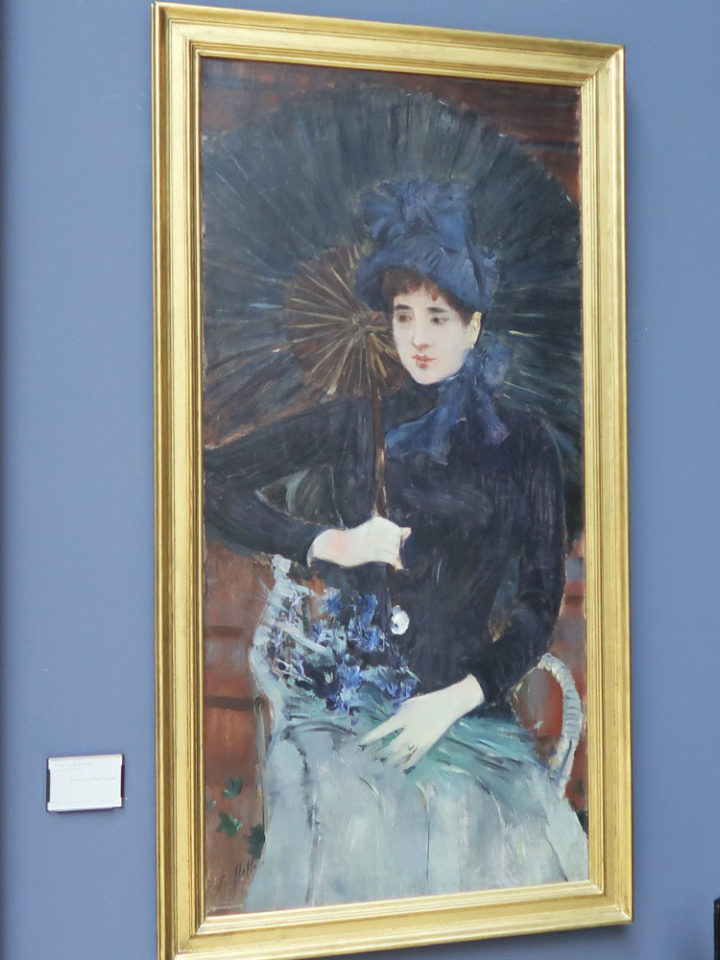 Portrait de mary renard 
The French painter Paul César Erieux is famous for his many portraits of women.
JULES-ALEXANDRE GRÜN (1868-1938)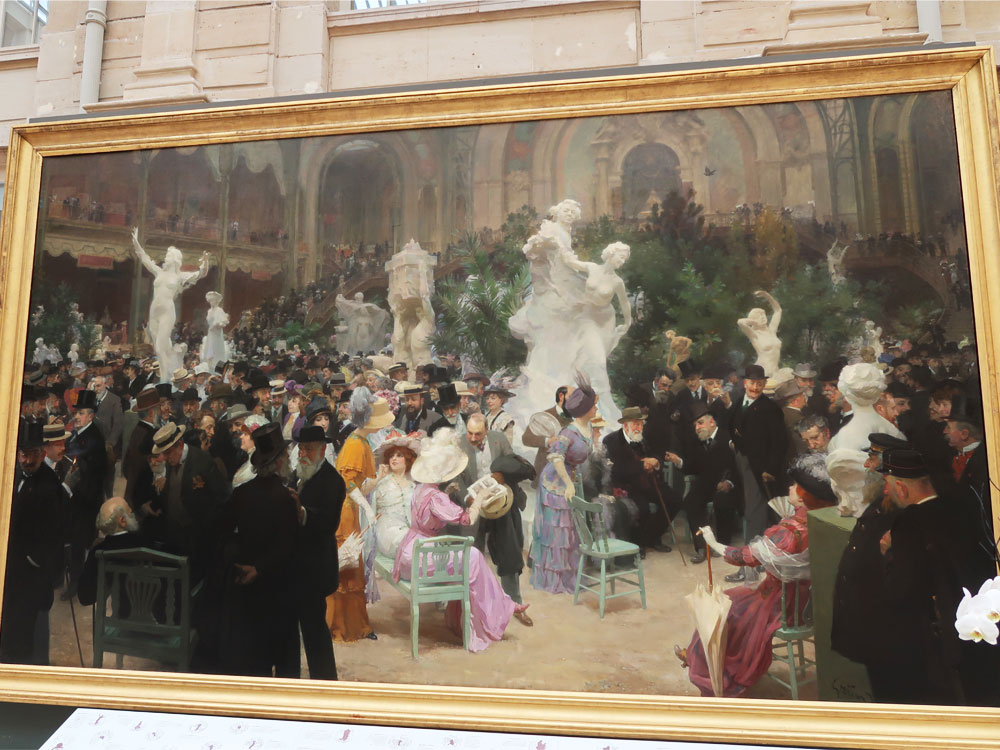 UN VENDREDI AU SALON DES ARTISTES FRANÇAIS (1911)
The large work on the right side of the garden is Friday in the Salon des Artistes de France, by Jules-Alexandre Gruen.
He is best known as a caricaturist and poster artist in Montmartre, but he also left behind works as an oil painter.
His works, mainly for social gatherings, have been highly acclaimed.
In addition, Grün himself is depicted in this painting.
Robert Antoine Pinchon (1886-1943)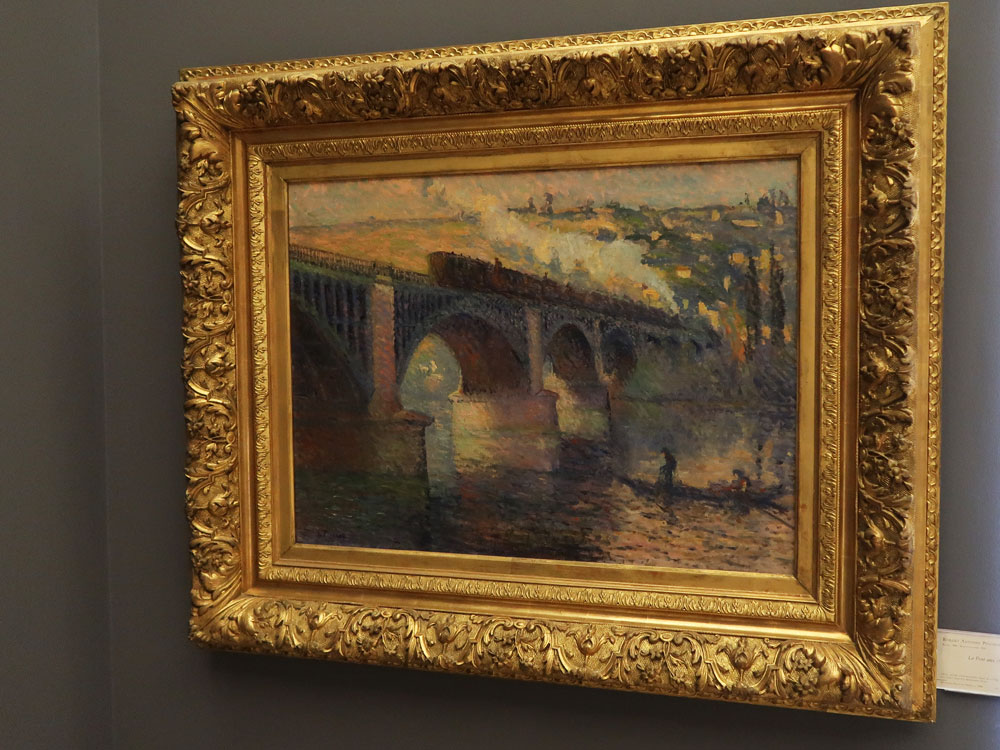 Le Pont aux Anglais (1905)
The English Bridge over Rouen, painted by the post-impressionist Pinchon.
The bridge in the painting was built in 1856 and looks different from the current bridge.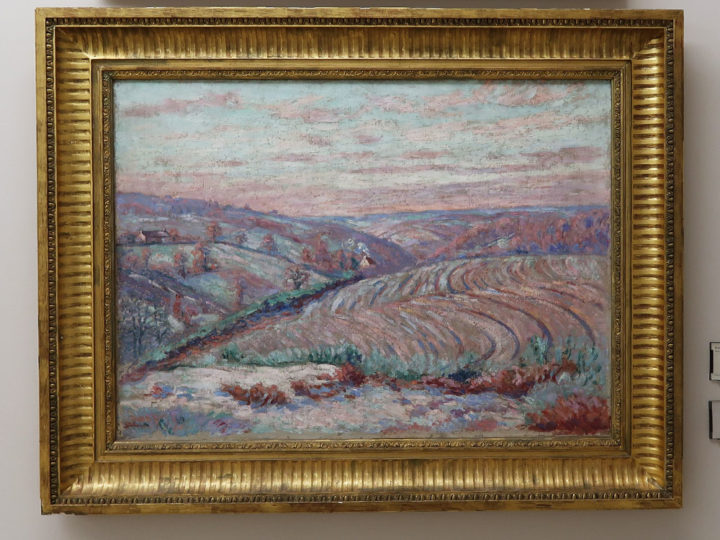 Vue prise au Mont-Gargan soleil couchant
Summary
The works introduced here are only a small portion of the actual works on display.
There are still many works on display that you won't want to miss, so be sure to stop by when you visit Rouen.
Many of the painters have their works exhibited in other museums in Paris, so please take a look around as well.
I think you will enjoy the paintings even more if you visit more than one museum.
Thank you again for reading to the end of this article.