Germany is known for its sausages.
It was one of the dishes I really wanted to try when I came to Cologne.
However, there is not enough time to eat at a restaurant.
In such cases, I would like to recommend Meister Bock.
The store is located inside the station, and you can order it and eat it right there.
Even with limited time for sightseeing, you can fully enjoy the sausages.
This time, I would like to introduce you to some of the most recommended and easily eaten sausages in Cologne.
Meister Bock
Practical information
Meister Bock
Address: Trankgasse 11, 50667 Köln, Germany
Business hours: 07:00~24:00 (Business hours are subject to change)
Closed: None
Features of Meister Bock
When you arrive at Cologne Central Station on the Thalys from Paris, the arrival platform is on the first floor.
When you take the stairs down to the ground level, you will find many stores crowded with customers.
There are many stores in the station, but here is the best place to go.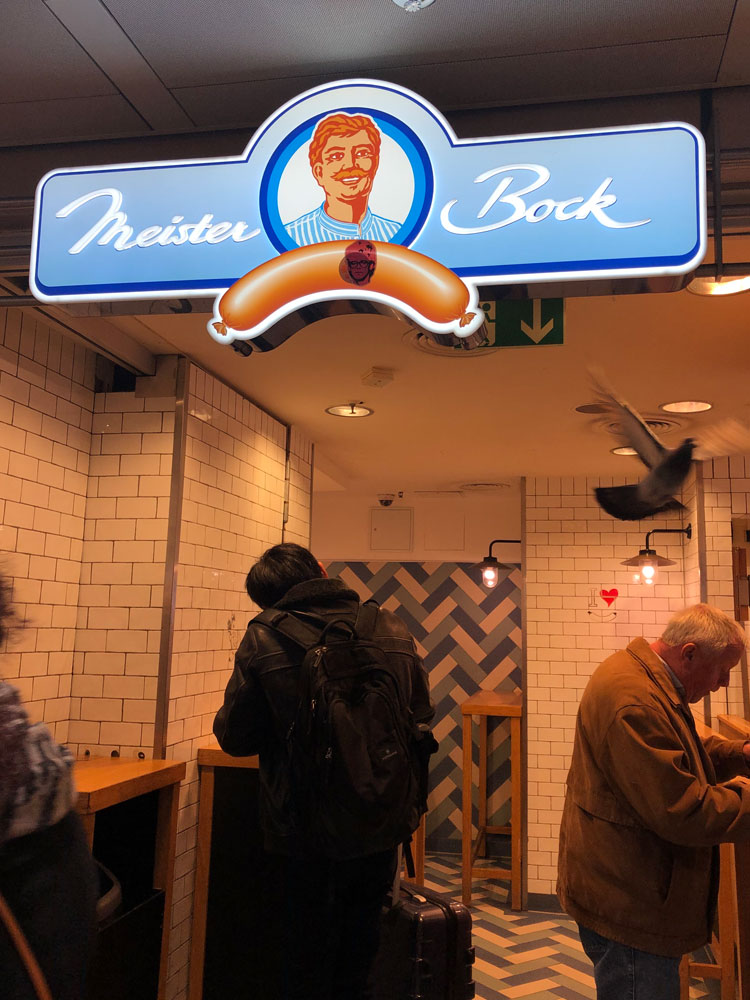 This is a stand-up sausage shop.
Cologne Central Station attracts a lot of tourists, but one of the most popular restaurants among the locals is Meister Bock.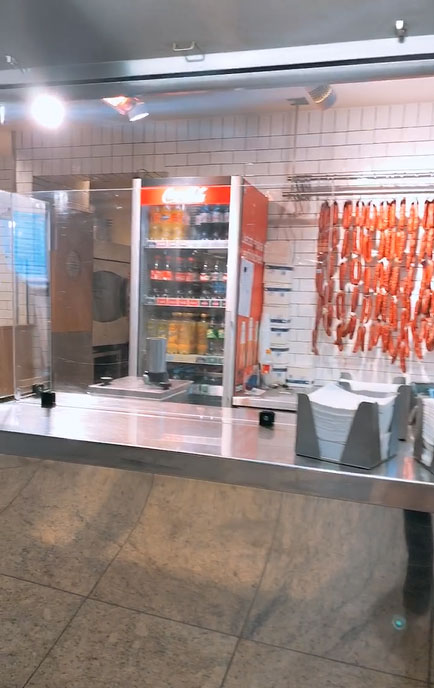 The store is very simple.
Just an aluminum counter with a napkin on it.
The sausage hanging behind the wall was kind of subtle.
But I wanted to try it at a restaurant like this one in Germany, so I didn't hesitate to order.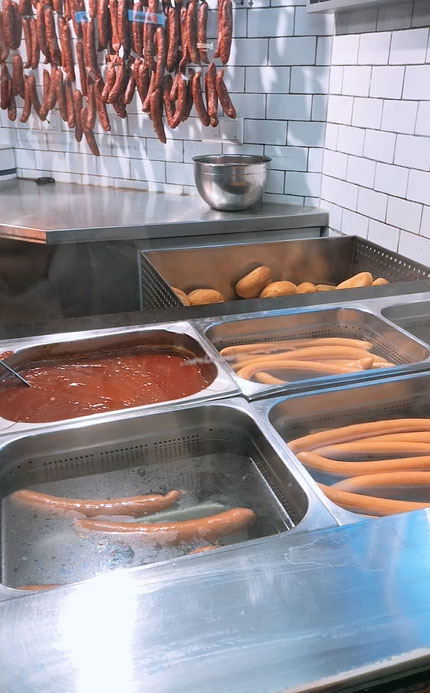 When I looked at the menu to order, I saw that everything was written in German.
There are no small English words on it, so I don't know what's there at all.
With gestures, I ordered the boiled sausage in the picture.
It comes with bread, which you can see at the back of the picture.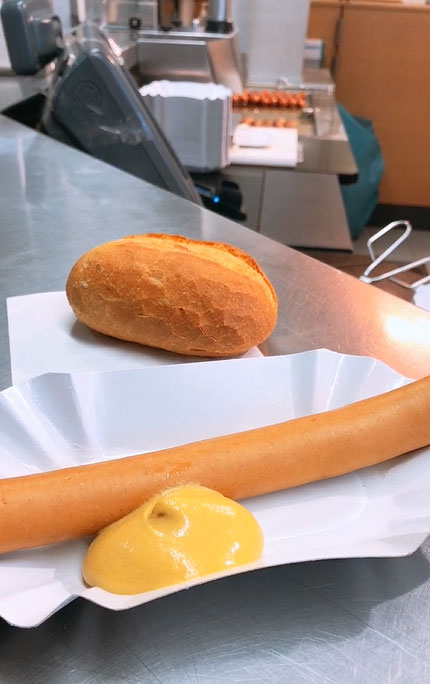 A very simple menu.
Sausage, bread and mustard.
It's a little worrisome that it's so simple.
(When I was paying the bill, I noticed that there were also grilled sausages in the back.)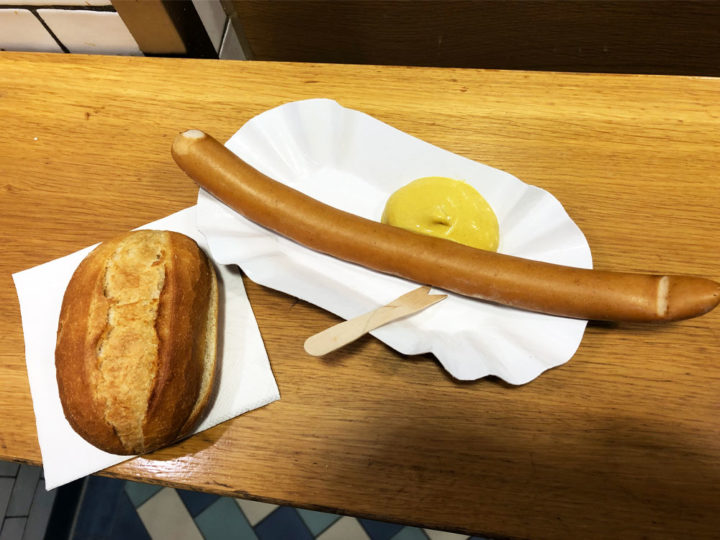 There is a small wooden fork-like object that you can use to cut the sausage.
It is very tasty.
Germany, the home of sausages.
When it first came out, I felt it was quite underwhelming, but it definitely tasted good and was more filling than it looked.
We stopped by before sightseeing in Cologne, and I couldn't forget the sausages that were grilled. 、、、、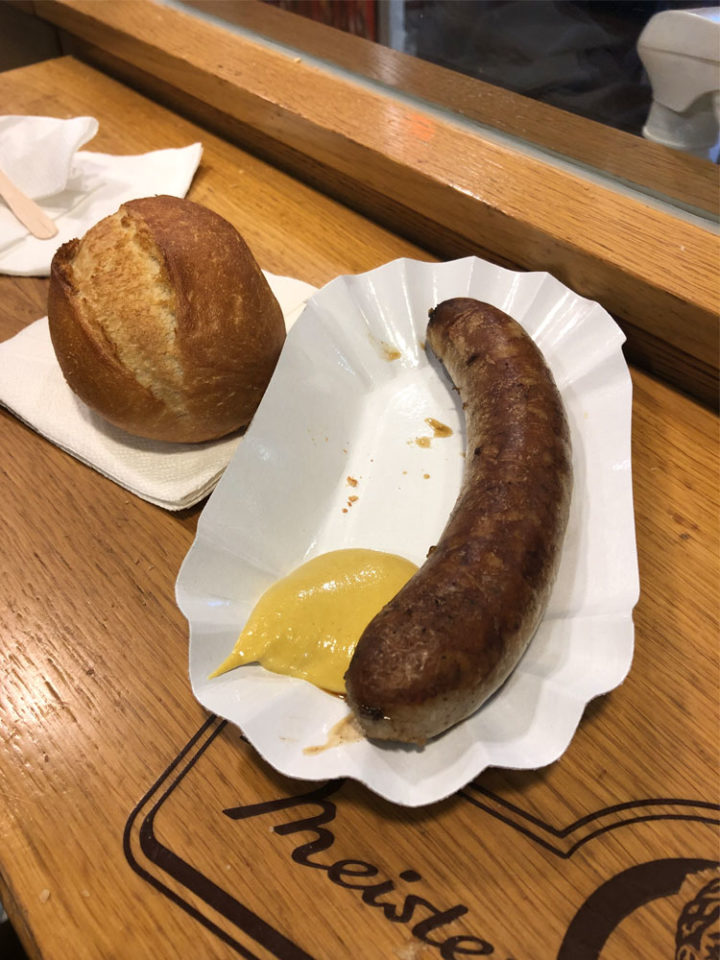 On the way back, I revisited the restaurant for grilled sausages.
It was also very tasty.
Both boiled and grilled sausages were very tasty.
I highly recommend you try both when you visit.
In addition, when I saw what other people were ordering, some of the sausages were cut into small pieces and covered with sauce, so if you can read German, please try ordering a variety of things.
Summary
When I was sightseeing in Cologne, I didn't have much time to relax at a restaurant, so I was looking for an easy place to eat that was very German, and I happened to find this restaurant, Meister Bock.
It had a simple exterior and was very clean and nice.
During the morning crowds, more locals than tourists were making purchases.
The sales staff is very quick and efficient, so even if there is a line of people, you will be able to buy quickly.
This is one of the stores you should definitely stop by when you visit Cologne.
I visited the store twice, once in the morning and once in the evening, and neither of the sales staff spoke a word of English.
I'm sure there are staff who can speak English, but since there was no English on the menu painted on the wall, I was quite frustrated because I had no idea what to order and how to order it.
However, if you look at what the locals are ordering, you will see that the sausages and bread come as a set, so if you choose between boiled or grilled sausages, you can get by.
However, there seem to be different types of both types of sausages, so if you are not familiar with sausages like I am, just point to the sausage you are somewhat interested in and ask for it.
The sales staff is very nice and helpful, so you can buy without any problems.
Thank you again for reading to the end of this article.
For more information on Cologne sightseeing, a day trip from Paris, please click here.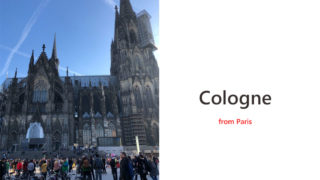 Paris Cologne one-day trip Travel by Thalys to 17 of the best sightseeing spots.
Thistime,IwouldliketosharewithyouatravelseriesaboutCologne,Germany,whichisadaytripfromParis.AsinBrussels,wetooktheThalys...