This time, I would like to introduce Navigo, an unlimited ride ticket for ile-de-france.
This is a great ticket for those who are visiting Paris for the second time or plan to stay for more than a week.
The attraction of this is that you can ride the metro and buses as much as you want for a predetermined period of time by paying a fee.
In addition, it is an excellent card that can be used on the Roissy bus and RER B lines that connect Charles de Gaulle airport to Paris city.
In this article, I would like to introduce this Navigo in detail so that you can use it correctly and safely.
La carte Navigo Découverte
Practical information
La carte Navigo Découverte
Target audience: Non-residents of Paris (sightseeing tourists)
Card issuance price: 5 Euros
Fee: Varies depending on the period of use (see below)
Expiration date: 10 years from the last use of the card itself. To use the card, you need to charge it for the period of use.
Required documents: None, but you will need a photo (25mm x 30mm) to start using the service.
Where to buy: Metro and RER stations, also available at Charles de Gaulle Airport (station, manned counter)
Charging location: Same as above
Available area: ile-de-france
How to buy
Where to buy
| | |
| --- | --- |
| | Location |
| Charles de Gaulle Airport | RER Line B manned counter |
| Paris City | Manned counters at Metro and RER stations |
If you want to purchase a Navigo, you can do so at manned counters at any Metro or RER station.
If you don't have a transfer to your hotel, your best bet is to buy one at the manned counter at Charles de Gaulle Airport, RER B line.
How to buy
Whether you are buying at the airport or at a train station in the city, just say
Navigo Découverte s'il vous plaît. 
If you want to buy more than one, such as two or three, just add the numbers you need.
(2=deux 、3=trois)
You don't have to say anything in particular, but if they ask you something, just say semaineand they will charge you for a week.
For the counter at the nearest station, it seems to be a case by case basis.
If you are only charged 5 euros, it is only for the unit, so you can recharge it and use it in the way I will show you later.
You may be asked to buy a ticket for the Navigo itself at the ticket machine, which costs 5 euros.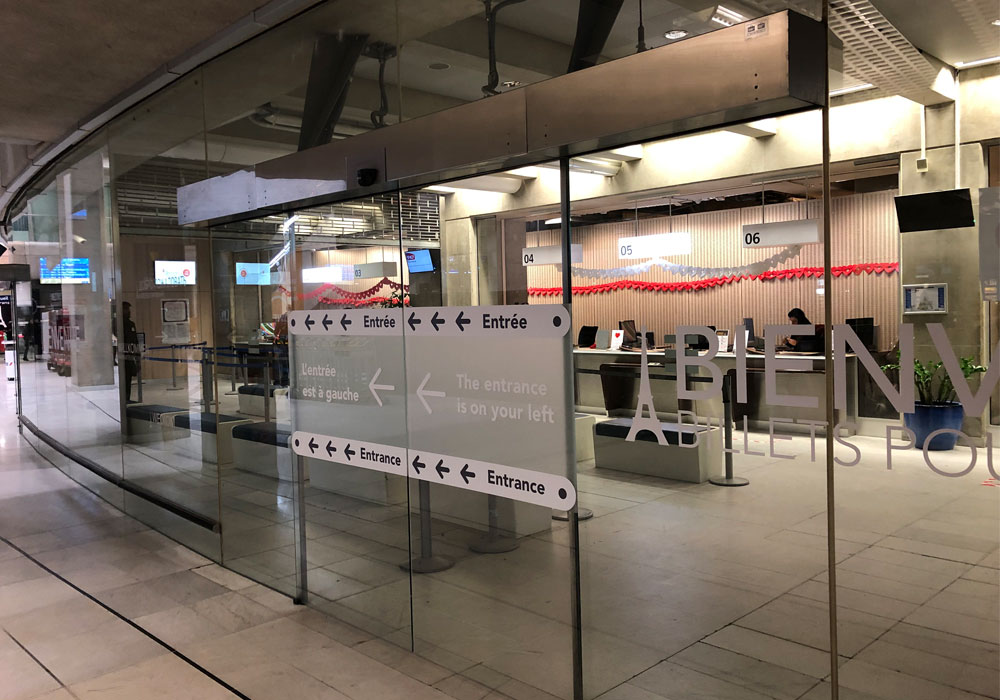 The photo shows the manned ticket office at Charles de Gaulle Airport.
There will probably be someone in line, so get in line and wait your turn.
Many people may think that it is nerve-wracking to speak to someone in French when buying a Navigo.
However, in France these days, especially in Paris, most people are willing to talk to you in English, so I don't think you need to worry too much about the language.

Also, when making a purchase, as long as you can say Navigo, the other person will understand your intentions.

There is also a card for French residents called Navigo personnalisée, but if you don't speak French well, you don't need to worry about it because they won't recommend this card.
Charge Fee
You cannot use Navigo just by purchasing it.
To make it available, you have to charge it.
The following is the usage period and charge fee.
| Zones | Navigo Semaine(1 week) | Navigo Mois(1 month) |
| --- | --- | --- |
| Toutes zones | 22,80€ | 75,20€ |
| 2 à 3 | 20,85€ | 68,60€ |
| 3 à 4 | 20,20€ | 66,80€ |
| 4 à 5 | 19,85€ | 65,20€ |
(As of 2021)
(For more information on zones, see below)
Travelers use the top line, which is in red.
This means unlimited access to the entire ile-de-france area, which includes zones 1~5.
The range used to be a bit more detailed, but since central Paris is now in Zone 1, travelers are basically left with no other area to choose from.
I think most people will buy Navigo Semaine, as they are unlikely to stay for a month during a normal trip.
Available Area
Below is a map for all the zones, although it is a bit confusing.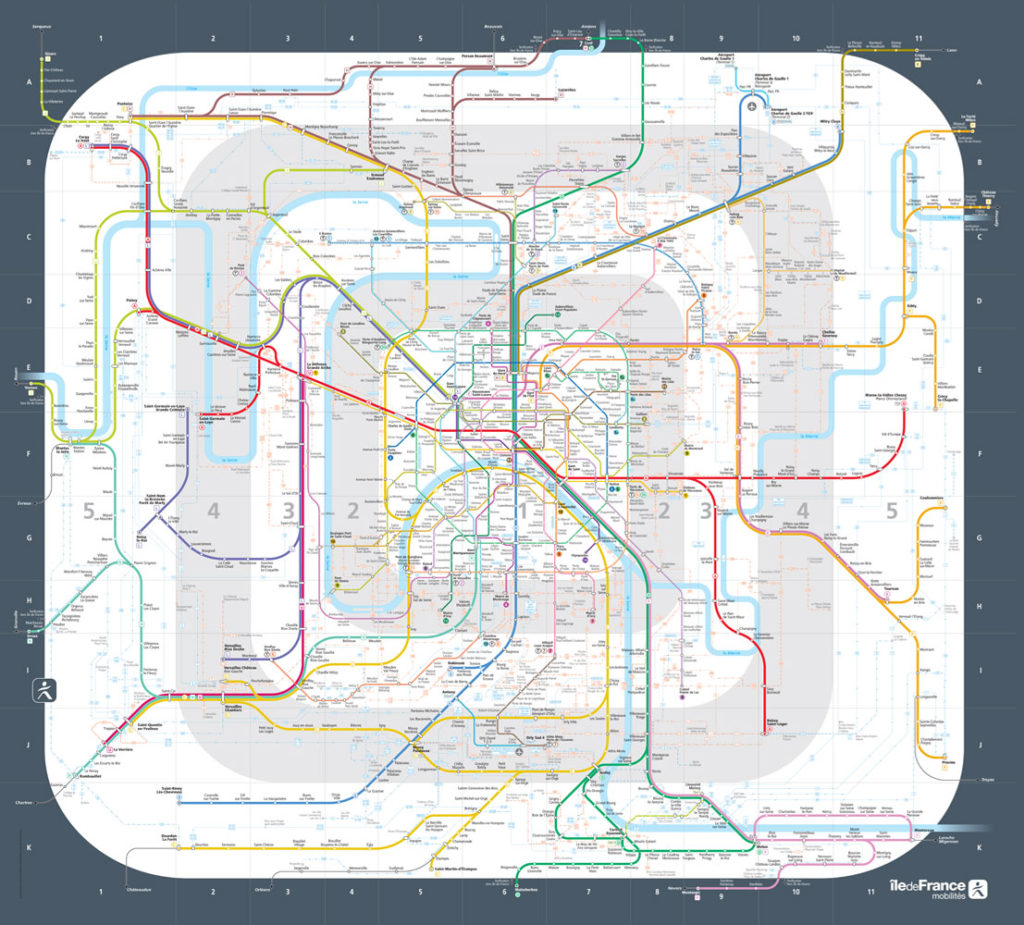 The white area in the center is Paris City, Zone 1.
Each color change toward the outside is a zone 2 to zone 5.
If you have a Navigo, you can take all the trains and buses in the area, so you can see how much you can save.
The main tourist attractions are listed below.
Paris Disneyland
Palace of Versailles
Charles de Gaulle Airport
Fontainebleau Castle
Provins
Saint-Germain-en-Laye
Giverny
There are so many things to see and do that it would be impossible to visit them all in one trip.
If you were to buy a regular ticket for every single place you visit, it would quickly exceed 100 Euros, so you can see how much of a bargain 22.8 Euros is.
Period of validity and timing of purchase
When you hear Navigo Semaine, a ticket that is valid for one week, most people think that the ticket is valid for one week from the day it is processed.
If it says one week, of course you will think this way.
However, a week in the sense of Navigo Semaine is considered to be a week of seven days, Monday through Sunday.
(It's easier to understand if you think of it as tickets that are valid from Monday to Sunday.)
In other words, if you charge on Monday, the weekly rate is until Sunday.
If you charge on a Thursday, the weekly rate will be the same until Sunday.
One is 7 days and the other is 4 days, so it seems quite unfair, but it is the French quality that is inflexible.
Let's just give up on the idea that this is how it works.
And there's one more big problem.
That is, you can only make charges that are valid for that week until Thursday.
For example, this means that you cannot arrive at Charles de Gaulle airport on a Friday, charge your Navigo on the spot, and use it right away.
(You can recharge at the machine, but it will only start on the following Monday, so be careful not to make a mistake.)
It is a great advantage to use Navigo for transportation from Charles de Gaulle airport, but if your arrival day is Friday to Sunday, you cannot use Navigo at all during that time.
It depends on your travel schedule, but if you are traveling for 4 to 5 nights and arrive on a Friday, there is little point in using Navigo, so be careful when deciding your itinerary.
Charging Method
Now let's see how to charge Navigo.
In this article, I will show you how to recharge your card at a Metro station using a machine.
The basic procedure is the same no matter which machine you use.
Also, if you are not good with machines, they will probably process you at a manned counter, but be aware that some people may ask you to use a machine.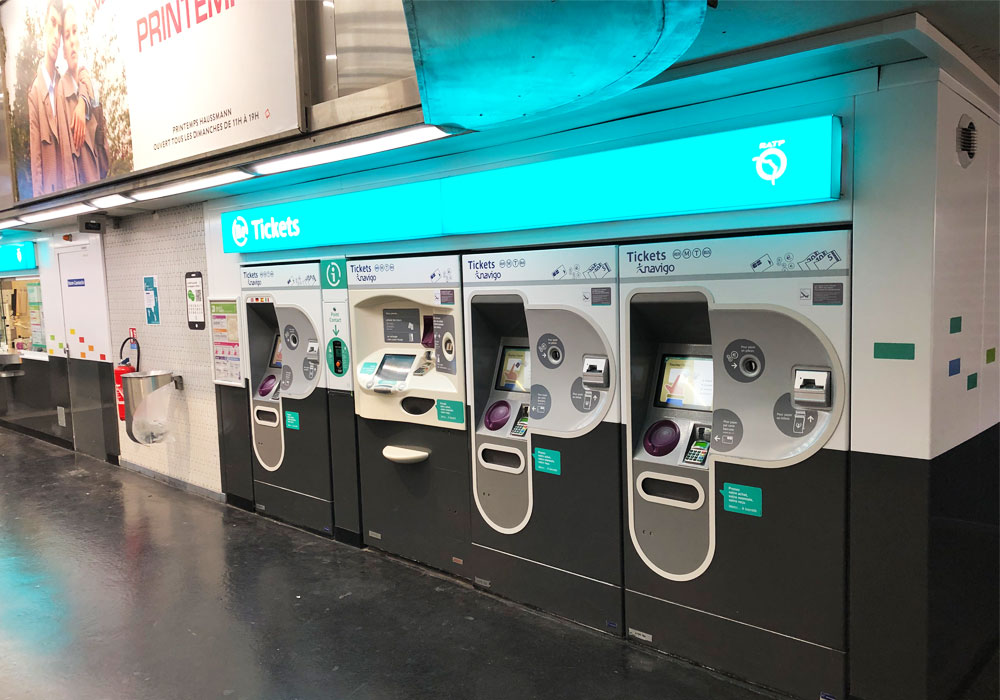 The ticket machines in the Paris Metro are lined up like this.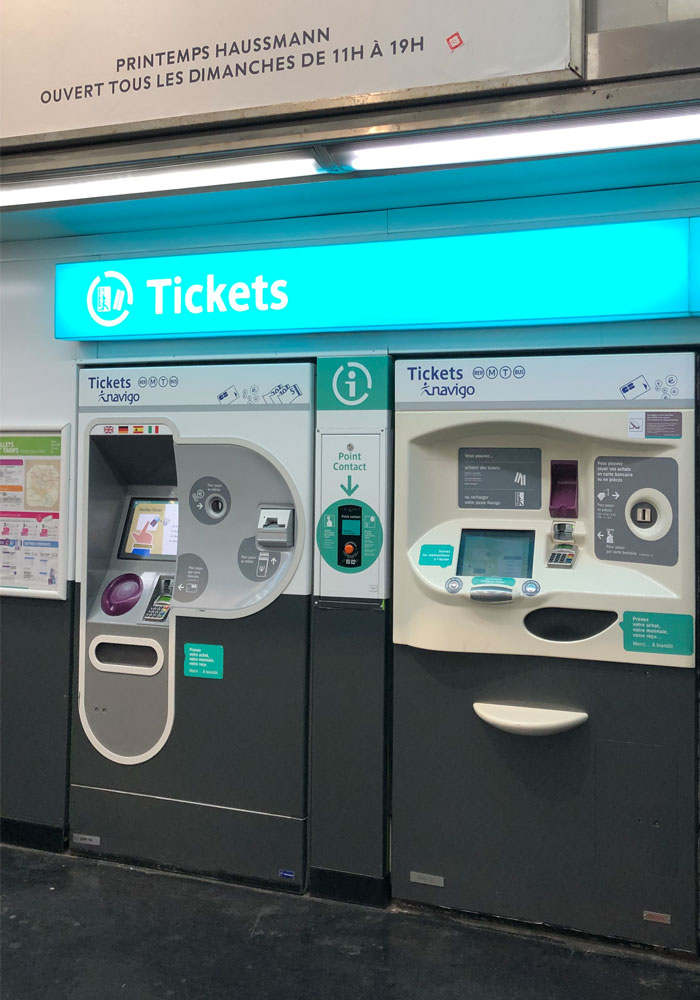 You can charge at any ticket machine as long as it says "Navigo" on it, but for the first time, I recommend using the one on the left side of the picture, the one with the purple round stand.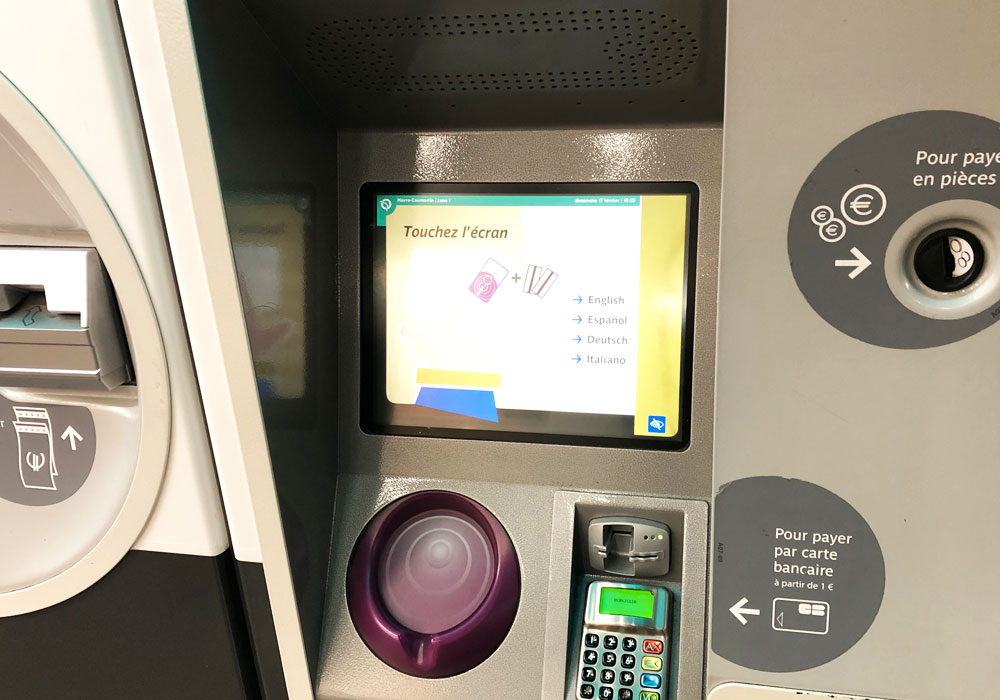 First, choose a language.
I don't think you will have any problem choosing French, but just in case, choose English.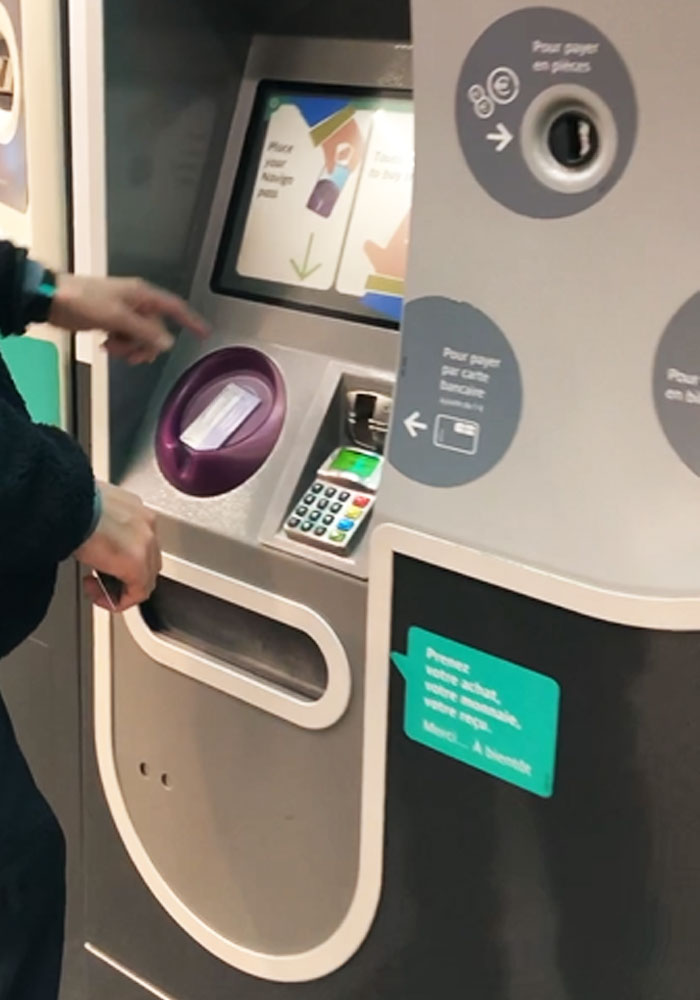 First, place the Navigo unit on the circular purple platform.
The orientation is not particularly relevant.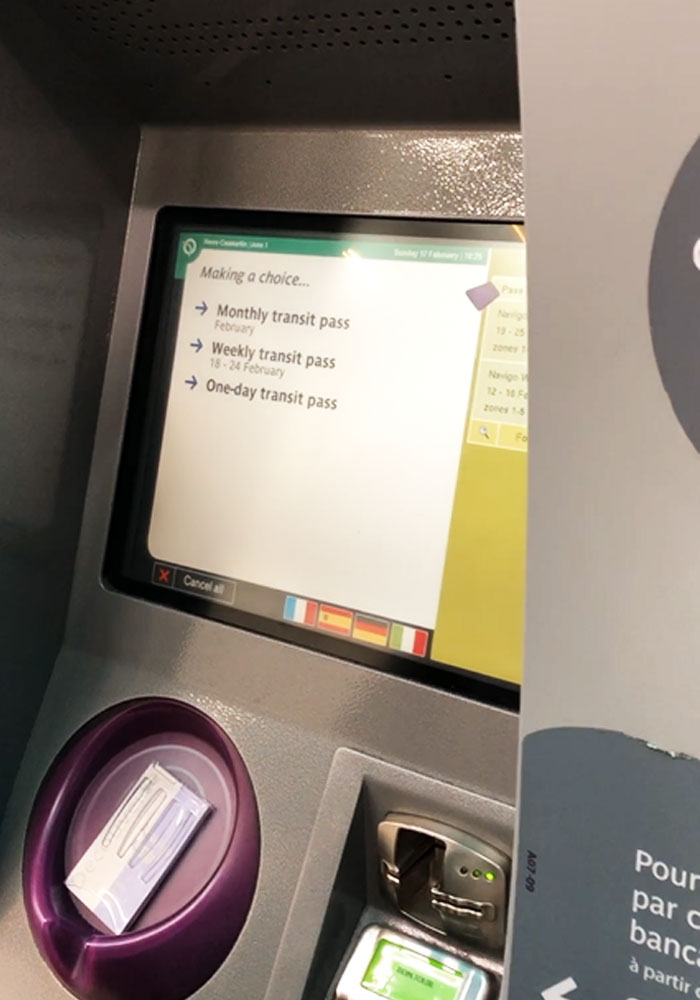 First, choose the time period you want to use.
Buy the Weekly one in the middle, but make sure you don't make a mistake because it has a small expiration date on it.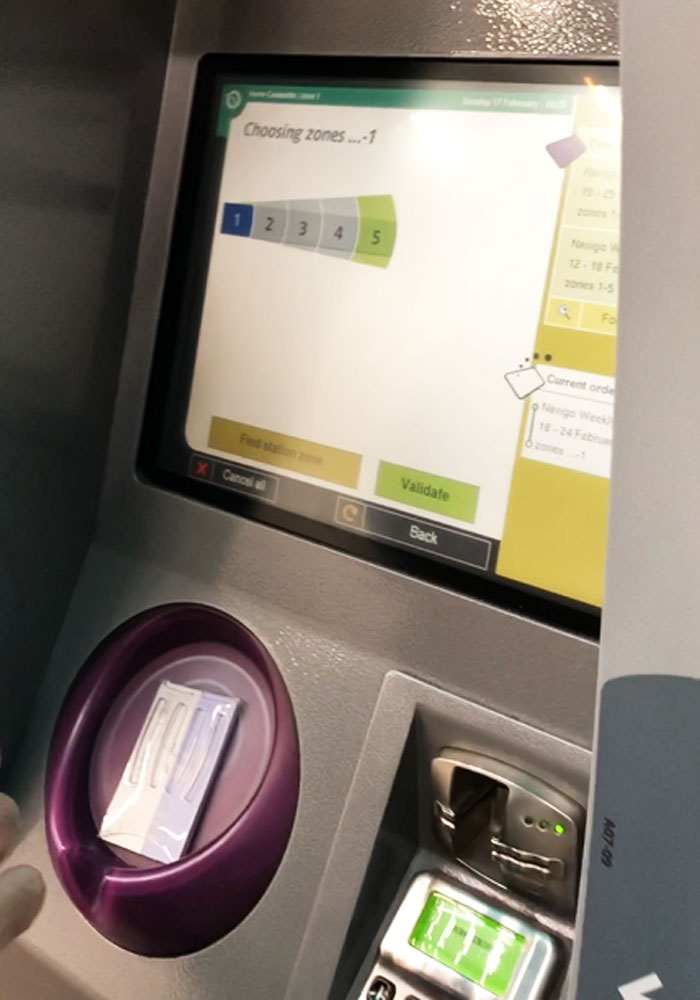 Next, choose a zone.
First, choose one.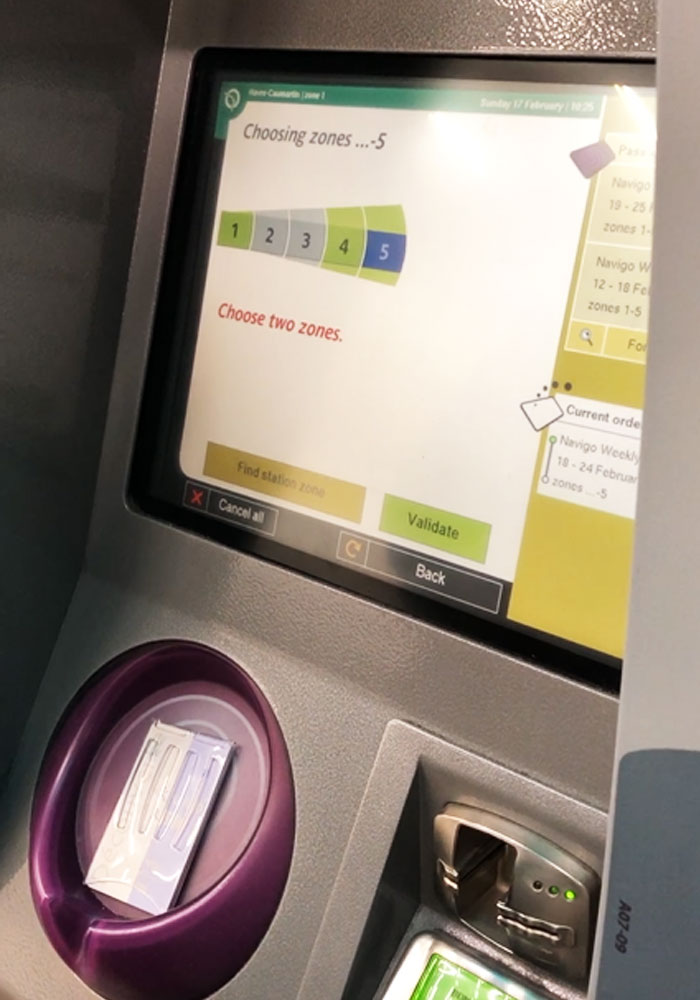 Then choose 5.
The price will be displayed on the right side of the screen, so if you see 22.8 Euro, you are good to go.
Next comes the payment.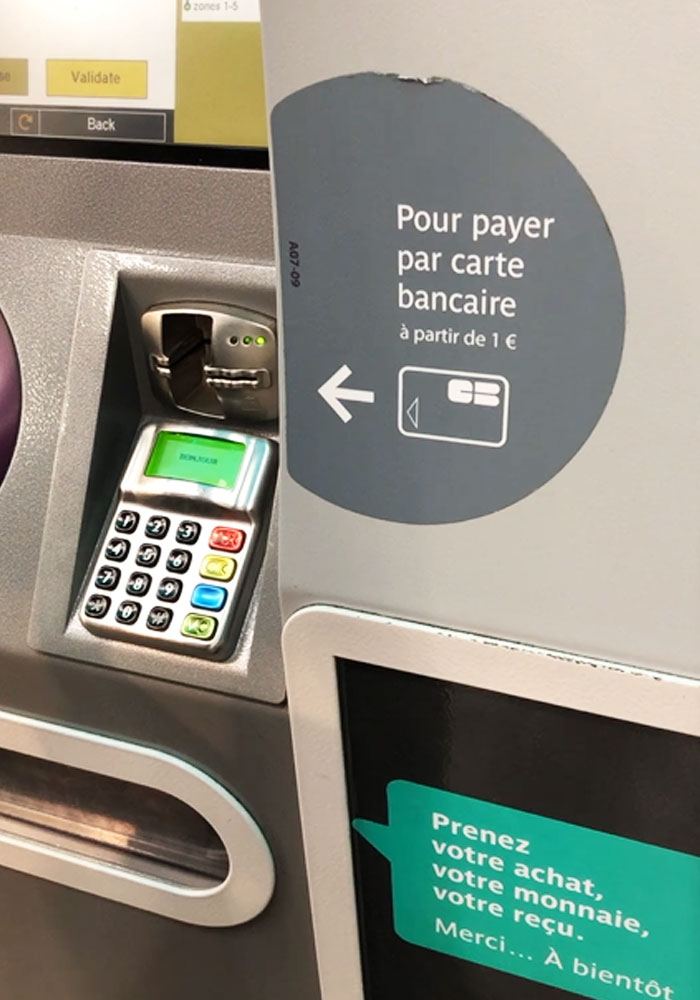 There is a place beside the ticket machine where you can insert your credit card, IC chip side up.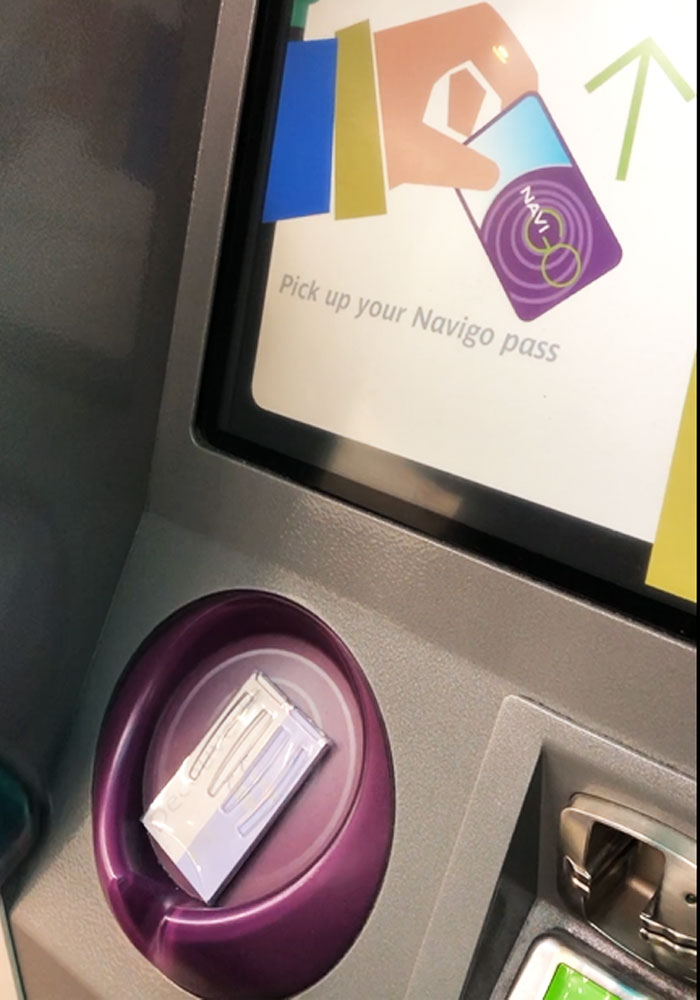 When all is said and done, take away the cards.
At this point, you need to be careful.
"Pick up your Navigo pass "
Do not take the card away until you see this sign.
If you take it away in the middle of the process, it may not be charged properly, so be careful.
Utilization Method
Precautions before use
If you have successfully recharged your Navigo, you can use Navigo as soon as possible.
However, there is one more important thing to do before that.
It is to put a picture of your face on it.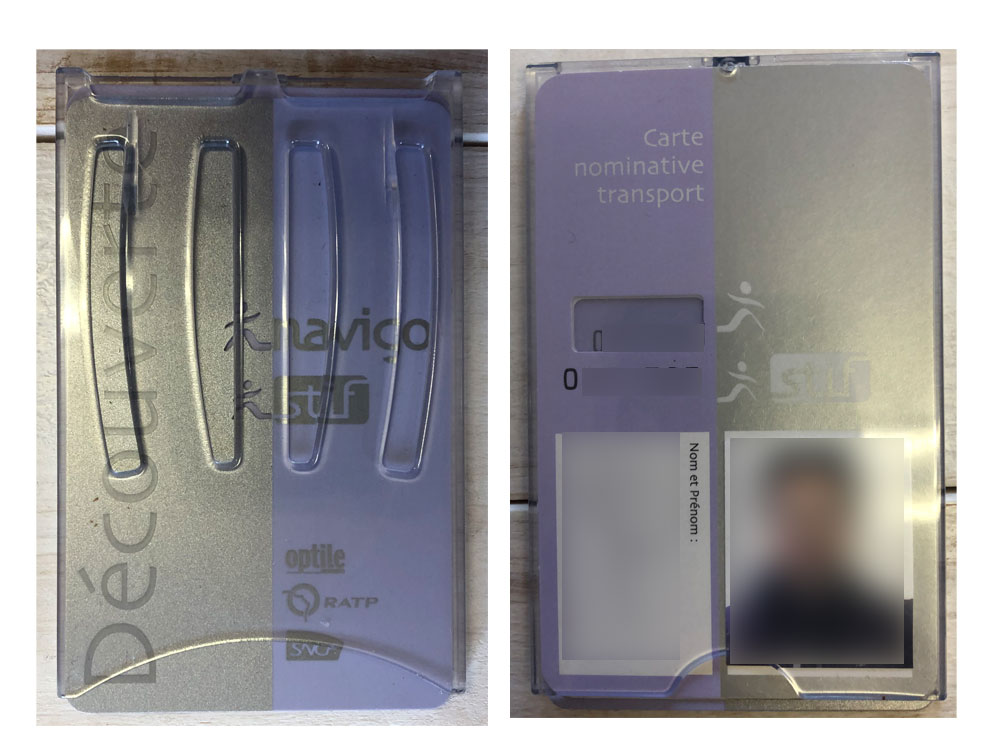 写真、右側の下の部分に顔写真を貼る場所がありますので、こちらに必ず写真を貼りましょう。
The size of the photo should be 25mm x 30mm.
It is better to prepare them in advance.
And don't forget to sign your name in the white space next to your portrait.
If you forget these two items and use the system without them, you will be charged an exorbitant fine if you are checked by the ticket checker, so please do not forget them.
In the unlikely event that you are caught at a ticket checkpoint using a Navigo without a photo or signature, you will be fined around 100 Euros. (It can be much higher.)
The police will never let you off the hook even if you say you are a tourist or didn't know about it, so be careful.
The French police are not very flexible, so if you find yourself in such a situation, just give up.
How to use it in practice
Using Navigo is easy.
Touch the Navigo symbol to use it.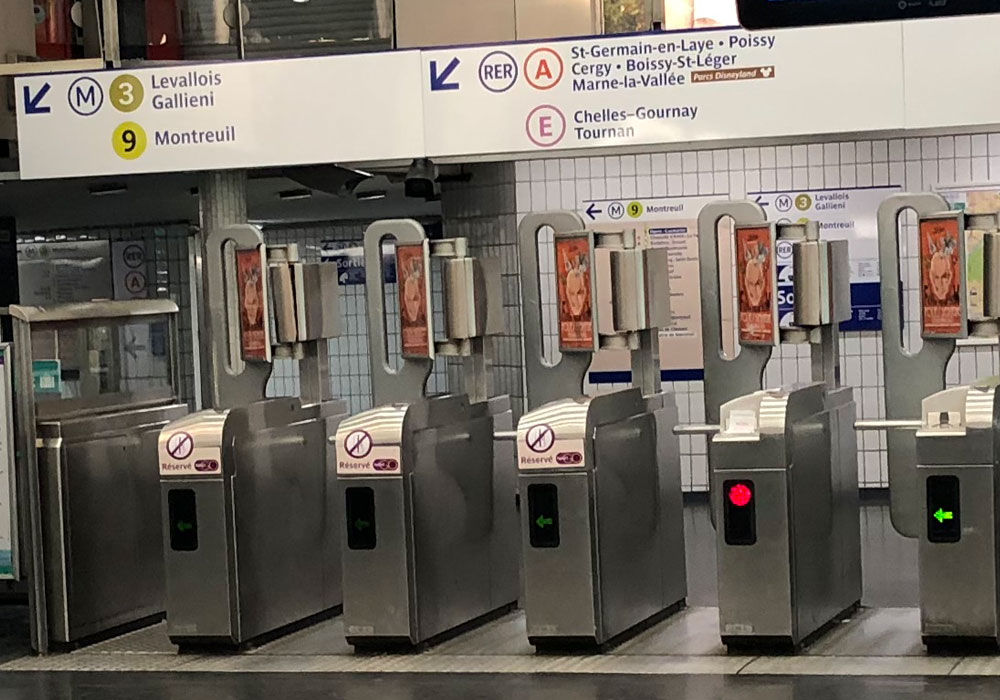 The three ticket gates from the left are for Navigo only.
Metro and RER trains usually have gates like this.
Please note that regular tickets cannot be used.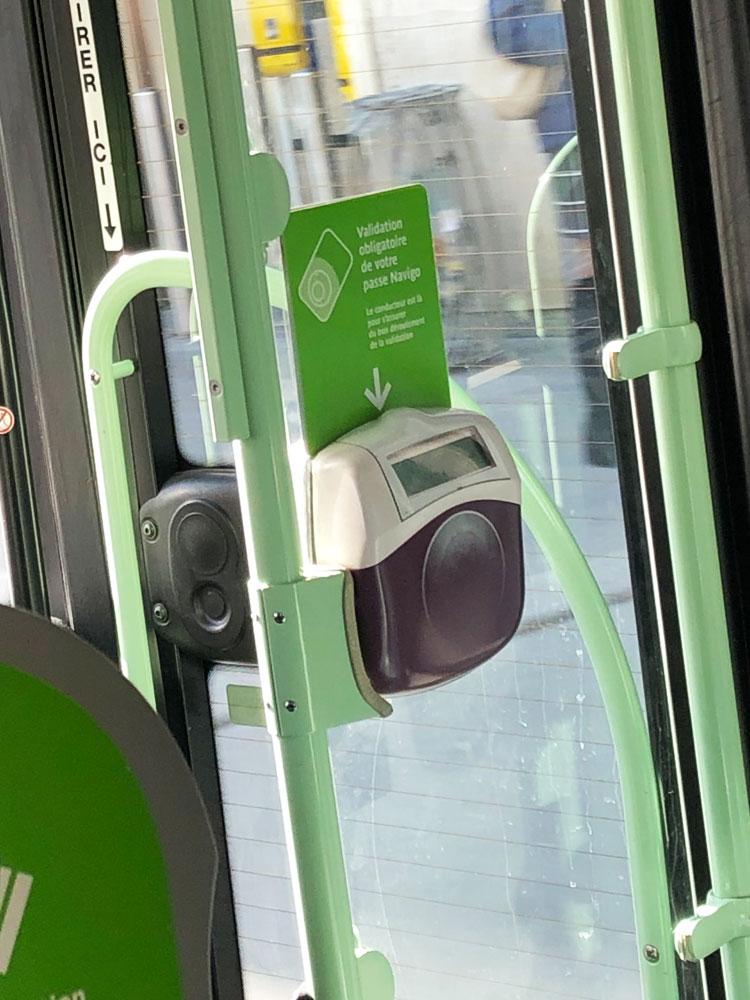 For buses, there is a machine like this at the boarding gate.
If you hear a sound, it's OK.
Points to note when using
Navigo allows unlimited rides up to zone 5 for the duration of your purchase, but be sure to go through the ticket gates when taking the train or metro, and touch the machine when taking the bus.
In rare cases, you can get on a bus without touching it, or if you are in a hurry or in a crowded situation, you can get on a bus without touching it.
This is especially true for buses, so be sure to touch it after the bus has departed.
If you run into a checkpoint or other checkpoint, you may be fined a large amount of money if you do not have a record of your entry, so please make sure to touch in under all circumstances.
Common Problems
A common problem when using Navigo is that sometimes you touch it, but can't get through.
In fact, to prevent fraudulent use of Navigo, once you have passed Navigo, you cannot touch it again immediately to use it.
Of course, that doesn't happen very often when you are using the system normally, but when it is crowded, on rare occasions, the system reacts to what the person in front of you went through as if it was your Navigo.
Also, the door and the rotating bar are heavy, so if you don't push it well, the machine may decide that you have already gone through.
Furthermore, if you go through the ticket gate once, but come out immediately and try to enter again from the same place, you may not be able to use it.
It can happen for a variety of reasons, so it's best not to worry too much about the reasons.
If you suddenly find yourself in this situation, it can be quite frustrating, but the solution is actually quite simple.
Wait for five minutes.
This is the solution.
If you wait for a while, I don't know if it will be unlocked, but you will be able to use it again, so don't panic and take some time to go through it again.
I think I can get through without any problems.
Please do not expect a good response if you talk to someone at a manned counter in this situation.
It will be passable after some time, and I think most people will not do anything about it.
Points to note when purchasing at Charles de Gaulle Airport 
Points to note when purchasing at Terminal 2
Navigos can be purchased at Charles de Gaulle airport.
However, there is a slight problem if you try to purchase at Terminal 2, which is used by Air France.
That's because the purchase window is located far away from Terminal 2E, the exit.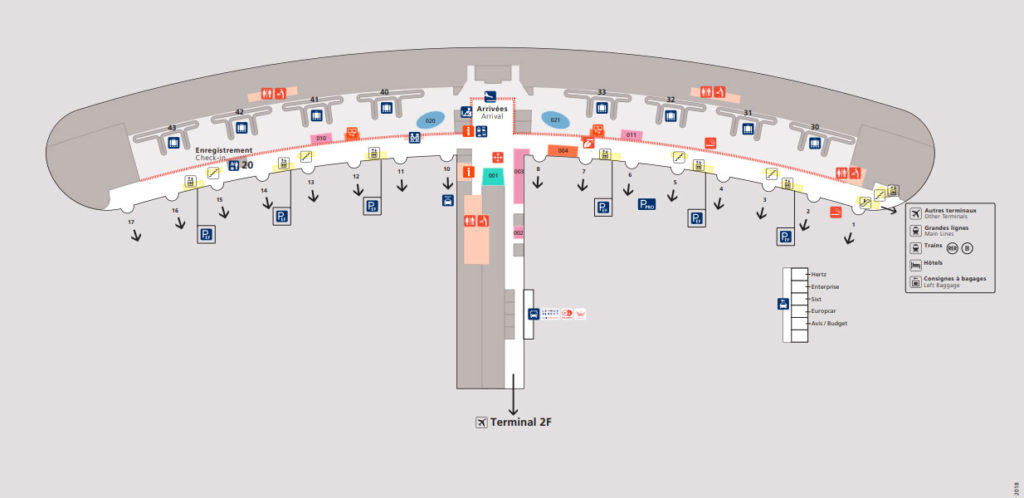 The center of the diagram is the exit, but to get to the Navigo purchase window, go out the exit and walk to the left.
(On screen is the right side.)
Continue to the end of the hall and take the escalator or elevator to the first floor.
Go straight ahead. (Go beyond the diagram.)
After crossing the moving walkway, you will arrive at the SNCF RER B terminal, take the escalator down to Level 0.
The counter is located here, so it would take about 10 minutes to actually walk there.
If you are taking the RER B line to Paris city, you can go down to the underground platform without any problem, but if you are taking the Roissy bus to Paris city, you will have to go back the way you came.
As you can see from the first map, the Roissy bus stop is a straight walk from the exit.
Considering the time it takes to get to the purchase counter and back, and the crowd at the counter, it may take more than 30 minutes to board the Roissy bus, or even an hour if it is crowded.
If you are thinking about how to use Roissy buses to get around Paris, please allow plenty of time.
If you already have a Navigo, you can recharge it at the bus stop, so please head straight to the bus stop.
Summary
How was it?
If you want to see Paris efficiently, you need to use Navigo.
It is also very convenient because once you have purchased it, you can use it again within 10 years when you visit again.
However, as I explained, it is not a good deal and convenient for everyone.
If any of the following apply to you, you may want to consider using this service for your travel schedule.
If you are not traveling from the airport by Roissy bus or RER B line.
If you are not going to Versailles, or you are taking a tour.
Those who will be touring the city.
Those who do not go out of the city.
People who like to walk
Those arriving on a Friday
Those who are staying in Paris for a short time
Those who do not plan to come to Paris in the future
If you are considering a trip to Paris with the above schedule, there is no need to force yourself to use Navigo in most cases.
The first time you use Navigo, it will cost you 27.8 Euros (5 Euros per unit), so please consider your itinerary carefully before using it.
If you have a schedule that works for you, please take advantage of Navigo to expand your range of activities and enjoy Paris to the fullest.
Thank you again for reading to the end of this article.