The most famous outlet in Paris is the La Vallée Village outlet, but there is actually another outlet that is popular with the locals, located near the Palace of Versailles.
That is One Nation Paris Outlet.
While the La Vallée Village outlets are mainly for the world's top brands, the One Nation Paris outlets offer a more affordable selection of French brands.
It takes a little time to get there from the center of Paris, but it is a must-visit outlet for those who are visiting Paris for the second time or more.
One Nation Paris Outlet
Practical information
One Nation Paris Outlet
address:1, rue du Président J.F Kennedy 78340 les Clayes-sous-Bois
Open: Monday – Friday 11:00~20:00 Saturday 10:00~20:00
Close: None
Nearest station: Villepreux les Clayes SNCF  N line 
How to take the SNCF N line

To get to One Nation Paris Outlet by train from Paris city, take the SNCF N line.
It is a little more difficult than going to La Vallée Village, which I introduced before.
Going
The departure station is GARE DE PARIS MONTPARNASSE。
Arrival station is VILLEPREUX LES CLAYES。
In the map above, take the train that branches off to the bottom.
You can get to GARE DE PARIS MONTPARNASSE by metro or bus.
There are some things to keep in mind when taking the N line.
Don't go to the wrong place.
Don't get on the wrong train.
This is obvious, but it is a bit difficult.
The reason for this is the way the trains operate.
In France, it is not decided what line you will depart from until just before departure.
Therefore, you have to watch the operation board and wait until the platform is displayed.
Depending on the train, you may not know until 5 to 10 minutes before departure, so be careful.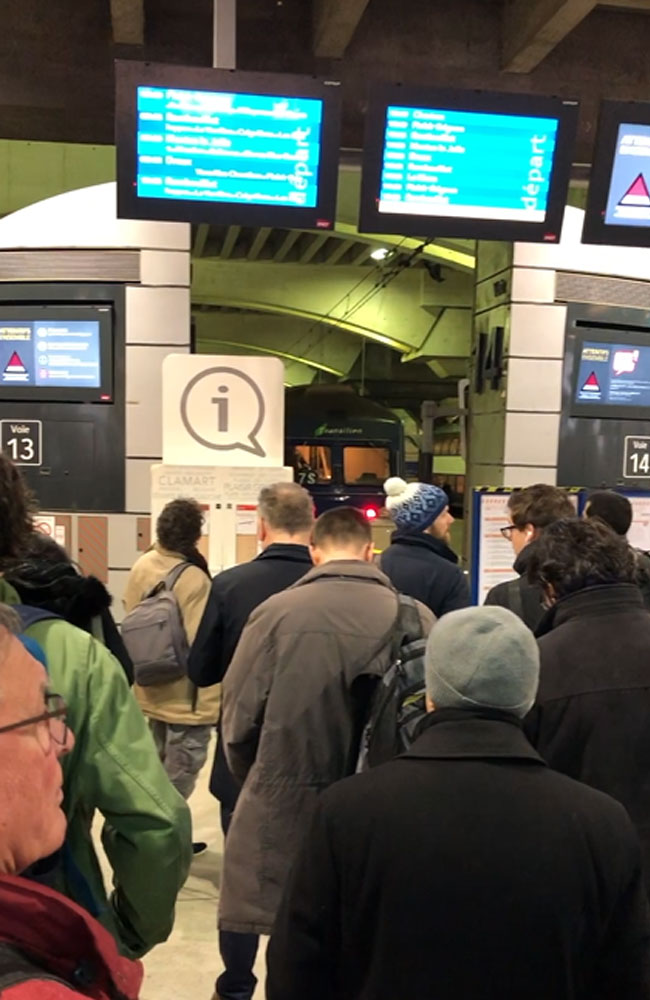 We all wait for the departure platform to be displayed.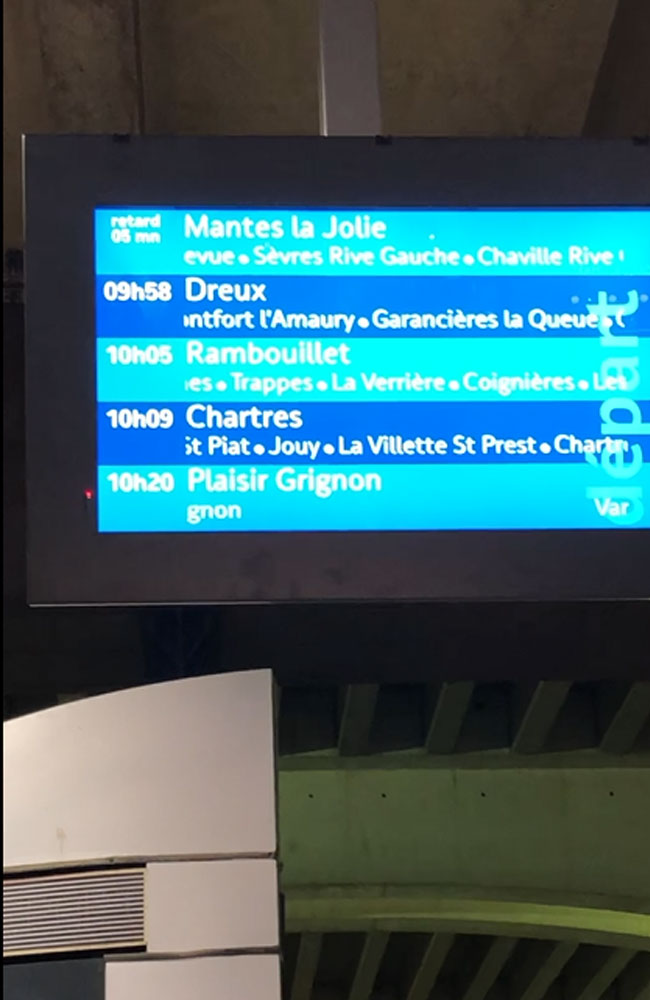 Trains often do not arrive on time.
The display showed a delay of five minutes, but it actually came about another ten minutes later.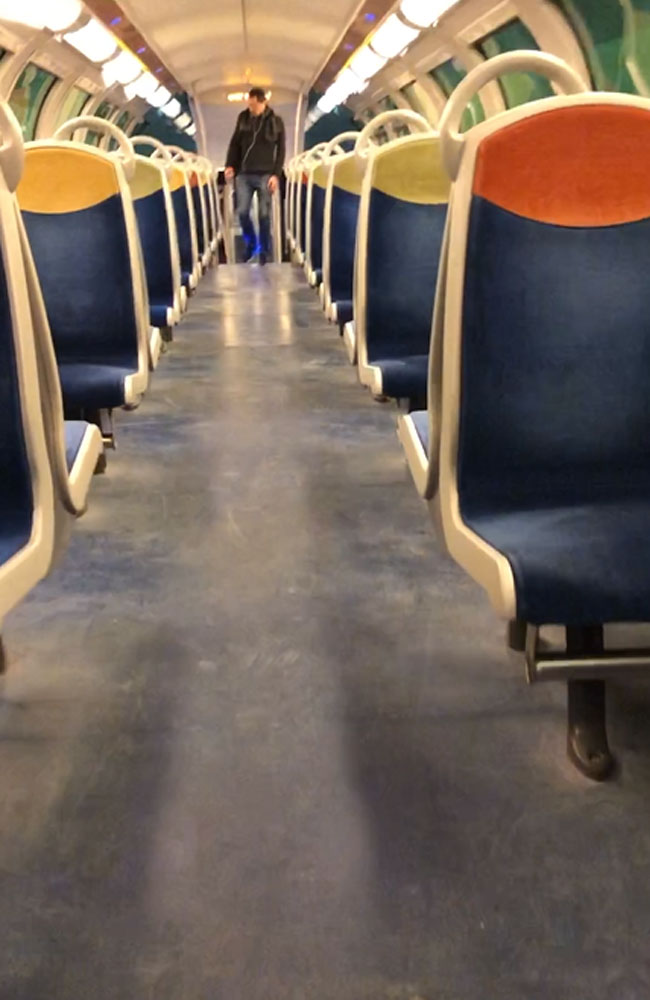 The train is a double-decker car.
It was a weekday, so it was very empty.
The ride takes about 40 minutes and you will arrive at VILLEPREUX LES CLAYES.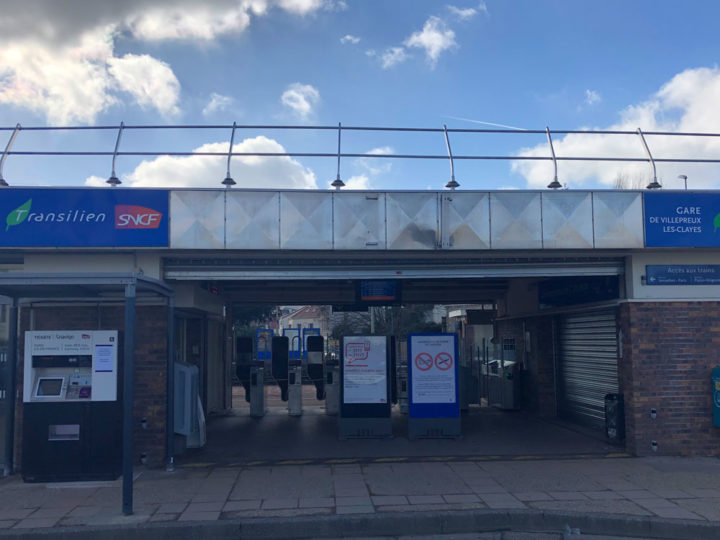 This is a photo of the station.
We will only use this one when we leave.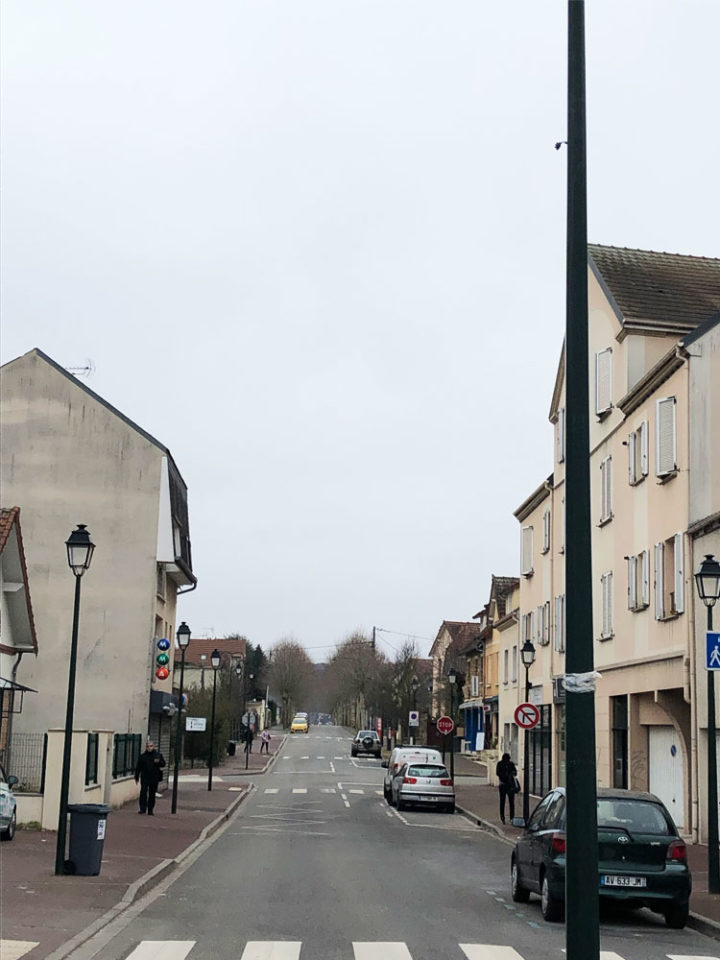 The area around the station is really quiet.
There aren't too many people walking around, which makes me wonder if there really is an outlet.
Please note that ONE NATION PARIS OUTLET is a little far from VILLEPREUX LES CLAYES
It is possible to go there on foot, but it will take about 15 minutes.
We walked along the empty main street, which was quite tiring.
Therefore, it is recommended to take a bus to get there.
The location of the bus stop can be a little confusing.
Most people walk in the same direction, so you can probably figure it out, but please check the location of the bus stop beforehand, as there may not be many people there at certain times of the day.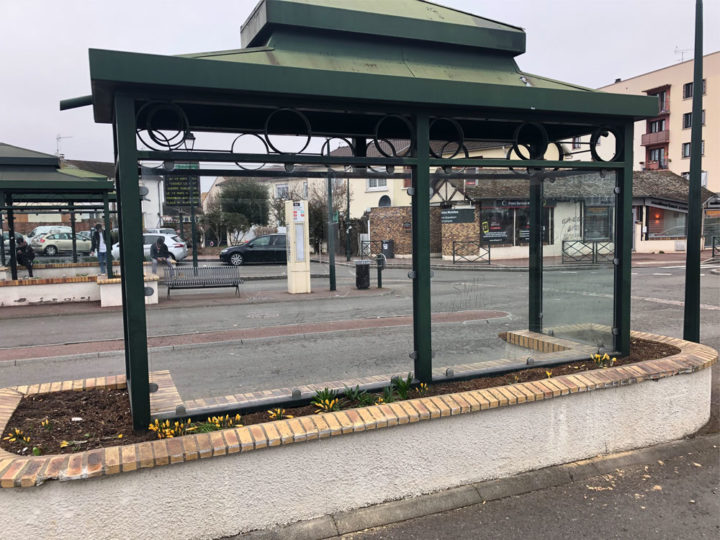 The bus stop is empty.
The number of buses is quite limited, so if you have to wait, it may be faster to walk.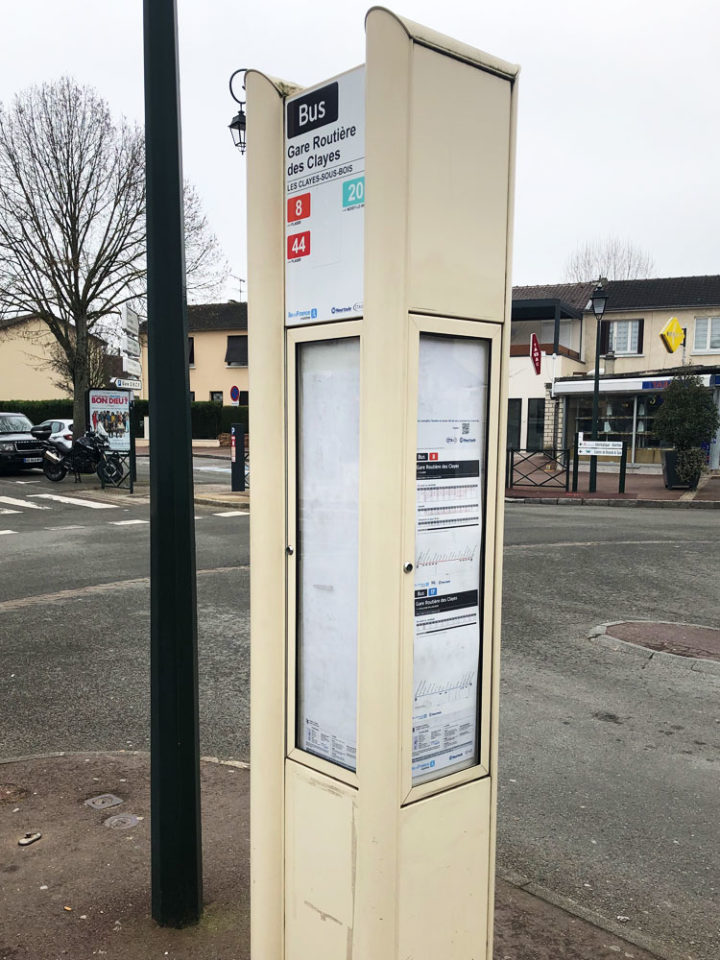 If the bus doesn't come, I get quite worried because there is no one around.
You will be boarding on Line 8.
Line 44will also take you to One nation outlet, but you will have to walk a bit from where you get off.
The drop-off point is Vallée Des Entrepreneurs.
It may be a little difficult to find, so it is best to tell the driver in advance that you are going to Outlet.
If you take line 44 in the opposite direction, you can get to the Palace of Versailles.
If you are heading to the outlets after a visit to the Palace of Versailles, you can conveniently use this line 44.
Please note that line 20 does not go towards the outlets.
If the train arrives on time, there is usually a bus waiting for you so that you can transfer.
(Depending on the time of day, you may have to wait a little longer.
The people who work at ONE NATION also use the bus, so after getting off the station, please follow the flow of people to the bus stop.
If people start walking along the main street instead of going to the bus stop, it means that the bus is not coming, so give up and walk to the bus stop.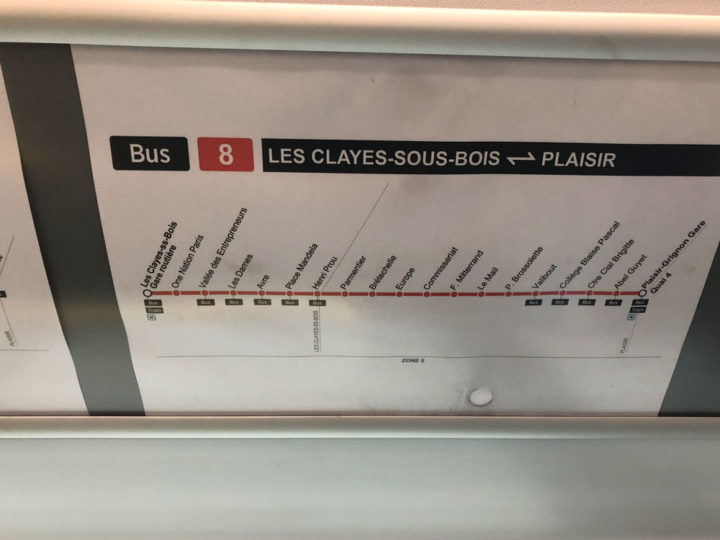 The next stop is One Nation Paris, so when the train departs, press the button to let them know you are getting off.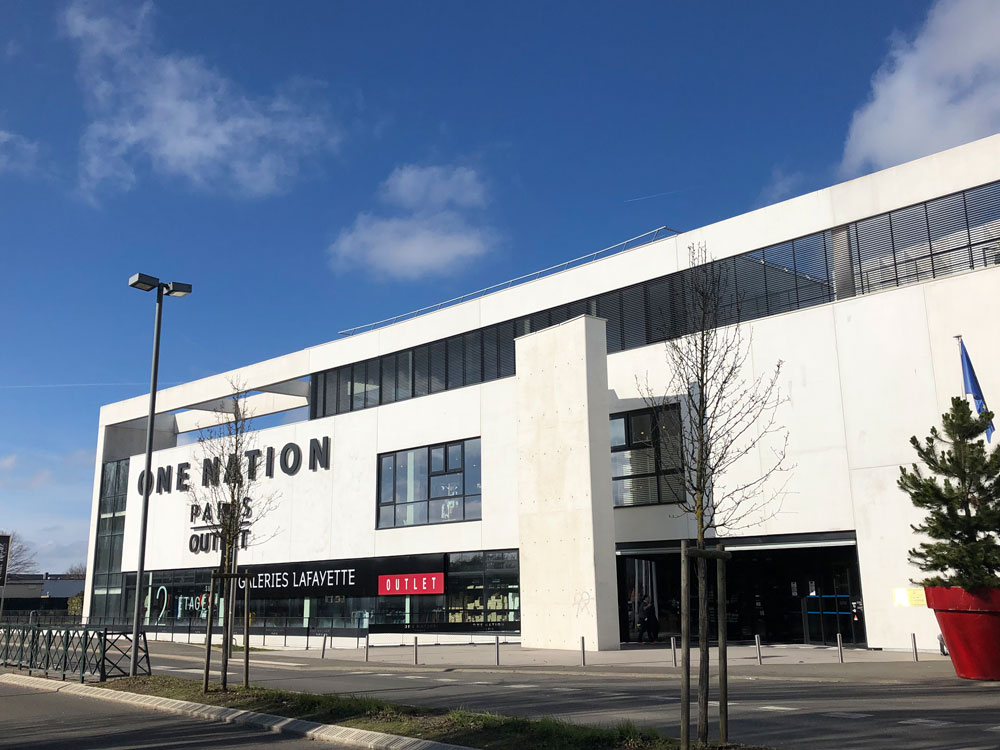 You have arrived at ONE NATION PARIS OUTLET.
Enter from the side of the Galeries Lafayette outlet and you will find an information center.
Return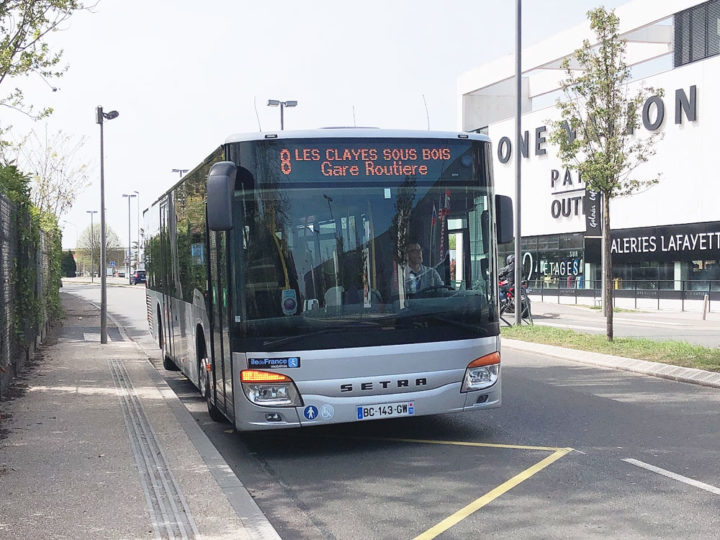 We also recommend taking the bus when returning from ONE NATION PARIS OUTLET.
However, the number of buses is very limited, so it is best to check the departure time by referring to this timetable.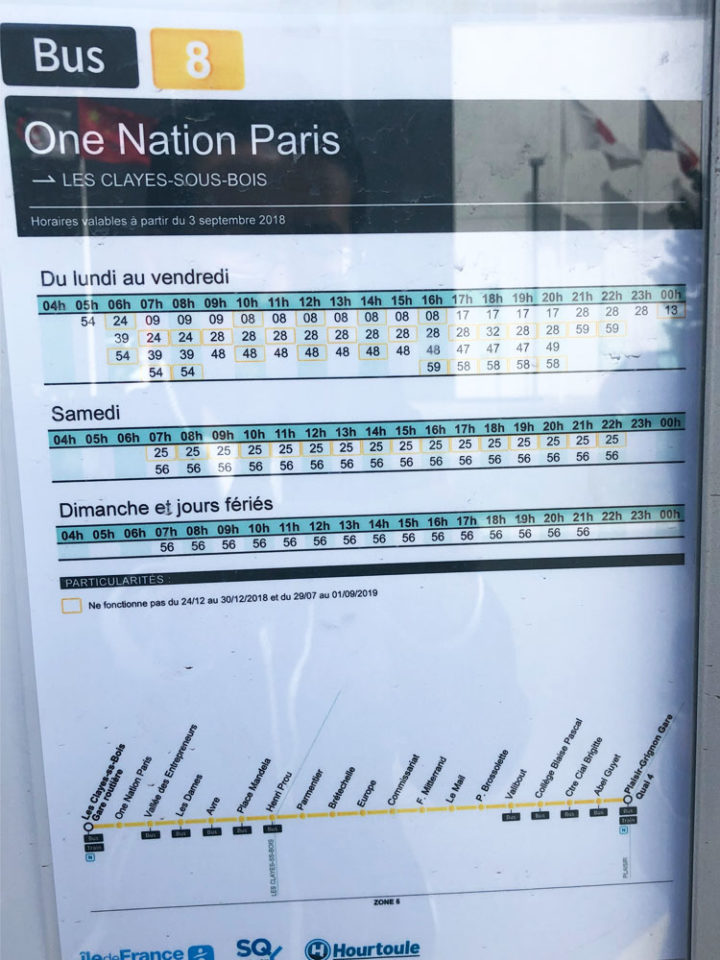 It is common for the bus to be about 10 minutes late.
Don't be in a hurry to wait for the bus if it arrives too late.
The bus stop is on the other side of the road from where you got off.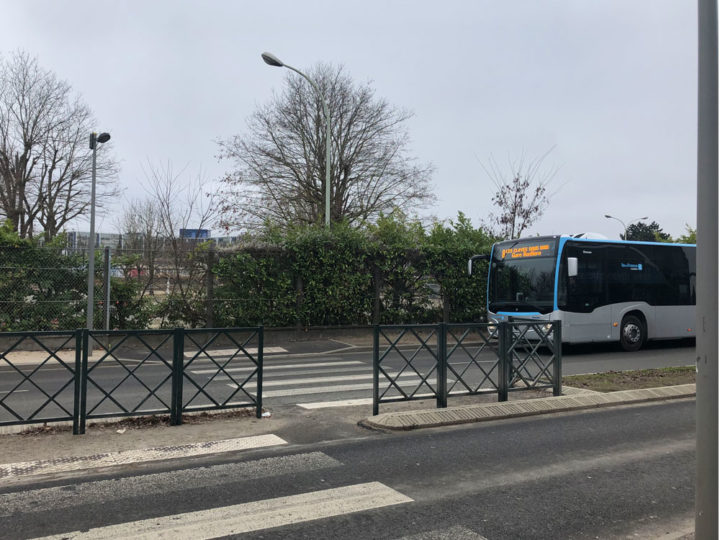 There are few passengers, but a larger bus comes.
If you walk, it's a long way, but if you take a bus, you'll arrive in no time.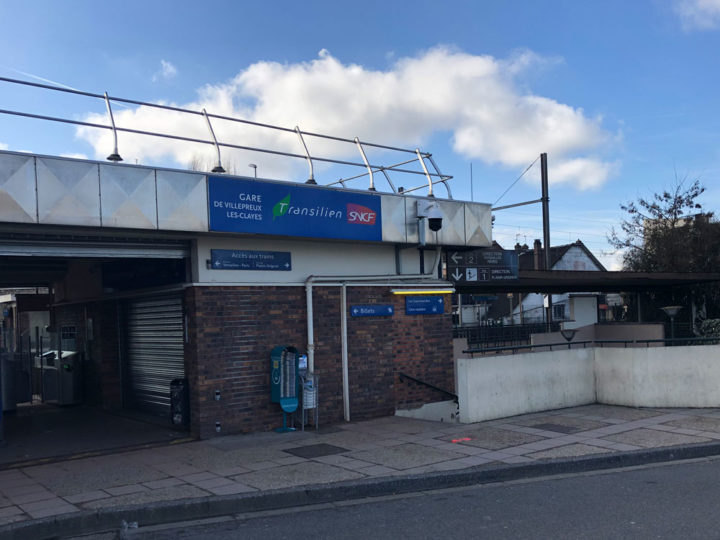 Until the train arrives, it is quiet, but when the train comes in, the number of people suddenly increases.
Of course, there will be an increase, but not to the level of congestion.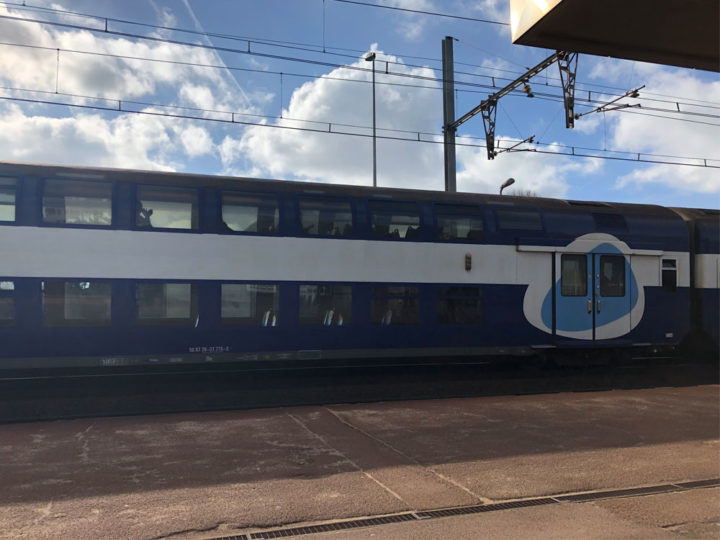 The return trip is also a double-decker train.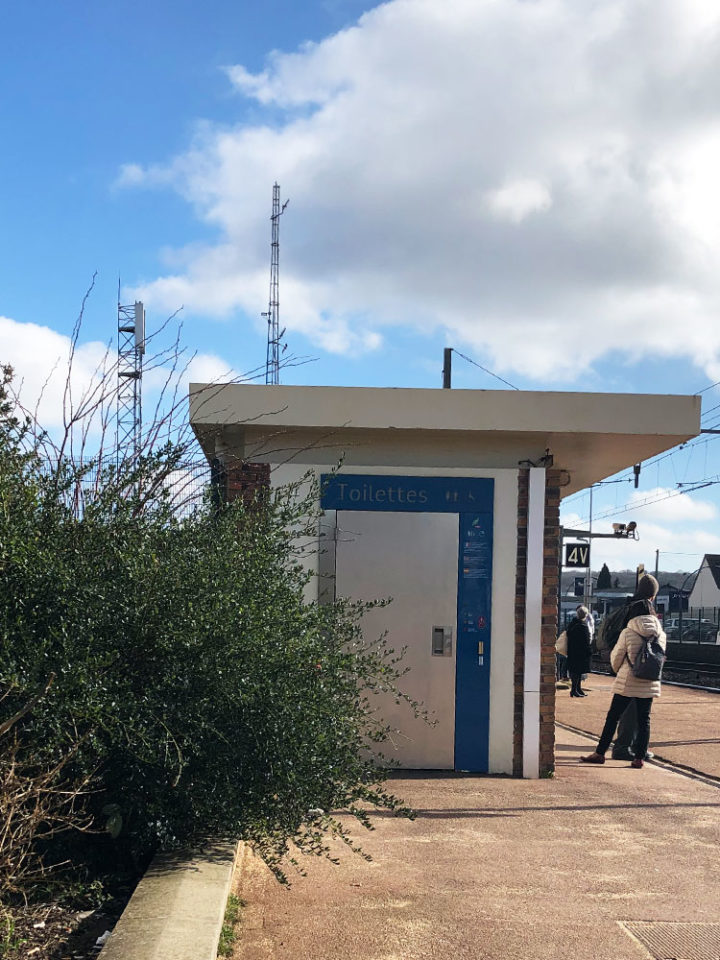 There are toilets at the VILLEPREUX LES CLAYES station.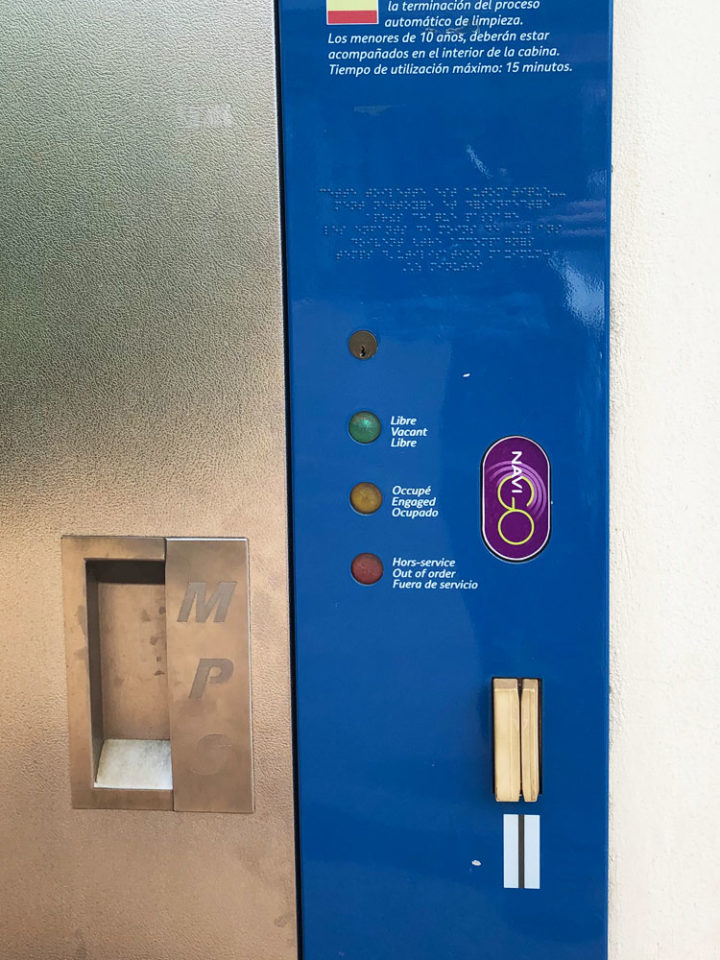 Note, however, that not everyone can use this service, and you will need a Navigo or ticket.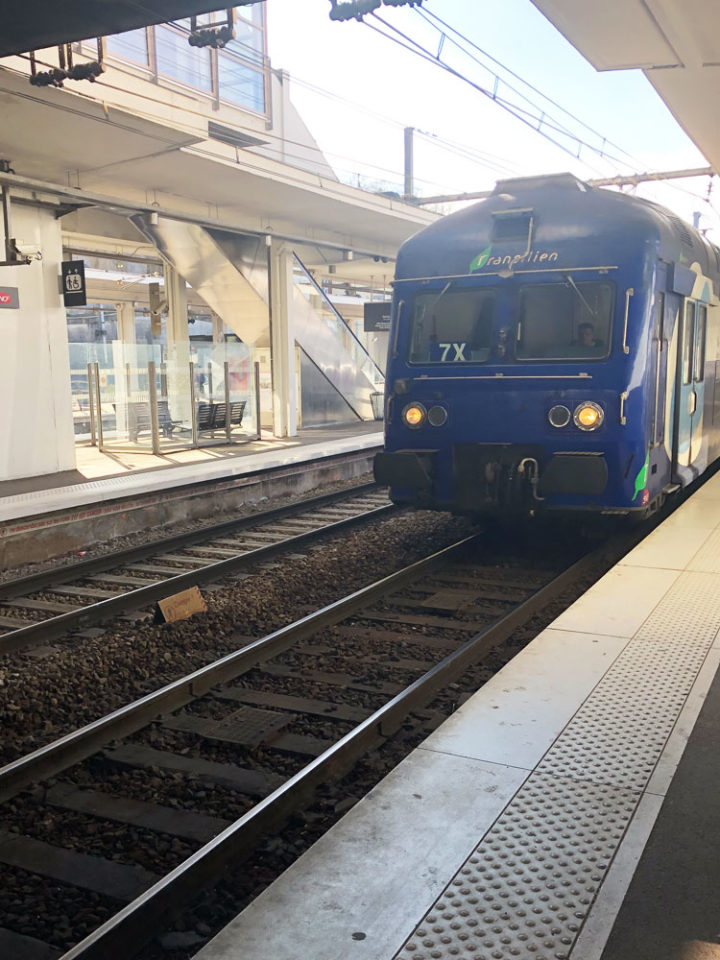 On the way back, depending on the time of day, you may be able to change to a rapid train on the way.
If you have a smartphone or other device that can connect to the Internet, you can use Google Maps to find out how to get there.
Shuttle to One Nation Paris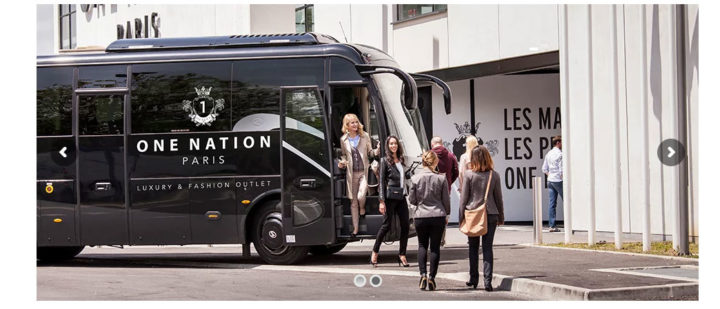 You can also take a private shuttle bus to One Nation Paris.
In the case of the La Vallée Village outlet, it was easy to travel by train, but in the case of One Nation Paris, getting on the train was a bit of a hassle, so if you are not used to trains, I think it would be easier to use this one.
However, please note that the departure point is the Eiffel Tower, so if you are staying in a place that is far from the Eiffel Tower, it may take extra time.
Tickets can be purchased for one way only.
Practical information
Place of departure:300 Port de la Bourdonnais, 75007 Paris, France
Operation details:
| | | |
| --- | --- | --- |
|   | The Seine river's quay | One Nation Paris |
| 1 | 09:45 | 14:45 |
| 2 | 13:30 | 17:30 |
Fare: One way 12 Euros for adults, free for children under 9
Where to buy: Online (you may also be able to buy locally)
Required time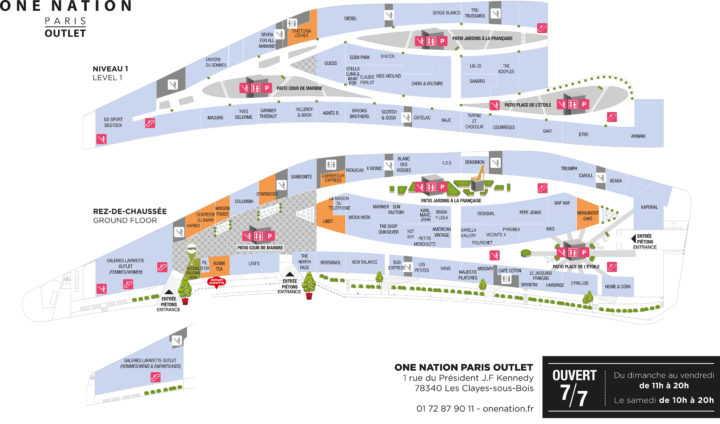 One Nation Paris is divided into the first and second floors, so it will take you quite a while to go around the whole place.
Of course, you won't be able to enter many stores other than the ones you are looking for, so I think two hours is actually enough time to take a look around.
From Paris city, it takes 30 minutes to get to GARE DE PARIS MONTPARNASSE, depending on the location of your hotel.
From GARE DE PARIS MONTPARNASSE, it takes 40 minutesto get to VILLEPREUX LES CLAYES.
One Nation Paris is 10 minutes away from VILLEPREUX LES CLAYES.
It takes at least 1 hour and 30 minutes one way, considering the waiting time, etc.
In total, I think it's safe to say that you should expect to spend about 5 to 6 hours.
If you use the shuttle bus, it may take a little longer.
One Nation Paris opens at 11:00 a.m., so even if you leave your hotel at around 9:30 a.m., you may not get back until almost 3:00 p.m.
Please think about your daily schedule well and take action.
Recommended Brands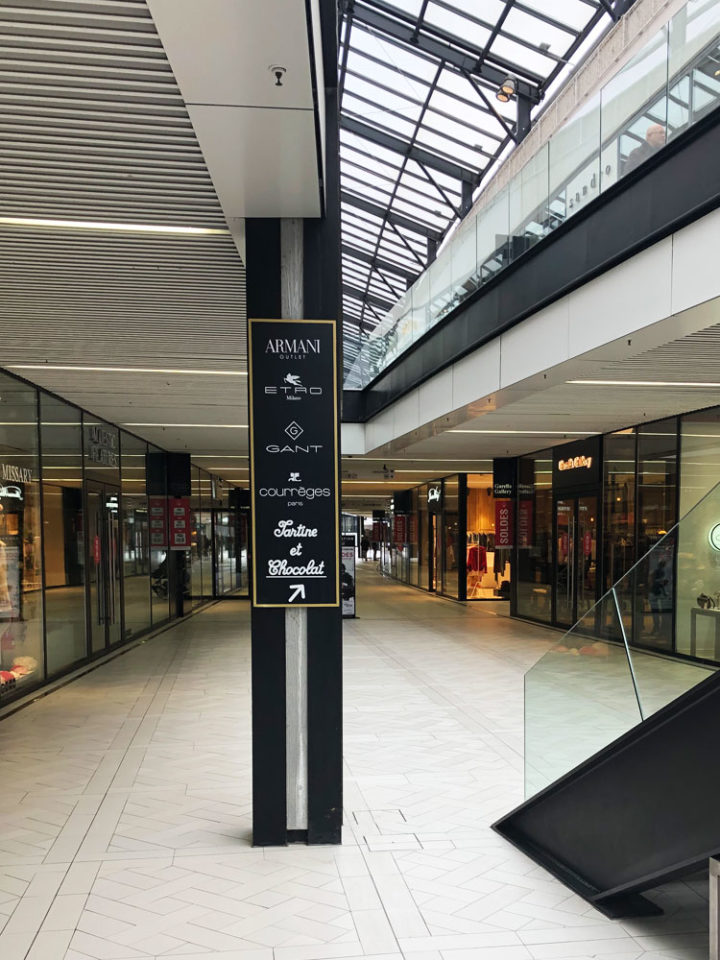 One Nation Paris has a wide variety of brands in its stores.
Overall, many casual and mid-priced brands are affordable and easy to purchase.
GALERIES LAFAYETTE OUTLET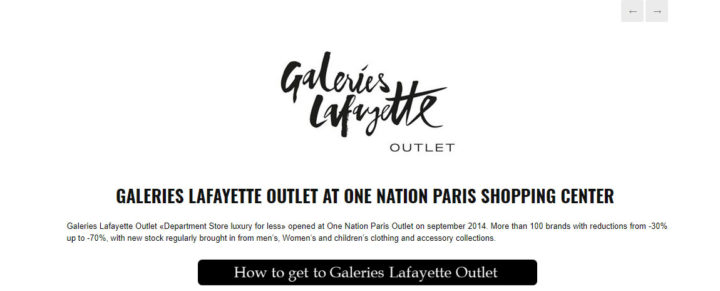 The first place I would like to recommend is the Galeries Lafayette outlet.
This is an outlet of a department store in the center of Paris.
There are men's and children's sections in the basement.
The first floor is the women's section, where various brands are sold.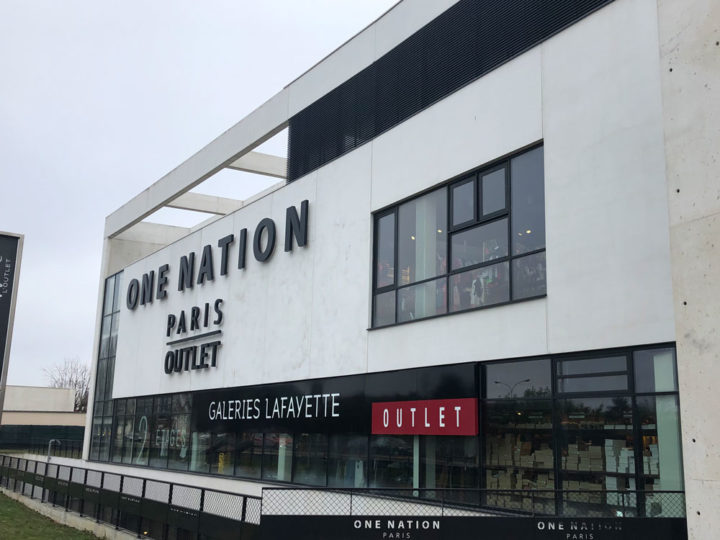 When it first opened, there were some bargains on luxury brands, but I haven't seen any recently.
Overall, I feel like they are focusing on selling mid-priced brands.
agnes b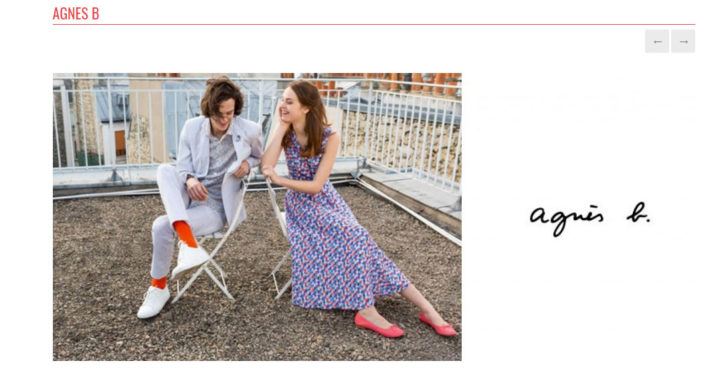 It is a casual brand representing France.
I wrote that it is a casual brand, but I think that many of the recent items are mode or trend-conscious products.
It is a brand that is still recommended for its simple but never boring products.
ROSSIGNOL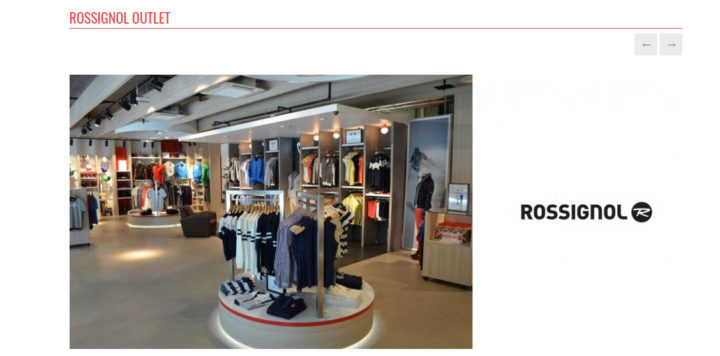 It is famous as a brand of ski wear and ski equipment, but recently, items that can be worn in town have also been enhanced.
Not only down, but also hoodies and other items are cool.
It may become a popular brand in the future.
North Face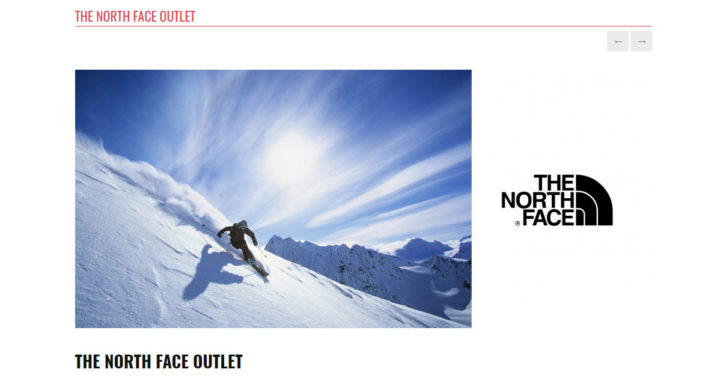 North Face is one of the leading outdoor brands.
You can find a wide variety of popular items such as down jackets and nylon jackets.
Euro models are available, so you may want to look for an item that is different from everyone else's.
Tax-refund
The duty free procedure at One Nation Paris is done at the WELCOME DESK located at the entrance beside Galeries Lafayette.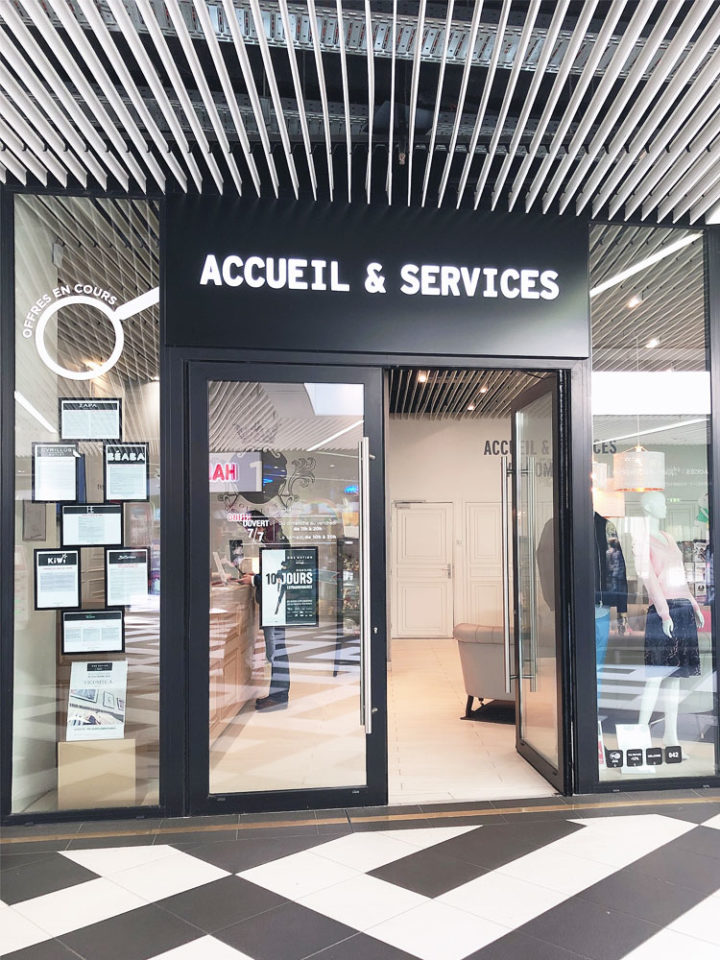 One of the appealing features of One Nation Paris is that you can complete this duty free procedure in one place.
Department stores in Paris offer tax-free shopping for all purchases made on the same day, but La Vallée Village outlets require you to do this at each store.
This is a surprisingly tedious and time-consuming process, so for tourists with limited time to shop, this system of tax exemption in bulk is a real blessing.
One Nation Paris also offers tax exemption for purchases of 175 Euros or more in total, even if the amount of money spent at each store is small.
Some stores cannot be combined or require a minimum purchase of 175 Euros at each store, so please ask at the Welcome Desk for details.
Summary
It's a bit far from Paris and a bit of a hassle to get around, so I think the opportunities to visit are limited.
It would be difficult to visit on your first visit to Paris, but if it's your second or third time, go for it.
I think you will discover a different kind of charm from the luxury brand-centered La Vallée Village outlets.
Thank you again for reading to the end of this article.