Boulangerie Brun, the winner of the 2017 baguette competition in Paris.
Baguettes are so delicious.
Boulangerie Brun's most popular attraction is the affordable cakes.
The unique eclairs are especially recommended.
Unfortunately, the location is far from the center and it is a little difficult to visit, but if you have time, this is a shop that you should definitely visit.
Boulangerie Brun
Practical information
Boulangerie Brun
Address:193 Rue de Tolbiac, 75013 Paris, France
Open:Thursday-Monday 07:00~20:00
Closed:Tuesday Wednesday
Nearest station:Tolbiac Line 7  Corvisart Line 6
History and characteristics of Boulangerie Brun
History
It is a shop run by Mr. Sami Bouattour.
After running a restaurant, the couple opened at the age of 50.
In 2015, won the second place in the baguette competition in Paris.
In 2017, won the baguette competition in Paris.
In a short period of time he has achieved excellent results.
Features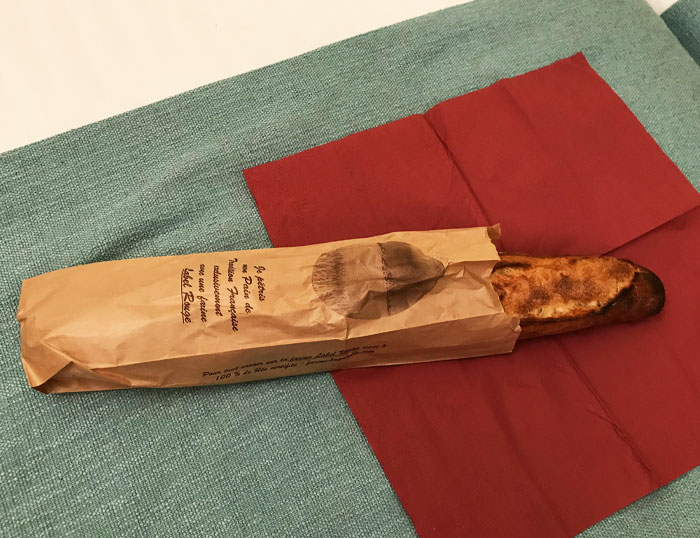 The baguette has a strong wheat taste and is very delicious.
Immediately after receiving the award, there was always a line, but now there is not much line.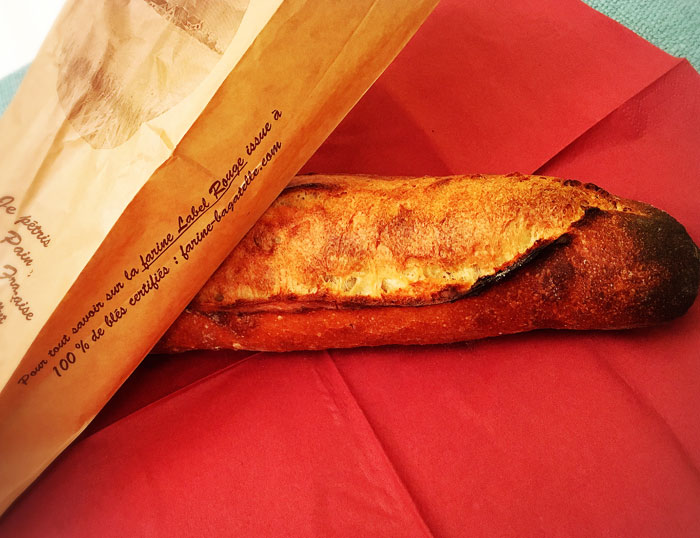 The baked condition is just right.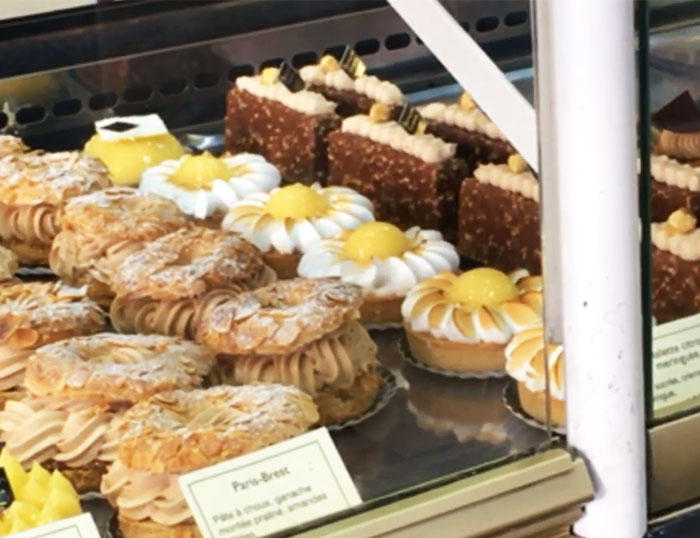 Also, the charm of Boulangerie Brun is not only baguettes, but also cakes.
It's not very expensive and there are many kinds of cakes.
This time, I chose fruit eclairs.
I bought it because I wanted to eat it right away, but it was a little difficult to eat because the strawberries were erected and displayed.
But the taste was very good.
Summary
How was it?
The overall rating is as follows on a 5-point list.
Boulangerie Brun
Taste:★★★★★
Exterior: ★★★★★
Interior: ★★★☆☆
Price:★★★★☆
Store clerk : ★★★★☆
Ease of purchase: ★★★★☆
Location: ★★☆☆☆
The taste isn't perfect, but it's 5 stars.
Next time, I would like to buy bread and cakes other than baguettes and compare them.
Although the exterior is simple, it has a high-class feel and is very nice.
The red tent, the picture on the wall, the coat of arms, and the logo of the store name are all arranged with great taste.
On the other hand, the interior is rather ordinary, and it feels like it is neither good nor bad.
The price is generally low.
I feel that the store clerk's response and ease of purchase were normal.
And finally the place.
Isn't the only problem the "location"?
For general tourism, there are no special attractions in the neighborhood, so you should come only for Boulangerie Brun.
Also, I have listed the two nearest stations, but you have to walk a little from either station.
In a busy schedule, it is a delicate point whether or not there is time to come here.
However, if you like bread, I think it's okay to take the time to come to the store.
If you have some time to spare during your stay, be sure to stop by Boulangerie Brun.

Thank you for reading to the end again this time.