La Grande Epicerie de Paris is said to be the largest food store in Paris.
The sales floor, where all the ingredients from all over the world gather, is worth a look.
Next to La Grande Epicerie de Paris, there is Le Bon Marché, which is said to be the oldest department store in the world, so you can enjoy both fashion and gourmet food.
In addition, there are many delicious bakeries and sweets shops in the neighborhood, so it is one of the spots that you should not miss when sightseeing in Paris.
LA GRANDE ÉPICERIE DE PARIS
Practical information
LA GRANDE ÉPICERIE DE PARIS
Address:38 Rue de Sèvres, 75007 Paris, France
Opening hours: Monday to Saturday 08:30-21:00 
Sunday 10:00-20:00
Closed: Irregular holidays
Nearest station: Sèvres – Babylone Line 10 Line 12
History of LA GRANDE ÉPICERIE DE PARIS
History
The basic history will be the same as Le Bon Marché.
After the acquisition of the LVMH Group, it was reborn in a major refurbishment in 1999.
It has been the largest grocery store in Paris.
Exterior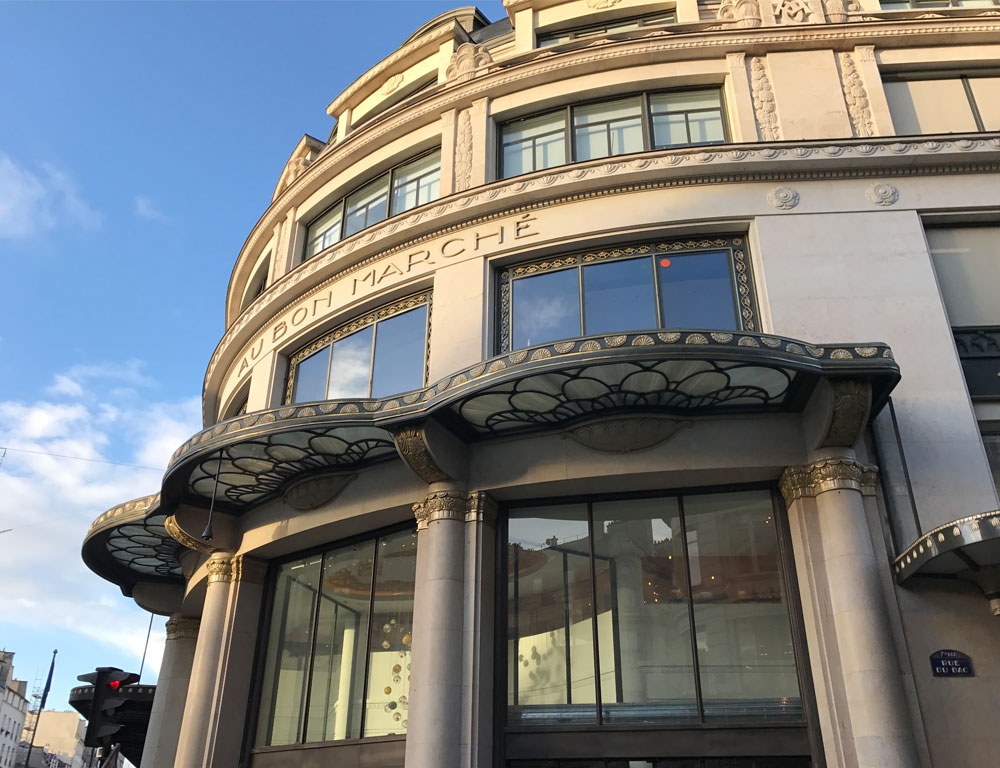 The exterior is not gorgeous, but simple and solemn.
However, I think that it is perfect as an image because it gives a sense of luxury.
There is a connecting passageway with Le Bon Marché, so you can move without getting wet even on rainy days.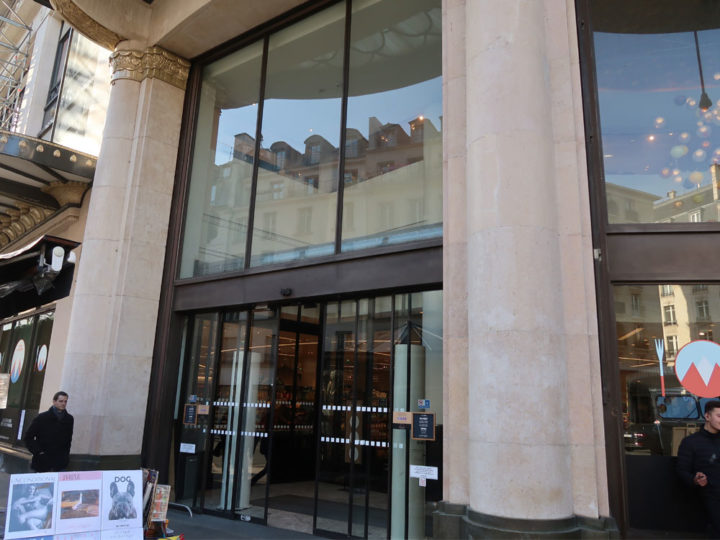 The entrance is here.
If you have large luggage or bags, there is a security check, so be prepared to show the inside.
Interior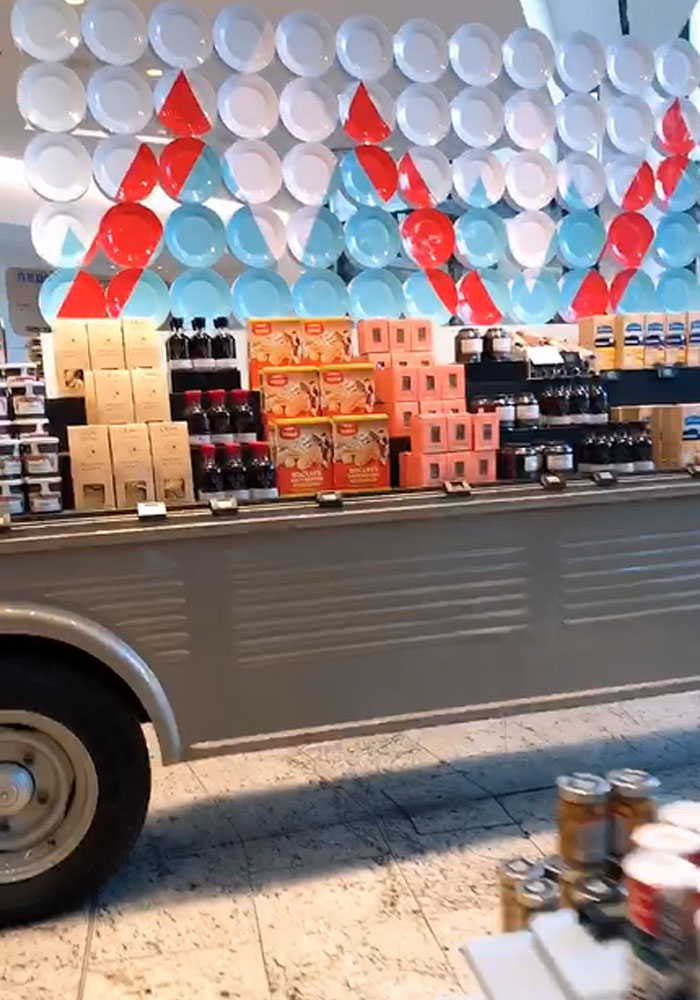 Various events are held at the entrance of the store depending on the season.
It's not that big, but you'll see food that you'll want to buy.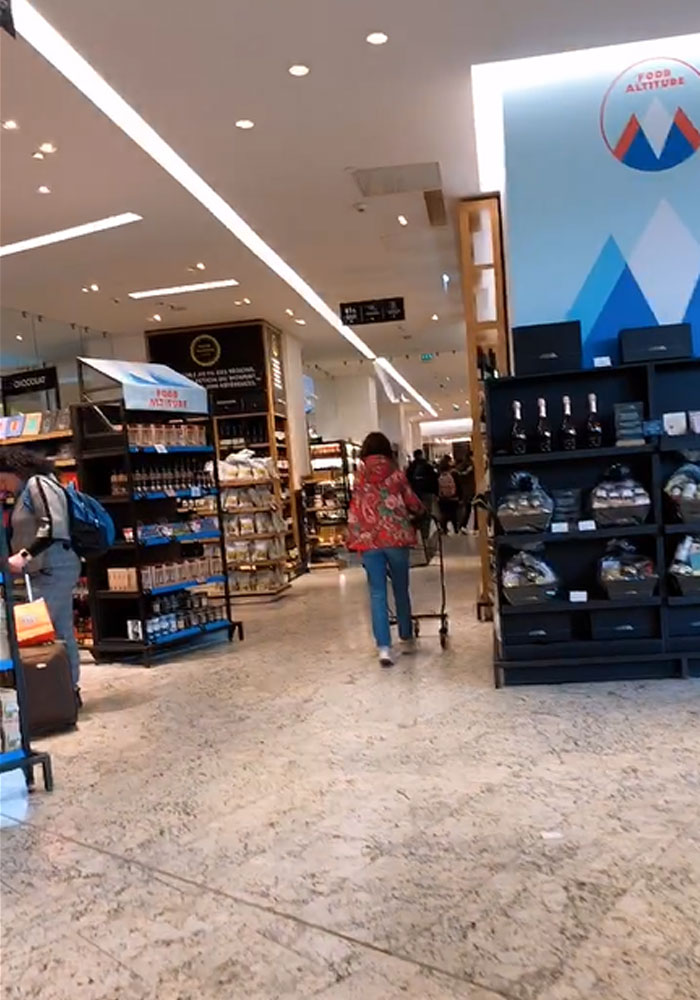 The right side is the route. There is a bread section and a side dish section in the back.
This is a picture of the ground floor taken from the escalator.
It's out of focus, but in the fruit section and the olive oil section.
As I mentioned in my impressions at Le Bon Marché, it is easy to see the product anyway.
I think it's easy to find and buy the product you're looking for, probably because the aisle is wide and the display is good.
Another reason is that the store is not too crowded.
Anyway, the store is fun.
A variety of foods are on display, from everyday foods to ultra-luxury foods.
Each section has the following concept.:
Food section: Various foods are collected from all over the world
Fresh food section: A selection of carefully selected ingredients such as fruits, vegetables, seafood, meat and cheese.
Delicatessen section: The chef cooks the best ingredients in delicious dishes.
Wine cellars: France's premier chateau and its masterpieces, passionately crafted by comparable talented producers.
Wine Section
The wine section is located on the first basement floor.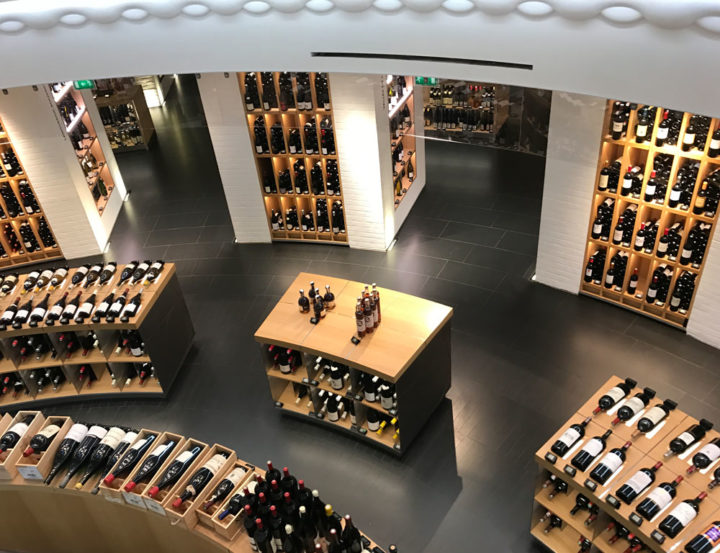 A lot of wines collected from all over the world are on sale
Fresh food section
The fresh food section has a wide range of ingredients.
Of course, it is more expensive than Marche and the morning market, but it is the same everywhere in the world.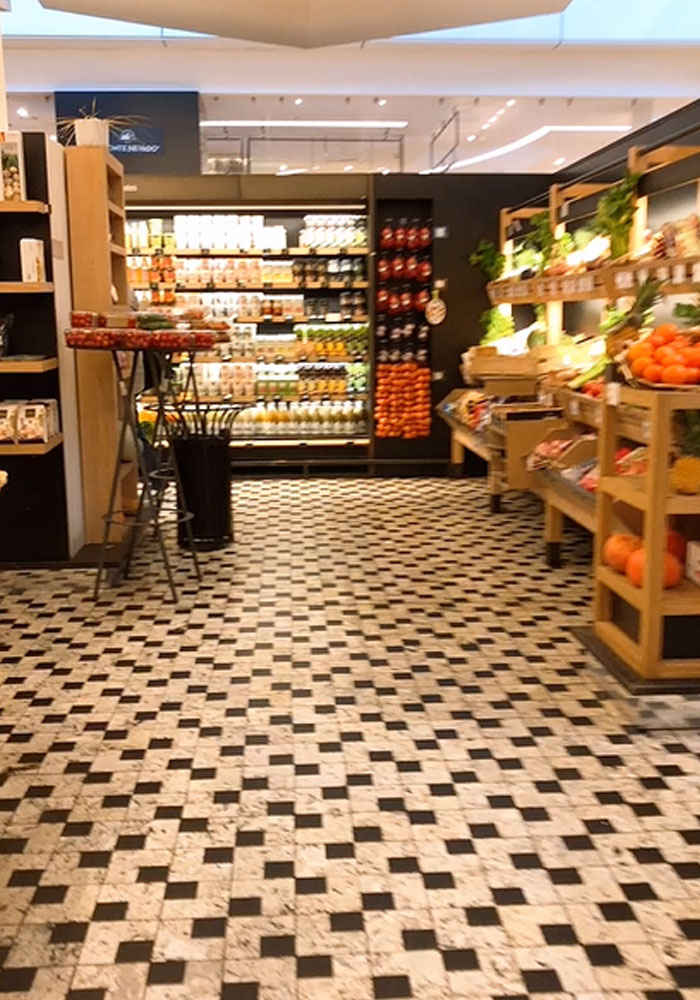 Because the passage is wide, it is very easy to walk and see.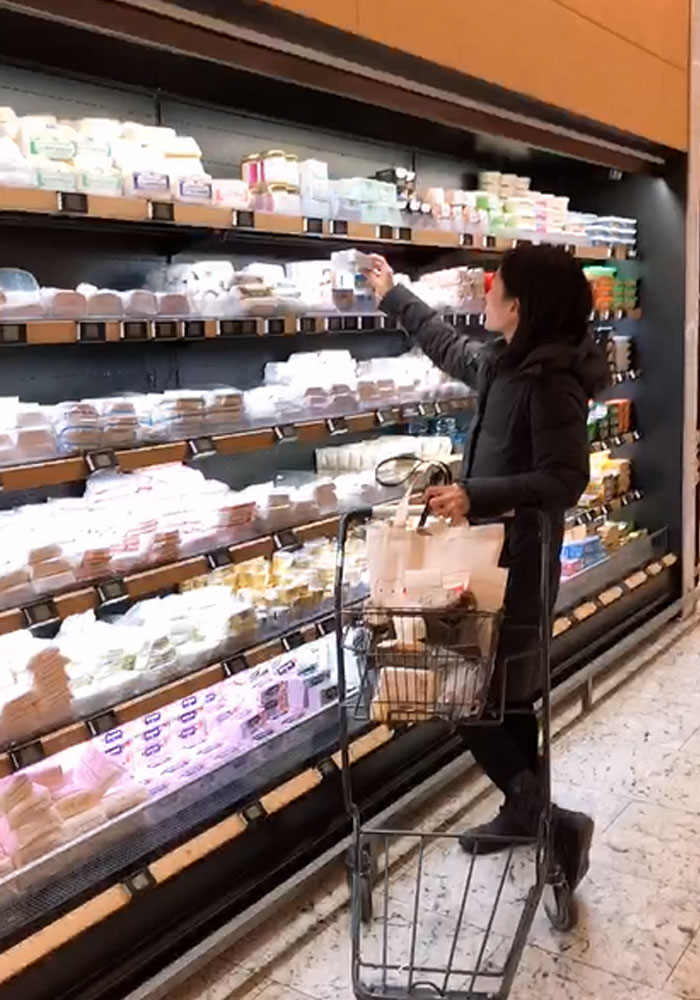 Butter Corner is one of the most popular ingredients in Paris.
It is one of the ingredients that you should definitely buy as a souvenir for yourself.
Soft drinks and water section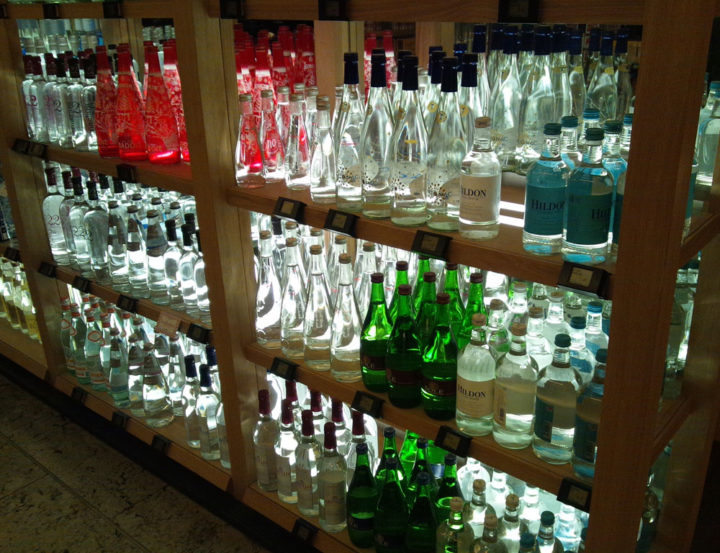 There are endless recommended ingredients, but here is a surprisingly recommended section.
It is a water section.
An amazing selection of water, from regular water to carbonated water.
I don't think there is a place where you can see all these types.
One of the pleasures of Paris is to compare and drink at the hotel.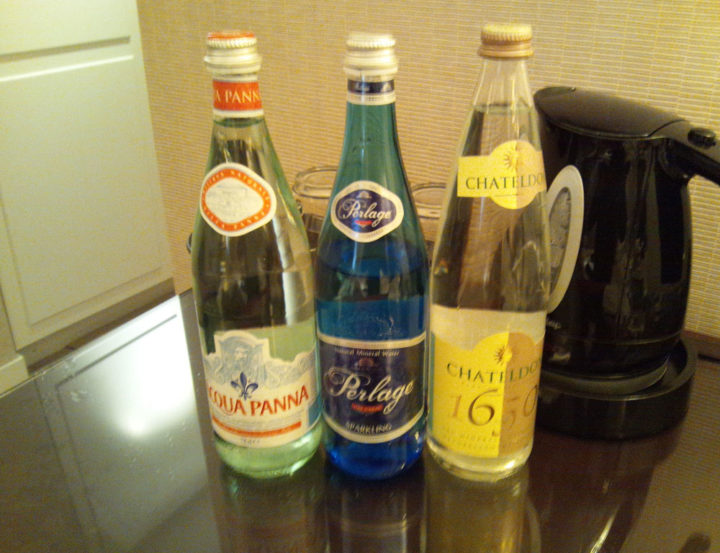 Aquapanna, Chateldonand Perlage.
Aquapanna is ordinary water, but the other two are carbonated water.
Perlageis made from Polish carbonated water and has a low salt taste.
As many of you may know, Chateldon is called the king of carbonated water.
If you haven't tried it yet, please give it a try.
Black Tea Section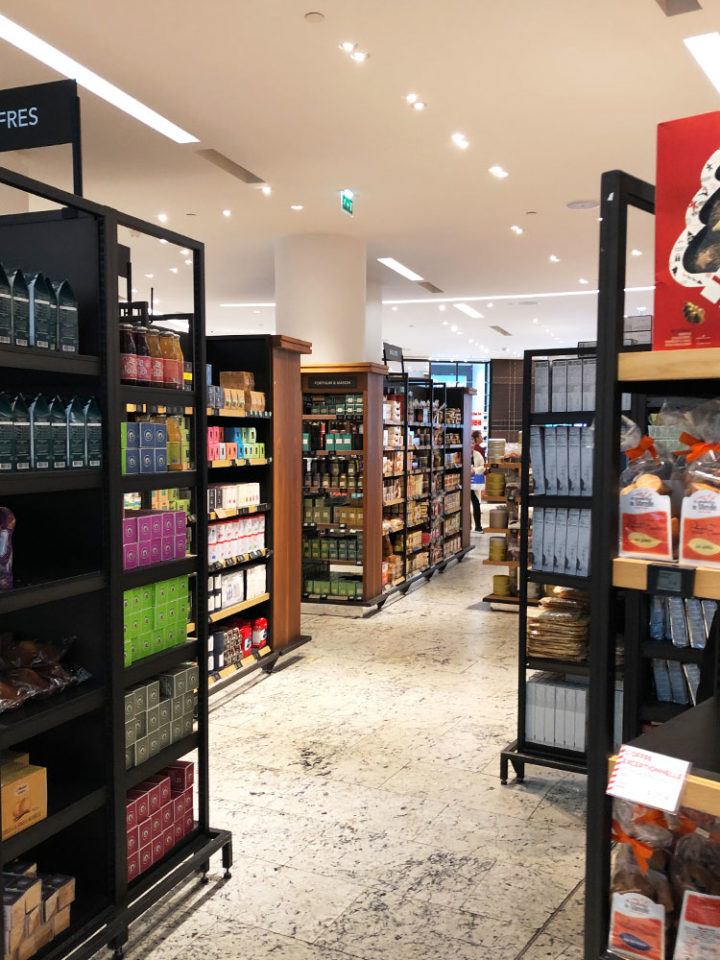 Speaking of Paris, coffee and espresso come to mind, but in recent years black tea has become very popular.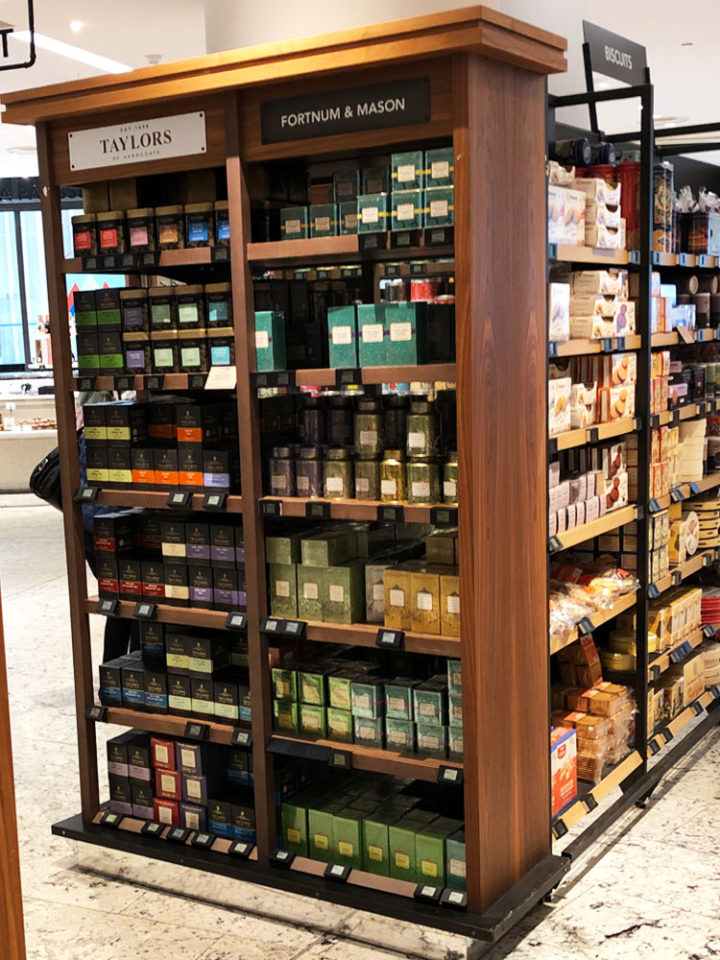 Here are some recommended black teas.
Taylors : British Royal Warrant
Fortnum & Mason : British Royal Warrant
DAMMANN FRÈRES : The best tea in France
MARIAGES FRÈRES : Popular French tea
Tea may be the best in England.
There are various types for each manufacturer, so it's a good idea to compare them by drinking.
Chocolate Section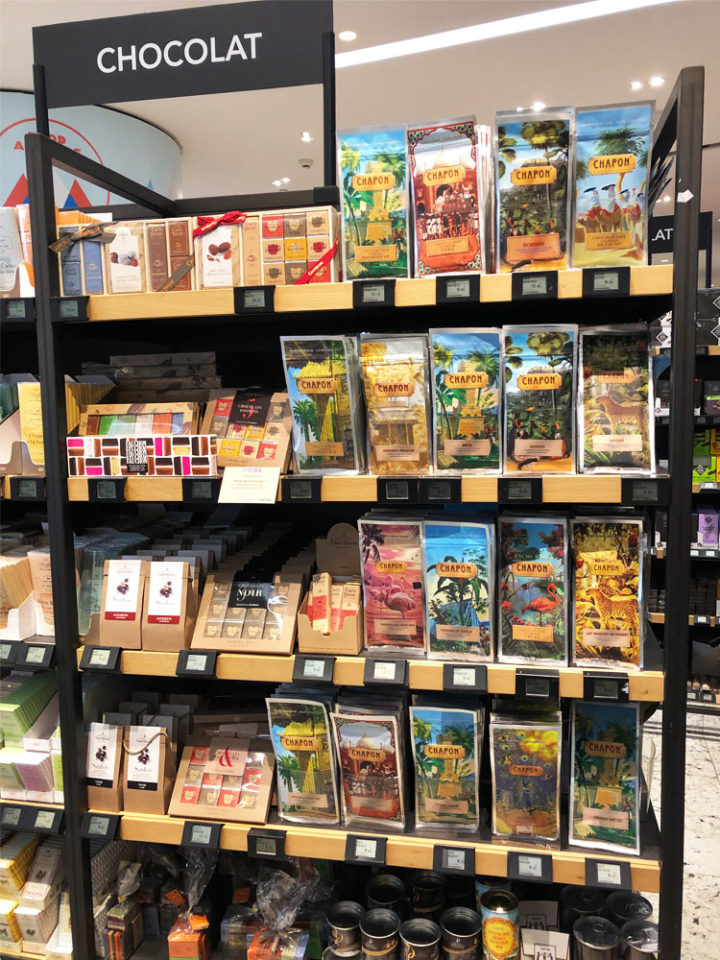 Speaking of Paris, is said to be chocolate, so many delicious chocolates are sold anyway.
After all, there is also the word "Chocolatier".
There are many recommended products, but I will introduce some famous chocolates.
CHAPON
First of all, CHAPON.
As many of you know, he was the first person to spread the word Bean to Barin France.
In addition to the deliciousness, the cuteness of the package and the original products like no other are popular.
We would like to introduce CHAPON in detail here.
VALRHONA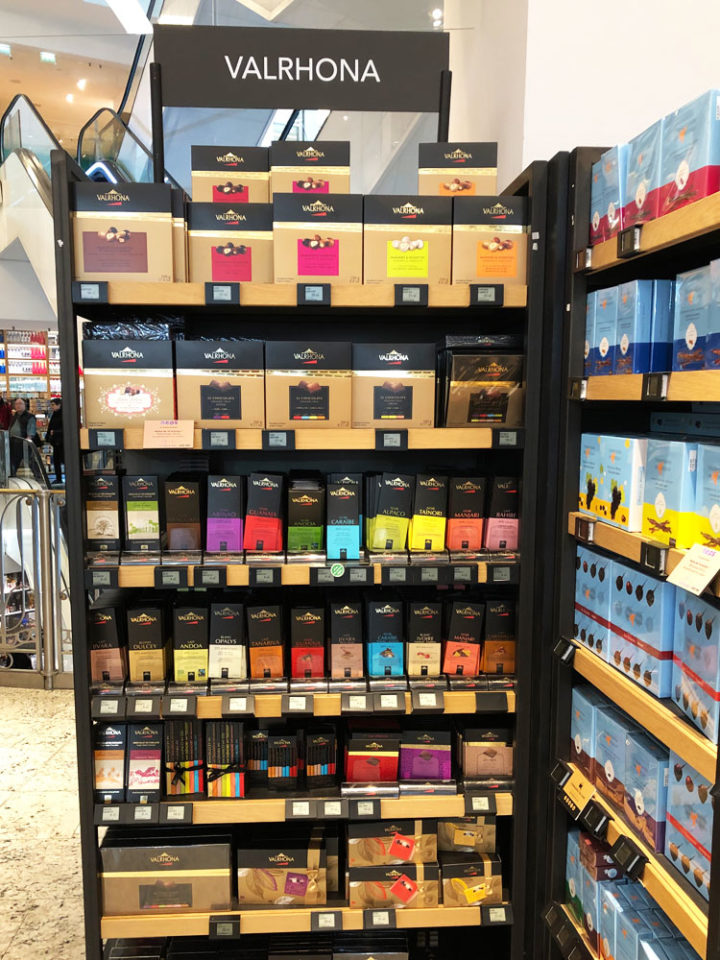 If you like chocolate, you definitely know VALRHONA.
It is also famous for hosting COUPE DU MONDE DE LA PÂTISSERIE, which decides the best pastry chef in the world.
It's also an indispensable chocolate for those who make sweets.
It is famous as chocolate as an ingredient, but its taste is of course wonderful.
It's a little more affordable than other chocolates, so it's a perfect souvenir.
CHOCOLAT BONNAT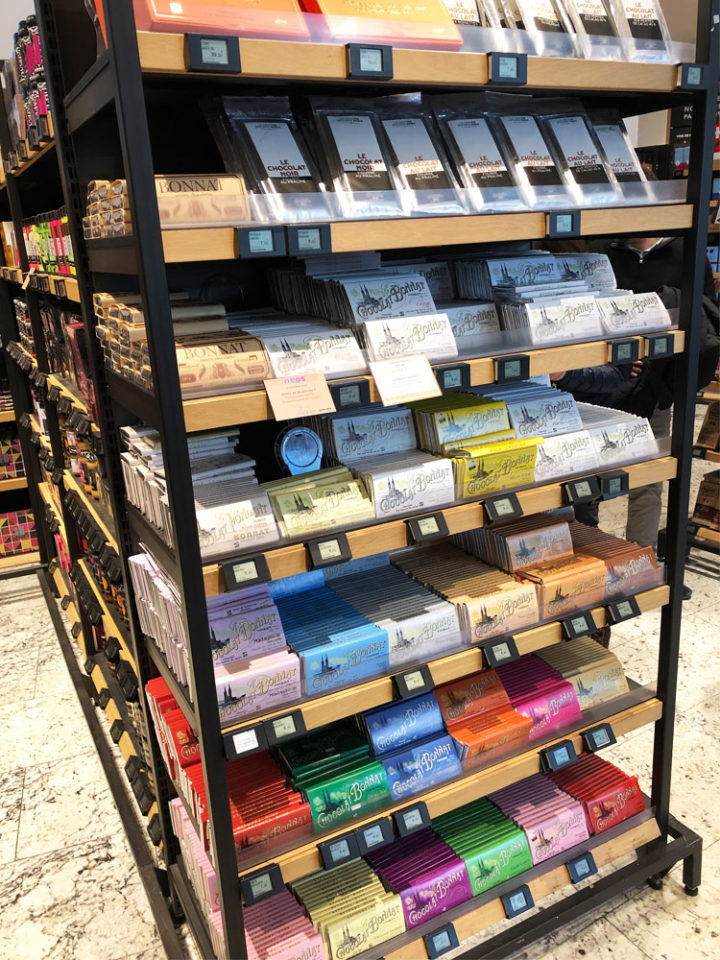 This is my personal recommendation, CHOCOLAT BONNAT.
It is a chocolate that is very particular about the ingredients of chocolate, and has become very popular in recent years.
Originally it is a chocolate with a history of more than 130 years, so there is no doubt about its quality.
It is said that this shop proposed a method of making chocolate in a single production area.
In addition, they are particular about chocolate making that does not use any additives.
It's recommended for those looking for authentic chocolate.
We would like to introduce CHOCOLAT BONNAT in detail here.
Jam Section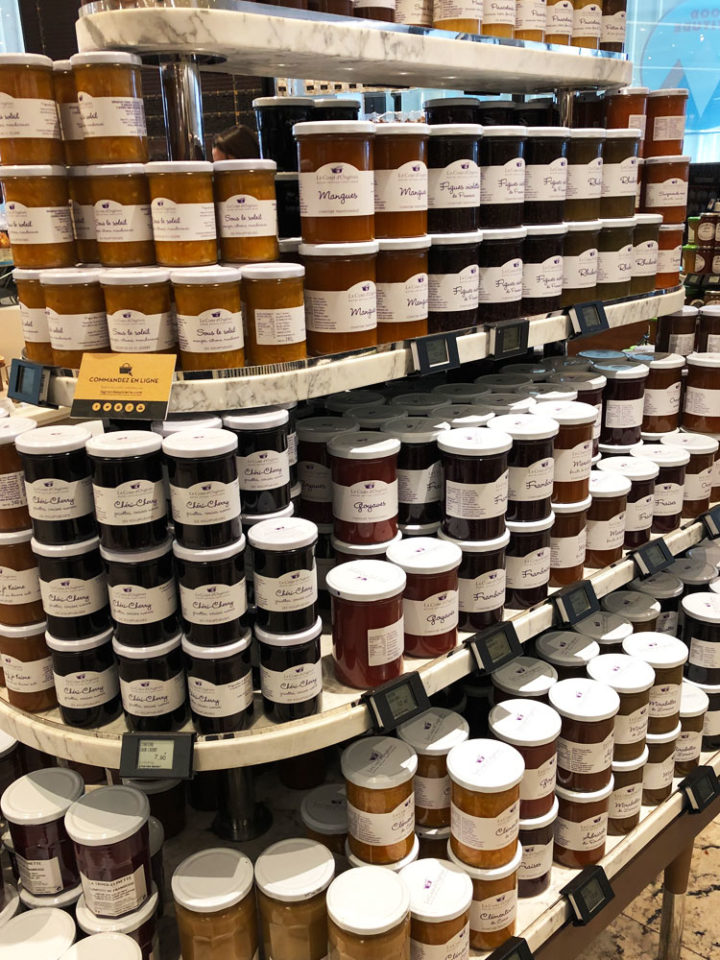 There are many jam brands in France.
Jams that are particular about ingredients and quality are sold.
The photo is La Cour d'Orgères, a jam from Bretagne, France.
It is famous for making jams that make use of the original taste of fruit.
For those who are used to the sweetness of sugar, it may be a little unsatisfactory, but it is a healthy and very tasty jam.
This jam is recommended for those who are natural-minded.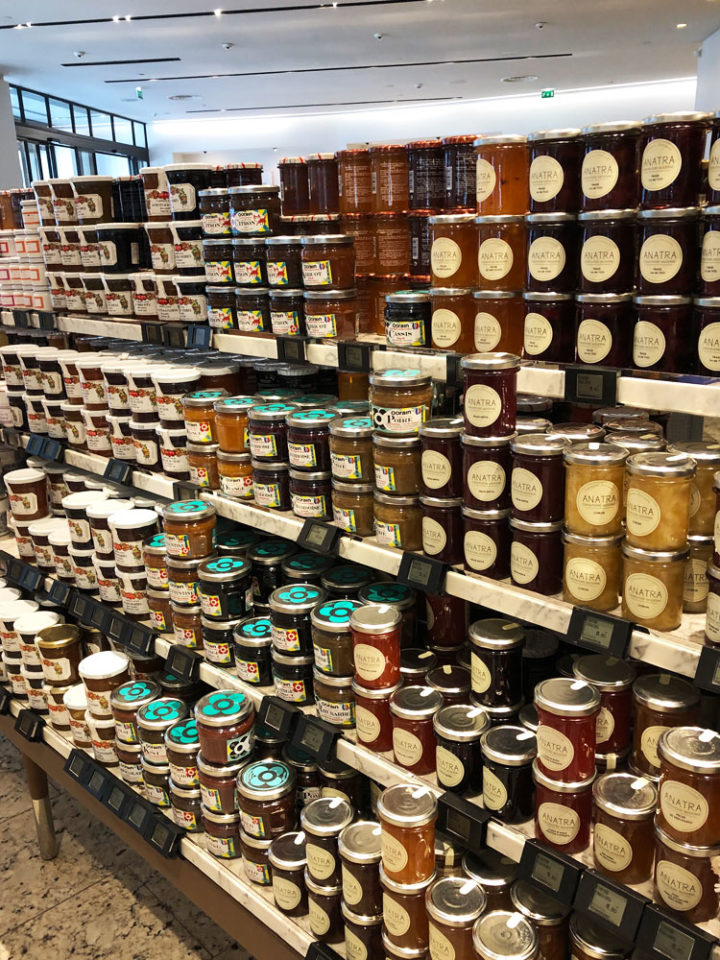 There are many French jams here as well.
ANATRAis also a new company, but it has a high reputation as a jam maker that sticks to the manufacturing method.
It is also highly rated in Figaro magazine.
Oorainis also a manufacturer that sticks to French products.
It is a manufacturer that sticks to handmade products without using preservatives or gelling agents.
Honey Section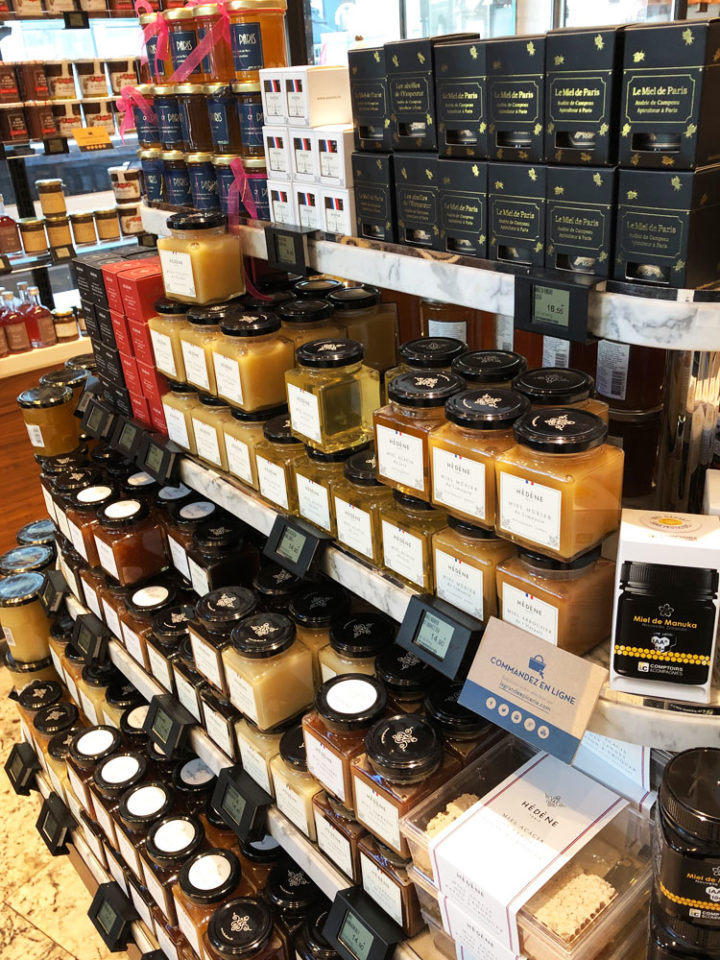 Finally, I would like to recommend honey.
This is also not known like jam, but there are many honeys for sale in France.
Besides, the honey that is particular about the production area is displayed for each brand, so honestly, I'm not sure which one to buy.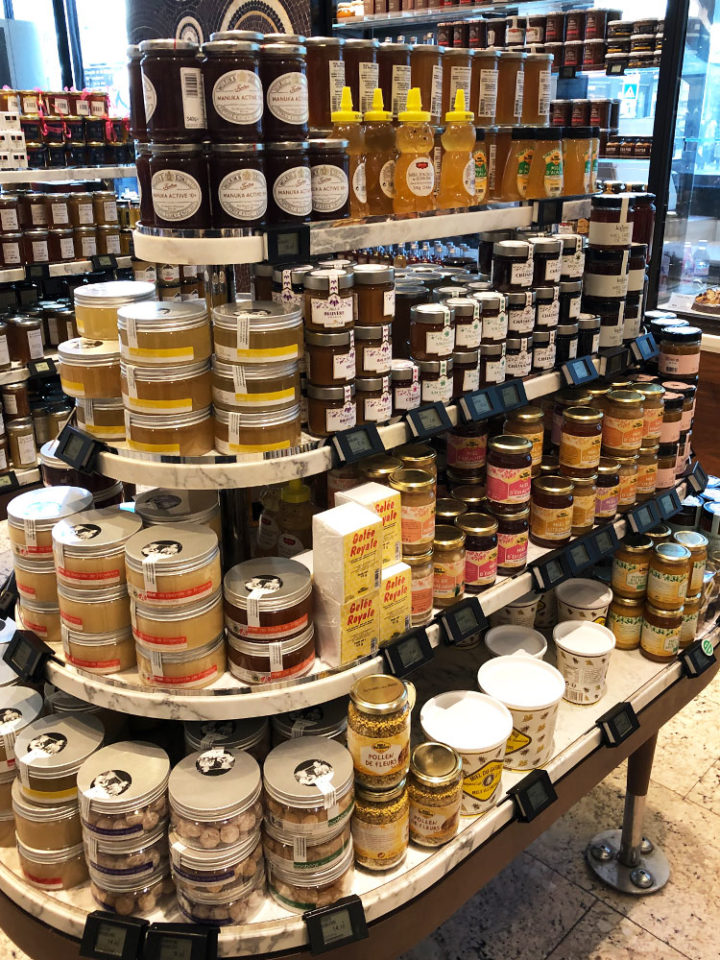 I eat honey from many manufacturers, but it's hard to decide which brand is best because each one has its own personality.
Among such many delicious honeys, I would like to recommend honey collected in Paris.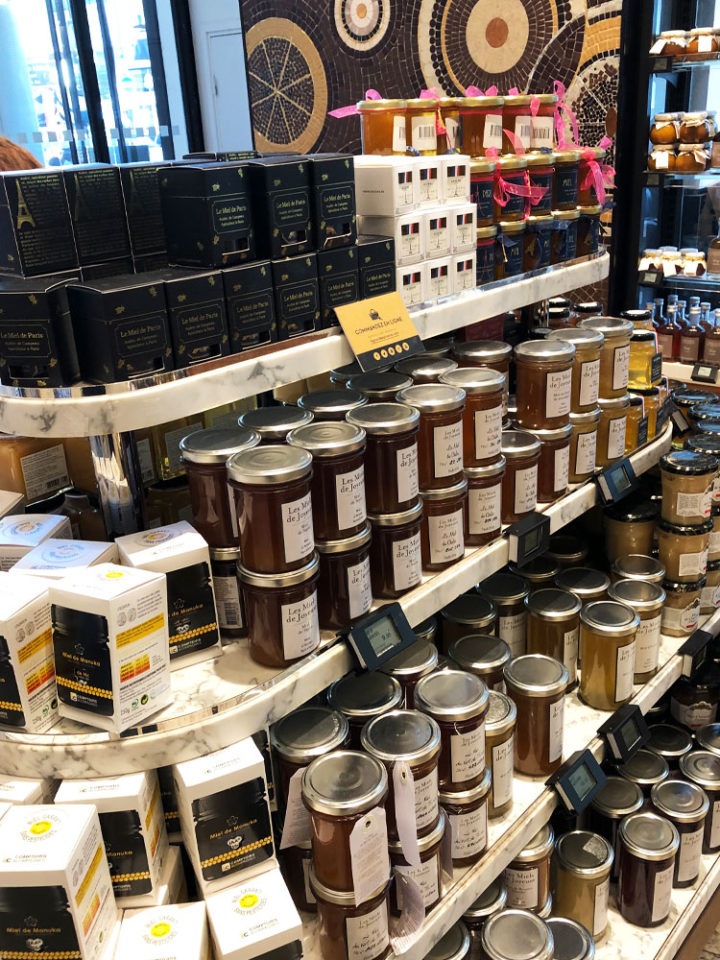 It is displayed at the top of the shelf.
In recent years, honey in Paris has been featured on TV and in magazines, and has received a lot of attention locally, so the number of series has increased considerably.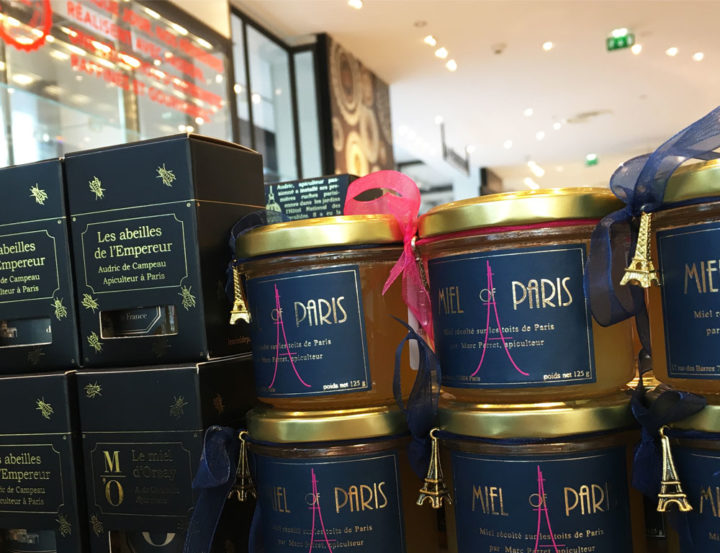 There are several places where it has been collected, but the most famous ones are Invalides, Eiffel Tower and Musée d'Orsay.
I ate all the varieties shown in the picture, but the one I recommend is the honey from Le Miel de Paris.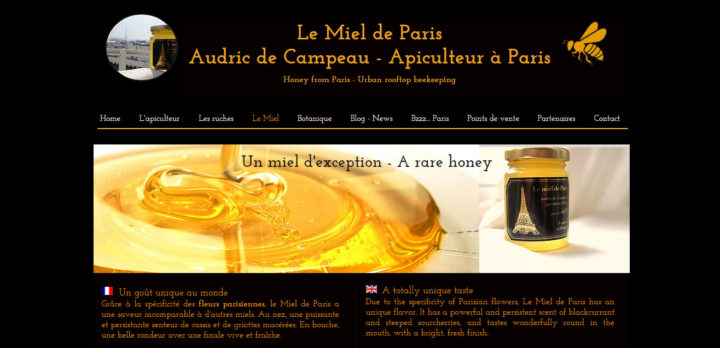 http://www.lemieldeparis.com/mieldeparis
It tastes a unique flavor, but if you like honey, you'll love it.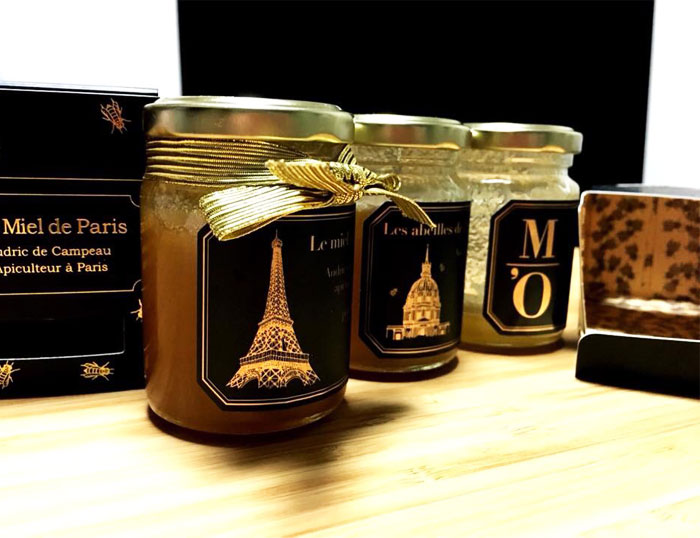 I ate three types, Eiffel Tower, Invalides, and Orsay, but personally, the Eiffel Tower was the most delicious.
It seems like the price was high, but if you come to Paris, please buy it as a reward for yourself.
If you cannot reach La Grande Epicerie de Paris due to lack of time, you can purchase it at the Fauchon in Madeleine and the gourmet floor of Printemps.
Summary
How was it?
Here are just a few of the attractions of La Grande Epicerie de Paris.
Please stop by the store and find your favorite products
Thank you for reading to the end this time.
We will introduce Le Bon Marché in detail here.