This time, I would like to introduce Bread & Roses.
The stylish and bustling store has more of a New York feel to it than a Parisian bakery.
The store sells not only bread, but also sweets, as well as tarts, quiches, and delicatessens.
The first store is located right next to the Madeleine Temple, making it an easy stop for those unfamiliar with Paris.
The store has won many awards, and I highly recommend their cheesecake.
Bread & Roses
Practical information
Bread & Roses Madeleine
address:25 Rue Boissy d'Anglas, 75008 Paris, France
Opnen: Monday – Friday 08:00~20:00 Saturday 10:00~20:00
Closed: Sunday
Nearest station: Madeleine Line 8,12,14   Concorde  Line 1,8,12
Bread & Roses Luxembourg
address:62 Rue Madame, 75006 Paris, France
Open: Monday – Friday 08:00~20:00 Suturday 08:00~20:00
Closed: Sunday
Nearest station: Rennes Line 12  
History and Features of Bread & Roses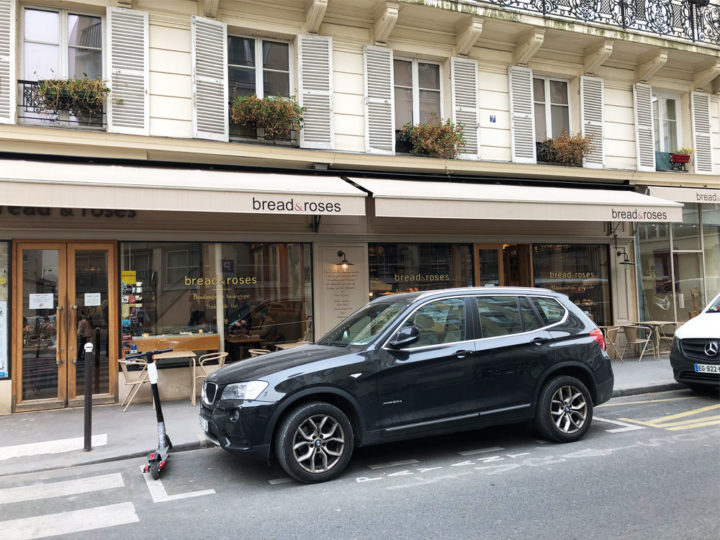 History
In 2004, Philippe Tailleur, who had previously worked mainly in advertising and design, opened Bread & Roses.
Inspired by the Japanese word for "persistence," the company's philosophy is the search for superior products.
2013 Awarded the 3rd prize at the Croissant Competition in Paris.
Top ranking of popular cheesecake in Paris.
Features
Mr. Philippe Tailleur's commitment to using organic materials is a reflection of his desire to provide better products.
Not only do they offer bread, but also quiche and a variety of delicatessen items.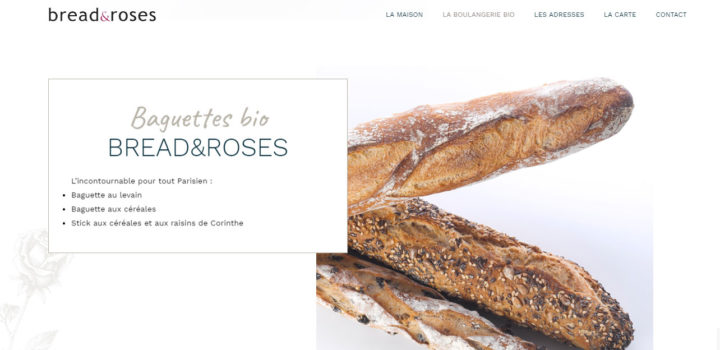 BREAD&ROSES la-boulangerie-bio
Various types of baguettes are also available.
Tradition baguettes, and baguettes made with raisins or cereals are available. They are all very tasty.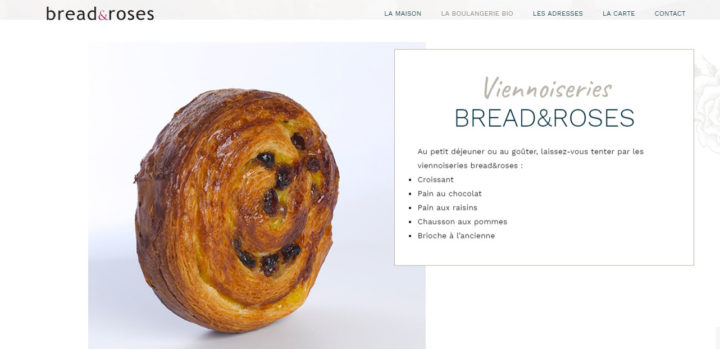 BREAD&ROSES la-boulangerie-bio
The croissants are also very tasty, and there are a few varieties of pain au chocolat and apple tarts for sale.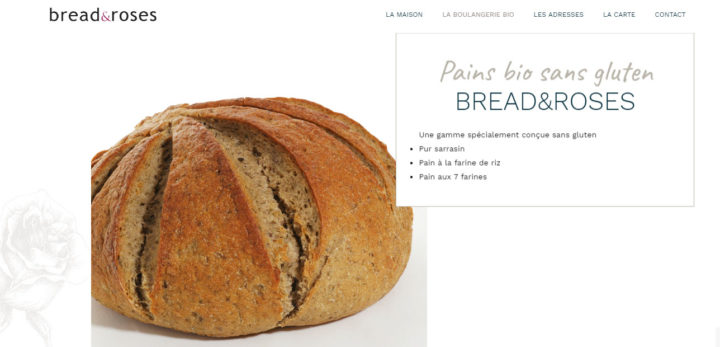 BREAD&ROSES la-boulangerie-bio
Pain de campagne and other health-conscious breads, such as gluten-free bread, are also available.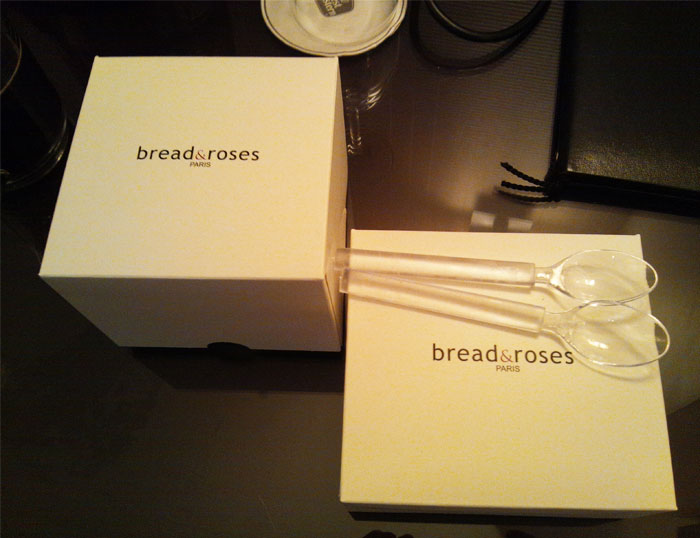 And let's not forget about the cheesecake.
It comes in a large box.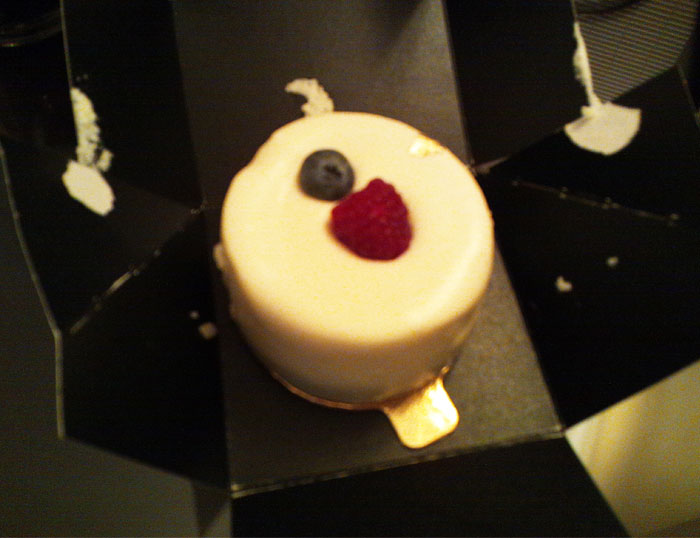 It's hard to tell from the picture, but it's quite a big and rich cheesecake.
Personally, I found it to be sweet.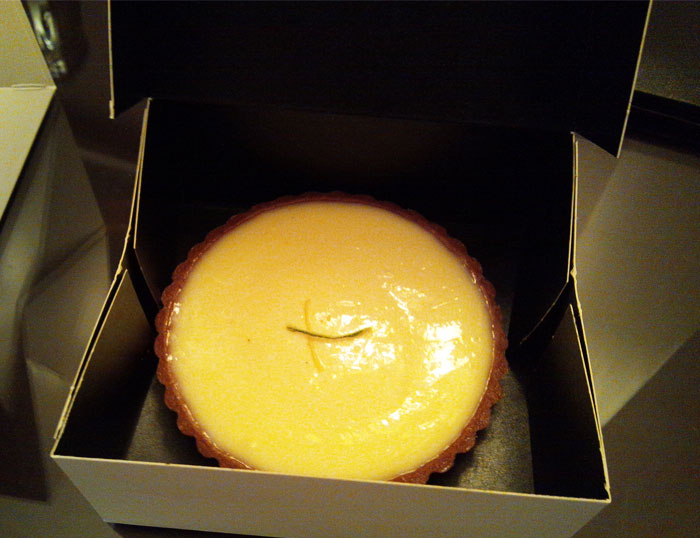 I also bought a tart.
This one was big, too.
Both are very tasty, but there is quite a lot of them, so one might have been enough.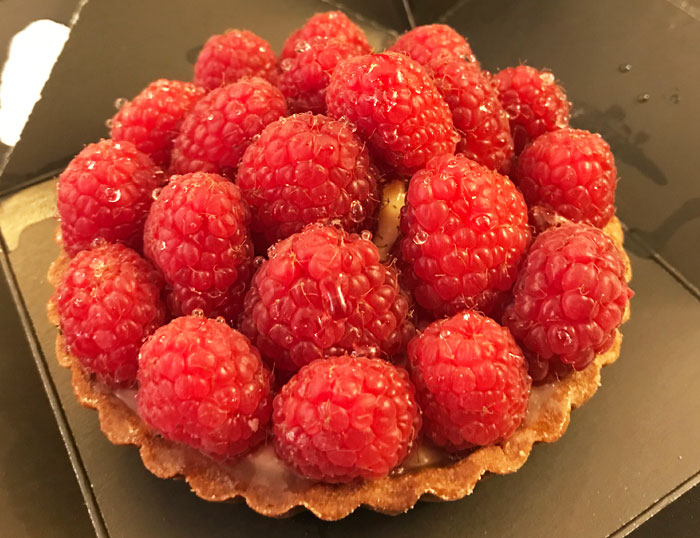 On another day, I bought a raspberry tart.
We ate many things at BREAD&ROSES, but I forgot to take pictures of them, so I can't introduce them here.
Summary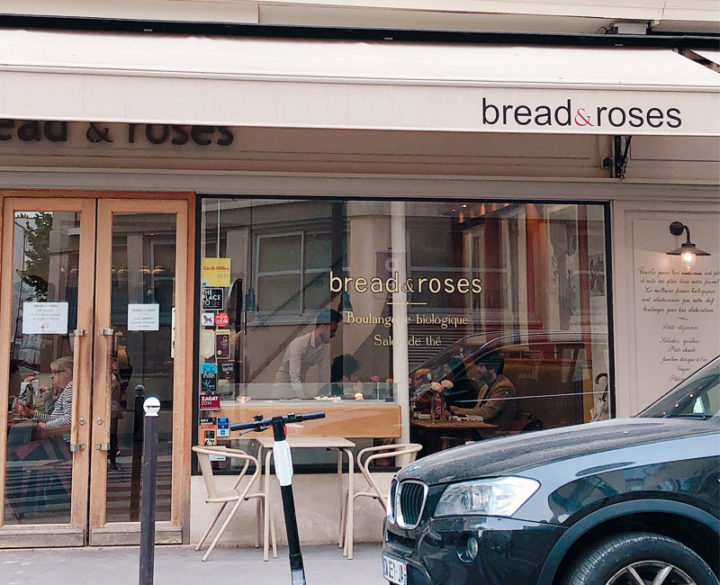 How was it?
The overall rating is as follows on a 5-point list.
Bread & Roses
Taste:★★★★☆
Exterior: ★★★★★
Interior: ★★★★★
Price:★★★☆☆
Store clerk : ★★★★★
Ease of purchase: ★★★★☆
Location: ★★★★★
The taste is 4★.
There are so many different menu items that it's hard to choose a standard, but for the bread alone, I would give it more than 4 stars.
If you want to buy a good croissant, I think you will not be disappointed.
The exterior of the building is very pleasing with its openness, visibility, and natural feel.
It's a friendly store, not stylish like most bakeries these days.
The interior is also very nice and easy to see the products.
The Madeleine store has a lively image, while the Luxembourg store has a classic feel, which I personally like very much.
I think the prices were a little high overall.
I think the clerks are also very helpful.
I think the ease of purchase depends on the product, but there are some places where baguettes are placed outside the checkout counter, which is a bit of a hassle, but overall, I don't think it's an inconvenience.
If it is not lunch time, it will not be so crowded.
The location of both stores is perfect.
The Madeleine store is located right next to the Madeleine Abbey and near the Rue Saint-Honoré, so you can easily stop by while shopping or strolling around.
The Luxembourg store is located near a park, so it is a great place to have lunch in the park on a sunny day.
This is a rating for two stores, but the overall rating is high.
To be honest, it will be more like a convenience store than a bakery.
However, I dared to introduce it as one of the bakery tours because of the high reputation of its croissants and other products.
This is a restaurant that you can enjoy no matter how many times you visit, so please visit it once.
Thank you again for reading to the end of this article.