Maison Mulot is located in the 6th arrondissement in the heart of Paris.
There are so many different products on sale that one word "bakery" doesn't even begin to describe them.
It's a very nice shop that reminds me of a good old store.
However, since 2016, the owner has changed, so the image may have changed a bit.
This is a great place to stop by during a stroll in the Saint-Germain-des-Prés neighborhood.
Maison Mulot
Practical information
Maison Mulot (Gérard Mulot)
address:76 Rue de Seine, 75006 Paris, France
Open: Monday-Sunday 07:00~20:00 
Closed: None
Nearest station: Odéon Line 4,10    Mabillon Line 10
History and Features of Maison Mulot
History
Opened in 1975 by Gérard Mulot.
In 2016, Gérard Mulot retired.
Fabien Rouillard, who has worked as a chef at Lucas-Carton and Fauchon, will be the chef.
The name of the bakery was changed from Gérard Mulot to Maison Mulot.
The recipe has been taken over from Gérard Mulot, and the new menu has been devised by Fabien Rouillard.
Features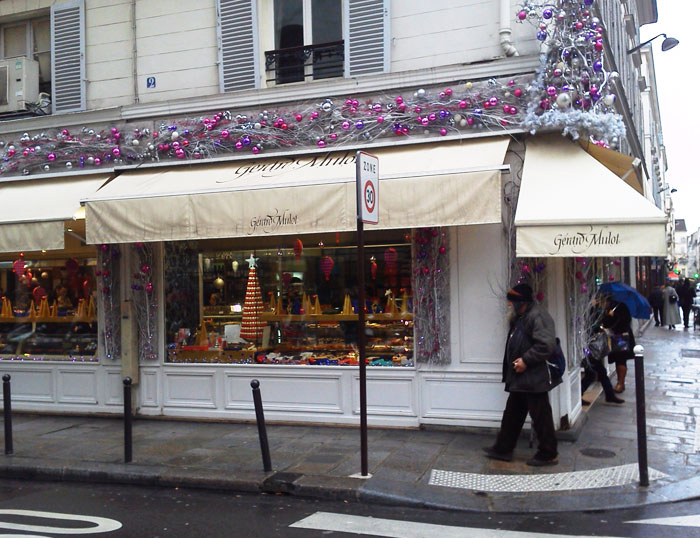 Anyway, a variety of food products are sold here.
The shop sells everything related to patisserie, including the very popular macarons, cakes, and baked goods.
There is also a well-stocked boulangerie section with baguettes, croissants, and of course, a wide variety of sandwiches.
The baguettes and croissants have often won top prizes in competitions.
In addition, there is a wide selection of side dishes.
This is a store where you can find anything you need for lunch or a side dish for your meal.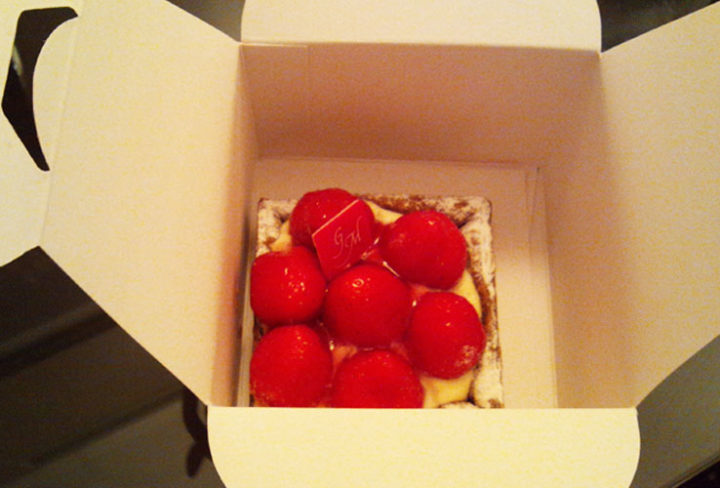 This is a cake from the Gérard Mulot era.
It was delicious and not too sweet.
Summary 
How was it?
The overall rating is as follows on a 5-point list.
Unfortunately, I haven't visited the new Maison Mulot, so this is an evaluation based on my time at Gérard Mulot.
I will update the information when I visit next time.
Maison Mulot (Gérard Mulot)
Taste:★★★★☆
Exterior: ★★★★★
Interior: ★★★★★
Price:★★★★☆
Store clerk : ★★★★☆
Ease of purchase: ★★☆☆☆
Location: ★★★★★
The taste is delicious 4 stars.
There are so many different products that I was not sure what to evaluate them based on.
The exterior looks very nice. The tent also has an atmosphere, a little old-fashioned and upscale.
The slightly long tent is well-balanced, giving the impression of a Parisian bakery in the image.
(However, after the renewal, it is no longer the tent introduced in the image this time. I think that the tent according to Google Maps will be considerably evaluated.)
The interior has a very nice atmosphere with a lot of history.
Like the exterior, it is a nice space with a nostalgic feeling.
I forgot the price, but I don't think it was expensive.
It is an image of a bakery that is reasonably priced and rooted in the local area.
I don't have any particular impression of the shopkeepers, but they were very kind to me when I was choosing macarons.
(But the accounting was wrong.)
Unfortunately, the ease of purchase is 3 stars.
This was not only a problem with the store, but also with me, but at that time, perhaps I went at the wrong time, but it was always crowded, and I had to wait in line to buy something.
Also, even if you bought macaroons or cakes, the checkout was at the bakery location, so it was a bit complicated.
The clerk was also quite confused when the place was crowded.
The location is very convenient.
It is located in the Saint-Germain-des-Prés neighborhood, so it is a good place to stop by during a stroll or while visiting other bakeries.
Nearby is the Église Saint-Sulpice (Church of Saint-Sulpice), which was featured in Dan Brown's book "The Da Vinci Code".
This article will be updated in the future.
Thank you again for reading to the end of this article.