The sim card introduced this time is SFR LA CARTE CONNECT.
SFR is a major French telecommunications company.
Until now, we've introduced Orange Holiday, Free Mobile, Bouygues telecom that popular sim cards in France, but each of them has its good points and bad points.
SFR LA CARTE CONNECT has many bad points, but it has very good point compared to other sim cards.
That's the price.
If you compare the sim card introduced by price, Orange holiday> Bouygues telecom > Free mobile > SFR LA CARTE CONNECT. (H>L)
Let's see what's great about such a low-priced sim card.
SFR LA CARTE CONNECT
| | |
| --- | --- |
| Price | 14.99 Euro |
| Call | No (reception is possible) |
| Data | 15GB |
| Internet speed | 4G (3G in some places) |
| Expiration date | 25-30 days |
| Available regions | France only |
Most attractive of all is the price of 14.99 euros.
It is cheaper than Free mobile.
As for the call,The stuff told me thatI could not make a call.
However, phone numbers are allocated.
Therefore, I did not try to make a call, but I was able to receive it without problems.
Data is 15G.
You may think that there is little data, it was 10G in Orange Holidayuntil last year.
In experience, if you are staying for about 10 days, it is enough to have 5G even if you check the web, see google map, SNS every day.
However, if you watch Youtube or upload a large amount of data, you may feel less.
Internet speed is 4G.
SFR is said to be weak compared to other telecommunications companies, but the actual feeling of use was not much different from Bouygues Telecom.
In some places, SFR rarely becomes 3G when Bouygues is 4G.
Either way, I felt that the Internet network in the building was slightly weak.
Valid for 30 days.
Available only in France.
If you will go to other countries during your stay, I can't recommend it
How to get at Charles de Gaulle Airport
Where to get and how to do it
This time, we will introduce how to purchase at Terminal 2 used by Air France.
You will buy SFR LA CARTE CONNECT at a kiosk called RELAY in France.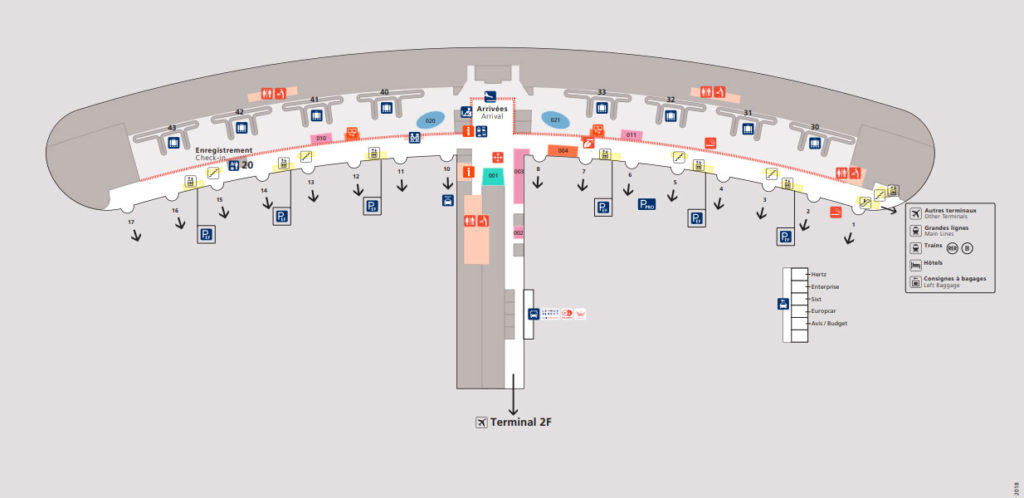 Above is the plan, after the customs inspection, go outside.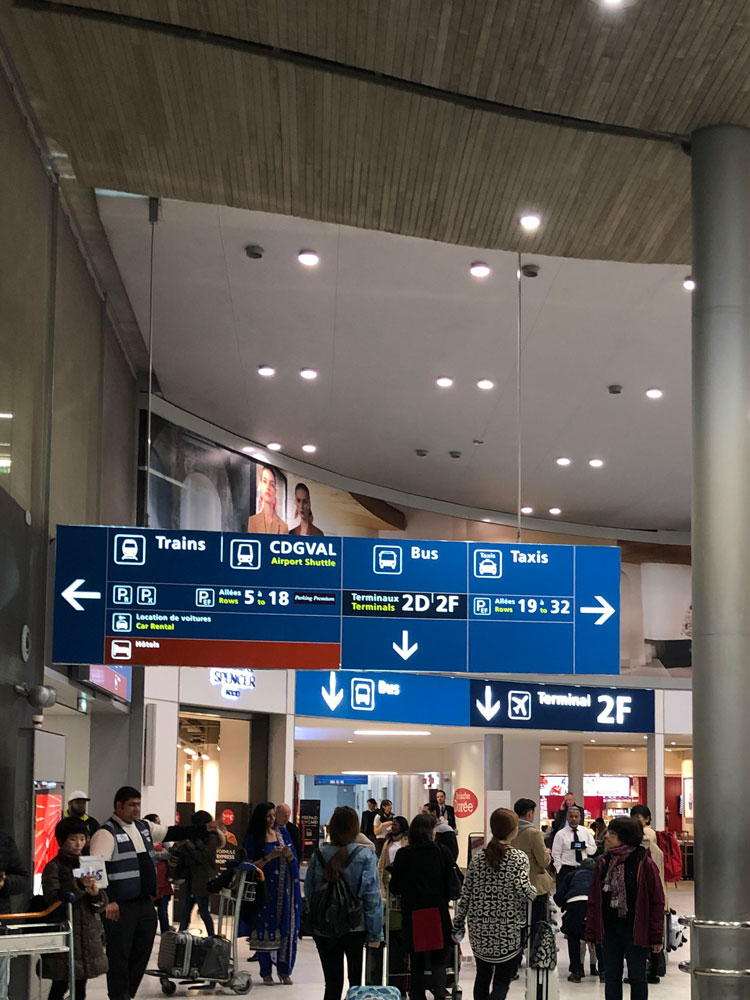 When you go outside, head to your left.
Train is written on the signboard, it's the RER B line, so you will proceed toward that.
If you plan to take the Roissy Bus to Paris, the ride will be straight ahead.
This time, I will introduce RELAYon the way to line B, but there is a RELAY in the back of Marks & Spencer.
If you plan to use Roissy Bus or Le bus direct, this RELAY is more convenient.

In addition, it seems that there are not sell the sim card of SFR introduced in this RELAY. According to my sources, it was not handled.
It is good to think about lucky if there is.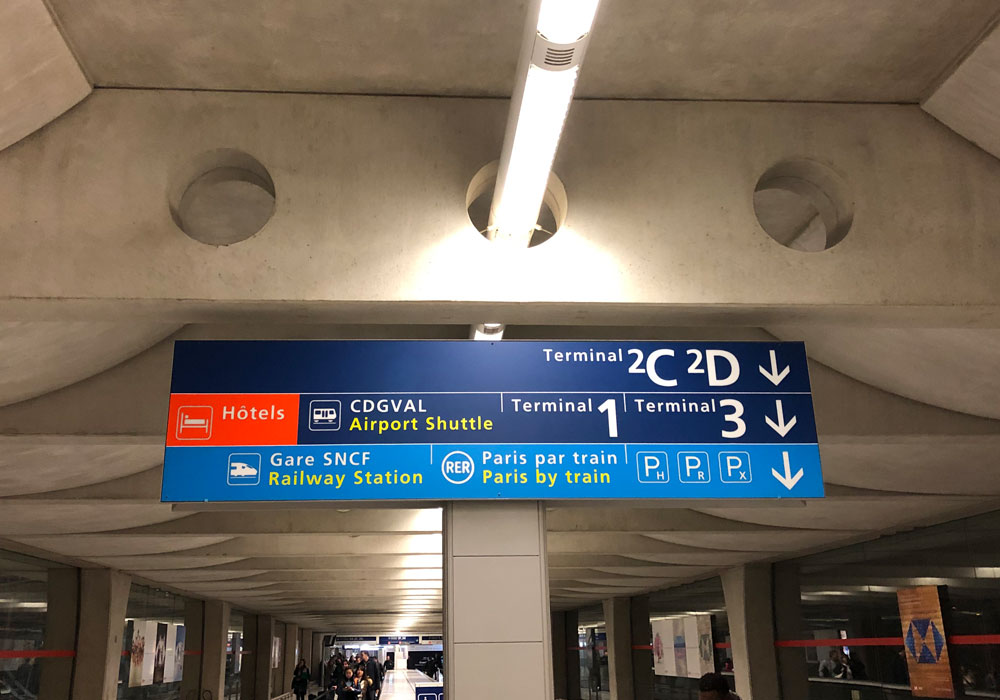 If you go on for a while, there is an escalator, so you will climb there.
If you go further, there is a moving sidewalk, so youcan see RELAY on your right.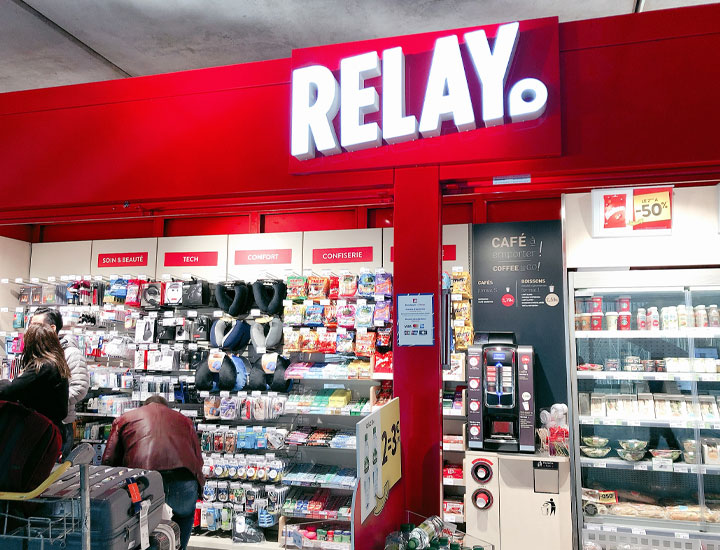 Travel goods and sweets are mainly sold.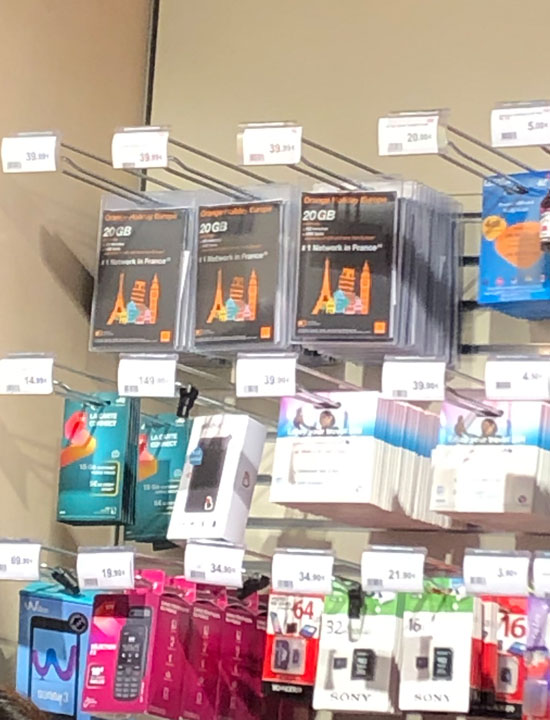 The sim card is placed behind the sales staff, so let's choose it by speaking out.
Sim cards can be placed near or behind counters at any shop to prevent theft. Don't try to get it yourself, be sure to call out and have it taken.
The left green package in the second row from the top is the SFR SIM card.
What's included in the package
What is included in the package is very simple compared to Orange Holidayand Bouygues telecom.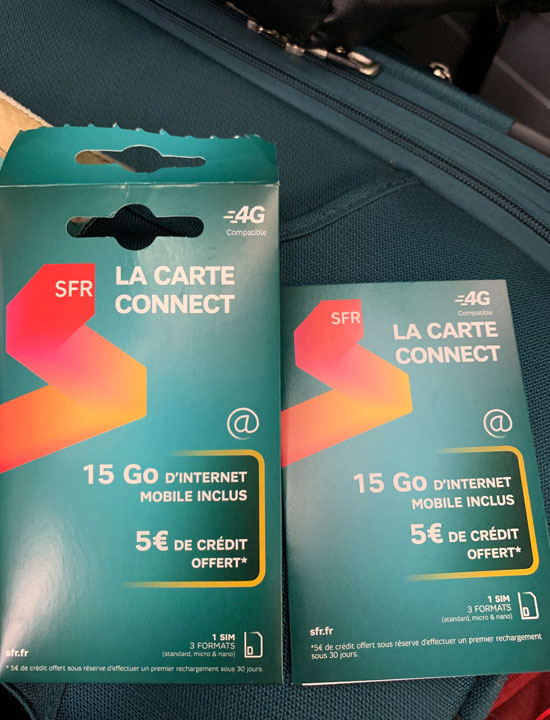 The size is slightly larger than the business card.
It has a compact User's Manual with exactly the same design.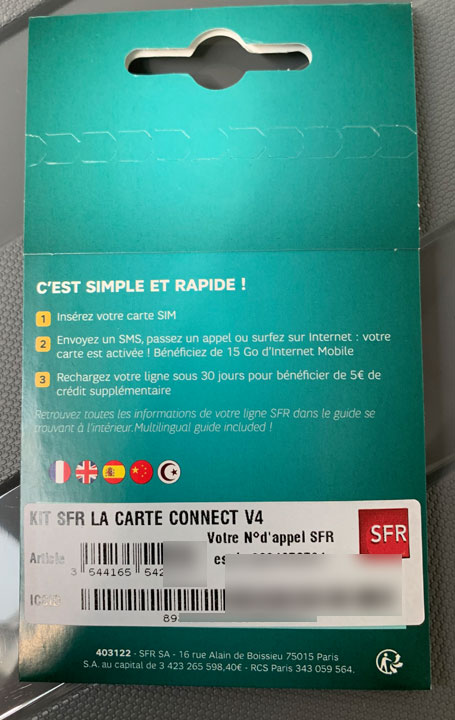 Opening opens easily by pulling the part of the band with the cut.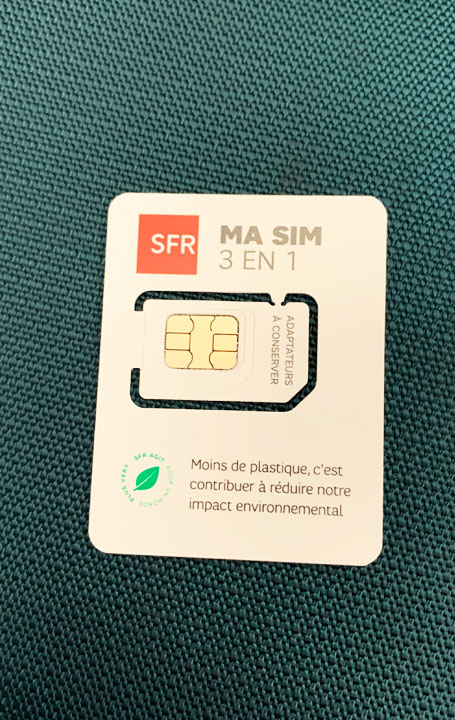 The card is also the most compact I've ever used.
Of course, the size is multi-cut type, so it can be used with any smartphone.
How to activate
Activating SFR LA CARTE CONNECT is very easy.
Like Bouygues telecom, you have to operate it yourself, but there's no particular problem.
Insert the SFR LA CARTE CONNECT sim card on your smartphone and you're finished.
When you insert the sim card, you will be asked for a passcode because the sim lock will be on.
The number you enter here is

0000

Honestly My mind went blank because it is not listed anywhere in the package.
Please do not to make a mistake, to enter it.
Please note that if you make a mistake three times, a real lock will be placed.
Procedures after activating
After activating and you'll receive the following email: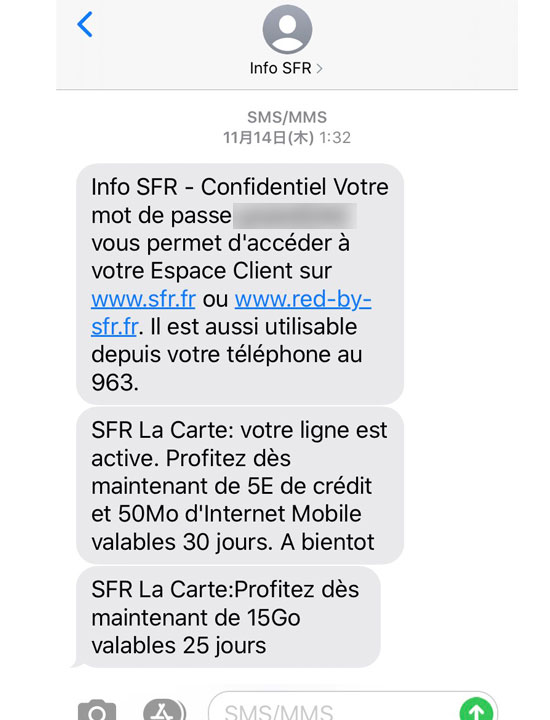 You'll first get a passcode, so go to the link or call 963.
The passcode at this time will be the passcode to be accessed at the link.
Next, you will be received that 5 euros of credit and 50M ofdata are valid for 30 days.
Finally, you will be received when 15G data is valid for 25 days.
It says 25 days, but the account displays after 1 month, so I think you can use it for 30 days.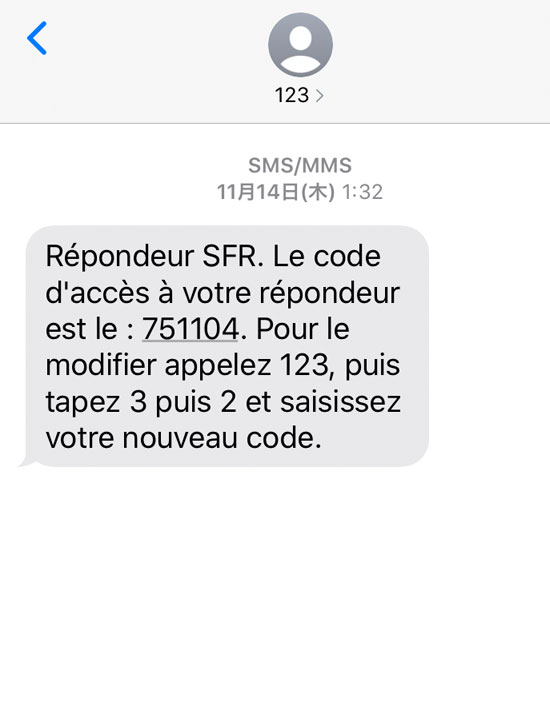 After that, you will receive the above email immediately.
Description of the answering machine access code and how to change it.
If you do not use it in particular, you can ignore it.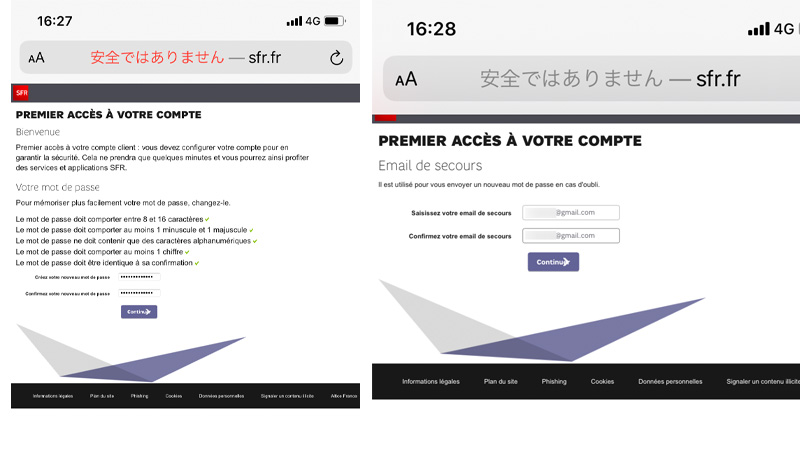 It may be linked to the screen to register the password and e-mail as described above, so please follow the instructions.
How to register as a user
SFR LA CARTE CONNECTrequiresuser registration like any other sim card.
However, like Bouygues telecom, we didn't receive a message a few days after the activating, and we received a notification a week after the activating.
If you return home within a week, you may not be particularly necessary.
Of course, I think that there is a difference in the number of people who receive e-mails of user registration.
(When I used it at another time, I was received it on the 3rd to 4th days))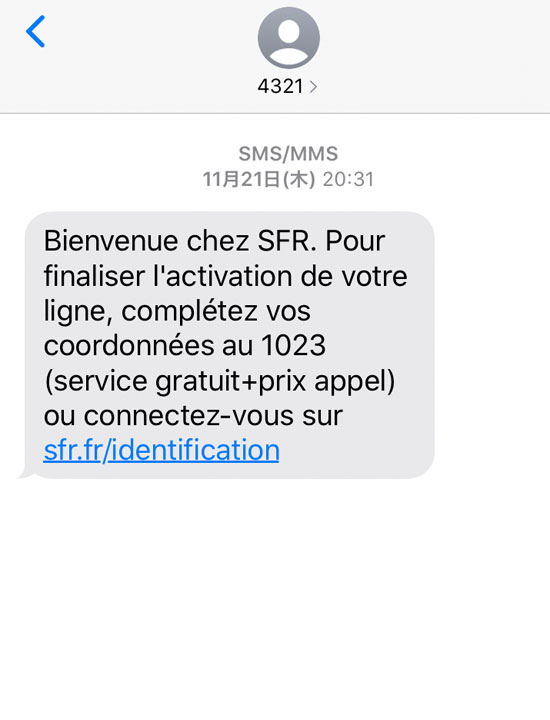 To complete the line activation process, call 1023 or visit the site.
It is difficult to call, so access the linked address.
How to create an account page
Access the page linked to the previous email.
If the link does not open, or if you want to perform the procedure on a PC, please click here.
Formulaire d'identification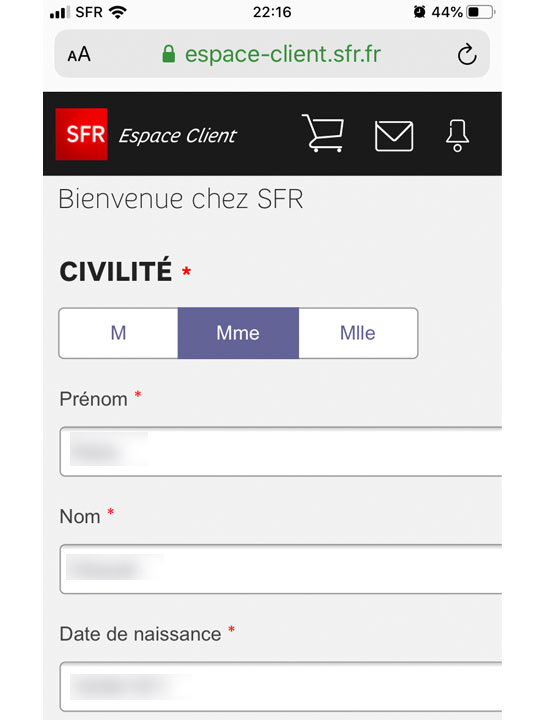 First, choose a title.
M: Male
Mme : Married Woman
Mlle : Single Woman
Then
Prénom : Last name
Nom : First name
Date de naissance : Birthday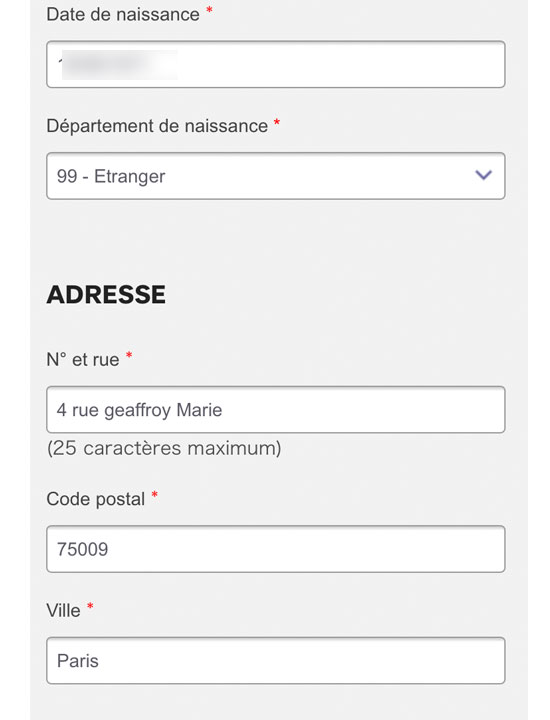 If you go to the bottom of the page,
Département de naissance :Place of birth,
but not on the list, so choose 99-Etranger (foreign).
After that, you will enter the address.
Please fill in the address of the hotel where you are staying.
This time, I have entered the address of ACADIA HOTEL.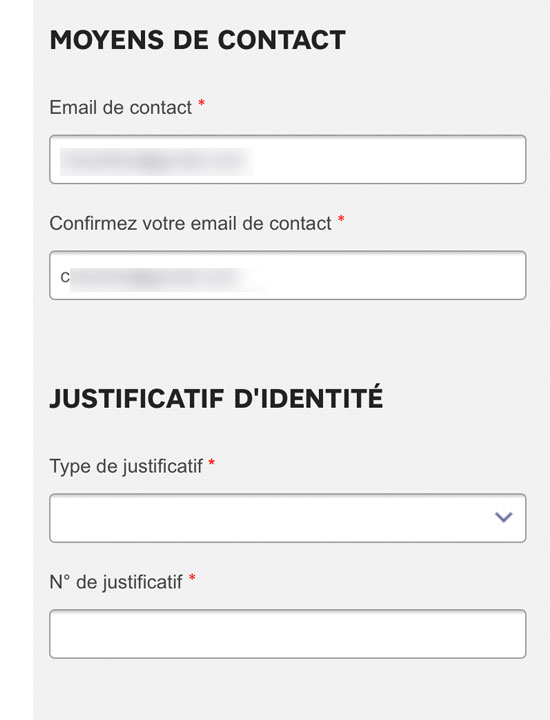 MOYENS DE CONTACT: How to contact you.
Here is your e-mail. The lower row is for confirmation, so please enter the same e-mail.
JUSTIFICATIF D'IDENTITÉ: You will be filled out with identification. It is a pull-down menu, so click it.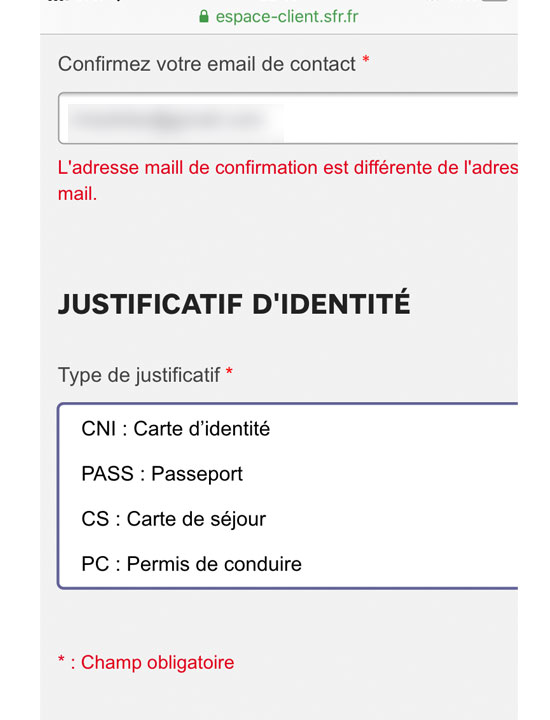 Select PASS : Passport second from the top.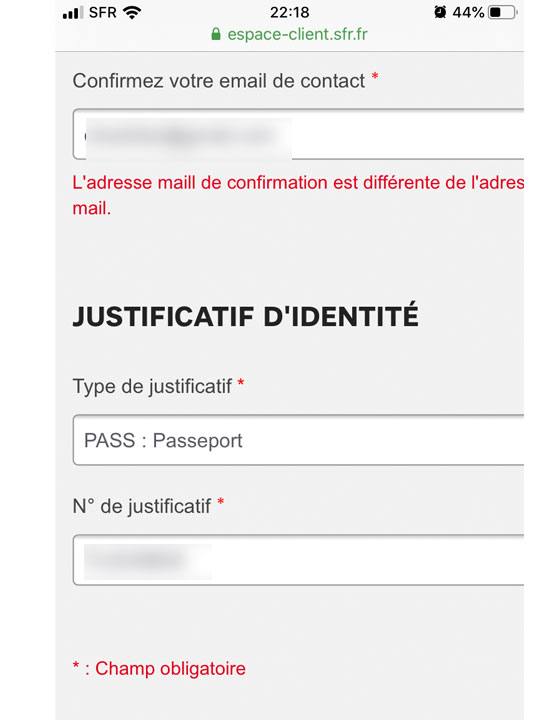 N°de justificatif : Enter your passport number.
This is the end of the input.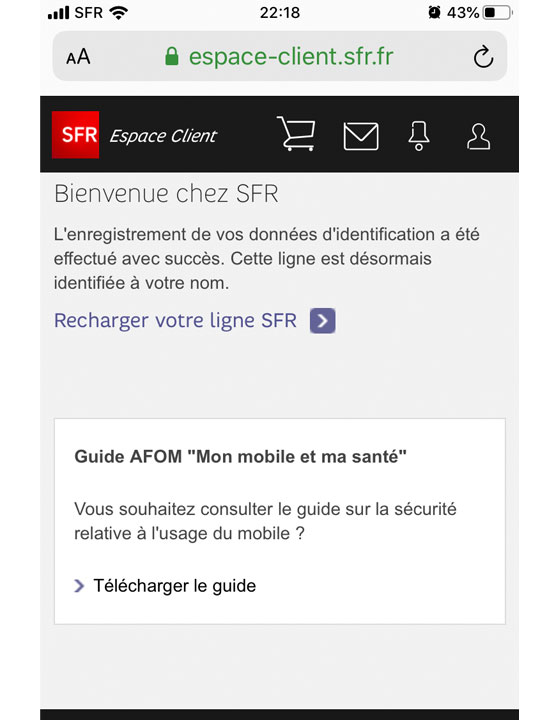 When the input is completed, the above screen will be displayed.
Now you can use it until within the validity period.
How to login to your account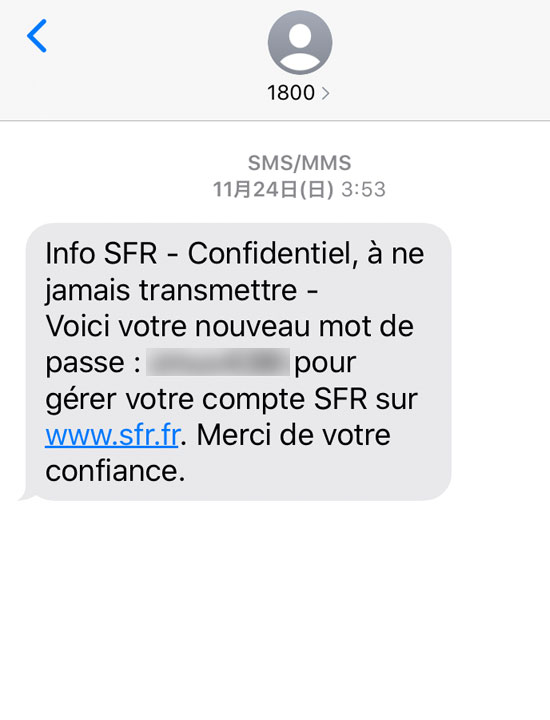 Once your account has been successfully registered, you will receive SMS like the one above.
To login to your account, click on the linked address and copy and paste the password that follows passe:.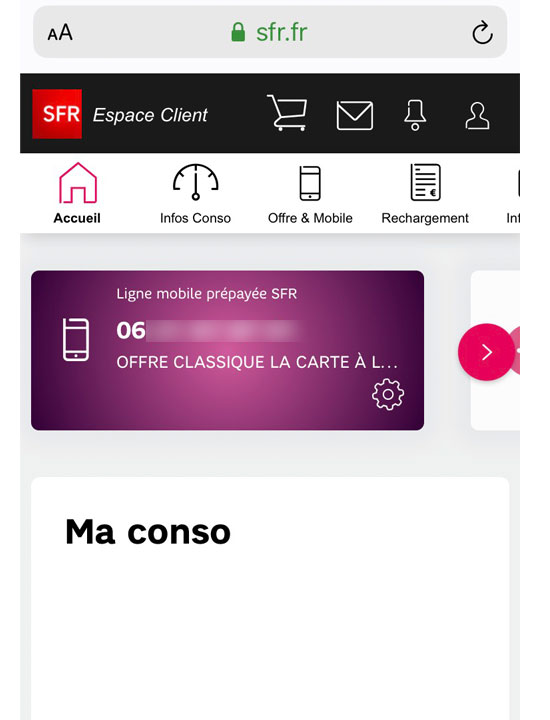 Your phone number is displayed on the page.
There's not much to see, but to see how much data you're using, tap Infos Conso.
(Conso stands for consommation.)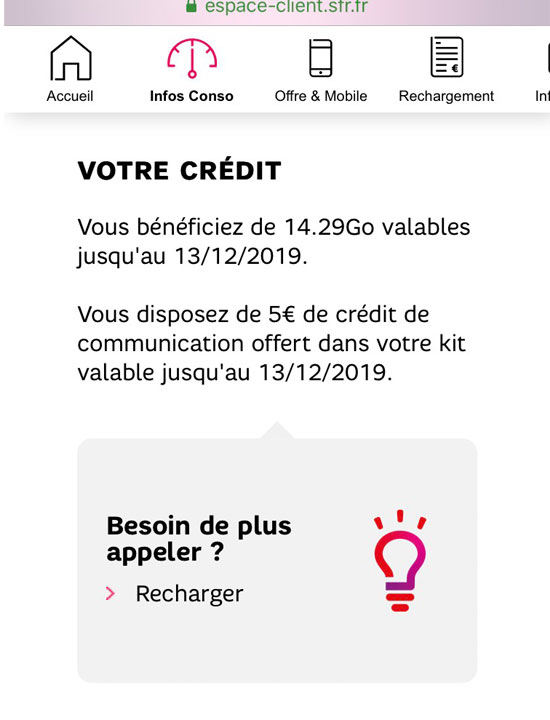 I think it will look like this.
On the first line,
Vous bénéficiez de 14.29G valables jusqu'au 13/12/2019
It is written, Valid at 14.29G untilDecember 13, 2019.
This part of the data will be within the range that can be used remaining, so if you are worried about using too much data, please check it.
Tap Offre & Mobile to see more features and options.
I don't understand everything, so if you are interested, please try various things as you like.
How to top-up?
The top-up is attractive to SFR.
Let's take a look at how to top up.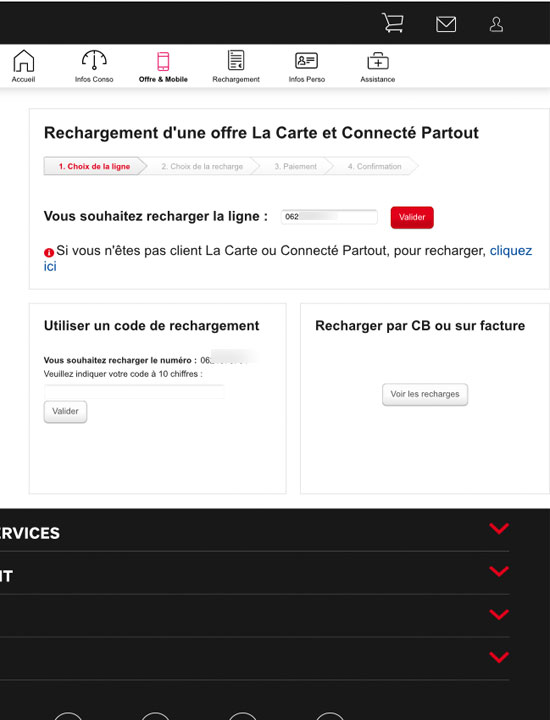 Tap Rechargement on your account page.
Then, the pc version of the pagelike the above will be displayed.
It may be a little difficult to see when operated with a smartphone.
Vous souhaitez recharger votre ligne : automatically enters your number.
In this state, tap the next valider.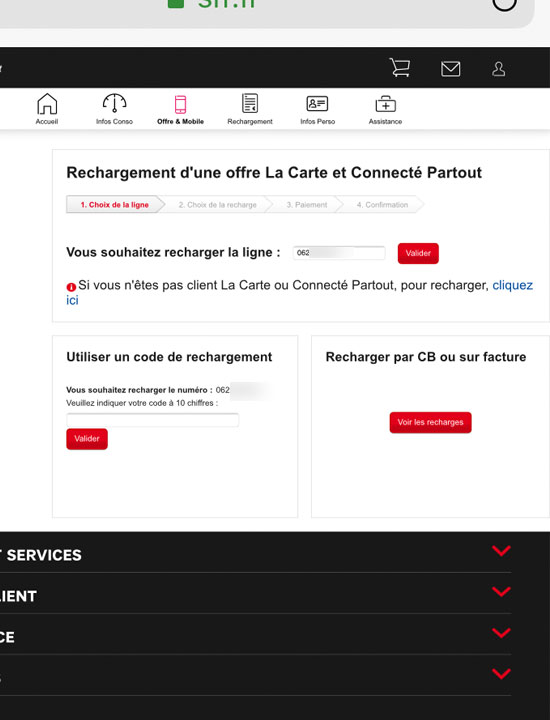 In the bottom two frames, make sure that Valider and Voir les recharges in Utiliser un code de rechargement and Recharger par CB ou sur facture are red.
When you're in this state, you're ready to top up.
First ofall, Utiliser un code de chargement in the lower left, this is a way to make sure you can top up.
It's a way to buy top-up cards at kiosks and convenience stores such as RELAY.
Enter the 10 alphanumeric characters drawn on the card andtap valider to complete the top-up.
And the other is to top up on the internet with a frame that says Recharger par CB ou sur facture.
Tap Voir les rechargeswhen it turns red.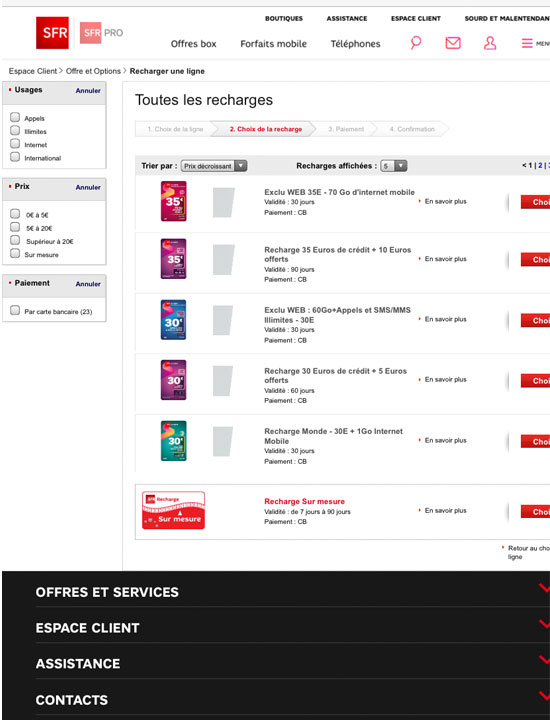 Then you can see all the top-up types of plans.
Select a plan that is suitable for your application.
You can narrow down the items in the box on the left, so check what you need.
Usages : use
Appels : Call
Illimitones : Unlimited
Internet: Internet
International:For International Use
Prix: Price
0€ à 5€
5€ à 20€
Supérieur à 20 euro : €20 or more
Sur mesure : Bespoke
Paiement : payment
Let's see what kind of plan we actually have.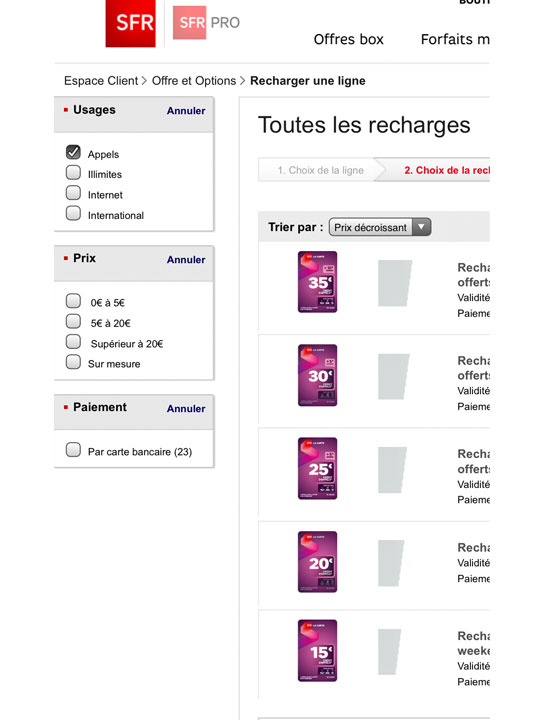 First of all, it is a plan of the person who needs the call.
Depending on the plan, the number of days that can be used is different.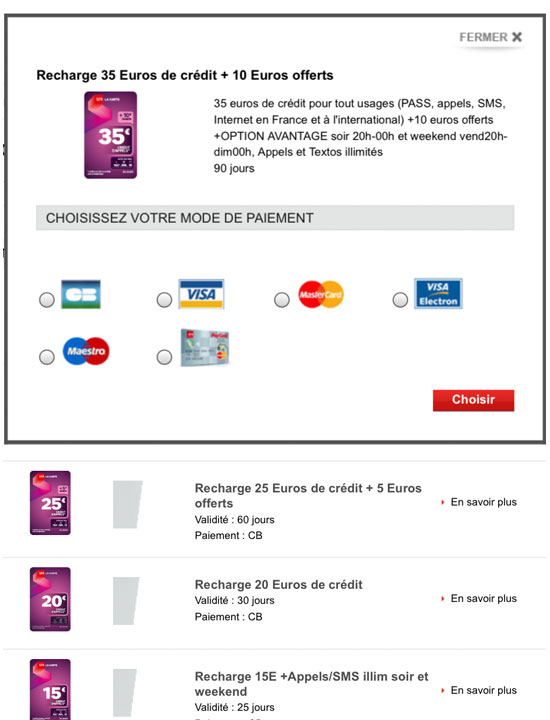 In the case of the 35 euro plan, it can be used for 35 euros for SMS, internet in France, etc., and calls are unlimited and the validity period is 90 days.
I don't think you need much of the plans that appear in Appels.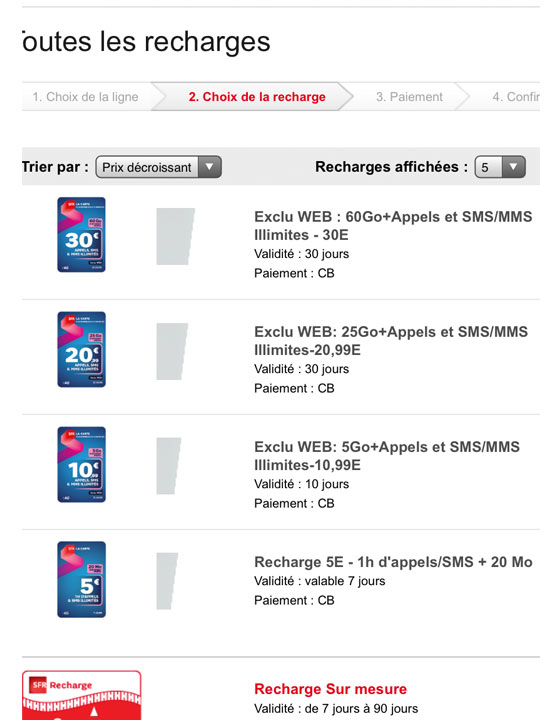 Next, you choose an unlimited plan, you'll find an attractive plan.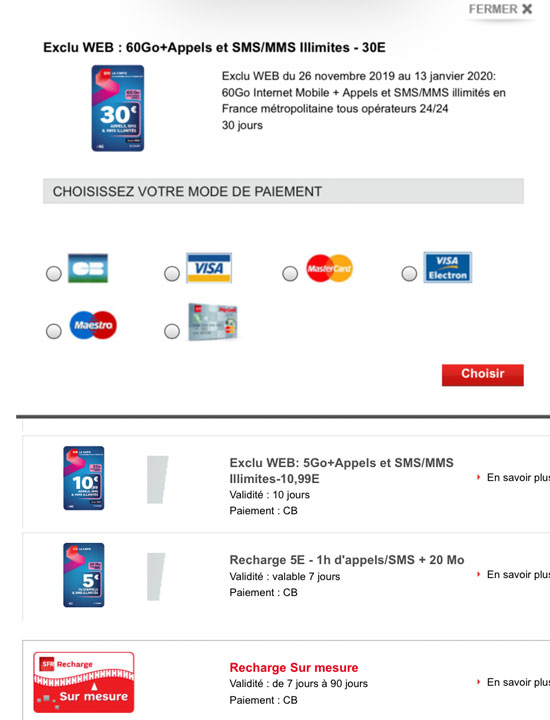 If you look at the 30 euro plan, the sales period is limited, butit isa pretty attractive plan that can use 60G and has unlimited calls and SMS in France.
If you want to keep costs down abit more, there are also plans for €20.99 and €10.99.
It may be good for those who stay longer or consume a lot of data.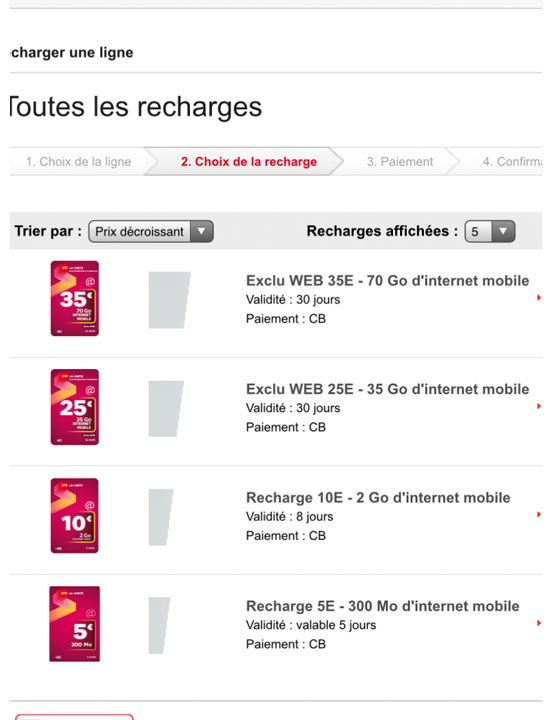 Next is the plan focused on the Internet.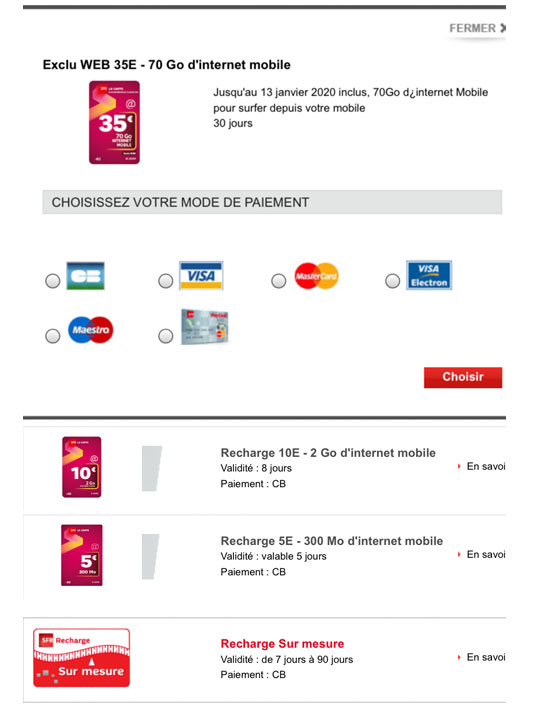 This is also a limited plan on the web, but if you want to top up to 35 euros for 70G, 25 euros for 35 G, and 10 euros for 2G.
I think you will choose one of these.
Compared to Orange Holidayand Bouygues, the data is set to be quite cheap.
How to solve problems during your travels
When you have any trouble, the first thing you want to try is the following two points.
Turn off your phone
Re-insert the sim card
Surprisingly, there are cases where it is solved by either method, so please try it first.
If it does not solve the problem, we recommend that you go to an SFR store near you.
If you turn it back on, you may be asked for a passcode,so enter 0000.
How to check your data usage
Checking the remaining amount of SFR LA CARTE CONNECT is very unique.
You can also check from your account, but youcan check it by SMS more easily.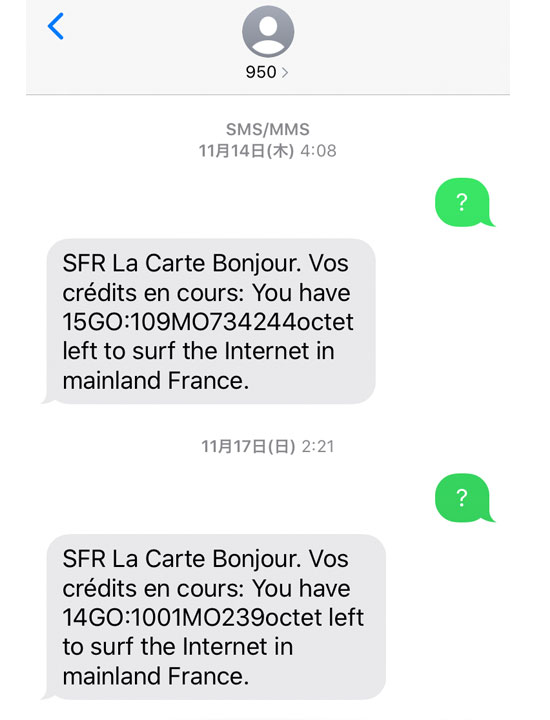 SMS tonumber 950 ? Just send.
Usually, the above answers come within one minute, but there were many times when the reply did not come depending on the time.
If you don't get a good reply, please try again after a while.
Summary
How was it?
Since it is only just starting to use it, there are some parts that are uncertain, but I can recommend it in total.
It's limited to use in France, but you can get it for less than half the price, Orange Holiday or Bouygues.
And it's cheaper than Free Mobile.
User registration is also completed via the Internet, so there is no need to go to an SFR store.
And for those who often use the amount of data, I think that the cheapness of top-up data is one of the attractions.
Why don't you try it as one of a sim card for your next trip?
Below is a guide about other French sim cards.
Since there is a part that I have discounted the basic contents, I think that you can use the sim card without stress if you can see it together.
Thank you for reading to the end again this time.