Located in the Marais district in the 3rd arrondissement of Paris, Jacques Genin's store is a stylish place that you would not expect to find a sweets store, and it also has a cafe.
Pâtes de fruits, known as jewel jelly, is so delicious that even I, who never eat jelly, am surprised.
And let's not forget the caramel.
People say that caramels in Paris are very tasty and completely different from the rest of the world, but after trying the caramels at Jacques Genin, I understood what they meant for the first time.
I know many of you are skeptical, but this is one of the stores you must visit in Paris.
Jacques Genin
Practical information
Jacques Genin
address:133 Rue de Turenne, 75003 Paris, France
Business hours: Tuesday – Sunday 11:00~19:00 
Closed: Monday
Nearest station: République Line3 Line5 Line8 Line9 Line11
     Filles du Calvaire Line8
Features of Jacques Genin
Opened in 2008, this store in the Marais is a store, café, and atelier all in one, a building that has everything Jacques Genin.
All of the products are highly recommended, but I would like to introduce some of the best ones.
Pâtes de fruits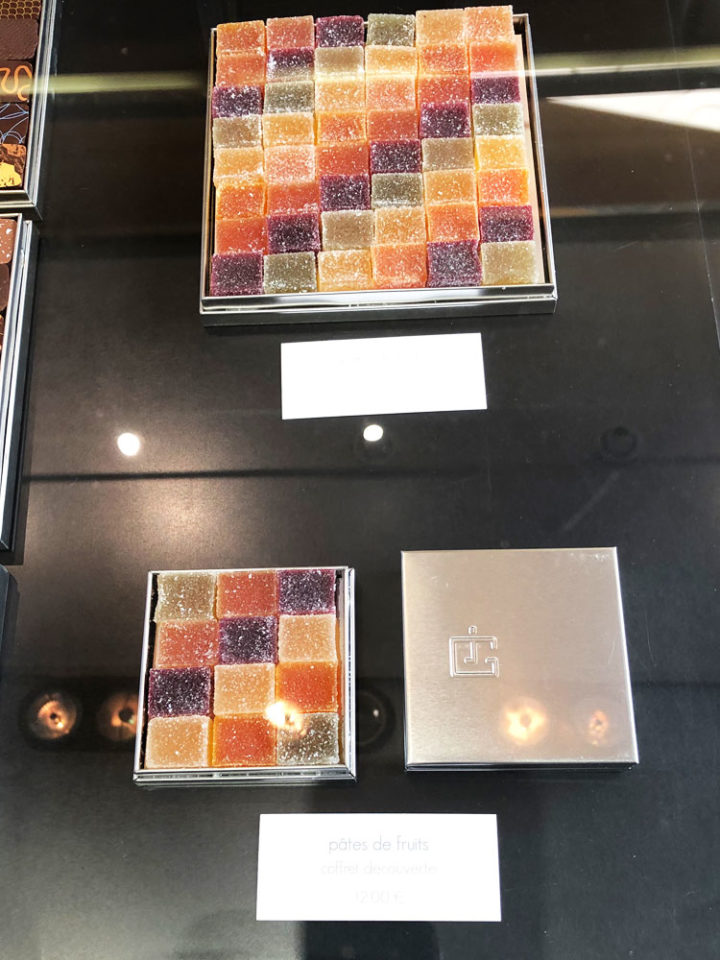 Pâtes de fruits
It will be like fruit jelly and gummy bears together.
I don't usually eat them, but I heard that they are delicious and bought one.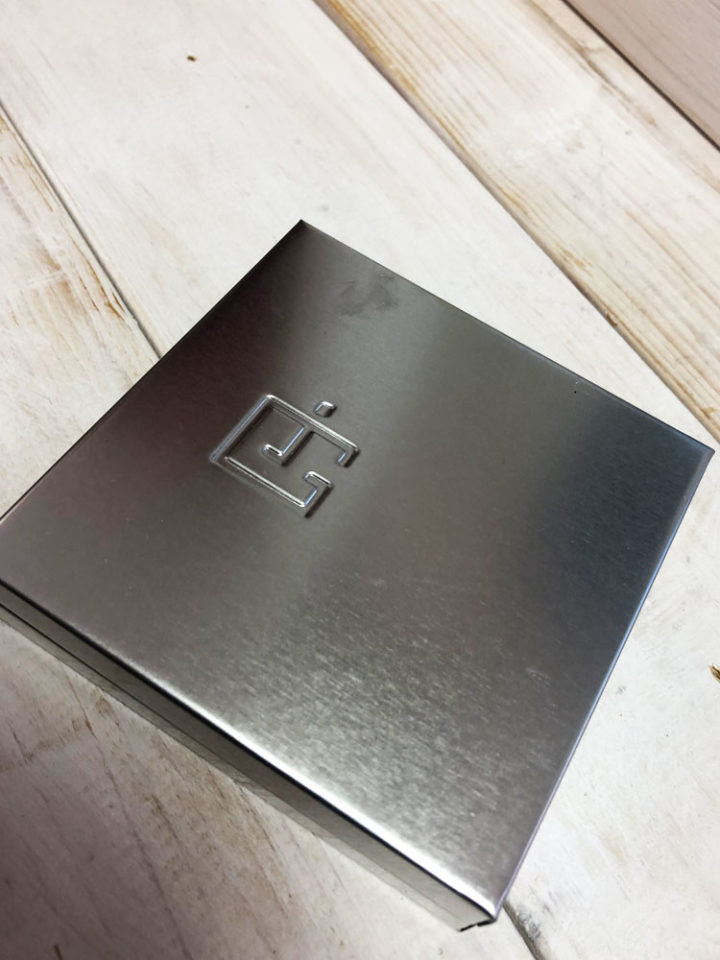 It comes in a silver case, so you can't tell what it is at first glance.
It is said that the reason they use this case is so that they can carry it around in their pocket.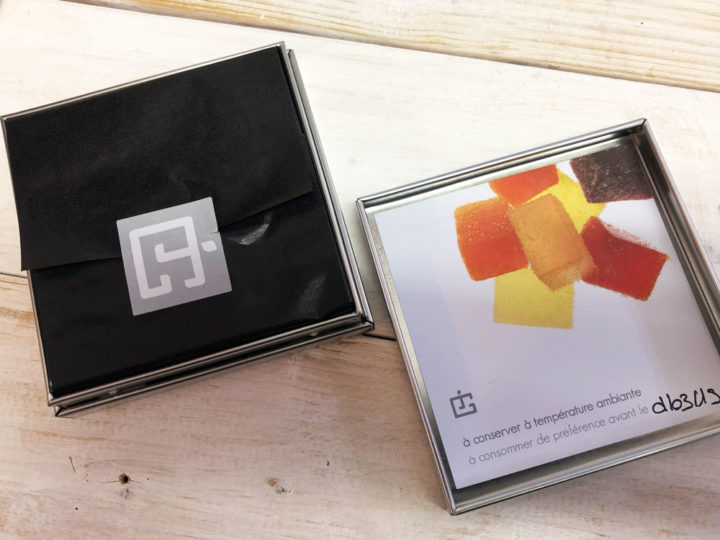 When I opened it up, my anticipation grew even more.
It is carefully wrapped in thin black paper.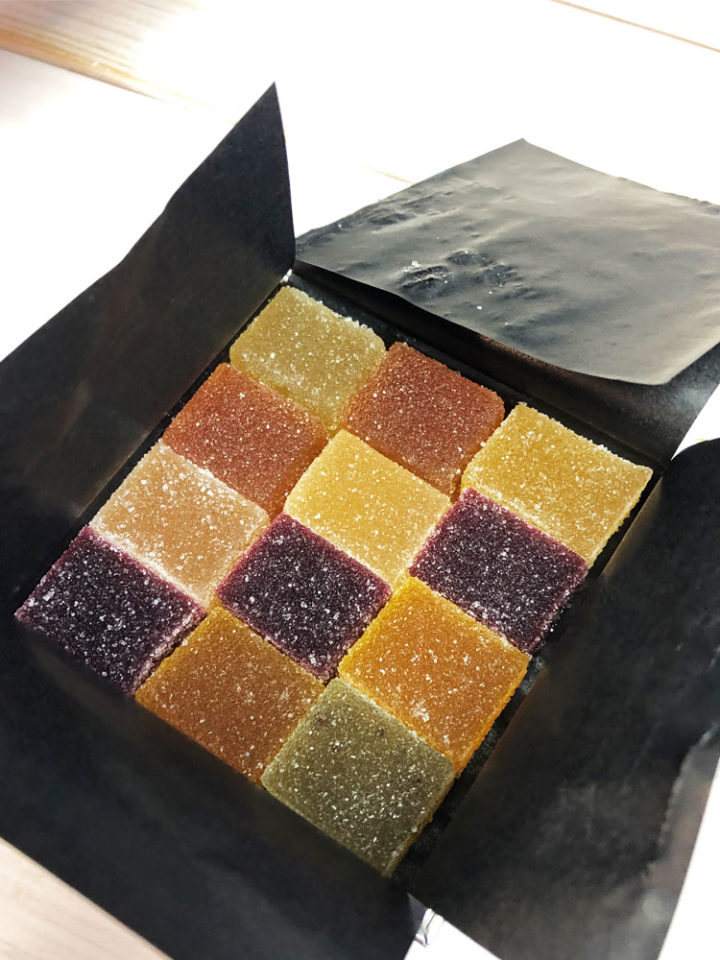 Anyway, it's beautiful.
I honestly didn't know what flavor combination to ask, so I left it to the clerk.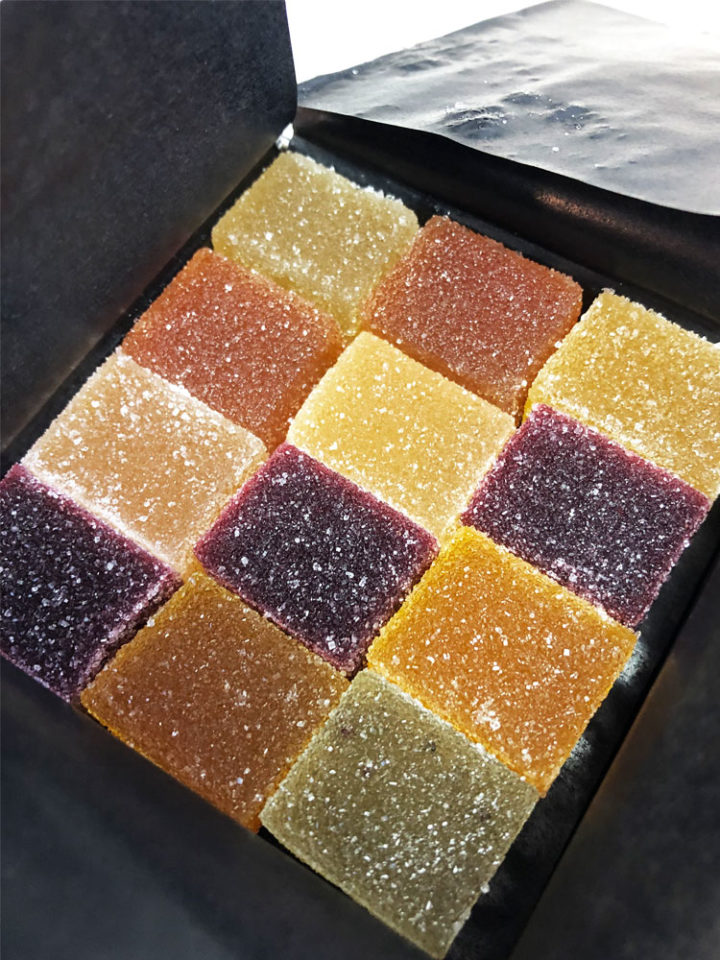 Jellies are jellies, but they have a different juice feeling when you bite into them.
It's really like a concentrated fruit.
It's a strange feeling that is hard to experience, so I highly recommend purchasing one when you visit.
Caramels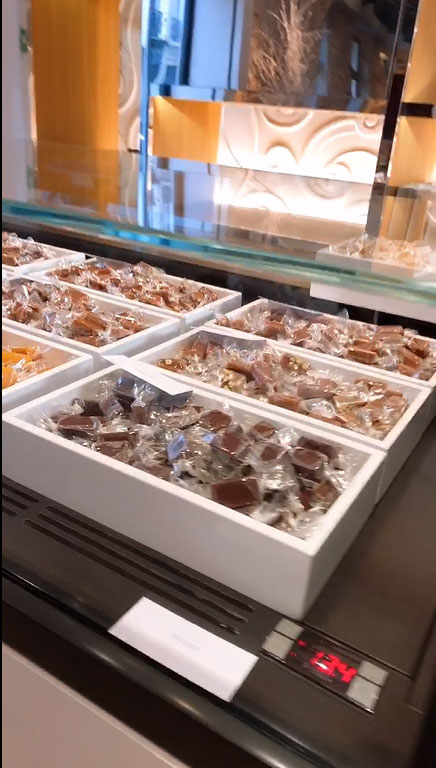 The next one I would recommend is caramel.
It seems to be more famous for its caramel than its jelly, but of course it is very tasty.
The French caramels seem to be very smooth and deep in flavor.
Also, since caramels are sold in many different stores, each store has its own character, and comparing caramels is one of the pleasures of Paris.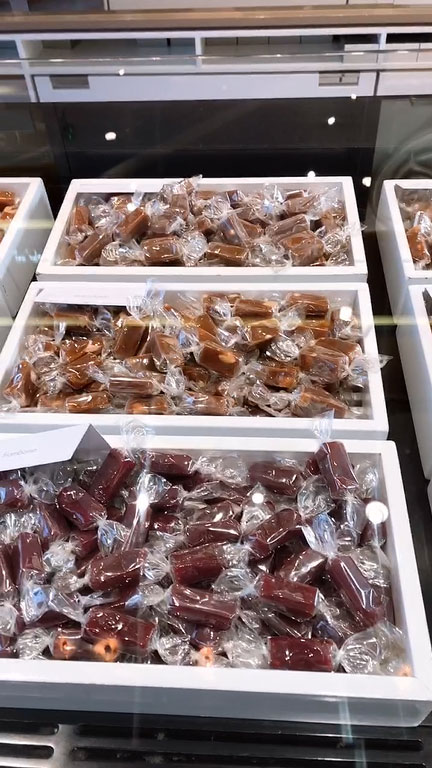 Jacques-Genin's caramels are of course delicious in their basic flavors, but I especially recommend their fruit-based caramels such as mango, raspberry, and blackcurrant.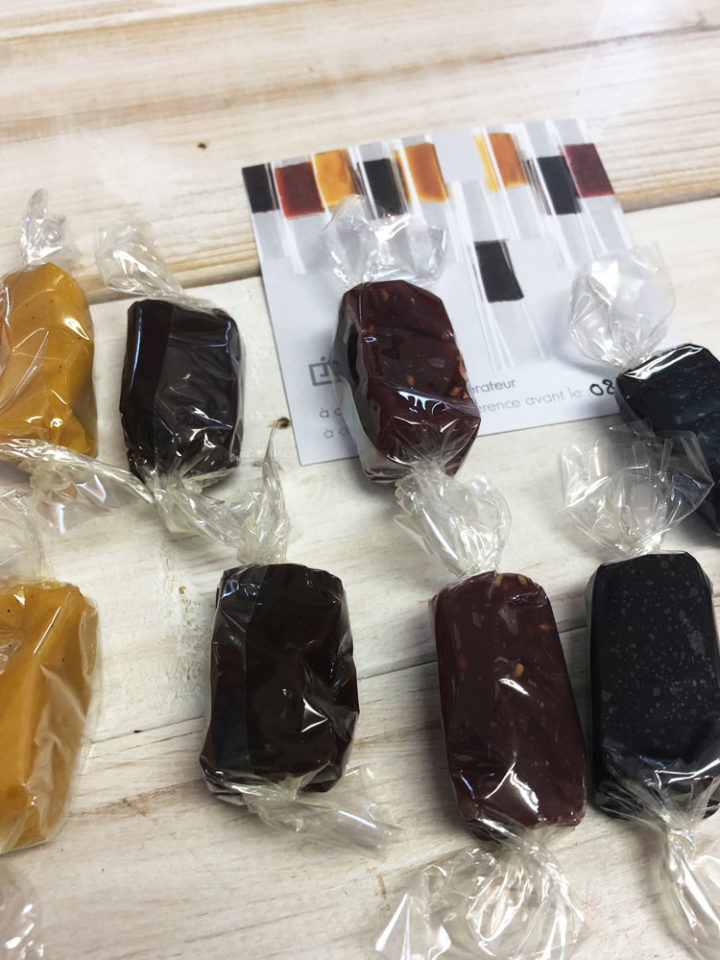 You can choose to buy just one, so be sure to taste a variety and find your favorite flavor.
The texture will change quite a bit as the day goes on, so please consume as soon as possible.
CHOCOLATS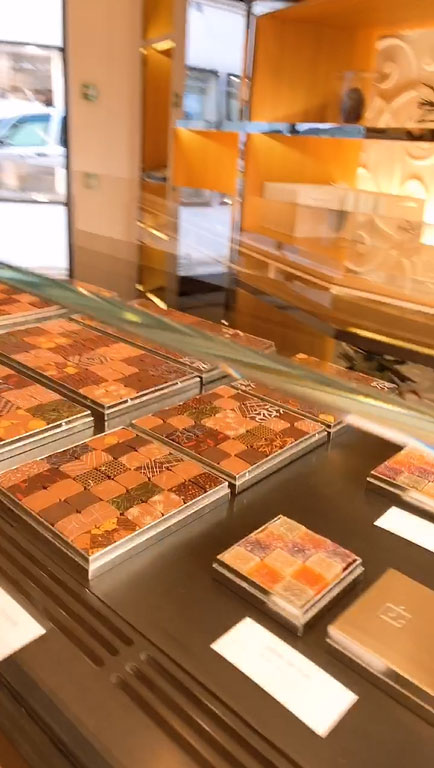 Others, of course, recommend chocolate.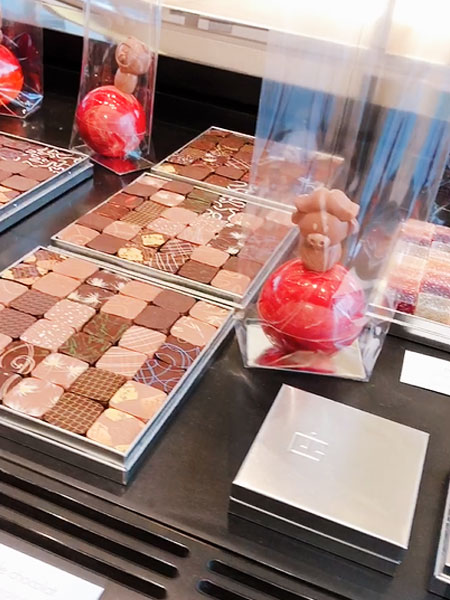 Jacques-Genin is so particular about their chocolate that they order their own couverture from Valrhona.
I've always loved Valrhona chocolates, so I can't stop eating them.
Summary
How was it?
The overall rating is as follows on a 5-point list.
Jacques Genin
Taste:★★★★★
Exterior: ★★★★☆
Interior: ★★★★☆
Price:★★★☆☆
Store clerk : ★★★★★
Ease of purchase: ★★★★☆
Location: ★★★★☆
The taste may not be to everyone's taste, but I think it is elegant and delicious.
The exterior and interior are both lovely, but there is no Parisian atmosphere.
I felt like it was too orderly, and I would have preferred a little more clutter.
The price is naturally high, but I guess it can't be helped considering the cost of making it taste good.
The clerk was very nice and polite.
They listened to my various requests and were able to handle even a small amount without any displeasure.
Ease of purchase is not a major problem, but choosing one by one might take some time because the sales floor is so large.
The location is very convenient as it is within walking distance from République.
République is served by several metro lines, so it is easily accessible from anywhere.
It's also a great place to stop by while strolling around the Marais, so be sure to check it out!
If your itinerary doesn't allow you to visit the Marais, you can also drop by the store in the 7th arrondissement of Paris.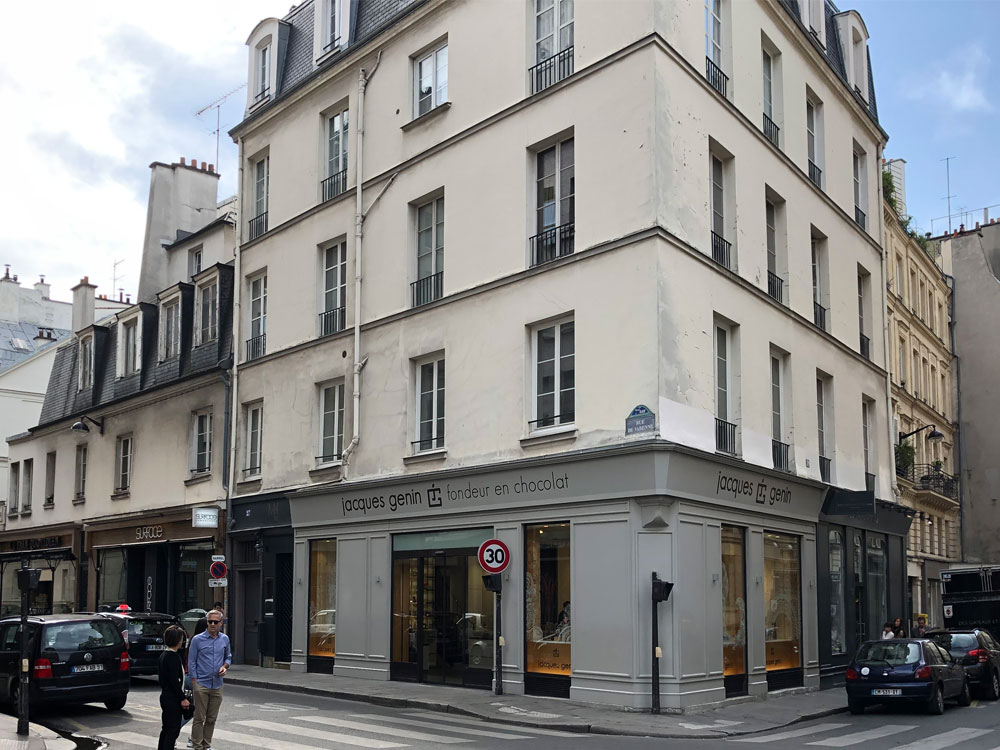 Jacques Genin
address:27 Rue de Varenne, 75007 Paris, France
Business hours: Tuesday – Saturday 10:30am – 7:00pm 
Closed: Sunday and Monday
Nearest station:Rue du Bac  Line12
Thank you again for reading to the end of this article.