The most popular sim card for traveling to France is the Orange Holiday sim card, which we also recommend on our site.
It is a very convenient sim card that can be purchased immediately at Charles de Gaulle Airport and can be set up at the counter, but it is not without its drawbacks.
The biggest drawback is that it has an expiration date of 2 weeks.
The problem was that if you plan to stay longer than two weeks, you have to pay an additional fee to top up.
It is the Bouygues Telecom sim card introduced this time that solves such an expiration problem.
This sim card is valid for 30 days from the time of use, so if you are thinking of staying for a long time, it is recommended because you can use it without a top-up on the way.
Okay, let's get down to business.
Bouygues telecom sim card (called My European SIM)
Basic information
My European SIM
| | |
| --- | --- |
| Price | €39.90 |
| Call | Unlimited (within France only) €25 free (calls outside France) |
| Data | 20GB (15G is available in the EU) |
| Internet speed | 4G (3G in some places) |
| Expiration date | 30 days |
The price is about the same as Orange Holiday.
As for the call, the call outside France may be a negative point.
Data is 20G, which is the same as Orange holiday, but the amount of use in the EU is limited to 15G, so be careful if you are staying outside France for a long time.
The Internet speed is 4G.
However, I think that it often becomes 3G in other countries in EU.
As for the feeling that I actually used, I felt that the Internet network in the building was slightly weak.
And the big difference is the validity period.
For two weeks on Orange Holiday, Bouygues telecom will be valid for 30 days.
How to get at Charles de Gaulle Airport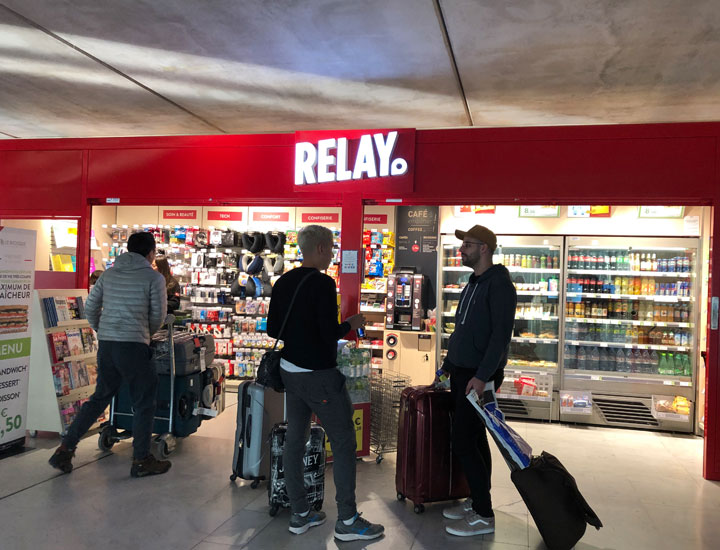 Where to get and how to do it
This time, we will introduce how to purchase at Terminal 2 used by Air France.
You will buy Bouygues telecom SIM at a kiosk called RELAY in France.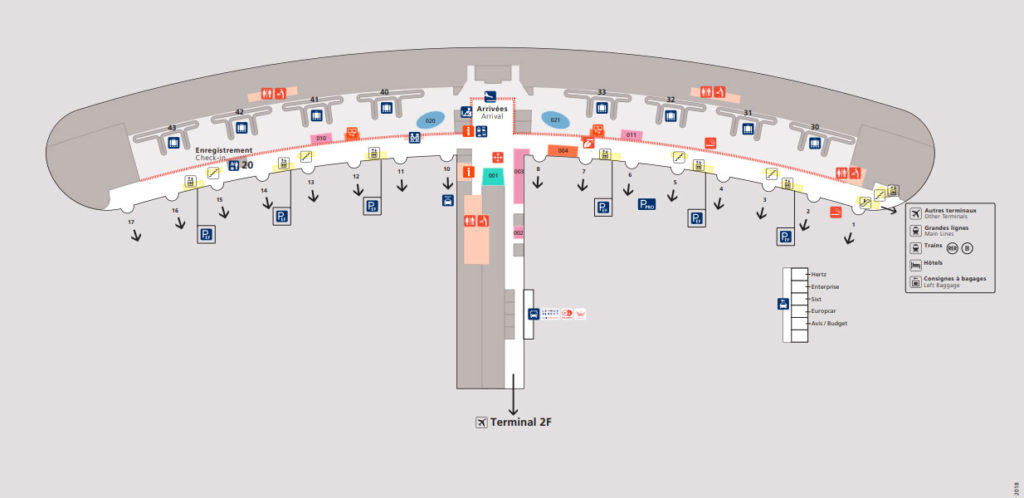 Above is the plan, after the customs inspection, go outside.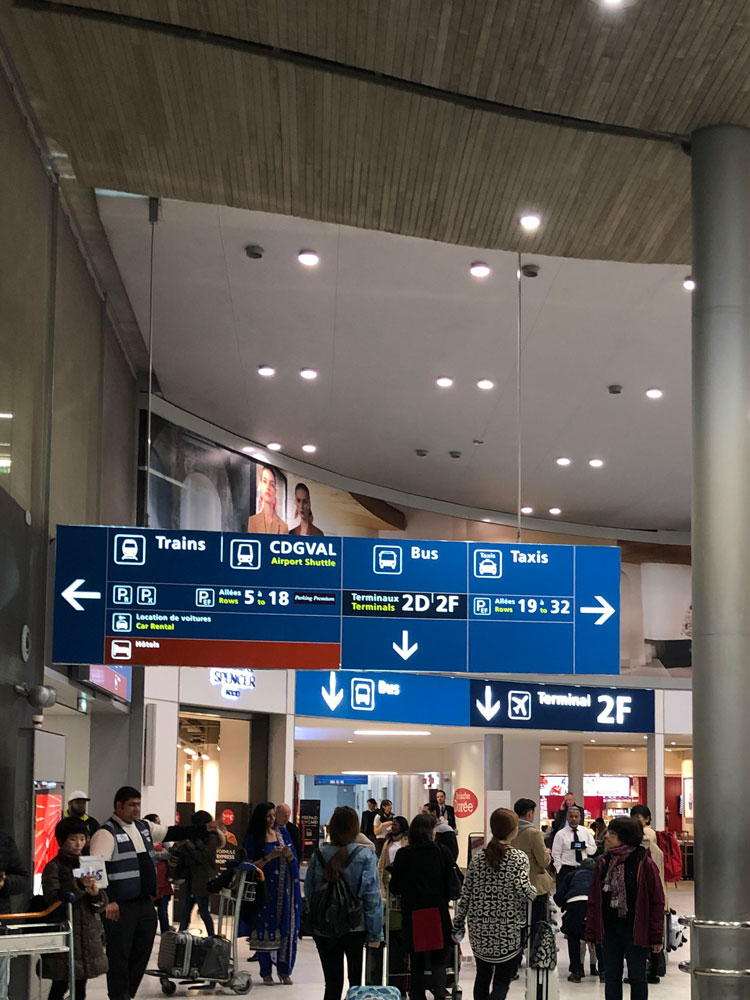 When you go outside, head to your left.
Train is written on the signboard, it's the RER B line, so you will proceed toward that.
If you plan to take the Roissy Bus, go straight in the center of the photo and you will have a stop.
If you are in a hurry, please be careful because you will have to take a short walk to purchase a sim card.
This time, I will introduce RELAY on the way to line B, but there is a RELAY in the back of Marks & Spencer.
If you plan to use Roissy Bus or Le bus direct, this RELAY is more convenient.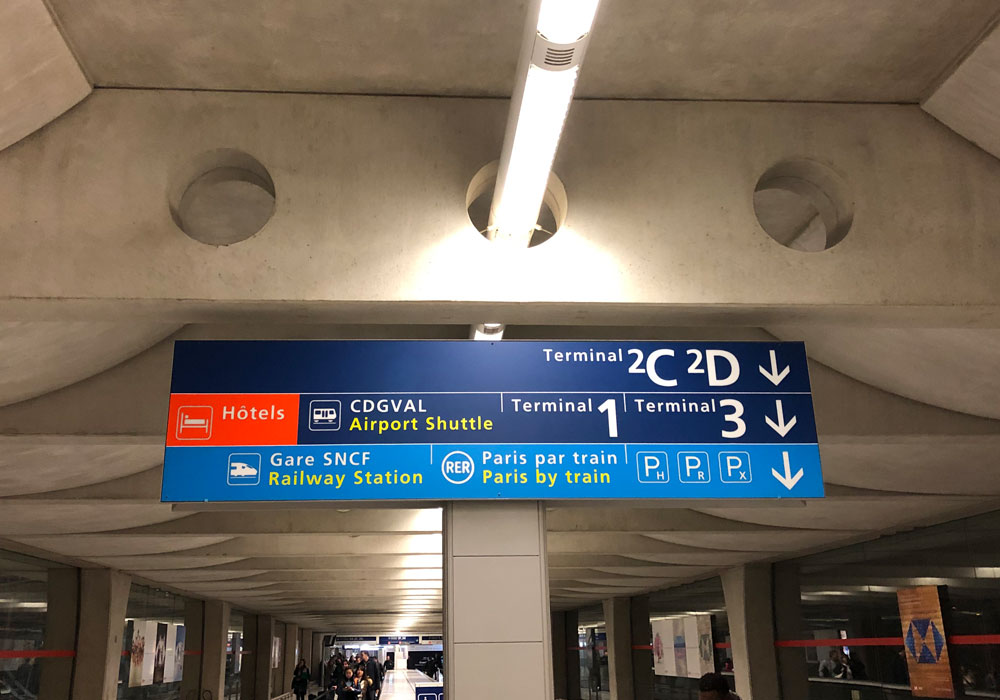 If you go on for a while, there is an escalator, so you will climb there.
If you go further, there is a moving sidewalk, so you can see RELAY on your right.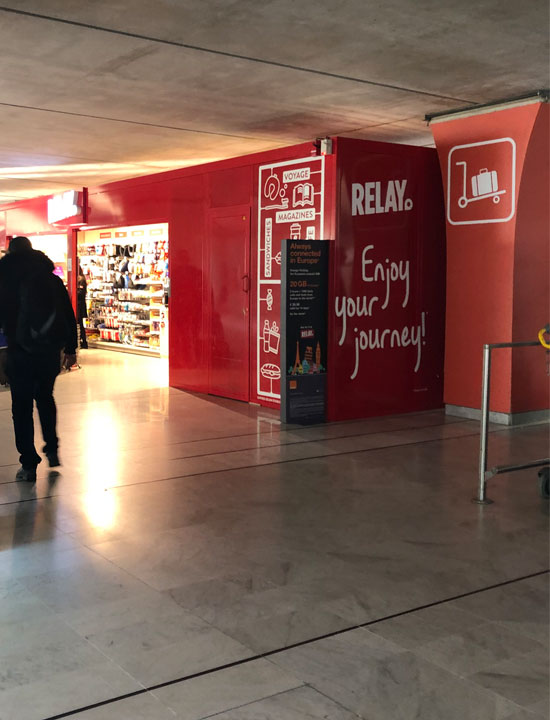 Because it is a bright red appearance, it does not overlook it.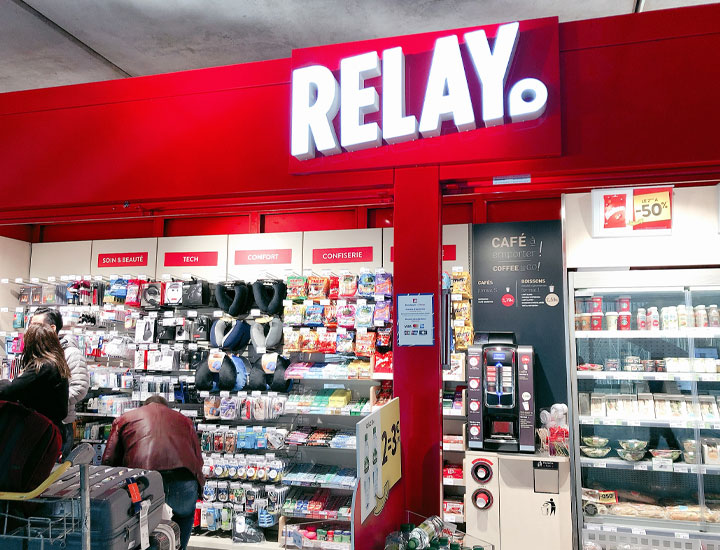 Travel goods and sweets are mainly sold.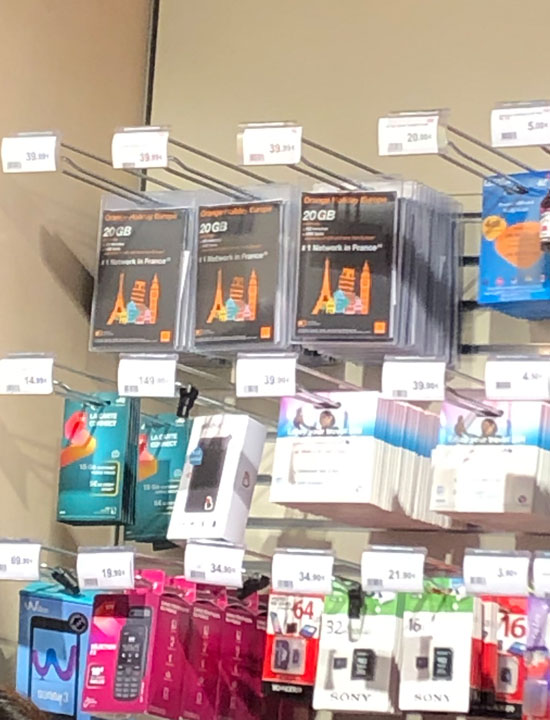 The sim card is placed behind the sales staff, so let's choose it by speaking out.
Sim cards can be placed near or behind counters at any shop to prevent theft.
Don't try to get it yourself, be sure to call out and have it taken.
The palm-sized, square-shaped one on the second stage from the top becomes a Bouygues telecom.
What's included in the package
The interesting thing about Bouygues telecom is that it has a little goodies.
Of course, it's not a big surprise, but it's a bit of a nice surprise.
sim card & key ring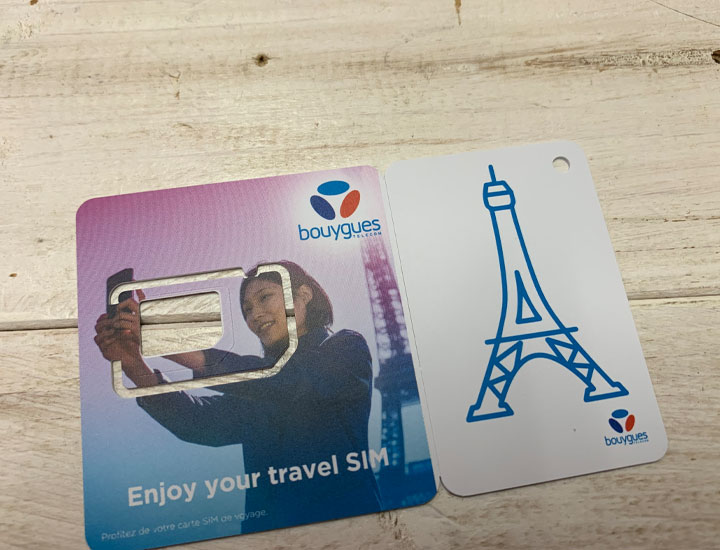 First of all, the sim card is set in the plastic card of the business card size.
It is a multi-cut type, please separate it according to the size of your smartphone.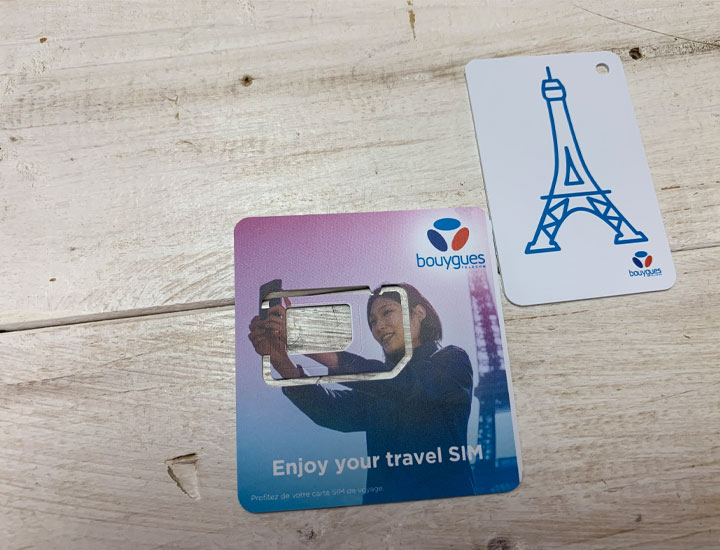 When this card is separated from the white part depicting the Eiffel Tower, the white part can be used as a key ring.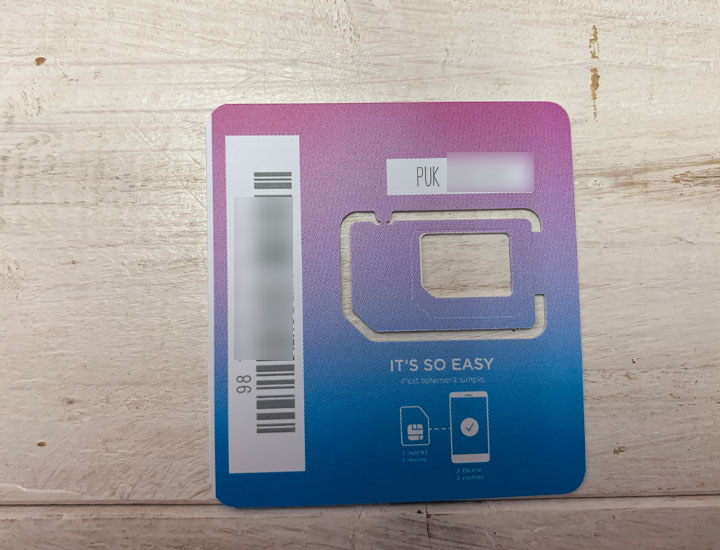 In addition, Important information is described on the back side who had a sim card, let's not lose it.
User's manual & Eiffel tower SIM ejector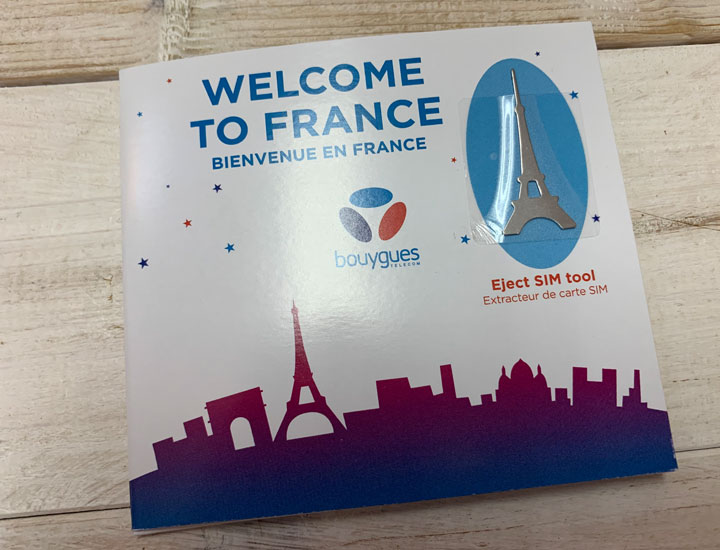 There are one guide, Written in 10 languages, and a cute Eiffel tower SIM ejector.
I think that it will also be a commemorative item in France.
There is also an explanation in English, so I think that basic work can be done without problems.
Stickers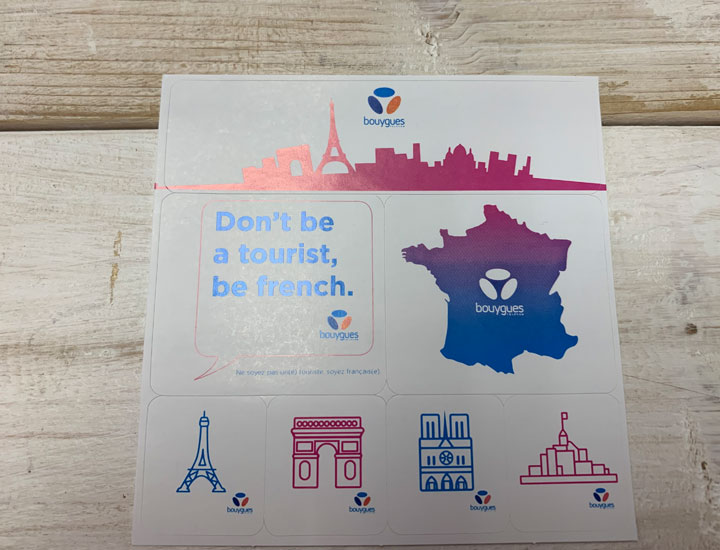 It also comes with a cute sticker with a French symbol on it.
I'm wondering where to put it、、、、。
Metro Map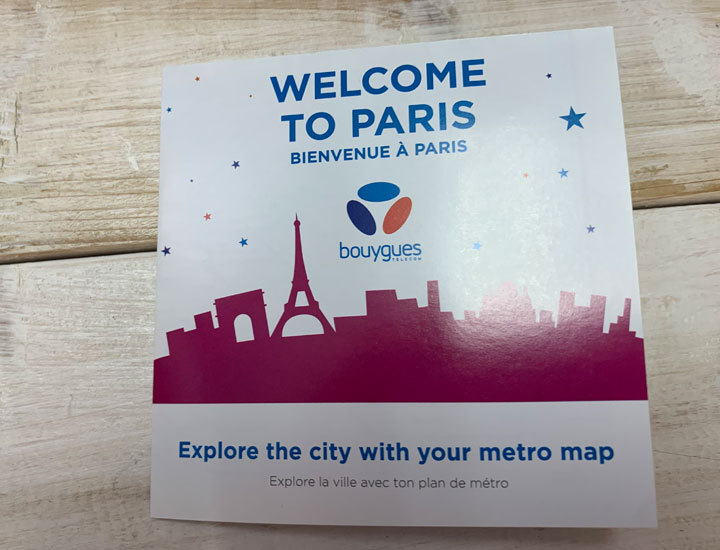 Metro map is also included.
It's collapsed, but when you spread it out, you'll see a metro map on the back.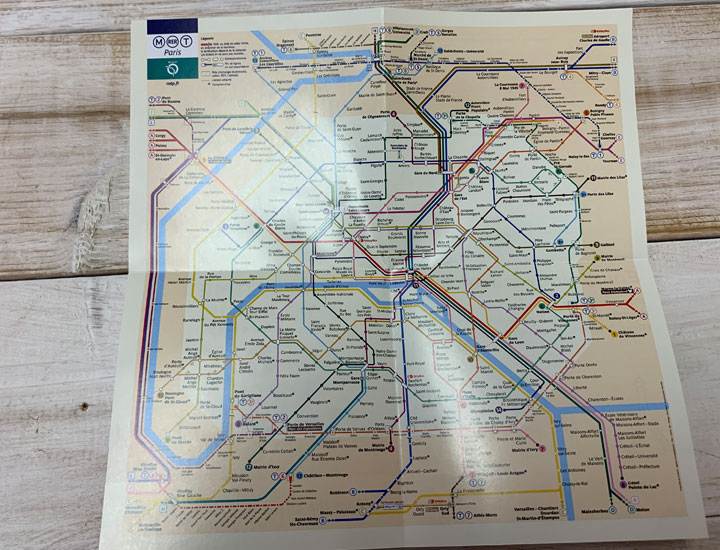 Since using a smartphone, the need has become quite low, but if you are new to Paris or are not familiar with the Metro, it's really convenientthat you can understand where you are at a glance.
User's Manual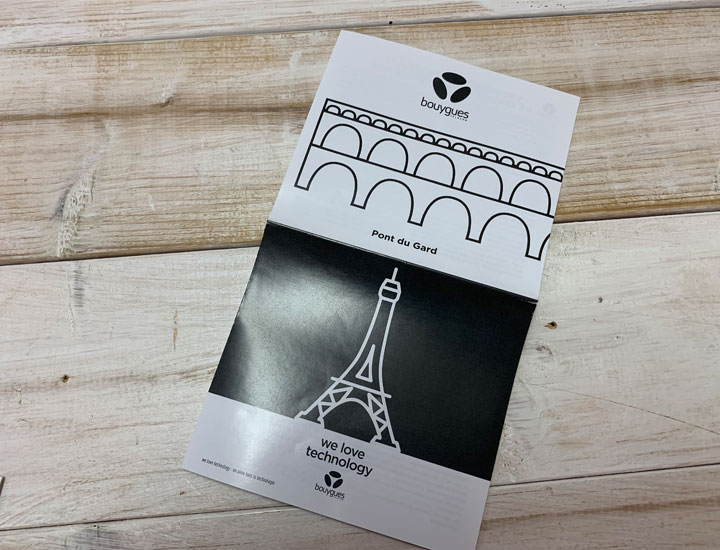 It is written in detail about Bouygues telecom.
I don't think I'm particularly bothered.
How to activate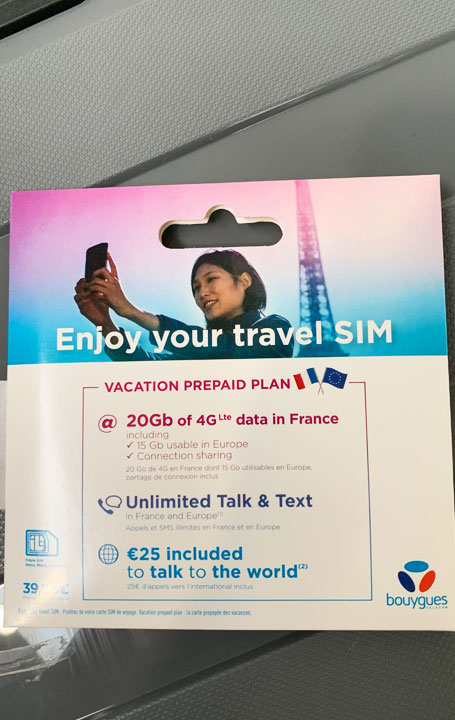 Unlike Orange Holiday(if purchased at theshop in front of baggage claim), Bouygues telecom must be activated by themselves.
However, there is not a special difficult task, anyone can easily do it.
Unlike Orange Holiday, the package is only made of paper, so you can easily open it by hand.
After opening, you can use it immediately by simply replacing the sim card of your smartphone.
If you are worried, if you take out the sim card of your smartphone once before going to France, I do not think that you will panic in the field.
Please note that Bouygues telecom sim cards must be activated first in France.
Procedures after activating = Important =
If you insert the sim card in your smartphone and the connecting is done without problems, you will receive the following SMS.
First of all, the phone number of this sim card is described.
And the link destination will be the official page of Bouygues telecom's travel sim card.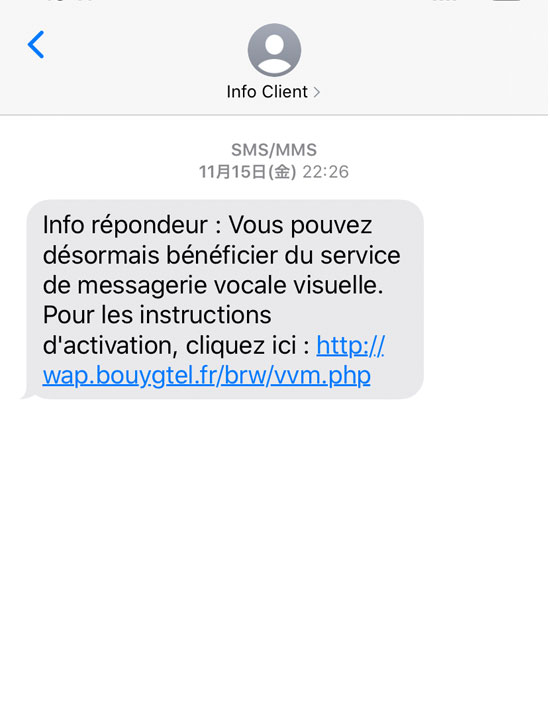 You will receive SMS like the one above around the next day.
This is the content of the announcement that visual voicemail is available.
Click the link to learn more about visual voicemail.
If you go ahead with the process, the setting will be completed, so if you want to use it.
I think that it is not necessary to use it for general travel, so you do not have to operate anything.
User registration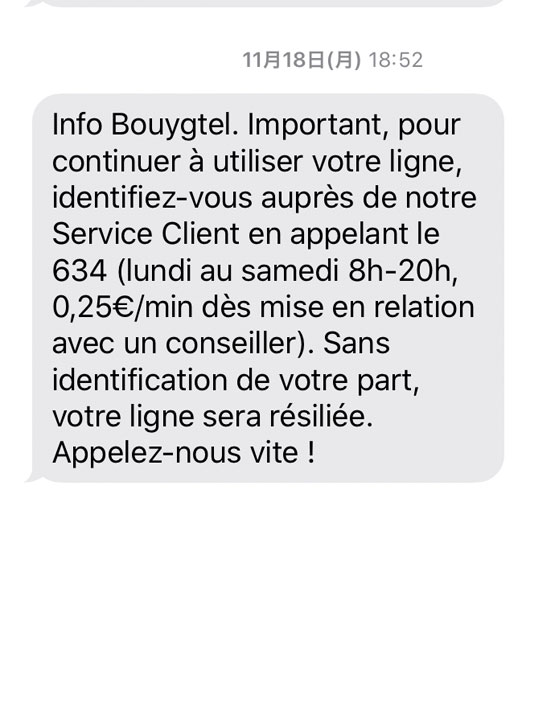 You will receive the most important SMS around 5 days after you start using the service.
To continue using this line, please register your information.
To do so, call 634.
If the customer information cannot be registered, the line will be terminated.
As with any telecommunications company, you will naturally need to register your ID card to use your sim card.

The biggest problem is when the line will terminate if you do not register.
In the usage guide, it is written that "the line will be invalid if you do not verify your identity within 30 days after the start of use".
It seems that it is not good to do until the 29th, but I feel that it will be different.
(If you continue to use without registering, it would be helpful if you could let us know)
In order to avoid trouble beforehand, I think that it is still good to register identity verification as soon as possible.
Experience has told me what I hear by calling 634.
Name
Address (at hotel or other place of stay, zip code)
Phone number (may not be asked)
Passport number
E-mail address (depending on the situation)
Credit card number
However, even if you know in advance what will be heard, it is quite difficult to inform the above content in French.
And by phone.
I think that it is impossible if it is not possible to speak like a native speaker.
So what on earth should we do?
How to register as a user
Actually, there is an easy way to solve the above problems.
It's about going to Bouygues telecom shops.
There are quite a few shops of Bouygues telecom in Paris city.
There is no problem no matter where you go, but I think that there is no mistake in the shop where many travelers visit.
For your reference, the shop I visited is here.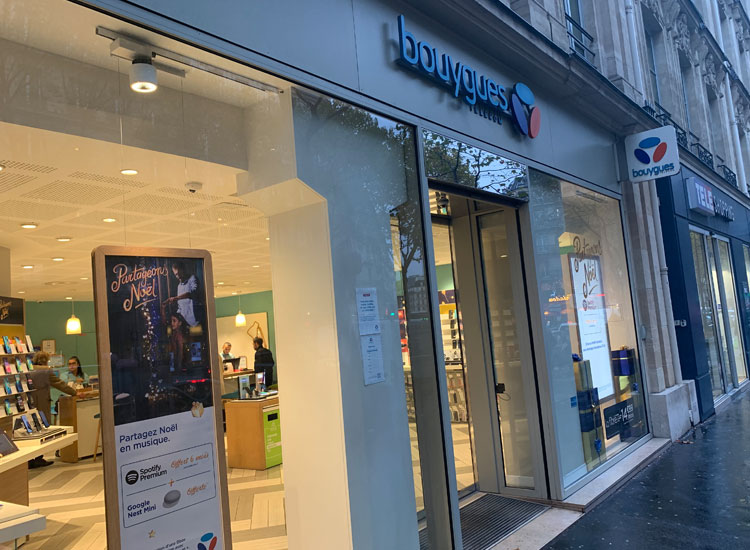 BOUYGUES TELECOM PARIS HAUSSMANN
Address:55 Boulevard Haussmann, 75008 Paris, France
Open: Monday to Saturday 10:00 a.m. to 7:30 p.m.
Closed: Sundays
HAUSSMANN is a very clean and cozy shop located just a short walk from Printemps.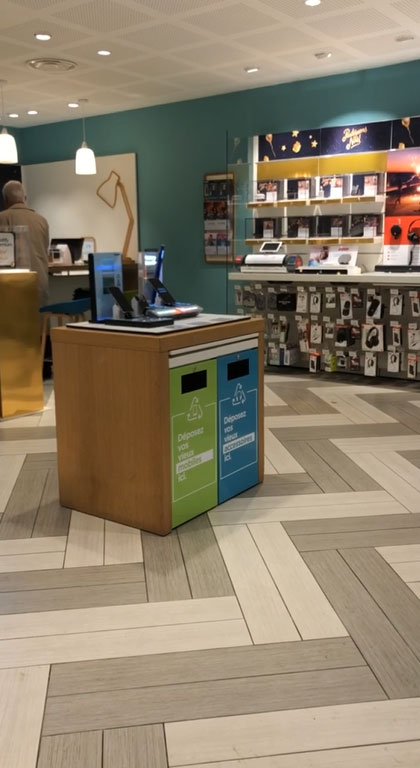 It may be crowded depending on the time you visit, but I think it is mostly empty.
They call your name, show the contents of the received SMS to the shop staff, and the staff will call 634 and do all the procedures.
At this time, all I need was a passport, and I did not need the address of my place of stay.
Strictly speaking, the address etc. They told the address of HAUSSMANN store, so there is no doubt that your address is must.
The staff who responded to me were very kind and friendly, but it is french quality that there is a difference depending on the person who responds.
Just in case, I think that there is no mistake if you write the information such as the address of the hotel on paper or show the business card of the hotel.
Procedure after actvating = Internet edition =
In the above chapter, I introduced the flow when I actually purchased it locally.
A survey after returning, I found that user registration is also possible on the Internet.
First, go to the following page.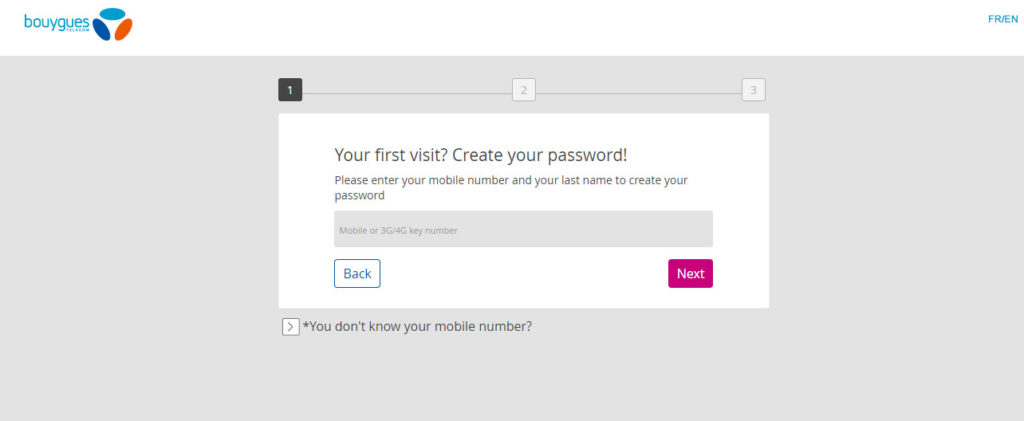 bouygues telecom Espace client
Enter your phone number here and press NEXT.
(You can choose French or English language settings, so please choose as you like.)
You will then receive a SMS with your passcode.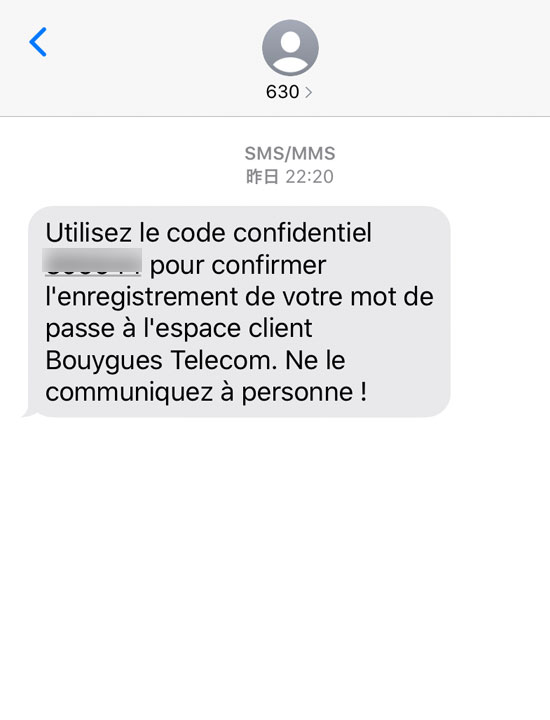 On the next page, enter the passcode you received and register a new password to complete the process.
You will be able to log in to your account.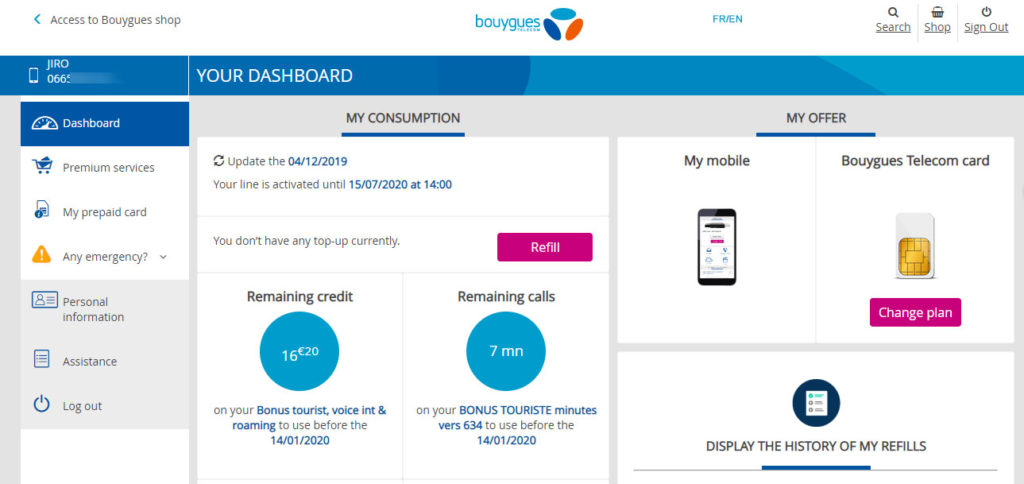 Your name and the amount of data available are displayed.
You can also perform top-up procedures from this page, so if you would like to add data during your stay, please click the Refill button to proceed.
The expiration date of the phone number and the data are also displayed, so you can check various information.
This time, when I registered my account online, it was after I had already registered at the store.
Therefore, my name was already displayed when I logged in, but I have not been able to confirm whether I can log in to this site even if I have not registered as a store.
In addition, please note that there is no column such as passport information on the profile screen, so even if you can log in before registering at the store or by phone, you may still need to register detailed information directly by phone or at the store.
How to solve problems during your travels
When you have any trouble, the first thing you want to try is the following two points.
Turn off your phone
Re-insert the sim card
Surprisingly, there are cases where it is solved by either method, so please try it first.
How to make a phone call
How to make a call is also easy.
Dial + (or 00) followed by the country code, followed by the number you would like to call.
Do not forget to remove the first 0.
Tethering
Bouygues telecom can be tethered with other device.
You can share your data connection between several devices.
How to check your data usage
You may be asked how much more data you have left.
Unlike other telecommunications companies, BouygTelecom is a bit annoying to check the remaining amount.
There are two methods.
Call 630 (voice enabled in French)
Access and verify your account.
If you can understand French, I think that there is no problem with voice guidance, but it may be difficult for most people.
If you open your own account, you can check it by accessing the internet.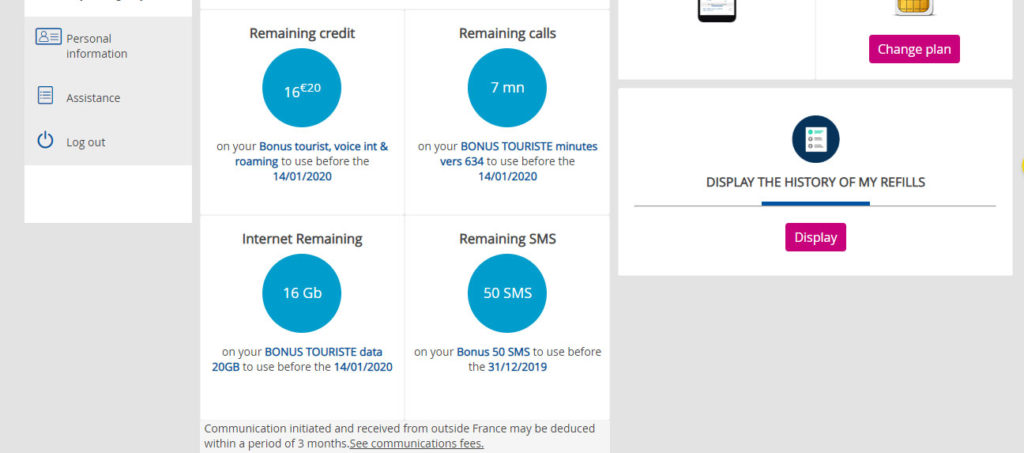 When you log in to your account, there's a place called Internet Remaining, so check out these numbers.
In the case of the image, it remains and is displayed as 16G.
How to top-up?
Top-up from your account or in stores are a common way to go.
The contents displayed on the official website of Bouygues telecom are as follows.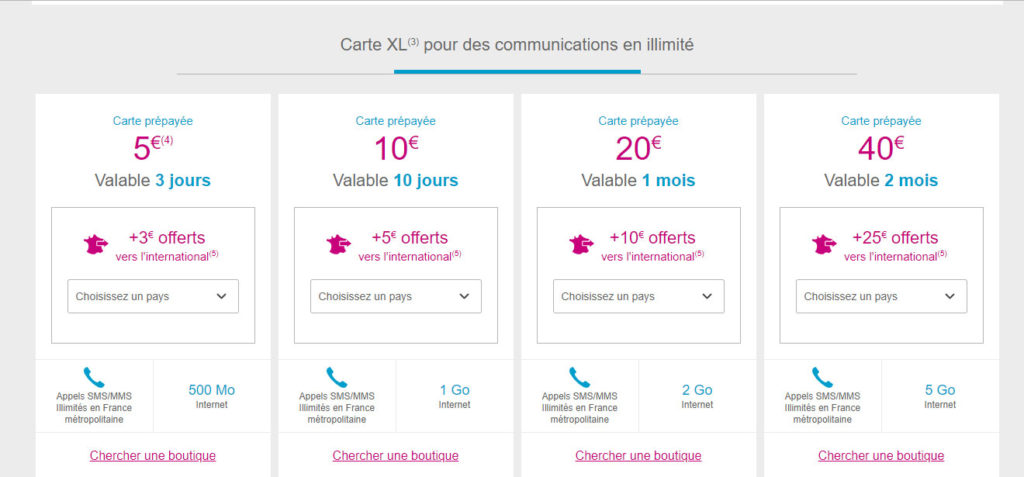 bouygues telecom carte prépayée
There are three Top-up plans for Bouygues telecom, but please note that only XL plans are available.
I don't find XL plans attractive.
The cheapest plan is 5 euros, with an extension of 3 days and data of only 500M.
Even €40 for the highest plan extends the duration by two months, but only 5G of data is added.
The Top-up from your account is simple.
When you click the Refill button on the top page, the following screen will be displayed.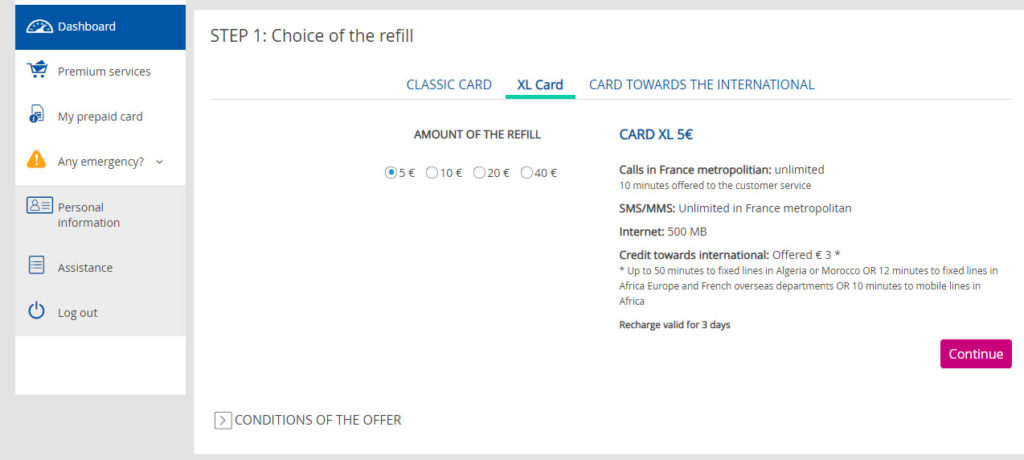 You'will also see the details of the plan, so select the plan that's right for you and click Continue.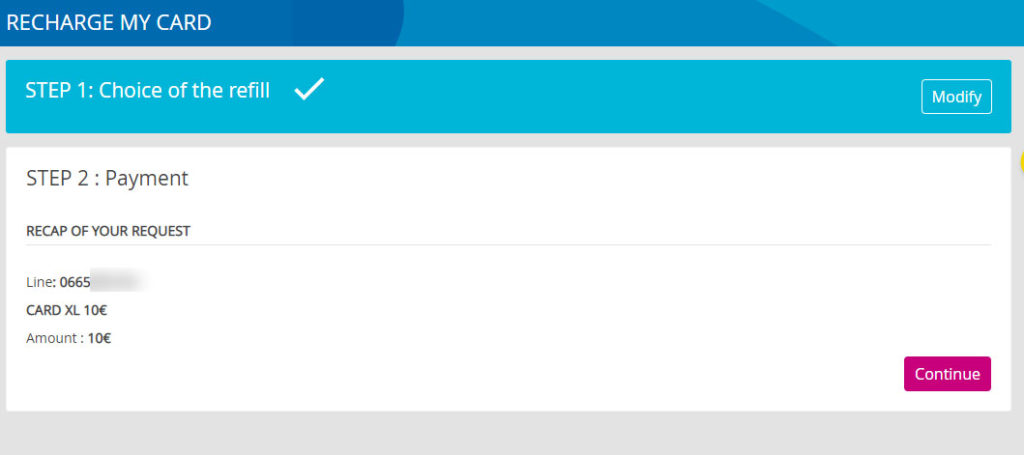 When the confirmation screen for the selected plan appears, click Continue again.
After that, fill in your credit card information and you're finished Top-up.
Please note that no matter which way you top up, you will not be able to take over the first charged 20G of data.
Summary
The sim card of Bouygues telecom introduced this time.
One of the major attractions is that it has almost the same content as Orange Holiday, but has a long usage period.
If you stay for more than 2 weeks and within 30 days, it can be said that it is a sim card with good cost performance.
However, as I introduced this time, it takes time to register as a user.
Choose the sim card that best suits your situation.
We hope that you will be able to choose the best sim card for your stay.
Below is a guide about other French sim cards.
Thank you for reading to the end again this time.