One of the most popular attractions in Paris is the flea market.
The three most popular of these flea markets are Clignancourt, Montreuil and Vanves.
Each has its own characteristics and attractions, but the flea market in Vanves, which we will introduce here, is easily accessible from the centre of Paris and is located in a relatively safe area, so even beginners to Paris can visit without worry.
Now let me introduce you to some of them.
Puces de Vanves
Location
Puces de Vanves
Address:34 Avenue Marc Sangnier, 75014 Paris, France
Opening hours: Saturday – Sunday 07:00~14:00 approx.
Nearest metro station: line 13, Porte de Vanves.
History
It is said to have started at the end of the 19th century, selling scrap metal and other materials.
Started in 1920 as a flea market in Vanves.
Today, it is one of the three major flea markets in Paris and attracts many people every weekend.
Around 350 shops are exhibiting.
How to find the best bargains
The Vanves flea market is open from 7am.
However, even if you rush out at 7am, most shops are not yet open.
The shops actually open between about 9:00 and 10:00.
The shops actually open between about 9:00 and 10:00.
From around this time until around noon. is the time to start looking for the good stuff.
Note that, as is often said, shops near the entrance may be priced slightly higher.
If you have time to spare, it is best to look at other shops and then return to the one you are interested in to make a purchase.
How to get to the Vanves flea market
There are several ways to get to the Vanves flea market from the centre of Paris, but this time we will show you the most straightforward way, using metro line 13.
Metro line 13 passes through Saint-Lazare station, Champs-Élysées – Clemenceau and Invalides.
If you are staying away from Line 13, change to Line 13 at one of the stations for Porte de Vanves.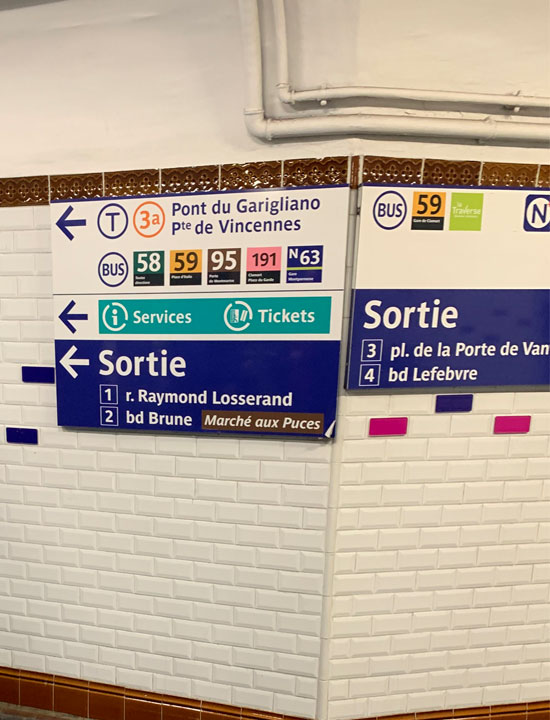 When you reach Porte de Vanves, take exit 2.
Kindly indicate Marché aux Puces.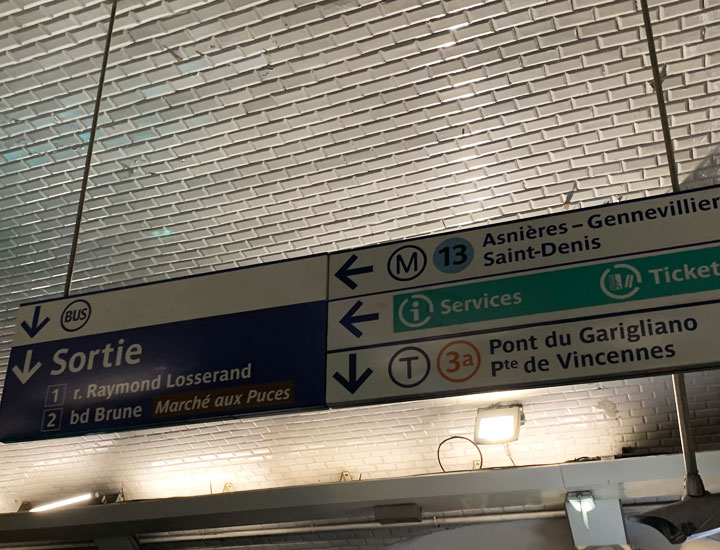 Also check the signage on the ceiling and take exit 2.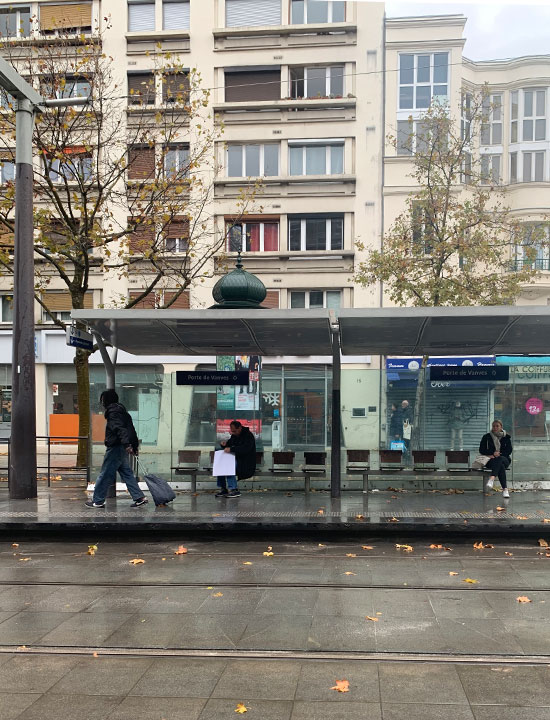 When you reach ground level via Exit 2, head in the opposite direction of travel.
You will see a tram station, but do not head in this direction.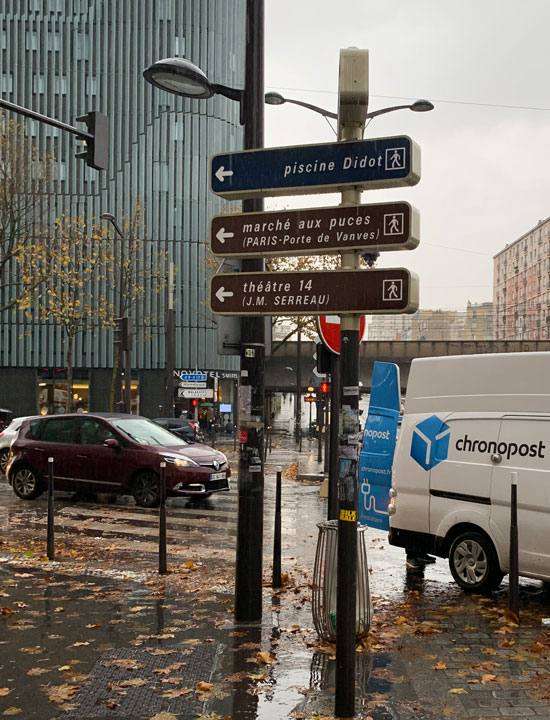 Go in the opposite direction to the tram station and turn left, following the signs to Marché aux Puces.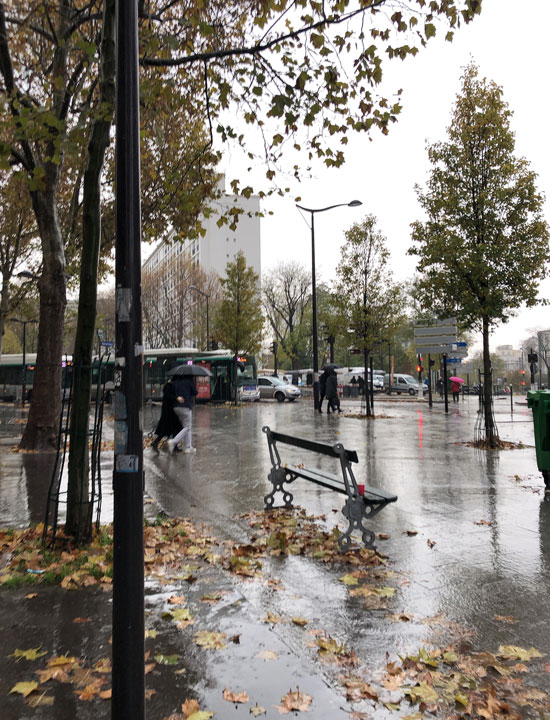 The vanves flea market begins at the back of the bus station.
It was around 10.00 am and it was raining quite heavily.
Local Guides
Here are the routes we will be introducing.
From Metro Porte de Vanves station, via Rue Marc Sagné to Rue Georges Rafnestre to the ring road.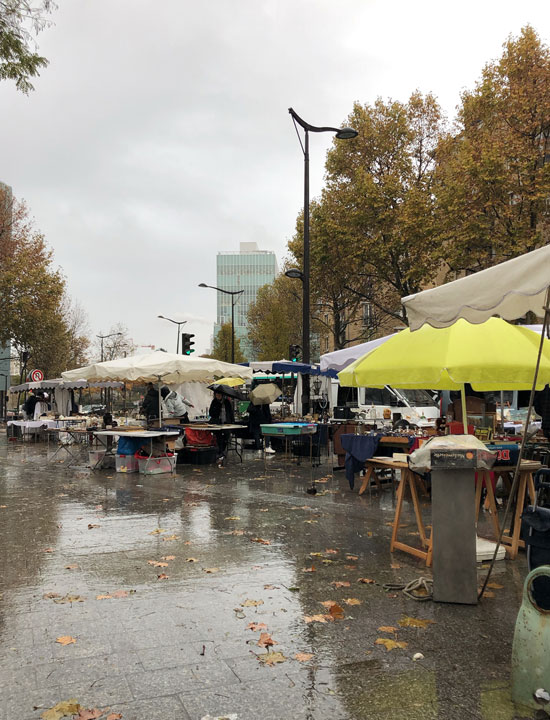 First, the flea market begins at the Place du Porte de Vanves.
It was around 10am when we arrived and it was raining quite heavily, but several shops managed to stay open.
The entrance area is often set high, so just look at it for now.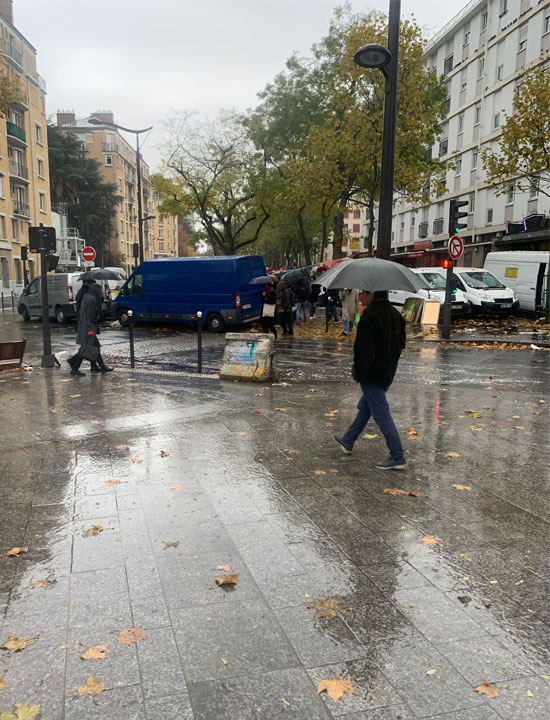 Crossing the Porte de Vanves street, we finally enter the main venue.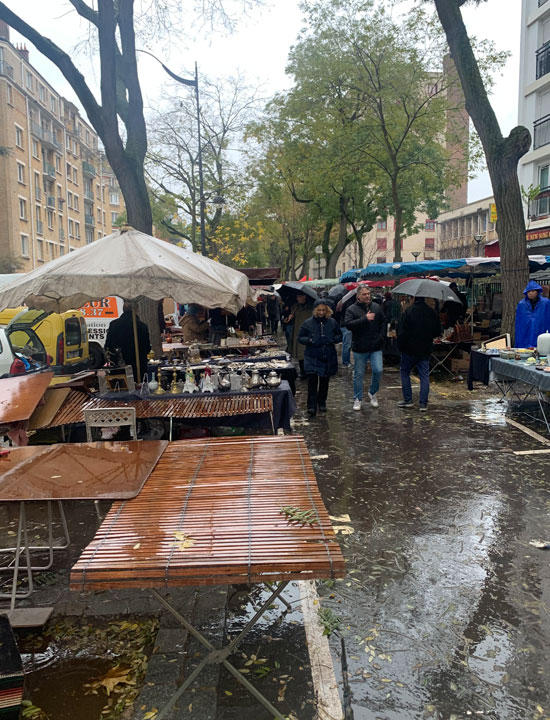 Quite a few shops are open for business, although some shops have not yet laid out their goods.
Lots of people come and go, even on rainy days.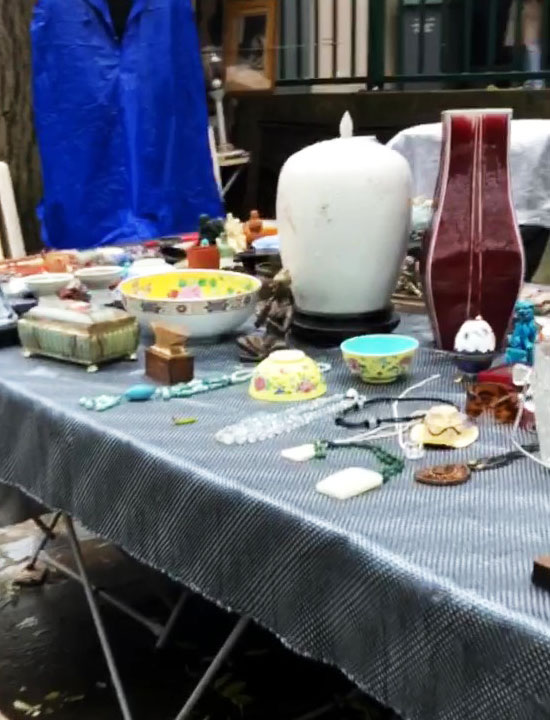 I'm not sure, but all sorts of things are laid out on the table.
The shops here have no tents, so everything in the queue is wet.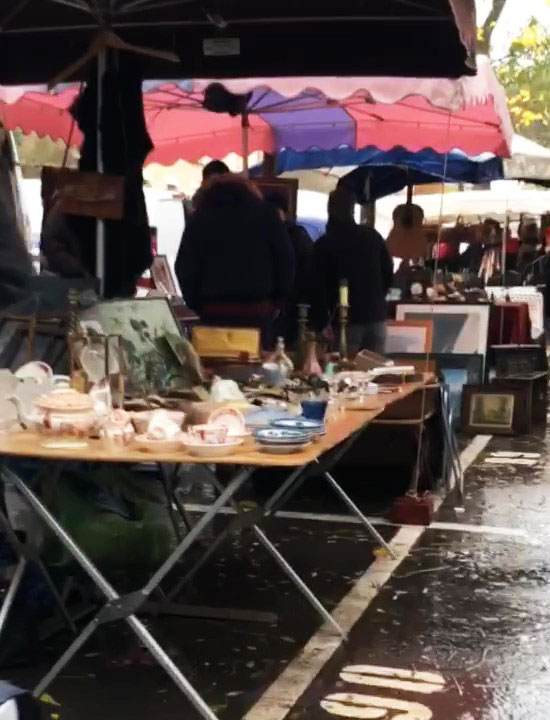 Many shops sold crockery.
The crockery in the set looked expensive.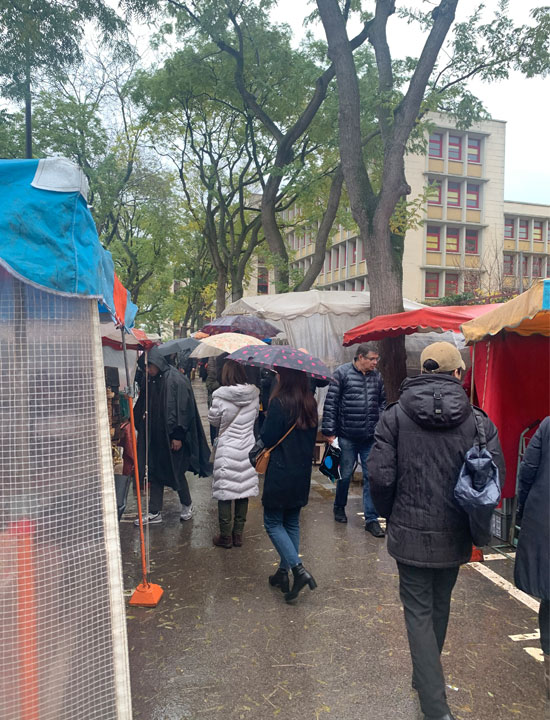 It is fun to look at, but it can be quite confusing as to which one to buy.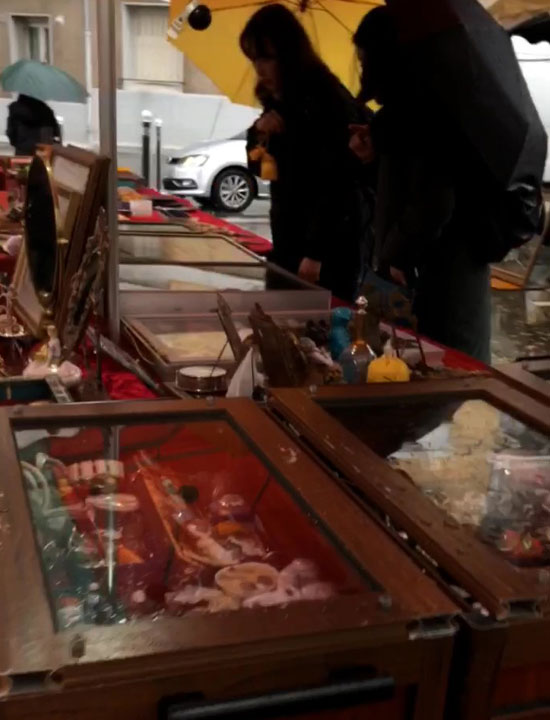 Shops with tents give the impression of selling proper products.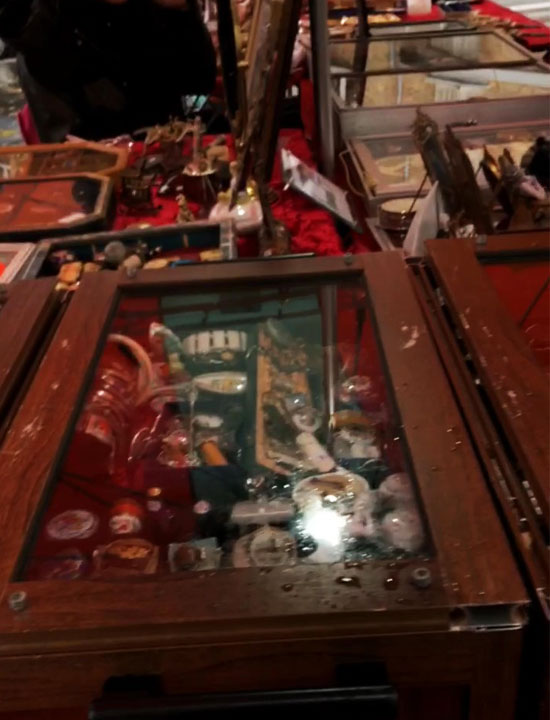 If you looked at each one slowly, it would take hours.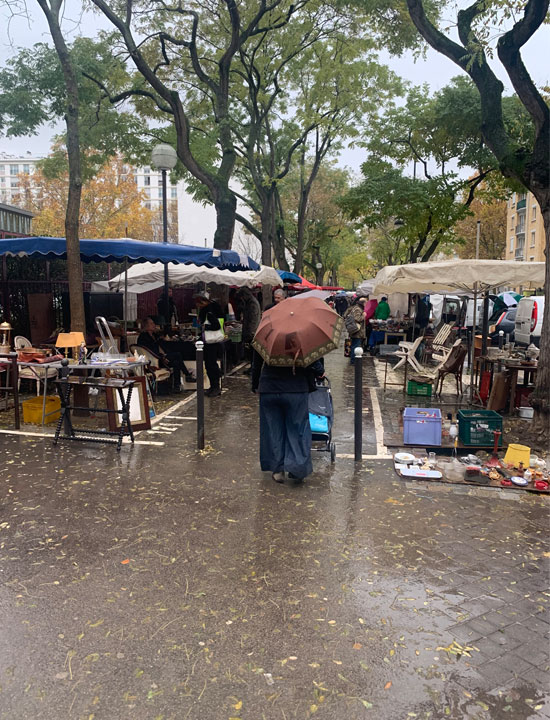 It was raining quite a bit and I was worried if they weren't open, but if so many shops were open, it was no problem at all.
The product itself was very easy to see as there were probably fewer people than on a sunny day.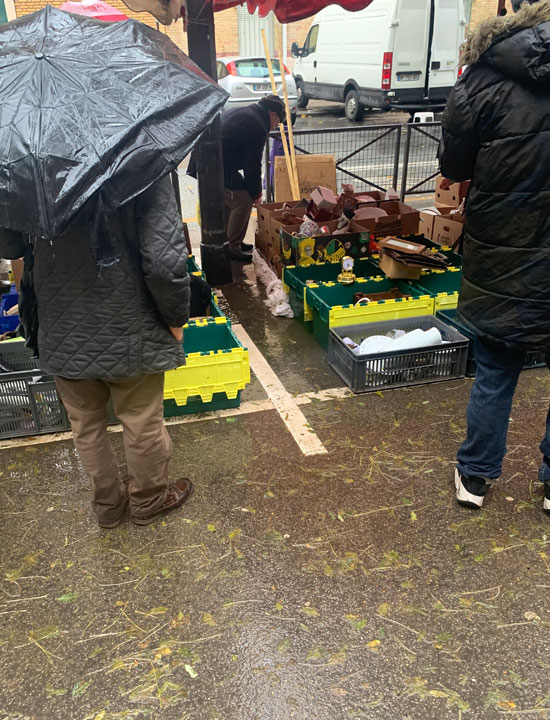 Any of these are for sale for €1, €3 or €5.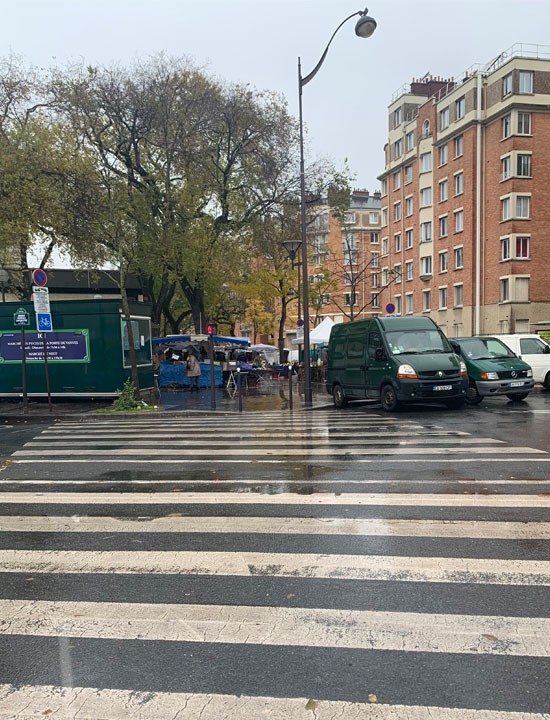 Intersection of Marc Sangnier and Georges Lafenestre streets.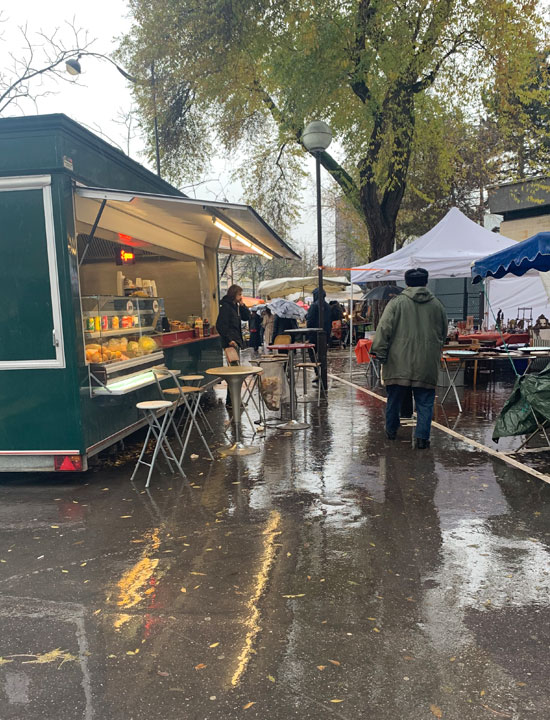 Turn right onto rue Georges Lafenestre.
There are mobile cafés and other cafés in the area.
If you need a break, this is the best place to go.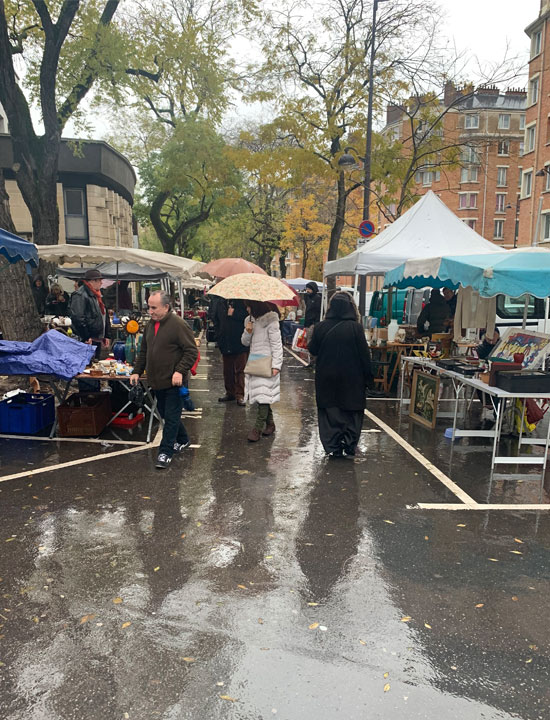 Many shops have also set up shop on the footpath along rue Georges Lafenestre.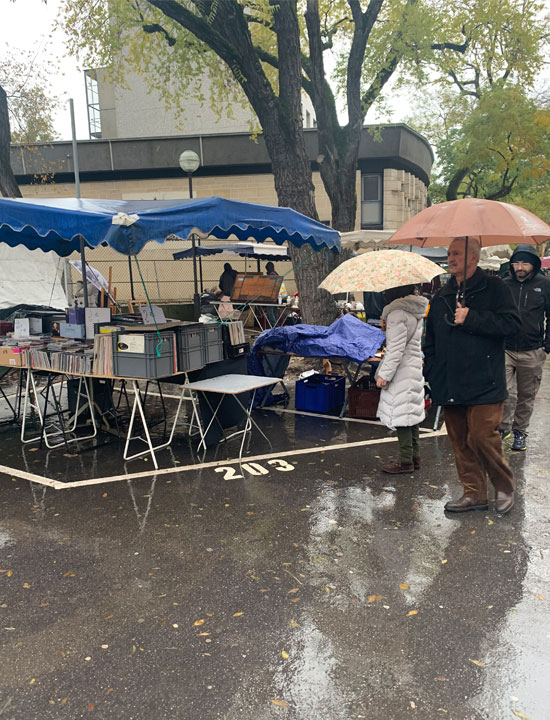 There was also a second-hand bookshop, but it didn't have many books on display, probably because of the rain.
There were also few second-hand clothing shops.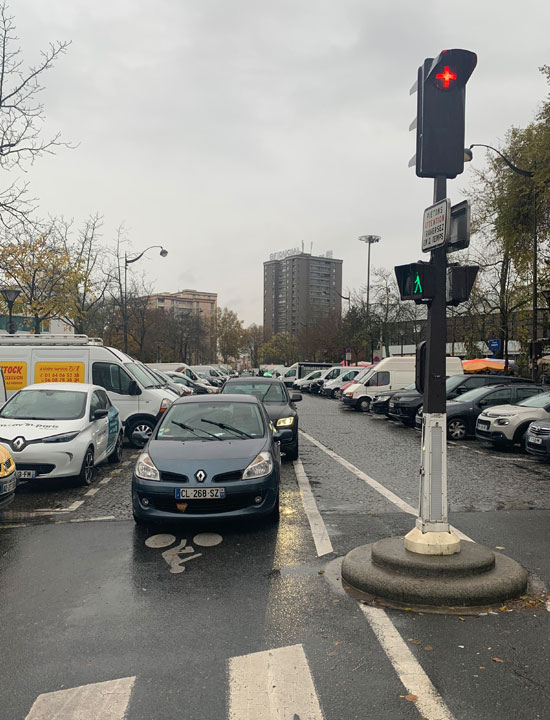 Lots of cars parked on rue Georges Lafenestre.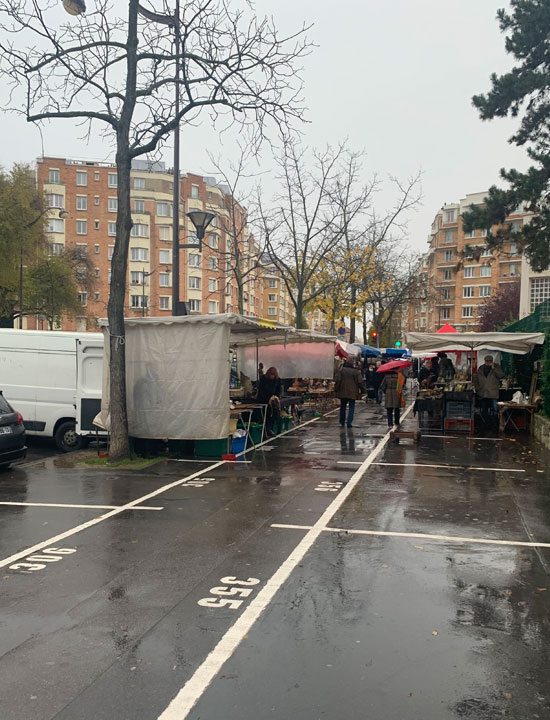 The outskirts of the flea market were marked by empty booths, probably due to the rain.
Purchases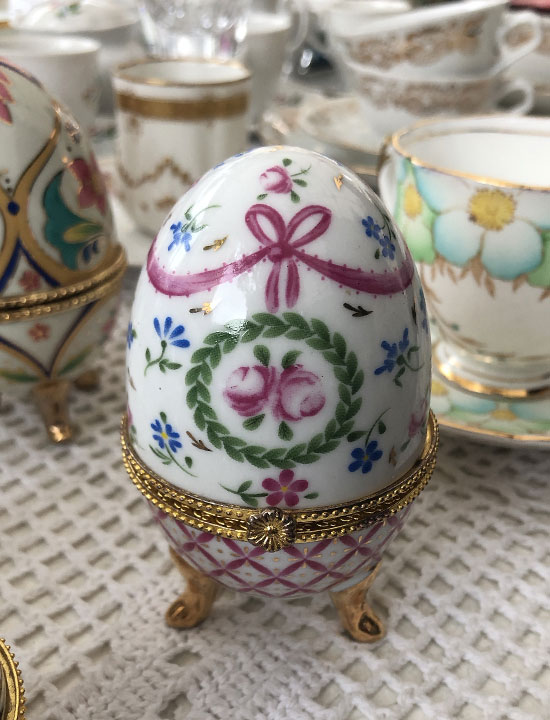 A full set of teapots was purchased at a shop specialising in tableware on the way.
The shopkeeper told me it was French crockery and I bought it, but when I checked it out it was actually made in Czechoslovakia.
(It was good because it was a fun memory, but…)
I also bought the egg-shaped accessory case in the picture because it was so beautiful.
It was not clear where this was also made.
Toilet information
When visiting a flea market, the biggest problem is toilets.
If you are planning to visit one of the cafés, good, but in fact there are not many cafés themselves where you can drop in casually.
Public toilets are therefore recommended, and there are three recommended toilets near the flea market site.
This location is just a short distance from the metro, Porte de Vanves station.
It is located before heading to the flea market and is often relatively empty.
Enter the flea market site, Rue Marc Sagné, and a short distance later you will find Rue Maurice Nogues, where you will find toilets.
This one is relatively busy and you will have to wait a little.
Toilets at the junction of Marc Sangnier and Georges Lafenestre streets.
This is also often relatively crowded.
Summary
I was worried that the flea market might not be open on a rainy day, but when I visited, I found that quite a few shops were properly open.
In places, some booths were left empty, but this was not a problem for tourists visiting.
It was quite wet at the time, but it is still open, so even if rain is forecast for the day you visit, it should be fine.
Overall, my personal impression was that it was subtle.
You can buy what you like, but without prior knowledge, I had no idea which products were good and which were more expensive.
(Basically, there's no such thing as cheap and good.)
If you want to visit a flea market in Paris, the Vanves flea market is an accessible and safe place to visit.
Please visit if you have time.
I am sure it will be a wonderful memory of Paris.
Thank you again for reading to the end of this issue.