Mr. Michalak, a patisserie representing Paris, is a star chef who is also active in cooking classes and TV programs.
Many of his cakes are original, and they are full of ideas that you can enjoy not only the taste but also the appearance.
This is one of the shops I would like you to stop by when you come to Paris.
Pâtisserie Michalak
Practical information
Pâtisserie Michalak
Address:16 Rue de la Verrerie, 75004 Paris, France
Open: Monday to Sunday 11:00~18:00
Closed: No
Nearest station: Hôtel de Ville Line 11
History and features of Pâtisserie Michalak
History
2013 Christophe Michalak opened Pâtisserie Michalak in the Marais.
(After working for Pierre Hermé at Fochon, he was a chef at Ladure and Plaza Athénée.)
2015 Won the Patisserie World Championship as a representative of France.
2016 Opened in Saint-Germain-des-Prés.
2018 Opened in PRINTEMPS DU GOUT.
October 2018, the first foreign shop opened in Omotesando, Tokyo Japan.
Features
"Miss K", which was also popular in Plaza Athens, is a recommended product.
A cake with a small cream puff on top of a large cream puff is a very satisfying cake with a lot of cream.
It's more than it looks, so it's recommended to eat it when you're hungry.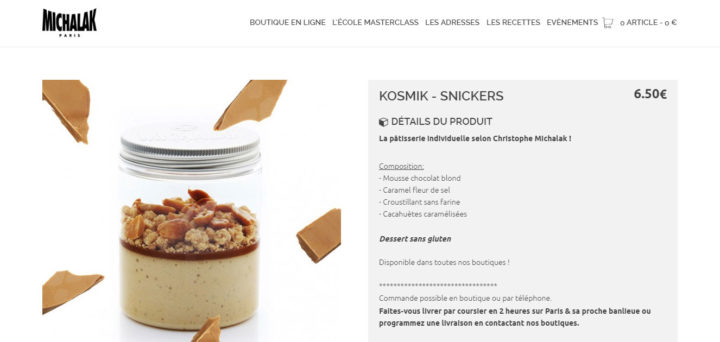 In addition, KOSMIKin the bin is popular.
It is the perfect cake to eat in the park.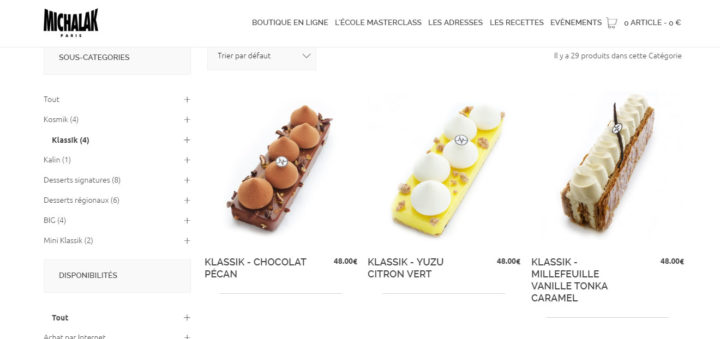 It's hard to buy while walking, but the slender KLASSIK is also a popular item.
If you love sweets and can eat quite a lot, please try it.
Mr. Michalak also uploads how to make sweets on YouTube.
If you are interested, please check it out.
This is Michalak's original page.
This is a video that appears on the program.
There are quite a few recipes published here, so if you like making sweets, please check it out.
Summary
How was it?
The overall rating is as follows on a 5-point list.
Pâtisserie Michalak Patisserie Misharak Marais
Taste: ★★★☆☆
Exterior: ★★★☆☆
Interior : ★☆☆☆☆
Price: ★★★☆☆
Staff: ★★★☆☆
Easy to buy: ★★★☆☆
Location: ★★★★★
As for the taste, there are ★3.
It's pretty sweet, so if you don't like sweetness, your rating will go down.
The exterior : Although it is a small store, it looks fashionable with white as the base color.
There is also a sense of cleanliness, it is a very good impression.
At first, I didn't think it was a cake shop at all.
It seems that the mainstream of recent cake shops is to design like a boutique.
(Pastry chefs who have worked with Pierre Hermé seem to like this modern design)
As for the interior, it is ★1, because it is still too narrow.
When customers come in, it's so small that you don't know where you should be.
Also, since the entrance door is the worst, it's hard to pass by other people.
There may be structural problems, but I have a lot of shops in Paris, but I think it's the worst entrance.
(Please forgive me if it is improved now))
The staff is normal as there is no particular impression.
Easy to buy is easy to see the product, but the store is narrow, so it becomes normal.
The location is within walking distance of the Louvre Museum in the Marais area, so anyone can stop by.
There is a BHV in the immediate vicinity, so I think it's a good idea to stop by while sightseeing.
It is a recommended shop for those who want to eat a slightly unusual cake rather than an ordinary cake.
There are also shops in Saint-Germain-des-Prés, so if you don't have time to come to the Marais area, you may want to stop by this store.
It is right next to Pierre Hermé's shop.
Pâtisserie Michalak l Saint-Germain-des-prés
Address:8 Rue du Vieux Collobier, 75006 Paris, France
Opening hours: Monday to Sunday 10:00-18:00
Closed: No
Nearest station: Saint-Splvice Line 4
Thank you for reading to the end again this time.