There are many museums in Paris, but the Marmottan Monet Museum, which I will introduce here, is one that you should definitely visit.
As the name suggests, many of Monet's works are on display, but there are also works by Morisot and many other painters.
Located on the outskirts of Paris, the museum is not crowded and you can take your time to enjoy the works of the Impressionists.
Musée Marmottan Monet
Practical information
Musée Marmottan Monet
Address:2 Rue Louis Boilly, 75016 Paris, France
Opening hours: Tuesday, Wednesday 10:00~17:30 Thursday 10:00~20:30 Friday~Sunday 10:00~17:30
Closed: Monday
Nearest station: La Muette Line9  Gare d'Avenue Henri Martin RER C Gare de Boulainvilliers RER C
Admission
Admission

Full price

12 euros

under 18
student under 25
teacher

8.5 euros

Disabled visitors
child under 7
 journalist

Free

AUDIOGUIDES

3 euros
please provide evidence of age/status
Other group discounts are available.
History and Features
A mansion with a garden was built in the late 19th century.
In 1882, Jules Marmottan became the owner of the mansion.
When he died in 1883, Jules Marmottan, a well-known art lover, left a substantial fortune and many works of art to his son, Paul Marmottan.
Paul Marmottan, born in 1856, also immersed himself in the study of history and art, and collected his own collection.
The entire building was renovated, especially the furniture, which was brought from the Tuileries Palace and Palazzo Reale di Portici in Naples.
In 1932, upon his death, his works and residence were donated to the Académie des Beaux-Arts.
In 1934, it was opened to the public as a museum.
In 1966, with the donation of Claude Monet's son, Michel Monet, the museum became home to the largest collection of Monet in the world.
The museum will be known as Musée Marmottan Monet.
The descendants of the artists continued to follow Michel Monet's example with numerous donations of their works.
Source: MuséeMarmottan Monet History 
Directions
Take Metro line 9 to La Muette station and walk down Muette Street to LA Gare, a restaurant that used to be a train station.
Continue walking straight down Rue des Muets, past Jardin du Ranelagh, until you come to a fork.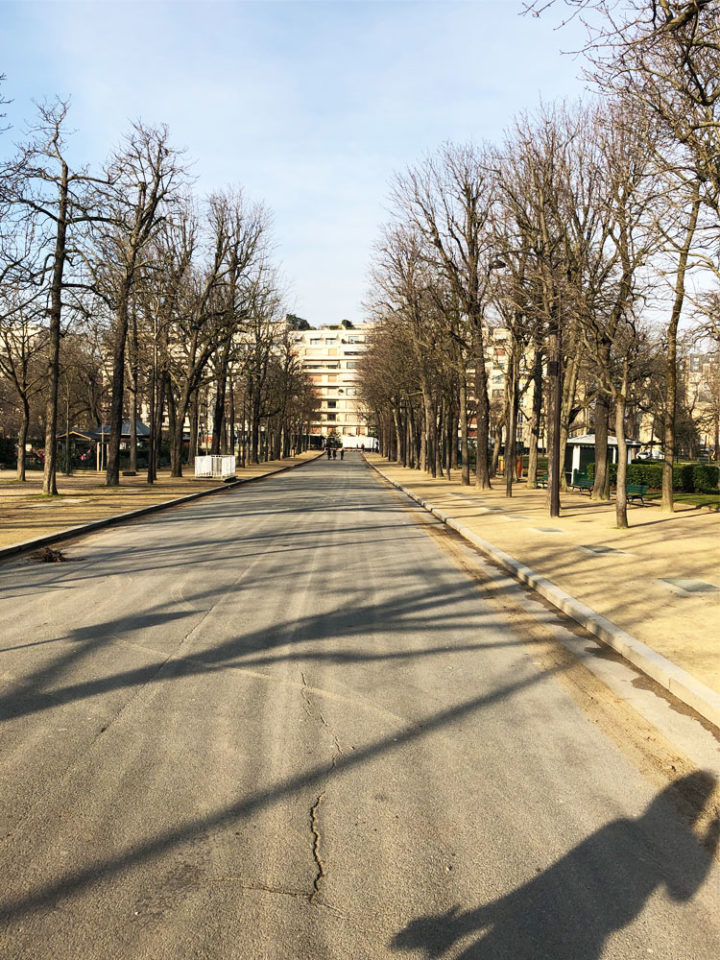 At the end of the fork, there is a sidewalk where cars are not allowed, so keep going straight.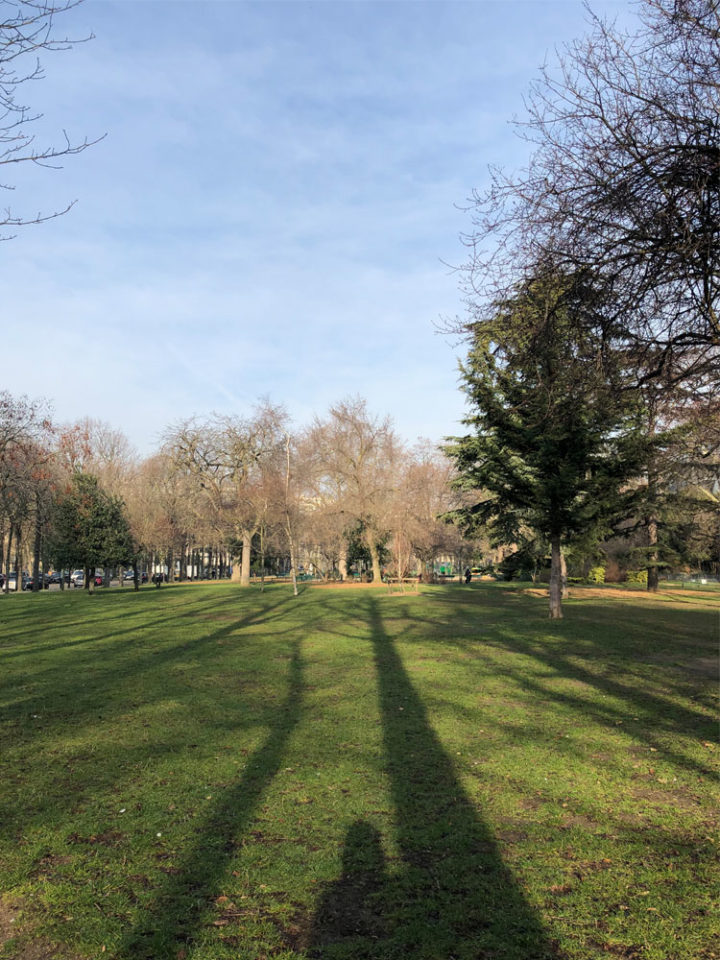 The garden is a relaxing place to relax.
It is a great place to visit in the warmer months as there are not many people around.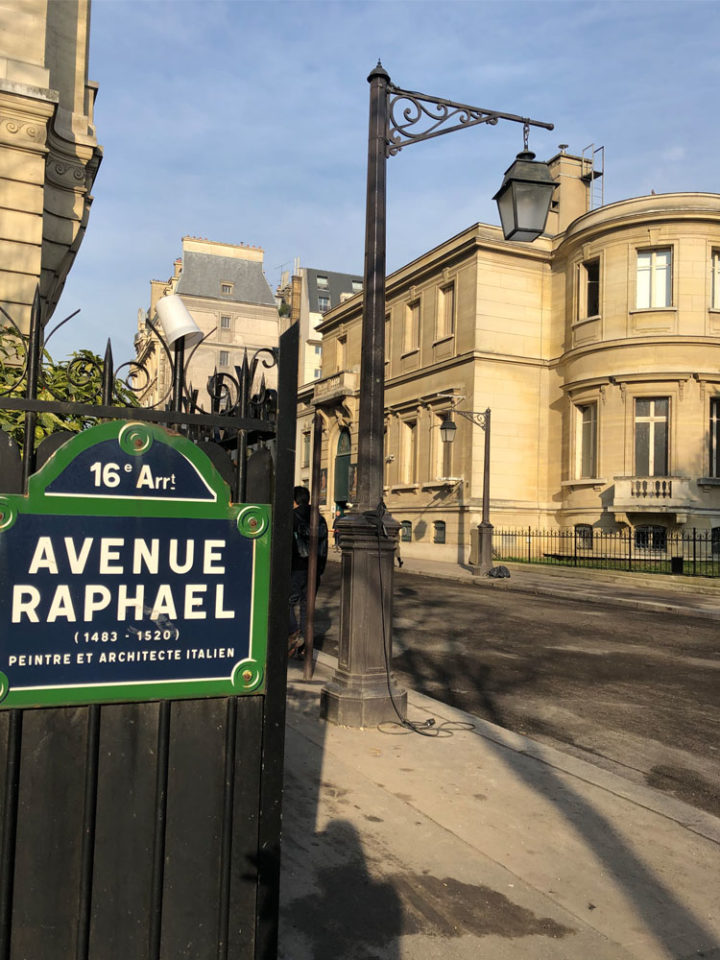 When you reach the end of the street, you will see the Marmottan Monet Museum on your right.
It takes about 10 to 15 minutes from the station, so you won't feel far away.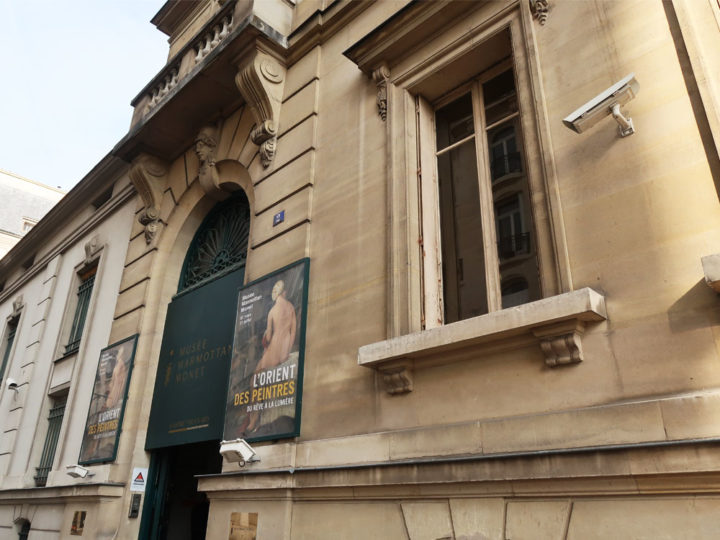 The entrance can be found by walking along the road.
The entrance was surprisingly small, so I was a little surprised.
However, there are posters of events on display, so I don't think you can go wrong.
Time required
The Marmottan Monet Museum consists of three floors: the basement, the zero floor, and the first floor.
Overall, it's not very large, but each room is worth seeing, so it may take a little longer than you think.
If you just walk around, you can see it in about an hour, but if you're looking at this page, you're probably interested in Monet, so you'll want about two hours.
The museum is basically empty, so you can take your time to appreciate each piece.
Highlights
The works on display in the museum are, of course, all wonderful, but the museum itself is just as full of attractions.
The exterior of the hotel is, of course, lovely, but the interior is decorated with a variety of furnishings and all the rooms are very nice.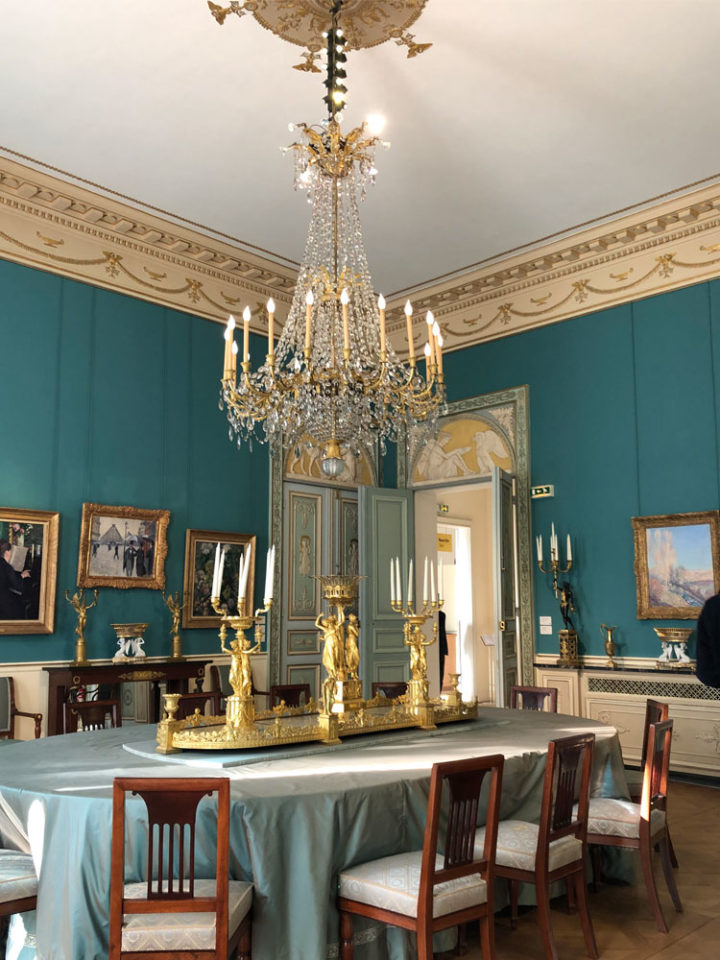 Not only are there countless works of art displayed on the blue-green wall color, but the dining utensils such as tables, chairs, and candle stands are also eye-catching.
And a beautiful chandelier.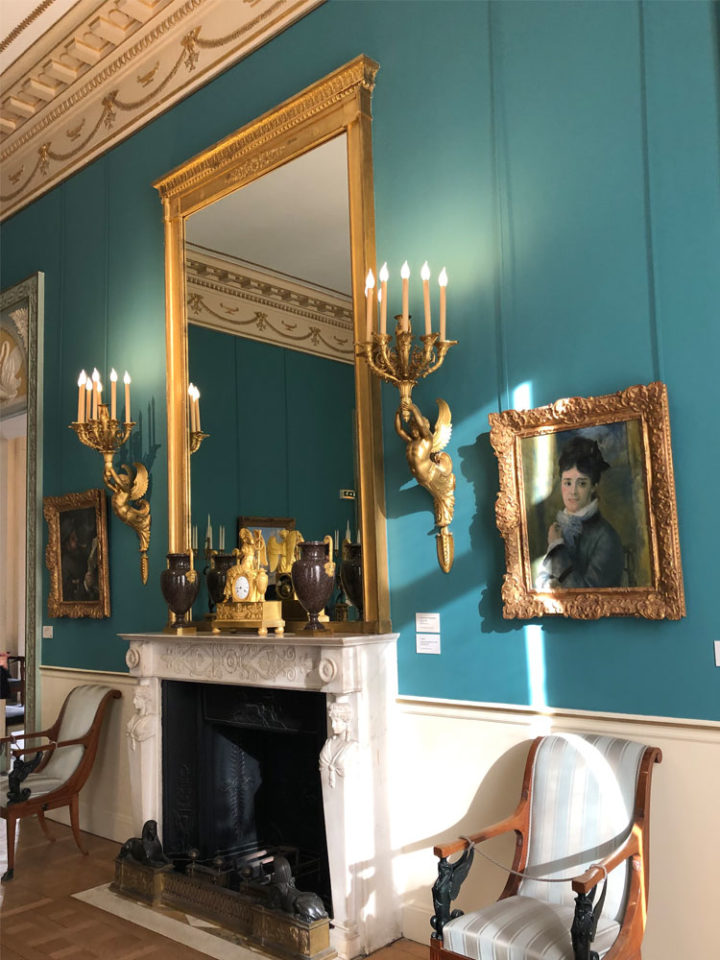 It's a museum, but I feel like I'm in some nice mansion.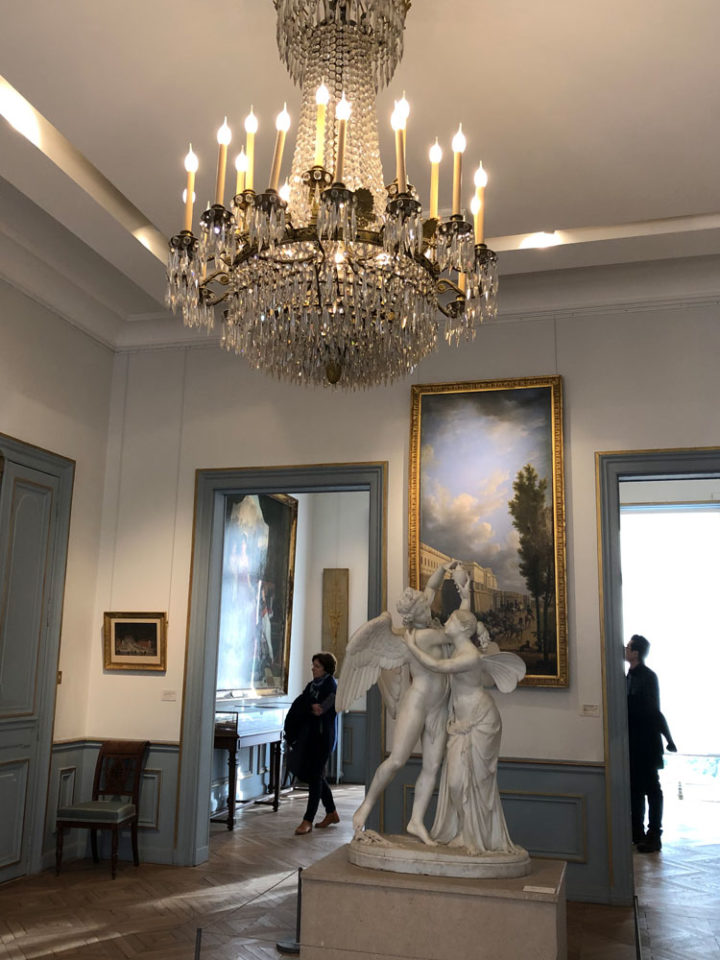 L'Amour et Psyché 
Antonio Canova (1757-1822)
The room itself is a work of art, so you can enjoy the museum from many different angles.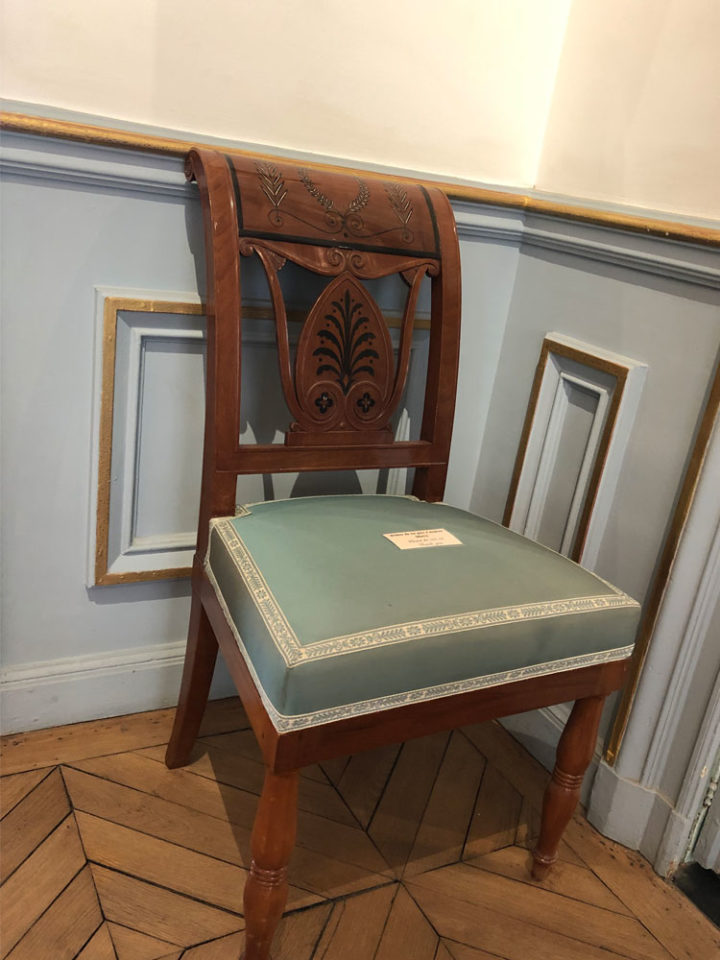 The chairs placed throughout the room are also historic chairs.
Please be careful not to sit on it.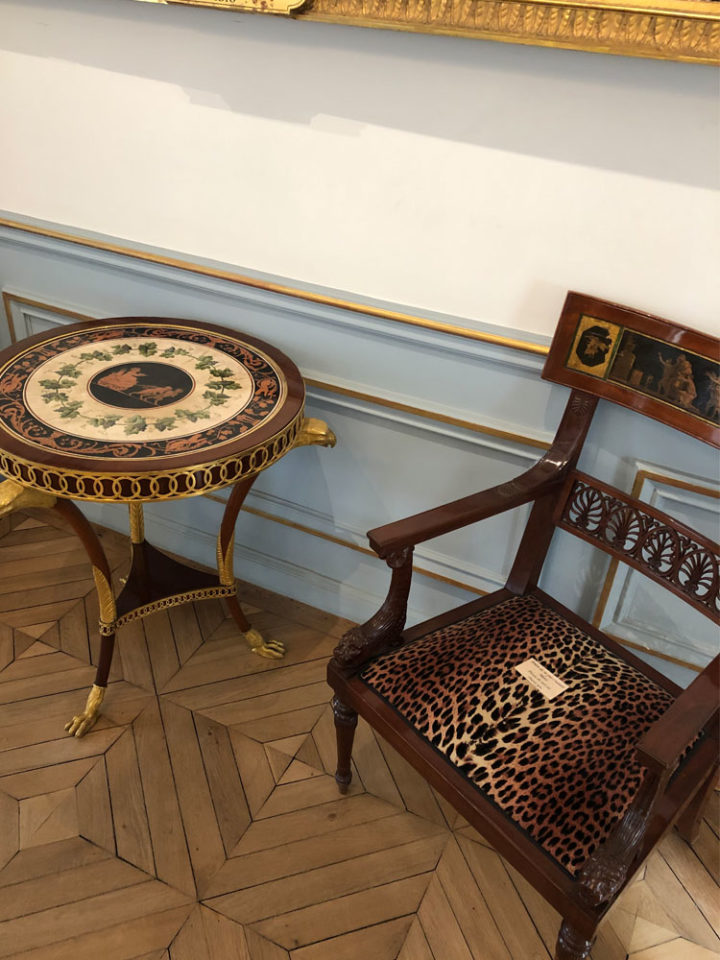 It is an elaborate work of art down to the smallest detail.
It's easy to miss them when you're absorbed in the painting, so be sure to look carefully.
Claude Monet (1840-1926)
Impression, soleil levant (1872)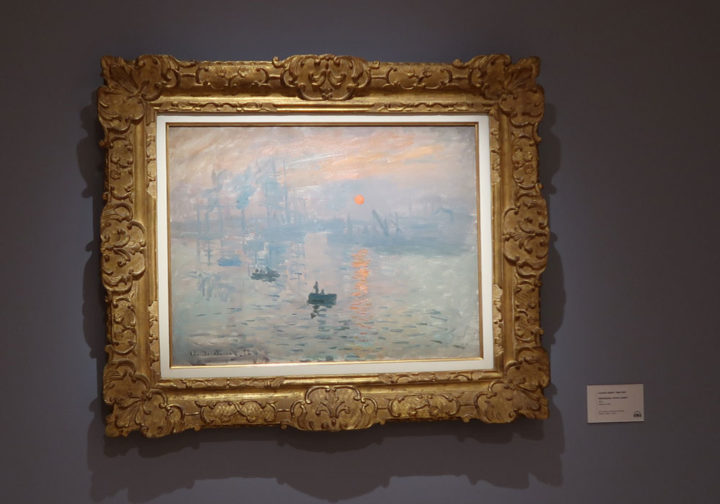 It is said that he painted the view from the window of the Hotel del'Amirauté in Le Havre in November 1872.
It is a work of great importance in the history of art, and is the origin of the name "Impressionism".
Cathédrale de Rouen, effet de soleil, fin de journée(1892)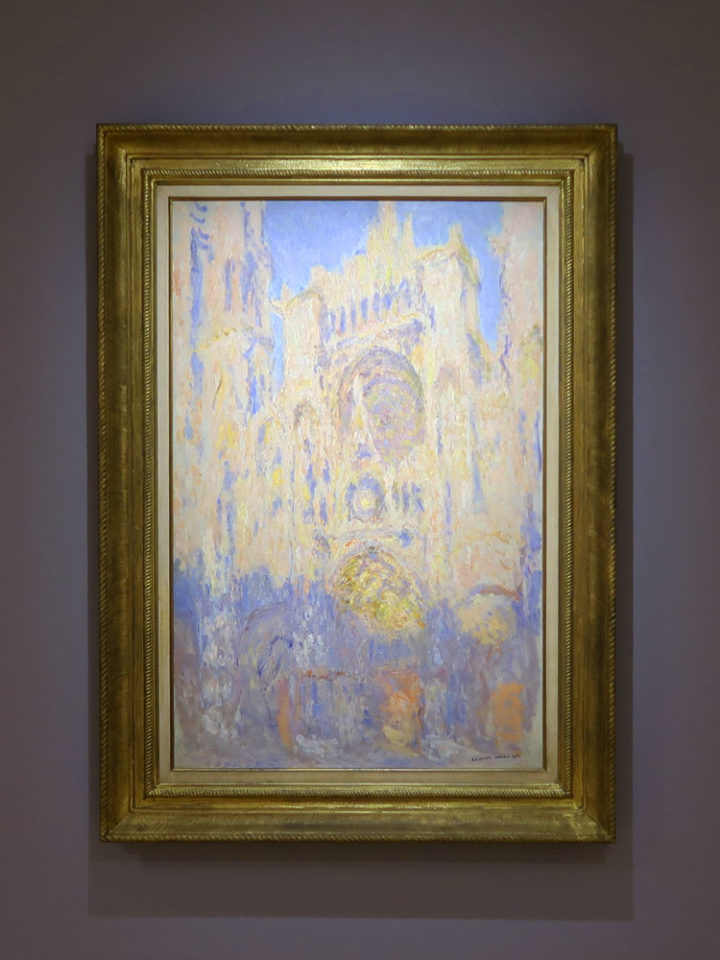 From 1892 to 1894, Rouen Cathedral was painted in a series of paintings.
He concentrates his work on the west side of the cathedral.
It is also said that there are 33 works in Rouen Cathedral.
En promenade près d'Argenteuil(1875)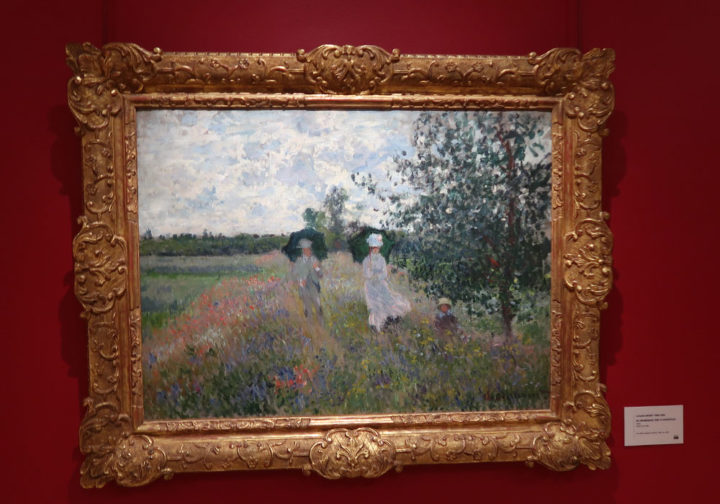 This work was done when he had his studio in Argenteuil, near Paris.
It depicts his wife, Camille, and his son, Jean.
Les Tuileries(1876)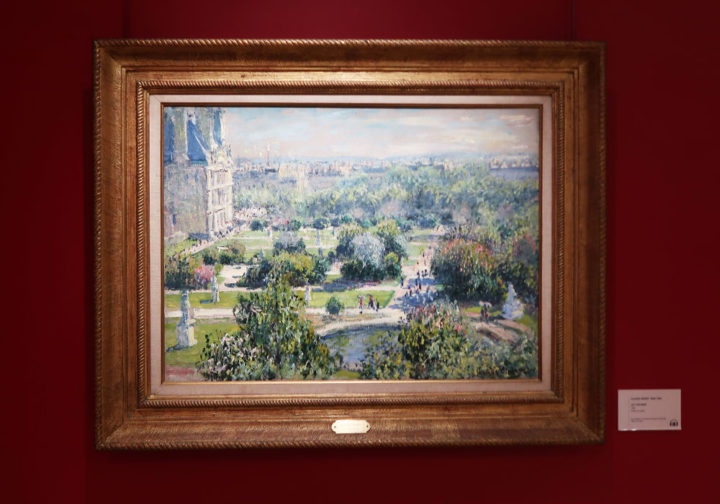 This work depicts the view from the apartment on Rue de Rivoli of Victor Chocque, a supporter of Cézanne.
The view is from the fifth floor of the apartment, so the work is looking down on the Tuileries.
There are said to be several paintings, but the one in the Marmottan Museum is said to be the best.
Gare Saint-Lazare(1877)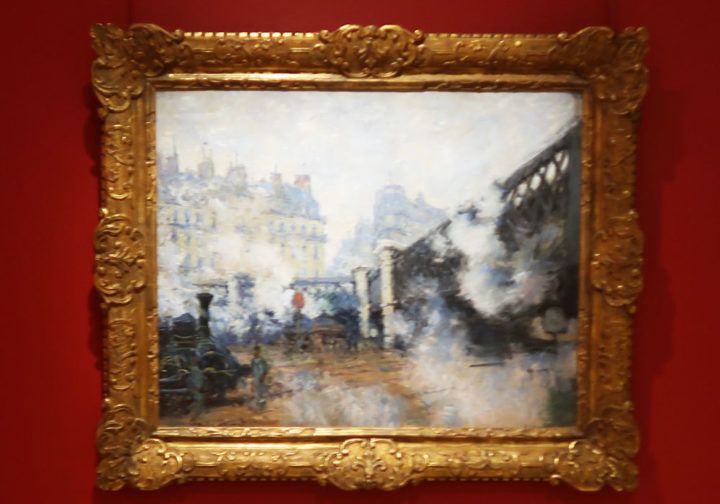 This work depicts the area around San Lazar station.
The bridge depicted in the picture has now been destroyed and no longer remains.
Berthe Morisot(1841-1895)
Le jardin à Bougival(1884)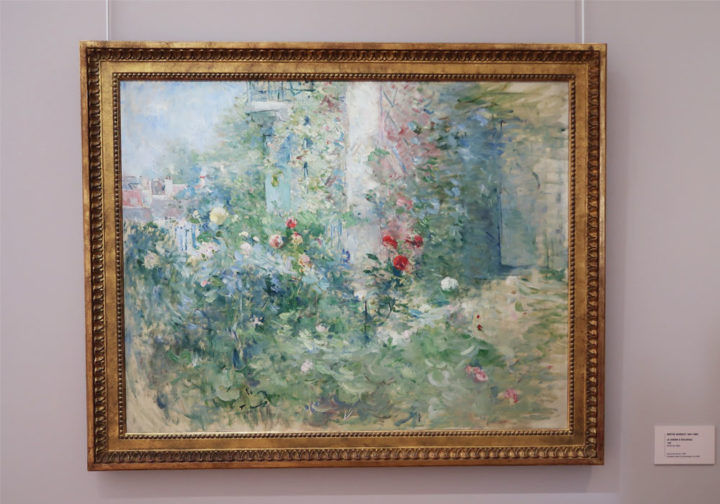 Most of Morisot's work has been associated with Bougival.
A bold painting of a colorful rose bush.
Bergère couchée(1891)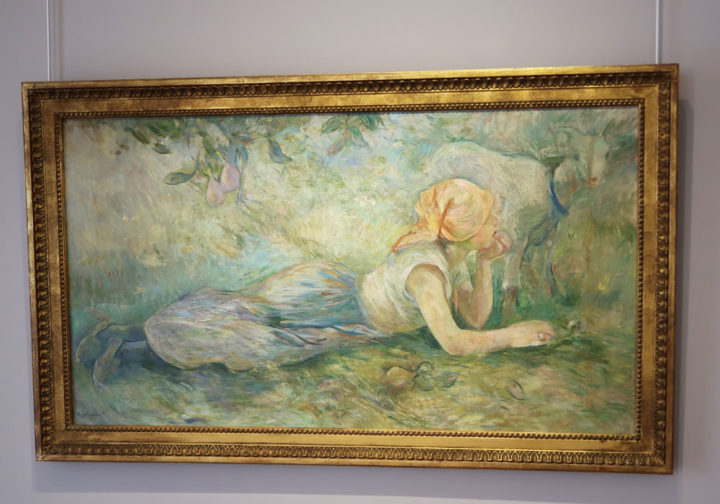 This work is said to be Morisot's masterpiece of her later years.
Painted in Mézy, Yvelines, a suburb of Paris, the work was modeled on Gabrielle Dufour, a friend of his beloved daughter Julie.
In particular, Morisot's touch and exquisite use of color in this work have been highly praised.
Enfants à la vasque(1886)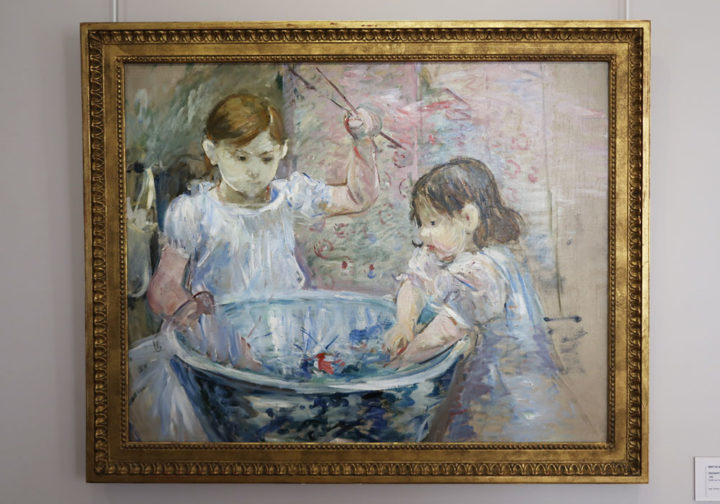 Painted at her home on rue Villejuste, near the Place de l'Etoile.
It depicts Marthe Givaudan, the concierge's daughter, and her beloved daughter Julie playing with a large piece of pottery.
The blue and white Chinese porcelain vase is said to have been a gift from Manet to Morisot.
Gustave Caillebotte(1848~1894)
La Leçon de piano(1879)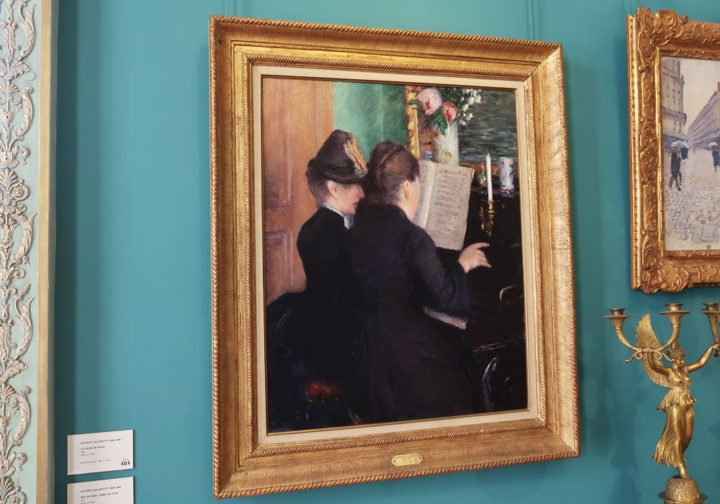 It depicts two women taking a lesson in front of an upright piano.
This theme was a favorite of Renoir's in the following years.
There is a Renoir work in the Musee de l'Orangerie, so it might be a good idea to compare and contrast.
Camille Pissarro(1830~1903)
Les boulevards extérieurs, Effet de neige (1879)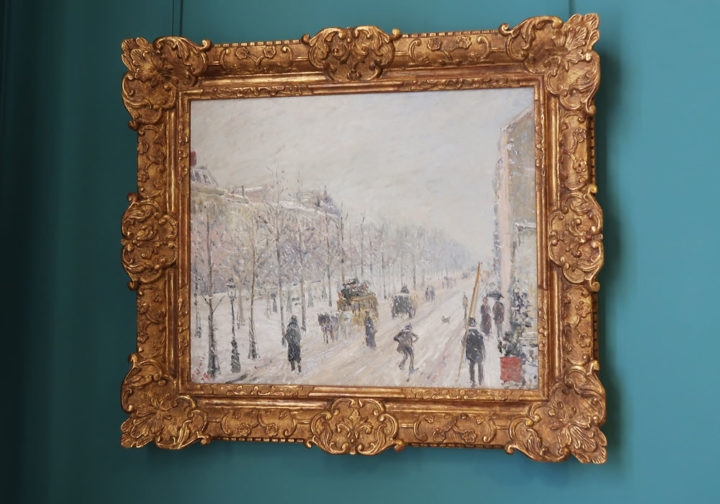 One of Pissarro's early paintings of the city of Paris.
It beautifully depicts the bewilderment of people due to the snow.
Auguste Renoir (1841~1919)
Portrait de Julie Manet(1894)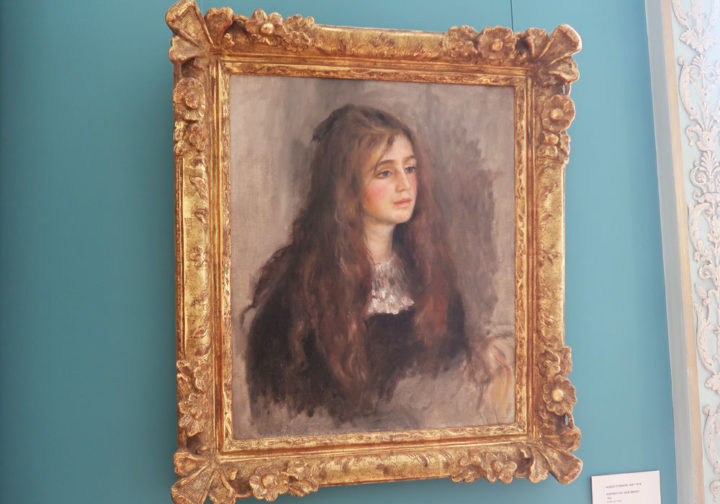 A portrait by Renoir, a friend of Morisot's, of Morisot's beloved daughter, Julie.
Julie's sad gaze on the gray background is impressive.
Librairie-boutique

There is a gift store on the 0 floor of the museum.
Of course, many of the products are related to Monet, but these days the gift stores in museums sell so many different things.
It's not just the Marmottan Monet Museum, but these days all museums are too business-minded.
You can find almost anything, from art books and postcards to stationery, clothing such as T-shirts, polo shirts and hoodies, and fashion accessories.
And they all have one thing in common: they are all expensive.
Of course, I understand that this is the only place to buy this product, but I would appreciate it if you could make it a little cheaper.
Summary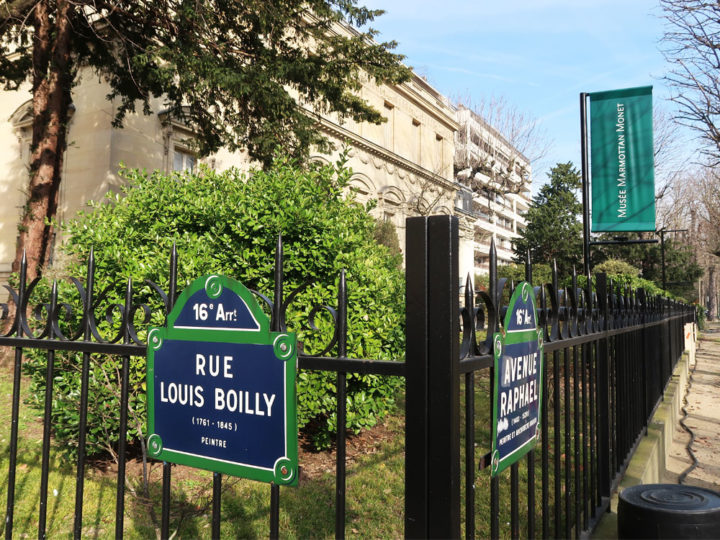 How was it?
It's a small museum on the outskirts of Paris, but it's well worth a visit.
It is a very satisfying museum, not only for Monet, but also for other wonderful works.
It is especially famous for the many works by Morisot that are on display.
A whole room on the first floor is devoted to Morisot's work, and it is very worth seeing.
I highly recommend that you watch it as well.
If you visit the Orangerie Museum beforehand to see Monet's works and Renoir's, you will enjoy the museum from a different angle.
And the 16th arrondissement of Paris is a very safe area.
I recommend taking a stroll around this area, which is a bit more laid back and far from the hustle and bustle of central Paris.
You can also take the metro from La Muette, but I recommend taking bus 32 towards the Trocadero and visiting the Eiffel Tower.
Finally, if you want to go to a museum in Paris but don't want to wait in line and it's crowded, this is the museum you should visit.
This may be a good opportunity for you to fall in love with museums.
Thank you again for reading to the end of this article.