When you come to Paris, I would like you to use the local bus(Paris Bus RATP).
The metro is the most efficient method when sightseeing in Paris, but depending on the location, you may have to change or walk long distance from the train station.
In addition, there are some trouble such as the security and the rise and fall of stairs.
Paris bus RATP, compared to metro, there are hard for beginners, but it is a very good means of transportation that solve such problems.
This time, I will introduce how to use a Paris bus RATP so that anyone can use it easily.
☆Important notice☆

Since April 2019, the route of paris buses has changed significantly.

When using the bus, please check the latest route before using.
Paris Bus Complete Guide
Basic information
Paris buses RATP are unified in green, the main color of RATP (Régie Autonome des Transports Parisiens).
(The latest buses are also increasing in blue.)
To identify where the bus is going, you need to check the number of each bus.
Buses that run through Paris are numbered in double digits, so check carefully and ride.
(Buses running outside Paris will be 3-digit numbers)
To get on the bus is basically from the front.
To get off the bus is the back door.
There is basically no timetable.
Instead, some bus stops display the estimated time of arrival.
Of course, it's not very accurate, so if you're in the daytime, think of it as arriving at intervals of 10 to 15 minutes.
Fare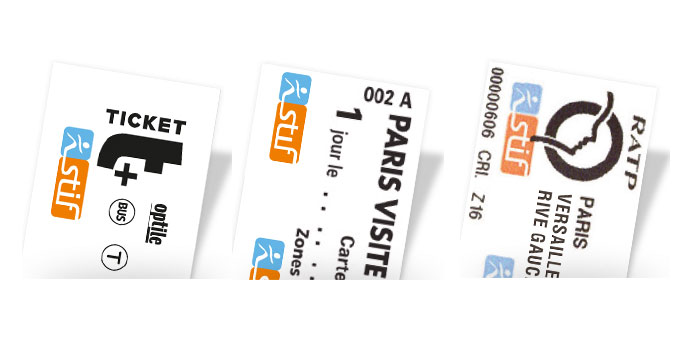 Ticket: €1.9 If purchased at a metro station
    €2 When boarding the bus, if purchased from the driver
Carnet: €16.9for a set of 10 tickets
Mobilis: Unlimited daily ticket from €7.5
Paris Visit: Unlimited 1-5 day tickets from €12
Navigo Découverte: €22.8 per week
Operating hours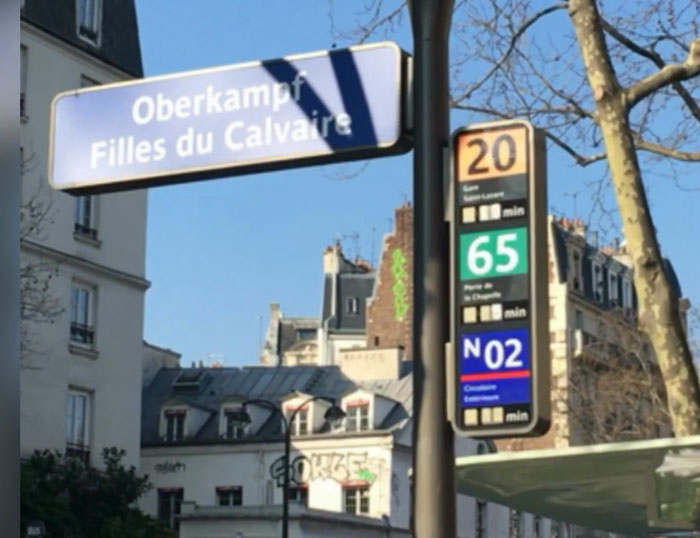 Normal operating hours are from 06:30 to 20:30.
Depending on the route, some buses will continue to drive there.
There is also a late-night bus called Noctilien.
Operating hours are from 00:35 to 05:30.
I don't think I use it for normal sightseeing.
If you are using it for some reason, please check the following.
Some routes do not operate on Sundays.
In addition, the number of routes will be greatly reduced, so let's use it with plenty of time.
How to use the bus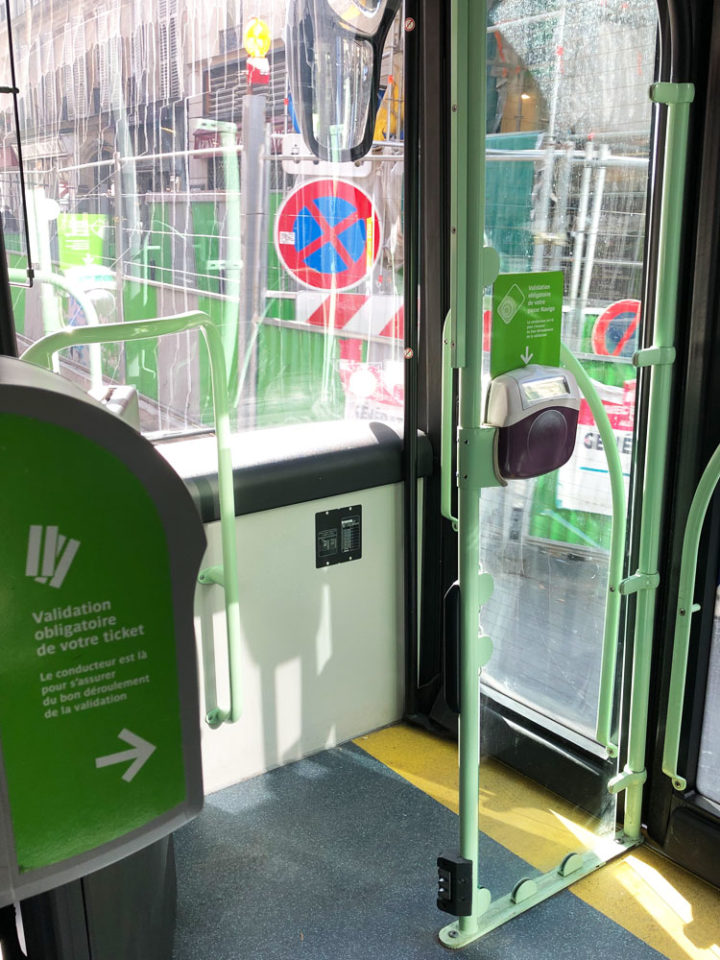 The way to get on the bus is very easy.
Raise your hand and give a signal when the bus you want comes at the stop.
It is not necessary if there are other people to ride, but please note that there may be no other people to ride, or the bus that you take may be different from the other people at the bus stop where multiple lines stop.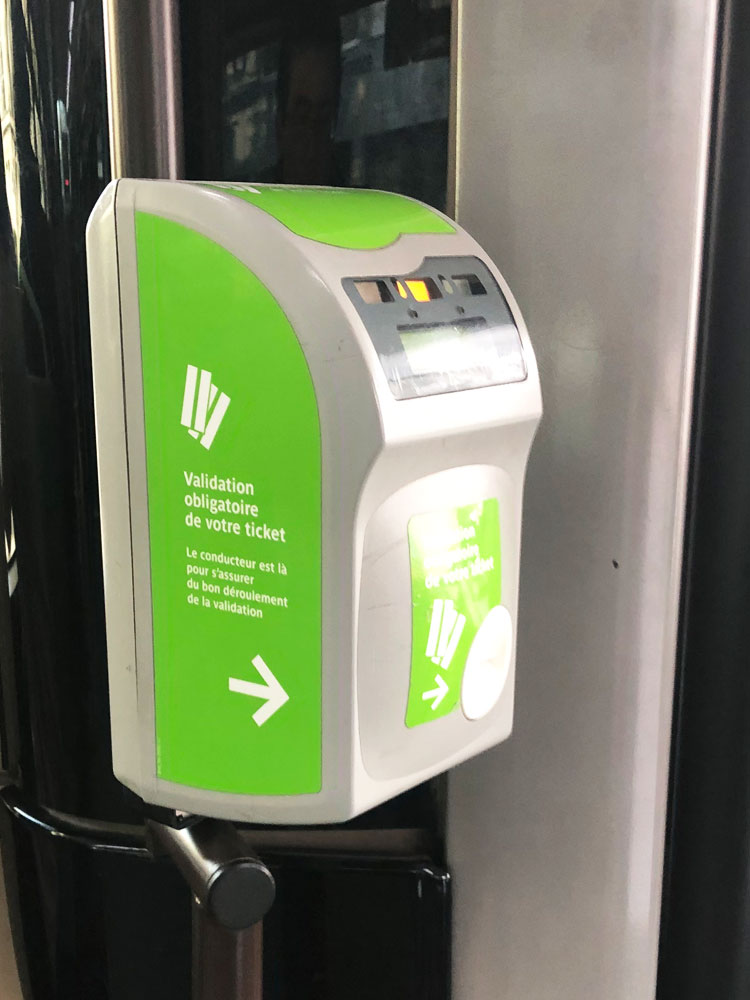 Once on board, if you have a ticket, insert it into a automatic machine and engrave it.
In the image is an automatic machine.
When you get on, so I think you can understand it immediately.
In rare cases, there may be a ticket check, so be sure to have a ticket until you reach your destination.
Just in case you forget the stamp or do not have a ticket, you will be fined a high price.
(Please be careful because you will not be forgiven just because you are a traveler)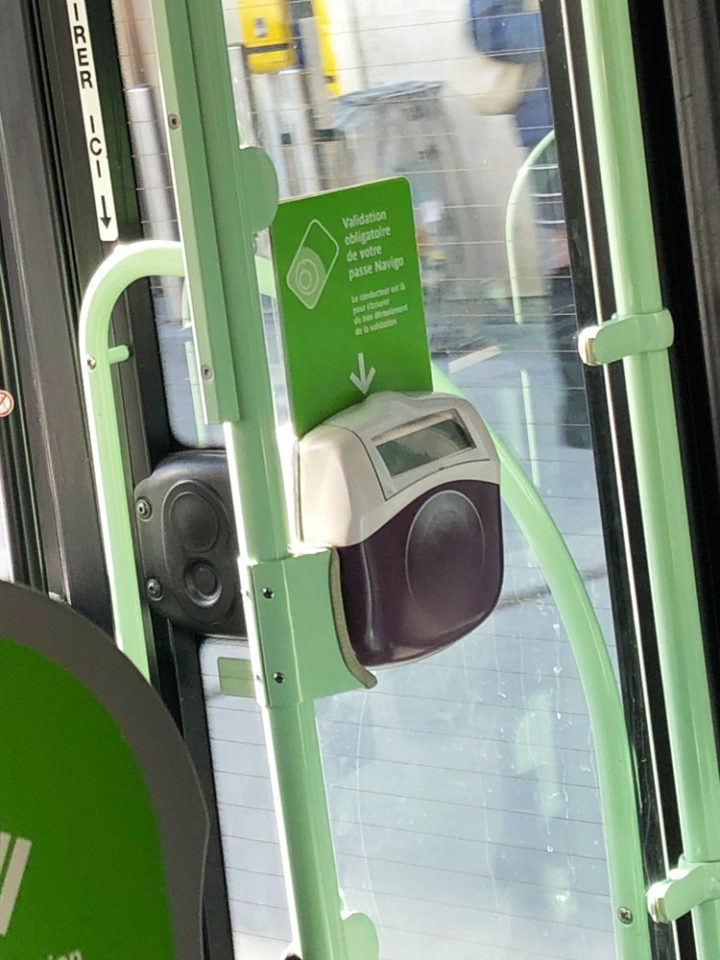 If you're using Navigo, touch this purple machine.
Touch it, and if you hear a sound, it's OK.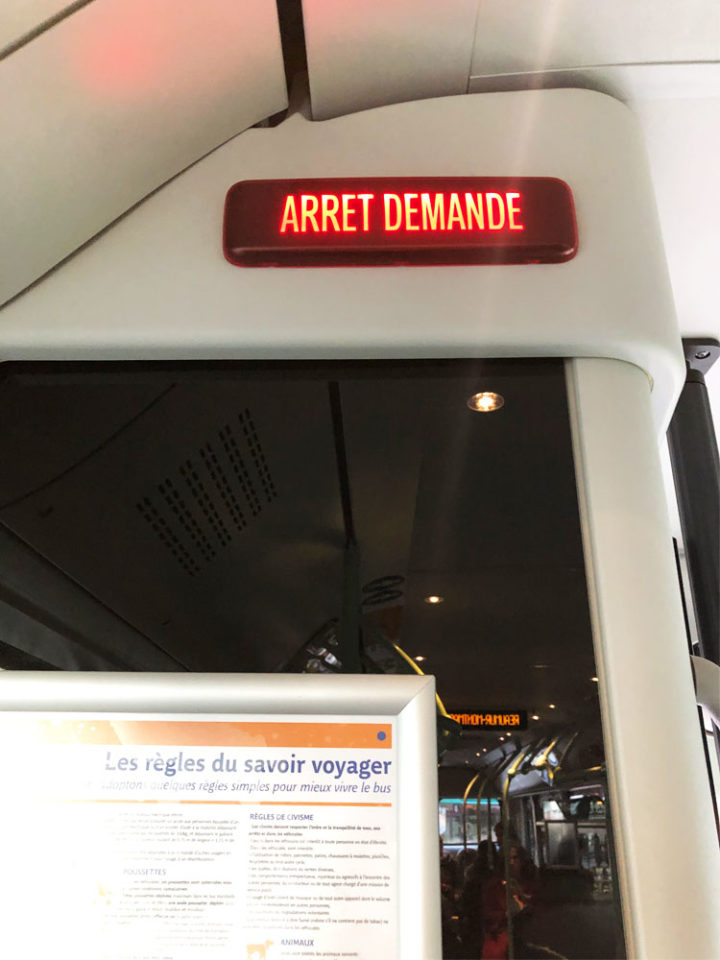 If you are getting off the bus, press the drop-off button to let you know.
If the ARRET DEMANDEramp is on, it will stop at the next station.
There are no announcements about the stops, so please check your station while looking around.
Even if you forget to get off, it is an interval where you can walk back enough if you get off at the next station, so let's act with plenty of time.
To get off the back door is only.
Please note that you cannot get off the front door.
How to connect buses
Paris Buses can be transited with a single ticket.
However, you must connect to the next bus within 1 hour and 30 minutes of the first ride.
Also, please note that you can not get off on the way and get on the bus on the same route again.
Please note that tickets purchased when boarding the bus cannot be transit
ed. Only metro stations and carnets can be transited.
Bus security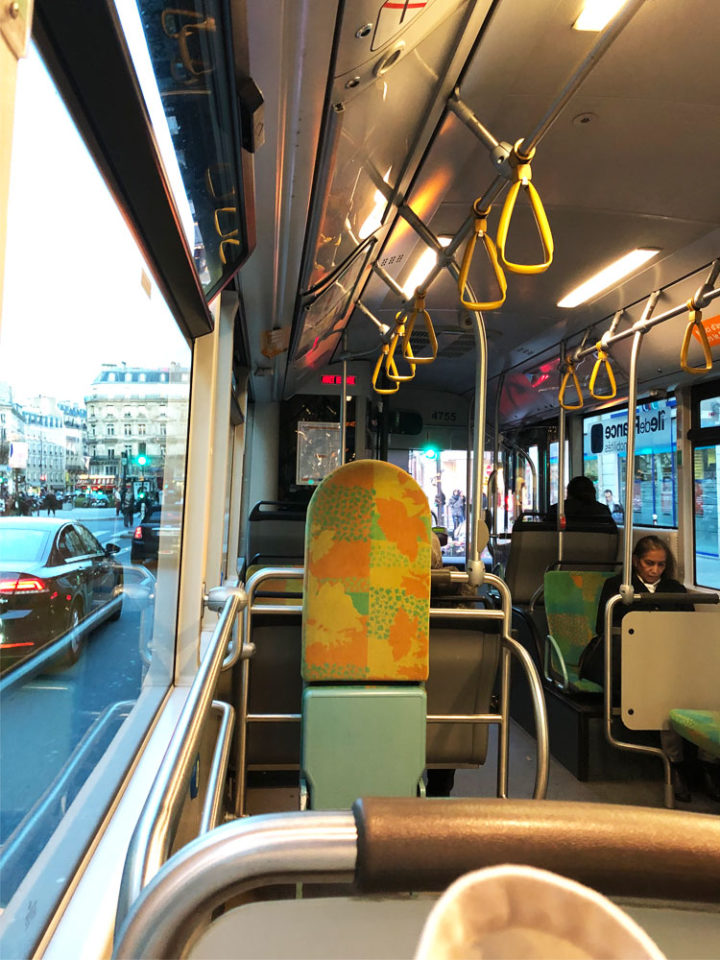 Buses in Paris are safer than metros.
Unlike metro, it is difficult to ride without pay, so you can use it with confidence when using normally.
However, depending on the destination, there are also routes that run in places where security is not good, so be careful.
If you don't forget that it's Paris, you're unlikely to get into major trouble.
Bus route map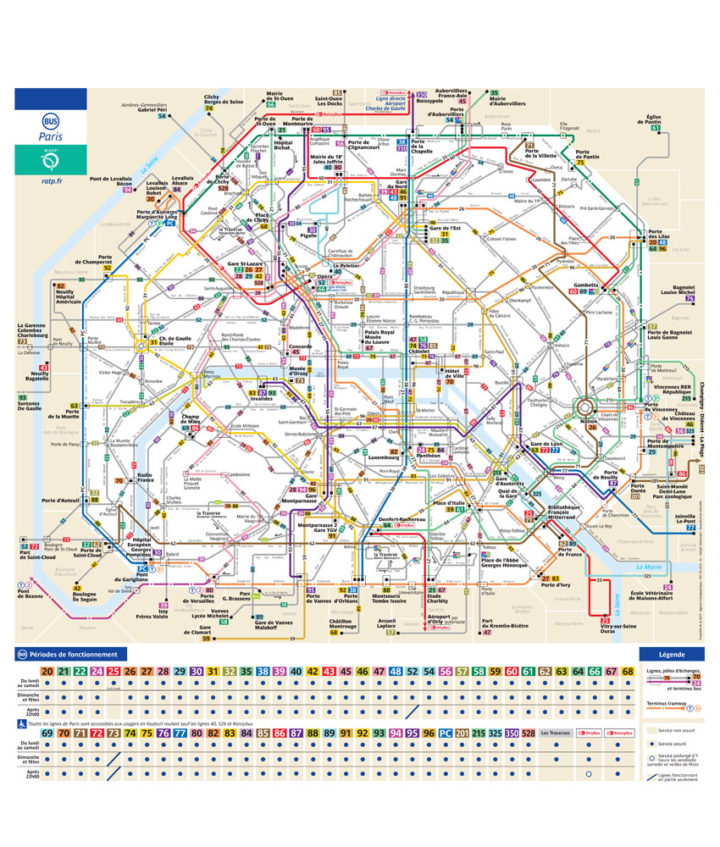 RATP Bus Route Map 2019 Revised Edition
The map of Paris is very complicated.
At first point, I think that it is difficult for people that knows this area pretty well just by looking at the map.
In addition, there are many one-way roads in Paris, so there are many different roads on the same route.
It is very convenient to use such a bus well.
I would like to introduce how to utilize almost all routes from now on.
Summary
How was it?
This time, I was able to guide you with basic information for getting on the bus.
It's somehow difficult to get on a bus in Paris, but once you get the hang of it, you'll feel like you've been sightseeing in Paris just by riding.
Also, like metro, there is no need to go up and down stairs to underground, so it is physically easy, and if there is a bus stop near the destination, you may be able to move faster than the metro.
In addition, if you are traveling with a suitcase while traveling, it is possible to move much safer than metro.
(Hotel selection also expands)
Please enjoy the fun of the bus and enjoy sightseeing in Paris.
Thank you for reading to the end this time.
Each bus route is introduced in detail below.
If you look at it together, I think that it is easy to get the image when you actually use the bus.
Please refer to it by all means.
Please check here for the introduction article from line 20 to line 29.
Please check here for the introduction article from line 30 to line 39.
Please check here for the introduction article from line 40 to line 48.
Please check here for the introduction article from line 52 to line 58.
Please check here for introduction articles from Line 60 to Line 69.
Please check here for the introduction article from line 70 to line 77.
Please check here for the introduction article from line 80 to line 89.
Please check here for introduction articles from Line 91 to Line 96.