The second branch of LAURENT DUCHÊNE Paris, which has a shop in the 13th arrondissement of Paris, is the shop introduced here.
The shop is located in the 15th arrondissement of Paris and can be visited using metro line 12, making it relatively easy for tourists to stop by.
This shop is ideal for those who are greedy and want to buy both delicious croissants and cakes in one shop when they come to Paris.
Now let me introduce you to some of them.
LAURENT DUCHÊNE Paris 15ème
Practical information
LAURENT DUCHÊNE PARIS 15ÈME
Address:238 Rue de la Convention, 75015 Paris, France
Opening hours: Tuesday-Saturday 08:30~19:30 Sunday: 08:00~13:30
Closed: Monday
Nearest Metro station: Convention line 12 
Features
Mr LAURENT DUCHÊNE was awarded the MOF (Meilleur Ouvrier de France) in 1993, at the young age of 30.
He had a very successful career up to that point, working as a pastry chef in a number of starred restaurants.
In 1999, he won the Coupe du Monde de Pâtisserie, in which he participated as a coach.
In 2001, she opened her own shop in the 13th arrondissement of Paris.
In 2010, a second shop was opened in the 15th arrondissement of Paris.
In 2019, a third shop and café will open in Vincennes, on the outskirts of Paris.
It is increasingly active in the field.
Exterior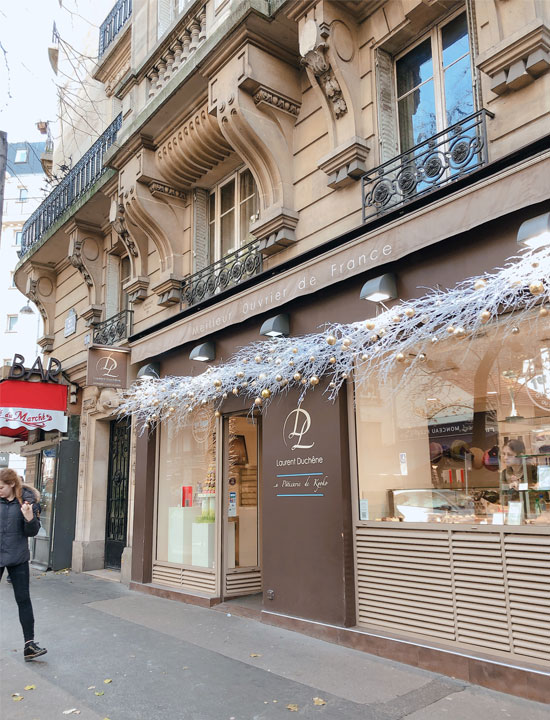 The shop on Convention Street has a modern, clean look.
The street is lined with various shops, so if you don't walk carefully, you might miss them.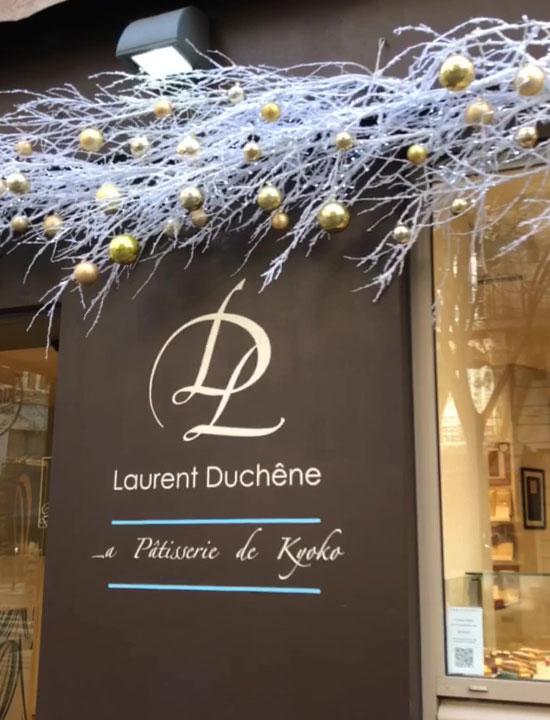 The shop in the 15th arrondissement bears the name of Kyoko, wife of Mr LAURENT DUCHÊNE.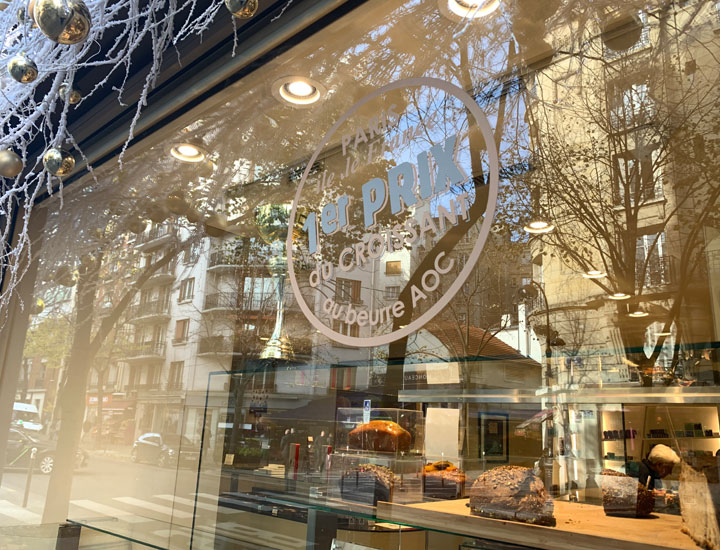 Like the bakery in the 13th arrondissement, it bears the sticker of the first prize in the croissant competition.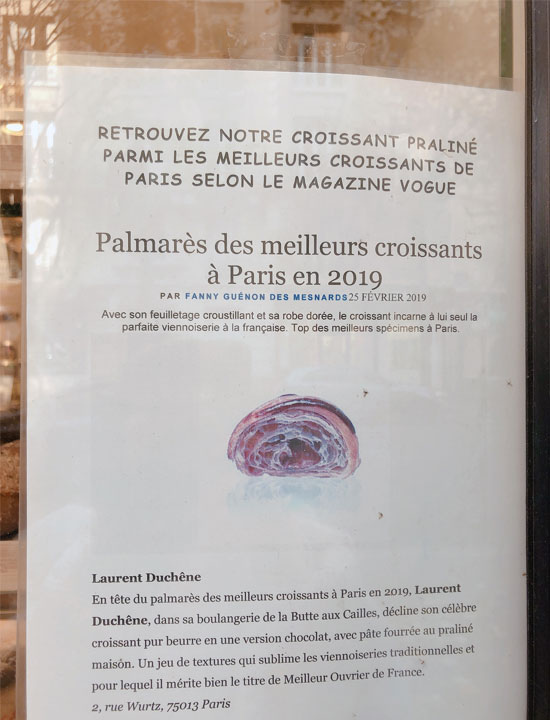 It was also voted best croissant by VOUGUE magazine.
Interior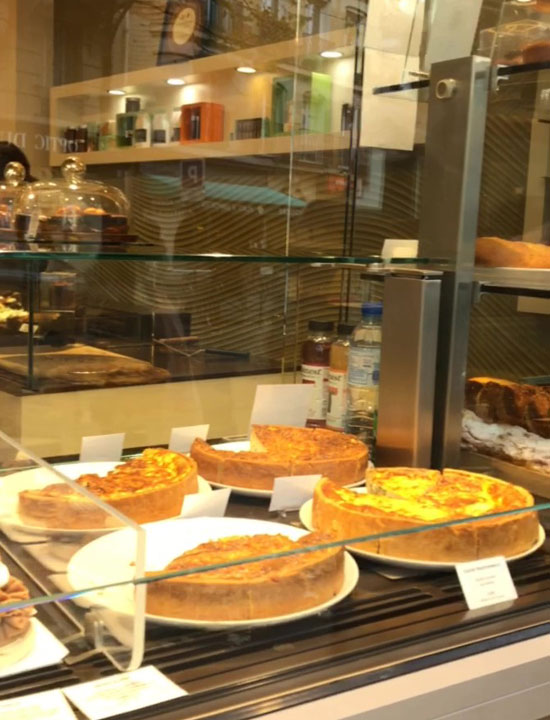 This photo, taken from outside rather than inside the shop, shows a range of tarts.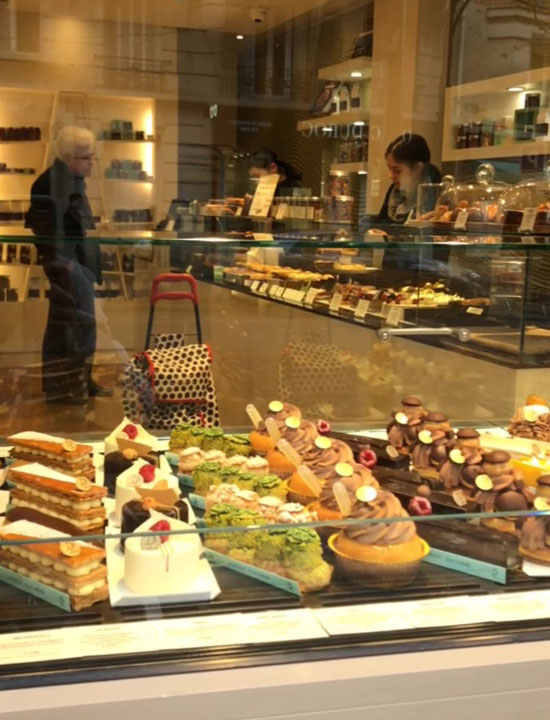 This is also taken from outside the shop.
Delicious-looking cakes are lined up.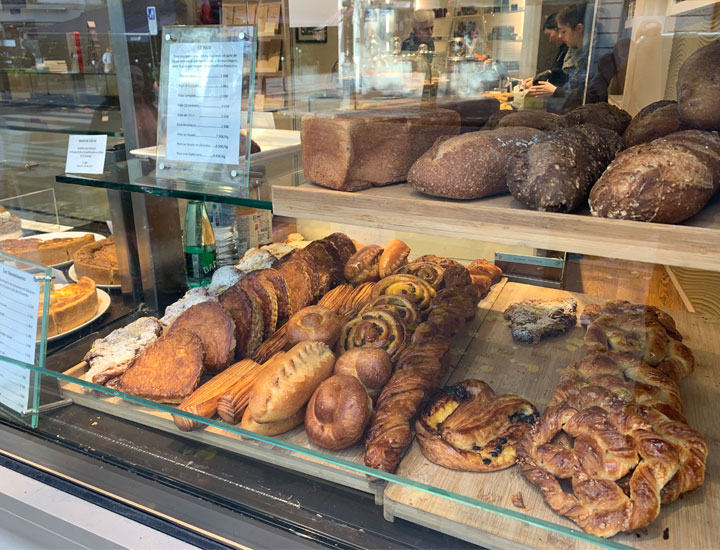 Breads and viennoiseries will also be on offer.
Overall, the variety and quantity is small.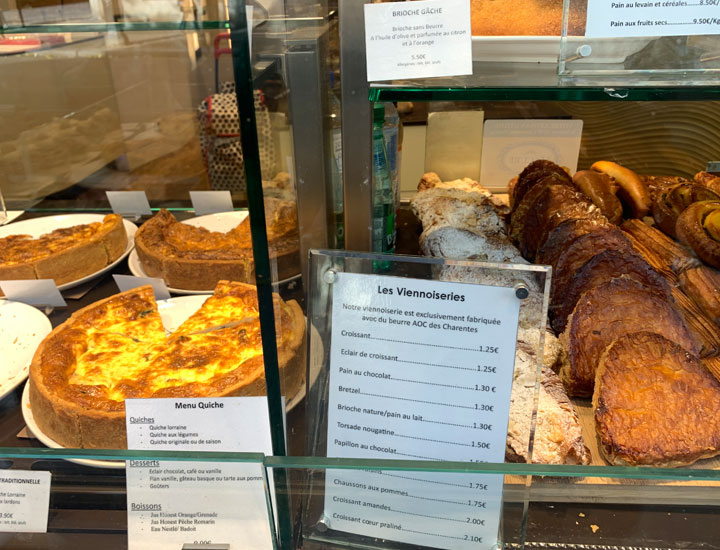 You can also see the prices from the outside.
This is a sight not often seen in Paris.
The interior of the shop is clear and uncluttered.
The bakery has a modern feel.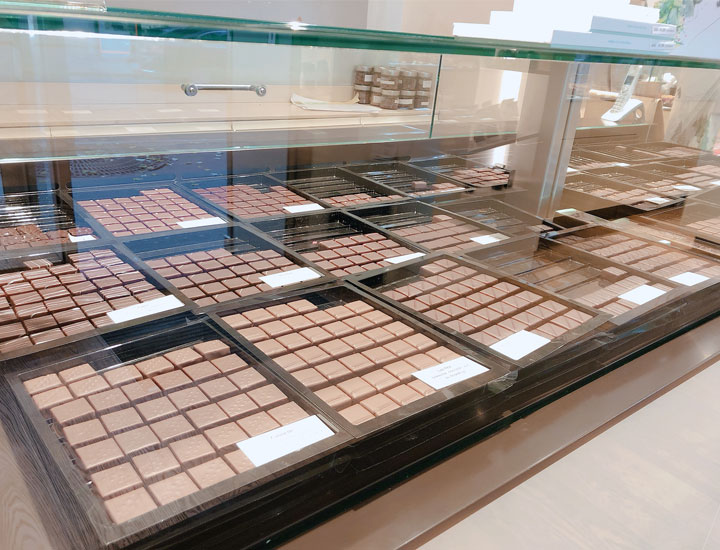 They seem to be focusing a lot on chocolate.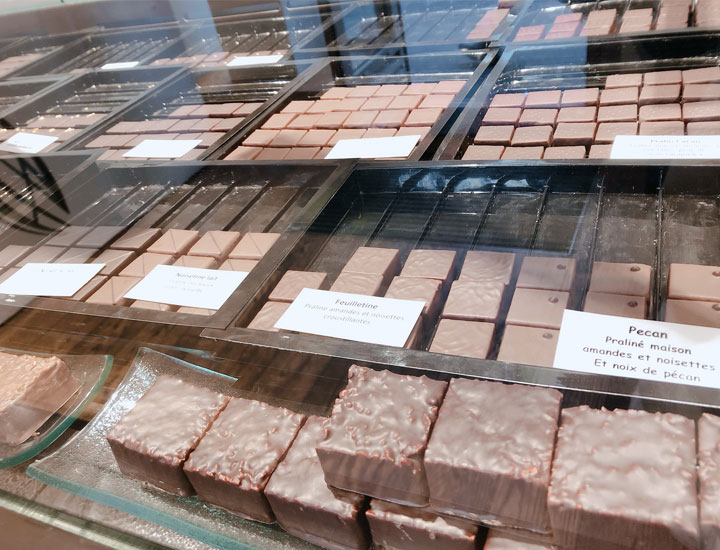 A wide range of chocolates is available.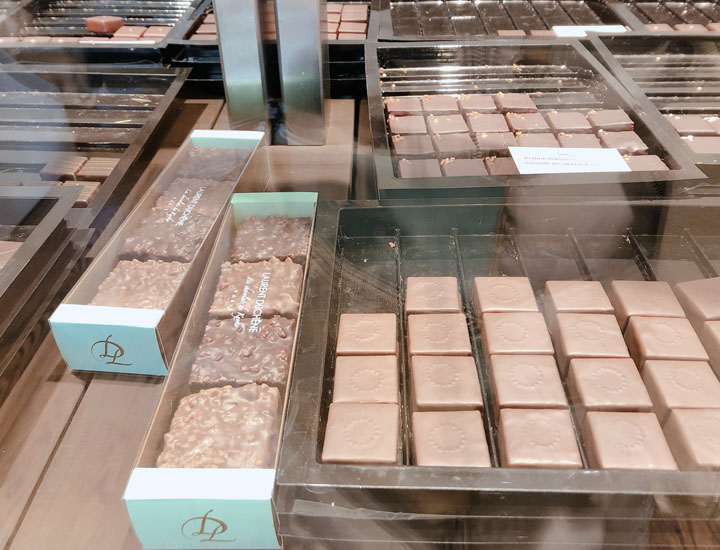 Boxes of chocolates are available, or you can choose to buy individual chocolates of your choice.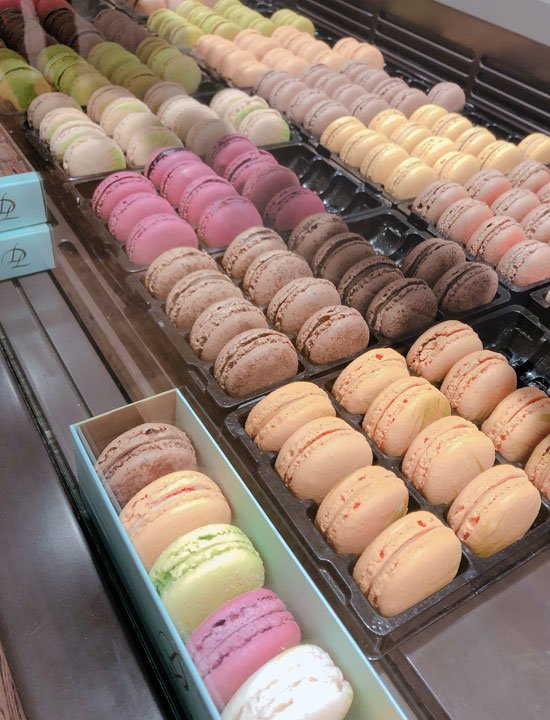 Macaroons are also available.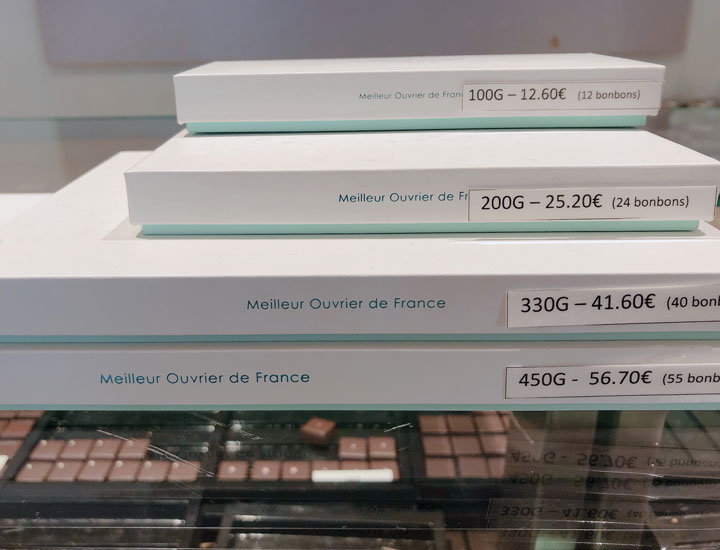 Macaroons are about €1 each.
In a box, it makes an ideal souvenir.
Summary
The overall rating is as follows on a 5-point list.
LAURENT DUCHÊNE PARIS 15ÈME
Taste:★★★★★
Exterior: ★★☆☆☆
Interior: ★★☆☆☆
Price:★★★★☆
Store clerk : ★★★☆☆
Ease of purchase: ★☆☆☆☆
Location: ★★★☆☆
5 Stars for taste.
The products are basically at the same level as in the shops in the 13th arrondissement, so they are very tasty.
In terms of exterior, there is nothing particularly distinctive about it.
If you don't know the shop beforehand, you just think of it as a typical bakery.
There is nothing particularly impressive about the interior either.
To be honest, I feel a bit disappointed because the first shop in the 13th arrondissement is so good.
Prices are general prices.
The staff also give a very normal impression, although there are no special problems.
It is also not very good with regard to ease of purchase.
There are some problems with the layout and, as far as cakes and breads are concerned, the choice is quite cumbersome.
It would be worse, even worse, if it were during busy times.
The location is close to a metro station, so visiting should not be a problem.
However, there are no tourist attractions nearby.
Instead, it is a good idea to go on a bakery tour, as there are many recommended bakeries in the neighbourhood.
Apart from the taste, the ratings were quite low.
This is partly due to the fact that the first shop in the 13th district was so good that expectations have been raised.
Despite being the second shop, I get the impression that it is actually quite focused on chocolate, so if you are looking for cakes and breads, I would recommend going to the first shop.
Cakes and breads are sold in small quantities, so even if you visit, the item you are looking for may be sold out.
Please note that the first shop in the 13th arrondissement can be found here.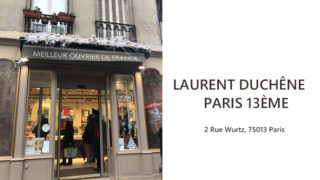 LAURENT DUCHÊNE PARIS 13 One of the four best pastry shops in Paris.
LAURENTDUCHÊNEPARIS,Manypeoplemaynotknowthenameofthisshopinthe13tharrondissementofParis,butifyoulikeFrance,youmayfeeltha...
Thank you again for reading to the end of this issue.
The latest bakery rankings in Paris are available.
What is the rank of the bakery I introduced here?
Please check it out as well.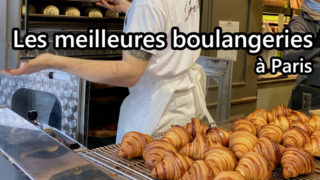 2022 Best Paris Bakery Ranking You'll definitely want to go
OneofthejoysofvisitingParisisvisitingbakeries.Overtheyears,Ihavevisitedmanydifferentbakeries,butwhenIvisitsomanybakeries...