The Hôtel Caumartinn Opera is at the top of the Astotel hotel group, one of the most recommended in Paris.
The hotel is located next to the Astra Hotel, which I have mentioned before, and it is really convenient to go anywhere.
The hotel is also slightly less expensive than Astra Hotel, so it is a good choice for budget-conscious travelers.
Hôtel Caumartin Opéra
Practical information
Hôtel Caumartin Opéra – Astotel ★★★
Address: 27 Rue de Caumartin, 75009 Paris, France
Neares station: Auber RER A , Opéra Line 3,7,8 Havre – Caumartin Line 3,9 
公式サイト:Hôtel Caumartin Opéra
Features
The Hotel Caumartin Operais one of the Astotel Hotel Group hotels mentioned here.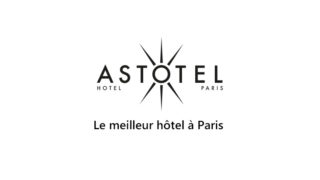 ASTOTEL HOTEL Paris The best Hotels in Paris with Free Offers You Must Stay
One of the most difficult things about sightseeing in Paris is choosing a hotel. There are a variety of accommodations r...
For more information about the Astotel Hotel Group, please read the article above.
I think you will find that it is incomparably more attractive than other hotels in Paris in the same price range.
Anyway, it's full of free benefits, so please check it out.
Exterior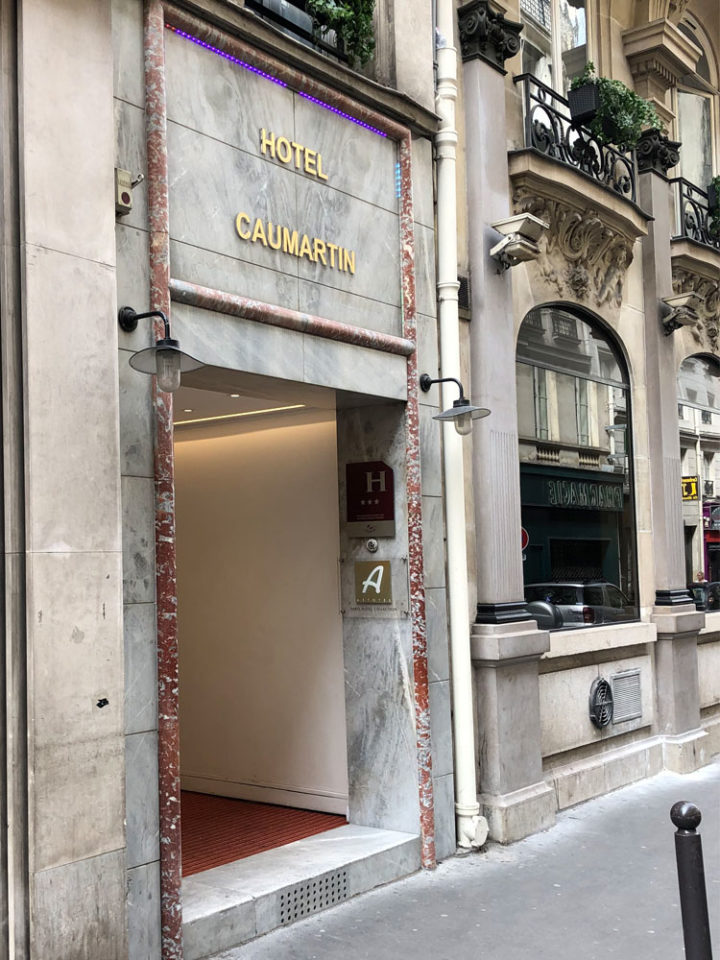 From the outside, there is only a small entrance facing the Rue des Caumartin, casually decorated with the words HOTEL CAUMARTIN.
If you don't look carefully at the map, you may pass by it unintentionally.
The hotel next door is the Astotel Group's Hotel Astra, so be careful not to make a mistake.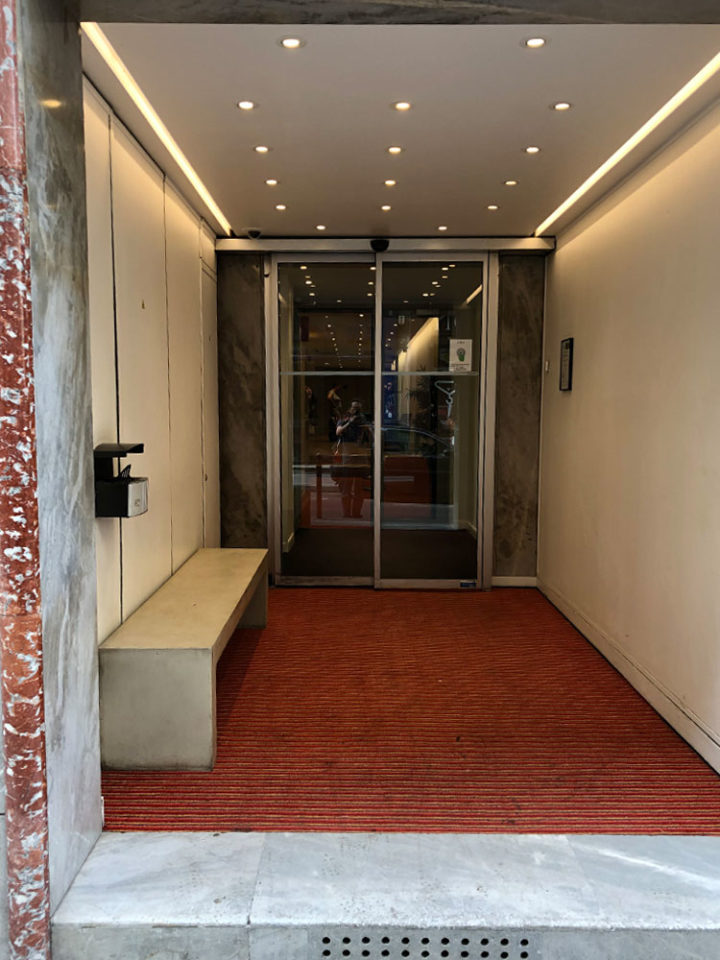 The entrance is inside, with an auto-locking automatic door that is opened by a doorbell.
The whole place is built vertically, so you can hardly see the hotel from the outside.
Hotel Lobby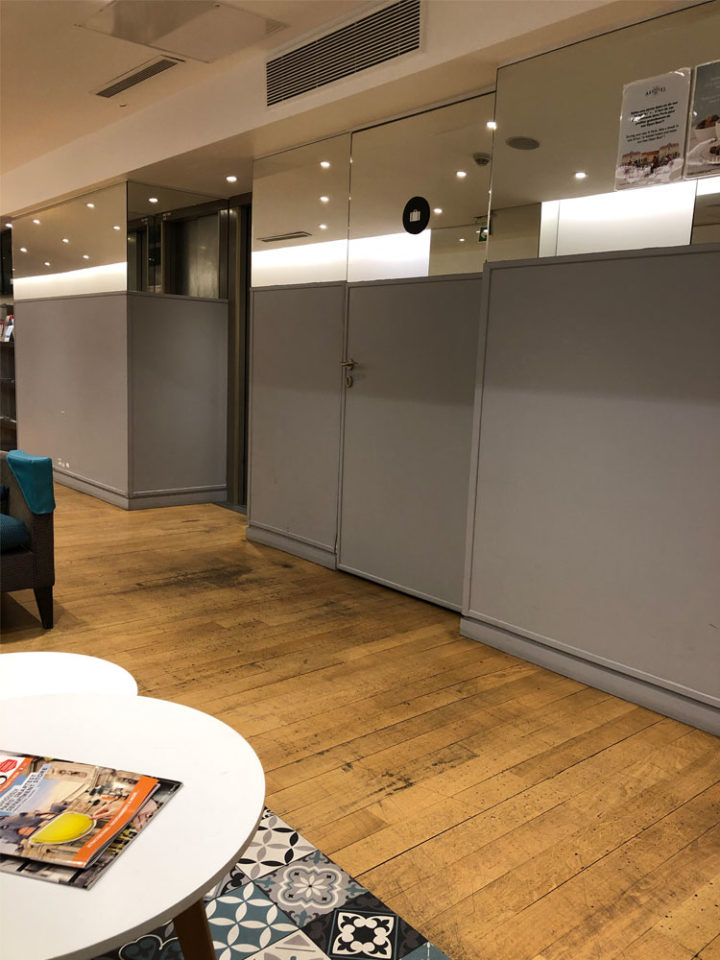 As soon as you pass through the automatic door, you will see the reception counter on your left.
Please complete the check-in procedures here.
The photo is just past the counter.
Elevators, if not improved, will shake when they stop, so be careful not to spill your cup of coffee or anything like that.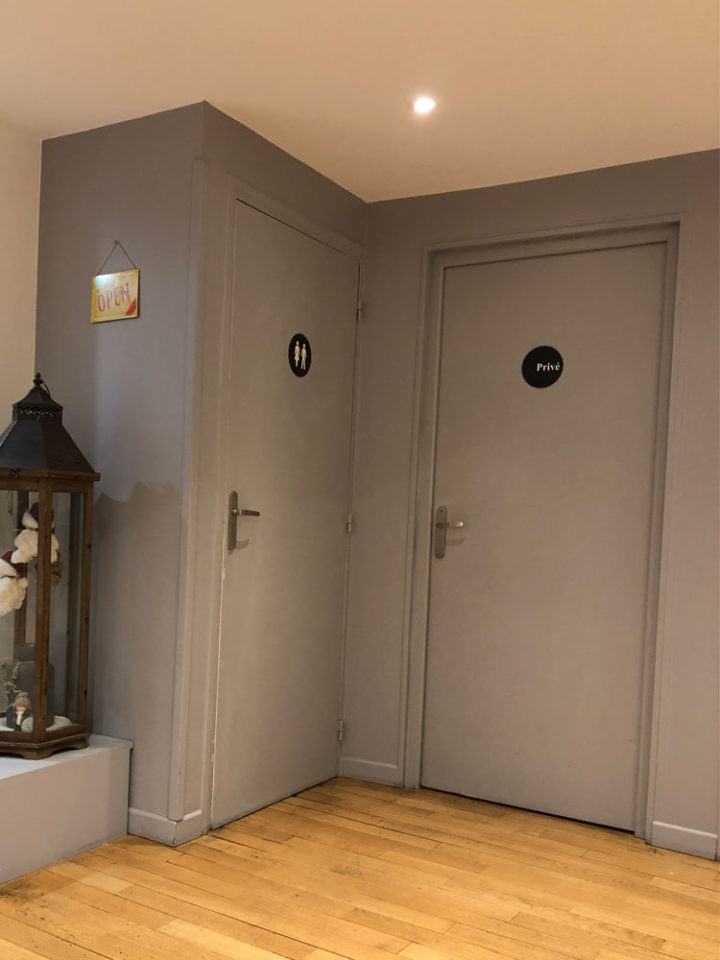 The restroom is at the far end of the hallway.
You can use it upon arrival or departure.
The lobby of the Hotel Caumartin is a bit small.
This is not the type of hotel where you can relax in the lobby.
Room

I forgot to take a picture of the room, so I borrowed it from the official website.
The image shows a deluxe double or deluxe twin room, so it looks a bit spacious, but in reality, the room was rather small.
The rooms are small as only Paris can be, but the refrigerator and bathroom are fine.

It's not ideal for relaxing in your room, but considering that you'll be sightseeing during the day, it's not a problem.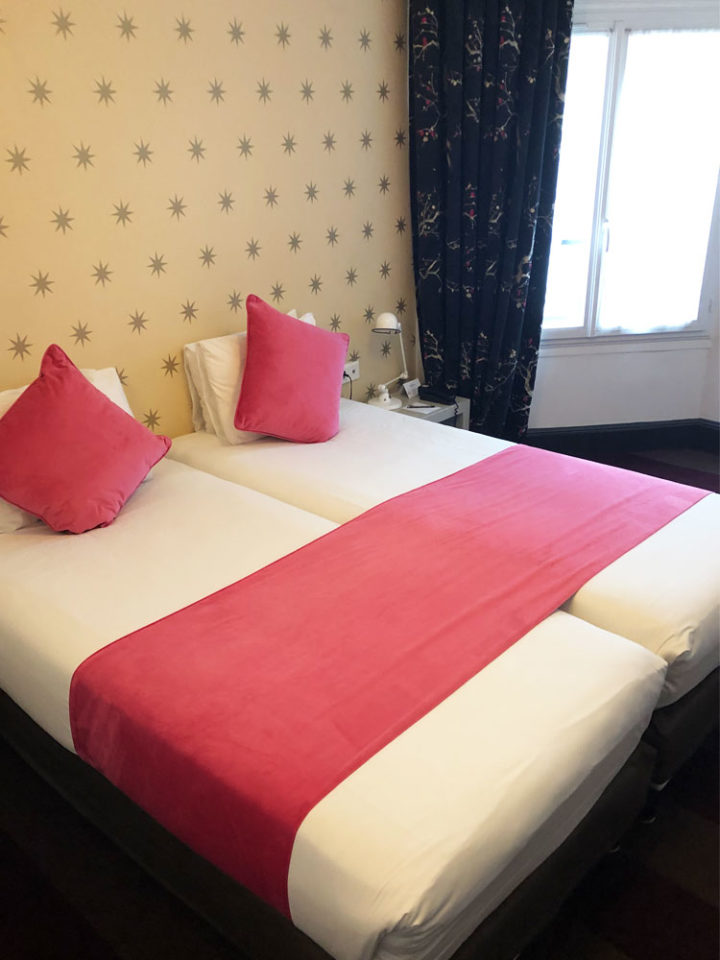 Here is the actual room.
It looks neat and clean.
There is a kettle and instant coffee and tea.
The lack of drawers is a bit disappointing.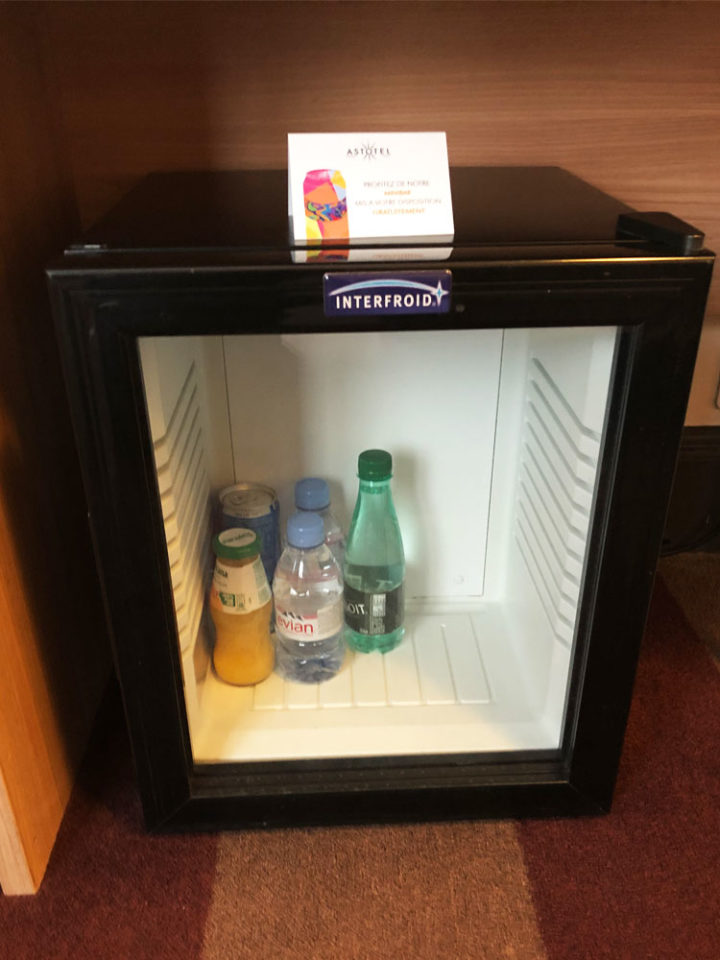 Of course, there are free drinks in the refrigerator.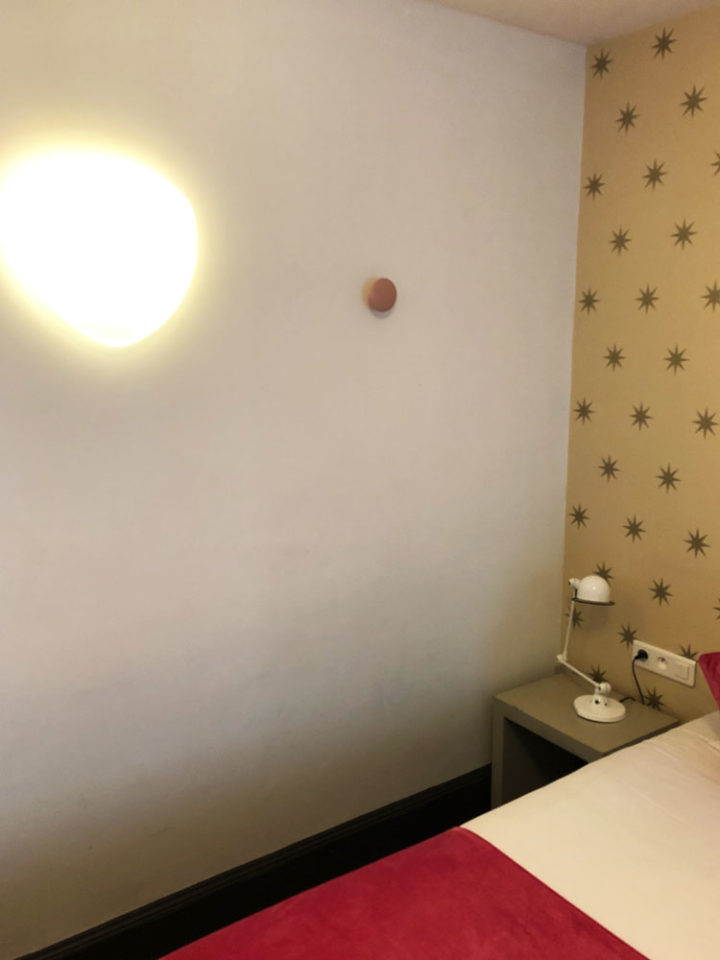 The rooms are small, but clean.
The bedside is equipped with a power outlet.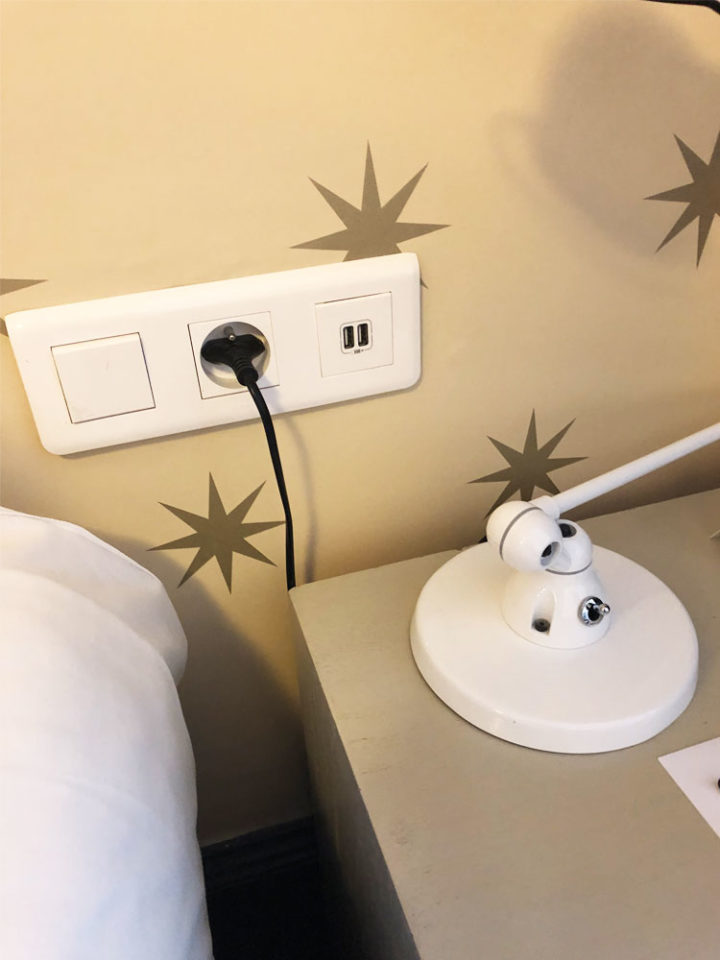 There are power outlets on both sides, but USB charging is only available on one side.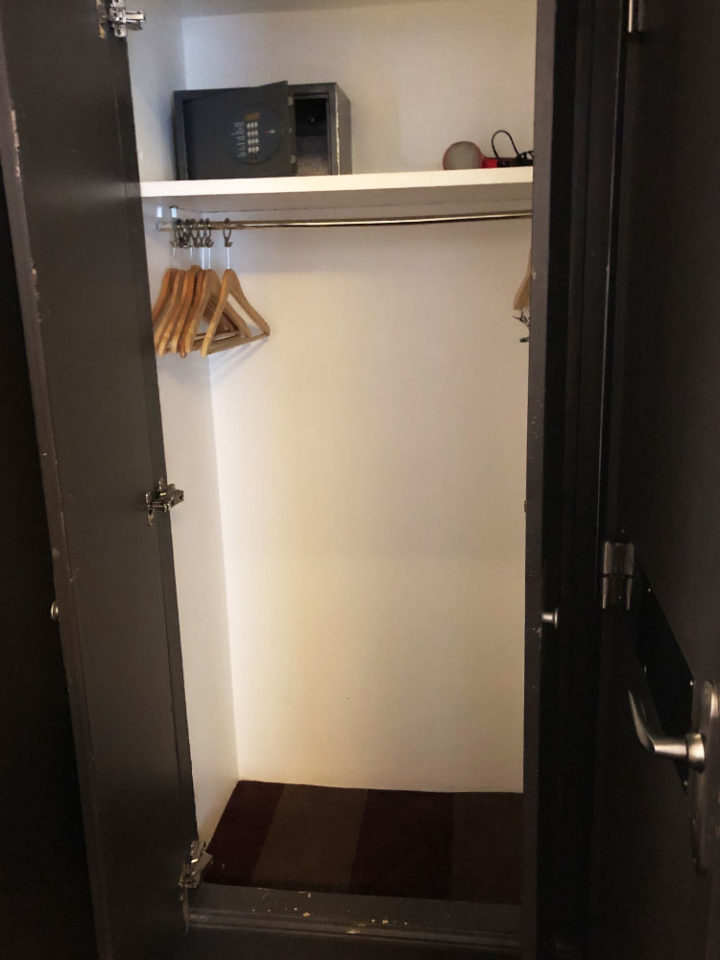 The closet is rather small.
There is a hair dryer and a safety deposit box.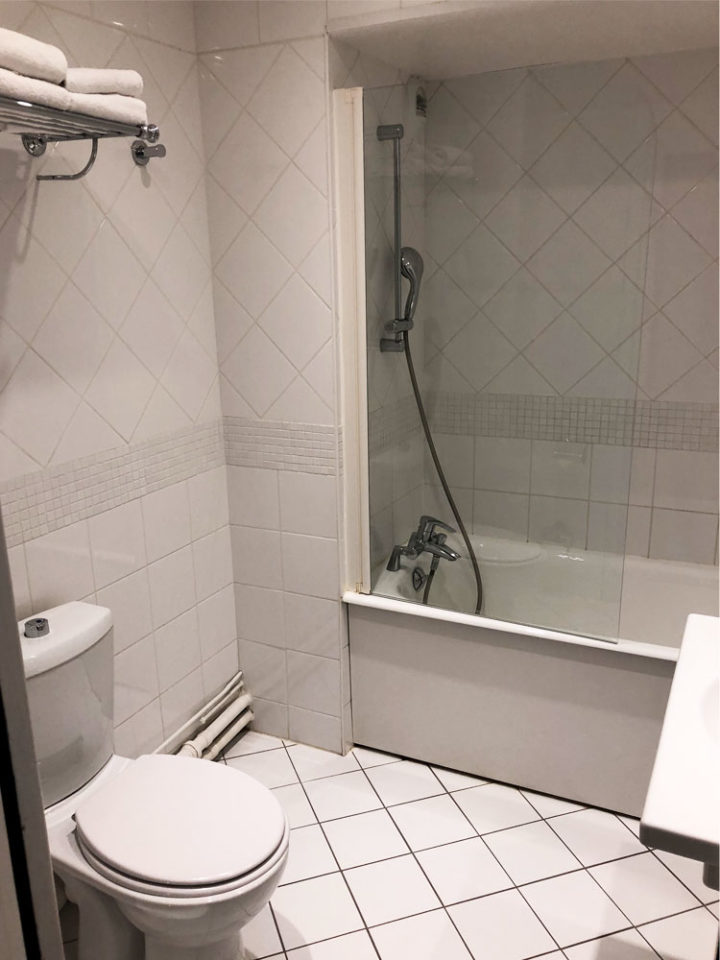 The bathrooms are also small and Parisian in size.
The bathtub has a half-size glass door to prevent some splashing of hot water.
(Be careful, the floor will be flooded if you don't use it properly.)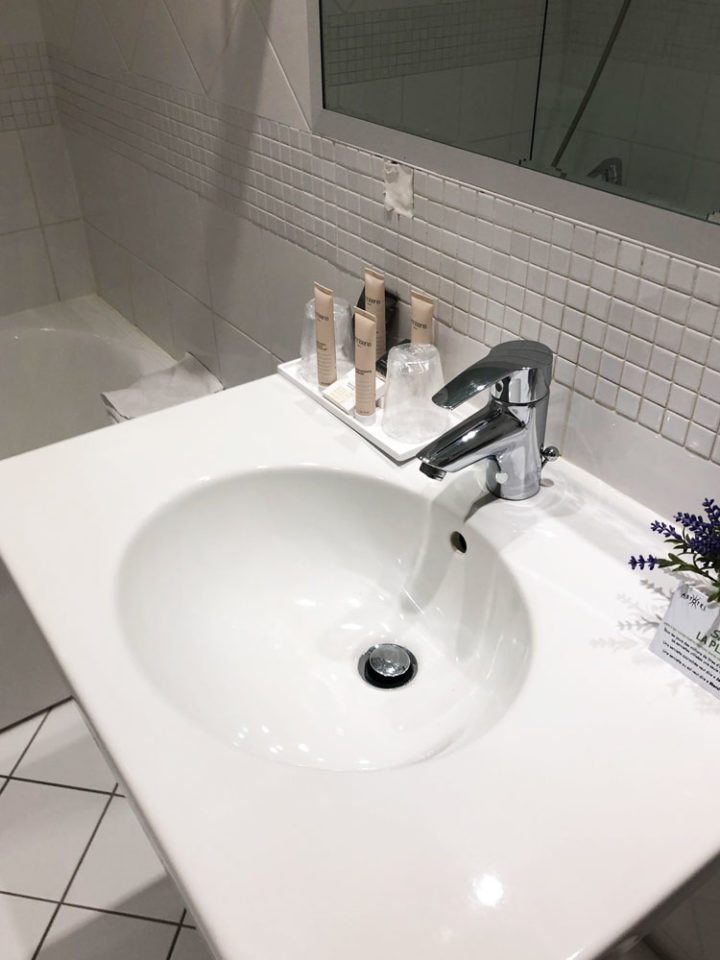 The water and hot water supply is at a problem-free level.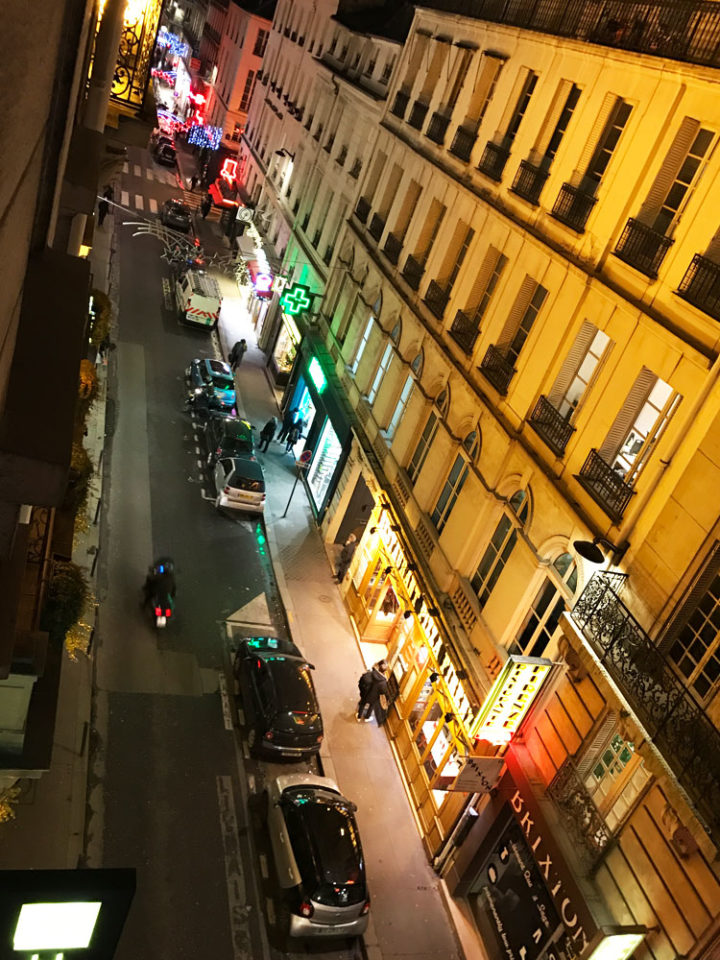 If you have a room on the Caumartin Street side, you can overlook the street.
内側の部屋ですと特に見る物はありません。
Even if you are on the street side, you don't need to worry too much because you won't see anything in particular.
Breakfast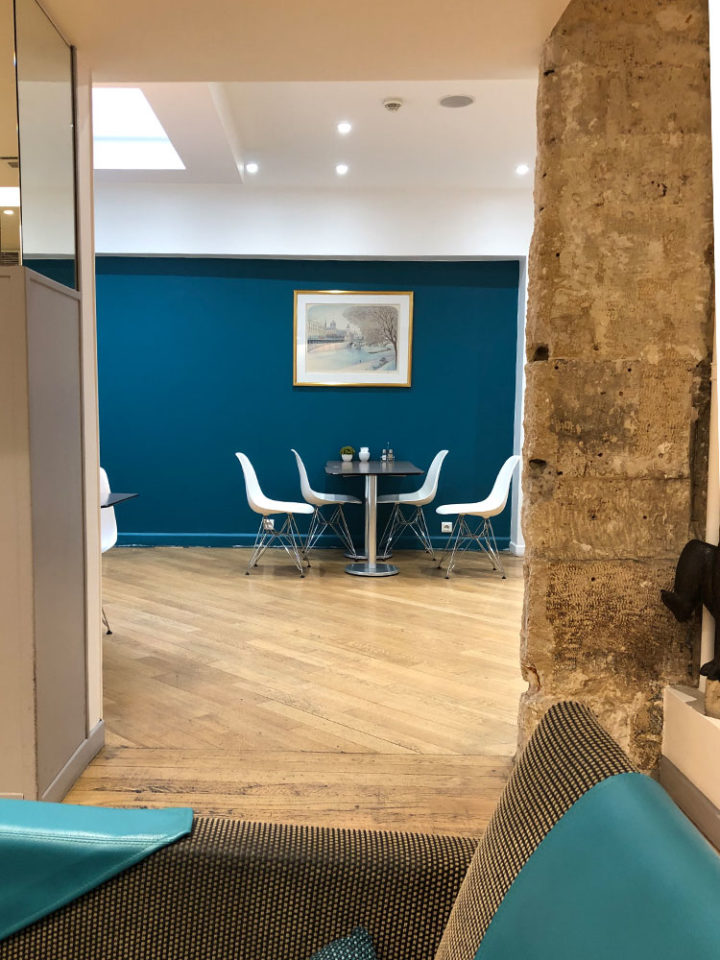 Breakfast is located at the back of the lobby on the left.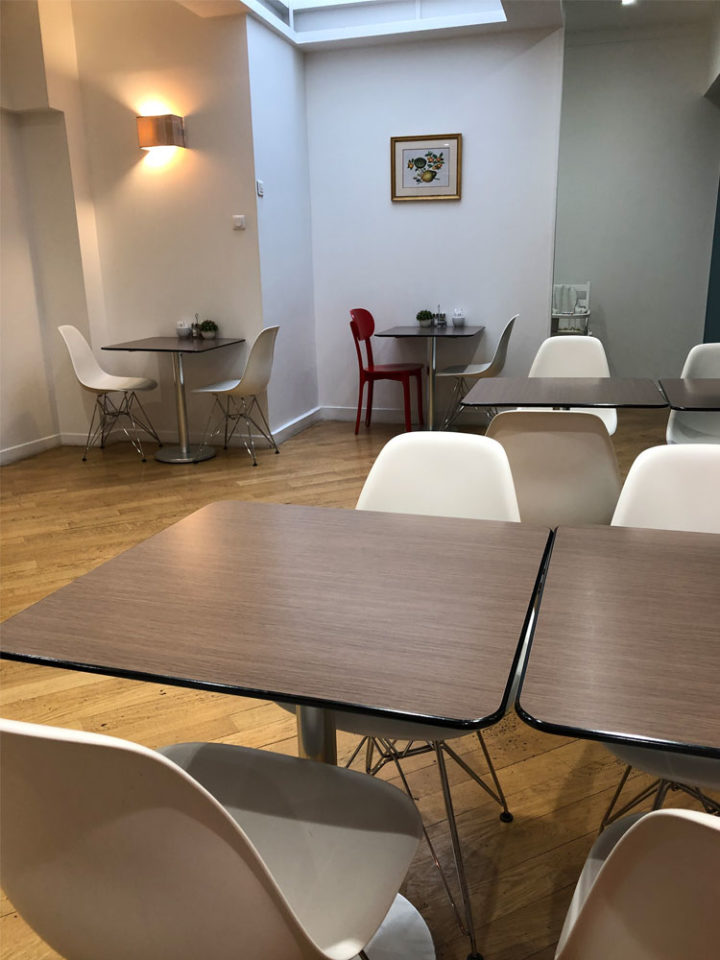 To be honest, it's not that spacious, but I don't think it will be so crowded that you won't be able to sit down, so it shouldn't be a problem.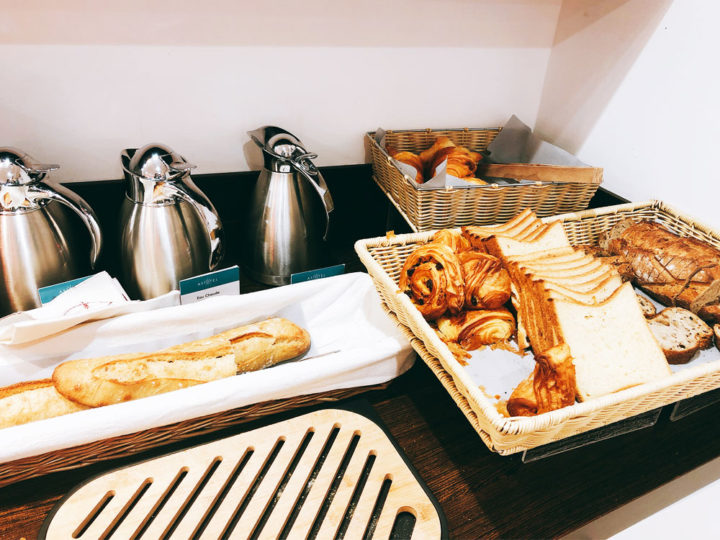 The variety of bread is rather small.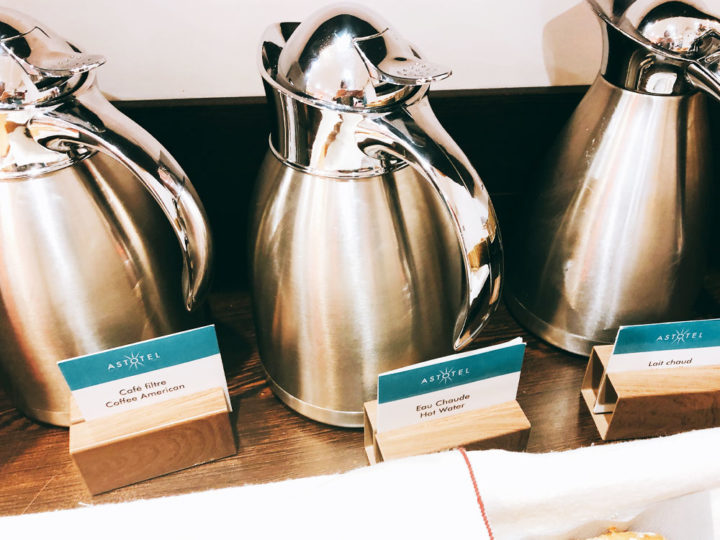 Coffee is poured from a pot by yourself.
In the past, they used to bring it to each table…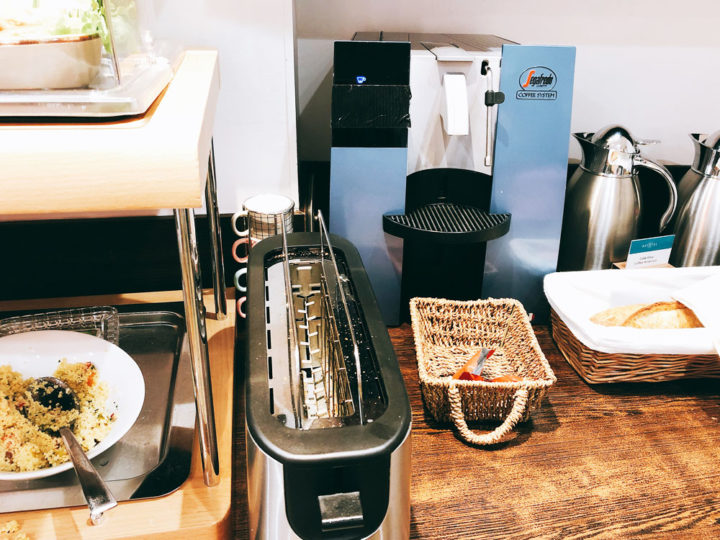 There is also an espresso machine.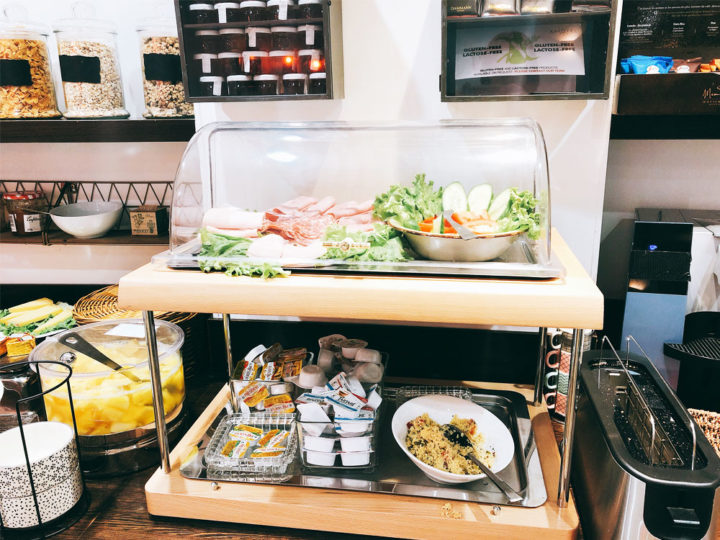 Salads and hams are also less varied.
However, salads are not widely available in all hotels.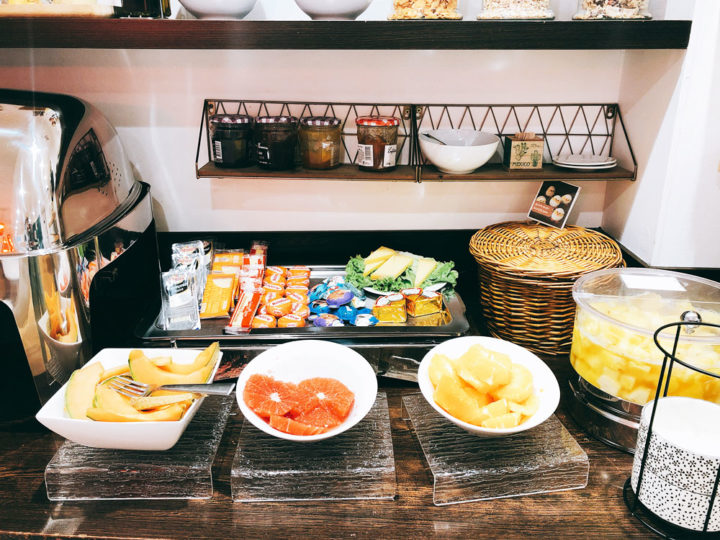 There is also a small variety of fruits.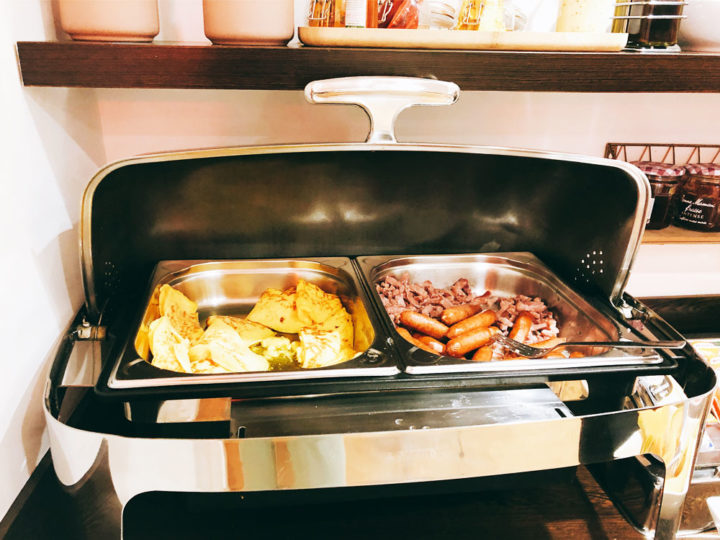 The hot meal is also only sausage and eggs.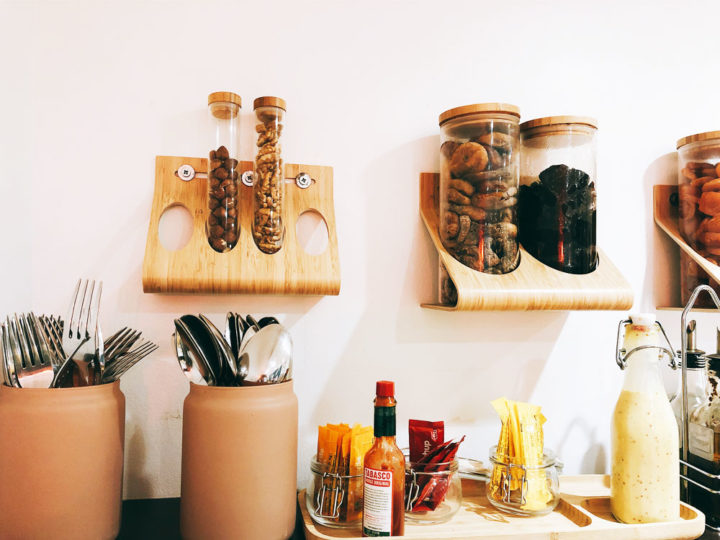 ドライフルーツは壁の上部にあります。
It is too high for short people to reach.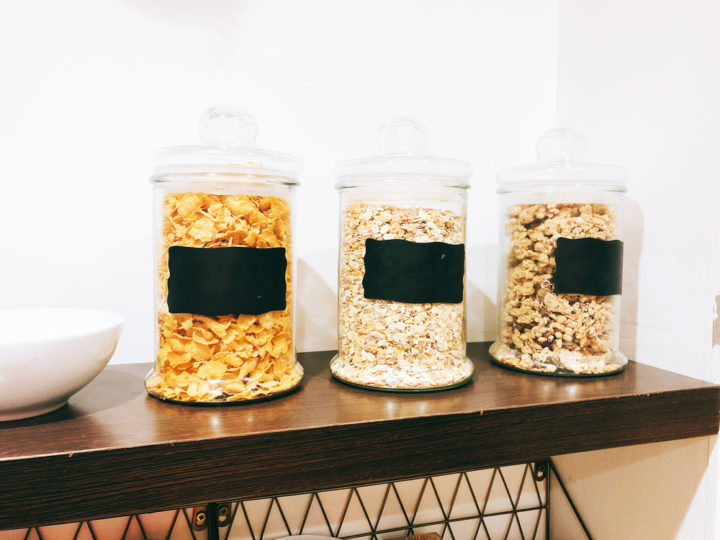 The cereal is also placed in a subtle way.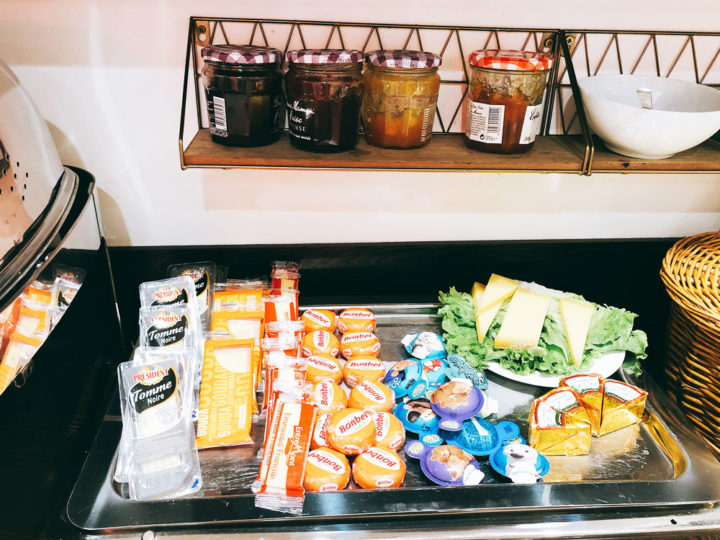 Cheeses are normal.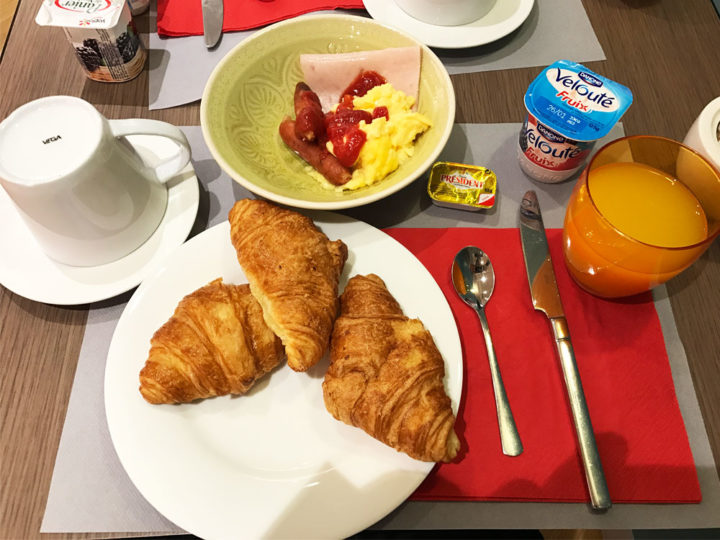 The breakfast menu is a bit inferior compared to other Astotel groups.
I have no problems with the quality.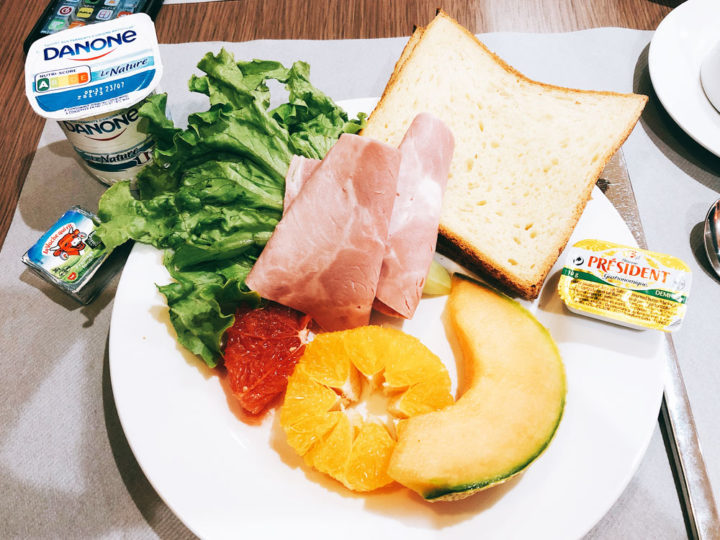 If you choose well, you will be able to spend a few days without getting bored.
Refreshments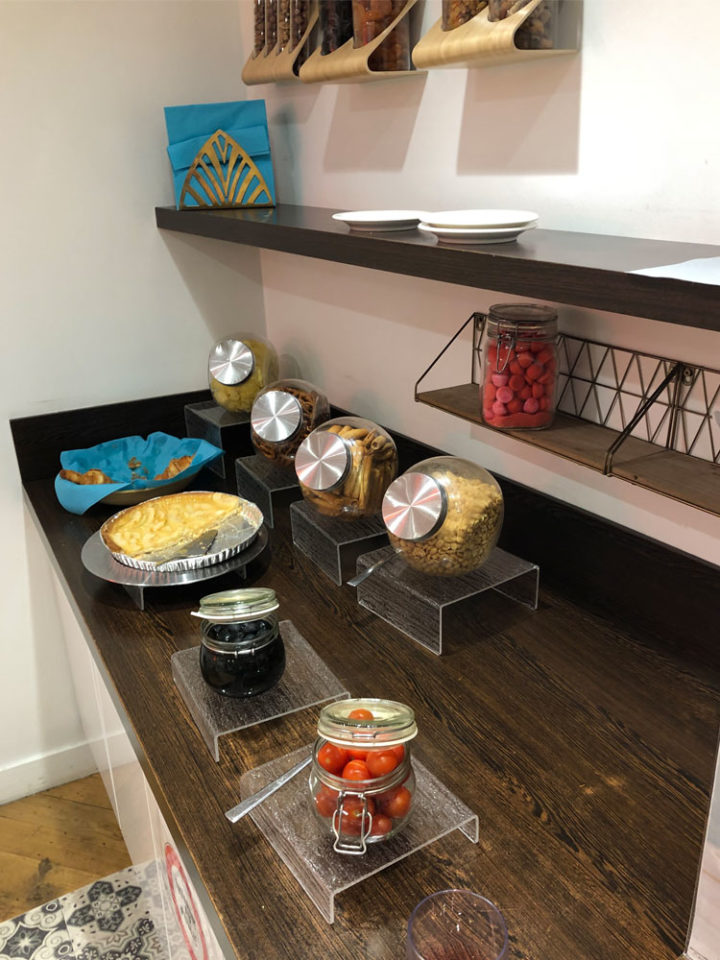 Refreshments are served in the same room as breakfast.
It used to be available at the back of the lobby, but now the breakfast room is also available for light meals so that you can relax.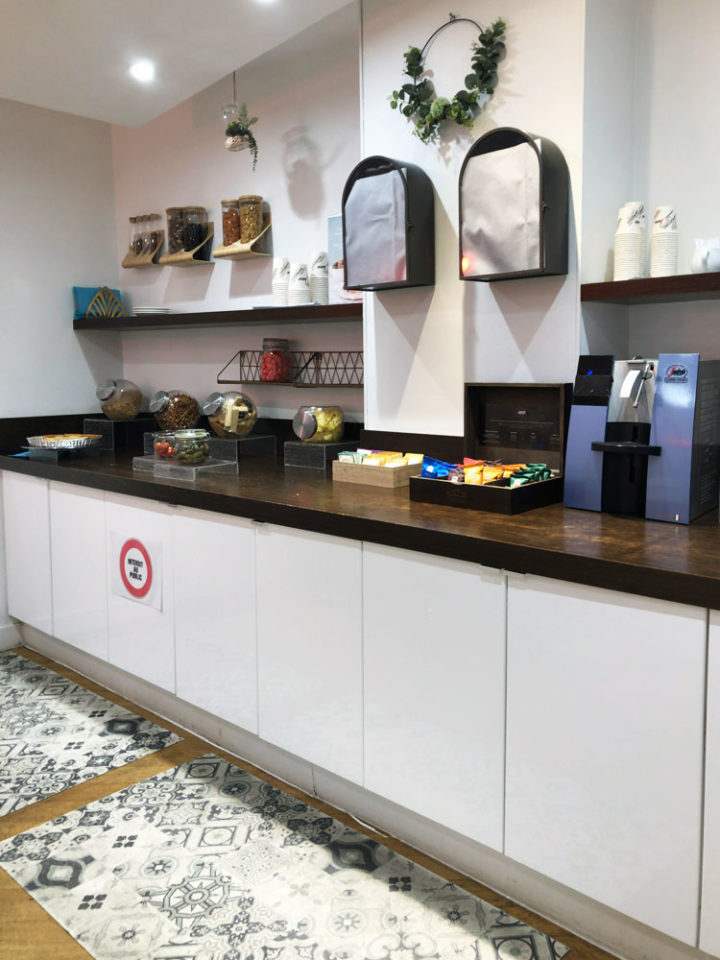 It may not look like much because of the large counter, but there are apple tarts, croissants, various snacks, and even small tomatoes.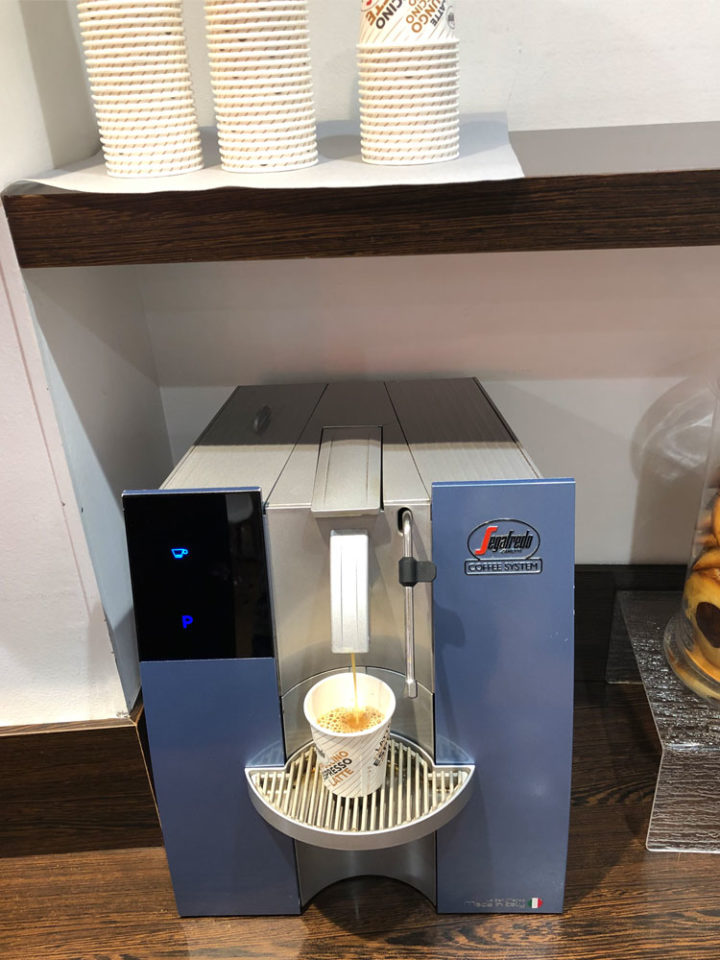 The coffee is brewed by yourself in an espresso machine.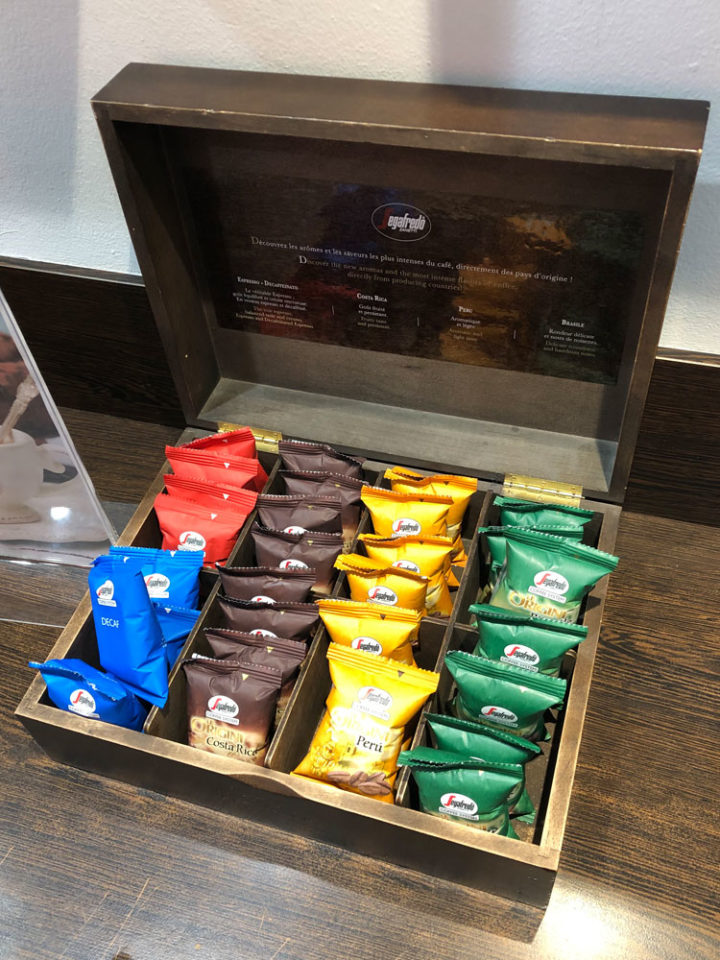 A variety of beans are available, so if you are a coffee lover, it would be a good idea to compare them.
You'll be surprised to know that Segafredo coffee is also available in decaf.
Surrounding Attractions
The area around the Hotel Caumartin Opera has everything you need.
There are few convenience stores, but you can go to the gourmet floor of Printemps and the gourmet pavilion of Galeries Lafayette within a few minutes walk.
If you still want something a little more affordable during your stay, you can use the following stores.
Carrefour City
Address:7 Rue de Caumartin, 75009 Paris, France
Business hours: Monday – Saturday 07:00~21:00, Sunday 9:00~13:00
MONOPRIX
Address: 47 Rue Joubert, 75009 Paris, France
Business hours: Monday to Saturday 09:00~22:00, Sunday 11:00~19:00
How to get to Charles de Gaulle Airport
From Charles de Gaulle Airport to Hotel Caumartin, it is convenient to take the Roissy Bus.
The Roissy bus stops slightly behind the Opera House, as shown on the map.
From there, take Rue Aubert, cross the street, continue on Rue Boudreaux, and you will soon reach Rue Caumartin.
It takes less than five minutes to get there from the bus stop, so you'll be there in no time.
Other than the Roissy bus, there are other means of transportation such as the RER B line, but it is a long way to the North Station and you will need to travel again.
You can read more about Roissy Bus here.
Roissy Bus Complete Guide From Charles de Gaulle Airport to Paris City
The Roissy bus is an easy way to get around Paris, even for first-time visitors. Once you depart from Charles de Gaulle ...
Summary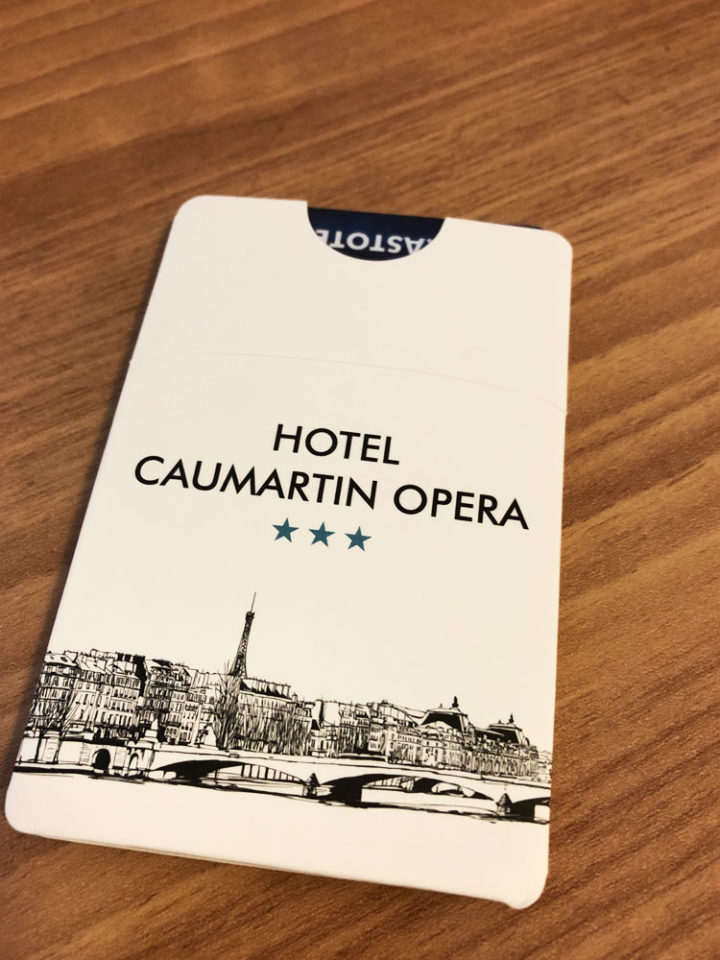 As with the Hotel Astra that I mentioned before, the main attraction is its location.
If you take the Roissy bus from Charles de Gaulle airport, you can arrive without any problems even if you are a first time visitor to Paris.
The Louvre, Tuileries Park, and Place de la Concorde are all within walking distance, so even those who are worried about public transportation can enjoy sightseeing in Paris.
Of course, it is also very convenient to travel by public transportation.
Several metros and buses are available, and the RER A line will take you to Disneyland Paris without any transfers.
Anyway, I can recommend Hotel Caumartin Opera to both first-timers and repeat visitors.
If you are looking for a hotel to stay in Paris, please consider it as a candidate.
I'm sure you will have a great time.
The Hotel Astra next door is also part of the Astotel group, but the rates are basically lower at the Hotel Caumartin Opera.
(May be higher depending on availability)
I can recommend both hotels without any problem, but if you choose the one with the best price, I'd say Hotel Caumartin Opera.
If I had to choose one based on overall service, it would be Hotel Astra Opera.
For those who don't mind spending money, I would recommend Hotel Astra Opera.
Thank you again for reading to the end of this article.