We recommend STAYCITY APARTHOTELS PARIS GARE DE L'EST for those who plan to travel from Paris to Alsace Lorraine, Germany and other regions to the east.
Anyway, it is only a few minutes' walk to East Station and there is a supermarket and various other shops in the neighbourhood within walking distance.
It is also only a five-minute walk from the North Railway Station, which is attractive for those who travel to several cities during their stay.
Furthermore, as it is a flat hotel, it has unquestionable facilities for self-catering, so it is attractive to those who want to "stay as if they were living in the house".
Let us introduce you to this attractive hotel in detail.
STAYCITY APARTHOTELS PARIS GARE DE L'EST
Practical information
STAYCITY APARTHOTELS PARIS GARE DE L'EST
Address:Passage Dubail, 75010 Paris, France
Nearest station: metro lines 4, 5 and 7 Gare de l'Est RER B line Gare du Nord
Official site:Staycity Appartement hôtel – Gare de l'Est, Paris
Features
The hotel's main attraction is its location.
For early morning departures from East or North train stations, once you are staying in a hotel close to the opera or other centres, you have to use the metro or other means.
This means that they have to leave much earlier, given the time spent walking and changing trains.
In this respect, the hotel is only a few minutes' walk to the East Railway Station and about five minutes to the North Railway Station.
If you are a seasoned traveller, leaving 20 minutes before departure time will be enough to make it.
(If you are travelling from Paris for the first time, leave a little earlier.)
Another attraction is that, because of the name Aparthotel, you can cook your own meals.
When you come to Paris and find delicious-looking ingredients in the food department of a department store, supermarket or marché, you will not be able to cook them in a normal hotel.
The hotel has almost all kitchen utensils, from knives to bowls and plates, so you can probably do most of the cooking.
Note that the STAYCITY APARTHOTELS is not only Gare de l'Est, but also a chain of hotels mainly in the UK and France.
Exterior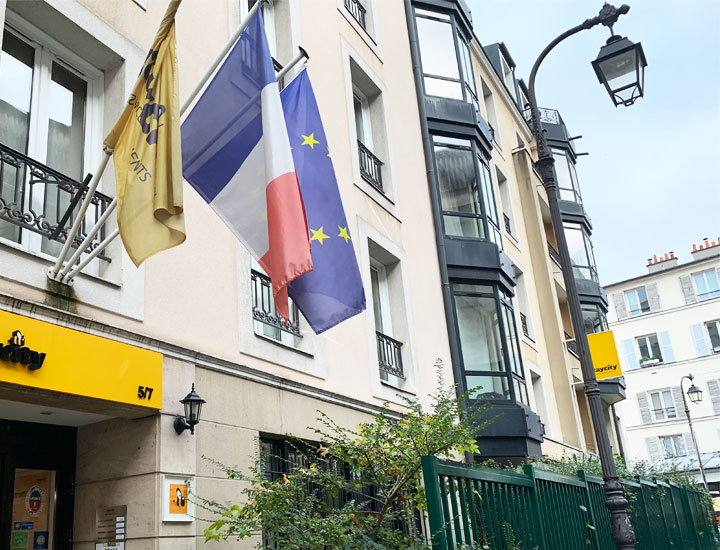 The location is one street off the main road, but it is easily recognisable.
It is a rather modern building and can be easily found as it is flying the EU and French flags.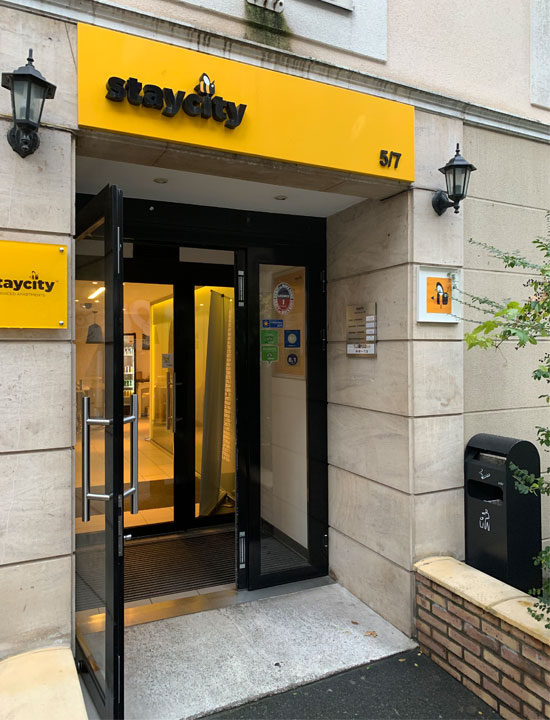 The entrance is small, but the yellow sign is eye-catching.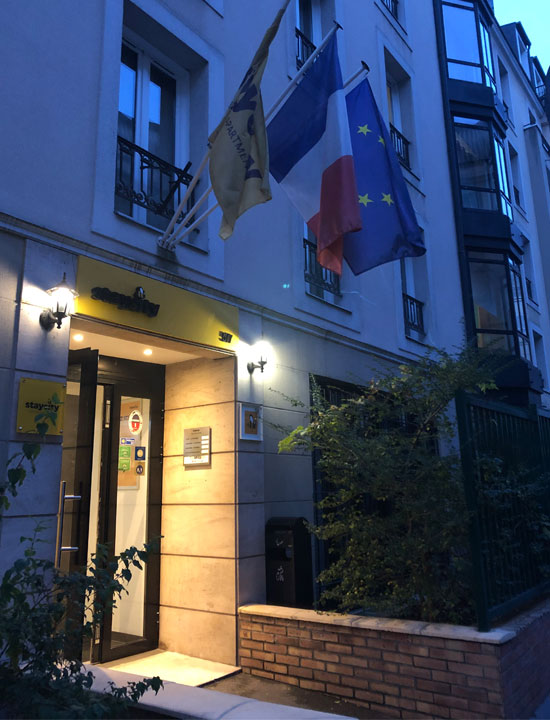 It is a bit dark at night because of the location, but it is not dangerous.
There are no problems with walking normally.
Interior
reception (desk)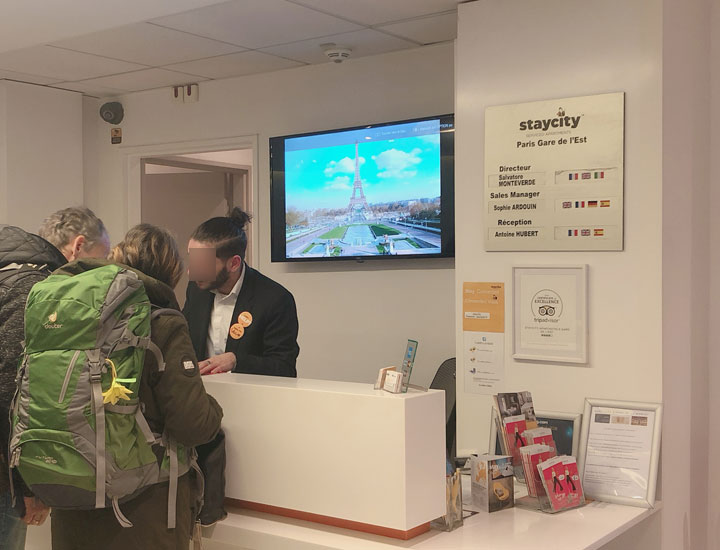 The reception area is a bit small.
Staff are on hand 24 hours a day, so early morning departures and late arrivals are no problem.
The staff are also very helpful, so do not hesitate to ask them about any concerns or questions you may have.
Rooms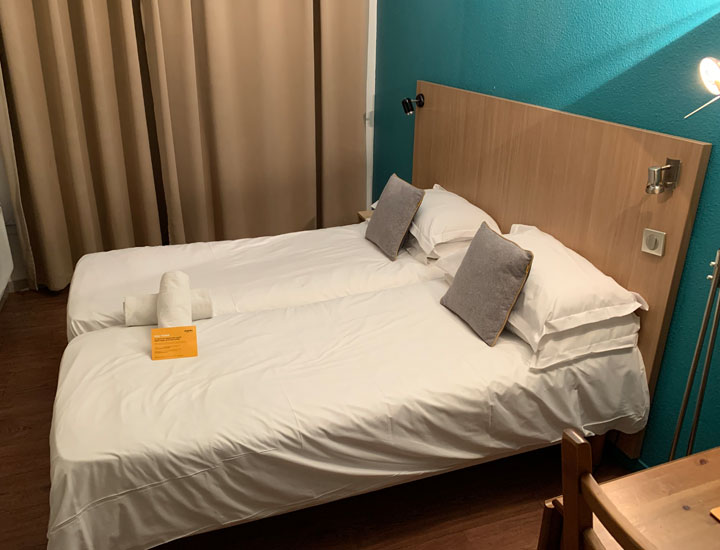 The room we booked was the cheapest room.
STUDIO APARTMENT
SLEEPS X 2
BATHROOMS X 1
CHOICE OF DOUBLE OR SINGLE BEDS
Small, compact, Parisian-style room.
Cleanliness.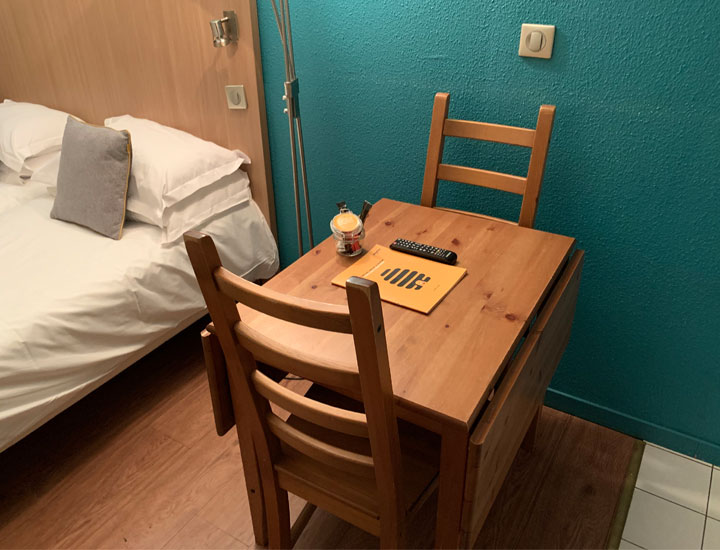 There is a folding table by the bed.
It is quite spacious when both sides are widened.
It is spacious enough for a large number of dishes.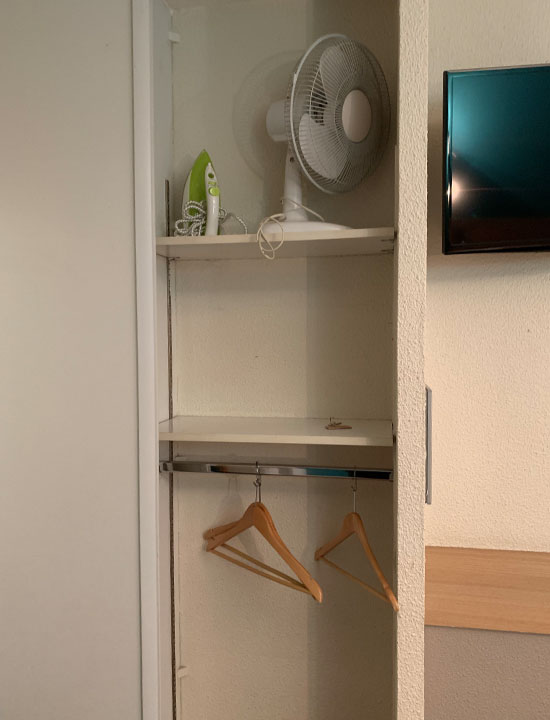 Smaller storage space.
Double-door closets.
A fan and iron are also available.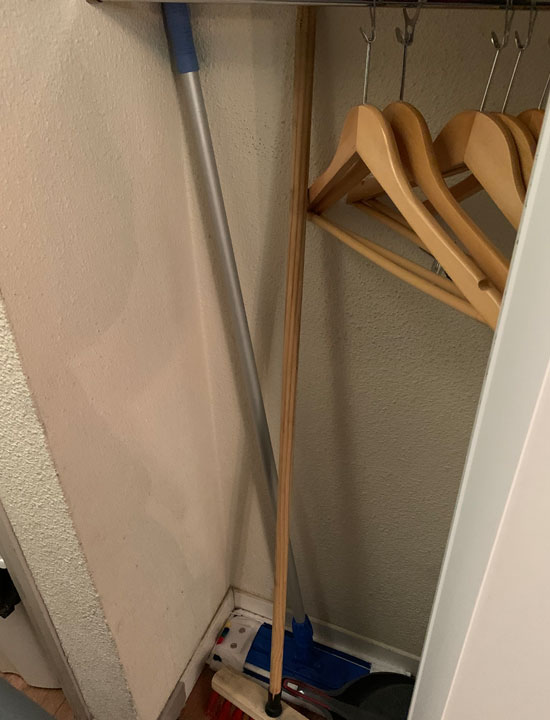 This is the other side.
Mops and other cleaning products are also provided.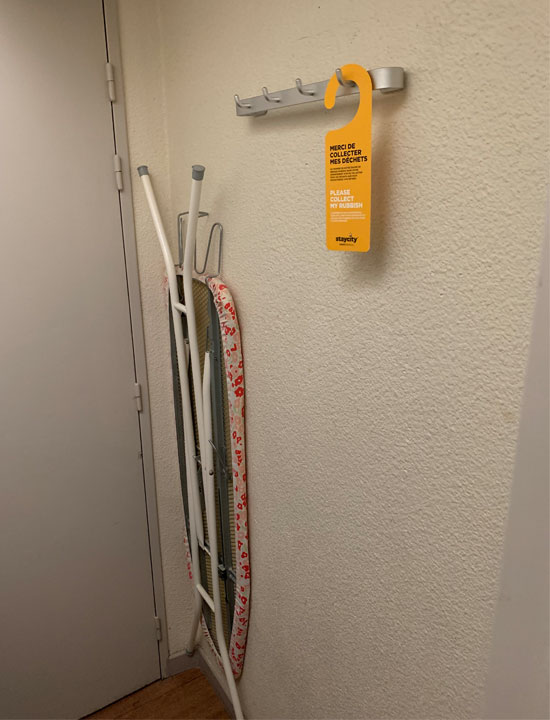 Behind the door is an ironing board and a coat rack.
Kitchen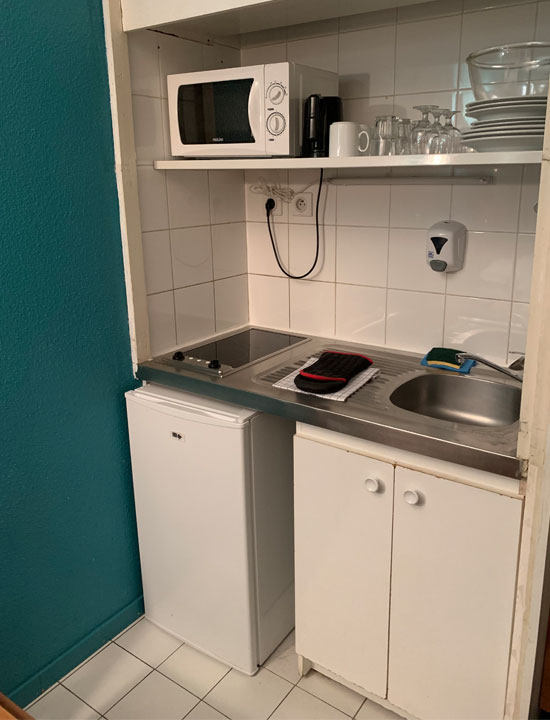 Kitchens are simple.
A microwave oven is also provided, albeit a small one.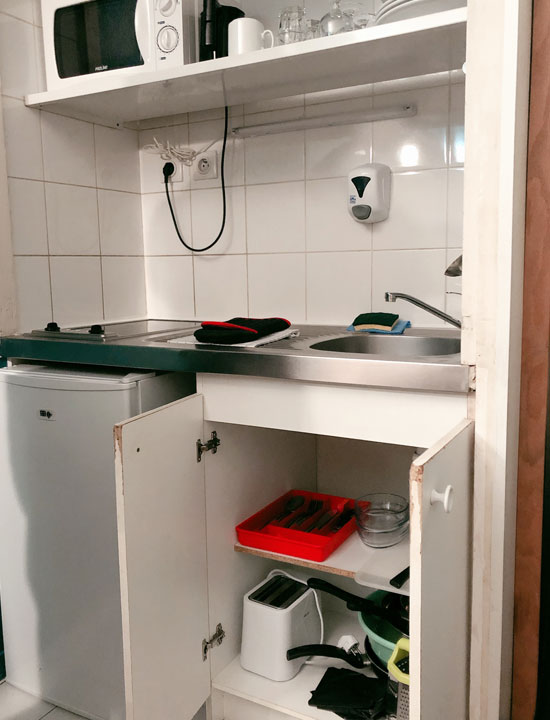 A large fridge is a welcome addition.
The Astotel Hotel, where I usually stay, also has a fridge, but it is small in size, so I always struggle to fit my purchases in it.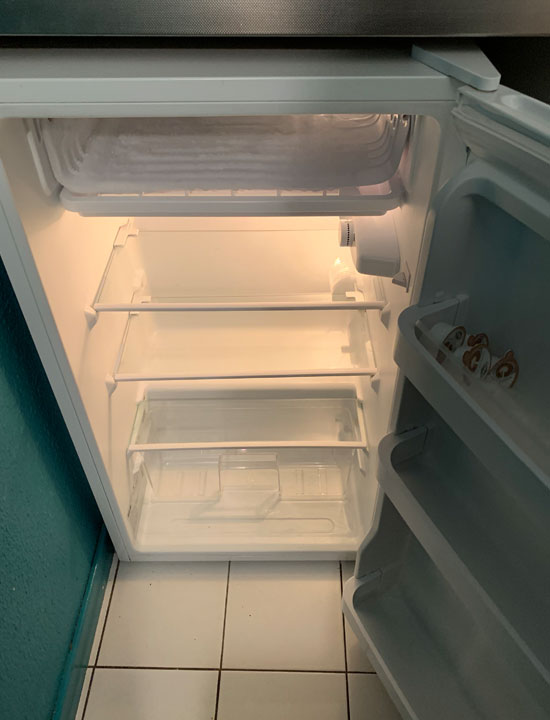 It has a large capacity, so you can go shopping a lot.
There is also a smaller pot.
Mugs, glasses and plates are also available in several sizes.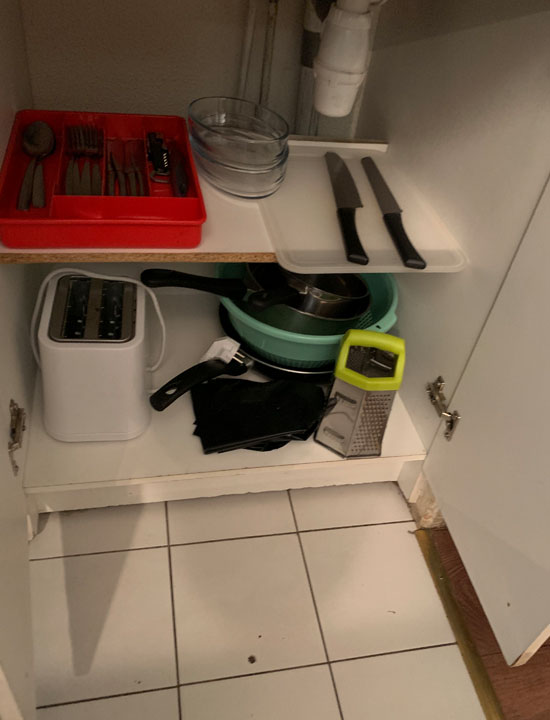 Spoon, fork, knife and baking dish.
Drainer bowls, toasters and even cheese grating are provided.
As far as kitchen utensils are concerned, nothing was found to be missing.
Bathroom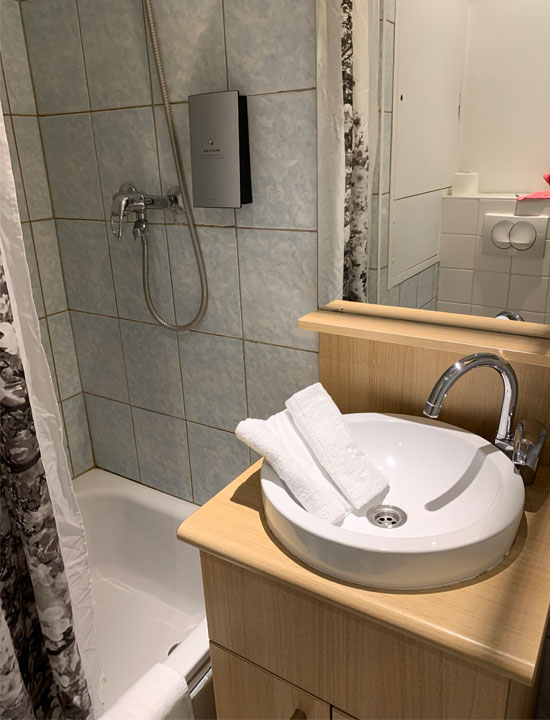 Bathrooms are quite small.
It is much smaller than most hotels, which is typical of Paris.
It is clean, but could do with more space.
There is no bathtub.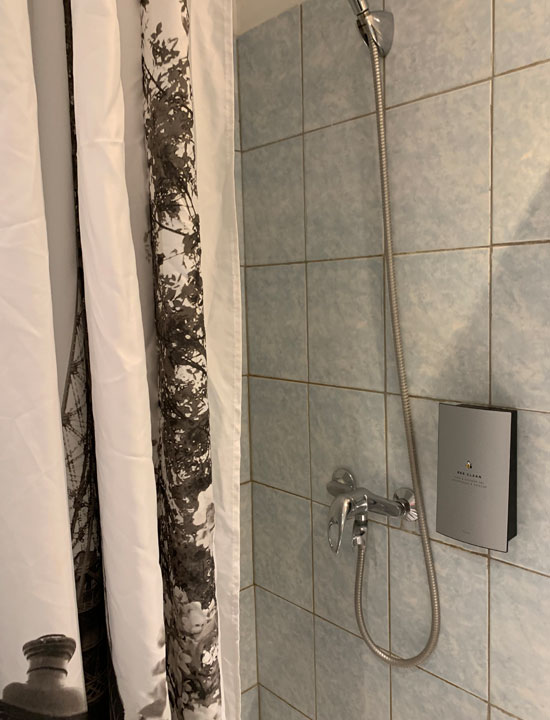 Only shampoos for the body are available.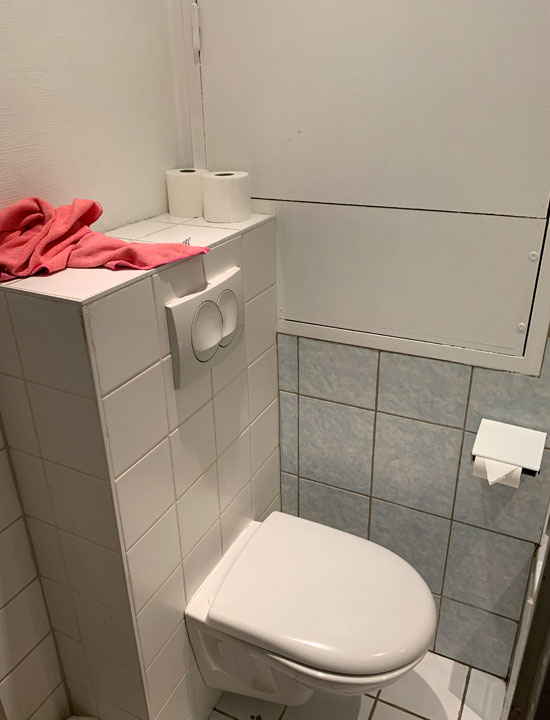 Toilet seats are also very common, but can be quite cramped in some rooms.
Laundrette
Although small, it is equipped with a laundrette.
I don't know if there is one on every floor, but it is probably almost fully equipped.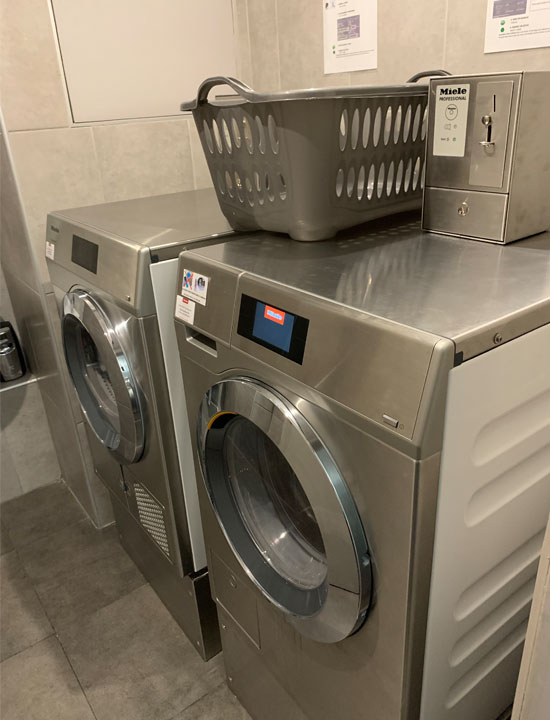 The washing machine looks rather new and clean.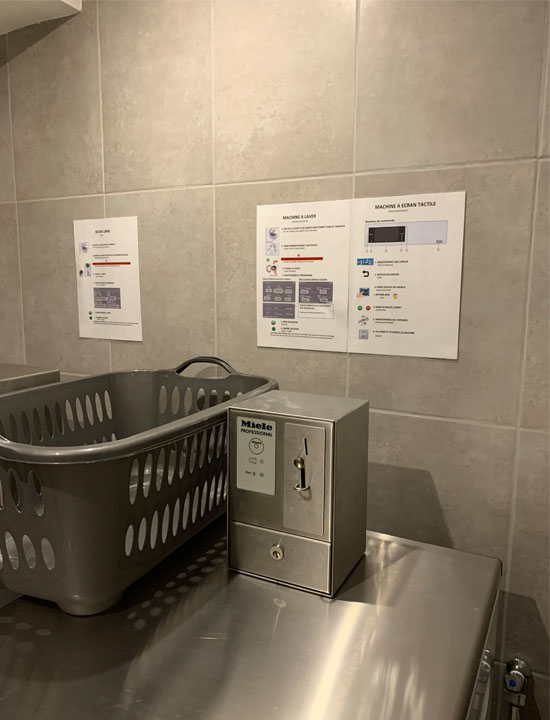 It also describes how to use the system.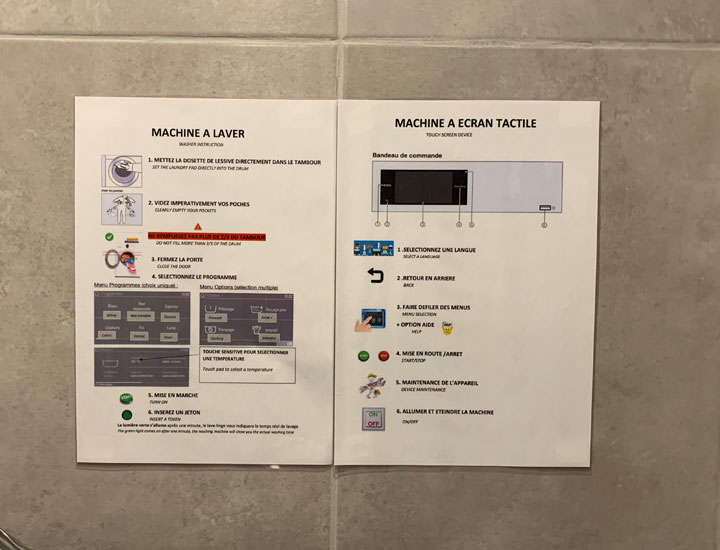 It is not used here, but it is not that difficult.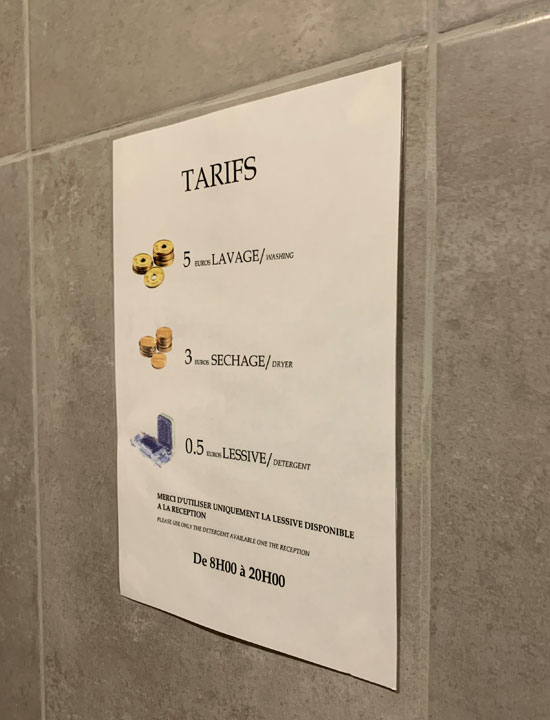 The fee is EUR 5 for washing, EUR 3 for drying and EUR 0.5 for detergent.
I don't know the capacity and drying time of the washing machine, but it is a typical amount.
Breakfast & Lobby
There is a small lobby by the entrance to the lift, with space for breakfast.
There are also refreshments available at all times, which may be purchased if you arrive late and are anxious to go out in the neighbourhood.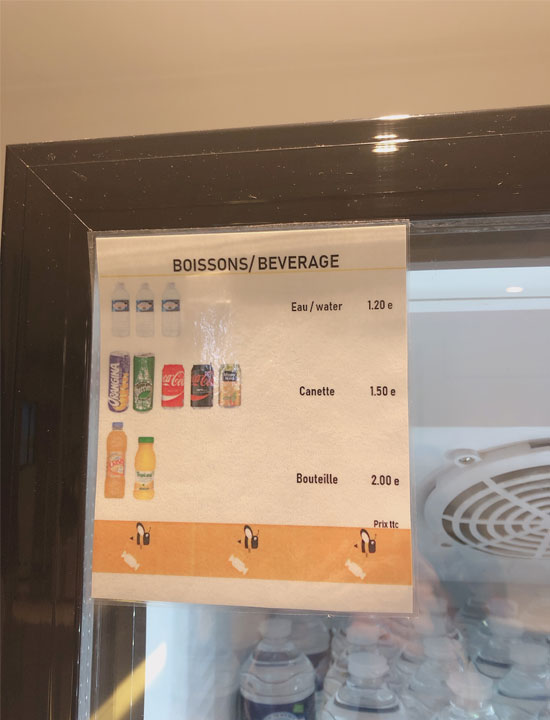 Prices are hotel prices.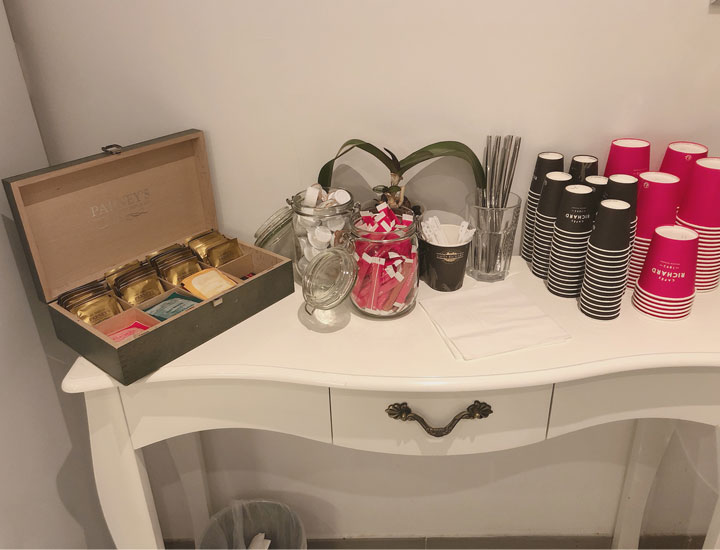 Coffee and tea are also available.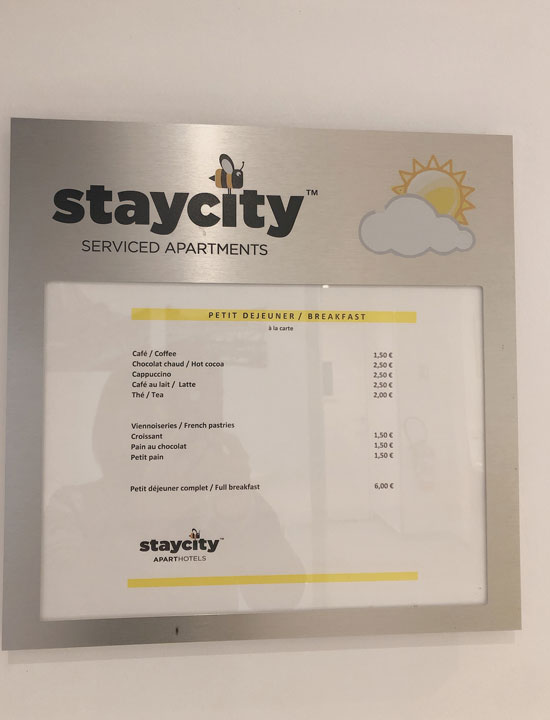 Overall, the prices are hotel prices, but they are not exorbitant.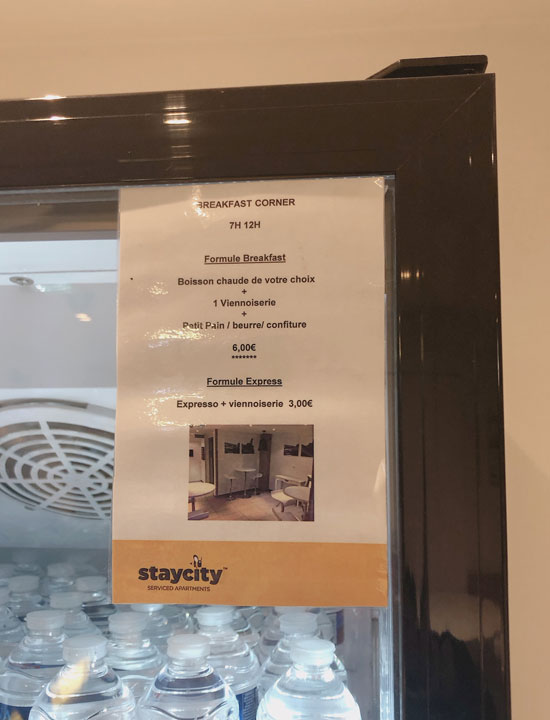 Breakfast 7am-12am.
The price will be EUR 6 per person.
Some people have used it, but it comes with a kitchen and there are many good bakeries nearby, so you should definitely buy your own food and spend some time in your room.
Neighbourhood attractions
Franprix
The nearest supermarket to the hotel is here.
You cross the main road, but it is only a few minutes' walk.
Everything you need is available here.
Address:55-61 Boulevard de Magenta, 75010 Paris, France
Opening hours: Monday to Saturday 07:00~22:00 Sunday 09:00~13:00
Carrefour City
This is the place to go if you don't want to walk down the main street or if you are shopping a little later in the day.
If you want to experience a Parisian atmosphere, this is the street to go to, as it is also surrounded by trendy restaurants and bakeries.
Address:31 33rue Vinaigriers, 75010 Paris, France
Opening hours: Monday to Saturday 07:00~22:00 Sunday 09:00~13:00
Problems with the stay.
As with any hotel, perfect hotels are hard to find.
The hotel naturally has several problems.
Room facilities, cleanliness
As for the rooms, they are generally clean and of an acceptable standard.
However, we stayed in two separate rooms this time and the second room had some problems.
It was a very cold day and the heating did not work.
The microwave had the smell of food cooked by the person in front of it.
If they were to stay for consecutive nights, they would ask to swap rooms, but the second time they only stayed for one night and checked in late at night, so it was a hassle and they stayed as they were.
I understood this from the time of booking, but I still felt like I wanted a bathtub on cold days.
Not only hotels in Paris, but many hotels in Europe are shower-only, but again, when I stayed there, I thought that having a bathtub would make a big difference to my impression.
The bathroom was very small, as was the case in both rooms.
The bathrooms were not as good as in other hotels in Paris.
If you stay for a few days, towels etc. are not changed.
Of course, for a fee, they can be changed daily.
A good way to deal with this is to bring towels you don't need and wash them every few days, along with the rest of your clothes.
Dryers are a must, so they dry quickly and can be used again that day.
Security of the surrounding area.
The shortest route from Charles de Gaulle Airport to StayCity is to take the RER B line to North Station and walk from there.
Using the Roissy bus requires a lot of time and effort, as you have to travel from Opéra in some way.
If you travel on the RER B line, you will get there really quickly.
As many of you know, the area around North Station has something of a bad reputation.
While this may not be a problem for seasoned travellers to Paris, many may feel a little uneasy walking around for the first time, especially later in the evening when it is dark.
This may be even more worrying if you have large suitcases etc.
The atmosphere is quite different from that of the Opera, the Champs-Élysées or the Saint-Germain neighbourhood, so if you don't like a slightly dodgy atmosphere, it is better to use it on your second or subsequent trips to Paris.
Recommendations.
I wrote a few negative things about the hotel, but basically I would recommend it.
Again, here are the recommendations again.
Very close to East and North railway stations.
Overall, a beautiful and clean hotel.
All reception staff very friendly.
One street off the main road, so very quiet at night.
It's a flat hotel, but open 24 hours a day.
Free luggage storage for a few days when you go out during your stay. (This was very helpful)
You can cook your own meals.
Summary
Although it is important in any hotel, the most significant factor in the comfort of the stay is the staff.
In this respect, we have been dealt with by several people, each of them of a different type but very helpful.
After our stay, we also contacted them about some problems and they contacted us directly with suggestions for solutions.
The Staycity company itself was even more positive about the proactive approach to improving its services.
However, once again, considering the location, it is a bit far to go to the Opera, the Champs-Élysées or the Eiffel Tower.
For first-time visitors to Paris, this hotel may be inconvenient in many ways and is recommended for second and subsequent trips to Paris, preferably if you plan to travel to other cities.
Thank you again for reading to the end of this issue.