When you come to Paris, you must visit the Pierre Hermé Paris Main Store.
Whether you're not a gourmet, don't like bread, or aren't interested in sweets, you're sure to be satisfied at the Pierre Hermé Paris Main Store.
You can find them in department stores such as Galeries Lafayette, but only in a limited number of stores can you enjoy Pierre Hermé's authentic croissants.
This is the basic taste of Parisian croissants and sweets, and I encourage everyone to experience the real taste.
Pierre Hermé Paris
Practical information
Pierre Hermé Paris BONAPARTE
address:72 Rue Bonaparte, 75006 Paris, France
Open: Sunday – Thursday 10:00~19:00 Friday – Saturday 10:00~20:00
Closed: None
Nearest station: Saint-Sulpice Line 4  
Saint-Germain-des-Prés   Line 4
History and Features of Pierre Hermé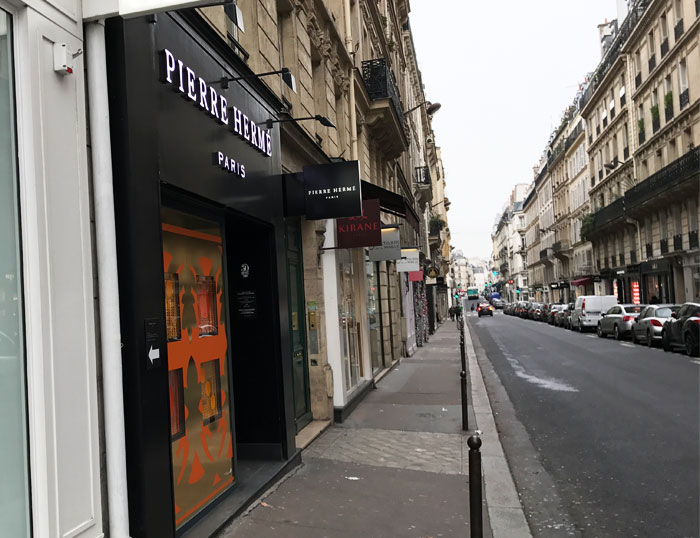 History
1998 Opened a store at Hotel New Otani in Japan
2001 Opened a store in Bonaparte, Paris.
The company has since expanded its stores around the world.
At the age of 14, he began his apprenticeship under Gaston Lenôtre.
He then worked as a chef patissier at FAUCHON before helping to rebuild LADURÉE.
He has won numerous awards and is active in various fields as well as a pastry chef.
Gaston Lenôtre
He is a man who has had a profound influence on French food culture and has spread the name of "pâtissier" all over the world.
Features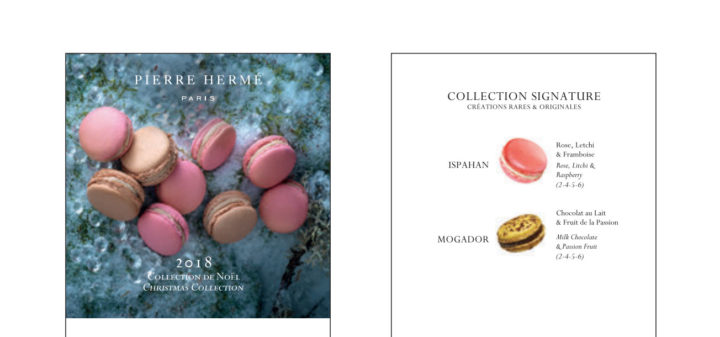 The first popular item is the macaroon.
If you are familiar with Pierre Hermé, this is the first thing that comes to mind.
Even if you don't like macaroons, Pierre Hermé's macaroons are a must-try when you come to Paris.
Actually, when I ate macarons, I thought they were not very tasty.
However, when I came to Paris, I decided to try macarons, and it was a completely different experience.
I don't know if it's the ingredients, the humidity, or the reason, but the texture is completely different.
Of course, macarons from any store are fine, but if possible, I would like you to try the best macarons, Pierre Hermé's macarons.
Then you will have a standard of taste for macarons, and after that, if you eat macarons from other stores, you will be able to judge their taste by whether they are better or not than Pierre Hermé's macarons.
I think it will make visiting patisseries and bakeries even more fun.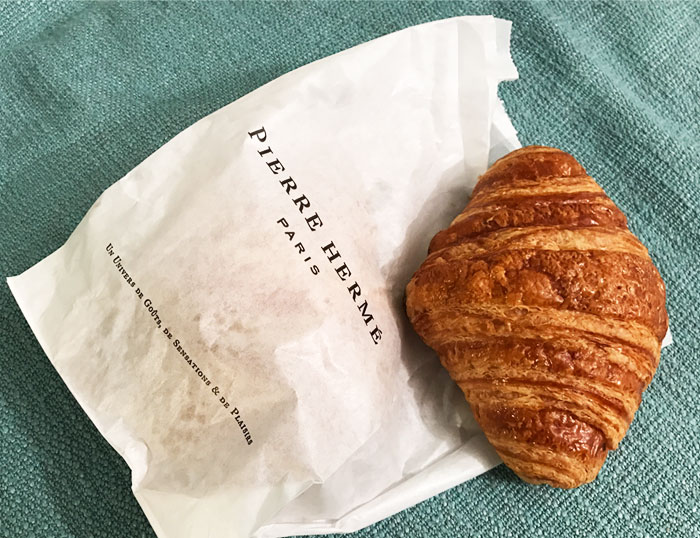 And don't forget the croissants at Pierre Hermé's main store.
This is one of the best croissants in Paris, and has been awarded the number one croissant in Paris by Figaro newspaper.
This croissant has a great texture, buttery flavor and taste, and is delicious to eat as is.
There are several Pierre Hermé stores in Paris, but the only ones where you can buy croissants are the main store here and the VAUGIRARD store in the 15th district.
(Now available at several other stores.)
Also, due to the popularity of the product, it is often sold out depending on the time you visit the store.
This is such a rare croissant, so please buy one when you visit.
In addition, Pierre Hermé's famous croissant is the "Ispahan Croissant".
It's basically like a raspberry croissant, but this croissant is more famous and is often sold out.
I guess there are different tastes, but I liked the regular croissants better.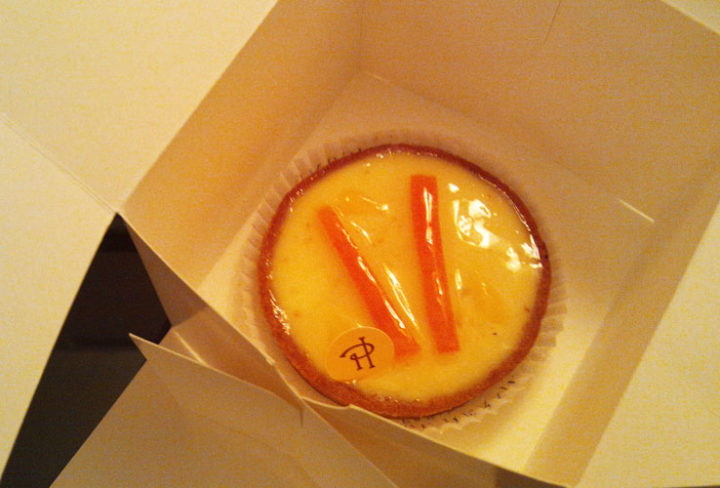 They also have a wide variety of cakes as well as macarons and croissants.
This time I bought a lemon tart.
It was very tasty.
Summary 
How was it?
The overall rating is as follows on a 5-point list.
Pierre Hermé  BONAPARTE
Taste:★★★★☆
Exterior: ★☆☆☆☆
Interior: ★★☆☆☆
Price:★★☆☆☆
Store clerk : ★★★☆☆
Ease of purchase: ★☆☆☆☆
Location: ★★★★★
As for the taste, the overall level is high, but the price is also high, so I would give it 4 stars.
This is a high rating, mainly because the croissants taste consistently good.
I think the cakes are about 3 stars.
As for the exterior, there is nothing unique about it.
To be honest, I don't have much more to say about the exterior.
As for the interior, the layout is quite normal, with a long, narrow store with showcases of macarons and cakes, and baked goods lined up against the wall.
There's nothing special about Pierre Hermé.
The price is generally high.
The cakes are also delicious, but considering the price, there are many other options out there.
There are a lot of clerks, but they are busy serving customers, so it's very normal.
As for the ease of purchase, the store is too small to see the products well, as it is a popular store, and to be honest, it is difficult to buy.
As for the location, I give it 5 stars.
It is located in the Saint-Germain-des-Prés neighborhood, so you can stop by on your way to explore Paris, and there are many bakeries and cake shops around, so it is the perfect location for a bread tour.
You can also have lunch or take a break at the Luxembourg Gardens.
Anyway, when you come to Paris, try the croissants, macarons, and cakes at Pierre Hermé first.
Pierre Hermé has influenced many different stores, so I think the taste of this store will be the standard for all of them.
Whenever I go to a new bakery, I always wonder, "Is it better than Pierre Hermé? I think about it.
Why don't you visit one to start your bakery tour in Paris?
Thank you again for reading to the end of this article.