This time, we will introduce Musée de l'Orangerie, which is one of the main tourist spots in Paris.
At Musée de l'Orangerie, works by various famous painters representing the Impressionists such as Monet, Renoir, and Utrilo are exhibited.
The size is also compact and it is located in Jardin des Tuileries, so it is recommended to combine it with other tourist spots.
It's not as crowded as the Louvre Museum, so it might be a good idea to take a little free time to visit and see it.
Now, let me introduce you to Musée de l'Orangerie in detail.
Basic information about Musée de l'Orangerie
Practical information
Musée de l'Orangerie
Address : Jardin Tuileries, 75001 Paris, France
Hours : 9:00 a.m. to 6:00 p.m.
Closed : Tuesdays
Nearest station : Concorde Lines 1, 8 and 12
Rates
General
Full price: €12,50
Reduced rate: €10
Ticket valid for a single entry
Free

Under 18 years old
18 to 25 years old who are European Union nationals, and non-nationals of an EU Member State, on proof of entitlement.
Special Free

All visitors on the first Sunday of each month
Café Space-Bookshop Giftshop
Bookshop-Giftshop : Boutique: Books related to art, posters, postcards, and many other items that are likely to be souvenirs for you are on sale.
Café: It might be a good way to eat a bit from croissants to sandwiches to lunch sets.
How long will it take
The museum is not that big,so if you take a quick look, you can see it in less than an hour.
However, all of the works on display are wonderful, so it is recommended that you take a leisurely look around each one.
In that case, I think that there are individual differences, but I think that you can fully enjoy it in 2 hours.
It's a busy trip, but I hope you enjoy Musée de l'Orangerie.
Features of Musée de l'Orangerie
Musée de l'Orangerie is located in Jardin des Tuileries in the 1st arrondissement of Paris.
The inside of the museum is not so large, and it is relatively less crowded like the Louvre Museum, so it is attractive to be able to appreciate it slowly.
Basically, it is an art museum that exhibits mainly Impressionism and Post-Impressionism.
It is all too famous that it was designed to display the "water lilies" of the master Monet.
The museum is built from the ground floor to the 1st basement floor and the 2nd basement floor.
Paul Guillaume's collection is on display on the second basement floor.
It's also a good idea to stop by when the Louvre is crowded, or while taking a walk at Jardin des Tuileries and the Seine.
Recommended works at Musée de l'Orangerie
Although it is small, it is a very spectacular museum,, so I really recommend all the works.
Claude Monet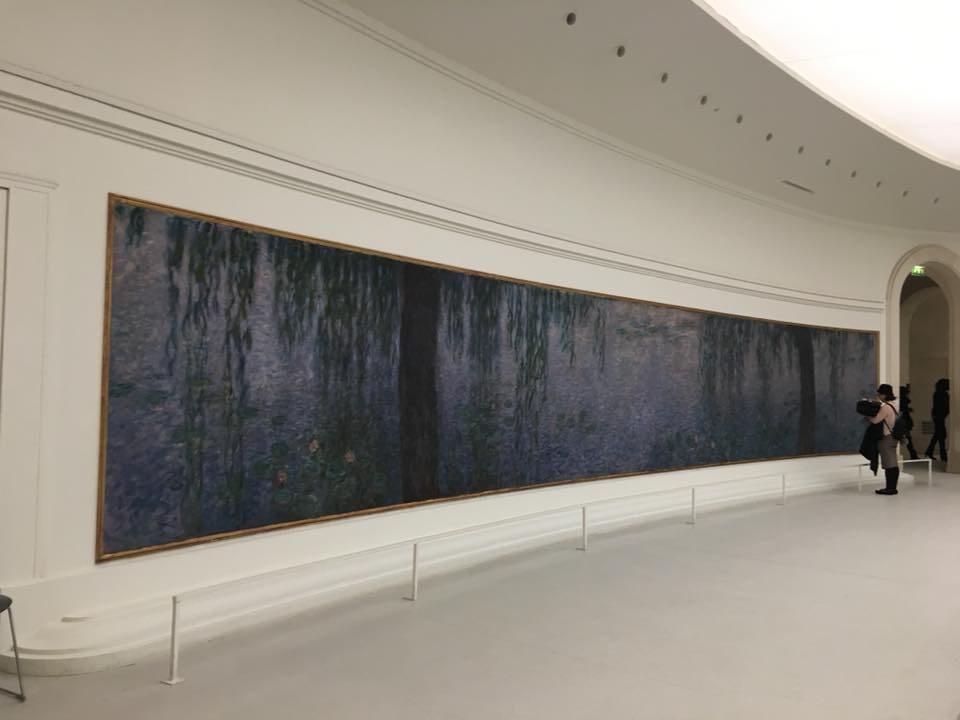 Water Lilies
The biggest attraction and the biggest work in Musée de l'Orangerie.
That is Monet's "Water Lilies".
It was produced from the late 1890s until 1926, when he died, but he himself donated it to the Museum of Jardin des Tuileries and French governmentas a "Symbol of Peace.".
It will not be on display until a few months after his death.
The first room uses four works to represent the reflection of light and the transition of plants in the water from dawn to dusk .
In the second room, four paintings are displayed, which express the contrast at the water's edge with willow branches.
When you stand in the center of both works and look around, you will feel a mysterious feeling as if you were there.
You can enjoy the atmosphere of the museum on google map.
Auguste Renoir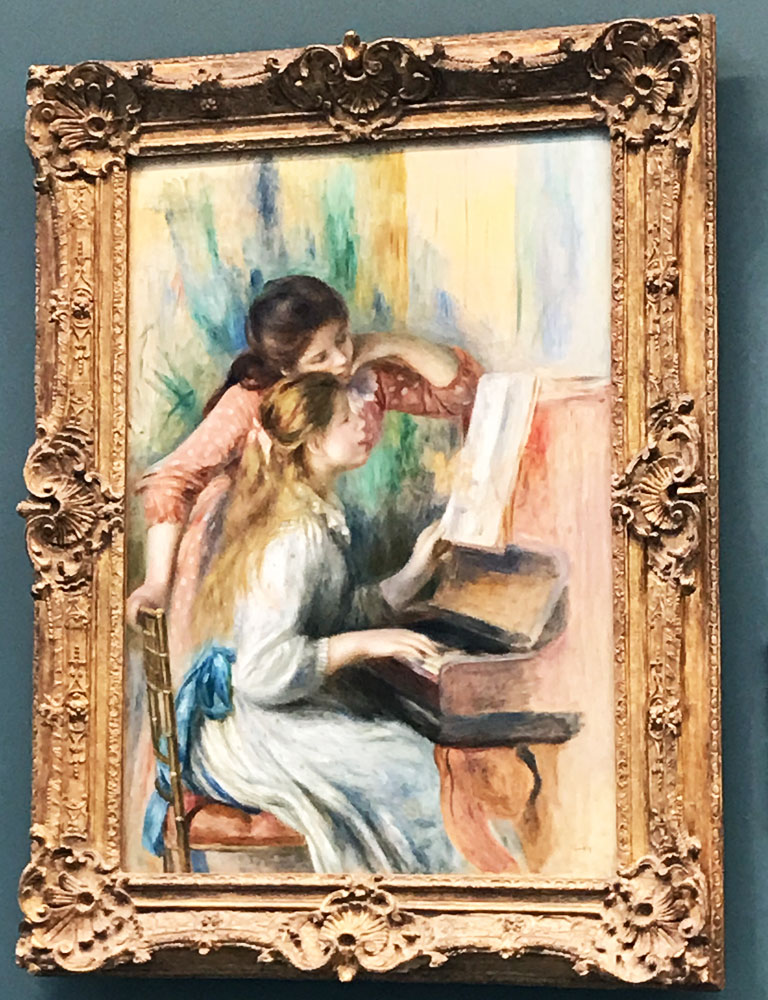 Jeunes filles au piano
"Young Girls at the Piano"
It is displayed in the first visible place on the second basement floor.
A painting of the same title is also on display at Musée d'Orsay.
It is said that there are 6 other versions in existence.
The contrast is emphasized by drawing a hard piano and a soft woman.
It seems that it was taken up as a theme among painters at that time.
Also, it may have been a contrast unique to Renoir, who loves music.
Peaches 1881-1882
As the simple title says, it is a picture of a peach.
However, strangely, it looks very delicious.
The contrast between the peaches on the plate and the peaches that spilled on the table gives the peaches a sense of dynamism.
In addition, the color of the wall, which contrasts with the white of the tablecloth, further enhances the peach.
I think this color combination and shape could only be drawn because Renoir knew how to complement the object.
There are quite a few paintings by Renoir on display, so be sure to enjoy the colors.
Amedeo Modigliani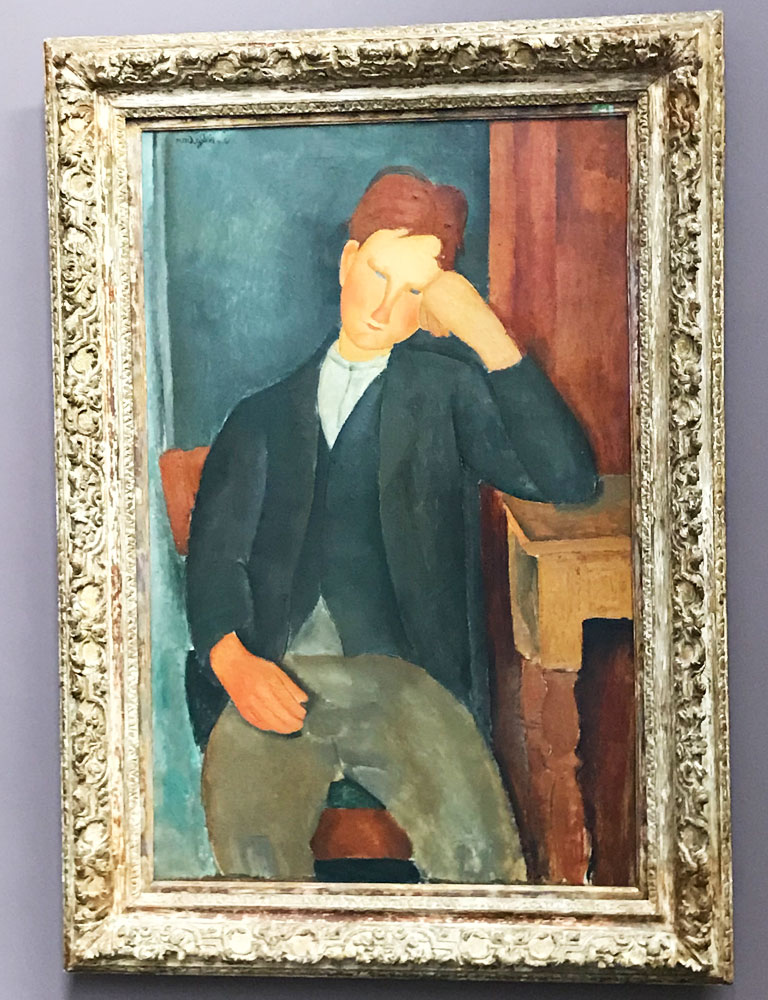 The Young Apprentice 1918-19
I'm not very familiar with painting, but I'm attracted to Modigliani's paintings.
Modigliani has left a lot of figure paintings, but it is drawn with a unique touch that other artists do not have.
In contrast to hard chairs and tables, figures drawn with soft curves feel the warmth of human.
Also, the facial expression of the person is not extremely deformed, and while he has a melancholy expression, he still has a firm line of sight.
The expressive power of Modigliani, who was not only a painter but also a sculptor, will catch the hearts of the viewers.
Henri Matisse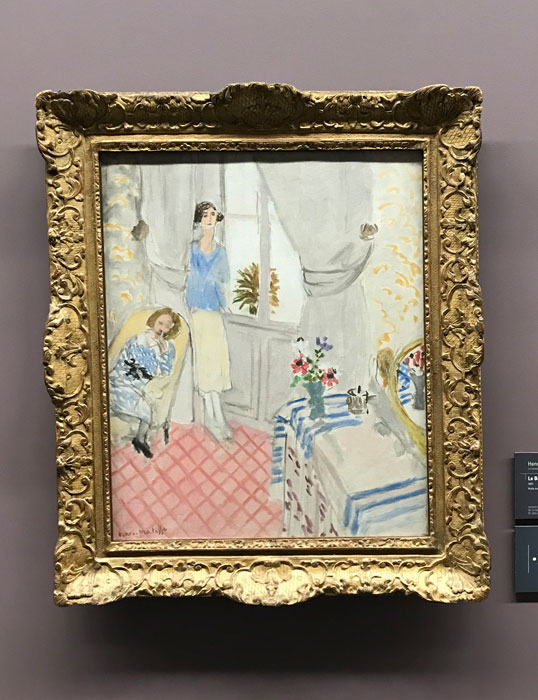 The Boudoir 1921
Beautiful colors and elegance are depicted in the work of Henri Matisse.
As it is said to be a "Master of color", it has a unique color scheme that other artists do not have.
The work painted at The Hôtel de la Méditerranée in Nice is also like a watercolor painting, and gives a delicate impression.
Many of Matisse's works painted in Nice are on display, so please enjoy these beautiful works.
Marie Laurencin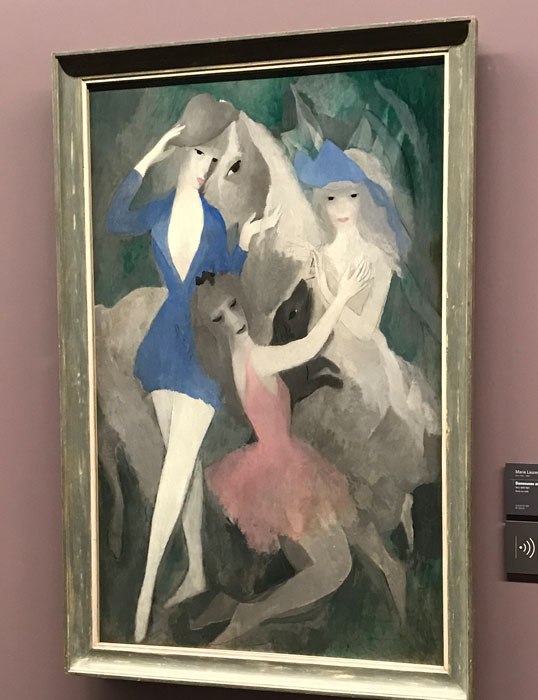 Spanish Dancers 1921
This 1921 work was painted when she was living in Spain.
Although it is drawn in a completely different way from Matisse, the light and warm colors bring out its beauty even more in contrast to the dark areas.
I think that you can enjoy the work even more when you appreciate it in light of her turbulent life.
Maurice Utrillo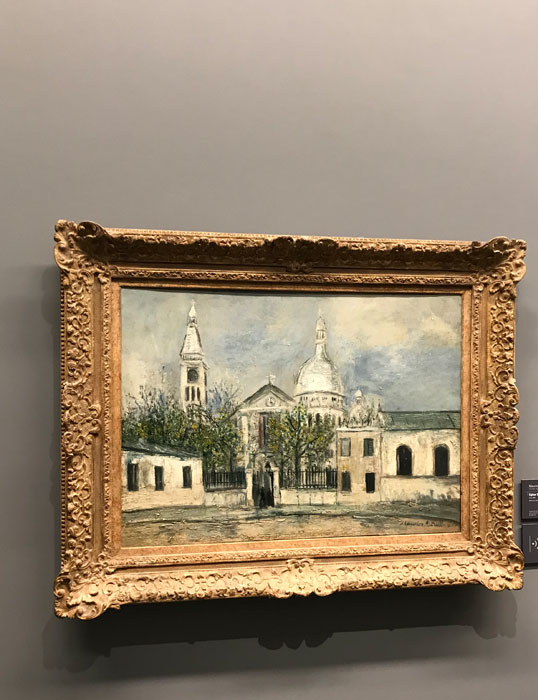 Saint Peter's Church, Montmartre 1914
I personally love Utrilo's paintings.
This work painted the Montmartre Temple
Utrillo often paints Montmartre, all of which are wonderful works.
The colors of the trees and leaves in the city are very wonderful, giving life to the scenery of the city, which tends to be inorganic.
Utrilo depicts various landscapes of Paris, Please enjoy while envisioning the scenery of the time and the current scenery.
Summary
How was it?
Many wonderful paintings are on display,.
You must have so much fun them, so you forget about the time!
The second basement floor isn't big, but after a quick look, you'll want to see it again from the beginning.
Boutiques with souvenirs and postcards are also very small, but just looking for postcards of your favorite paintings is not enough time.
It may not look as good as the Louvre or the Musée d'Orsay, but you can enjoy it slowly.
Please come and see it.
Thank you for reading to the end this time.