If you've ever traveled to Europe, you'll want to experience a train journey at least once.
Within the EU, various countries operate various types of trains, but the most popular is the red-bodied Thalys.
The Thalys, which connects the Netherlands, Belgium, France and Germany, is a highly recommended train that can be easily used by those who have never traveled by train before, and is also a great sightseeing option.
In this article, I would like to introduce Thalys in detail.
About Thalys
Basic information
The Thalys is a high-speed train that connects four countries: France, Belgium, the Netherlands, and Germany.
Currently, Talis is operated by two joint companies.
One is Thalys International.
It is operated mainly by the railroad companies of France, Belgium and Germany.
The project is also supported by a Dutch railroad company.
(SNCF 62%、SNCB 28%、DB 10%)
The other is the railroad company THI Factory.
This one is operated by a French and Belgian railroad company.
(SNCF 60%、SNCB 40%)
The Thalys, with its trademark red body, was built in 1996 based on the French TGV.
They are constantly adopting various innovative approaches, introducing wifi in 2008 and a train management system called ERTMS in 2009.
With the slogan "Welcome to our World," they are constantly striving to increase customer satisfaction.
The seats in Thalys are ergonomically designed and very comfortable.
Each seat is equipped with a power plug, making it easy to charge your computer or smart phone.
Service
Seat Comparison Table
There are three types of tickets for the Thalys.
The characteristics of each are summarized in the table below.
Please note that the fares shown are for travel from Paris to Brussels.
From Paris to Brussels
 
Standard
 
Comfort
Premium
Electrical outlets
〇
 
〇
〇
wifi
〇
 
〇
〇
Meals
×
 
×
〇
Thalys lounges
×
 
×
〇
Newspaper
Magazine
×
 
×
〇
Luggage storage
Suitcase x 2 Baggage x 1 No weight limit
 
Suitcase x 2 Baggage x 1 No weight limit
Suitcase x 2 Baggage x 1 No weight limit
Fare
mini
Standard
 
 
(Adults 26-59 years old)
49
99
115
145
 
43
89
105
135
 
29
75
80
115
 
 
65
55
 
 
 
52
 
 
(Children 4-11 years old)
 
15
20
30
(Youth 12 to 25 years old)
29
69
57
72
 
 
49
 
 
(Senior over 60 years old)
 
69
80
101
Electrical outlets
Power outlets are located in every seat.
You will need to prepare a C-type power plug in advance.
WIFI
WIFI is available in all seats.
Note that Premium users have access to high-speed communications.
MEALS
Meals on board are included free of charge only in Premium.
There is also a dining car, which is available for all passengers.
It's called "WELCOME BAR" and serves hot and cold drinks, sandwiches, waffles, and more.
A detailed menu can be found here.
Thalys lounges
Only available for Premium users.
Access to Thalys lounges at Paris-Nord and Brussels-Midi
Access to NS International – Regus Express lounges at Amsterdam, Rotterdam and Schiphol 
(The lounge may not be available due to renovation work. Please check below for the latest information)
Brussels-Midi
address:Rue de l'instruction 158 1060 Brussels
Opening hours:
Monday to Friday: 6:30 am to 9:30 pm
Saturday: 7:30 am to 9:00 pm
Sunday: 8:30 am to 9:30 pm
Paris Nord
address:22 Rue de Dunkerque 75010 Paris
Opening hours:
Mondays: 7:00 am to 7:30 pm
Tuesday to Thursday: 7:15 am to 7:30 pm
Fridays: 7:15 am to 8:30 pm
Saturdays: 7:00 am to 1:00 pm
Sundays: 3:00 pm to 8:30 pm
Newspapers, Magazines
Only Premium is available.
Luggage storage
The amount of luggage that can be brought into the Thalys is the same for all classes.
Two suitcases are allowed.
However, the maximum size is 75 x 53 x 30 cm.
No more than one piece of hand luggage.
There is no weight limit for both suitcases and hand luggage, but you must be able to carry the weight yourself.
Fare
Fares can be booked at a discount if you book early.
(Tickets can be reserved up to three months in advance.)
In most cases, discounted seats cannot be cancelled or refunded, so please be careful when making reservations.
Depending on the date of travel, Comfort may be cheaper than Standard, so choose Comfort in that case.
Children under 12 years old pay a flat rate for a ride on the Thalys, no matter where they go.
There is a difference in price depending on the seat.
If your child is under 4 years old, it is possible to ride for free.
Youth rates for those between the ages of 12 and 25 are less expensive than adult rates.
Senior rates for those over 60 are also available at a discount to adult rates.
Thalys Network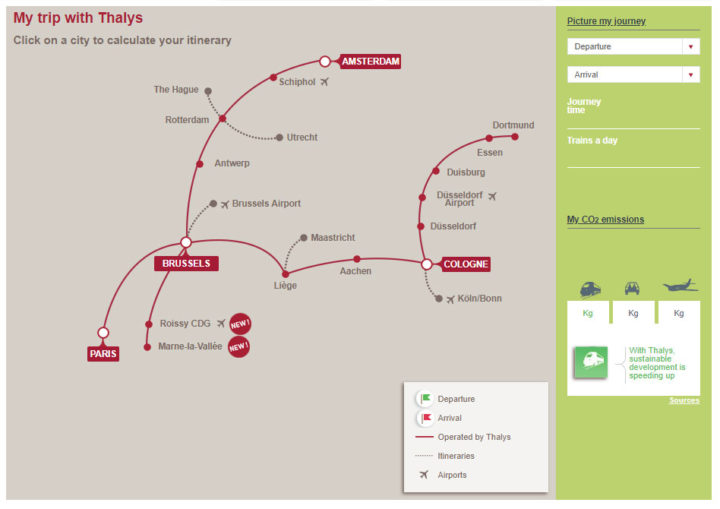 The Thalys runs through major cities in France, Belgium, the Netherlands, and Germany.
Travel time to major cities:
Paris – Brussels 1 hour 22 minutes
Paris – Amsterdam 3h 17m
Paris – Cologne 3h 14m
The actual travel time will vary slightly depending on the day of the week and time of day, but being able to travel between several countries in a short amount of time is one of the unique attractions of Europe.
Marne-la-Vallée and CDG (Charles de Gaulle Airport) are new additions to the route, making it even more convenient.
Summary
How was it?
The red body of the Thalys has many attractions not only in its body but also in its interior.
Regardless of which seat you take, the seat is comfortable and comes with a clean toilet.
The dining car is also a counter type that can be used casually, so I recommend stopping by for a memory of your trip.
The Thalys has a variety of attractions, but there are different ways to make reservations.
In my next article, I would like to show you how you can reserve a seat according to your wishes at a lower price than anywhere else.
I sometimes hear people say, "Isn't it cheaper and shorter to travel by plane?"
Indeed, with the recent increase in the number of LCC (low cost carriers), flying is often cheaper if you consider only the time and cost of flying.
However, in reality, when you consider the cost and time associated with transportation to the airport in each country, and the cost and time associated with transportation in the country of arrival, train travel is overwhelmingly advantageous.
If you are planning to visit several countries in Europe, please consider traveling by train.
And if you are traveling between France, Belgium, the Netherlands, and Germany, you should definitely take the Thalys.
Thank you again for reading to the end of this article.