The Astra Hotel is one of the most convenient hotels in the Astotel Hotel Group, which is a must stay in Paris.
It is only a few minutes' walk from the Roissy bus stop, which arrives directly from Charles de Gaulle airport, and travelers will be happy to know that Galeries Lafayette and Printemps are only a few minutes away.
As of 2021, the Hotel Astra is closed.
Hôtel Astra Opéra
Practical information
Hôtel Astra Opéra – Astotel ★★★★
Address:42 Rue de Moscou, 75008 Paris, France
Nearest station: Auber RER A, Opéra Line 3/7/8, Havre – Caumartin Line 3/9 
Features
Hotel Astra Opera is one of the Astotel Hotel Group mentioned here.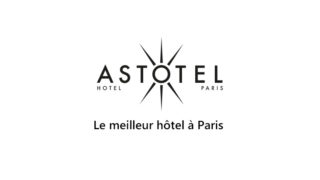 ASTOTEL HOTEL Paris The best Hotels in Paris with Free Offers You Must Stay
One of the most difficult things about sightseeing in Paris is choosing a hotel. There are a variety of accommodations r...
For more information about the Astotel Hotel Group, please read the article above.
I think you will find that it is incomparably more attractive than other hotels in Paris in the same price range.
Anyway, it's full of free benefits, so please check it out.
Exterior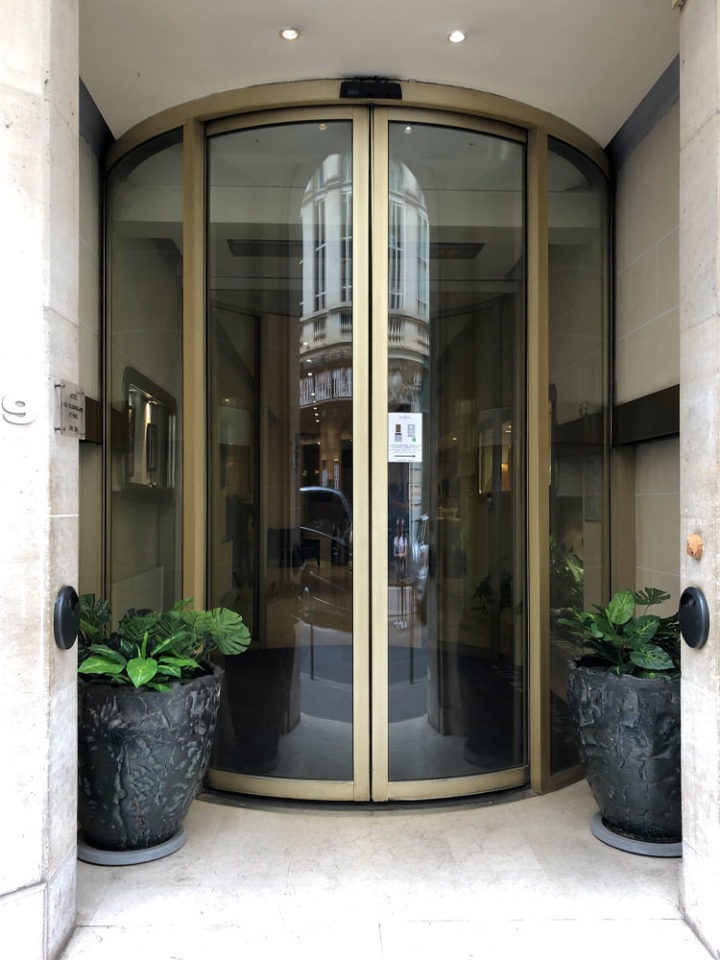 The exterior is very simple, and to be honest, it doesn't have much of a four-star hotel feel to it.
Because of its location, there are many stores and hotels lined up in old buildings, so the buildings themselves are not unique.
If you don't look carefully, you might even pass by it.
There is also Hôtel Caumartin Opéra, a member of the Astotel group, next door, so be sure not to confuse the two.
Hotel Lobby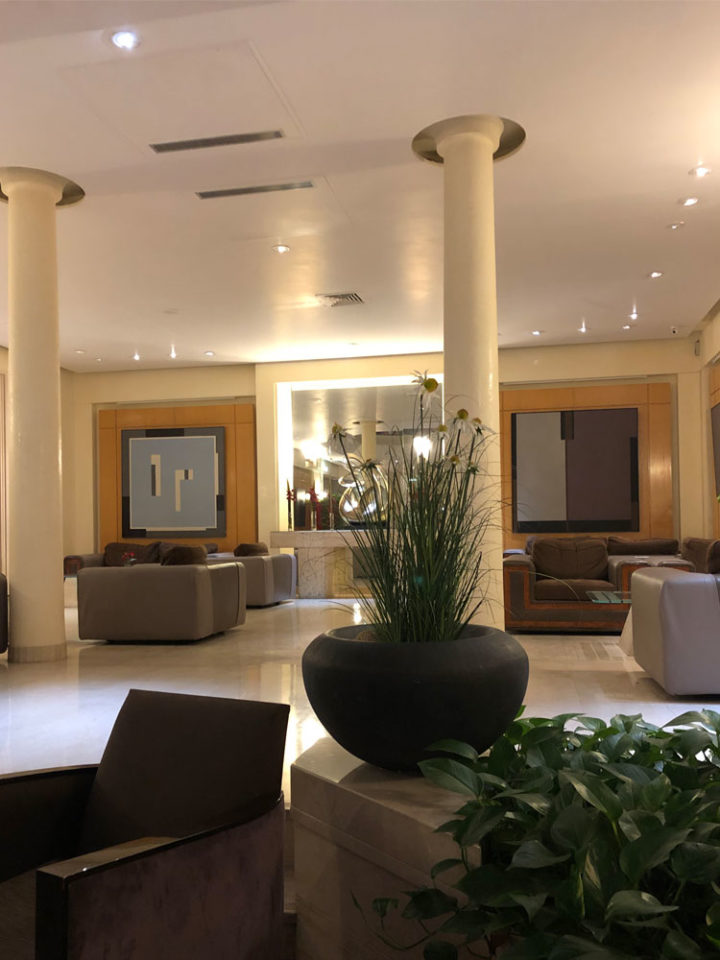 From the small size of the entrance, it is hard to imagine the spaciousness of the inside.
After passing through the automatic door, you will find the reception counter on your right and a spacious rest area on your left.
There is a large elevator at the end of the hallway.
There is plenty of room for four suitcases and two adults.
Room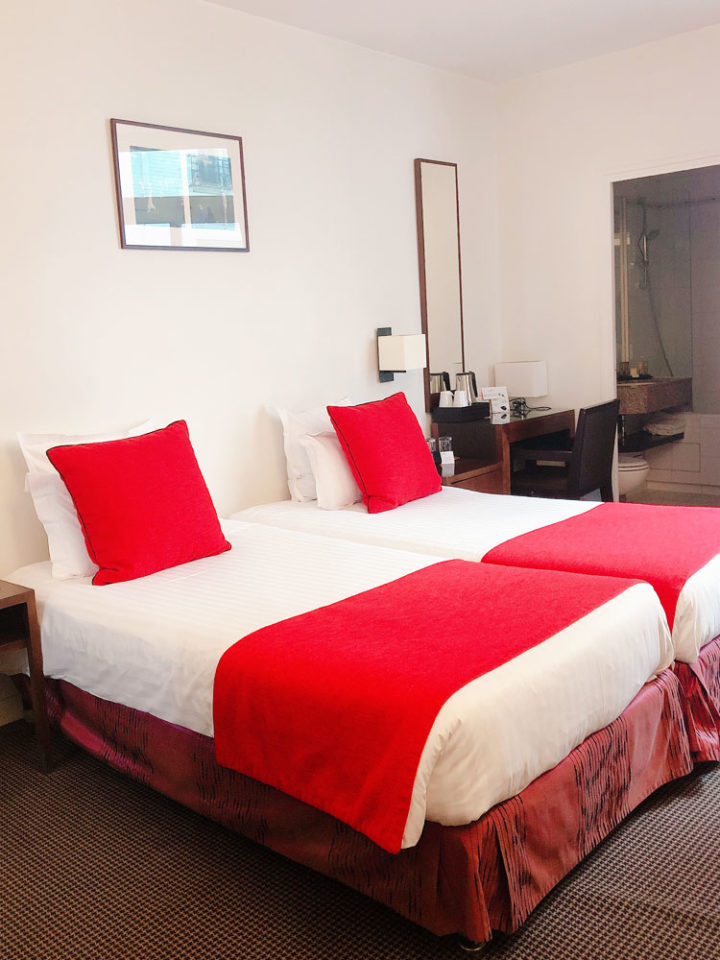 This time, we stayed in a twin room.
It's a regular twin room, but quite spacious.
It was spacious enough to spread out four suitcases and still have room to spare.
However, due to room availability, we were guided to a slightly larger twin room, so I think we may be guided to a smaller twin room.
Still, there was plenty of room to spread out my suitcase.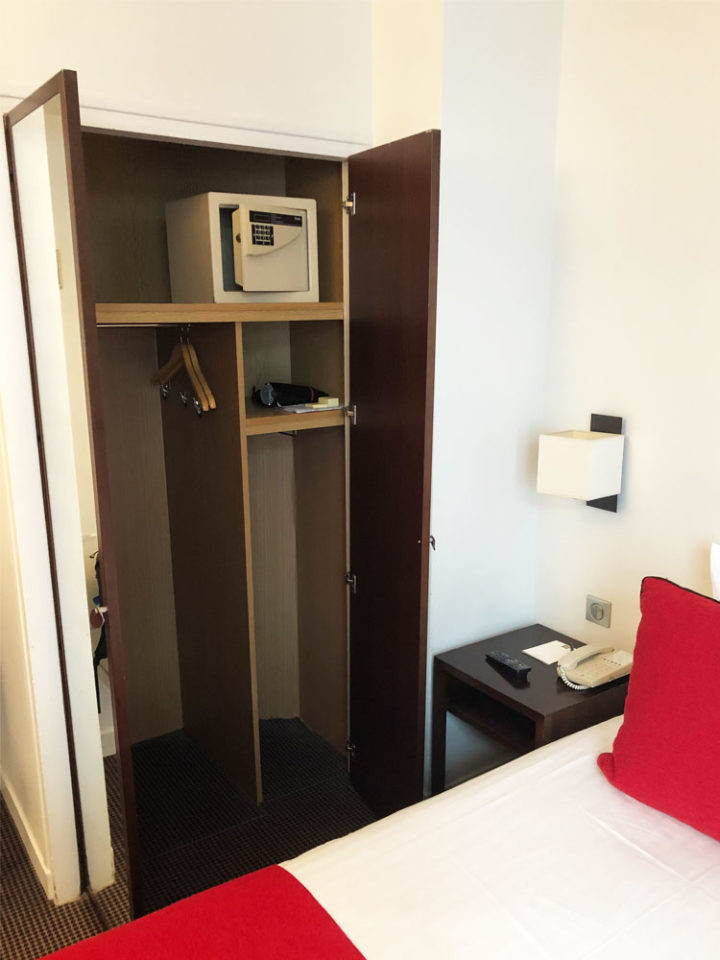 The closet has a door and is more than large enough.
There are shelves and a safety box, so I have no complaints.
There is also a bedside table with plenty of space.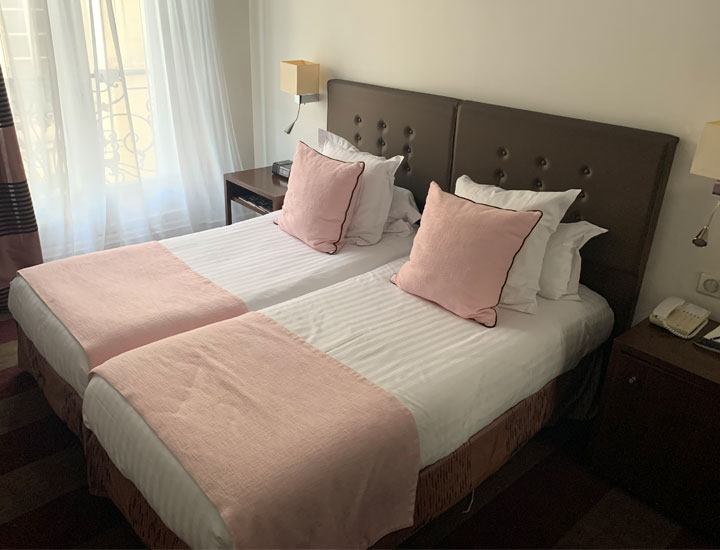 The other night we stayed in a slightly prettier pink bed.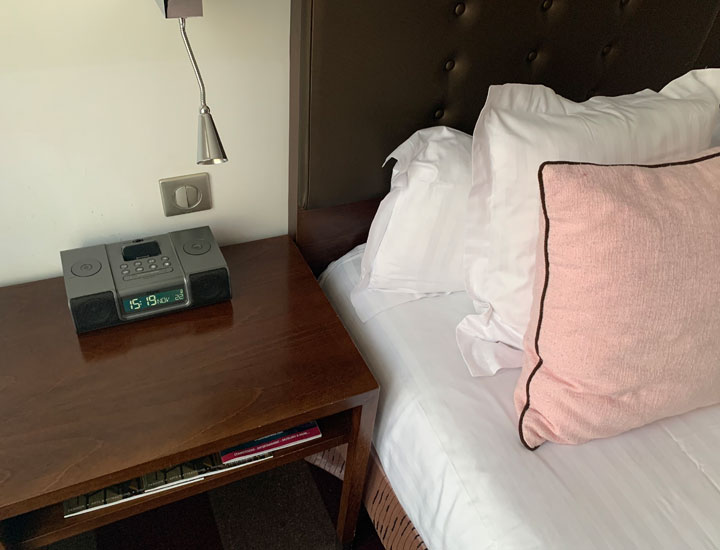 The bedside is as spacious as ever.
However, it is a little troublesome that there is no electrical outlet near the bedside.
The electrical outlets are located under the wall.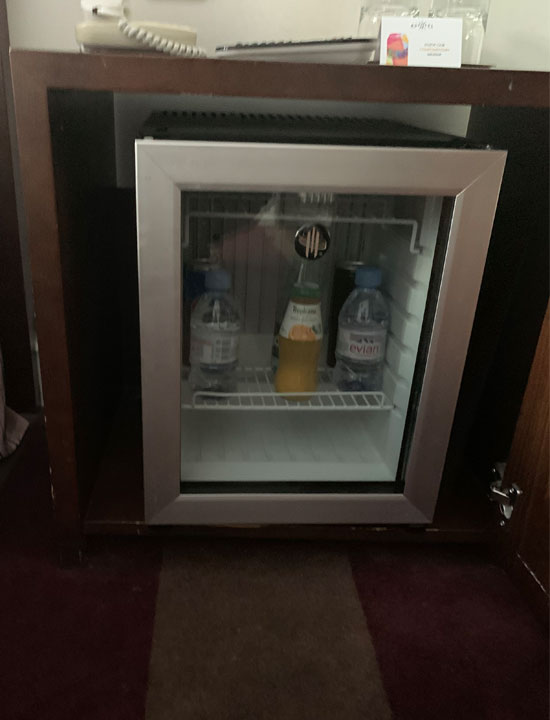 All drinks in the refrigerator are free.
They are replenished daily, which is a great help during your stay.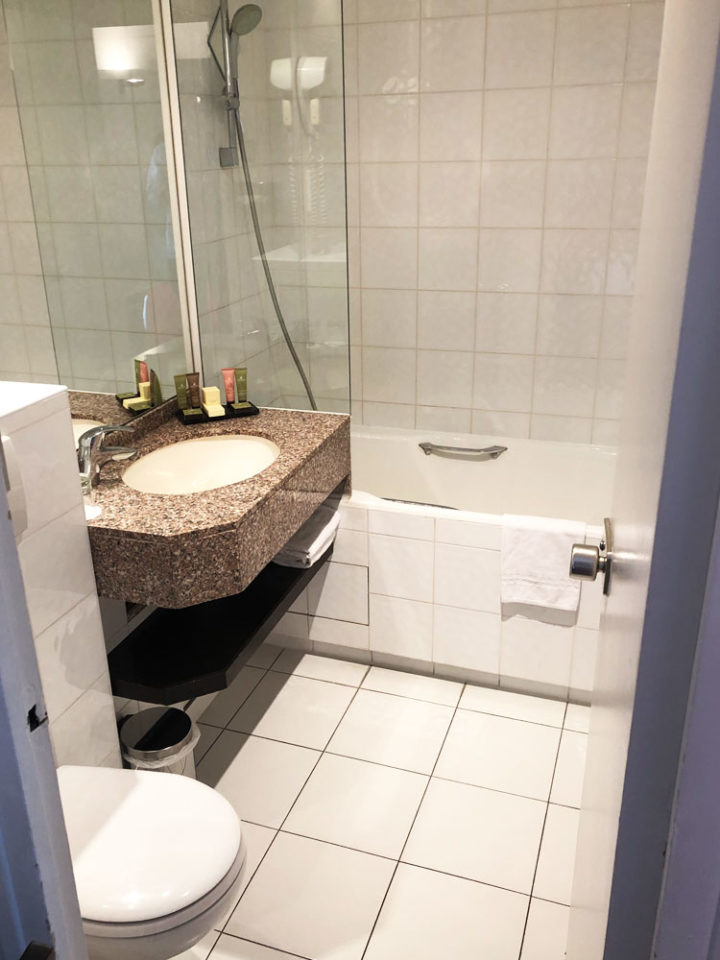 The bathroom is large enough.
The size and depth of the tub is fine.
However, there are no shower curtains or glass doors to prevent water leakage, so you need to be careful when taking a shower.
If you shower normally, the floor will be flooded, so you need to sit in the bathtub and take a shower.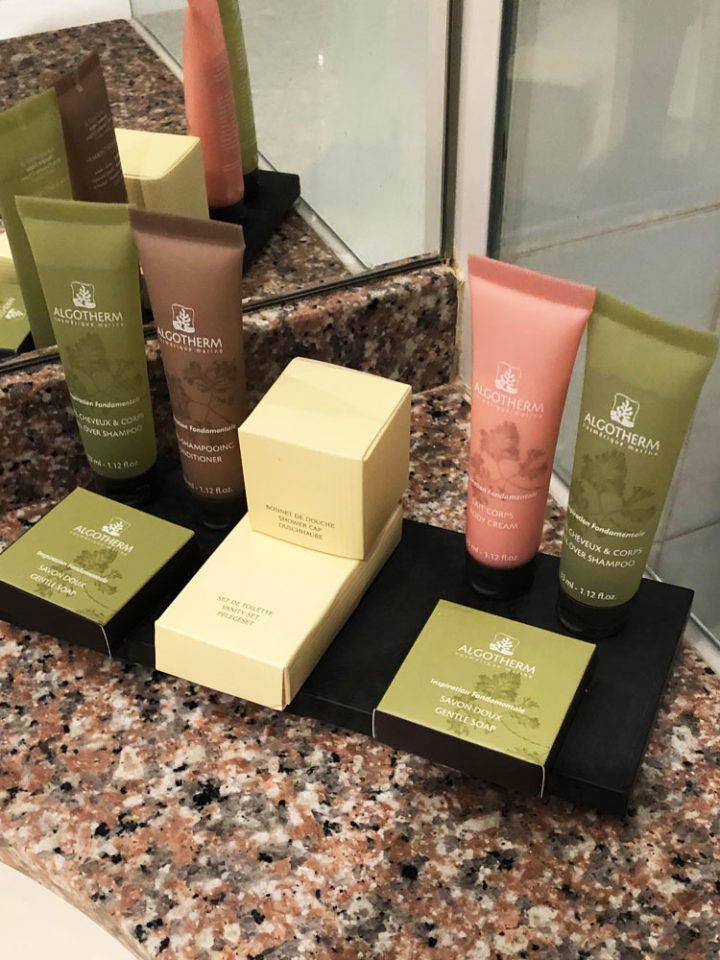 One of the attractions of Astotel hotels is that they offer ALGOTHERM amenities.
This ALGOTHERM product is developed based on marine ingredients, and I highly recommend it for its fragrance and comfort.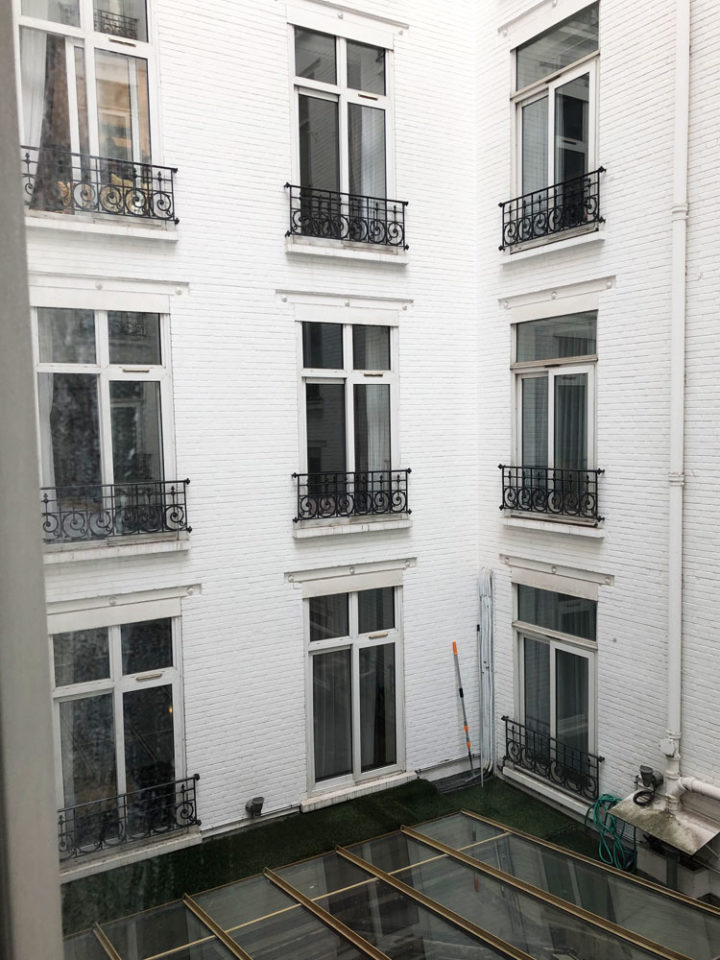 The view from the room is not very special if you are facing inward.
The view from the upper floors on the street side will give you a sense of Paris.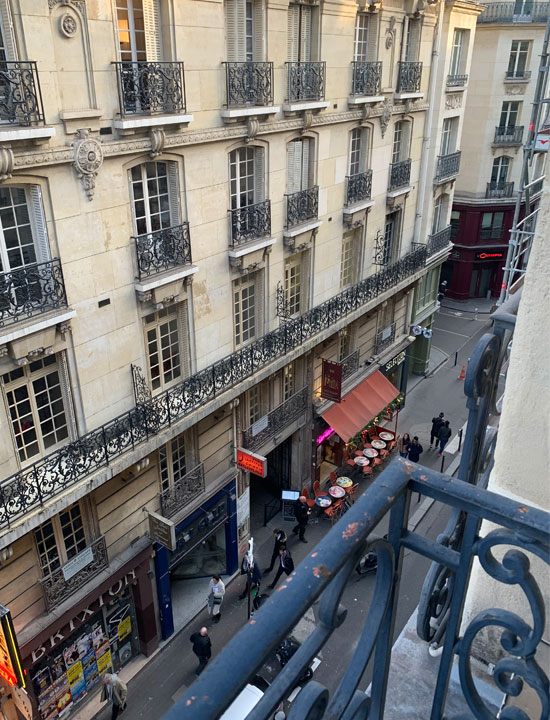 There is not much to see, but if this is your first visit to Paris, I think you will enjoy it a bit.
If it's not crowded, you can request it.
Breakfast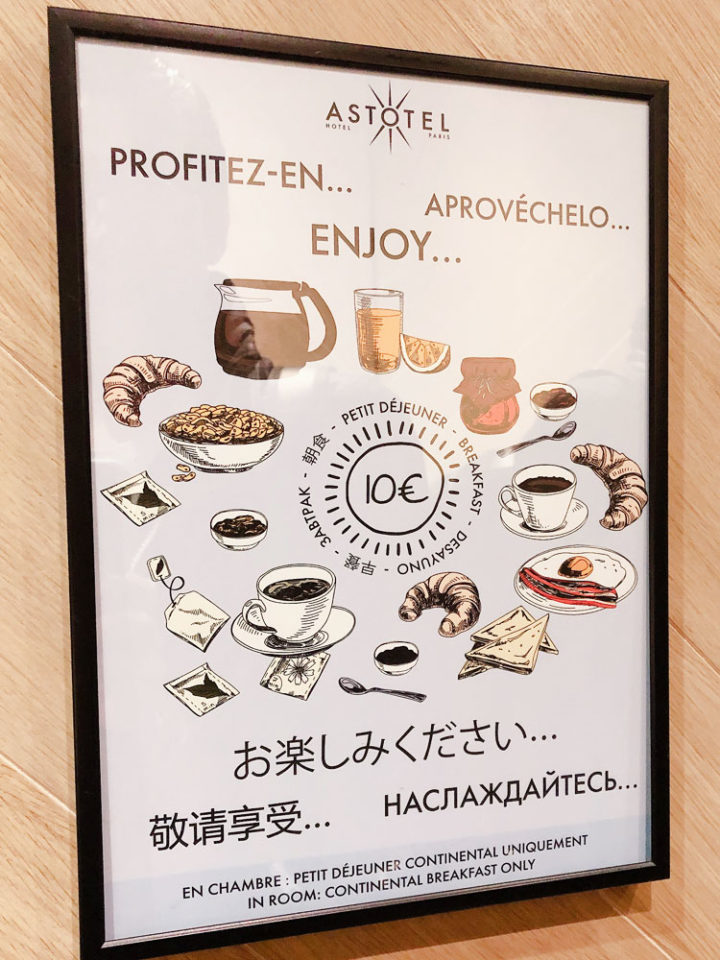 If you book through the official website of the Astotel Hotel, all plans include breakfast, so no fee is required.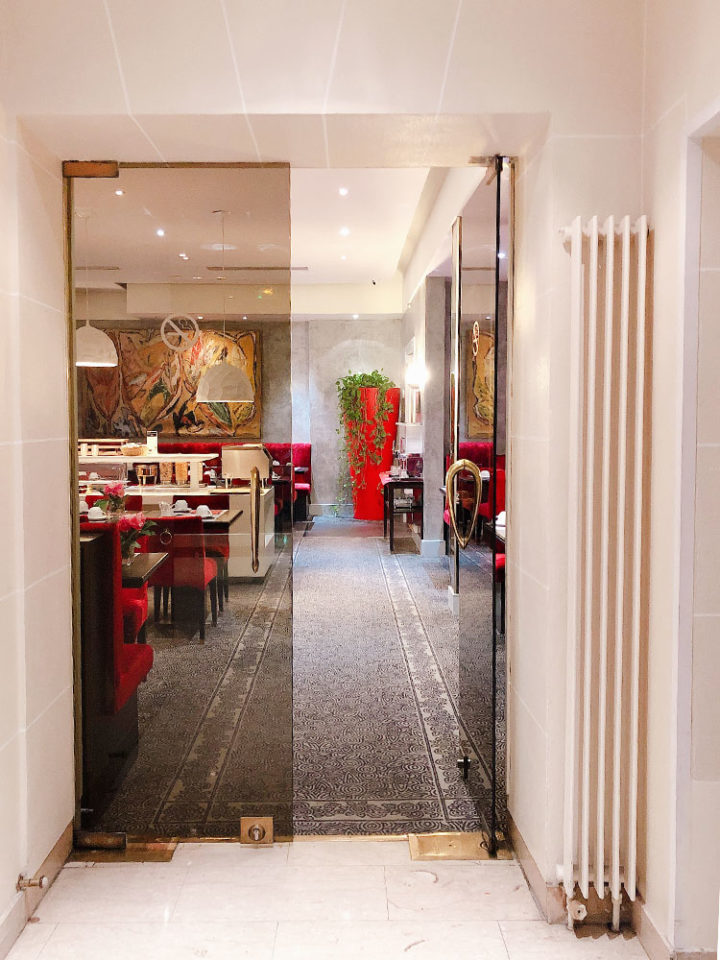 The breakfast room is located by the elevator.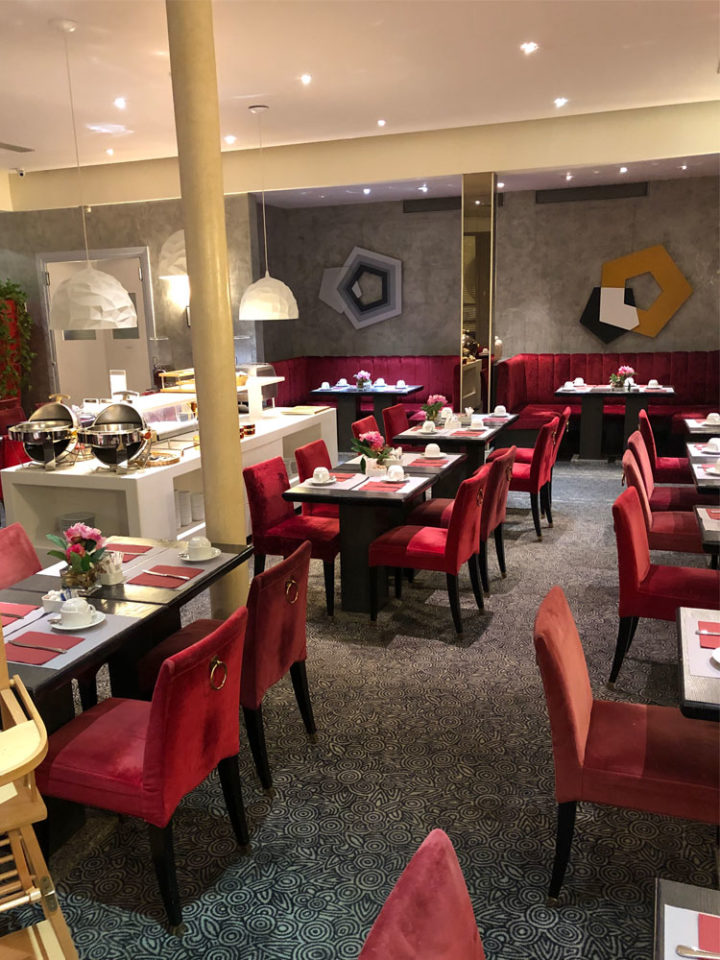 The breakfast room is a gorgeous place with red chairs.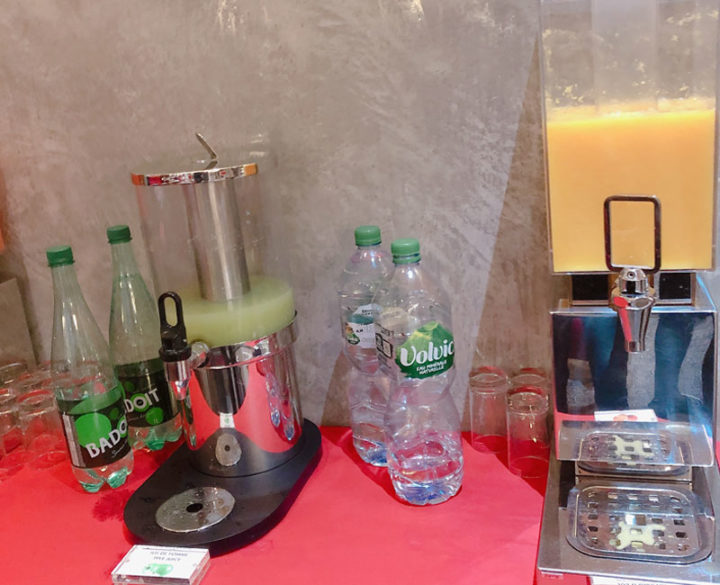 The menu is extensive and includes freshly squeezed juices, Volvic, and sparkling water, BADOIT.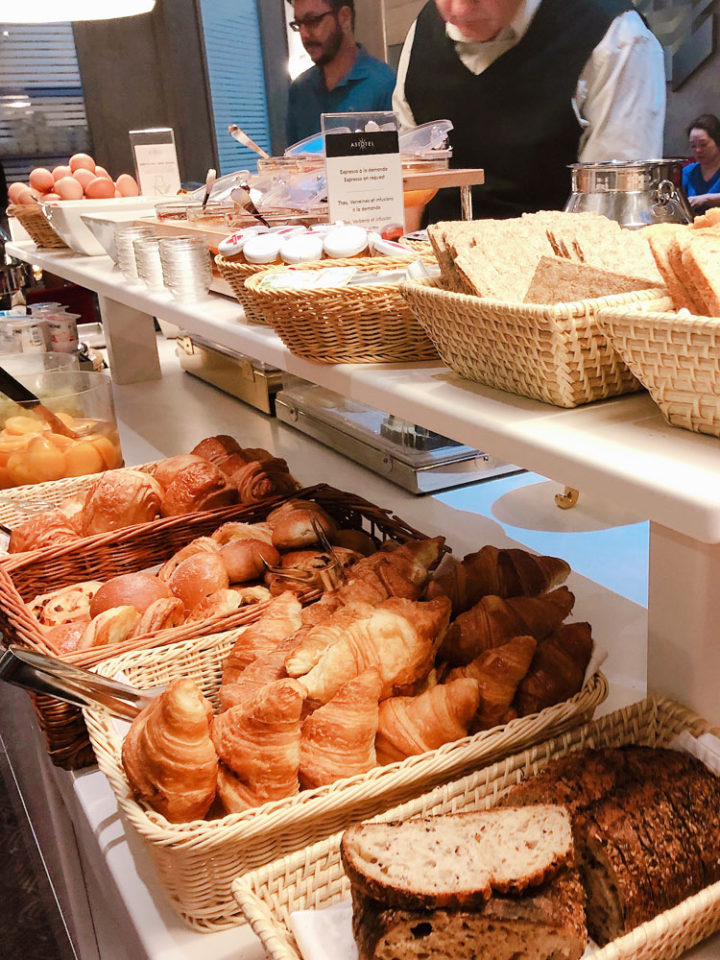 There are more kinds of bread than you can eat.
Baguettes, croissants, pain au chocolat, etc.
They are all very tasty.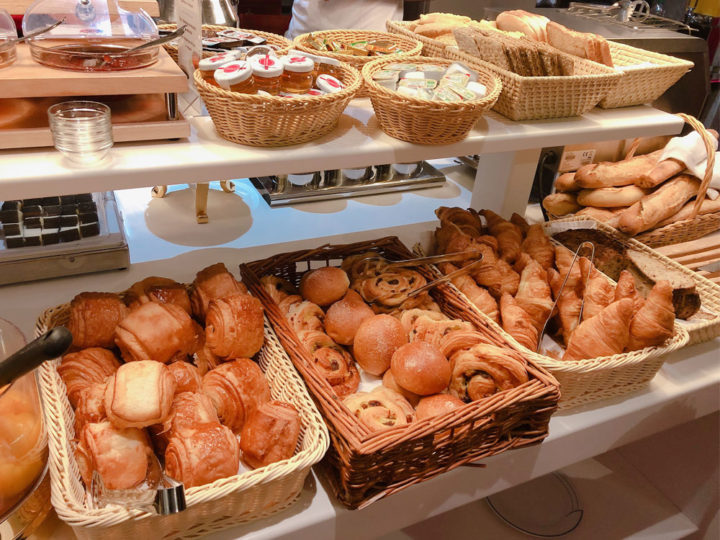 Butter, honey, and Nutella are also available in neat little portions.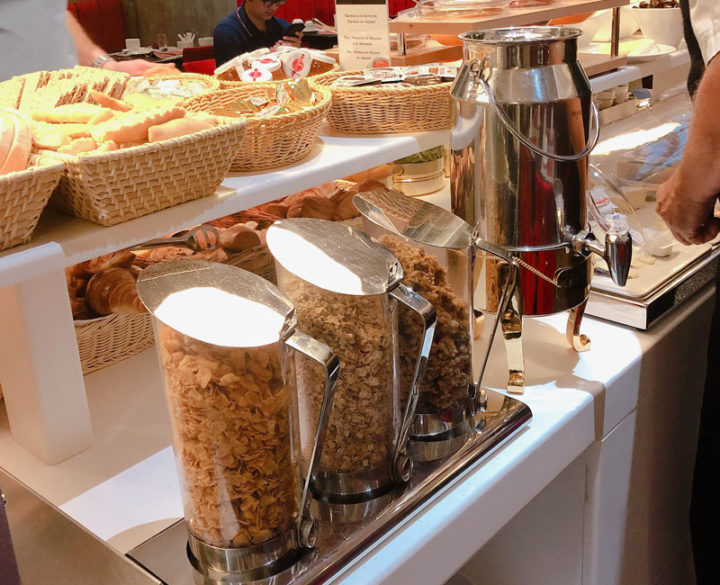 Cereals are also available, of course.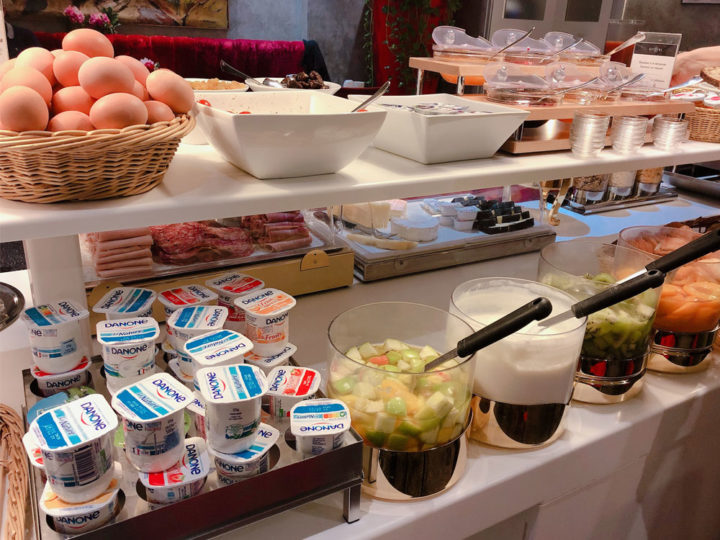 Boiled eggs, yogurt, and a variety of fruit punch are also available.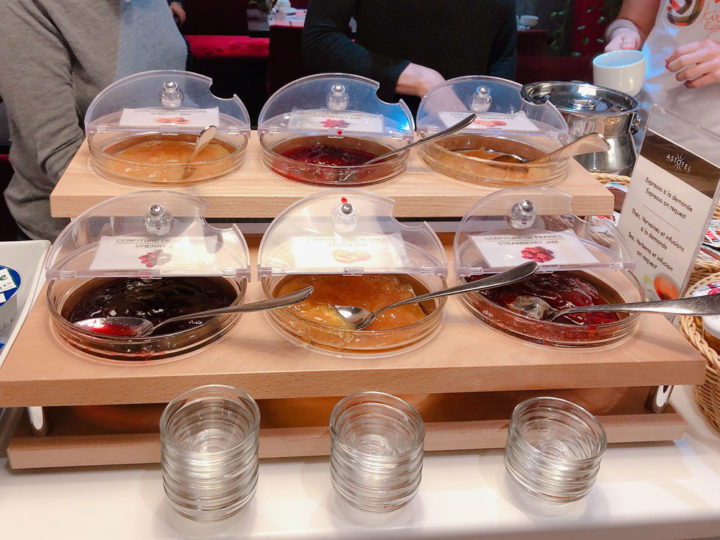 You can also enjoy a variety of jams.
The way it is served on a small plate is stylish and nice.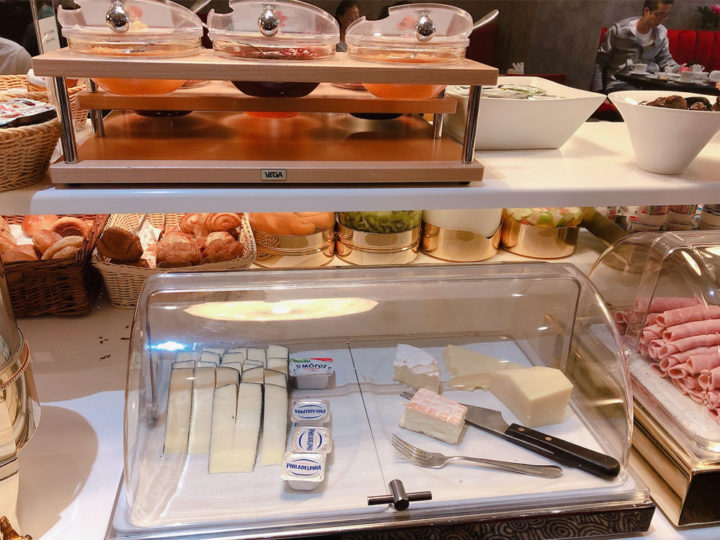 Of course, there is also a wide selection of cheese and ham.
Coffee will be poured for you when the staff asks for your room number.
It's nice to be able to drink freshly brewed coffee, but it's a little delicate for me, as I like to have a sip of coffee first.
Also, if you want another refill, you will have to wait a bit if the staff is not in the breakfast room.
Refreshments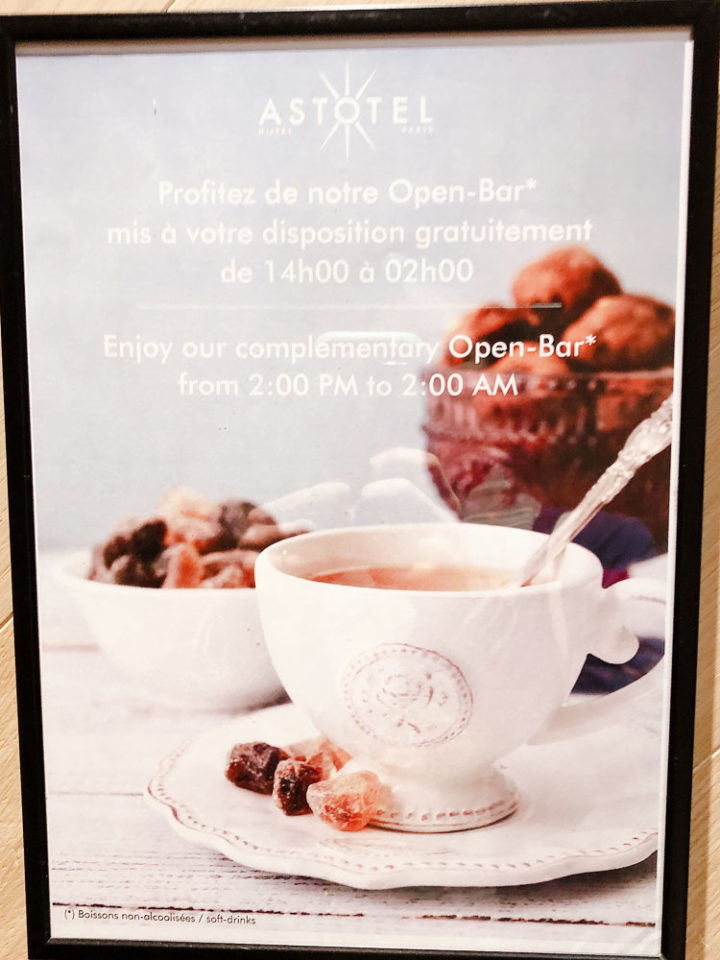 Refreshments, which begin at 2:00 p.m., can be taken at leisure in the large space.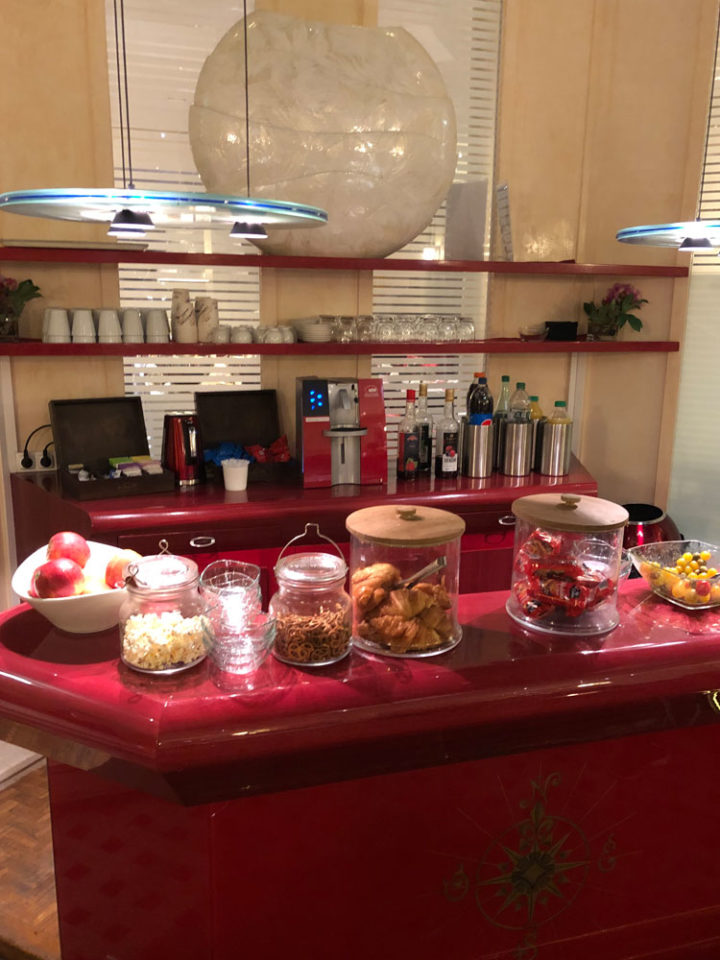 Drinks include coffee brewed in an espresso machine and a variety of teas.
There is juice and water, of course.
There is also a small selection of breads such as croissants and madeleines, as well as fruits and sweets.
Hotel Astra is a 4-star hotel, but the snack menu is not much different from other 3-star Astotel Group hotels.
Surrounding Attractions
Although there are not many convenience stores around Hotel Astra, it is only a few minutes walk to the gourmet floor of Printemps and the gourmet pavilion of Galeries Lafayette, so it is not particularly inconvenient.
In addition, there is a Carrefour in front of the hotel on Cormartin Street, which is very convenient for buying small groceries.。
There is also a large supermarket, Monoprix, at the end of Printemps, which is a good place to buy souvenirs.
Please note that both stores have short opening hours on Sundays.
Carrefour City
Address:7 Rue de Caumartin, 75009 Paris, France
Business hours: Monday – Saturday 07:00~21:00, Sunday 9:00~13:00
MONOPRIX
Address:47 Rue Joubert, 75009 Paris, France
Business hours: Monday to Saturday 09:00~22:00, Sunday 11:00~19:00
How to get to Charles de Gaulle Airport
From Charles de Gaulle Airport to Hotel Astra, it is convenient to take the Roissy Bus.
The Roissy bus stops slightly behind the Opera House, as shown on the map.
From there, take Rue Aubert, cross the street and continue on Rue Boudreaux, which will soon lead you to Rue Cormartin.
From the Roissy bus stop, it takes less than five minutes to get there, so you'll be there in no time.
Other than the Roissy bus, there are other means of transportation such as the RER B line, but it is a long way to the North Station and you will need to travel again.
Summary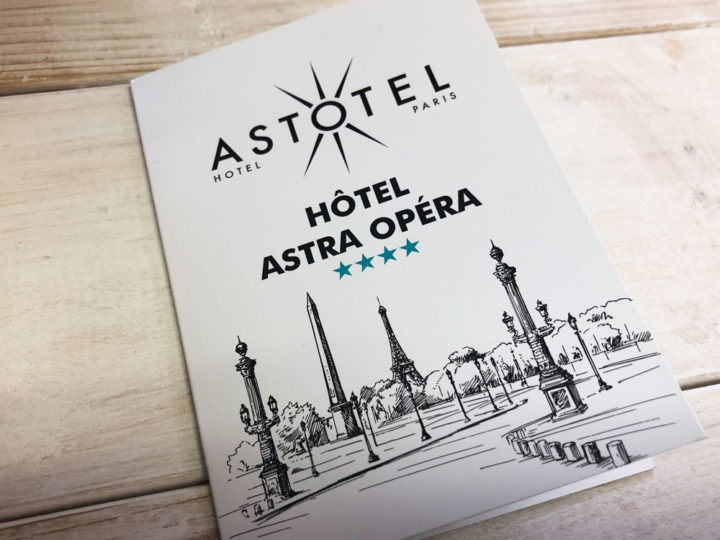 Hotel Astra is one of the top hotels in the Astotel group and has a high level of satisfaction, but the most attractive feature of Hotel Astra is its location.
The two major department stores in Paris, Printemps and Galeries Lafayette, are less than a five-minute walk away, and Tuileries Park and the Louvre are also well within walking distance.
The cost performance is also quite high, especially since you can visit quite a few sightseeing spots on foot without using public transportation.
Of course, it's also very easy to get around Paris and the suburbs by bus, metro, or RER.
The Metro is very close to the Opera and the Madeleine, so you can easily get anywhere you need to go.
The AUBER station on the RER is also just a few minutes' walk away, making access to Disneyland Paris and other destinations very convenient.
Although the Hotel Astra has such a high level of satisfaction, it is not without its problems.
That said, the room rates are higher than other Astra Group hotels.
Of course, this is unavoidable because of the location and the fact that it is a four-star hotel, but…
For those who want to enjoy this convenience and service at a slightly lower price, I recommend the Hotel Co-Martin Opera Astotel next door, which I mentioned briefly in the article.
If you are new to Paris and are looking for a hotel with a good location, good service, and a reasonable price, I can confidently recommend Hotel Astra, so if you have the chance, please try to stay there at least once.
Thank you again for reading to the end of this article.