The Hotel Lorette Astotel is a member of the Astotel Hotel Group, which is the most recommended hotel in Paris.
From the Opera House, which is in the center of the city, you will need to take a bus, but you can use Metro Line 12 during your stay, so getting to the major tourist attractions is not a problem at all.
And one of the attractions of the Hotel Lorette Astotel is the extensive breakfast.
It's hard to find a hotel that offers such a generous breakfast for this budget, so please add it to your list of hotel choices.
Hôtel Lorette Astotel
Practical information
Hôtel Lorette Astotel ★★★
Address:36 Rue Notre Dame de Lorette, 75009 Paris, France
Nearest station: Saint-Georges Line12
Official site: Hôtel Lorette Astotel 
Features
Hotel Lorette is one of the Astotel Hotel Group hotels mentioned here.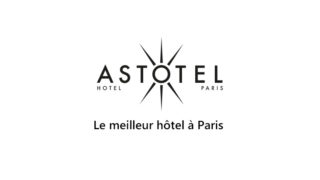 ASTOTEL HOTEL Paris The best Hotels in Paris with Free Offers You Must Stay
One of the most difficult things about sightseeing in Paris is choosing a hotel. There are a variety of accommodations r...
You will understand the appeal of the Astotel Hotel when you read this article.
Compared to hotels in the same price range in Paris, this is by far the best choice, so if you are looking for accommodation in the center of Paris, please try to stay there.
You won't be able to stay at any other hotel because of all the free benefits.
Exterior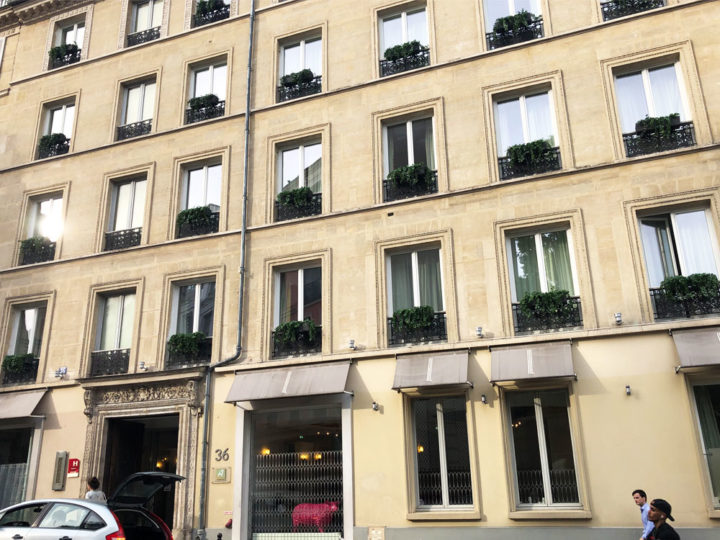 The Hotel Lorette is located right next to the Saint-Georges metro station, on the rue Notre-Dame de Lorette.
It blends in with the building and its surroundings so well that you might miss the entrance if you are walking around normally.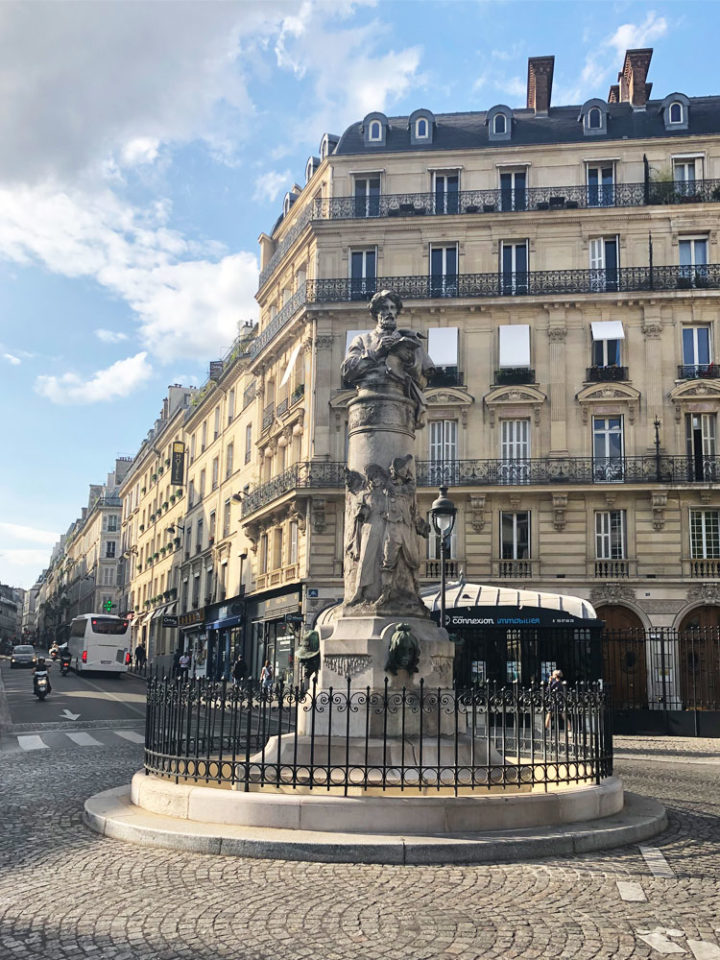 A statue of St. Georges greets you as you exit the Metro.
The traffic is not so bad, but there are surprisingly many people.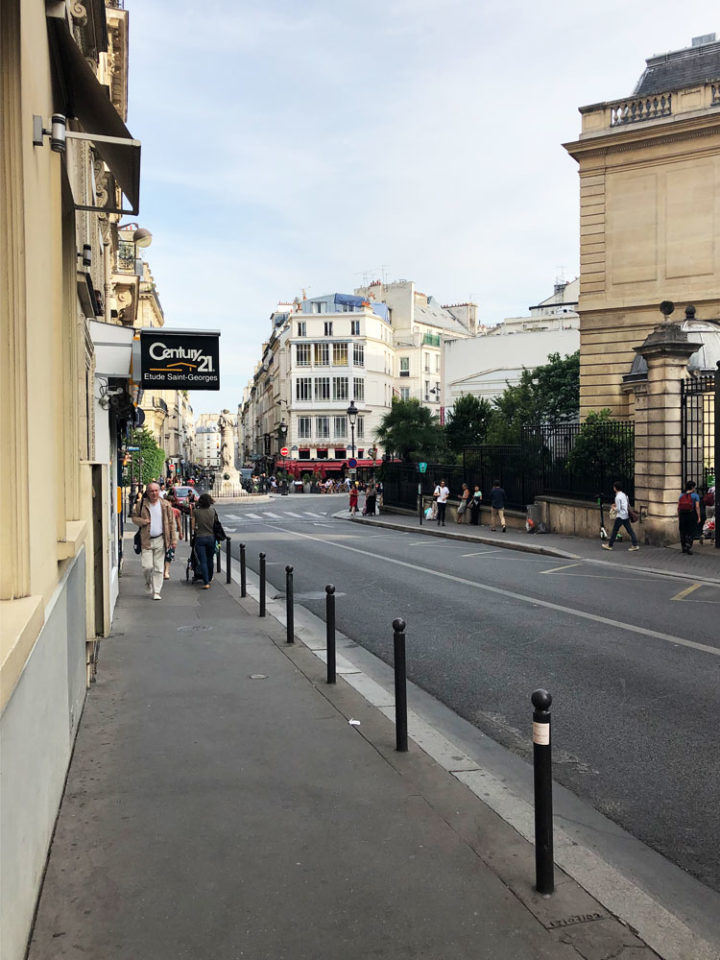 Photo from the hotel towards St. Georges station.
It's downhill, so it's very easy to go out.
It may be quite hard to go to the hotel with suitcases, etc.
Interior
reception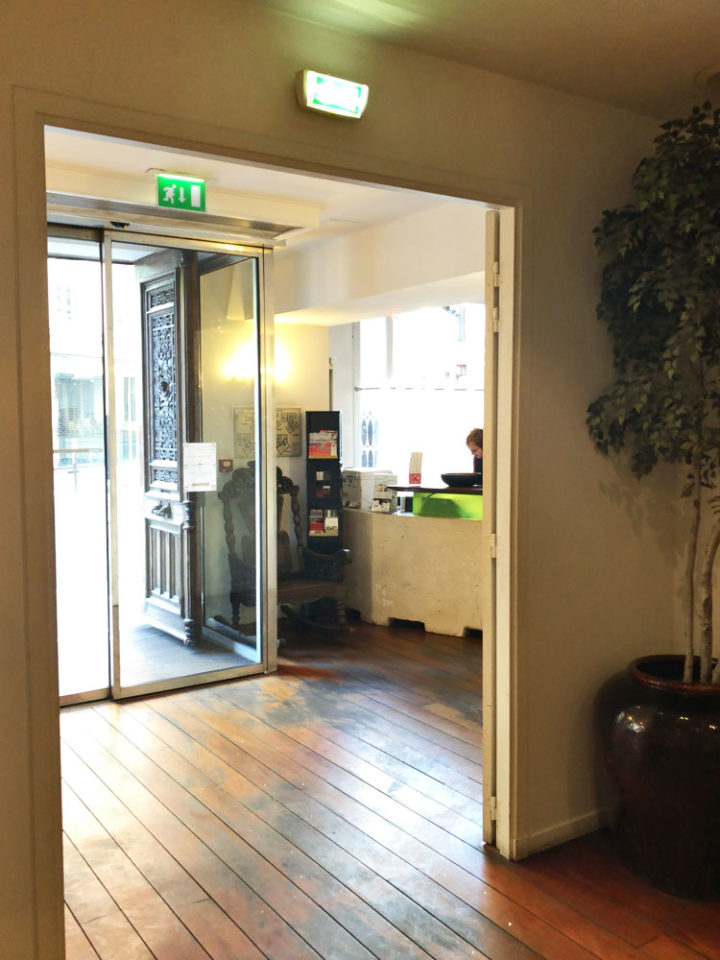 The reception counter is on the left as you enter.
The photo was taken from inside the hotel, so it is on the right side.
It is simple and clean, and the staff is very helpful.
Check-in is smooth and easy.
Hallway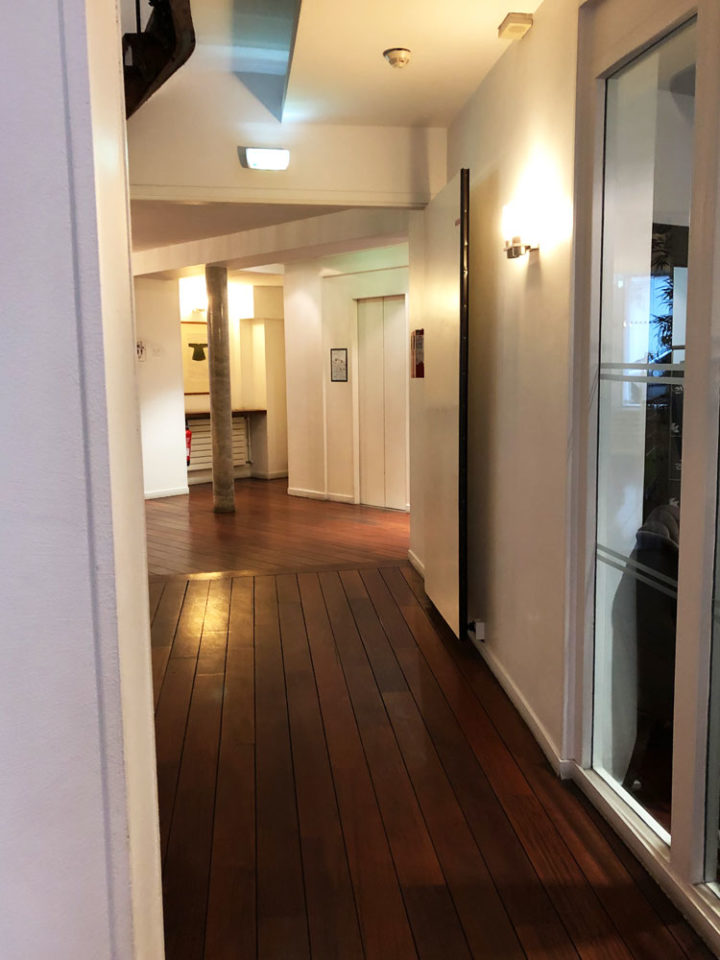 The hotel is built deep in the back.
The hallway is wide enough to easily move suitcases and other large luggage.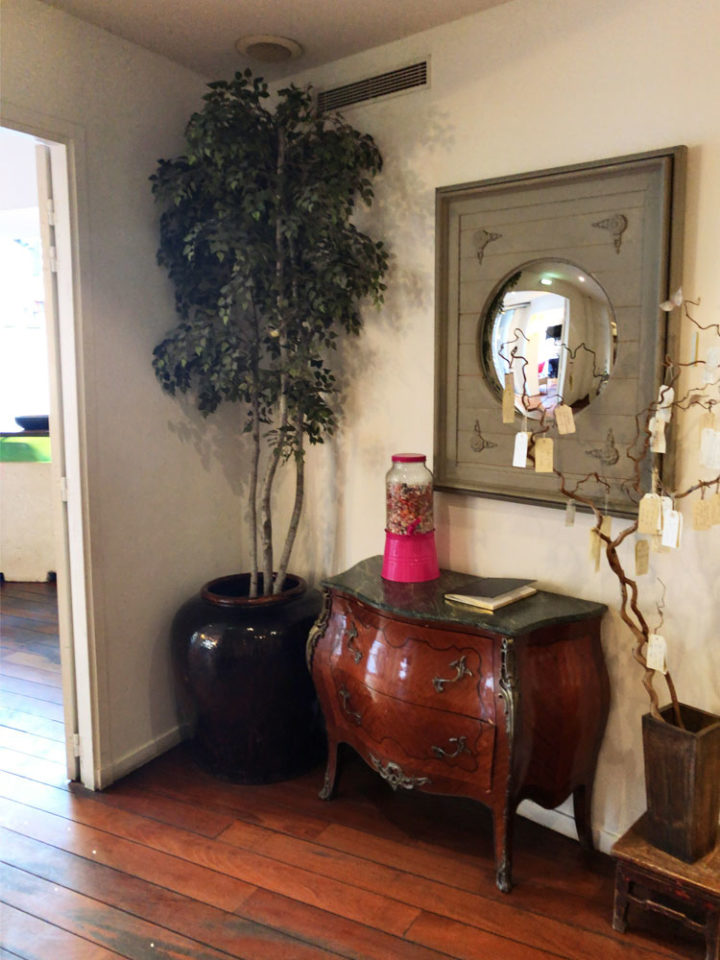 The furnishings are also very stylish.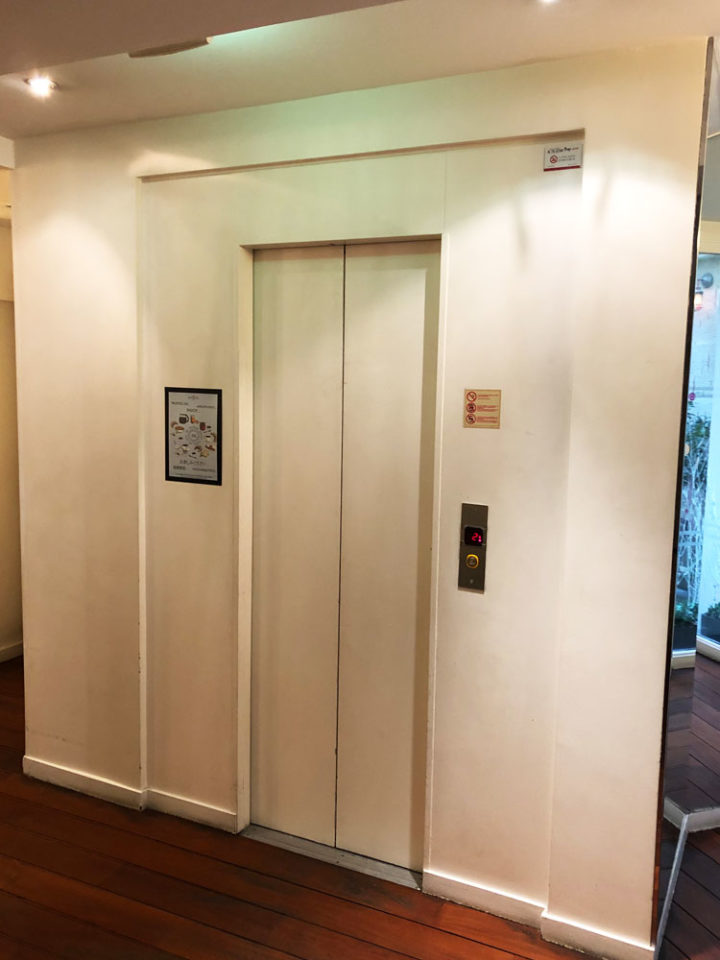 On the right is an elevator.
There is plenty of space and no problems.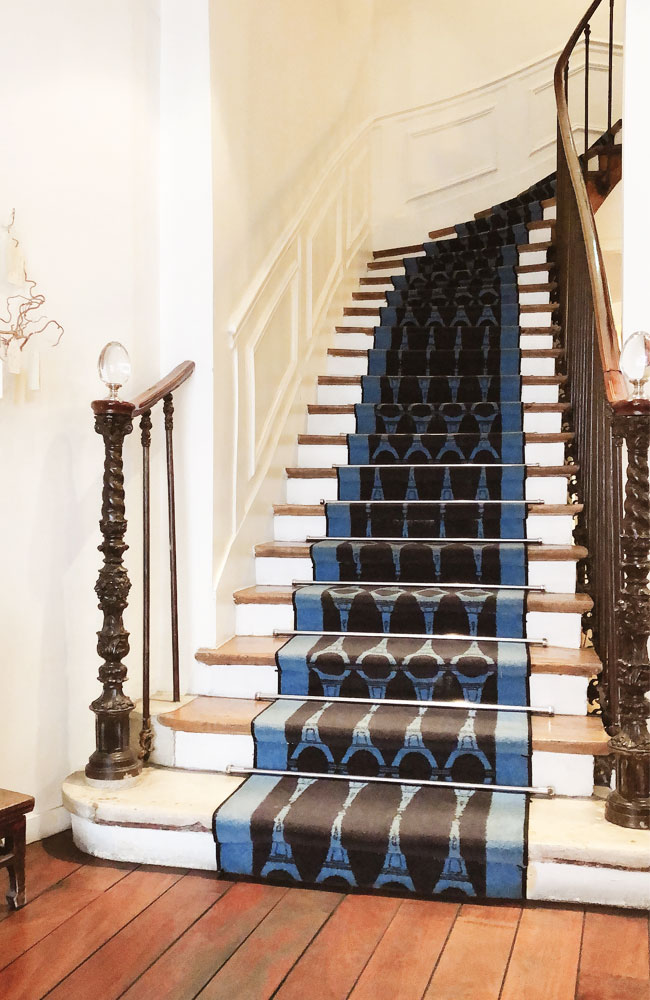 I don't get to use it very often, but the stairs leading to the upper floors are very stylish.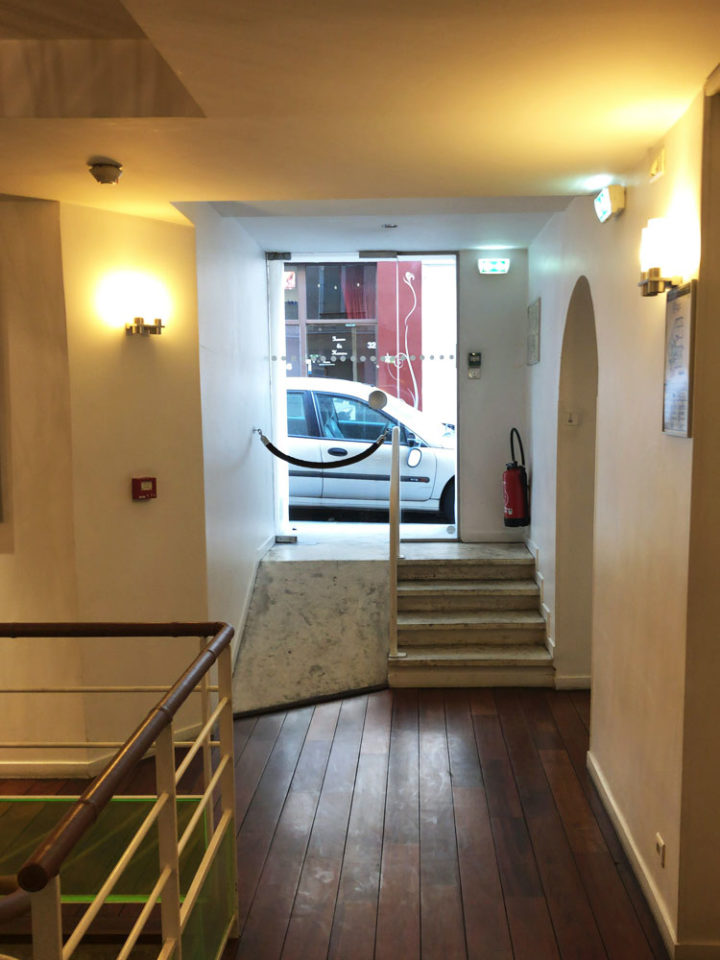 At the end of the hallway, there is also an exit to the other side, which brings in sunlight, making the whole place look brighter.
(We haven't checked if it's actually possible to go in and out.)
Central courtyard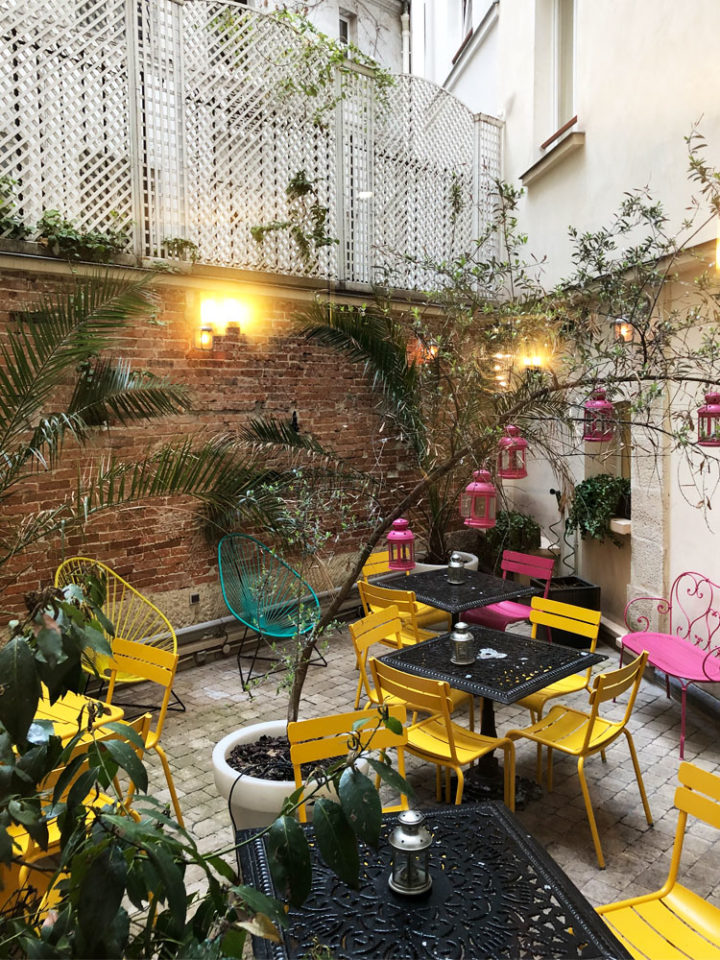 There is also a small courtyard by the side of the hallway.
There are chairs, tables, and plants that make you want to relax on a sunny day.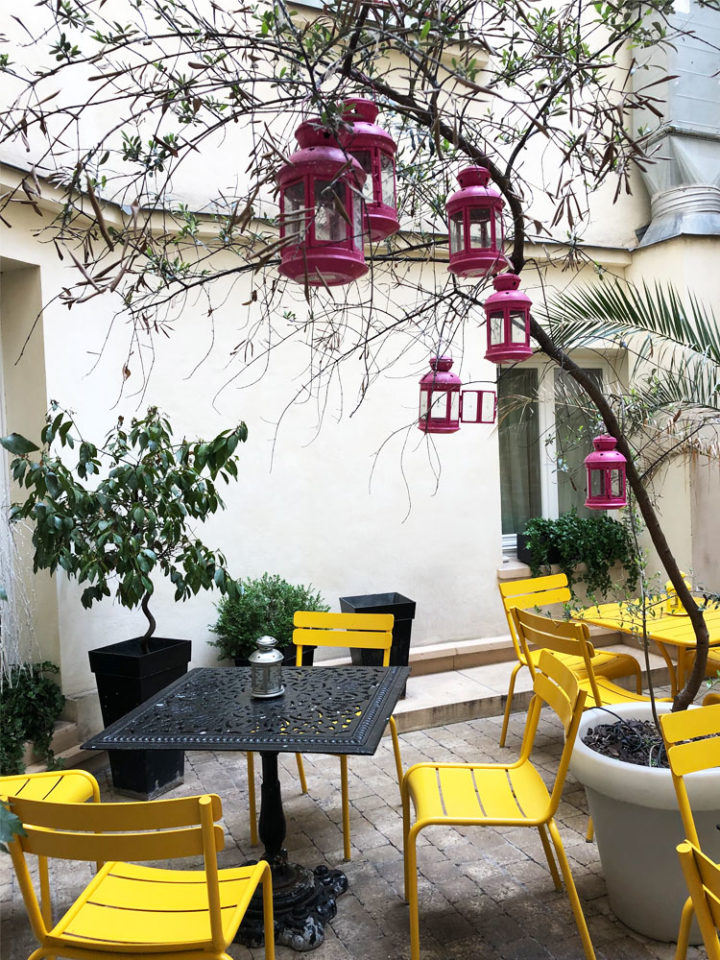 However, since it faces each room on the first floor, you may meet other people who are staying there, so it is best to just enjoy the atmosphere.
Lobby & Snacks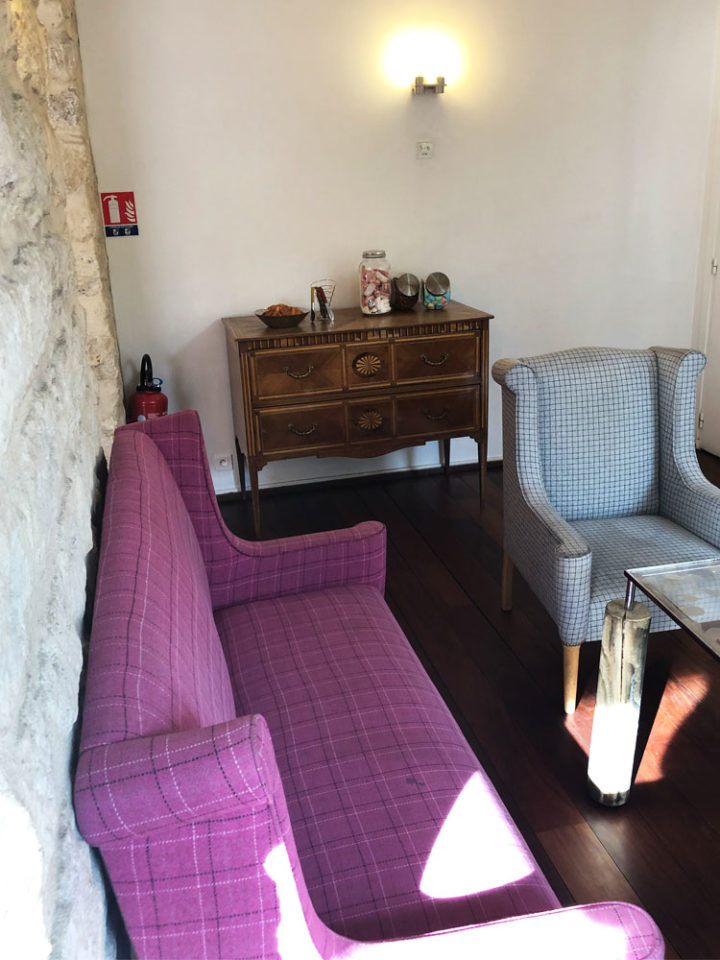 As you enter the hotel, to the right is the lobby with a free bar.
It is located facing the street and has excellent brightness.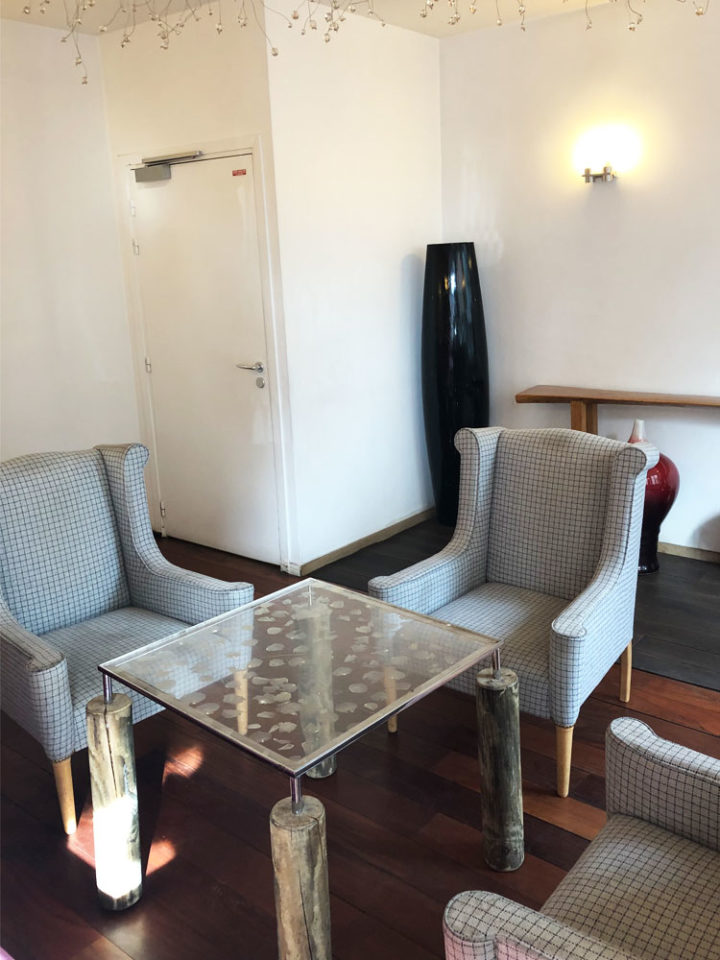 There are plenty of sofas, and even if there are other guests, I don't think it will be too crowded.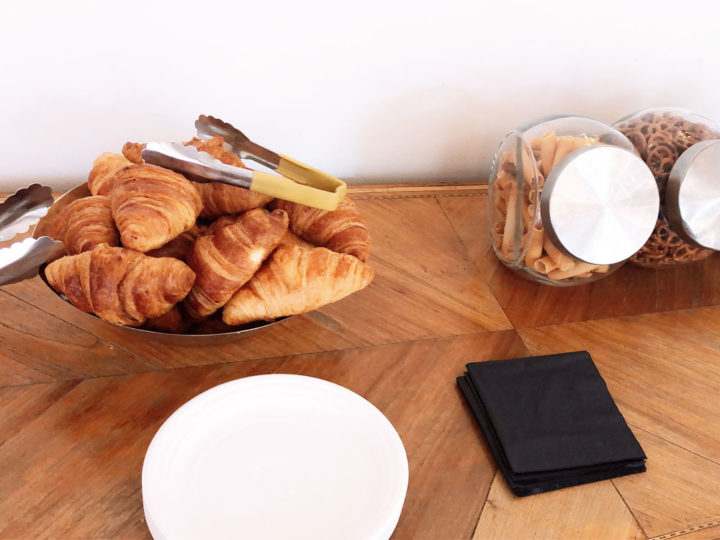 The free refreshments, which begin at 2:00 p.m., come in a wide variety.
Croissants and snacks are available.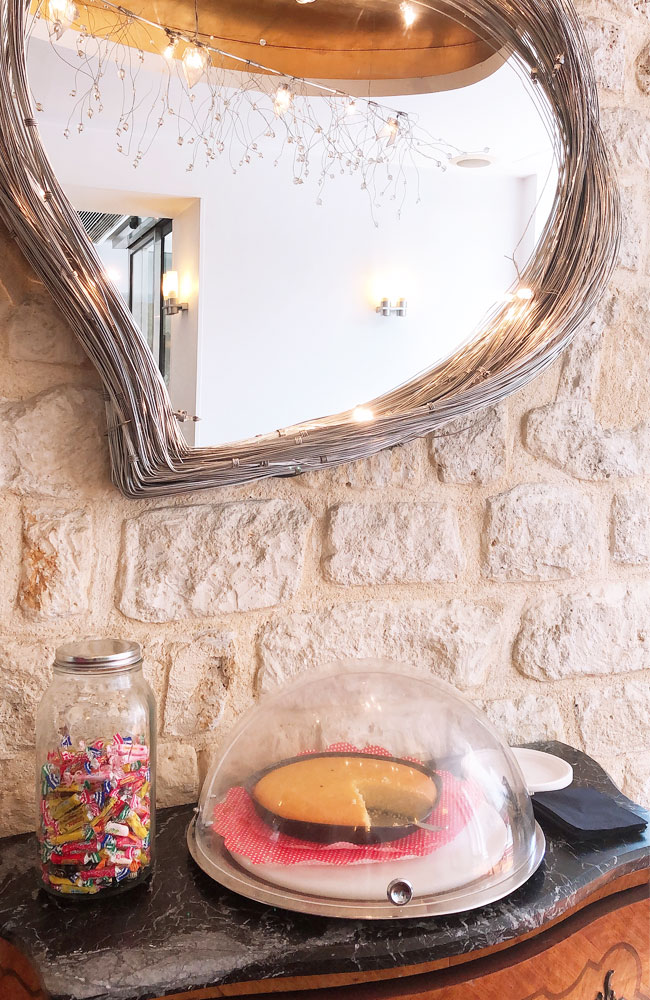 The daily tarts and cakes are very popular, so if you are unlucky, they may not be available.
Of course, they will replenish it, so if you don't see it, go ahead and give it some time!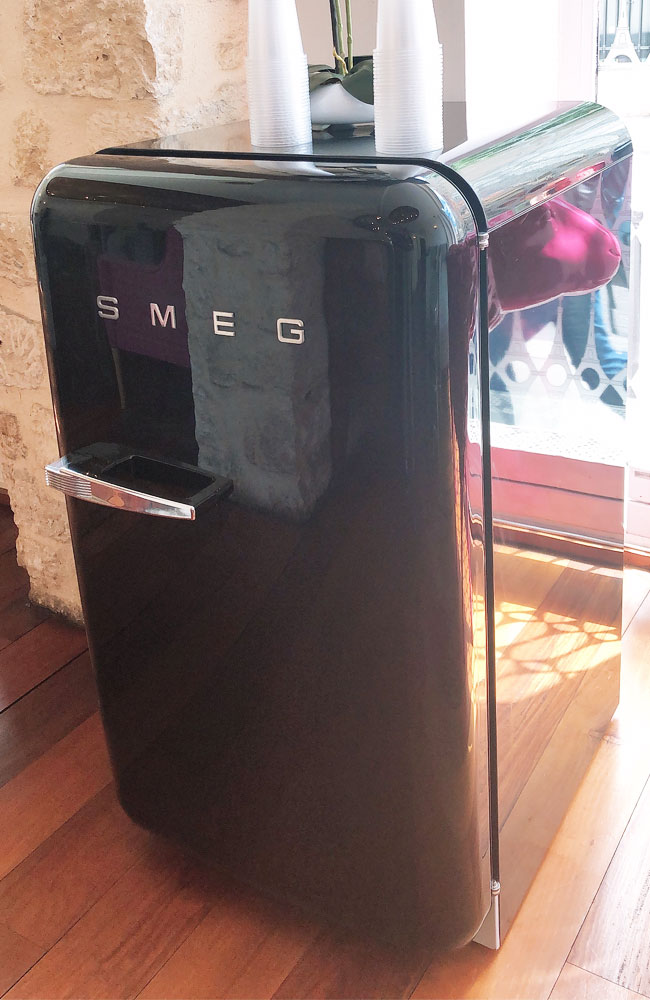 There is a wide variety of drinks in the refrigerator.
It's great to be able to easily drink water or juice when you come back from going out.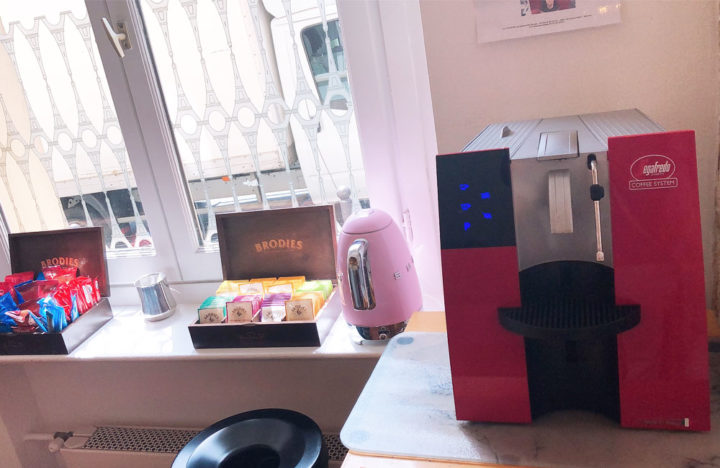 There is also a selection of coffee and tea.
The Hotel Lorette also seemed to have better service than other Astotel Group hotels, as drinks are basically available 24 hours a day.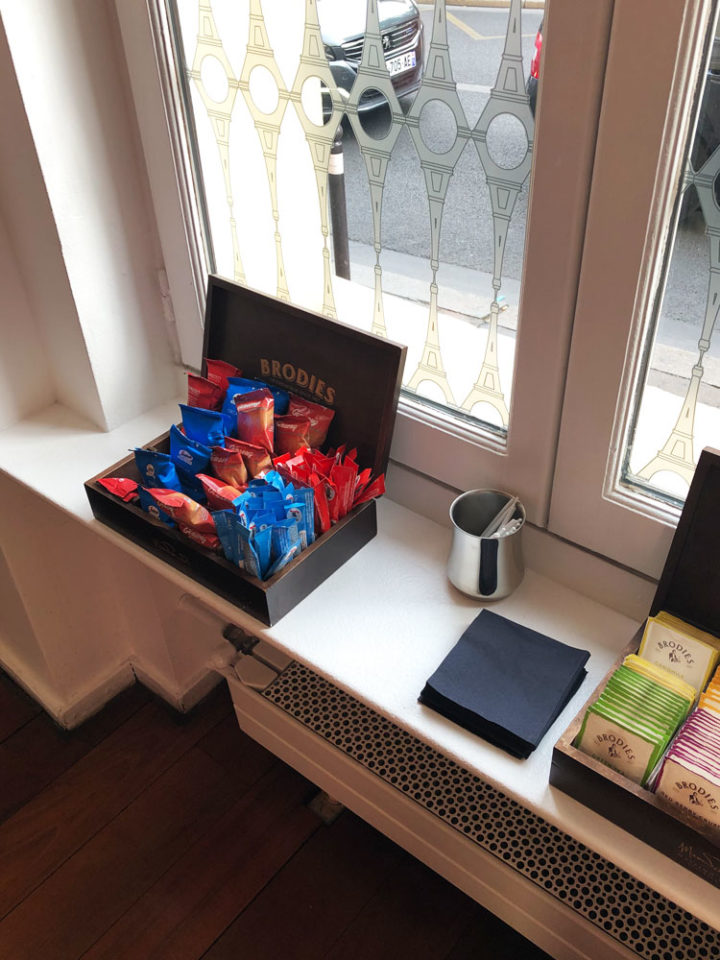 There is also a Segafredo espresso machine for coffee.
There are four different types, and I'm happy to see that they have decaf.
Room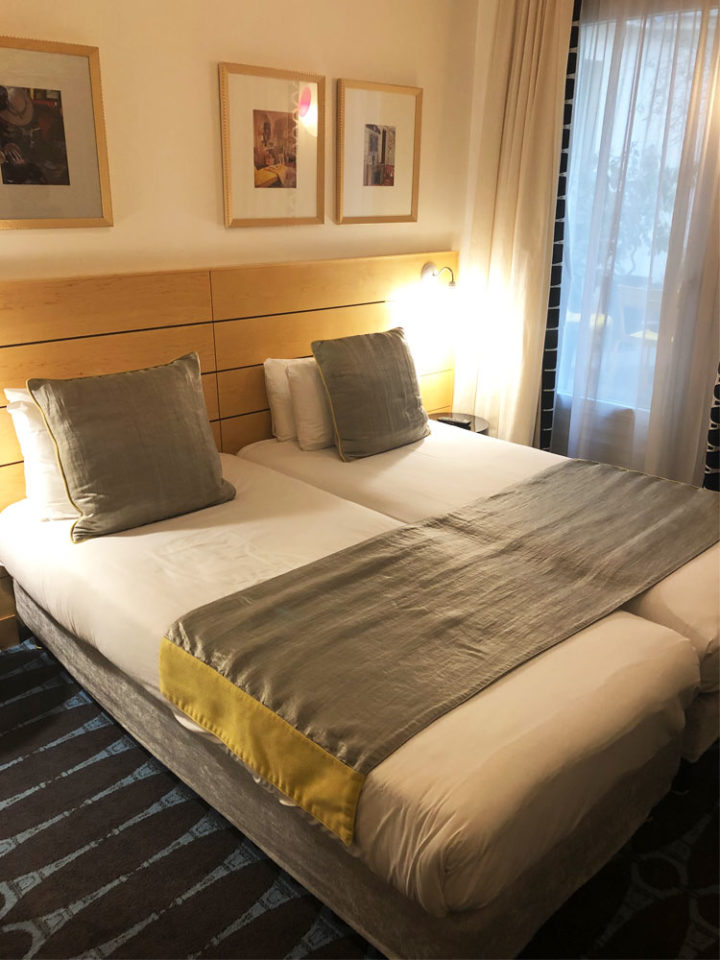 The room we booked this time was a twin room.
We were shown to a room on the ground floor.
The room was surprisingly spacious.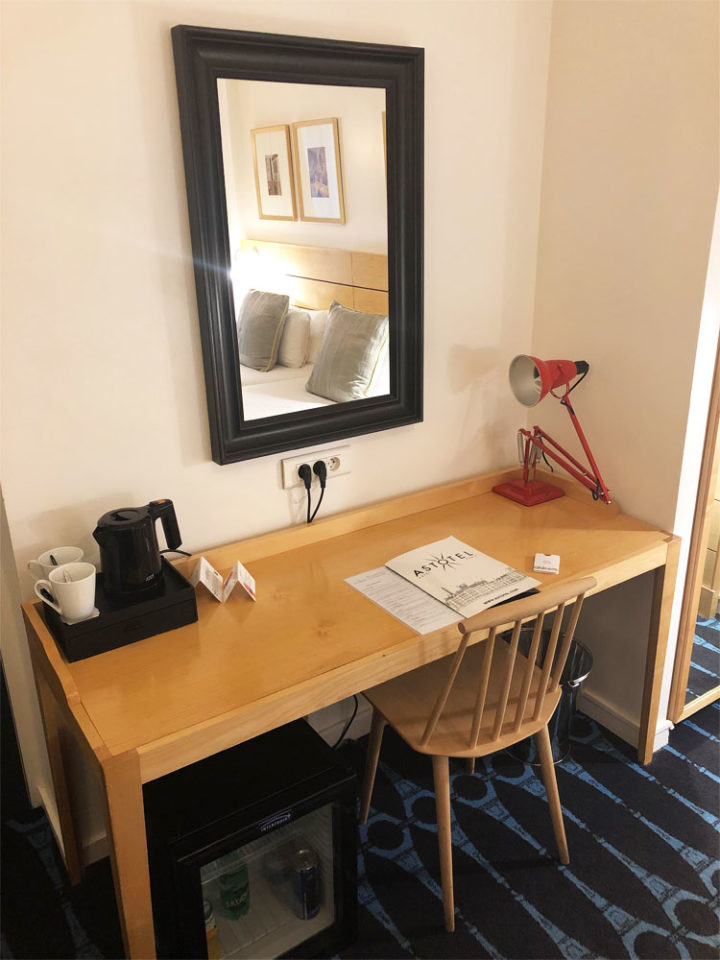 There is also a desk.
I was a little disappointed that there were no drawers.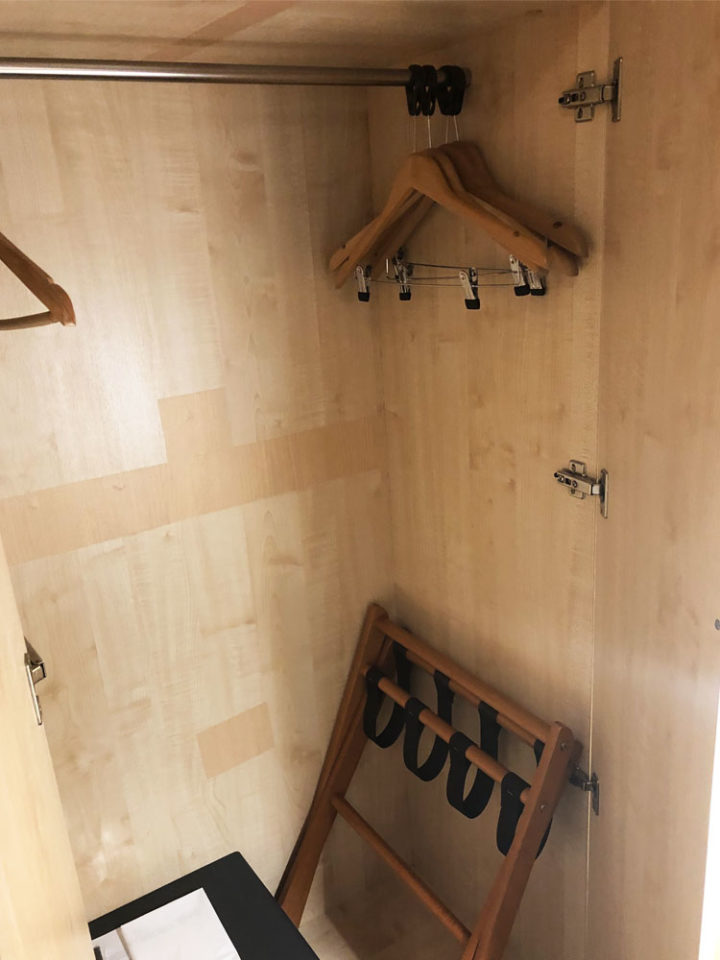 The closet is perfect.
Although not shown in the picture, blankets are also provided.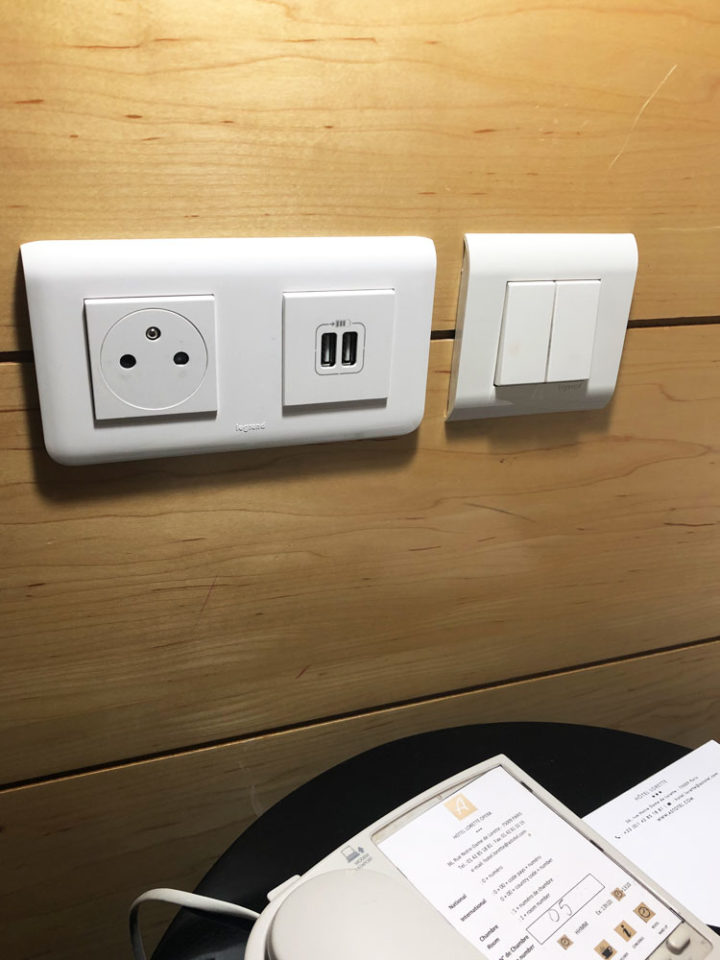 There is also a USB power supply above the bedside.
Multiple electronic devices can be charged simultaneously.
This is also helpful for those who don't have a conversion plug.
However, the downside is that it's only on one side of the bed, and there's no power outlet on the other side.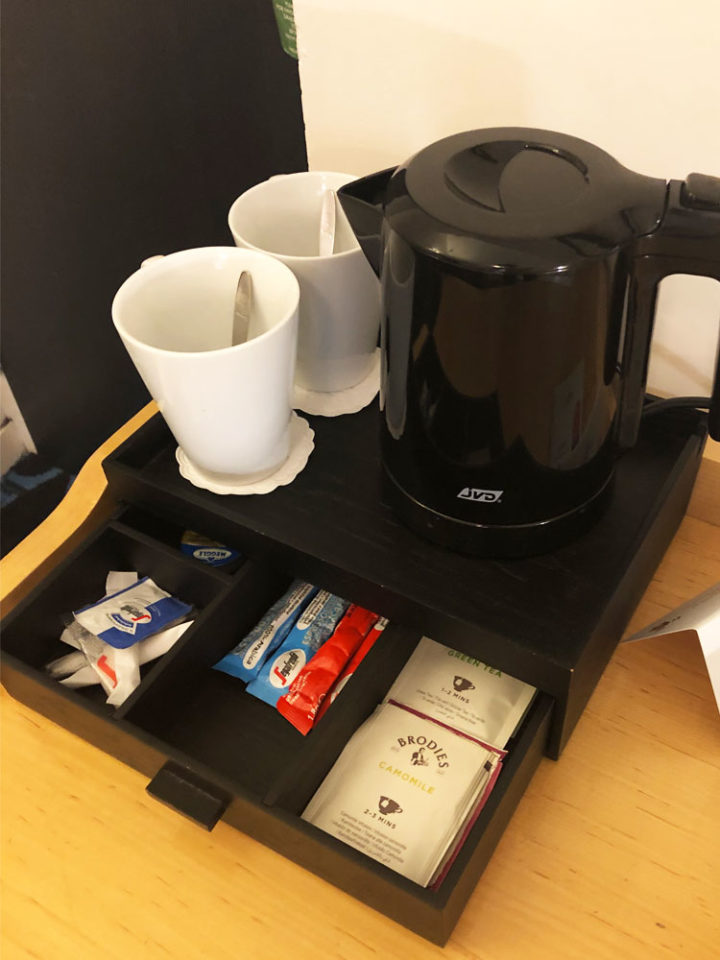 Electric kettles, instant coffee, and tea are also provided.
The complimentary minibar is well stocked.
They will be replenished daily.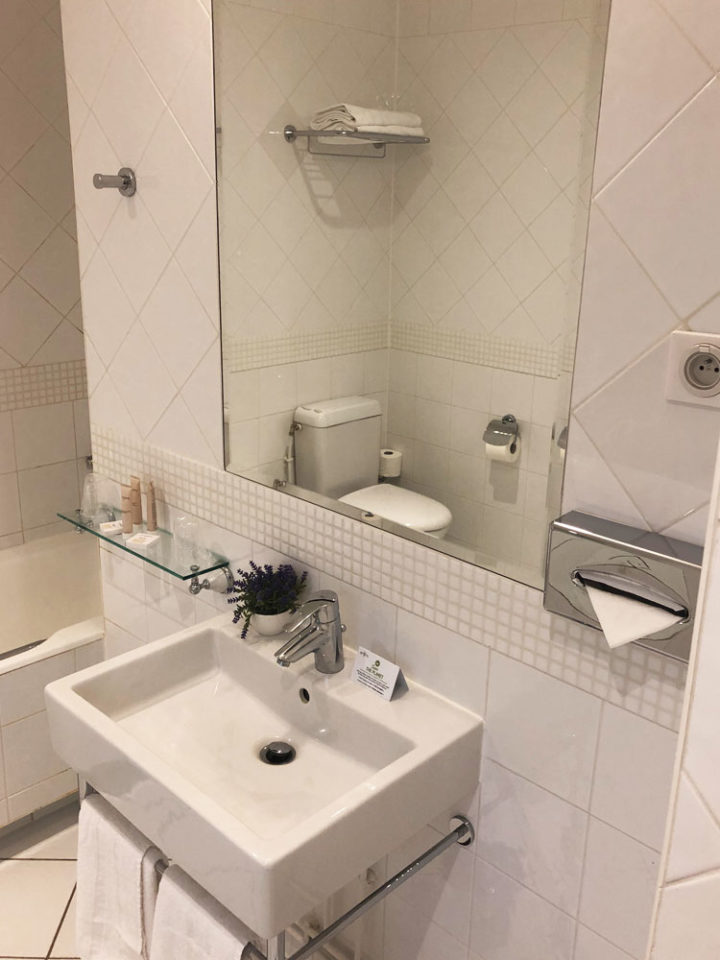 I think this room was a fluke, but the bathroom was also surprisingly spacious.
The water pressure and hot water temperature are all fine.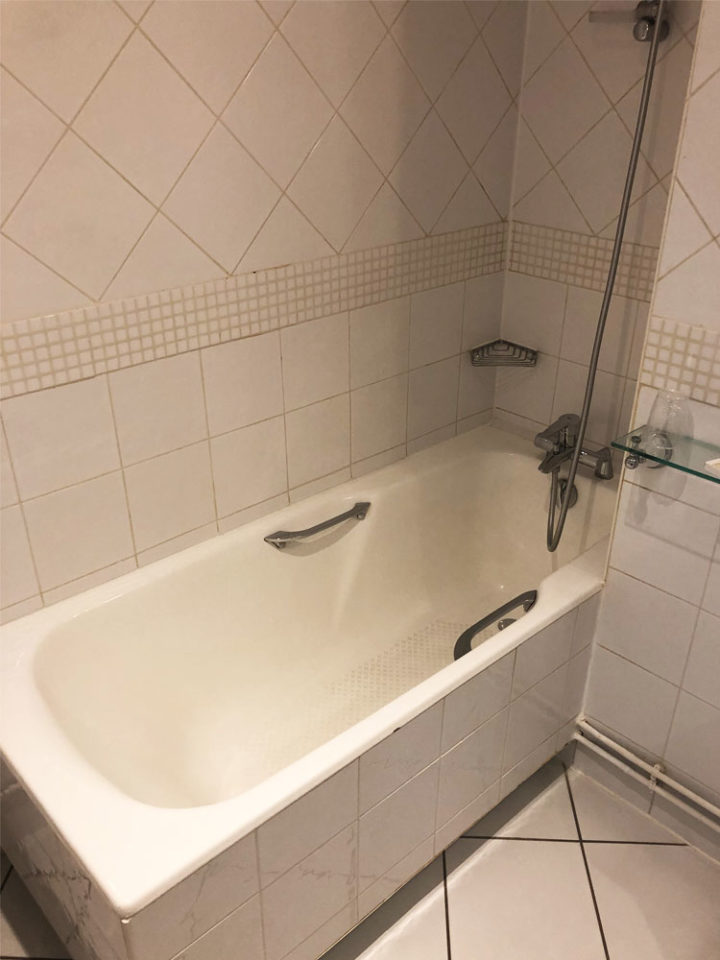 The bathtub was also much larger than I would have expected in Paris.
However, there is no shower curtain, so if you don't take a bath carefully, the floor will be soaked with water.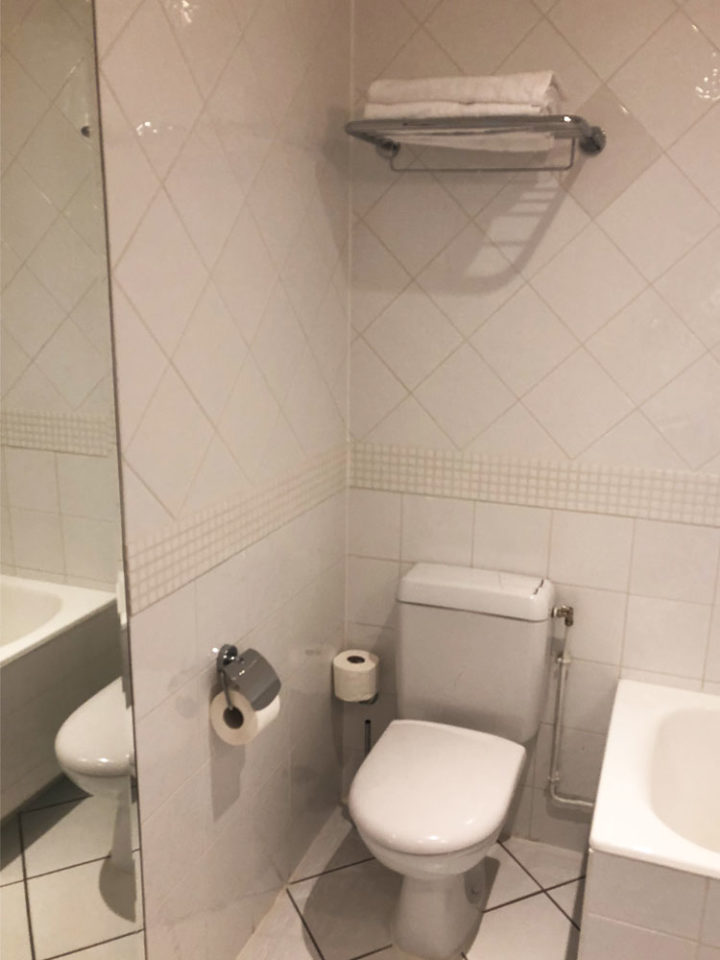 This is a typical Parisian bathroom.
Breakfast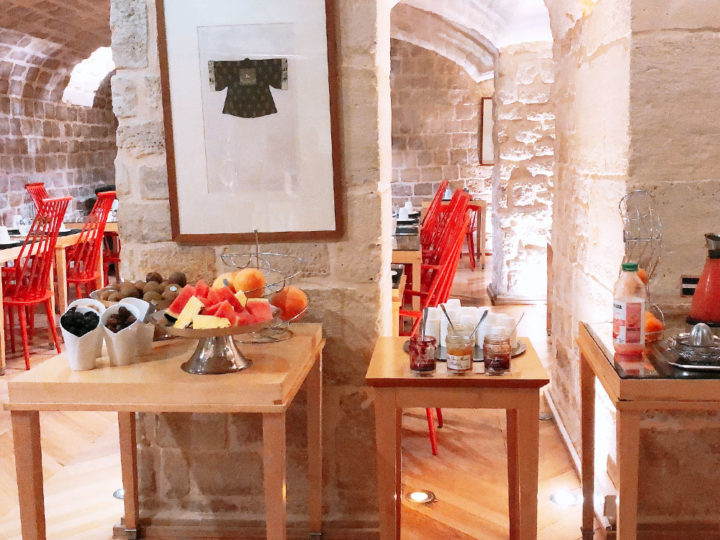 The breakfast room is located in the basement.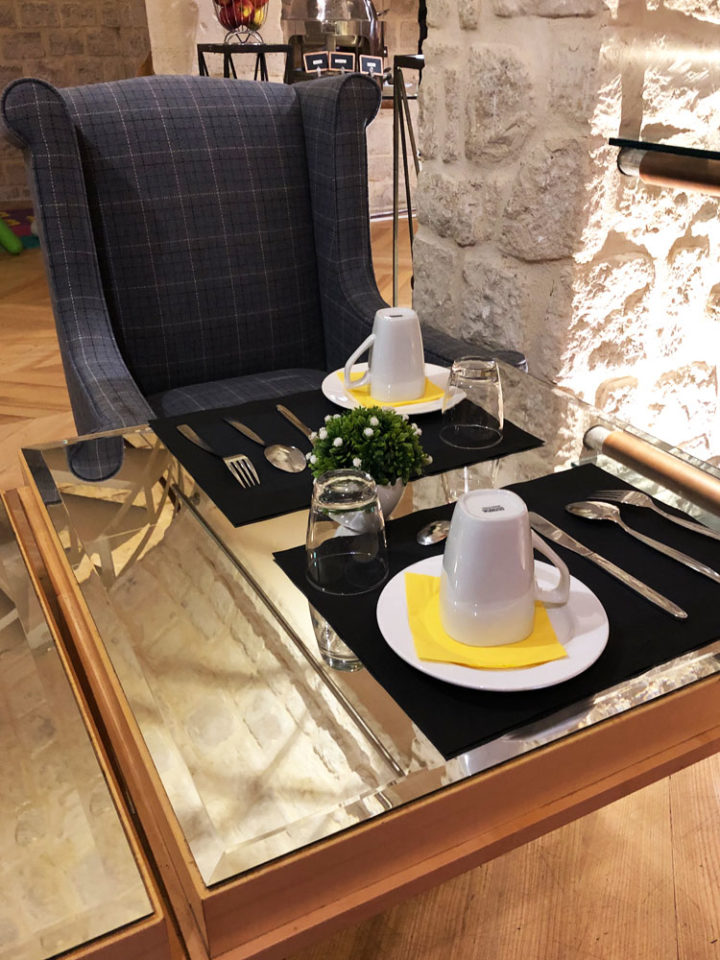 Table and sofa seats are also available.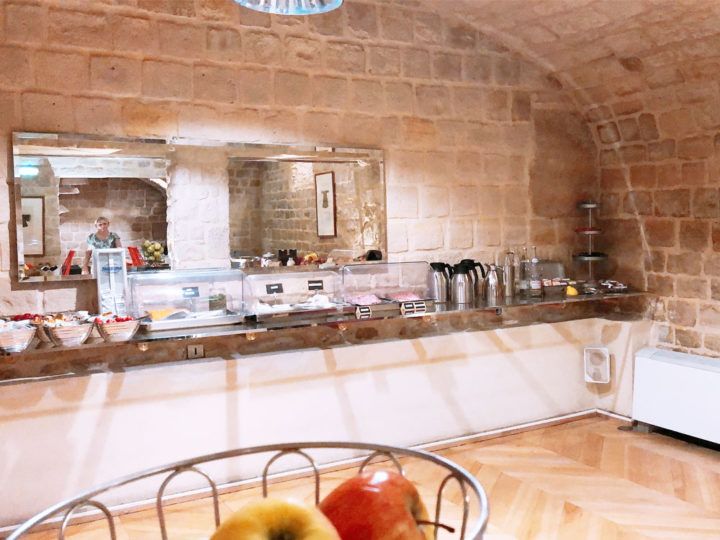 There is more than enough space and a full menu.
Compared to other hotels in the Astotel group, this is one or two of the best.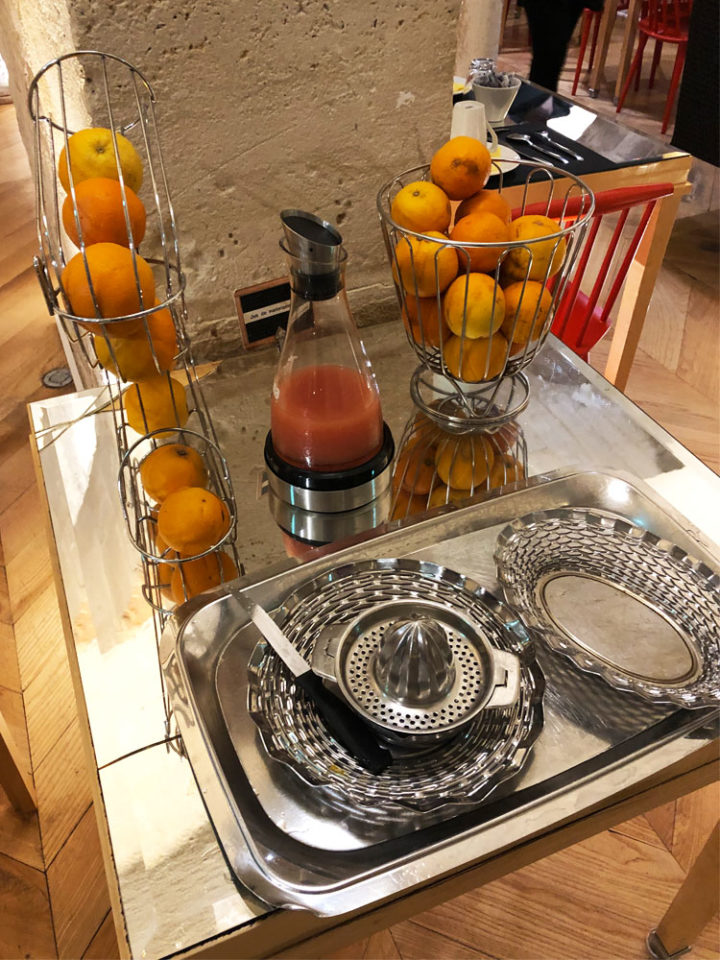 The orange juice you can squeeze yourself is another attraction.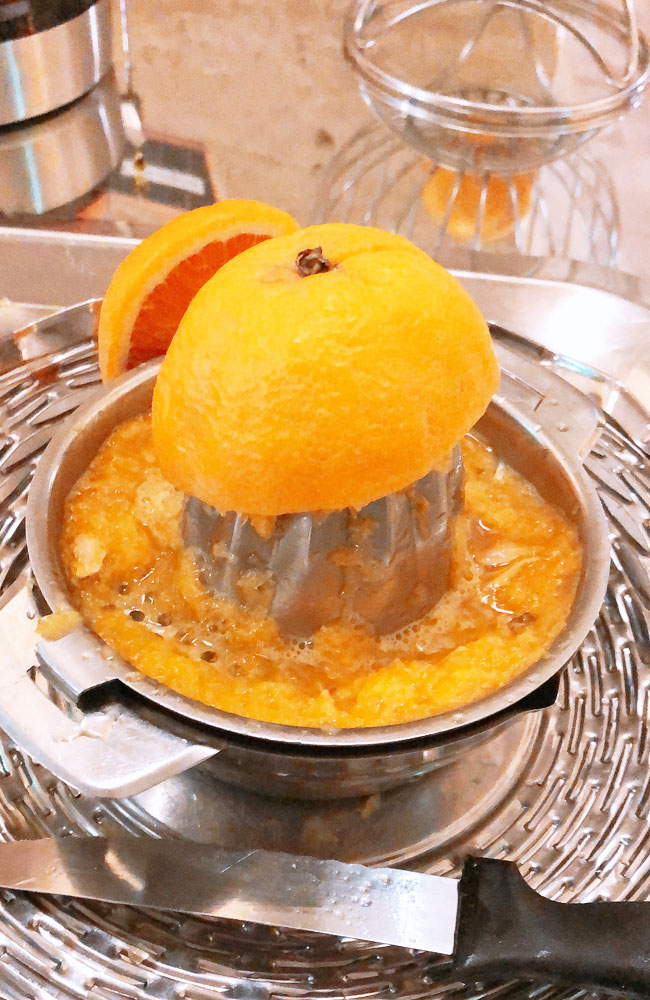 You can make fresh and delicious orange juice.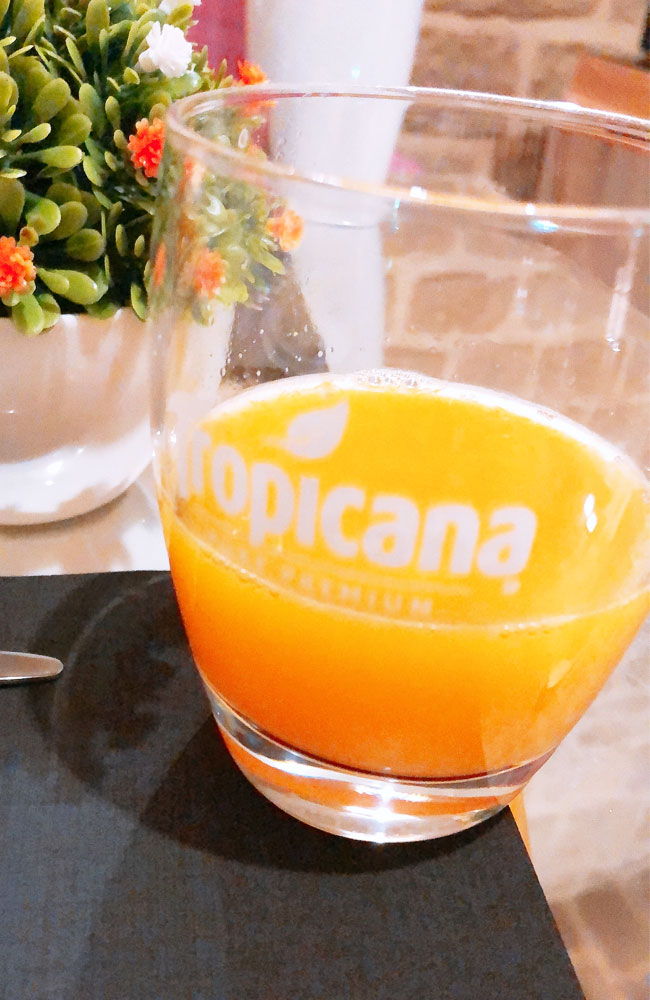 The color is also a little different from regular orange juice.
It's a very tasty homemade orange juice, but it's too much trouble to squeeze it every day, so I started using Tropicana the next day.
But the orange juice in France is very good.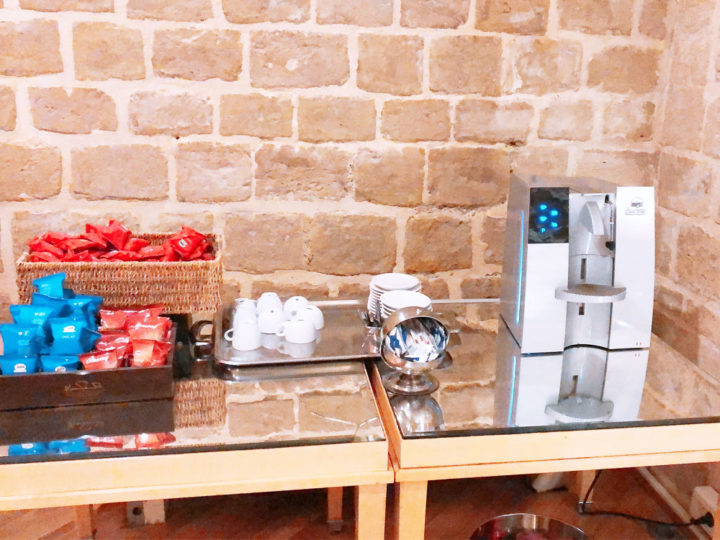 In addition to the regular coffee, an espresso machine is available here as well.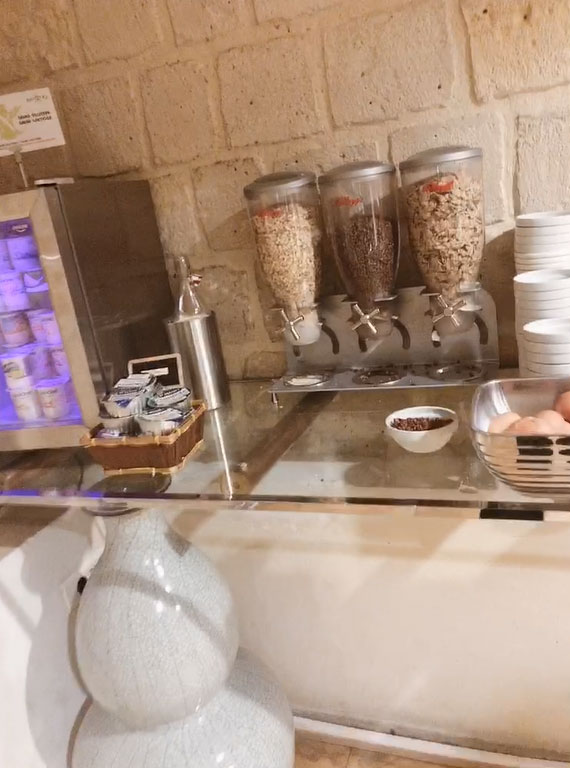 There is also a wide variety of cereals and yogurts.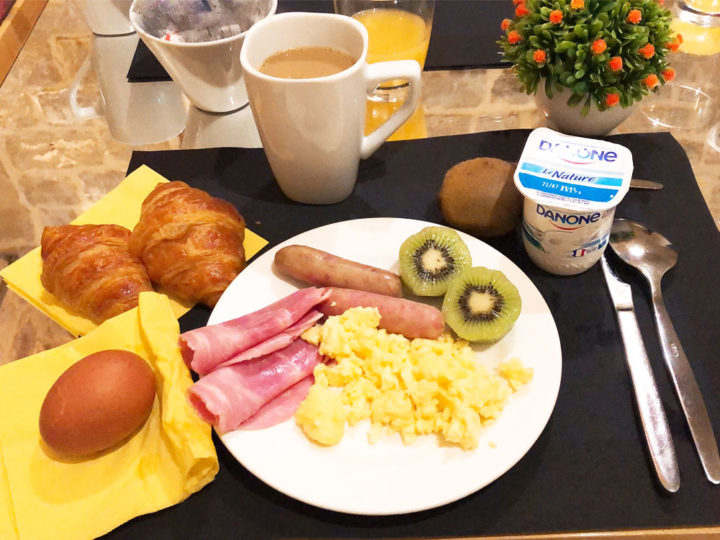 It was a very satisfying breakfast.
Surrounding Attractions
There are many stores around the Hotel Lorette.
From supermarkets to restaurants, I think you can find everything you need during your stay.
It's a bit far from Printemps and Lafayette, but I don't think it's particularly inconvenient.
Carrefour City
Address:8 Rue Notre Dame de Lorette, 75009 Paris, France
Business hours: Monday to Saturday 07:00~23:00, Sunday 9:00~13:00
Just leave the hotel and walk down the hill and you'll be there.
It is open until 23:00 at night, so you can use it the same day you arrive.
You can find everything you need during your stay, so it's very convenient.
Please note that business hours are short on Sundays.
Maison Landemaine Martyrs
Address:26 Rue des Martyrs, 75009 Paris, France
Business hours: Tuesday – Saturday 07:30~20:30 Sunday 07:30~20:00  
Closed : Monday
I recommend the Martyrs store because it has a stylish exterior.
You can taste the high level of authentic bread.
How to get to Charles de Gaulle Airport
There are several ways to get to Charles de Gaulle Airport from Hotel Lorette.
Take a Roissy bus from the Opera area.
Take the RER B line from North Station
Take a cab
If you are on a budget, taking a cab is the easiest and most convenient way to get around.
If you ask the front desk, they will call you at the time you want without any problem.
The problem is for those who want to travel to Charles de Gaulle airport without incurring any cost.
Travel by Roissy Bus
To take the Roissy bus to the airport, you have to travel to the bus station at the Opera House.
The easiest way is to head there on foot.
However, it is quite a distance from the hotel to the Opera House, so I would not recommend it unless you have little luggage or are confident in your physical strength.
If you have luggage and are not confident about your physical strength, I recommend taking a bus.
There is also a bus stop right near the hotel, but unfortunately it does not go to the Opera House.
So, I suggest you take a short walk and use line 45.
The name of the bus stop is Carrefour de Chateaudun.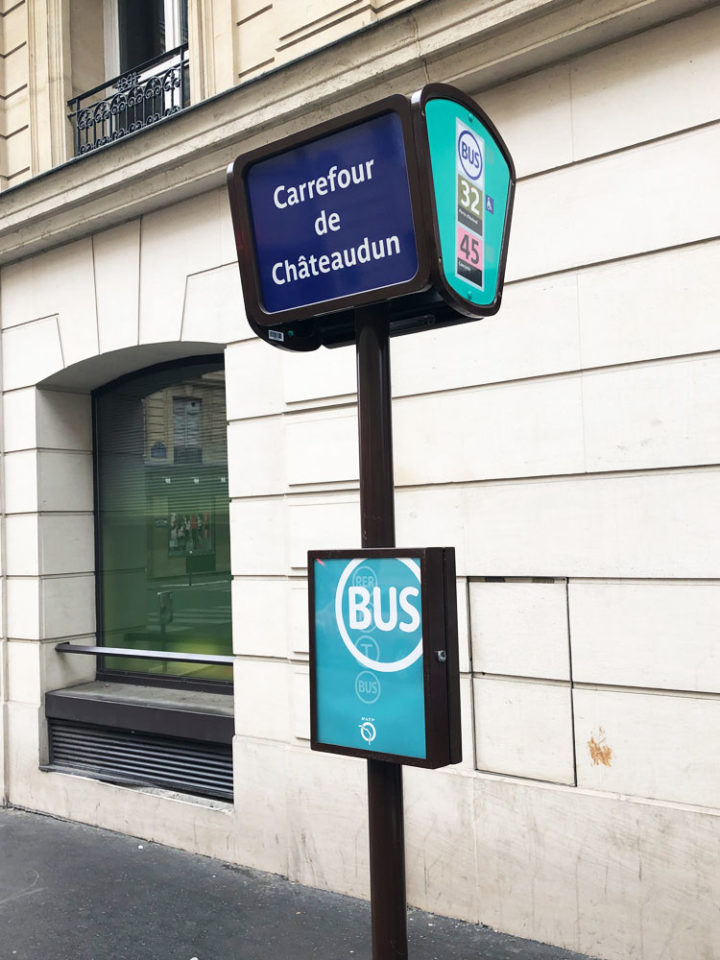 It may seem a bit far from the hotel on the map, but it is a downhill walk to the bus stop, so it is surprisingly easy to get around.
I would also recommend line 45 because the bus stop arriving at the Opera arrives right behind the Roissy bus stop.
This is a very safe way to get around the opera, since you don't have to carry your suitcase around.
Take the RER B line.
To get to Charles de Gaulle airport via the RER B line, you have to travel to the North station.
Like the Roissy Bus, this one can also be done on foot if you are confident in your physical strength or have little luggage.
For those who don't, take a bus to get around as you did with Roissy Bass.
The bus stop has the same name as before, Carrefour de Chateaudun.
Don't make the mistake of getting on at the wrong place.
This one is also a bit far from the hotel, but it's downhill, so it shouldn't be a problem.
Lines 26 and 43 are the ones to use here.
Both buses go to North Station, so you can just take the one that arrives first.
Please note that we will arrive at the North Station area.
It's not a very safe place, so be careful with your luggage.
Summary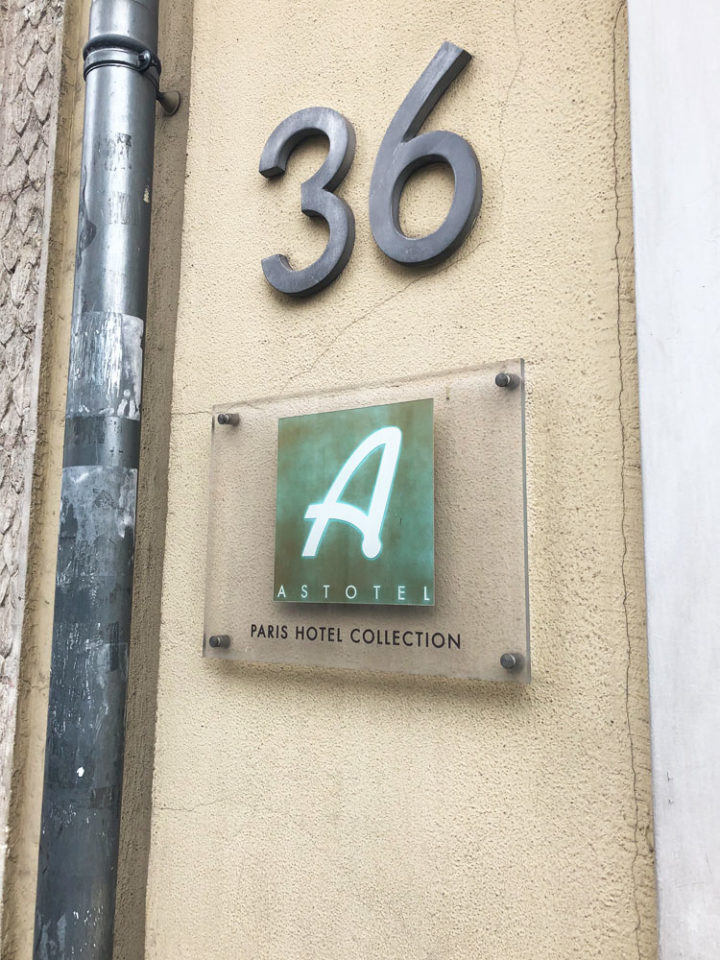 How was it?
Among the many hotels in the Astotel group, this hotel has a high overall rating.
I am quite satisfied with the safety of the neighborhood and the security of the hotel, so I think I can stay there with peace of mind.
However, if you want to go shopping at Printemps, Galeries Lafayette, or to the Louvre, you will have to take a bus or metro.
Likewise, if you have luggage, you will have to take a bus once to the airport, so I think this hotel is most suitable for those who are a little more experienced travelers.
Problems with Hotel Lorette
The hotel itself, Hotel Lorette, is almost perfect, but there is one major negative point.
That's because the metro is too noisy.
Metro Line 12 runs underneath this Hotel Lorette.
I don't think it would bother me during the day, but at night, the noise would be surprisingly loud.
I guess it depends on the room you are shown, but if you are on a lower floor, you will definitely hear the noise, so if you are sensitive, I suggest you request a higher floor when you book your hotel.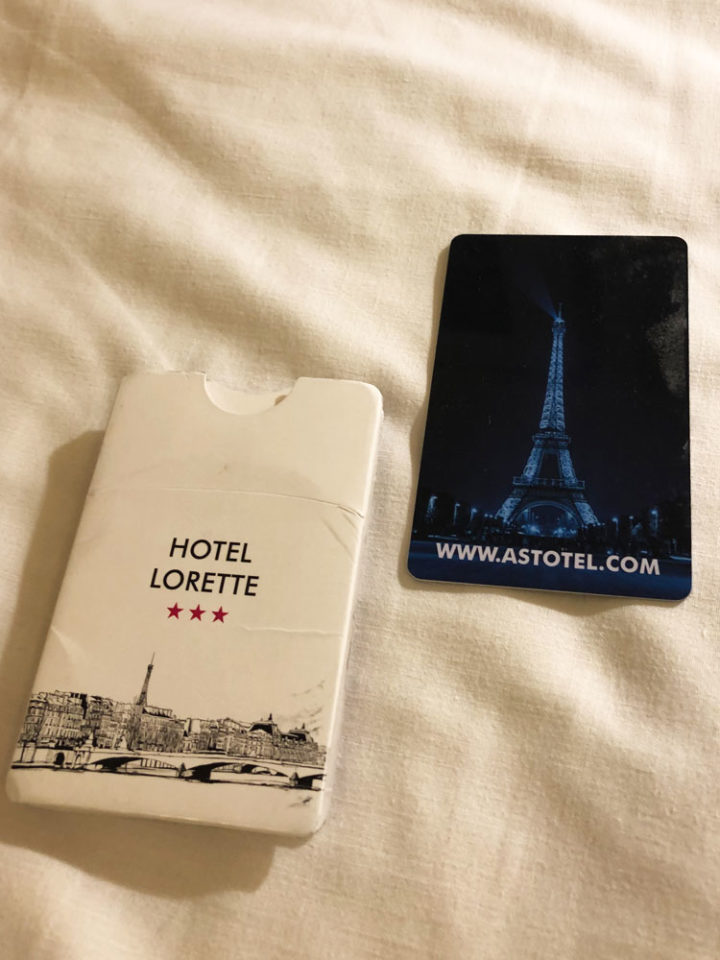 I hope this article will be helpful to those who are considering Hotel Lorette for their trip to Paris.
Thank you again for reading to the end of this article.